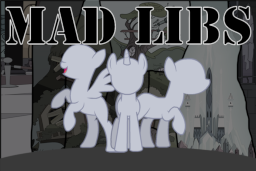 Source
Alternate Universe
Random
---
You'll find a rampaging army of Rainbow Dash's, a chaos dealing Fancy Pants, cute coughs resulting in cuddling, and more, all in the same place. It's no mad house, it's Mad Libs.
A collection of short, ~1,000 word self-contained snippets that are generated from submissions to the mad-lib event(s) I've held here on FimFiction. There is going to be little rhyme and reason between the individual snippets, but hopefully there is a little something for everyone to enjoy. Snippets will never be worse than a teen rating. Each snippet will also have one or more tags to help readers find ones they're interested in.
So far, this collection contains the results from one mad-lib event(s).
First Published
9th Mar 2016
Last Modified
9th Mar 2016