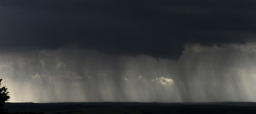 Sad
Slice of Life
---
The rain comes falling from the sky. It brings out all the good and bad in the ponies living in Ponyville.
Today is such a rainy day.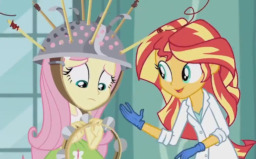 Romance
Comedy
Slice of Life
Human
---
For the former apprentice of Princess Celestia, science experiments are fun and enlightening. Then, one day, magical butterflies start haunting Sunset Shimmer from every corner, even hours after the experiment is long done. Now it's time to panic.
Random
Slice of Life
---
This is my roommate, Octavia, or "Tavi" for short. She likes vintage red wine, soft pillows, and long walks on the beach. But, more than anything, she loves music. She loves it with a passion that radiates with every burning color of the spectrum.
Each day I spend with her... or without her, I learn a little bit more about life, about the sick beat to which we all dance, whether we know it or not. I hope you don't mind if I say a few things about her. Just a few things. One can learn a lot from Tavi.
After all, she saved my life.
---
Playlist - Because Even Original Things Aren't Original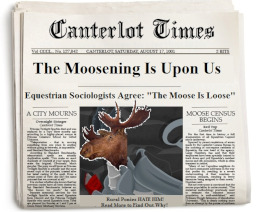 Gore
Dark
Comedy
Random
---
This story is a sequel to
Dying to Get There
---
MOOSE CENSUS BEGINS.
FOR THE FIRST TIME IN HISTORY A FULL ENUMERATION OF ALL EQUESTRIAN CAPREOLINAE IS UNDERWAY.
To any normal citizen of Equestria, the secondary headline of the Canterlot Times is just filler to make the front page look denser and more important. To Special Agent Sweetie Drops, however, it's the beginning of a new task... and the nightmares to follow...
The Moose Is Loose.
Special thanks to Zaponator and Titanium Dragon.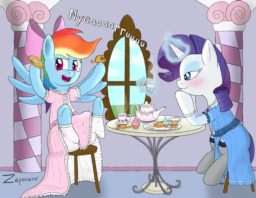 Sex
Romance
Comedy
Random
Slice of Life
---
This story is a sequel to
Y'allin'
---
Actually, this has nothing to do with tomahawks... or missiles. But Rarity almost wishes that it did, for it would distract her from how ardently she looks forward to these afternoon tea parties with Rainbow Dash.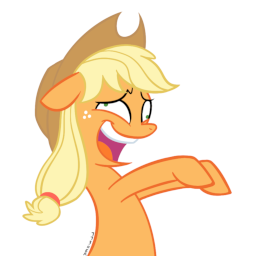 Source
Slice of Life
---
While welcoming a foreign dignitary to Princess Twilight's Palace, Applejack refers to the single monarch as "Y'all." This, of course, causes the entire Kingdom of Equestria to explode into flames.
Okay, maybe not explode into flames, but it could happen... right? Just ask Twilight...
Meh.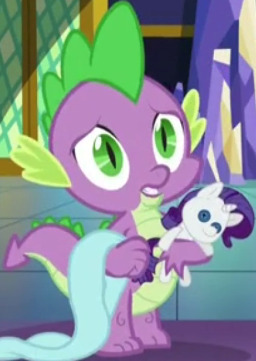 Romance
Comedy
Slice of Life
---
As it turns out, not all I do is make music. I actually have a pretty decent talent making plush pony dolls on the side. It brings in good bits... on occasion, such as this one time a little baby dragon commissioned me into crafting him a white unicorn with a blue mane to snuggle with at night.
Then one day, about a week later, I suddenly found myself with more clients. Like... a lot more clients.