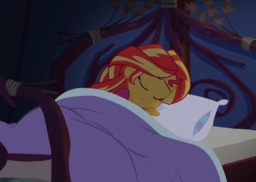 Equestria Girls
Slice of Life
---
Not long after the girls saved Camp Everfree and embraced their newfound magical abilities, Sunset Shimmer starts acting strangely. She jumps every time her friends get even remotely close to her and she keeps everyone at a distance. This is especially worrying to Twilight Sparkle, who seeks how to make her best friend feel better.
-Equestria Girls Four Spoilers abound.
-Inspired by a bit of sunny picspam I discovered.