Sad
Slice of Life
---
After falling victim to unfortunate circumstances, Pinkie Pie receives a visit from her sisters Maud, Limestone, and Marble.
---
Written as a fic commission for Kihutaja
Special Thanks to Hap for editing the cover art.
Gore
Adventure
Drama
Random
Sci-Fi
Thriller
---
Life in Equestria is changing, and nopony knows this more than Lyra Heartstrings. While on vacation in Appleloosa to forget her past trauma with changelings, the struggling musician ironically stumbles upon Queen Chrysalis. In her starving death throes, the Matriarch of the Hive latches onto Lyra. When the unicorn awakens, she is no longer her usual self, but rather a super-powered pony with all the gifts and talents of the changeling queen who has merged with her, forming a shared consciousness in Lyra's head.
Together, the two will be forced to work out a symbiotic relationship, performing acts of heroism against a shifting tide of questionable politics, dangerous personalities, unpredictable technologies, and the runaway denizens of Tartarus. Neither Chrysalis nor Lyra exclusively, they must both settle for an identity that sparks fear in the minds of evil... and instills hope in the hearts of the innocent.
This is not the story of Queen Chrysalis. Nor is this the story of Ponyville's silly Lyra Heartstrings. This is the day-to-day saga of the pony known only as the Shell, the heroes and villains attached to her, and the adventurous legacy that she will ultimately leave behind.
Cover Art by Rangelost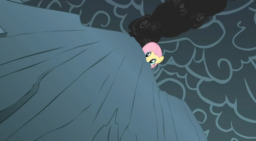 Dark
Mystery
---
After a mysterious earthquake ravages Ponyville overnight, Fluttershy rushes to town in search of survivors. Her friends tell her to keep a safe distance, but once Fluttershy hears a weak voice calling for "help" from inside a deep, dark rift, she realizes that she can't leave.
A story commissioned by Lunarius.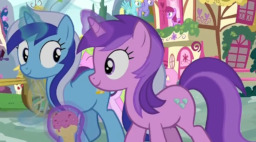 Romance
Slice of Life
---
Minuette and I have got to be the absolute best friends in all of Equestria. Or at least we thought so... before running into Lyra and Bon Bon.

Sex
Random
Romance
Slice of Life
---
One month, they said. One month completely to themselves. One month of talking to one another, cuddling with one another, going on walks with one another, and living together. One month of sharing breakfast, sharing beds, sharing stories, and sharing sweet talk.
One month, they agreed on, and after the thirty days had gone by... if they were still as madly in love with each other as the day they first kissed... then they would share the joy of their relationship with their friends.
Comedy
Romance
Slice of Life
---
Applejack and Rainbow Dash have been dating in secret for weeks now. One afternoon, they finally find the opportunity to spend some "quality" time alone together. When Scootaloo shows up, happy and unannounced, what are the two marefriends to do?
Play laser tag with the filly, of course.
A story commissioned by TIAS-A1927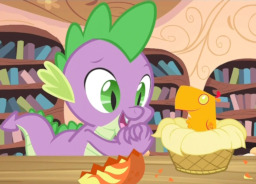 Sad
---
This is the story of a little dragon and how he had to give up his baby pet Phoenix.
A story commissioned by Jake the Army Guy