Slice of Life
---
The King of the Eternal Herd has many duties, but, sometimes, the father of a filly indulges himself.
Sex
Slice of Life
---
(Part of the Upheaval world)
Sharp Mark has been training his charge for a long time, knowing that, one day, this quiet pegasus colt must bear a tremendous responsibility upon his shoulders. But there are still a few more lessons to teach, and a few more wrinkles to iron out.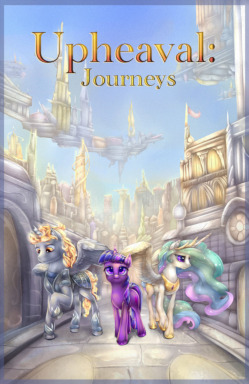 Gore
Adventure
Dark
---
This story is a sequel to
Upheaval: Reckoning
---
Equestria's fragments have reunited, and the power of sunlight shines once more within Celestia. With the remnants of the Old Kingdom destroyed, the Abyssal Throne sent away, the threat of Gravitas defeated, and Black Rose no more, Equestria now faces the encroaching darkness of Oceanus and his rebels.
But the stage is not yet fully set. Twilight Sparkle and her friends must gather what means they may before the battle is joined.
Cover art provided by Obsidian Rose
Gore
Adventure
Dark
---
After the siege of Bastion City and the theft of the power of sunlight, Spike takes on Prince Terrato's offer to train under the kirin, Seethe Scale. He must travel to the Western Barrier Land to gain the strength to help his friends.
Once there, however, Spike soon realizes that there is more for him to contend with in this harsh environment than developing his abilities.
Gore
Dark
---
Black Rose's elite agents serve her in various ways. To accomplish her tasks, their talents must be both great and diverse, requiring individuals from the far-flung corners of Equestria. To gather them is a difficult task in and of itself, a task that two siblings must deal with if Black Rose's plans could even have a chance to succeed.
Gore
Dark
---
Throughout history, the wolven have been known as vicious and rapacious raiders, swooping in from their frozen homeland far to the north in small bands to seize what they please from unfortunate settlements and caravans across Equestria's borders. For this one occasion, however, wolven raiders have acquired something that may be more trouble than it's worth.