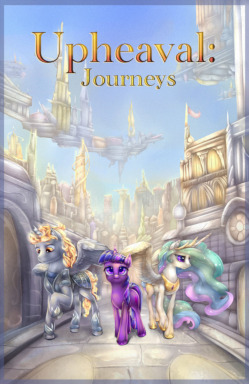 Gore
Adventure
Dark
---
This story is a sequel to
Upheaval: Reckoning
---
Equestria's fragments have reunited, and the power of sunlight shines once more within Celestia. With the remnants of the Old Kingdom destroyed, the Abyssal Throne sent away, the threat of Gravitas defeated, and Black Rose no more, Equestria now faces the encroaching darkness of Oceanus and his rebels.
But the stage is not yet fully set. Twilight Sparkle and her friends must gather what means they may before the battle is joined.
Cover art provided by Obsidian Rose
Gore
Adventure
Dark
---
After the siege of Bastion City and the theft of the power of sunlight, Spike takes on Prince Terrato's offer to train under the kirin, Seethe Scale. He must travel to the Western Barrier Land to gain the strength to help his friends.
Once there, however, Spike soon realizes that there is more for him to contend with in this harsh environment than developing his abilities.
Gore
Dark
---
Black Rose's elite agents serve her in various ways. To accomplish her tasks, their talents must be both great and diverse, requiring individuals from the far-flung corners of Equestria. To gather them is a difficult task in and of itself, a task that two siblings must deal with if Black Rose's plans could even have a chance to succeed.
Gore
Dark
---
Throughout history, the wolven have been known as vicious and rapacious raiders, swooping in from their frozen homeland far to the north in small bands to seize what they please from unfortunate settlements and caravans across Equestria's borders. For this one occasion, however, wolven raiders have acquired something that may be more trouble than it's worth.
Gore
---
Lexarius the steward, the alicorn sent by the Herd to aid those oppressed by the Everlasting Kingdom and their own tainted heritage, seeks to help those he considers his new kin. The first step, however, proves difficult as he must preside over a meeting that reveals old hatreds that may well destroy his path before he could even take it.
Dark
---
Alicorns are no strangers to battle. Within the vastness of the Eternal Herd is a plane where violence reigns. A young Sanctus Dominus, still a long way away from his kingship, encounters a former monarch in the battlefield.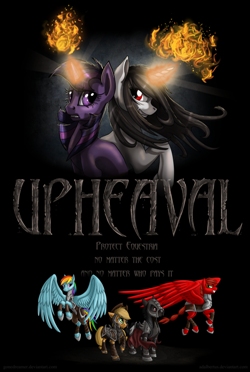 Source
Gore
Adventure
Dark
Romance
---
This story is a sequel to
Upheaval: Breaking Point
---
Following the events of Breaking Point, Twilight Sparkle and her friends discover that Equestria's demise may not come from an enemy invasion, but from within. The Barrier Lands and the Heartland begin the slow and uneasy process of reuniting into a single Equestria, but this long-delayed joining is already in danger at its conception.
With Celestia's power in her grasp and her agents by her side, the wheels of Black Rose's plans for Equestria's future continue to turn. However, her brazen gamble has done more than just bring down a centuries-old barrier. Ancient powers begin to stir: the remnants of a dark period in Equestria's history, the immortal inhabitants of Celestia's homeworld, and a rising tide of darkness coming ever closer.