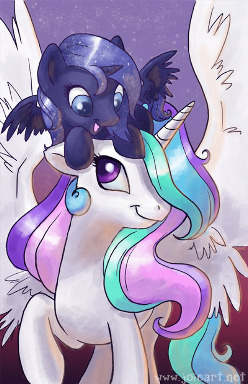 Source
Slice of Life
Human
---
[Warning: Comments may contain spoilers]
Imagine a simple guy like me, who after some heart breaking times decides to live alone in his wooden cottage by the lake, only to get his life flip upside-down by the group of seven talking fillies and one mare. What's worse, it doesn't seem like my life is gonna get back to normal anytime soon, unless I get rid of them help them get back to where they came from.
Author's notes:
My fanfic is divided into two separate stories. The human world part, although written in a first person style, will also provide a perspective change adds. The Equestria's part, where Cadence and Shining Armor need to take care of their kingdom, will have a third person perspective.
I also need to warn you that my story is a slow paced one. I don't like to rush things, so if you believe you are patient enough, then perhaps my story might be just what you need :)
Edit: The pony to human transformation starts in chapter 8.
This story takes place after season 3. You can PM me about any mistakes. Feel free to leave a comment, and rate the story if you like it. Thanks in advance.
Editting by Angrywritingskills, BucketHelm, some advice by Ocalhoun. I appreciate your help guys.