Search

Gore
Adventure
Crossover
Dark
Human
Romance
Sad
---
My name is Excalibur Prime, I am a Tenno Guardian, the first to be exact. Created by the Orokin to fight in the Old War.
I lead the charge against the Sentients, faced horrible depression, watched my teammates slip into madness and eventually, spent hundreds of years in cryo chamber. Only to awake and find that my planet has mysteriously fallen and the Orokin are no where in sight.
Now the Battle hardened Grineer own the galaxy, the rich Corpus run the economy, and the Infestation runs rampant. So once again I am called to protect those who need it... and kill all who stand in my way.
A simple recovery mission turned into hell in a handbasket when I become surrounded by heavy class ships. Upon making my escape, my ship takes a critical hit, and after entering the void, things take a turn for the worst.
Basically I end up stranded on an unknown planet with some very "colorful" inhabitants, and it looks like they need me more than ever.
This is my story, like its never been told before.
All be damned, featured 3/4/2016 never thought I'd pull it off
(Warframe is owned by Digital Extremes)

Alternate Universe
Dark
Drama
Equestria Girls
Mystery
Slice of Life
---
Sometimes you come up with a setting for a story, a setting you really like the premise of. It has all the elements that you'd look for in a story you'd want to read, and you're ready to get invested in that idea. There's just one problem.
There's no story that goes with that setting.
That is what this compilation of stories is. Stories I wrote a prologue, maybe even a chapter or two of, but either have no idea what kind of a story I would want to tell with them, or where they would go in the future. I like the ideas enough that I wanted to share them, but want to let people know ahead of time that I'm not sure if anything will come of them either. Heck, If get enough feedback I might even be able to be inspired to turn them into full stories, or if someone else has a decent idea for a fic based off of one of these premises, I might even let them use it for themselves.
With that said, those of you who still want to read a weird set of settings like this, I hope you enjoy what there is to be had.
Also all of them involve Sunset Shimmer, because I'm a little obsessed.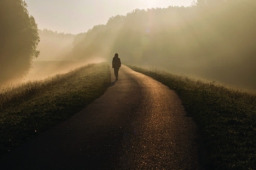 Adventure
Human
Romance
Sad
---
The days in Equestria were nice, peaceful, and tranquil. That all changed when a big glass box came hurtling from the sky and crash-landed on her farm in Ponyville. Within the foreign object was a human,the first human to set foot on Equesrtian soil. Unfortunately, this human has no memories of his past. The only thing he does know is his name.
"Zero. My name is Zero."
With only a number as a name, the amnesiac young man is taken in by the residence and taught the ways of their land. As he's learning about his new home, questions start to creep into his mind every waking moment and every dream at night;
Who am I? Why am I here? Where do I belong?
But when an evil, the likes of which Equestria have never seen before, threatens to tear his new world apart, Zero must put aside his search of self and answer one new question;
What would you do to save a world you don't belong in?

Gore
Crossover
Dark
Human
Romance
Slice of Life
Tragedy
---
Princess Celestia dispatches the Mane Six into the Everfree Forest to recover a meteorite. What happens when vicious, dangerous aliens suddenly land in the peaceful land of Equestria? Part II: The past of the aliens is explored. New relationships blossom, old relationships sink, a vendetta is settled, and friendship is thicker than blood. Part III: Reports of missing ponies concerns the regal sisters, reports of strange activity in the Everfree gets Twilight's attention. What is Darqlon up to? The denouement approaches! Might add additional, slice of life chapter snippets.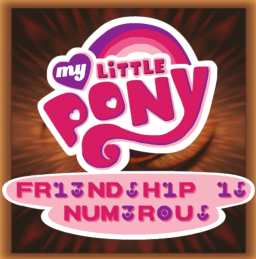 Alternate Universe
Crossover
Equestria Girls
---
In Canterlot High School, every student is wild over the world's most popular trading card game: Duel Monsters! Every day, players of the card game, known as "Duelists", go head-to-head to see who among them is the best around. Among the Duelists in attendance at CHS, one of the best is a young teenager named Sunset Shimmer, a girl from another world...
Another crossover series, this time combing the worlds of Equestria Girls and the Yu-Gi-Oh! series. The series is basically a retelling of the story of Yu-Gi-Oh! ZEXAL, from the point of view of the EG cast, taking place between Rainbow Rocks and Friendship Games.
The story follows Sunset Shimmer, who is credited as the strongest Duelist in Canterlot High School. However, her skills are put to the test when she unwittingly releases a dangerous power into her world; a power that alters the egos of those that come into contact with it. Now Sunset has tasked herself with trying to return that power back to where it came from, hopefully before that power creates a real world crisis. She'll need the help of her friends, and the power of her Deck, to see her through the tough battles ahead...
Though the story is based mostly on Yu-Gi-Oh! ZEXAL's story, I have taken a few creative liberties, such as allowing a more heavy use of Synchro and Fusion Monsters in addition to Xyz Monsters (which are still mostly the main focus). Although none of the new Pendulum Monsters will apper, expect to see a few cards from Arc-V pop up.
All Duels shown use the current rules and rulings at the time they were written. If you need a more detailed explanation of the game's rules, go to yugioh-card.com to find a digital version of the rulebook, as well as other vital information. With all that said...
IT'S TIME TO DUEL!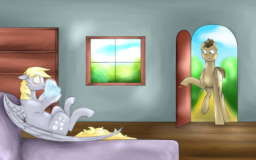 Comedy
Slice of Life
---
In Derpy Hooves early life, not much is known about the small Pegasus filly, nothing besides the aftermath of her lovable acts, and the fact that she one day showed up out of nowhere as one of the newly accepted foals of the Ponyville Orphanage. In this story, we explore one of the very first exploits Derpy began on her valiant quest to welcome the enigmatic Pinkie Pie!
Until she gave up and switched targets-uhm, ponies.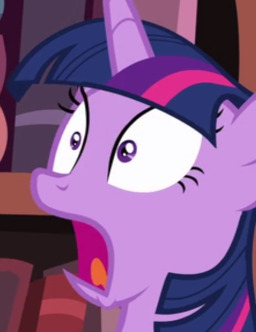 Crossover
Drama
Human
---
Ted Valiant has been running the Valiant and Valiant detective agency on his own since his father Eddie passed away. When Twilight Sparkle, one of the stars of the hit show My Little Pony: Friendship is Magic, goes missing, the studio calls Ted to find their missing actress.
Crossover with Who Framed Roger Rabbit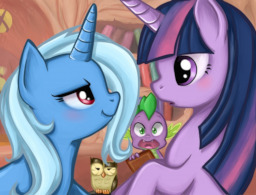 Comedy
Romance
Slice of Life
---
Twilight knew right from when she was a foal, she wasn't interested in 'dating' as so many promptly put it. She always blamed the books for this, as she wasn't really interested in making friends either. But after that fateful day when she defeated Nightmare Moon, she knew, deep down, that there had to be something else to it. The thought never really concerned her until a certain blue mare had ended up staying with her.
(I tried to find the source of the cover image, but I couldn't find it anywhere!!)

Drama
Romance
---
Spike learns that Rarity will never love him. Now the young dragon attempts to learn from his mistakes and move on, but that could be tough considering that he still has feelings for Rarity and is also developing feelings for somepony else. Even with friends to help him deal with his feelings, can Spike move on?