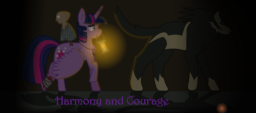 Source
Gore
Adventure
Crossover
Dark
Thriller
---
Harmony is an important thing in Equestria. It is the building blocks of everything within the country. Harmony is important in many places, spare for one. This one world is under constant threat, and despite attempts at peace, this world has never known the pleasure of it. In this world, three human qualities are worshipped instead: Power, Wisdom and Courage.
Ponyville is attacked by a dark energy, and when they are finally saved, they can't even see their saviour. What strange magic is this?
Edit 1: New cover image! I made it myself in MS Paint, and then added shadows and highlights and all the fancy effects in GIMP. For my first original piece of art, I'm actually quite proud of it. The image will also be uploaded to my DeviantArt in the original GIMP-file for anybody who's interested.

http://samcats.deviantart.com/art/Harmony-and-Courage-649048220?ga_submit_new=10%253A1480709775