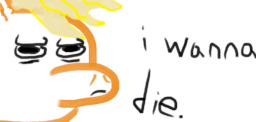 Alternate Universe
Comedy
Random
---
Of course she does, a 9mm Glock to be precise. Naturally, she presents it to her friends. Since the word 'chaos' is trademarked by Discord, out of character 'stupidity' ensues.
This story also contains Spike, but I'm treating him with as much respect as the 'Mane' six do in the show.
Inspired by this.
Preread by nobody because I'm too lazy.
Cover art made by MS Paint.