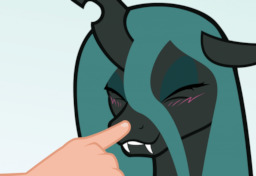 Comedy
Human
---
Queen Chrysalis likes it when I boop her on the nose. She says it helps with her stress. After months of helping her out, we suddenly get interrupted by Princess Twilight Sparkle, who believes that the changeling Queen has cast a spell on me.
Surely, when I explain that I boop her, she'll understand, right?
Right?
Featured: 08/28/2016 This is incredible as it is unexpected.
Based on the delightful flash game by 4as, which can be found here.