Search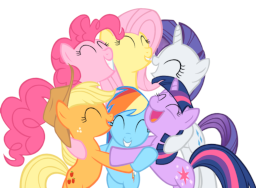 Comedy
Random
Slice of Life
---
Wait! So Rarity's being impersonated by a changeling? And Twilight too? And... the rest of the Elements of Harmony?
Okay. So what's the big deal again?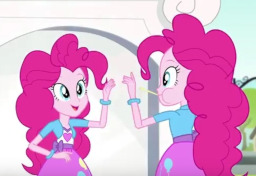 Comedy
Equestria Girls
Slice of Life
---
Twilight thought she'd had enough excitement for one day after meeting her human counterpart. Or so she thought until she was met with the uncanny feeling that Pinkie Pie was acting, well, a bit too equestrian.
---
Small oneshot based on the Official Equestria Girls blooper reel where it's implied the Pinkies from the two universes have traded places.
Sex
Alternate Universe
Drama
Equestria Girls
Slice of Life
---
She didn't think. She just jumped through the portal.
Then it closed behind her.
Stuck in the body of a human teenager, Princess Celestia finds herself trapped in the same world as her bitter student. Even as she and Sunset Shimmer both work to adapt to their new environment and bodies, Celestia is faced with an additional challenge: Sunset Shimmer is attempting to become the queen of Canterlot High, and the only way Celestia can fight back is...
...by becoming more popular.
(Preread by DrakeyC and Zef.)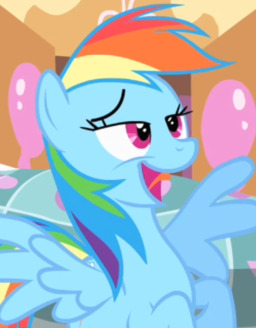 Sex
Comedy
Random
Slice of Life
---
Sunset Shimmer visits Equestria and spends some time taking care of animals with Fluttershy and Rainbow Dash. Rainbow Dash is apparently not good with certain animals.
Sunset Shimmer discovers very quickly that what you learn from the human world cannot be unlearned, ever.
Rated Teen and Sex for a pile of juvenile innuendo, though technically no bad language. Only technically.
Comedy
Random
---
What happened to Big Mac after he ran off after Starlight Glimmer had made the stallion known for silence unable to stop? Cursed to say everything he had always held inside, how will Mac survive a day as every thought he has he says out loud. What will Mac do when he runs into ponies that he had always wanted to say something to, but held his tongue? Will Ponyville survive a uncensored Big Mac?
Just a fun little story I came up with as I have become completely blocked on Auction and Ghost Rider again. Also a early birthday gift to the ever so awesome Jake the Army Guy. Thanks go to Arbarano, Chief Maximus,Docontra, Jake the Army Guy, and The Masked Ferret for all the edits.
Thanks also goes out to Golden Vision and again Chief Maximus for having to deal with my ranting and belly aching.
Featured 5/3/16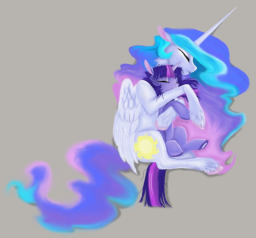 Slice of Life
---
Princess Celestia has a problem. Or perhaps it's Twilight Sparkle that has one.
Every few weeks, an intoxicated Twilight Sparkle will randomly teleport into Celestia's castle in search of snacks or simply for a place to crash.
So what could this all have to do with Celestia in particular?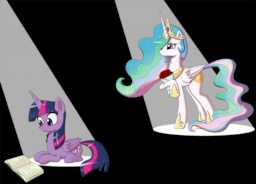 Comedy
Romance
---
Princess Celestia and Twilight Sparkle have been close friends for years. After teaching the young unicorn all she knew, Celestia sent her out into the world, and watched with pride as her student grew and exceeded even her wildest expectations.
Then, one day, Princess Celestia has an epiphany: she is in love with Twilight Sparkle, and has been since the day her sister was saved. Eventually deciding to act on her feelings, she sets out to ask Twilight on a date.
This causes so much chaos that Discord goes on vacation and will not be appearing in this story.

Slice of Life
---
Celestia lets her mind wander as she waits patiently for Twilight's student and her friend to show up for dinner.

Sex
Comedy
---
At one time, Mount Olympus was the home of the Greek gods. Then they let the first pony in.
There goes the neighborhood
Editors: Tek, Themaskedferret, FanOfMostEverything, BluePaladin42, GhostOfHeraclitus
Cover art is Lady-Princess-Goddess by Cherryviolets and a commission for Mother-Of-Trolls