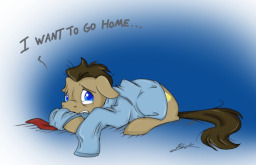 Source
Adventure
Alternate Universe
Crossover
Dark
Human
---
This story is a sequel to
Futures
---
John Smith wakes up in a hospital with an alicorn watching over him.
He remembers his last mission with Princess Twilight Sparkle. He remembers being hit by a magical backlash and hitting something hard. He feels different, the world feels different to him.
And now Luna has a mission. Stop the war that killed Celestia.
This is a direct sequel to Futures and ties directly in with Encounters and Politics.
Expect more than a few Doctor Who references. Guess this will be my own origin story for Dr. Hooves.