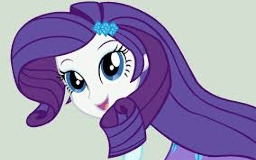 Comedy
Equestria Girls
Romance
Slice of Life
---
Hunter Blood was always that one wierd kid, wierd in a good way. Throughout his High School years back at his school he's gained a lot of friends and enemies. He's not the brightest of students and gets himself hurt all the time with his inappropriate jokes and wierd dances.
He moves to Canterlot where he goes to the local school, Crystal Pr- oh wait wrong school, Canterlot High. His only hopes are to make it through the school year without any trouble and keep doing what he does best, being that one oddball.
But sometimes wishes don't come true, as he gains not only friends on the first week, but enemies as well. He shrugs it off as not seeing them as a threat, until they actually threaten to hurt him, to which he stills shrugs it off.
Then there's a girl who's caught his eye, one purple hair, snow white skin, fashionista... Rarity. He met her on the first day of school and quickly becomes friends with her and her friends. However his enemy sees her as a way to hurting him in any possible way.
Thing is with Hunter Blood, is that he's extremely loyal to his friends, and will do anything for them.
Will he succeed on saving Rarity?
Or will he fail and end up in pain?