Search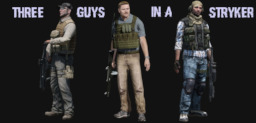 Comedy
Crossover
Adventure
Alternate Universe
Human
---
This story is a sequel to
Three Guys in a Stryker Save Canterlot
---
After breaking the changeling invasion, Echo One--with their stryker--have opted to stay in Equestria until the fires at home die down, both literally and metaphorically. However, despite their service to Equestria, shadows are playing in an attempt to force the three BLUFOR soldiers from their world.
Is a little slice of Heaven too much to ask for?
LEFT TO RIGHT:
ECHO 1-1 ACTUAL: "RAPTOR" (STRYKER COMMANDER)
ECHO 1-2: "ROAR" (STRYKER DRIVER)
ECHO 1-3: "SPLASH" (STRYKER GUNNER)
---
No gore. The level of violence is only slightly above that depicted/suggested in the show, but expect cursing.
Crew member's personalities are based on the people I actually tend to play with, excluding Splash.
Cover art slapped together by yours truly.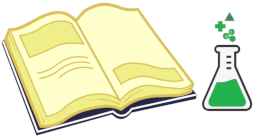 Sad
Slice of Life
Alternate Universe
---
It's been a little while since Twilight Sparkle became the Princess of Friendship and turned into an Alicorn. Now she seeks a more active and capable assistant to help her around the library. To this end she hires Garrick, a somewhat capable and novice alchemist pony previously living in Canterlot. After much discussion and persuasion he now lives with Twilight at the library in Ponyville.
Gore
Dark
Adventure
Human
---
This story is a sequel to
Itinerant Kingdom
---
My name is Daniel Holden, but since coming to Equestria I have been known in public by a number of aliases such as "South Wind" the pegasus, or "Blank Slate" the unicorn. But privately I am known as the "Itinerant King" by those who have sworn their loyalty to me, or have begun to quietly spread my legend.
The powerful 'Kingsblood', nanotechnology running through my veins, gives my subjects and I powerful advantages, most of all the ability to communicate and forge a weird extended family, closely bonded even over a great distance. Thus helping to repair not only bodily harm, but also the scars of the painful pasts I was able to rescue them from.
Now, while the scattered seeds of my Kingdom grow within Equestria's fertile soil, I am taking a handful of changelings in my employ to Manehattan, to see where my deceased former enemies were shipping dangerous, magical dark crystals.
Will I find more ponies in need of rescue? Or just more bad ponies in need of a smackdown? Either way, I'm going to poke into shadows that hide from the light of Celestia's sun and even Luna's moon.

Gore
Sad
Dark
Slice of Life
---
The story of a Pegasus judged his whole life and cast out for his cutie mark.
When Brimstone finally gets his cutie mark, it is not what he expected and gets him attacked and chased away everywhere he goes. He becomes an outcast and completely separates himself from pony kind. That is until his travels bring him to a small town.
(This is my first real story so please give me tips and if you see something wrong please let me know nicely, thank you.)

Sex
Gore
Romance
Adventure
Human
---
Sam is scared. Sam doesn't know where he is, or how he got here. But one thing is becoming abundantly clear: this is not his world. It is far too arcane and weird. But by contrast, it's inhabitants are so kind and genuinely earnest. The longer he stays here, the greater the chances that he will cause trouble, just by his very nature as a human. He needs to get home, before he accidentally hurts someone... somepony.
But Sam can't go back. I won't let him. Only death awaits his return, and mine. I have to keep him here. Keep him secret. Keep him safe. If either of the two warring factions were to discover us... We are both in grave danger. I will protect him. Hide him from their prying eyes. It is, perhaps, the only way I can atone for my failures. But I must do so in secret. He cannot know about me; such knowledge would only put him in greater danger. I just hope I can keep him out of trouble long enough to find a way to fix this.
---
So begins my first HiE, let alone my first story to be published here. I hope it will be my longest piece to date (even if I never submitted most of my others). I have a long way to go before I can be a professional writer, but that's what this is all about, isn't it? Exercising our writing muscles in a place where some may find enjoyment in our attempts to improve ourselves. So please, lay into me. Tell me what I'm doing wrong, I implore you. It is the only way I will grow as a writer. And, if I can set aside my stubborn pride long enough to learn something, perhaps I will do just that.

Proofread by the wonderful McStuffins.

P.S. This story is set immediately after the events of Season 3, but before EQG. Yes, that is going to be canon in this universe. Why? Because it suits my purposes, that's why.

P.P.S. Sex and gore tags are to cover my, ahem, bases. I can't guarantee they won't become necessary (through violence or... other events), but I can guarantee this won't get grimdark. If I ever decide to publish... er... 'clop', it will likely be put in a separate story and linked to in the story, à la "Green". (An excellent story, by the way.)
Comedy
Adventure
---
Taking Place during season 4, the mane 6 have once again gone to the Crystal Empire leaving behind a very depressed Spike who wonders if his friends really are his friends at all. Princess Celestia and Princess Luna decide to take Spike with them on their personal one week vacation.
Comedy
Random
---
There are a lot of ponies in Equestria.
Like, really, a lot.
A whole lot.
So many, in fact, that it's kind of hard for everypony meets every other pony. And that's not even factoring in those who are not, in the purest technical sense, PONIES.
Which is really rather sad, because if some ponies and some other ponies actually managed to get in the same area and interact some very interesting stories could be told. But it's incredibly unlikely that that's going to happen anytime soon. It's basically improbable to the point of impossibility.
And yet, fate has decided to play a little game. Join us in watching this series of oneshots meander through the most unconventional meetings plausible!
Romance
Comedy
Random
Slice of Life
---
Nidra,Princess Luna's daughter,hosts a dating game.For her first group of contestants,she invites Prism Bolt,Golden Delicious,and Prince Illusion.For the mare,she chose ponyville's one and only,love doctor,Crystal Clarity! Is Crystal Destined to find her perfect match?