Search
Slice of Life
---
What's the reward for a job well done? A harder job. Cookie Pusher, the junior diplomat keeping an eye on Sunset Shimmer and her friends, has pleased his superiors with his diligence and competence. Deciding he's ready for bigger and better things—and not wanting to brief in yet more people about the portal—they assign him a new task: Travel through the portal as chargé d'affaires en pied to open diplomatic relations with Equestria.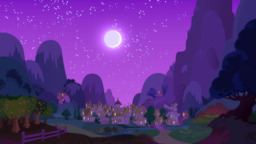 Adventure
Anthro
Comedy
Mystery
Random
---
Every few months, certain homes in Ponyville are raided and all the food disappears. Nothing seems to stop the thief who is known as the Midnight Muncher!
Every few months though it's always the same houses, the Mane 6. Now that the Mane 6 are fed up with this madness beyond compare, what are they gonna do?!
Ranked Mystery for those who like to solve a simple amateur case.
(Had this for a while, but never got around to posting it.)

Comedy
Slice of Life
---
It is a long night in twilight's crystal castle.
After the Union between alicorns and nobles (including some random citizens), the nobles and citizens have declared that the princesses are very greedy about the tax and bits/gems.
Because of this many citizens have lost most trust out of the princesses.
Twilight decided to set things right this Christmas!
Sex
Gore
Adventure
Alternate Universe
Crossover
Dark
Human
---
In the dead of night, mere weeks after World War II had ended, two young people find themselves chasing an unidentified something out of morbid curiosity. When that something ditches them and they come across a suspicious-looking painting, they soon find themselves thrown head-first into a bizarre world that is, in many ways, similar to their own. Magic is plentiful here in this world, and just the perfect stage on which to set a complex chaotic scheme.
Fortunately—or perhaps unfortunately—the two people who end up surrounded by talking pastel horses also happen to be vampire hunters. And they did not come alone.
---
Crossover with Castlevania: Portrait of Ruin, taking place a full year after the game. A collaboration with Butterfield Pancake. This story was originally on his account, but has been moved to mine for major editing and polishing purposes. Tagged teen, sex, and gore for innuendo and mild violence and bloodshed. This story will have comedic moments to contrast the dark. Human tag for obvious reasons.


Sex
Alternate Universe
Equestria Girls
---
Canterlot School of the Seas Cadet Sunset Shimmer completes her academic studies at the prestgious school. Now promoted to Commander of a rather odd Baltimore Class Cruiser, Sunset and her friends set sail towards adventure and maybe some romance on the High seas!
A short introduction to an upcoming series that is currently at 25 hand-written pages and counting! A moment of panic insued when I realized the deadline for Harm's Way's Contest was looming ever so closer so, I broke this off as its own piece. Hopefully it will be alright.
Source
2nd Person
Comedy
---
Twilight gets gets called in by luna. It seems celestia has been a bit preoccupied as of late with some strange device. She comes to the castle and finds that the princess is sitting in the dark in front of some strange rectangle. She sees that it is glowing, emitting some weird light that illuminates the princess' face. Is it magic? What is this strange new object?

Comedy
Crossover
Equestria Girls
Romance
---
Sonata, Adagio, and Aria never expected to be forgiven for the stunt they pulled at the Battle of the Bands. Let alone get boyfriends. But somehow, they found each other. And in the end, they got back a piece of themselves that hey had lost. They had found their voices
Arctic Ace, Venus Bloomer and Night Fang are all owned by MLPFan1.
Alternate Universe
Romance
Sad
Slice of Life
---
Sunburst has always gone into the same coffee shop every morning ever since his new job at the palace. He has gathered quite the reputation in the little shop for his morning routine. However, he has also received a little more attention than he initially intended.
MxM shipping
Romance themes
I'd just like to give a special mention to TheVClaw and his amazing story Brushed Away. It has been a major drive to do this sort of thing when I actually had the time. One of the truly amazing MxM fictions out there.You can find the story here: https://www.fimfiction.net/story/104295/brushed-away
And you can find the stunning TheVClaw here: https://www.fimfiction.net/user/TheVClaw