Search
Slice of Life
---
As the annual meteor shower was about to commence, Twilight set up her telescope to view the wonders of the night sky. Surprisingly enough, a certain mare of the night was there to pay her a visit... and confess some long bottled-up emotions.
Little did she know just how much in dept Luna was to the actions that she, and her friends, have done to help her through her sorrows.
A request from a friend of mine.
Art by: My-Magic-Dream

Adventure
Dark
Drama
Human
Mystery
---
In the human world, a tragedy left an entire bus worth of children dead, their families and friends to mourn the lost. In Equestria, those same children found themselves in another world with new bodies, having to cope with being on their own, their memories, and their own deaths.
Ten years later, they begin to reunite in Ponyville after some of them assist in defeating Nightmare Moon.
Now Twilight Sparkle and her friends must try to cope with a strange and diverse group of beings, with personalities as varied as their species, moving in and around her new home. And not all of them see their world as a kind and wonderful place. Some of them are just to Cynical now for that.
Many OCs, but they will not eclipse the canon characters.
NOTE: Not sure if I need human tag or not but putting it just in case.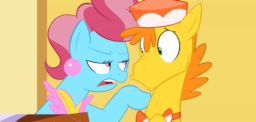 Sex
Anthro
Comedy
Slice of Life
---
Business has been a little slow lately at Sugar Cube Corner, the customers are coming in well and good but its not enough to keep the place a float. So when they face going bankrupt, what are a few ponies to do? Well invite your wife's sexy mare friends over and have them pose for a calendar shoot of course!
Okay maybe not the BEST idea to deal with being debt but its, start. You want to make the bits? Show them your...well you know.
Teen and sex tag for mildly soft-core sexual content. but no hardcore, straight up sex. Will alter the rating if it still needs to be rated mature.
Comedy
Equestria Girls
Slice of Life
---
In order to obtain new students for the next school year Principal Celestia entrusted Sunset Shimmer to do a project. She decides to film a documentary about Canterlot High School.
Thanks to Night_Shadow12 for the editing. You're the real hero here!
Rated T due to mild language.
Disclaimer: I know the cover shows Sunset in her pony form, but it was the closest thing I found to display the idea I'm sharing with you. Also I haven't watched any of the Equestria Girls movies so I don't know how faithful this is to the source material, let me know in the comments please.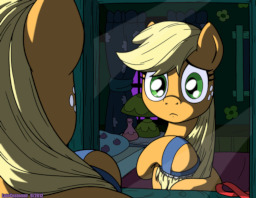 Romance
Sad
Slice of Life
---
A new hoof has been hired to work at Sweet Apple Acres named Alicster. He quickly catches the eye of Applejack, but he doesn't feel the way AJ feels for him like he does Rarity. So Applejack begins to ask the question: "Am I beautiful at all?"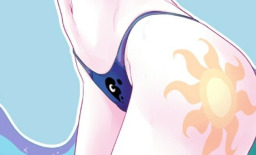 Sex
Anthro
Slice of Life
---
It's late in the city of Canterlot, late enough that Celestia should've been asleep hours ago, and yet she isn't. Rather than laying in bed and doing nothing, she decides to occupy herself with taking a stroll around the palace. As she does, her mind wanders about the stagnation of her daily routine, and the overall lack of interesting developments to make existence seem worthwhile.
It's during this late night stroll that Celestia happens upon Luna, and the two share a conversation that leads her to discovering a new concept that piques her interests. In fact it piques her interests a great deal actually. The only question is whether or not this discovery can supply her with what she's truly looking for.
Rated for nudity and suggestive humor.
This was written primarily in response to writer's block on larger projects.

Sex
Equestria Girls
Romance
Slice of Life
---
(Author's Note: This is a tribute story to Harms Way, one of the best series writers that I was able to befriend on this website, while also reading his 'M' rated series. Have fun, my friend!

)
When Sunset Shimmer feels a little down from how her new friends at Canterlot High all have some boys going after them, an unassuming man from outside of the school comes calling for her heart.
Set after the Friendship Games movie.
My first attempt at making a 'T' rated story. Hope y'all enjoy!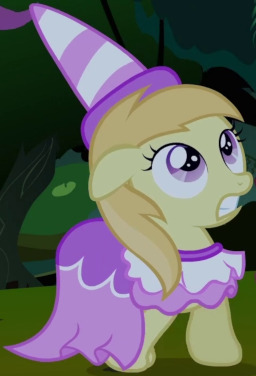 Dark
Slice of Life
---
When you're a princess, you have to worry about political intrigue, affairs of state… and knowing when your friend is pulling your leg. There are no monsters in the basement!
Slightly lengthened version of a write-off entry in the /fic/ mini event "Illusion of Choice." Finished 17th out of 104.

Sad
Slice of Life
---
She saw her, tumbling to earth. She heard the crack of horn on stone. She listened to the staccato beeps of hospital monitors. When will she wake up? Will she wake up? Will she ever forgive Rainbow for failing?