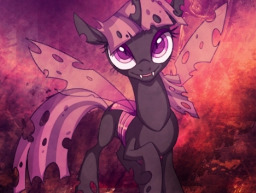 Source
Alternate Universe
---
There's a lot of things about Cadance and Shining Armor that never quite made sense: their sudden appearance before the Royal Wedding; their suspiciously convenient suitability as rulers of the Crystal Empire; their oddly abbreviated pregnancy; and even their quick change of heart after Spike asked them to forgive Thorax.
Twilight Sparkle knows exactly how deep that conspiracy goes — she was there in the beginning, when her hive's queen created Shining. And she wasn't happy about it.
Finalist in the "Things Left Unsaid" December 2015 Writeoff! Rewritten and greatly expanded to fill in more backstory and to account for Season 6 canon.
Cover art by Lo-23, using Twilight from "Deception is Magic" by Heilos.