Search

Source
Gore
Alternate Universe
Dark
---
Twilight has always been in awe of Celestia, right? Isn't that what the show says?
Well, this was true, but only when she was a little foal. Playing with her best friends from dawn to dusk, it was hard not to admire Celestia's power. But if Celestia's power tears her, Starlight Glimmer, and Sunset Shimmer apart?
Twilight has buried these memories, and not revisited them in a long time. Her family respected that. Her "friends" didn't even know about it. But when power flows into Twilight, will these memories be unlocked? Is Equestria truly a land of harmony? Is Celestia going to cause more doom for her little ponies?
---
This is another take on the Season 4 finale. Occurs when the other Princesses feed magic into Twilight.
Cadence is also part of this. I just ran out of space in the character thing.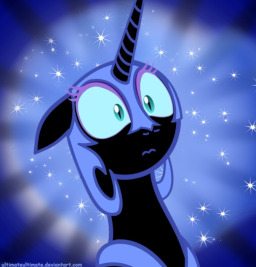 Adventure
Alternate Universe
Anthro
Human
---
Semester finals. Never the best, especially when you find yourself turning into none other than Nightmare Moon! Well, that's exactly what happens to 16 year old Jake Simmons in this Story!
Comedy
Romance
---
Soarin is a Wonderbolt. Rainbow Dash is the Elemant of loyalty and the only pony to pull of the Sonic Rainboom. But she still isn't a full Wonderbolt. How come? No one knows. But would becoming a Wonderbolt and friend of Soarin's make any difference between these friends? Will sparks fly when these 2 encounter, or will Rainbow not care?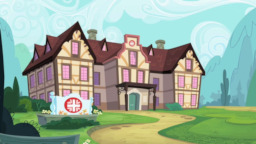 Source
Drama
Equestria Girls
Slice of Life
---
It has been a while since the incident that started it. But now, the day is here. Derpy has been sent to the Canterlot Hospital. Her friends are with her, and together, they await a new arrival.
---
Part of the Rainbooms/Dazzlings/Shadowbolts storyline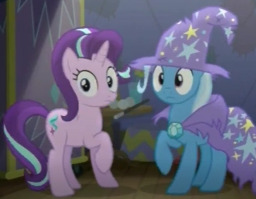 Comedy
Random
---
There are some days Starlight Glimmer knows she made a mistake.
It's been a few days since Trixie and Starlight made things right with Twilight and the three became friends, and it's been eating up Trixie to know just exactly what Twilight thinks of her now. So, as two unicorns break into Canterlot Castle at the behest of her new bestie Trixie, Starlight realizes today is going to be one of those days with plenty of regrets.
This story contains the following: Shameless new episode bandwangoning ,Shipnanigans, and Phil Colins
---
Originally written for the Writeoff competition, the short story contest with the prompt "Forbidden Knowlege."
Also, this story contains sorta spoilers for Season 6 episode 6 "No second prances" (but figuring you're already here the damage is already done.)