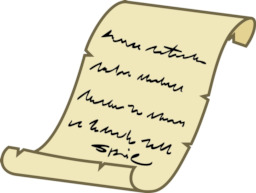 Comedy
Random
Slice of Life
---
Letters are standard fare in Equestria. They can bear good news or bad news, they can relay lessons learned, or they can simply be used to keep correspondence between the ponies of Equestria.
That last aspect is what we're focusing on here. Some are funny, some are sad, and some may even be romantic, but at end of the day, it's nothing more than a bunch of letters between friends.
---
Inspired by the Ace Attorney fanfiction Just a Note, by MadFox32, which you can read here.
This is a series of letters sent between various inhabitants of Equestria, with pairs ranging from Twilight Sparkle and Celestia, to Rainbow Dash and Steven Magnet. But I can't possibly be expected to come up with all of the pairs, now can I?
That's where you come in, dear readers. Have an idea for a letter? Then tell me about it, no matter how strange or ridiculous, and I will do my best to accommodate you.