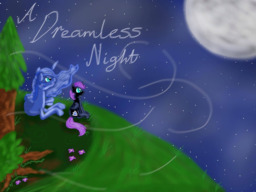 Alternate Universe
Slice of Life
---
This story is a sequel to
A Mother's Warmth
---
The night is long, it can be dark and cold with only the slight comfort of the moons light and the stars shine. Tonight, Nyx is unable to find her footing in the realm of dreams, she reads books and drinks milk but tonight she can't seem to sleep. And what a beautiful night to lose some sleep over.
---
Written mostly out of my own frustrations involving my lack of active writing this year, and the sloth that has filled my life the last few months prior to this fics publishing.
Warning: POV shift toward the end, and I have a reason I will not divulge for fear of spoilers. You're all smart, try to think about how our narrator knew all this was happening.

Based on the characters by Pen Stroke
Cover art by - shelbythehedgehog112
Edited by - Kirito-Persona