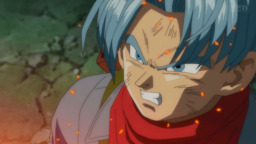 Gore
Crossover
Dark
Human
Sad
Tragedy
---
SPOILERS FROM DRAGON BALL SUPER!!!
I have defeated the androids, brought peace in my timeline. Managed to stop the ones known as Babidi and Dabura from resurrecting Majin Buu with the help of Supreme Kai and Kibito Kai. I truly thought everything was finally at rest.....At peace.
Until the ponies came, it was okay at first but then the Bureaus started. Riots, and violence filled the streets, it only got worse from there when the leader of these ponies, Princess Celestia, ordered the conversion and extermination of the human race. Claimed that we were meant to saved....purified.
It has been a few years since then and humanity is losing, either by the barrier growing larger destroying everything in its path or more humans being converted into mindless drones.
My name is Trunks Briefs and I am a human, saiyan, and humanity's last hope.
INSPIRED BY THE CONVERSION BUREAU