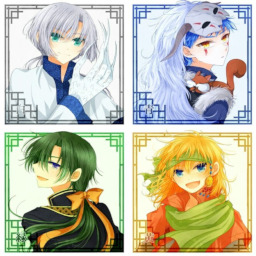 Adventure
Alternate Universe
Crossover
Human
---
Hello and welcome all (especially the ladies), my name is Jea-ha, the Ryokuryuu or Green Dragon. And yes, I am available.
How can you say such things so casually, Jea-ha? It is distasteful. My name is Kija, the Hakuryuu, otherwise known as the White Dragon and don't mind my brother.
And Zeno is Zeno, the Ouryuu or Yellow Dragon! Pleased to meet you all! And this is Seiryuu, the Blue Dragon!
...... Shin-ah.
Well, now that introductions are out of the way, let's begin. Our story starts where any Displaced story starts. At a convention. We had attended the con dressed as the Dragon Warriors from Akatsuki no Yona, bought something from The Merchant, and now here we are in Equestria.
A\N Again, no idea who made this art, but credit to them.