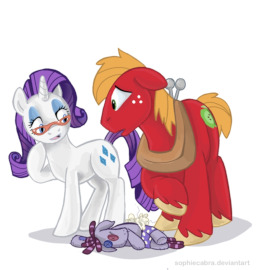 Source
Drama
Slice of Life
---
When Big McIntosh comes by Carousel Boutique acting strangely, Rarity doesn't understand why he's acting even shyer than usual. But when he asks her to fix an old, ragged doll for him, it becomes clear that there's more going on than Mac will admit. Even if he were more talkative than usual.
Big Mac has always been hard to read. But it'll be even worse when he puts effort into it and makes sure no one finds out about his little stuffed friend—or the real reasons why he feels the need to hide her.
Artwork by SpainFischer/SophieCabra on DeviantArt.