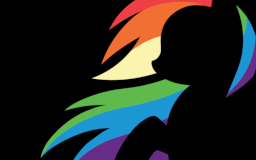 Dark
Drama
---
This story is a sequel to
The Spirit of Loyalty
---
A year has passed since the death of Rainbow Dash, and her good friends - especially Scootaloo - have come to accept a life without her. When the Summer Sun Celebration is about to begin, Scootaloo becomes curious about the Elements of Harmony, mainly the Element of Loyalty, which belonged to Rainbow Dash. Learning that the magic of an element can be passed to a successor, Scootaloo doesn't believe herself worthy of continuing Rainbow Dash's legacy.
All that changes when a long-defeated ancient evil rises once again to bring Equestria into a new age of darkness that is beyond all imagination. With the next bearer of the Element of Loyalty has yet to be found, the Elements of Harmony remain at their weaken state, and Scootaloo is put to the ultimate test of courage and strength, and faith in herself, as the future of Equestria rests on her wings.
However, salvation can come from the most unlikeliest of places... and the most unlikeliest of ponies.