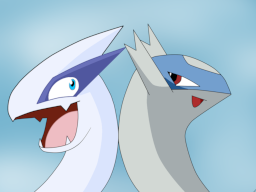 Source
Romance
Comedy
Crossover
Adventure
Alternate Universe
Human
---
I thought it was too good to be true, but I still bought the mega-stone and Soul Dew which I brought back to the only friend I had that was willing to come with me to the convention, Heather. Though it may have been because I bothered her over the phone about it for weeks. Well, if what happened to us was anything to go by, I'd have plenty of time to ask…
Big thanks to DJSkywalker for helping me with this story.
I do not own the cover-art either. Sadly I'm nowhere near good enough as an artist to even joke about it. :P
Oh, and if this isn't obvious, I do not own My Little Pony, Friendship is Magic in any way.