Search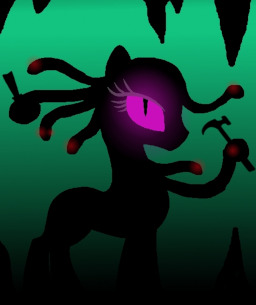 Comedy
Dark
Romance
---
After being embarrassed by Rarity at the Grand Galloping Gala, Prince Blueblood swears revenge against the mare and seeks out an new ally to help him with his plans.
However can he muster up enough manners to turn an old enemy into such an ally? Or will his pride stand in his way?
---
While I can't summit this story into my gorgony story contest (It wouldn't be fair considering the fact that I am a judge), I figured nobody would mind I tried to write a story, by the same rules for my own personal enjoyment.
If you are interested in a group about Gorgon Ponies please feel free to follow this link: The Gorgony Group.
---Credits---
I created the image using GIMP.
Editors: Mass, Nugget and ItIsASillyLittleGame.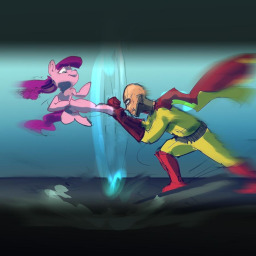 Source
Adventure
Comedy
Crossover
Human
---
One day, Saitama wakes up bored, only to find a portal in his room. Being Saitama, he doesn't investigate it with scientific curiosity: he walks straight through it. On the other side, he meets an odd young female pony who is somehow as strong as he is. Surely the two will come to chat cordially with one another?
Of course they get into a fight.
Cover art by alumx used with permission
Very likely falls within E-rating. T-rating is just to be on the very safe side for a couple of darker lines.
Day 21 of my Self-Imposed 28 Fics in 28 Days Challenge

Source
Alternate Universe
Equestria Girls
Random
Slice of Life
---
This story is a sequel to
Sunset Shimmer Buys A Burrito
---
Sunset Shimmer is slowly getting back on her feet and rejoining the world. She has started her freelance job again and offered to treat Rarity, to whom she owes so much, to dinner at the local Burrito Barn. Unfortunately, Sunset's paycheck did not clear in time, leaving Rarity to pick up the tab. What could make the evening more awkward? Drunk men, of course!
Special thanks to CoffeeMinion for (unintentionally) inspiring me to continue this series.
Cover art by CheckerBoardAZN, used with permission.

Drama
Equestria Girls
Mystery
Slice of Life
---
A solo Anon-A-Miss story.
Diamond Tiara is ambitious. She's also the editor of the School Newspaper. The biggest story to hit is the Anon-A-Miss scandal. When evidence falls into Diamond Tiara's lap, it would be the start of something great as a partnership is born.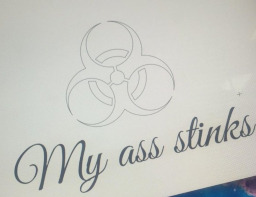 Sex
Alternate Universe
Anthro
Comedy
Random
---
Diamond Tiara and Spoiled Rich take Filthy Rich to get a tattoo. He thinks he's getting a motorcycle, but he got a bio-hazard tramp stamp that says "My Flank Stinks!"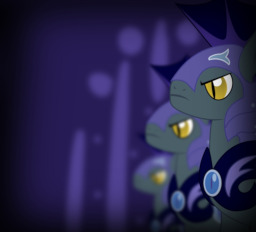 Gore
Adventure
Alternate Universe
Dark
---
Princess Luna seems to have vanished and it's up to her court to track her down!
Personal Project that panders to some of my characters (Aren't all stories personal projects?
I've been writing out the smattering ideas I've had in journals, but now it's long enough I think I can turn it into a proper story. It's whatever, I'm just spitting out an RP I was a part of and turning it into a story. :P

Comedy
Equestria Girls
Random
Romance
---
Princess Twilight Sparkle visits the human world for some much needed rest and relaxation...which she is very unlikely to get when she realizes that this world may be the home of the most dangerous villain she has ever faced. It's not Discord, it's not Tirek...it's data-driven, targeting marketing! Has Twilight Sparkle finally met her match?!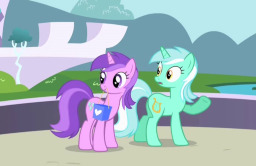 Slice of Life
---
This story is a sequel to
Equestrian Fanfiction
---
Two months after the launch of the Midnight Castle fan fiction site, Lyra and her fellow Nightlings have organized a meet-up in Canterlot. The agenda is simple: have fun, discuss their favorite human fiction series, and see the faces behind the usernames.
This story is linked to the daily Equestrian Fanfiction (and contains reveals as to the participants' identities).

Adventure
Crossover
Equestria Girls
---
Sombra. Tirek. Paradox. Burst and his friends have faced many threats to the world, and have triumphed. But after all the duels and monster battles, they're glad to be having a break from the excitement with their school's field trip to Camp Everfree. This should be a nice, calm break from all the events that have happened. Right?
Arctic Ace, Shadow Thunder, Dark Ice, Veenus Bloomer, and Night Fang are owned by MLPFan1
Goldenrise and Nightfall Silvers are owned by goldenrise365