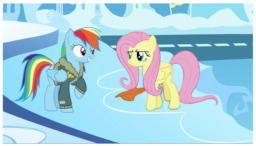 Slice of Life
---
Achieving her dream wasn't easy for Rainbow Dash.
Obviously, almost every little pegasus dreams of becoming a Wonderbolt when they're still naive, but most of them realize how few flyers really have what it takes to get in their rank. Yet, Rainbow Dash never discouraged and went against every obstacle.
So, when she finally achieve her dream, she can't help but feel a gleaming sensation of winning.
A few weeks later, a reunion of students from Flight Schools comes close. She's so eager to go. . .
---
Set up during the P.P.O.V. episode.
Thanks to Krickis for editing.