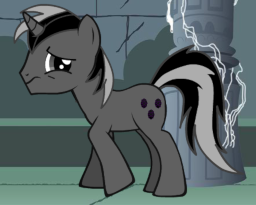 Sex
Gore
Dark
Random
Romance
Sad
---
Obsididite, A Kingdom known for its obsidian that they mine upon. But after the Great Continental War breaks out, Obsididite becomes neutral and their allies were on the verge of defeat after 2 years of conflict. When an evil Empire attacks the neutral kingdom and defeated, Obsididte joins the war and wins in less than a year.
When the conflict finally ceased all peace was restored, until the evil Empire attacks again, burns the kingdom to the ground and slaughtered all the civilians, except one. A prince named Dark Obsidian, Who is now alone with no family or friends to turn to.
This takes place After the Crystal Empire.