Search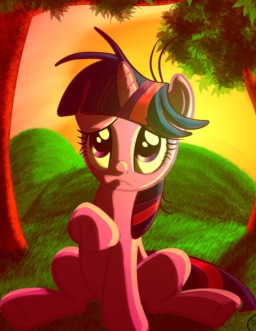 Alternate Universe
Dark
Random
Sad
---
Princess Twilight Sparkle is writing letters. She shouldn't be, but she is. Things are bad, times are tough. When it's rough, what would you turn to, if only to escape the reality of the world you live in?
I wrote this after having a brief spark of imagination while listening to "Boulevard of Broken Dreams". Thus, the title. Though I'm not sure what is has to do with the story.
I would love to hear your thought on this, and keep in mind, I have access to exactly zero editors and this was all written in about an hour and a half. It will not be changed, however, I will most likely see things I could have done much better a few days from now.
-Golden Oak
Cover art belongs to ChaosDrop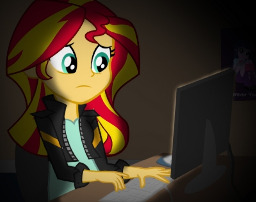 Comedy
Equestria Girls
Random
Romance
Slice of Life
---
The mane 6 now have their boyfriends (Pinkie had helped out her friends get/go through with their dates). Pinkie is now going to ship Princess Sunset Shimmer with somepony (or somebody). Welp, Sunny's in for on heck of a time on this dating site!

Comedy
Slice of Life
---
The Cutie Mark Crusaders travels to Manehattan's city to spend the weekend with Babs Seed and have fun, but something happens and they visit plans now includes rescue Sweetie Belle with the help of someone who can be her twin sister.
Written between season 3 and 4.
---
A collab fimfic from the group "pony fiction WORKSHOP". We discussed the ideas and I was the writer in charge to put all together. Now I was in charge to translate it, I guess.
This is my first fanfic with little to not edition at all, usually I ask for help in groups but this time no one answered the call so I decided to edit it by myself. If you find any mistake, please let me know and I'm gonna fix it ASAP.
Sad
---
A dragon assistant toiling away in the Castle of Friendship suddenly found himself as a familiar unicorn fashionista. What's more, he was shocked to find himself stranded in a critical moment of the not-so-distant past.
Although this story might seem to share similarity to Elements of Spike and Shrinking Lavender, it has a different set-up, more so than the difference between the two previous stories, and will go quite differently as well. Still, please kindly bear with my very last indulgence on this Spiketastic genre plot-bunny.
Cover art by: myself
20th of September, 2016 update: Now with story illustrations in Chapter 1 and 4!
22nd of September, 2016 update: Maybe not quite Slice of Life as I thought.
Human
Random
---
On the afternoon that Princess Cadence is set to marry Shining Armor, a saleman from General Dynamics woos a crowd of Equestrian officers with a weapons demonstration.
A Fix-Fix written for FTP:14!
Subject to editing after the contest is over.
Co-author: Bloons3. Make sure to follow him if you liked this fanfic, it wouldn't be possible without him!

Alternate Universe
Romance
Slice of Life
---
Set in an alternate universe, Trixie chooses to keep in contact with Twilight Sparkle after the Alicorn Amulet incident...but is having a lot of trouble getting back on her hooves, even with Twilight's kindness. With mental blocks and in need of inspiration, she decides to visit an old
friend in Manehattan to see if maybe he'll be able to help her...
THIS IS NOT PART OF THE GBOYHVERSE! IT'S PART OF HOLYCROSS' VERSE!
Commissioned by Holycross9 and edited by www.fimfiction.net/user/Thunde… .
One thing to note is I did struggle with this. Primarily because, ironically, I got Stage Hoof and Trixie's chemistry that makes them a decent couple in the GBOYHVerse was completely accidental. I didn't INTEND to write them as a couple, that's just what happened. Second is that Checker isn't a part of this story. Lastly, because romance isn't a subject I'm super well versed in.
Anyway, hope you like it! Split in half because...well, DA.
My Little Pony belongs to Hasbro!
Stage Hoof is mine!
Edit: Coverart thanks to Floravola on DA!
Gore
Adventure
Alternate Universe
Crossover
Human
Sci-Fi
---
After hundreds of thousands of years, the planet Equis has finally been visited by extraterrestrial life. The Roxians; a distantly humanoid race with a habit of enslaving peaceful races and claiming their planets as their own, have found a strange system with a single planet. A cute little planet named Equis, who's sun and moon revolve around it rather than the inverse. They will not bother with diplomacy, as the planet's occupants have very little potential for threat. Galagus has been fascinated by Equis and does not wish for any harm to befall it. He decides that he must defend this little planet.
Comedy
Slice of Life
---
After helping her and her Father's restaurant to become a success, Saffron has come to greatly respect her newest friend, Pinkie Pie. So, when it comes time to add new meals to her menu, she brings the party mare in to help.