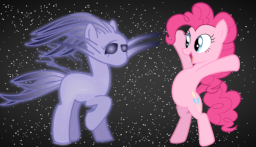 Adventure
---
They had it all wrong when it came to stars.
As far as the pony world was concerned, their sun was the only one of its kind, and the lights dotting the night were simply something else. However, when an alien pony arrives in Equestria, begging Princess Celestia to reignite the magic that powers her own star, this assumption was broken. Their sun was just one of many, the only difference being that not all stars have a Princess Celestia to power and control them, or a Princess Luna to drive away their warmth at night.
Unfortunately, Princess Celestia isn't even sure she can pull off such a feat, and to make matters worse: the alien's ship meant to take her to do the job has lost most of its crew, victims of a mysterious foe lingering in the shadows. Not to worry, though: nothing the Mane Six and a few other select ponies can't handle, right? Now if only they can figure out how to use a hyperdrive...
Inspired by the beautiful music of Hans Zimmer from the movie, well, Interstellar.