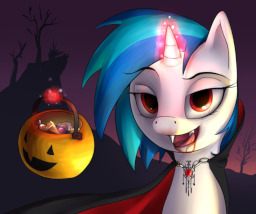 Source
Gore
Dark
Romance
Sad
---
Vampires don't exist.
Or do they? I mean, what do the little ponies in Equestria know about this sort of thing? Well, not really that much, at least in terms of Vinyl Scratch's favorite hunting spot. They are so blissfully clueless that Vinyl can mingle among them while they remain completely unaware of the supernatural.
Love blossoms in many mysterious places, for mysterious reasons.
But vampires and ponies... that can't end well. It's like an eagle loving a fish, and not just for food. So what happens next? Who knows...
Rated Teen for mild description of gore and hints towards sexual matters.
:)