Search

Romance
Sad
Slice of Life
---
Discord goes over his memories of his life with Fluttershy after she passes of old age. One shot.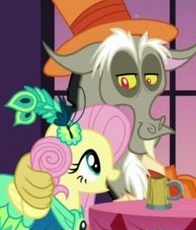 Romance
---
As a way to further apologize for his deplorable behavior at the Grand Galloping Gala, Discord escorts Fluttershy home in a way that only the Spirit of Chaos can conjure up.
Random
Slice of Life
---
Takes place in Calm Wind's Wonderverse before any of his stories.
After a show in Cloudsdale Silver lining meets an interesting filly.
I'm still sort of a noob at writing so please feel free to point out my mistakes and to help me improve!

Sex
Drama
Equestria Girls
Romance
---
Butterscotch yelled at his girlfriend and she is currently in the closet. Will Butterscotch be brave enough to confront her about their relationship.
Rated T for mentions of Sex and swearing.
Gore
Crossover
Human
---
Scattered, but not alone.
Ruby Rose, Weiss Schnee, Blake Belladonna and Yang Xiao Long have seemingly been killed in a confrontation with their most bitter adversaries. However, they were not as dead as their enemies thought. Instead of dying, team RWBY has been scattered across a new world, one full of creatures thought to be legend.
This world is Equestria.
Stranded in a world alien to them, these Huntresses in training must rely on the hospitality of the locals if they wish to make it home.
---
Back on Remnant, Jaune Arc, Nora Valkyrie, Pyrrha Nikos and Lie Ren, otherwise known as Team JNPR, are mourning the fall of their friends. After RWBY's brutal defeat, they are made aware of dark powers that threaten the entire world. With the goal to avenge their friends in mind, Team JNPR continues RWBY's investigations into the White Fang and Roman Torchwick's plans. JNPR might not be as strong or as dangerous, but their pure skill and determination make them formidable foes.
---
Arc One: Flickering Flame: Yang wakes up, weakened but alive, in a bedroom in Sweet Apple Acres. Temporarily taken in by the Apple Family, she must adjust to her new surroundings and come to terms with events that have transpired. But even though Equestria is the land of peace, not everything is as it seems... Chapters 1-???
Arc Two: Stray Cat: ????
Arc Three: Ice Queen: ????
Arc Four: Red Like Roses : ???
---
Diverges from RWBY canon during Volume 2, episode 7, Dance Dance Infiltration, and diverges from MLP canon after Crusaders of the Lost Mark.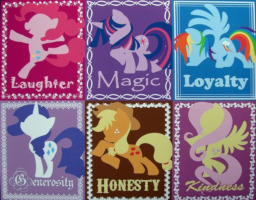 Source
Adventure
Alternate Universe
Comedy
Random
Romance
---
A lot of things has been happening in Equestria, but what would happen if the ponies find about a new alicorn pony that has six wings on him? Meet Joel Hopper, a colt or stallion that you can call him to be has awakened in a peach garden. He has no idea of how he got here, but had to venture in Equestria to find an answer somewhere. While traveling around alone, he notices that there is a town called Ponyville that could find answers to his memories. One by on he would he would want to become friends with Twilight and her friends along with every other pony that meets him as he learns everything about the meaning of friendship is magic. Will he manage to keep his friendship with the mane 6 IF he doesn't want his memories to come back, or will his memories haunt him when new foes arrive to destroy him for good? One thing though, Joel will have to go on an adventure anyway to confront his fears.
This is gonna take place three days before the Summer Sun Celebration and will focus on Joel first and then that he will be meeting up with Twilight and the rest of her friends as he journeys with them.
Since watching the Friendship Is Magic episodes I'm gonna try memorize everything to put in this story of chapters and hopefully put some characters in here with some changes actually, but not messing up the whole story with Joel learning some lessons. So um be sure to put in any comments, likes, or anything like that if I have trouble of putting in any wrong scenes or something heh heh plus plots and twists.
Also though, I'll try to draw a six winged alicorn colt and if anyone that actually has a cool or better drawing that I couldn't, be sure to chat with me if you want to or not heh heh. :)
Alternate Universe
Equestria Girls
Random
---
Sunrise Glitter has been devoted to the Wondercolts ever since she came to Canterlot High for the first time. But gradually, she has lost this devotion and has decided it would be best not to stay with them during the event of the Glitter Day. But what about... when she finds Crystal Prep?
Sunrise Glitter, Tyedye Flash, Fluffycat, Crackercurl, Silly Write, and Banana Spiice are ocs made by me and my sisters.
Source
Adventure
Crossover
Equestria Girls
Random
Sci-Fi
---
The mighty Subjugator-class heavy cruiser Malevolence is en route to destroy a fleet of evil Venator-class Star Destroyers in the Ryndellia system. The mission is interrupted by someone onboard the Subjugator cruiser. That someone is Indigo Zap, but she's not alone--Starlight Glimmer, hoping to boost the reputation of Our Town, has joined her in sabotaging the ship. Once Grievous realizes that the Malevolence is set on a collision course to the Dead Moon of Antar, Grievous tries to change the hyperdrive...but it may already be too late...
Timelines:
Star Wars: The Clone Wars: After "Rising Malevolence", right before the first spacebattle in "Shadow of Malevolence".
MLP: Right before the Mane 6 discover Our Town.
EQG: Right before the Friendship Games.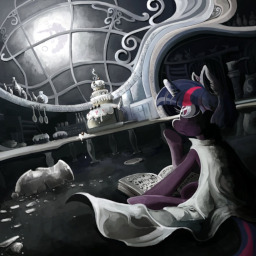 Mystery
---
A holiday mystery in Canterlot, unsolved for as long as anypony can remember, leads a teenaged Twilight to ask a simple question: Why steal cake?
As her favorite detective has discovered in every book of the Sable Sleuth series, it's often the simplest of questions that will lead a pony down unexpected paths. As Hearth's Warming Eve approaches, and the deadline for the next theft looms, will Twilight Sparkle be able to unravel the mystery behind the Cake Thief?
Cover Art by the talented Simbaro.
Editing by Minds Eye
Updates weekly.

Anthro
Comedy
Crossover
Slice of Life
---
While not as exciting as sailing the seas and saving the world, the folks of a certain island find their own ways of passing the time.
**Loose reference to alcohol and suggestive themes**
A short one-off story Inspired by Wind Waker HD and the TV show CHEERS.