---
Chapters
---
The Eye Of The Ender Man
"It's all a bad dream, and all you gotta do is wake up." Rainbow Dash told herself. She had fallen asleep on a cloud, and woke up in Minecraft. Now she was curled up in a ball, hoping no more Creepers showed up. When she first woke up here, it was night time, so she couldn't build herself a shelter fast enough to hide from the mobs. Sure, Rainbow Dash had played her fair share of Minecraft. Well more than that but that's not the point. RD could still remember the first time she played Minecraft....
"NO, NO, NO, NO! Forget the Wonder Bolts! I am playing this stupid game until I get every single stack of Diamonds I lost in lava back!" She then destroyed her computer. Then she remembered she couldn't reach her goal in that world because the file was saved to her computer she just destroyed. "Awww dang it." She groaned and left for the store to get a new computer.
But back to the present. Rainbow new in her mind she should at least try to build a shelter to survive, but she was still trying to process everything that was going on. She looked at the sun.
"Its about mid day. Maybe if I start now I can finish just before it gets dark. As long as I don't make it too big and crazy." She thought out loud, and started gathering wood.
Achievement Get: Getting Wood
By nighttime, Rainbow had a nice little cottage out of the oak trees in her biome. It was a forest biome. Not too big not too small. RD thought this world could be nice without the monsters. But then she thought about her friends... "Nah, its just a dream, remember? You'll wake up back in Ponyville and everything will be fine." she said to herself, but she was doubting that she was dreaming more and more.
Rainbow curled up in her bed (She still felt bad about the sheep who died for it) and went to sleep.
---
The Hug Of The Creeper
Words cannot describe the tantrum Rainbow had when she woke up and was still in Minecraft, but it didn't last long. Rainbow had things to do. So she did what Twilight would do. She carved a checklist into a tree(which was surprising because you can carve things into trees in Minecraft.)
1. Get wood.
2. Make wood tools.
3. Go mining.
She decided she would continue it when she got back from mining. Rainbow chopped down about half the forest(Glad Fluttershy wasn't there) until she all of it into 10 stacks of 64 planks. She made a crafting table and got to work making tools.
Rainbow decided to be smart and go into the caves at night so there would be less mobs in the caves. As she was heading out she heard a hissing.
"Thatsssss a nice housssssse you got there" Said the creeper.
BOOM
---
The Howl Of The Wolf
Rage, Hate, Unhappiness. Those were the feelings Rainbow Dash felt. She just lost everything and now there was a giant hole in her house. You know what else? She forgot to make a chest and store her wood. But then she remember, she still had like five minutes till her stuff despawns. Her stuff was only a few blocks away, but there was a wolf in front of it.
"Oh screw you." she told it and ran past it, claiming all of her items.
She held a bone in her hoof that a skeleton had dropped. The wolf cocked its head to the side. "You want this?" She asked and through it the bone. Pink hearts appeared around it and a collar appeared on its neck. Cool I got a new pet She thought.
FML Is Setting Up Your Minecraft.
5 Mods Installed.
More Creeps And Weirdos Mod
Aether Mod
Herobrine Mod
Custom Mob Spawners
Forge Mod Loader
Rainbow Dash saw a chat box pop up in front of her.
Server: Herobrine has joined the server.
Herobrine: I installed some... Modifications into your game. I hope you like the new Minecraft. Lolz.
Stuff just got real.....
---
Oh For The Love Of Notch!
Lollimen, Giant G's, Weener Dogs, Oh my! The joys of More Creeps And Weirdos Mod.
"Oh great Notch its HEROBRINE! He's on my server! Ahhh I thought he was removed in update 1.2.5! Ahhhh!" Rainbow Dash now had a reason to be scared. And mods? This guy is gonna kill me! Rainbow suddenly hear a "G-g-g." from behind her. There loomed a big letter G. "Your kidding me right? you installed THIS mod? Stuff just got real." Rainbow said. The G charged the Defenseless Rainbow. She expected to be killed and have to respawn again, but it didn't happen. There stood Vinyl Scratch.
"Hey Rainbow. I thought I was the only one here." She said.
"I thought I was alone too." She admitted.
"I also thought I was the only one that played Minecraft" Vinyl chuckled. "It looks like your house is a bit.... Blown up. You wanna come stay at my place?" Vinyl asked her. Rainbow just nodded. "Alright lets go. Its a long way to go and it will be night soon." she said and lead rainbow into a new biome. Snow covered the ground but there was no temperature change.
"Soooo.... Did you hear Herobrine?" Rainbow asked to break the silence. Vinyl stopped in her tracks.
"You heard him too?" Vinyl asked.
"Yea. He sounded like making my life harder was funny. I mean, who even uses the word 'lolz' anymore?" Rainbow said.
"Well, if he installed mods, life is going to get harder than it already was." Vinyl said. "I think we need to gear up, and fight this Herobrine! Maybe if we kill him, we will be able to get back to Equestria."
"Its worth a shot." Rainbow said. "Why the heck is there a giant baby in front of us?"
---
Problem?
"I don't just kill my enemies, I play with them. I make sure they die miserably. It is all part of this little game we play. A deadly game of cat and mouse. But who is the cat and who is the mouse? Sometimes I am the one who is doing the running, and sometimes the one who is doing the chasing. You may ask why I do what I do, being Notches brother and all. But It is because I am Notch's brother that I do it. You want to know my secret? It is Notch who killed me."
Server: Herobrine has left the game.
---
The Herobrine Encounter
"What the...." Vinyl began, but stopped. "I'm not even going to try to figure out what is going on." The DJ pony said.
"Well it was clearly modded into the game. We have nothing to fight it with, so we'll just have to run. I'll fly away and you can use your weird unicorn magic to teleport." Rainbow said.
"Weird unicorn magic? Its not weird its cool!" Vinyl exclaimed. Rainbow rolled her eyes.
"Just come on." Rainbow said and launched herself into the air with a beat of her wings. The giant baby tried to grab Rainbow, but she simply flew higher so it could not reach her. Not being able to grab its first target, it lashed out at Vinyl. The white mare teleported out of the way just in time, but she did not give an exact place she wanted to go, so she ended up in one of the snow covered trees.
"Rainbow help me down!" Vinyl yelled. The blue Pegasus chuckled and raced over to her friend.
"I guess that's one place to hide out at, but I would try to find a better spot next time." Rainbow chuckled. Vinyl gave her an unhappy look and let Rainbow help her out of the tree. Rainbow Dash then looked over to where the offending mob was. The big baby had not spotted them yet, as far as Rainbow could tell. "Lets go while we still have the chance." She told Vinyl, and the two left the big baby to whatever it is that big babies do.
Vinyl Scratch led Rainbow out of the snowy forest and into a desert.
"It's not far now. There is a strange biome nearby with giant mushrooms and weird grass. That's where I built my house." Vinyl said.
"Alright, that's cool, but it's getting dark and since we're in a desert there are going to a lot of mobs spawning. What are we going to do? I made tools not weapons." Rainbow said. Vinyl face-hoofed.
"Do I have to do everything? You have a little less than ten stacks of wood right? Make weapons! Or at least make a hideout." Vinyl told her.
"Oh yea I forgot I had wood, hehe." Rainbow laughed, embarrassed. "Oh and I forgot to thank you for killing that G earlier. I would have been dead if you hadn't been there. What were you doing there anyways? It seems like a long way from your house." Rainbow asked Vinyl.
"It's cool Rainbow. That's what friends do. And I was out exploring other biomes for resources." Vinyl said. "I was also looking for a nice cave. I'm on a quest for diamonds, ya know?"
"Oh yea. I was going to go caving, but I had a minor setback." Rainbow told her, recalling the Creeper explosion and the dog....THE DOG! "Vinyl I forgot about my dog!" Rainbow started to panic.
"Rainbow, chillax. I'm sure your dog is fine. If it was alright before you got it, i'm sure it's fine now." Vinyl calmed her blue friend.
"Alright. Well, lets get started on that base." Rainbow said. The sun was setting and the moon was rising. It would not be long until mobs started spawning. Rainbow pulled one of her stacks of wood out of thin air and started working on a small base. Vinyl got a shovel out.
"I'll dig down and try to get some cobble and make some stone tools and furnaces." Vinyl said and started strip mining, levitating the shovel with her magic and collecting the sand.
By the time the monsters started spawning, Rainbow had finished the base and went into Vinyls mine to tell her to come out. Vinyl had dug down about twenty blocks and was now mining cobble.
"Oh hey Rainbow! I got a stack of cobble and some sand. I can give you half of it if you want." Vinyl said to Rainbow Dash.
"No thanks. I came to tell you that it's night and there are quite a few mean things spawning," Rainbow began, pausing to listen to the sound of an Ender man making strange noises outside the mine. "And I got a nice base built that we can hide out at." Rainbow said.
"Alright, I'm going to kill some creepers. I've got a... Convenient use for their gunpowder." Vinyl grinned.
"That's fine by me, as long as you don't get yourself killed. I'll take the cobble and sand. I can make some better tools and make a chest to store everything in." Rainbow said, taking the blocks form Vinyl and leading the way out of the Mine.
Achievement Get: Getting An Upgrade
Achievement Get: Monster Hunter
Rainbow had fallen asleep on the sandy floor of the base and woke up to a nice surprise.
"AHHHH WHY THE HELL IS THERE TNT IN MY FACE!" Rainbow screeched. Vinyl cracked up at Rainbow's outbreak.
"I made you some explosives. I do hope you enjoy my gift." Vinyl said sweetly. Rainbow Dash's fave turned bright red and she broke the TNT block. Vinyl gave her ten TNT blocks and walked away singing "Ponymite" (Dynamite)
Rainbow walked out the door of the base, looking into the vast dessert. There was heavy fog in the distance, which Rainbow found weird because it was the desert, but what was strangest, was the figure she could make out in the fog. It looked a little taller than her, with a teal shirt and blue pants. But what stood out the most about the figure, was its eyes. Rainbow knew those eyes...HEROBRINE?
Problem?
---
TNT
Rainbow Dash gulped. Herobrine was staring right at her. The fog around him began to clear, and Rainbow could see a big, creepy grin on his face. And then he started spawning Mooshrooms.
"AHHHH VINYL HELP ME IT'S HEROBRINE AND HE'S SPAWNING DEFORMED COWS!!! AHHHHH!" Rainbow Dash screamed. Vinyl raced out of the base as fast as she could, and then laughed.
"Those aren't cows you silly filly! They're Mooshrooms. They look like red cows with mushrooms on their backs." Vinyl explained.
"B-but what about H-H-Herobrine?" Rainbow Dash stuttered. Vinyl looked around.
"I'm not seeing him." Vinyl said. She was right. The fog was gone and Herobrine was no where in sight. Rainbow gasped.
"But he was here! I saw him! He was standing in the fog when he started spawning Mooshrooms!" A Mooshroom walked up and stared at her as right on cue.
"I believe you Rainbow. But he's gone now, and we got a new problem. What do we do with all these cows??!!" Vinyl asked.
"I think I have an Idea.
Rainbow why did you do that!!!!????" Vinyl yelled.
"Hey, It worked, didn't it??" Rainbow replied. Vinyl grumbled something about wasting TNT but Rainbow did not care. She liked explosions. "Well we should go soon while it's still morning. I'll destroy the base and get all our stuff, and you do... whatever you need to do." Rainbow dash said, and started mining their little house. Vinyl left Rainbow to that and started collecting sand and cacti.
"These could make a nice mob trap." Vinyl thought out loud.
Then a thought struck Vinyl. Rainbow Dash didn't have any food, so she must be starving, being in the desert where there is no grass. Vinyl had brought wheat, but there was just barely enough for herself, so she couldn't share it with Rainbow.
It's interesting that this story is seven chapters in and the author couldn't care to mention what the ponies ate...I'm getting off topic.
When Vinyl had a good amount of sand and cacti, she went back to where the base used to be. Rainbow had torn the whole thing down, leaving no trace that it was there.
"Wow nice job Rainbow!" Vinyl said.
"Hey, back in Ponyville, I could clear the sky in ten seconds flat. This was nothing!" Rainbow said proudly. "But we should really go now, unless you intend on having to spend the night in the wild again." Rainbow told Vinyl.
"Ha, guess your right. It's not too far from here so i'll lead the way." Vinyl said and lead Rainbow through the desert. Rainbow could see giant mushrooms rising up in the distance.
"Is that it?" Rainbow asked.
"Yep. This is the Mooshrooms habitat, so don't freak out when you see a bunch of them." Vinyl laughed. Rainbow Dash blushed at the memory.
"Sorry. I've never seen one of these biomes before, they are supposed to be super rare." Rainbow said. The DJ nodded.
"They are, but I woke up in this one. As you can guess I was pretty surprised to wake up to a Mooshroom in my face." This made Rainbow laugh. As the two ponies got closer to the shroomy biome, Rainbow could see some pinkish-grayish grass popping up out of the dirt.
"That's Mycelium, isn't it?" Rainbow said to Vinyl.
"So that's what it's called. I always just said shroomy side dirt." Both mares giggled. When they arrived in the mushroom biome, rainbow dash was surprised. There were two types of giant mushrooms poking out of the ground. There were wide red mushrooms with white spots, and there were tall brown mushrooms. In the middle it all, was a small castle made out of red and white wool, clearly made to look like it was a red mushroom.
"I thought you said house, not castle!" Exclaimed Rainbow.
"Eh, I figured It didn't matter. I had lots of red dye from flowers I found in another biome, and tons of wool from sheep. This seemed like the coolest thing I could think of." Vinyl said, shrugging. "Come on in, let me show you around." Vinyl said, pulling a lever to make what looked like a drawbridge fall down with pistons.
"Now that is cool!" Rainbow told Vinyl, and followed her inside the castle.
---
Fire Hazard
Vinyls house was nice. Everything was made out of red and white wool (Except for chests, crafting table, furnaces, and such) to match the mushrooms outside. Vinyl gave Rainbow a room and let her get settled in. Rainbow Dash made herself a chest to store all of her stuff in, and finally got to sit down and relax when she heard a noise.
Squeak
There was nothing in Minecraft that squeaked. Mods. Right. Rainbow remembered. She looked around the room. It was the color of everything else, red and white. It was 10x10 blocks big. she did not see anything weird until she looked in the corner.
"VINYL COME LOOK IT'S A GUINEA PIG!!!" Rainbow dash yelled. Vinyl came rushing in to the room.
"What the? how did that thing even get in here?" Vinyl asked.
"It must have spawned here. Quick, give me some wheat so I can tame it!" Rainbow told Vinyl.
"Alright fine, but you better help me get more wheat, because this is the last of it." Vinyl said, pulling the wheat out of thin air and giving it to Rainbow. RD fed the black and white Guinea pig the wheat until hearts appeared around it. A health bar showed up above it and a name above that.
Squishy
"Yay!" Rainbow dash cheered and put the Guinea pig on her head. Vinyl did not even ask why it was on her head and left the room, closing the wooden door behind her.
"So Rainbow, is this...Mycelia or whatever it's called, is it edible?" Vinyl inquired.
"Errr... I think so. You better try it to find out." Rainbow told the DJ.
"Are you sure? What If it's not safe?" Vinyl asked.
"You'll never know unless you try it. Plus we have already set our spawn point here so it's no biggy if you die." Rainbow said.
"Well... alright." Vinyl said and hesitantly bent her head down and ate a mouthful of the strange grass. Her eyes suddenly widened. "This is amazing!" Vinyl exclaimed.
"Really? I wanna try!" Rainbow said and scooped up a mouthful of the stuff. "Mmmm-hmmm. Delicious." Rainbow told her, and ate more.
The two mares ate until they were stuffed.
"Well, we should start a wheat farm." Vinyl said. Rainbow Dash nodded and went with vinyl to go collect some seeds.
Meanwhile....
Herobrine pulled out a flint and steel.
"LOL" He said and lit the whole biome on fire. Herobrine you troll....
"Noooooo! I left Squishy in there!!!!" Rainbow yelled.
"I don't give a buck about your pet, my house is on fire!" Vinyl snapped and rushed to put out the flames. Suddenly, Squishy leaped out of the burning castle.
"Squishy! Your alright!" Rainbow exclaimed and pulled her pet into a hug. "I am enchanting you some fire proof diamond armor when I get the chance!" Rainbow told him. Vinyl put out all the flames with a bucket full of water she had and went back to Rainbow.
"Sorry to interrupt this touching reunion, but the castle needs some rebuilding and I would love it if you would help. I need to fix the redstone for the drawbridge and patch up all the spots that got burnt. So if you don't mind... "
"Yea, yea i'm coming." Rainbow said. "Come on Squishy." She told her pet and followed Vinyl.
The two mares had the castle all fixed by night time, and were ready to go to sleep.
"Tomorrow i'm thinking of building a mob trap. You wanna help?" Vinyl asked Rainbow.
"Sure, I've got nothin else to do." she said.
"Ok cool. Well, i'm going to sleep before any mobs can spawn. Goodnight Rainbow."
"Goodnight Vinyl." Rainbow said and went to sleep.
The castle kinda looks like this (But not really)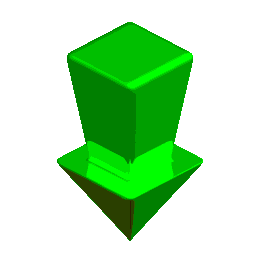 ---
I Can Swing My Sword, Sword
Rainbow Dash started dancing around singing this song: [youtube=http://www.youtube.com/watch?feature=player_embedded&v=T2RaehsIbkU]
But not the ten hour version. I was actually listening to that one...
"Rainbow what the buck are you doing?" Vinyl asked the crazy Rainbow Dash.
"Vinyl, Watch me swing my sword!" Rainbow dash said and waved a Diamond sword around.
"Where did you even get that?" Vinyl asked.
"I went mining. I struck Diamond. And then this came to be." She said, showing Vinyl her sword. "Oh, I made you one too."
Rainbow said, pulling out another Diamond sword and giving it to Vinyl.
"Swing, Swing, Swing my sword sword." Vinyl started singing. The two Diamond sword wielders sang the song over and over again. Suddenly, there was a flash. Herobrine appeared.
"SHUT UP! JUST QUIT SINGING THAT SONG ITS SO IRRITATING! AHHHG!" He yelled. Vinyl and Rainbow shared a look.
"Do you like my sword, sword? CAUSE IT WILL BE YOUR DOOM!" Rainbow yelled and charged him. Herobrine rolled his rectangular eyes and disappeared, only to reappear right behind her.
"Rainbow look out!" Vinyl yelled and joined the fight. Rainbow stabbed Herobrine with her sword. He yelled in pain.
"Take that, Herobrine!" Rainbow spat at him. His eyes looked like fire with his rage. He summoned a Diamond sword that appeared to be enchanted. He swung at Rainbow Dash, barely cutting her, but she became engulfed in flames. She died and respawned in her bedroom. She dashed out and grabbed all of her stuff when Herobrine turned to Vinyl. The white mare lunged at him with her sword, holding it with her magic. She left a mark on his face that would become a permanent scar.
"Alright, i'm done playing games." He snarled and pulled out a lava bucket.
"Oh no you don't!" Rainbow yelled and sliced his head off. Herobrine fell to the ground, his head right beside him. He disappeared into white particles.
A chat box popped up in front of them.
Server: Herobrine has left the server.
"Rainbow we did it! Herobrine is gone!" Vinyl cheered. Rainbow smiled.
"I can swing my sword,sword!" She sang. Vinyl joined in with her. The two mares were happy, but they were not back in Equestria. Will they ever get back?
---
The Notch Encounter
"I AM THE LORD OF DIAMOND SWORDS!" Rainbow Dash yelled triumphantly.
"Yea, yea, you may have killed him, but I distracted him so you could do it."
"Whatever. I'm going to go give Squishy these Diamond boots." She said and walked off. Vinyl went down the hall to her room and opened the door to came face to face with a Creeper.
"AHHHHH"
Boom
Rainbow rushed to Vinyl's side.
"Ohmygosh are you ok?" Rainbow asked.
"Yes" Squee
"Well, If you say so. I'll got get the wool to fix the giant hole in the wall." When Rainbow left, Vinyl collapsed with pain.
"Owwwwwwwwwwwwwwwwwwwwwwwwwwwwwwwwwwwwwwwwwwwwwwwwwwwwwwwwwwwwwwwwwwwwwwwwwwwwwwwwwww" Vinyl groaned. "I need a Taco...."
"What's a Taco?" Rainbow poked her head around the hole in the wall.
"It consists of beef, lettuce, chese, and taco sauce, all wrapped in a tortilla."
"VINYL! HOW COULD YOU EAT BEEF?" Rainbow exclaimed.
"I need to get in touch with my inner carnivore!"
"???"
"...."
"...."
"This conversation going no where." Vinyl said and walked away, leaving Rainbow Dash confused about what just happened.
Later that day, The hole from the creeper explosion was fixed, and the two mares were putting a large wall around the castle with a drawbridge and the new stone wall blocks from the new Minecraft update 1.4.2. when there was a flash behind them. They turned around to see Notch, the creator of Minecraft. Both mares bowed before him
"N-Notch! I am so honored to be in your presence!" Rainbow Dash stuttered.
"Yea, me too!" Vinyl said.
"You should be. I created this world." He said. "Now, it has come to my attention that you defeated Herobrine, my brother. He told them
"Y-yea. I hope you aren't mad about that, but he sorta threatened us." Rainbow said.
"And he set my house on fire." Vinyl added.
"Mad? I'm overjoyed. He has been killing players for as long as I can remember. Sadly, he won't stay gone." Notch said.
"Wha-What do you mean he wont stay gone? I chopped his head off!" Rainbow exclaimed.
"You don't understand. You cannot simply kill Herobrine, for he is already dead. But you can get rid of him." He told them.
"How can we get rid of him?" Vinyl asked Notch.
"You must sing 'I kissed a girl' by Katy Perry in his presence and he will leave you alone for good." Notch said.
"But that's a good song!" Vinyl exclaimed.
"But he is Herobrine. And he hates everything good." He said. "Now that you know what you must do, I will take my leave now." He told them, and in a flash of bright light, he was gone.
The mares exchanged a look.
"Vinyl, we better start rehearsing." Rainbow said.
---
The Aether
Vinyl constructed a Glowstone frame, similar to the obsidian frame of the Nether portal.
"Whatcha doin Vinyl?" Rainbow asked.
"I'm making a portal to the Aether." Vinyl said. Rainbow Dash gave a confused look. "It's a mod. It allows you to make a portal to the Aether, the opposite of the Nether." Vinyl told her.
"Ooooooh. So it's like the Minecraft equivalent of heaven?"
"Yes, something like that. you can help by getting me a water bucket from the storage room." Vinyl said and the cyan Pegasus did what she was told. "Perfect. now let my just put the water here and.... There! The portal is ready." Vinyl said, staring in amazement at the lit portal.
"Cool. Let me go get my DIAMOND SWORD and we can go." Rainbow said, yelling the words diamond and sword.
"I need mine too." said Vinyl and the two mares went back to the castle.
Meanwhile....
"Oh, I am going to be such a freaking troll while they are gone." Herobrine said, laughing. He turned to the Zombie Pigmen that were waiting for his orders. "Get me twenty lava buckets and fifty stacks of Netherrack. Oh, i'll also need some Ghast, Blaze, and Pigmen spawners." He said with a crazy smile on his face. "Trolololol." He laughed, getting ready for the most epic prank in history.
Back with Vinyl and Rainbow....
"Well Vinyl, are you ready to totally conquer the Aether?" Rainbow asked
"Yup! And I intend on bringing back a bunny." Vinyl said.
"Alright..... But i'm bringing Squishy. Who knows what Herobrine will do while we're gone?" Rainbow said and grabbed Squishy from the castle.
"Ummm, Rainbow? We should go now because a mad scientist is making his tower right over there and I really don't want want to deal with him right now..." Vinyl said.
"Oh, yea. I guess we can go now." Rainbow said and stepped into the portal.
"Wait for me!" Vinyl said and galloped in after her.
The Aether was a beautiful place. The grass was green, the sheep and pigs were flying, some of the trees were golden, and they were on floating islands in the sky. It was paradise. It's only downsides were the birds that shot poison darts at you, the clouds that shot snowballs at you, the flowers that also shot poison darts at you, and of course, the dungeons and their inhabitants.
"Vinyl look! I'm riding a flying pig!" Rainbow yelled to Vinyl from her mount.
"That is weird on so many levels. I mean, pony riding a pig.... nevermind.
"Well Squishy is having fun. Look, he's on my head! he is sooo cute. yes you are your a cute little Squishy yes you are- OW! HE BIT ME! BAD SQUISHY! BAD!" Rainbow scolded the Guinea pig. Vinyl rolled her eyes.
"Rainbow, get back here before a cloud shoots you with a snowball!"
"Silly Vinyl, Clouds don't shoot snowballs-" Rainbow was shot off her pig and got knocked back onto land.
"You were saying? Anyways, there are not many things that do damage here. That cloud merely wants to knock you off the island. Moas on the other hoof, are not so nice. They will fire poison darts at you, so try to avoid them." Vinyl said.
"Oh, were you talking to me? I wasn't listening." Said Rainbow. Vinyl face-hoofed.
"Just come on." Vinyl snapped at the cyan Pegasus. The two ventured from island to island, getting golden wood and riding pigs n stuff, when Rainbow saw it.
"Vinyl look! A...building!" Rainbow pointed out.
"Yes that is a silver dungeon. There are Valkyrie there. I wouldn't recommend it though because it's pretty hard...Your just going to go anyways aren't you?"
"Yup! Come on Vinyl lets go." Rainbow said and dashed towards the silver dungeon.
"Oh no, don't wait for me, i'l just make a bridge with our only wood." Vinyl yelled at her. She heard a faint OK from the rainbow blur in the distance.
By the time Vinyl got to the dungeon, rainbow was waiting outside.
"Alright, are you ready to defeat this dungeon?" Vinyl asked.
"Huh? Oh yea I already beat it. The Valkyrie queen dropped a key when I killed her and I got to open a chest with dart guns in it and a Valkyrie staff." Rainbow said proudly.
"RAINBOW! You were supposed to wait for me so the author could describe it in her book!" Vinyl yelled.
"Oh well, it's the readers loss."
"..."
"yea. So what are we going to do next- OMIGOSH WHAT THE BUCK WAS THAT" Rainbow exclaimed as a poison dart whizzed past her head.
"That, is a Moa." Vinyl said as one hit her. her vision went blurry and purple, and she started stumbling around. A cloud shot a snowball at the unsuspecting Rainbow and she fell off the island. She did not open her wings fast enough and died.
"You know what? I'm sick of this place! It's too warm and nice and i'm all dirty and getting shot at, and I miss the mobs! I miss all the cows and Creepers and Skeletons n stuff. I didn't think I would but I do! Ya know what? Screw the Aether! I'm going back to the normal world and i'm gonna hug some Creepers and kill some cows! SCREW THIS PLACE!" Vinyl said and jumped off of the island, falling to the normal world. She died and respawned in her house. She went up to Rainbow.
"Feels like Tatarus what we've just been through. The readers would not believe us if we told them. Let's go hug some Creepers!" Vinyl said.
"Umm, alright. But let me put this stuff away. I got my items back and I picked up yours too." Rainbow said and went to the storage room. She returned with no items on her. "Ok i'm ready." She said and headed outside. It was nighttime. She went up to the nearest Creeper, who looked like he needed a hug.
Boom!
---
Nether In The Overworld
"Hugging Creepers hurts..." Rainbow said, limping.
"Uh huh." Vinyl replied. Rainbow took to the air.
"I'm going to get some mushrooms for mushroom stew." Rainbow yelled down and flew off. Vinyl went back to lounging when she heard Rainbow yell. "VINYL GET OUT HERE!" Vinyl rushed outside to see that the mushroom biome behind their house was a block wall, made to look like a mushroom biome. Vinyl walked along the wall, thinking about what could be behind it, when she found a door. Her and Rainbow looked through it. SOMEONE Netherfied the backyard. The ground was Netherrack and Soul Sand, With an ocean of lava in the middle of it. There were small lava fountains all over the place. But all of that was nothing, compared to the active Ghast, Pigmen, and Blaze spawners that littered the ground. A Ghast rose out of the lava, screeched, and fired at the two mares.
"RUN!!!" Rainbow screamed and went back through the door with Vinyl. Vinyl slammed the door shut. They thought they were safe until some Ghasts and Blazes blasted through the wall or went over it. "You break the spawners, i'll fight the mobs. And don't punch the Pigmen!" Rainbow said and went off to get her diamond sword and some Armor.
When she returned, Vinyl was waiting for her with a diamond pick.
"Let's go." Vinyl said, and the two ponies charged through the door, to see the army of mobs waiting for them.
"CHARGE!" Rainbow screeched and flew at the closest Ghast. Vinyl dashed for a Ghast spawner and destroyed it. The ponies fought and destroyed all day, until there were no more mobs and spawners. They were about to start cleaning up the lava, Netherrack, and Soul Sand when they heard clapping.
"I must say, I did not think you would be able to pull that off without dying, but oh well, that means I can kill you myself." Herobrine said.
"No way! Notch told us your weakness!" Rainbow said to him.
"Oh, that lie that the song I Kissed A Girl will get rid of me? Yea, not going to work."
"Oh yea? Why?" Rainbow hissed at him.
"Because I have earplugs." He told her.
"Oh...Well then i'll just kill you again like in the castle!" Rainbow said.
"I let you kill me so that you would underestimate my power!" Herobrine snapped.
"Right..." Vinyl said in the background.
"Shut up, pony! I could nuke your whole world if I wanted too!" He said.
"Really? Then why don't you?" Rainbow asked him.
"Because...Uh..."
"BECAUSE YOU CANT!" Rainbow yelled at him, laughing.
"I can too! Just watch!" he said and covered everything in TNT. He put a lever down.
"No!!! Stop! Maybe you can do it i'm sorry. Just don't nuke the Over world!" Rainbow pleaded.
"Hmmm... Apology not accepted." He told her and pulled the lever.
---
The Valley Of Death
Rainbow picked up Vinyl and took to the sky, as their world exploded around them.
"My house....My mushroom biome... MY ITEMS!" Vinyl cried. Minecraft was blown down to bedrock, so the world was just a huge circle made of bedrock. Rainbow set Vinyl down once it was safe and looked in her inventory.
"Vinyl, look. I've got some seeds and saplings in my inventory, as well as a stack of dirt. We can make a farm, and build a new house out of wood." Rainbow said, and as she looked around, she brightened up. "All of that TNT basically mined the whole world for us! Look, all of the ores and stuff dropped!" Rainbow cheered. "Maybe this is not as bad as it seems." Rainbow suggested.
"Your right. We should get to work. Tonight is going to be a mob fest since the whole world is flat and made of bedrock..." Vinyl realized something. "Mobs don't spawn on bedrock! We can work nonstop without being rudely interrupted by mobs!" Vinyl said happily. She swore she heard Herobrine cursing about the mobs not spawning on bedrock. So he just made them spawn on bedrock.
"Oh come on! Don't mess with Minecraft physics, Herobrine!" Rainbow yelled to wherever he was.
"Stop, he's just trying to be a jerk. Lets get working." Vinyl said and started collecting all items that were dropped from the explosions, and some of it was dirt. Rainbow Dash grew some trees with her dirt and saplings, and made chests for Vinyl to put her items when her inventory was full. She then made a wheat farm so that they could eat.
"Well things are turning out nicely." Rainbow said, looking at the small farm. She had found a few water sources and used some iron she picked up to make a bucket and collect it and used cobble to make an unlimited water source pool. She was about to start on a house when Vinyl came galloping up to her.
"I *pant* f-found some *pant* D-Diamonds!" Vinyl said, out of breath.
"Really? How many?" Rainbow asked.
"F-fifty eight..." Vinyl told her.
"OMIGOSH! THAT'S ENOUGH FOR TOOLS AND ARMOR FOR BOTH OF US!" She said, swinging her Diamond sword with happiness.
"Yea... And then we can go through that swirly rainbow portal over there." Vinyl said.
"Swirly rainbow portal- WHAAAAAA?" Rainbow Dash saw what vinyl was talking about. "Yea we're going through that... Nothing that swirly and rainbowy is bad." She stated.
"Alright....?" Vinyl said and got a crafting table made with some sticks. "Here, catch." Vinyl said, tossing her a set of armor and tools.
"Sweet! I just got 20% cooler!" Rainbow said, showing off her new armor that she wore.
"Umm, right..." Vinyl said. "Let's just go through the swirly rainbow portal..." She said and drug Rainbow through the portal.
"Girls it worked! They are back!" Rainbow heard a familiar voice say.
---
New Ideas (And Slight Spoilers)
Of course at some point the two mares will get back to Equestria. That is the happy ending for all of these types of stories. But what happens when they get back? they have been gone for so long, or have they? (Convert MC time to normal time lol)
Here is what will happen:
PGBTEBHFWMAOBT
Decode that and you have the whole story xD Put your guesses in the comments.
Updates coming soon once I get my school stuff sorted out.
---
Gotta Love Swirly Rainbow Portals
"Oh ugh.... Where did that thing take us?" Vinyl asked, not even opening her eyes to look.
"Vinyl! I've missed you so much! You had me worried sick!"
"Tavi?" Vinyl asked, opening her eyes to see her best friend, Octavia. The two friends hugged for the longest time.
"Rainbow, are you alright?" The cyan Pegasus heard Twilight ask. "When you were gone for over a week, we got worried and I wrote to the princess. She new where you two were and taught me the spell to make a portal to that world." Twilight told her confused friend.
"Well that good... A WEEK? WHAT THE BUCK YOU TALKIN BOUT?" Rainbow screeched. Twilight looked stunned at her friends sudden outburst.
"Well yes, darling. A week. Is there a problem?" Rarity asked.
"You bet there's a problem! We were gone for at least three months!" Rainbow yelled. Herobrine chuckled at Rainbow Dash for forgetting to convert Minecraft time to Equestrian time, and came through the portal, avoiding the ponies and heading to the Everfree, which was right behind them. He beckoned the Zombie Pigmen that were carrying his items to follow him.
"Now listen here, Rainbow. Ah don't know where you two were, but you were only gone for a week." Applejack told her friend.
"We were in Minecraft! We were stuck there for a month with Herobrine being the biggest jerk face you will ever see!" Rainbow exclaimed.
"Rainbow, you gotta remember. When you play Minecraft on the computer, The days and nights are only like, fifteen minutes." Vinyl said.
"Oh... Your right. I'm sorry everyone. It just felt like so long." She apologized.
"It's OK Rainbow. but, who is Herobrine? I mean, if you want to tell me..." Fluttershy said.
"Its fine Shy, i'll tell you. Herobrine is a mean guy who walks on two legs and has bright, glowing eyes. And he's a real butt face." She told her friends.
"Rainbow!" They all said, not approving her language.
"Well he is..." The cyan Pegasus grumbled.
"Whatever. Now, I would like to know what this...Minecraft is. It sounds fascinating. I mean, you two have gotten to go to a different universe!" Twilight squealed.
"Oh, hehe. Well, Minecraft is a video game that me and Vinyl play..." Rainbow began telling her friends about the wonders of Minecraft. "And then Herobrine nuked it. The end." Rainbow finished.
"YEA AND I HAVE TO REBUILD IT!" Notch yelled from somewhere.
"Well, I better close this portal so none of those monsters you were talking about get through and- WHAT THE BUCK IS THAT?" Twilight screamed at the sight of a Zombie Pigmen.
"Err... That would be a Zombie Pigmen..." Vinyl told everyone. "Just leave it alone and it won't kill you." She finished. This made Twilight quickly close the portal.
"HEY I STILL HAZ MEH DIAMOND SWORD!" Rainbow squealed, waving it around. "Ima go and make dummies out of clouds and slice their heads off with meh sword." Rainbow had a huge smile on her face and flew off the her cloud home.
"Me and Tavi are going to head home also. I think I should make her a sword with my leftover Diamonds if there are Pigmen around..." Vinyl said and walked off with Octavia.
"I have to plan the 'WELCOME BACK TO PONYVILLE, VINYL AND RAINBOW' party!" Pinkie said and hopped off. Everyone headed home except for Twilight. She looked at the Zombie Pigmen that was entering the Everfree.
"I should play Minecraft..." She said and left for the computer store.
---
Oh The Trolliness...
"AHHHHHH!" She screamed. Rainbow just had a Herobrine sighting. She was flying over the ever free, and she saw him.
"I gotta tell the princess! There's no time to waste!" Rainbow said and took off for Canterlot.
Meanwhile...
"Meh Diamonds! CURSE YOU CREEPER! I SWEAR I WILL MURDER EACH AND EVERY CREEPER IN EXISTENCE!" Twilight screamed and blasted her new computer with magic. "Oops..." And for the second time that day, Twilight went to the computer store.
Herobrine took the opportunity to be a troll, and did his Herobrine trolliness.
"Applejack, why aren't ya out apple buckin?" Applebloom asked her sister through Applejack's bedroom door.
"Oh, ah, ya see... I'm sick! Yes, very sick. *fake cough* Ya'll best stay out there so you don't get sick too." Squee. Applejack was doing the thing she was worst at.
"Ah know you're lyin, big sis." Applebloom said and opened the door.
"WAIT, NO!" Applejack yelled, but it was too late.
"You faked being sick, and made Big Mac buck all the apples himself, so you could play Minecraft?" Applebloom asked, looking sad.
"Uhhh... Yea ah did." She said honestly.
"Ohhh, Granny Smith is going to be so mad at you!"
"Oh buck."
"So that's why you gotta send all of royal guard!" Rainbow Dash said. The two princesses looked at each other.
"HAHAHAHAHA!" They both laughed.
"I'm serious, Herobrine is gonna kill us all if he's not stopped!" She protested.
"Oh, hehe, this is one of your best pranks yet, Rainbow Dash." Princess Celestia said.
"UGH, for the last time, THIS IS NOT A PRANK!" She exclaimed. This only caused the two princesses to laugh harder. Luna actually started crying.
"FINE, I'LL GO BACK TO PONYVILLE AND KILL HIM MYSELF!"
"Yea, *ROFL* you do that." Celestia said and Rainbow flew out of the castle.
Meanwhile, in Minecraft...
"HEHEHE I love breaking the forth wall!" Pinkie cheered.
"Uh, well, that's nice, but... Why did you need me to come with you?" Fluttershy asked.
"Well DUH, to scare off the Creepers, you silly filly!" Pinkie laughed.
"What?"
"INCOMING!"
"Oh my..."
Back in Ponyville...
"Hey Vinyl, what is that green thing outside?" Octavia asked.
"AHHHHHHHHH CREEPER! I KNOW IT'S HEROBRINE, I KNOW HE PUT THE CREEPER THERE!" Vinyl screamed.
"Oh, nevermind, it's just my cactus plant." Octavia said. And that's when Vinyl fainted. "I didn't know you were allergic to cacti..."
~~~~~~~~~~~~~~~~~~~~~~~~~~~~~~~~~~~~~~~~~~~~~~~~~~~~~~~~~~~~~~~~~~~~~~~~~~~~~~~~~~~~~~~~~~~~~~~~~
"Hey, Twi! Whoa, what's wrong with you?" Spike asked Twilight.
"Err... I was just... Uh..."
"Playing Minecraft?"
"Yes..."
"Maybe you should get some fresh air. You look like a zombpony." Spike suggested.
"I guess you're right..." Twilight said. She got up from her computer, went downstairs, opened the door, and saw Ponyville, Nether version.
"Oh my..."
~~~~~~~~~~~~~~~~~~~~~~~~~~~~~~~~~~~~~~~~~~~~~~~~~~~~~~~~~~~~~~~~~~~~~~~~~~~~~~~~~~~~~~~~~~~~~~~~~
Rainbow was finally nearing the end of her wasted flight. Ponyville was coming up in the distance. The Netherrack houses were coming into view. Wait, Netherrack? Rainbow flew as fast as she could to Ponyville.
"Herobrine... You motherbucker..."