---
Chapters
---
What Princesses Need
A/N: This is not connected to any of my other stories. Similiar names are due to laziness on my part.
What Princesses Need
Princess Luna lay in her bed, scowling idly at the ceiling. It wasn't that she was angry about anything, she just didn't have any reason to smile. Gravity tugged her lips down, so that's where they rested when she wasn't expressing emotion. It gave her a rather hawkish look about the muzzle and eyes, for her eyes were always as sharp as a bird of prey's.
She glanced around at the four poster bed, all of its plush midnight velvet inviting her off into dreamland. But no, there was no rest for the weary this night. Luna had once more held the night time court and, much to her dismay, had received no visitors or errands. Sure, there was plenty of paperwork to take a load off of her sister's works, but Equestria had yet to understand that they had two Princesses again, and that she could be trusted with matters of state as well.
Sighing, the dark alicorn thrust herself from bed, shaking out her ethereal mane until a cosmic breeze caught it and it began to blow about idly. Cantering across her room, she went the balcony and looked down at Canterlot below herself. Even the city was asleep for the most part at this hour. Heaving yet another sigh, she turned and made her way back inside and to her chamber door. When she opened it with authority, the two stallions posted as guards outside startled awake, panicked. "Aegis Shield, Stalwart Hide." She said with royal authority, addressing both stallions. They had the decency to gain color in their cheeks at the sounds of the Princess speaking their names.
"Yes, Princess Luna?" They both turned in perfect unison to salute and inflate their chests impressively. The sleepiness showed in their eyes, though. Luna smiled gently. They hadn't yet become fully embraced by the night, at least not in terms of their sleeping hours.
"The night court is over tonight and we cannot sleep, pray tell what activities happen at this hour around the palace?" Luna asked, looking back and forth between them. The two stallions looked at each other, and there was a long silence. "We see." She said softly, wilting a bit. "Never thou mind then, perhaps we will have more fun at next year's Nightmare Night with Twilight Sparkle." She turned slowly back into her chambers and quietly shut the door. Perhaps there was a book on one of her shelves she had yet to read. Probably not, though.
Both stallions wilted. It wasn't their fault the palace basically ran itself during the day and almost everypony slept through the night. Sure there was a scrubbing maid here and there, plus night security to keep riff-raff out—but beyond that there really wasn't much in terms of fun activities to be had.
Aegis Shield and Stalwart Hide stood stoically at their posts, a neutral frown affixed to both of their faces. Suddenly, Stalwart Hide looked over at his fellow Lunar Stallion, "Who's Twilight Sparkle?" he mumbled, as not to disturb their charge.
"Dunno." said Aegis Shield in a low murmur. "Was just puzzling that out myself."
"I've heard the name before, but I don't know where. I feel like I should know who that is." Stalwart Hide's intelligent golden eyes glittered in the dark. Aegis Shield shrugged a little, and there was another long silence between them as they stood there. Finally, the Lunar Stallion looked over at his fellow and spoke again, "The Princess said she had fun with this 'Twilight Sparkle' on Nightmare Night, weren't we in Ponyville that evening?"
"Yeah?" Aegis Shield said, glancing over at him.
"Well then, she must be from there." Stalwart Hide grinned with his piranha-like Lunar Stallion teeth. "We should go get her."
"Eh-what?" Aegis Shield furrowed his brow. "Why?"
"The Princess said she had fun with Twilight Sparkle on Nightmare Night, right? Why's she gotta wait for the next Nightmare Night to see her again?" Stalwart Hide said, his smile growing. Aegis Shield looked thoughtful. He did have a point there. Stalwart Hide opened his black, bat-like wings and then refolded them for comfort. "I mean, she's…" he glanced towards the door with honest concern. He lowered his voice so Luna wouldn't overhear. "She's kind'a meek compared to Princess Celestia, y'know?" Aegis Shield nodded in a private way. The two of them had spent enough time with the night time Princess to know that she was guilt-ridden, shy, and had low self-esteem. After having been gone for a thousand years, banished for her sins, she was understandably meek and slow to make any friends. The two stallions stared at each other for a bit, the gears turning in their heads. They looked at the door, then at themselves. It was silently decided right then and there. Princess Luna wanted Twilight Sparkle? They would have to go fetch her, and bring her back to the palace. Whatever a Princess wanted, she got. It was their duty as royal guards to see to the health and happiness of their charge. Defying physics to play rock-paper-scissors, they decided it was Aegis Shield who would go to fetch a squire and set things into motion.
=-=-=-=-=
"Twilight Sparkle!" BANG BANG BANG, powerful, gauntleted hooves were bashing on the public library door in Ponyville. At three in the morning. Twilight moaned, curling up in bed. Whatever it was it would wait until morning, for Celestia's sake. "Twilight Sparkle!" it was a stallion's voice. She didn't know any stallions. She'd been up all night studying, practically. Eleven o'clock was late indeed for a rustic town that usually went to sleep when the sun went down. She snorted, stuffing her head under a pillow. She liked books as much as the next enthusiast, probably way more, but she wasn't getting up at three in the Faust-foresaken morning to check something out to somepony.
"Want me to send 'em away, Twilight?" Spike said groggily. Twilight grunted the negative and the baby dragon huffed, burying himself in blankets again.
There was some deep-voiced murmuring downstairs in front of the front door. Oh, so there was more than one of them. "Break it down." Somepony said. Twilight jolted upright when her front door was blasted off its hinges by magic, sending an impressive shower of splinters across the room. "Twilight Sparkle!" an authoritative voice roared. "We know you're in here!"
Twilight stuck her head out of her bedroom door, icy adrenaline propelling her body forward. Her great room was full of royal guards! Not only that, but night time guards. What were they called… Lunar Stallions? Princess Luna for some reason insisted that all of her guards be male, a sign of the era that she was from. "Eep!" said Twilight when they'd spotted her and started roughly up the stairs at her. She quickly shut her bedroom door and put a hold-portal spell on it. They knocked authoritatively. Had she done something wrong?! Why were they breaking her door down?! What could she have possibly done to warrant a dozen Lunar Stallions busting into her library at three in the morning?!
A sudden gust of night time wind signaled her balcony door had come open. Twilight wheeled around fearfully, ears turning back. A pair of dark armored ponies stood in the doorway, folding their wings as they came inside. "Twilight Sparkle, you must come with us." said one of them.
"What? Why?" The purple mare was backing up until her butt struck her own bedroom door. There was murmuring stallions behind it, trying to figure out why it wouldn't open when it clearly wasn't locked. It wouldn't take them long to find the spell and simply reverse it. Twilight gulped.
"The Princess needs you. She mentioned you specifically. By name." said the Pegasus on the left.
"We intend to deliver you to her as soon as possible." Said the Pegasus on the right.
"The Princess needs me?" Twilight suddenly perked up. "Oh my gosh, it must be something important!" suddenly the purple mare was all business. Well of course it was something important! If the Princess was sending a dozen of her finest to snatch her in the dead of night, it had to be something VERY important! "Spike, will you be okay here?" she asked quickly. The baby dragon nodded and saluted.
"Come with us." the two pegasi gestured, and she nodded. They went out onto the balcony, where Twilight expected some sort of chariot or other way of transport. Instead they simply SHOVED her off of the balcony. She squealed all the way down and was clumsily grabbed by magic. She was set down on her shaky hooves while the military stallions mare-handled her this way and that. Twilight shook like a leaf as the gaggle of stallions bore her to the town square. There, she saw it.
It was quite possibly the most terrifying vehicle Twilight Sparkle had ever laid eyes on. It was dark purple with streaks of black. It was encrusted with obsidian and onyx jewelry. Spikes jutted out of the wheels and sides, as though it were expecting to be attacked. An ornate letter "L" was carved and inlaid with filigree on the back. The purple mare gulped as the Lunar Stallions lifted her bodily, trying to be gentle but mostly failing, up onto it. Two strong-looking ponies hitched themselves to it, and a pair of them gestured when Twilight was secure in the bizarre chariot. They jolted skyward and the purple mare shrieked, holding on for dear life. "How does Princess Luna ride this thiiiiing---!" her voice had faded with distance, for she was already shrinking into a dot heading for Canterlot. The Lunar Stallions that remained behind nodded to each other, and dispersed into shadow.
=-=-=-=-=
Twilight Sparkle was a little woozy when she arrived at the Dark Wheel , training ground of the Lunar Stallions. Several of them were waiting for her when she arrived on the ground, shaking like a leaf as the chariot came to a jolting stop. "LAND!" She flung herself desperately upon the cobblestone, clinging to the earth like it was her only solace.
Panzer Hoof stepped forward, a titanic pony with a barrel chest to make Big Macintosh blush. "We're glad you're here, Twilight Sparkle. Princess Luna needs you." He said in a low and growly voice.
"She's awful small." Commented one stallion to another.
"Maybe the Princess likes short ponies?" said another.
"Quiet, you lot!" Snapped Panzer Hoof. "This way, Miss Sparkle, we've got a few things to do before you see the Princess. Huh-huh-heh." With that he rather unceremoniously shoved his muzzle under Twilight's undercarriage and tossed her onto his back like a sack of potatoes.
"Wh-HEY now!" Twilight squealed, wiggling. "Where are we going now?!" she demanded, lighting her horn and teleporting back to the ground so she could stand on her hooves. "I don't like being jerked around like this!" Every single Lunar Stallion present turned his ears back at Twilight, and she wilted back at their mean looks. Golden eyes, all of them had golden eyes. It was a little intimidating, to be honest. And why were their teeth so funny-looking and sharp? "I mean uhm…" she said in a small voice. "I can walk for myself, thanks…?" it came out like a question, and Panzer Hoof cleared his throat a bit.
"We dun mean to be rough with you, but time is of the essence. Come along." He said shortly. Twilight followed, and the gaggle of dark-armored ponies followed. They were a bachelor herd, it was easy to see, but the way they walked in such a random clump she was reminded of a group of eager children. "There's much to do before you see Princess Luna." Dangerous, predatory grins grew on the faces of the stallions behind her as they went.
=-----=-----=-----=-----=
Princess Luna yawned idly, sighing and closing her book. Somehow Mare Do Well issue #535 had made its way into her chambers, though she wasn't sure how. She'd not really had much investment in graphic novels since she'd heard of them, but boredom had claimed her well enough that she'd pawed through it. Whoever heard of a unicorn that wore a mask and fought crime? Why not just join the royal guard or the police force? She didn't understand it, but the story was a little fantastical so that was probably the point. "Something more to ask Tia about on the morn. Perhaps at dinner." Luna yawned again. She could sense that her night was mostly over. Dawn hadn't started to blush against the horizon yet, but she could sense the warmth of the resting sun on the edges of her perception.
There was a light tapping on the door. Luna's ears perked. Who would come to see her at this hour? Getting up, she cantered to the door and magicked it open. She was shocked to see that Aegis Shield and Stalwart Hide were not at their posts, but instead something much more interesting. There was a small, covered litter placed directly in front of her door. Tilting her head when she heard something shifting feverishly inside, she leaned and stuck her nose under the covering silken sheet. "Hullo?" she asked, expecting a puppy for some reason. What she got instead was Twilight Sparkle!
Luna straightened, yanking the silky veil up and off the litter. Dear Faust it was like some sort of offering! Twilight Sparkle lay on a plush pillow in a giant basket, surrounded by boxes of chocolate, a board game or two, a trio of dirty romance novels, some perfume, a bottle of cheap wine, a two-pony cake and a pile of little candies. The purple mare looked up at Luna fearfully, wiggling and mumbling against a cloth gag. Luna's eyes flicked up to see the inhibitor ring on her horn. "Oh… my." said Luna, eyeing her up and down with an open mouth. Twilight's fur had been brushed to a shine, her mane dotted with tiny pink ribbons, and there was a giant scarlet bow around her neck. She looked like a Hearth's Warming present! "Oh my." said Luna a second time in shock. The purple mare looked up at her with big soft pleading eyes, begging to be released. "How did thou end up like this?" she leaned into Twilight's face with concern, eyebrows up and completely caught off guard. Twilight grunt-mumble-mrrf-gurgled into her gag, trying to explain. Luna stared at her, then turned her head to look down the hall. At the end of the dark corridor was a smattering of glowing, golden eyes. They scurried away quickly in a loud thundering of herd-like hooves… then peeked at her curiously from around a corner. They blink-blinked at her and she blink-blinked back. Those were her Lunar Stallions… right? She looked down at the giant basket of nice things, and at the wiggling Twilight Sparkle. Were they serious? She turned on her night vision with a flick of alicorn magic to get a better look at them. They were all crammed up against the wall, trying to be stealthy and failing rather badly. They looked like a gaggle of hopeful children, presenting a gift to their mother for mother's day or something. Luna found a rather shy smile gathering on her face, and she blinked back to her normal vision. "Oh! How nice!" she said loudly so they could hear her, pulling the basket into her room and shutting the door behind her.
The Lunar Stallions looked at each other, throwing their chests out impressively and showing off. Mission accomplished! Twilight Sparkle was in Princess Luna's possession now, and a happy Princess was a healthy Princess! They patted each other on the back, rearing up and playfully waving hooves at each other as they dispersed back to their posts. The main two guards, Aegis Shield and Stalwart Hide, remained at the end of the corridor to guard the Princess from afar. Surely she would want privacy to play with all her new toys.
=-----=-----=-----=-----=
"We must admit this is very irregular, Twilight Sparkle." Luna said, plucking the mare from her gift basket and placing her onto the more comfortable basket. "We did not expect my stallions to stoop to pony-napping to please me." She smiled rather embarrassedly, lifting the gag from Twilight's mouth.
"Bleh!" the purple mare said to get the taste of the gag out of her poor mouth. "Princess this is embarrassing! I just got mare-handled out of my own bed, rushed here on that aweful spiked chariot, scrubbed by a group of STALLIONS, and then put in a gift basket like some offering!" Luna's hoof hesitated at the inhibitor ring, then she turned her head back to the basket. She was safe right there, she didn't have to untie her right away. Alicorn mischief danced in her eyes as she turned away from the unicorn. "H-hey now! Untie me!" Twilight squawked, red-faced.
"Why? Thou art mine now. We shalt unwrap our gift when we please." She said in a sultry way, flicking her tail a bit. Twilight looked horrified. "Twas not uncommon in my era for soldiers to… requisition mares in times of war, and bring them home." she had stuck her head into the basket, turning the bottle of wine over.
"Heheh, that's a good one Princess." said Twilight nervously, squirming to try and undo her bonds. "B-but serious, untie me. Those stallions were kind of rough!" The black inhibitor ring on her horn kept her from using magic to free herself, so she felt quite helpless. Luna smiled, eyes turning to look at Twilight in a sideways fashion. The squirming purple mare was on her back, her plush little belly pointed at the ceiling. Luna wondered if she was ticklish, and grinned.
"We art serious, Twilight Sparkle." Said Luna indignantly, turning and popping the cork on the wine bottle. The cork shot across the room like a bullet, and the Princess poured herself a glass. Moving to sit on the bed, she sipped her wine and admired Twilight for a bit. "Hmm." She said, appraising the purple mare with a critical eye.
Twilight blushed a little more deeply. "Wh-what are you going to do?" The purple mare asked, fear and anxiousness in her eyes. She watched the Princess of the Night, so very different from her mentor. She drank, she had stallions pony-napping others, she shouted and had passionate feelings and flaws. Twilight couldn't deny she was an interesting royal, but she REALLY didn't want to be in this position.
"Tell us, Twilight Sparkle," Luna sipped from her wine glass, lifting up a massive hoof and placing it on Twilight's soft belly. "What art thou thinking we are going to do?" Alicorn mischief glittered in her playful, immortal eyes.
Twilight gulped a little, turning her ears back and tucking her tail. "Y-you're gonna h-have your way with m—EEEEP!" she suddenly shrieked with an explosion of laughter, for Luna had leaned down and blown a filthy raspberry on Twilight's belly. Ph-hhhhhhhht! Twilight's back arched and she let out a ragged cry of laughter, kicking all four of her tied-up hooves. "Don't do that! Don't do that I'm tickl-EEEEEK!" Luna was holding her down firmly and blew on her blush belly again. "I'm begging you Princess AHHHH!" Twilight writhed about, laughing like a mad-mare.
Luna snickered, undoing the ropes with a flick of magic as she clambered up onto the bed. "We would not molest thou, Twilight, thou art our one true friend." The Princess snickered a little scandalously behind her hoof. The unicorn smiled bashfully while Luna worked the inhibitor ring off of her and tossed it aside.
"Why did you send for me, then?"
"One of my guards must've been paying close attention when we mentioned thou by name." Luna said, settling on her belly. "And how much fun we had on Nightmare Night together." She smiled in a coy, shy way at admitting this.
"Aww," Twilight said, pinkening in the cheeks. "I had a great time too, Luna." She said.
"Well, as long as thou art here," Luna looked down at the offering basket full of sweets, drink, and other fun things. "Perhaps you would like to stay the night?"
"Like a sleep over?" Twilight's face lit up into a grand smile. "Yes, of course! That'd be fun!" she said jubilantly. And it was.
End of Part 1
---
Nuzzling
What Princesses Need
Part 2: Nuzzling
Aegis Shield and Stalwart Hide were standing at attention at their posts at the end of the corridor. Occasionally one or the other would check his armor, scratch at a fetlock, or work his jowls a little. With nopony around to check that they were being as still as statues, they really didn't have to be. It had been only minutes after Operation: Happy Luna had reached its conclusion after they'd delivered Twilight Sparkle to her bedchamber door.
"EEEP!" The cry pierced the hall with a sharp orchestra sting, and there was muffled laughter floating after it. The two stallions looked at each other, smirking and raising their eyebrows. "EEEEK!" It was a mare's voice, and not Princess Luna's. A huge boyish grin exploded across Stalwart Hide's muzzle, and he nodded towards Luna's door. Aegis Shield cocked his head, checking over his shoulder. "AHHH!" it was a throaty, feminine cry of distress. The stallions looked at each other again, but it didn't take long to piece together what was going on after the shrieking become low and bubbly murmurs of talking.
"Oh yeahhh." Stalwart Hide high-hoofed his fellow guard, chuckling in a knowing way. It wasn't every night, after all, that one could get his Princess so happily laid. And according to all the shrieking and laughter, she was certainly the aggressor. Well, neither of them could blame her! A thousand years was a long time to go without some lovin', and they were happy to deliver such a prize to her majesty. Twilight Sparkle was certainly an attractive mare, they couldn't blame Luna for liking her so much. Both stallions inflated their chests, standing proud to deter anypony away from their Princess' 'playtime' with the purple unicorn they'd brought in for her.
Meanwhile in Luna's room, Twilight had finally been untied all the way and sprawled out on Luna's bed. "So you mentioned me and they brought me in, huh?" the purple mare snickered a little. "That's dedication!"
"We don't think our Lunar Stallions know what to make of us yet." Luna said a little warily, clambering onto the bed and bringing the gift basket with her. Together, she and Twilight pawed through the candies, giggled over the dirty romance novels. "We've only just come back for a few months and they seem like a gaggle of eager puppies, eager to please us."
"Well they don't know you very well yet." Twilight smiled kindly, sidling close to her like a sister. Luna smiled at the proximity. "When they saw the opportunity to make you happy, they grabbed me. It. I mean it." The purple mare chuckled embarrassedly. Luna offered her some of the wine, which she gracefully accepted. She made a face when she tasted it, for the taste of chocolate from the candies was still on her tongue. "Those don't mix!" Twilight winced a little, levitating the glass away for the moment. Luna chuckled good-naturedly.
The two of them spent the evening giggling over the board games, candies, and other doo-dads that the Lunar Stallions had put together in the basket for Luna. Soon, however, the dawn was approaching and Luna lowered the moon. Twilight Sparkle was exhausted, and made to leave for the train, but Luna wouldn't have it. "Thou should stay, Twilight." She said, smiling coyly. "Our bed is large, thou should at least nap before you get on the train back to Ponyville." The alicorn opened one wing to gesture, smiling in an inviting way.
"Oh? Alright then." Twilight smiled, nodding. "Not every day you get to try out a bed like this!" she flopped, bouncing a bit, onto the big plush bed. The Princess, being nocturnal and used to sleeping during the day, closed the curtains of her bedroom against the brightness of the dawn. Then, she closed the curtains of the four-poster bed. "Oooh," said Twilight, for the inside had faintly glowing star and moon patterns all over it. "Pretty." She whispered.
"It is modeled after the real night sky." Luna gestured to a few constellations in the weave of the velvety curtains to show her. "It keeps it very dark, so we can sleep soundly." The alicorn reached and, with a quiet effort of magic, removed her chest regalia and crown. Twilight blushed. "What?" she asked, looking at the purple mare. "We do not sleep in our vestments, think of the pinching!" Luna chuckled.
"Oh." said Twilight in a small voice. It made sense. Though, she'd never seen Princess Celestia without her royal trappings before. She just thought they were a part of her body when she was a filly. Seeing Luna without her armors on was an odd thing. It made her seem more… pony. Less Goddess. Turning over a little, the purple mare snuggled her head under a few pillows and waggled her rear about while her hooves negotiated the comforter down so she could get under the covers.
Heh, what a cute rump she has.
Luna flinched hard, snuffle-snorting and perking her ears. Who was that? She sat up in the bed, looking around and flicking her various forms of vision on. Night vision. Heat vision. Ethereal vision. Soul-fire vision. Nopony was there. "Hello?" she said in a scowly way.
Twilight turned over to look at her, peeking out from under the pillows. "What?" she asked softly. "Did you say something?" She tried not to stare at Luna's plush coat and chest. It was a curious thing, to see a Goddess up close and so intimately like that. She wondered if Luna's fur was heat or cold resistant, or could stop a knife like armor. Did she have any super qualities like that? How—
"No no, we didn't say anything." Luna said, sounding warily and looking around a little. The curtains of the four poster bed held the world out. "Wait here," she stretched a bit, peeking out of the bed and getting onto her hooves. "We shall return. Rest." She bade the little unicorn. Twilight didn't have enough energy to argue and gave a long, whining yawn before flopping back down again.
Luna closed the curtains of the bed, then lowered her gaze into an angry scowl. She wasn't fooled. She'd heard someone commenting on Twilight Sparkle's backside and there was to be none of that in her chambers! Peering about with several different forms of Goddess vision again, she found nopony around. Frowning and not convinced, she quickly looked into her private bathroom, out on the balcony, and then outside her door. She spotted two Lunar Stallions standing guard at the end of the hall. Lowering her brow in a displeased way, she cantered towards them. They heard her coming and turned to salute. "Princess Luna!" said Stalwart Hide, dropping his salute when she nodded. "Is everything okay? Are you enjoying Twilight Sparkle?" he asked it so eagerly that the other guard, Aegis Shield, winced. One didn't simply ask 'hey how was the sexing?', it was impolite! Then again… the Princess was naked, so maybe she had loosened up so much with a little mare on mare affection, she would answer?
"Yes, fine." Luna said absently, rubbing the top of Stalwart Hide's head with her large hoof. He keened a little. Oooh, head rubs. He did like those. Aegis Shield frowned very crossly, wishing he could get such affection too. "Tell us, has anypony come through here tonight?" she asked, gesturing past them.
"No one, your Majesty." said Aegis Shield very firmly. "We've been here the whole time, and there's no windows to sneak through in this corridor."
"We thought we heard a voice." Luna insisted warily, looking around.
"It's just us, Princess." said Stalwart Hide, breaking out of his nice-head-rubs trance. "Nopony else has been this way." He confirmed what his partner had just said. Luna nodded, looking around with a frown. Maybe she had just imagined it. Her guards were very keen in the nose, ears and eyes. She doubted anypony could sneak by them.
"Ah well, perhaps our revelry of friendship with Twilight Sparkle has made us light-headed." Luna touched her temple briefly, as though to scan for a headache. The two stallions looked at each other. Was that what they were calling it these days? Or was that just what the Princess called it? Eh, either way. They shrugged at each other. Luna turned, lifting her head regally and regaining her composure. "Ahem… well then, as thou were." She told them. They snapped a salute, turning back around to continue guarding the hallway. "Good morning." She bade them, slipping back into her room.
Luna closed the door quietly behind her, then slipped back into bed. She turned over to address Twilight, but found the poor thing curled up asleep. Smiling rather guiltily, the Princess cast a large and pillowy wing over the sleeping mare. The poor thing, she'd had so much excitement this night and so little sleep. Luna had kept her awake all night too, playing games and eating sweets. She felt a little guilty. Leaning, she nuzzled Twilight in a comforting way. Twilight tittered a little, curling up and hiding her nose in the crux of Luna's wing like a sleeping foal seeking comfort from a mother. The dark alicorn smiled vaguely. This was not so bad, this 'sleeping over' thing Twilight had explained to her. She enjoyed the company.
Something purred loudly, almost a low growl.
Luna's pulse went icy hot, and her heart revved up. What was THAT?! The Princess lifted her head as quick as a shot, perking her ears. Her head darted left, right, then left again. She briefly resembled a bird of prey, so intense was her gaze. There was something in her room, and she didn't like it. Not one bit. Scowling deeply, she made to shout aggressively but stopped. She looked down at the limp Twilight Sparkle. She would give the poor thing a heart attack, yelling suddenly. Considering a few scenerios for a long couple of moments, the Princess of the Night decided on the best one. Turning, she gingerly put her head under Twilight and lifted her onto her back. The purple mare whimpered, stirring. A light flick of alicorn magic sent her right back to dream land with a light keening sound. Luna opened her wings to steady her charge, and Twilight subconsciously clung to her like a baby koala. With her charge secure on her back, Luna made for the door quickly and stealthily.
The Lunar Stallions guarding the hall spotted them as soon as they come out. "There is an intruder in our chambers." She whispered fiercely. "Have the entire thing scanned." Luna commanded them. Both stallions saluted, and it was so. Luna took off for a random, different part of the palace. Perhaps one of the royal apartments would do for now. She could inform Tia the next evening.
=-----=-----=-----=-----=
Twilight awoke, barely slipping from the warm and happy glaze of dreaming into the real world. Wherever she was, it was warm and fleshy. A sort of feminine plush that could only be the underside of another pony. She was very much reminded of her very earliest memories, sleeping pressed up to her mother in case she needed her teat in the dead of night. It was a warm and fuzzy feeling of absolute security and warmth, the sort one gets while napping in the sun on a warm spring day. "Mhh-h-h-h…" she stirred a little, her horn poking whatever it was a few times. She was given slack, and she stretched with an adorable little foal's sort of yawn—the sort that lets out a little squeak near the end. Twilight couldn't ever remember sleeping so soundly. Murring softly, she sighed in a content sort of way.
Feathers. She was surrounded by feathers also. What lovely, expansive wings. So many feathers, ooohh… Twilight's lids drooped down. She didn't want to wake up after all. Sagging down, she rather shamelessly pressed her muzzle 'tween the back legs of whatever giant mare she was laying against. Her mind never came to term, she was so warm… half-asleep… comfortable. Instinct bade her to stay near the pink belly of the undercarriage. That was where a foal was safest, why not her? Smiling childishly, she nuzzled her keeper thankfully and fell back into a deep, dark sleep.
A black keening sound shivered through the air, and a dark muzzle stroked Twilight's mane a few times. Fangs were tempted, ohhh so tempted to taste her. Just a little taste. She was so cute, why not a little taste? No no, she was asleep and couldn't consent to such things. The alicorn shuddered, slowly lowering her jowls to hide her saber-like teeth.
We think we like thou. Both of us.
She tucked her wing down, hiding Twilight Sparkle amongst black feathers and quiet darkness. When the purple mare whimpered and nuzzled her teat, she shivered pleasurably. Such a tease! Nickering softly, she flicked the unicorn with sleeping magic once again, rocking her away to dreamland. Tossing her ethereal mane, she lowered her head and curled up. Nightmare Moon could not recall the last time there had been a warm body in bed next to her. Maybe Luna did? She would have to search their collective memory later.
End of Part 2
---
Sisters
What Princesses Need
Part 3: Sisters
Nightmare Moon watched over Twilight Sparkle all throughout the day, cat-napping quietly next to her. She ached to dig her fangs into her luscious flank in affection, but the sleeping mare probably wouldn't appreciate that. Twas a very forward lover, one that used teeth, and Twilight didn't know she still existed. A wild beam of rainbow magic used by a gaggle of random mares could not destroy a goddess, only supress one side of her. Tame her, as it were. It did not keep her from occasionally surfacing, though. Luna's more carnal interests and thoughts could melt together into a little silver pool until Nightmare Moon poked her head out. Today was such a day.
The black mare leaned over the sleeping form of Twilight Sparkle, cocking her head like a curious animal. So this was the mare that had brought her low that day several months ago. She'd not admired such a beautiful thing in a long time, surely there had been selective breeding or something else having words with her genes. It could not just be circumstance. She leaned, scenting lavender petals on her neck. It was a faint of perfume that one would only notice if you hugged her. Or happened to be watching her sleep. The dark alicorn mulled over thoughts of her for a long time. She didn't deny she was in lust with the purple mare, such feelings were a fact of life. Not something to be repressed. Why, Twilight Sparkle should feel honored to be the object of desire to a goddess! "Hrm." She said shortly, leaning and slowly exiting the bed.
Stretching her long legs, she lifted herself and went to her bedroom door. Poking her head out, she spotted the Lunar Stallions at the end of the hall. Ever diligent, they were. Murmuring in mild approval, she flicked the door closed with magic, and instantly winced.
On the other side of the palace, Celestia flinched like an overzealous stallion had just slapped her royal buttcheeks. Her ears turned forward and she stood hard from her throne. A few guards jerked about, startled. "I'll be right back." She bade them, teleporting away with a crack of parted air. Instantly, she stepped out of time and space to appear in Luna's room. "Nightmare Moon."
Busted.
"Sister." Nightmare Moon scowled, stepping back a bit. "Nice of thou to visit us."
"What's happened to you?" Celestia started forward aggressively, eager to contain the situation.
"Shhh." Nightmare Moon hushed her rather rudely, putting a hoof on her mouth. "Twilight Sparkle sleeps in yon bed." She nodded to one side. Celestia's mouth went agape and she looked to one side. "Now, what dost thou want?" the black mare scowled.
"What happened to Luna?"
"She's still here. We are just visiting." Nightmare Moon gestured to the mirror on the nearest wall. Sure enough, the reflection showed Celestia standing next to Princess Luna and not Nightmare Moon.
"You're some sort of… projection." Celestia said in a whisper, not wanting to wake Twilight Sparkle. If there was a way to keep her out of this, she would take it. "Laid over my sister's body like a second skin." She squinted at the rather elegant glamor spell. The flesh and fur was real enough to the five senses, but it was only a fabrication of Luna's real face twisted to look like the black mare of legend.
"Yes, very good. We've only used it a hundred times before, didst thou never really look?" Nightmare Moon was annoyed. "Now, what dost thou want, I ask again?" she was more than a little peeved at her sister for barging in like this, more than anything.
"I'm here to stop you." Celestia inflated her chest to prepare for battle.
"From…?" Nightmare Moon let the sentence hang.
"From… from…" Celestia was suddenly dumbfounded. The solar alicorn recognized Nightmare Moon's magical signature from across the palace like a bad smell. But she was just sort of standing there, not really doing anything. "Why is my protégé in your bed?" Celestia said, a little flustered.
"Luna invited her to a sleepover. We watch over her in the night." It was a rather creepy thing to say, but not particularly evil.
"I cannot allow her to stay with you." Celestia said firmly, moving to walk past and pluck her student from the bed where she slept. "I don't know what you're planning, but I won't allow it."
Nightmare Moon stood sideways, blocking Celestia's path. "Really now, sister?" She growled a bit, "Thou comes into my very chambers and thinks to order me around, much less take something that is under my protection for the moment? We think not."
Celestia scowled rather openly, ears turning back into an angry expression. "Move away." She said with royal authority.
Nightmare Moon snorted at her, flicking her tail a bit. "Of all the ponies in the land, Tia, we are the one that you may not command. Get out of our room."
"No." said Celestia, "I won't leave without Twilight Sparkle." She flared her wings. "You think I will just leave her in your possession?"
The two sisters argued as quietly as they could, back and forth. Meanwhile in the background, a droopy and wild-maned Twilight Sparkle wandered out of bed. So absorbed were the two alicorns in their arguing they didn't even notice her. She wobbled along, half-asleep and restfully achy, past them and into the bathroom. After a short while, the toilet flushed and the little purple mare wandered by a second time. Clambering into the bed without noticing either alicorn, she snuggled up in the covers and stuck her head under a series of pillows. The warm body she'd been pressed up against earlier was gone, aww… oh well… Zzz…
Celestia had locked horns with Nightmare Moon, and the squabble was turning more and more childish as they spoke back and forth. "Aren't you sure that your protégé and her friends cured us?" Nightmare Moon smiled teasingly. "Them and their magic rainbow beam of… friendship? Whatever it was?" the black mare pressed back and forth in a show of strength with her sibling.
"Clearly not, if you're still here."
Nightmare Moon pushed Celestia back. "Clearly not." She sighed. The night time alicorn suddenly cocked her head, standing erect. Her time was almost up. She could feel Luna stirring fuzzily in the back of her head. "Why do you think Luna never gave up using the Royal We, huhm?" Celestia stared at her, frowning and not knowing the answer. The dark creature leaned close, dropping the illusion. Sweet and innocent Princess Luna's face swam into view after the mists of the glamor spell vanished Nightmare Moon's image. "Because there's two of us in here." Nightmare Moon gave control back to Luna and went to sleep. The evil presence vanished like a wisp of slow cigar smoke.
Luna stood there, glassy-eyed, for a long time. Celestia stared at her, lifting a hoof cautiously. "Luna?" Celestia whispered, poking her chest a few times.
Luna flinched as though she'd been slapped. "Huhm?!" she belted. "Oh, sister." She yawned sleepily. "Why dost thou disturb us? It is not yet evening." She yawwwwwned, stretching her wings and hanging her head tiredly.
"I… erm…" Celestia's mind was racing. This had just gotten a LOT more complicated than she was ready to admit. Taking any action right now would be hasty. "I was just… checking on you and Twilight." She finally managed a paper-thin smile that her very sleepy sister believed.
"Ohh, how nice, Tia." Luna yawned, leaning into her for sisterly nuzzles. Celestia gave said nuzzles, a concerned look etched across her brow. "We shall retire again now, we think."
The solar alicorn frowned, troubled, at the Royal We. It really was literal, wasn't it? In ages past, the Royal We had meant 'Faust and I', but now to Luna it meant 'Nightmare Moon and I', even if she didn't realize it. Celestia swallowed thoughtfully, weighing her options. This would take far more thought before she could do anything. She watched Luna sleepily climb back into bed and close the thick velvet curtain. Flicking god-like magic into her eyes, she peered in at Twilight Sparkle. She seemed okay where she was, there was no need to scare the poor thing. When the sleepover was over Twilight would return to Ponyville and Celestia could deal with her sister… or rather, some odd part of her sister. Celestia vanished in a shower of golden sparks, reappearing on her throne before somepony started panicking. She sighed in a troubled way.
Luna settled next to Twilight Sparkle, peering at her briefly. Heh. It seemed the purpled mare could not sleep unless she was completely hidden in darkness. She had her head shoved under a pillow to even blot out the light of the stars on her bed curtains. She could appreciate such preferences. After all, the dark was a warm and comforting thing if one learned not to fear it. Stretching her wings out, then folding them for comfort, Luna lay on her side to sleep until evening came.
=-----=------=-----=------=
The Lunar Stallions were gathered in a track-side restaurant. By track-side, one means that it was near the Canterlot train station. They liked to watch the fancy trains go by. That and it was hard to find a resturaunt that would host twenty-four armored stallions with triangle-shaped teeth and golden-draconic eyes. They looked like they meant business, and any huge gathering scared away all the other customers. It was a good thing, then, that they ate like teenagers to make up for the lost customers. Each of them already had a stack of dirty plates in front of himself, and they kept calling for more. The restaurant owner was more than pleased to bring them more, and more after that. They were paid well, so they ate well. A lot.
"To Princess Luna." Falling Storm raised his glass and the other armored ponies followed, smiling proudly. "We finally found something she really likes, and now she can be much happier." There was a shout of agreement, and they all drank to Luna's health. Falling Storm choked on his mug suddenly, though, pulling everypony's attention back to himself. His eyes were glued to the expansive window that showed the train platform outside. He sprayed cider across the table onto another stallion, who shouted angrily. The burly Pegasus pointed, his irises and pupils turning into pinpricks. Every Lunar Stallion turned curiously, and their mouths fell open.
Twilight Sparkle was on the train platform, getting ready to board and leave Canterlot! Instantly every single Lunar guard launched himself out of his chair and ran to line up at the window. Twilight Sparkle, meanwhile, sneezed lightly outside. They pressed their muzzles against the glass, blink-blinking at her with fourty-eight disbelieving eyes. Was that her? Was that really her? How had she gotten away from Princess Luna? They looked at each other, then over to Aegis Shield and Stalwart Hide, their two Captains. "Sweet Celestia's TEATS she's getting away!" One of the stallions shouted. One of them tap-tap-tapped the glass to get her attention. Twilight turned, and saw the ridiculous sight of two-dozen stallions with their noses pressed up against the window, staring at her. She leaned back, her brow rising and lifting a hoof. Uh oh, she looked ready to bolt! The Lunar Stallions knew they had to act fast.
"Don't just stand there, go get her!" Aegis Shield thrust out an authoritative hoof. With all the subtlety of a bomb going off the entire gaggle of dark-armored, golden-eyed stallion EXPLODED through the window and ran at Twilight like they would eat her! The explosion of showering glass was like something out of an action movie, and the herd dashed like mad to get Princess Luna's plaything before she got away.
Twilight turned and galloped for her life, "AHHHH! Not this agaaaaain!" Kiosks got launched into the air, the crowds parted and the poor purple mare teleported forward over and over to try and gain some distance. But no, it was no good, some of the Lunar Stallions were pegasi. They could keep up with her no matter how fast she teleported. Suddenly a magical aura seized her and held her aloft. "Meep!" She'd been caught.
=-----=-----=-----=-----=
Luna was deep in thought over a thick scroll, sitting on the throne of the Midnight Court. Somepony from Trottingham was petitioning for bits to build a new children's playground in the city park. He was asking for a donation. The royal coffers were always tight, however, so she was contemplating how exactly to move money to such a simple cause without causing a big stir. Perhaps a fund-raiser? If she put her royal endorsement onto something like that, surely it would draw the bits of a few nobles and others that wanted to do good. Well, also to try and gain Luna's favor, but the ends justified the means. Smiling, she picked up a piece of blank paper and began to write just that. About two-thirds of the way through her letter, she became aware of movement very near to her left. How had somepony come so close to her and not been stopped by the guards at the base of her dais?
Princess Luna looked over, and found Twilight Sparkle! "Uh?" she said, eyebrows launching upward. Twilight was laying on her back, plush belly exposed, tied up once more in scarlet ribbons with a bow around her neck. She was on a royal purple pillow, laid next to Luna like she belonged there. "Oh for heaven's sake!" Luna stood quickly, then saw the culprits. A gaggle of Lunar Stallions stood grinning with their chests out beyond where Twilight lay. They looked very, very proud of themselves. Luna opened her mouth, then shut it, then opened it again. She couldn't… she just couldn't find words for this!
"This isn't funny." Twilight said, scowling when Luna had removed her velvety gag. Luna fought a grand smile, alicorn mischief dancing in her eyes. "It's NOT!" she squawked. The dark alicorn quickly undid her bonds, and Twilight wrenched the inhibitor ring off of her horn. "You can't keep doing this!" she turned to angrily address the herd of Lunar Stallions. She flushed red when she saw they were looking past her at Luna for approval. Had they done good?
Luna face-hoofed slowly, a very rare royal face-hoof. "Lunar Stallions, thou cannot keep binding Twilight Sparkle in ribbon and presenting her to us like a gift. She is not ours to keep. We--" she paused, for the entire herd of armored ponies wilted like she'd struck them with a rolled up newspaper. They hadn't done good? Their eyes were big and soft, and a few lips quivered. "I… erm…" Luna's lecture was lost in her throat for a time, for she couldn't concentrate under such pathetic gazes.
"I can come and go as I please! I'm not the Princess' dog!" Twilight shouted at them. They flinched back, pressing together like a herd of scared puppies. "I'm going home! Good night!" the grouchy purple mare started down the dais, turned and bowed to the Princess, and then left the throne room in a huff. A couple of the Lunar Stallions made to give chase, but some of the smarter ones held them back. No no, they had to let her go. Some of them almost whined, looking to Luna for guidance.
"We appreciate thy efforts to please us, Lunar Stallions." Luna said, finally gathering herself. "But pony-napping and… and… all of that," She gestured at the pile of ruined ribbon and the inhibitor ring, "Is not acceptable. Return to your posts." She bade them.
They hung their heads, moving as a group to the door and shutting it behind them. Panzer Hoof, the invulnerable earth pony stallion, was the one to move the massive doors. Even he looked distraught that their plans had fallen through. Off to one side, a Pegasus scribe leaned over to his neighbor in the court. "I wish I had a group of ponies to deliver hot mares at my hooves." He chuckled a little. His partner grinned wryly, shaking his head and trying to get back to work.
She's so adorable when she's angry!
Luna looked up sharply, scowling. There was that voice again. She needed to find out who that was, and why it was so interested in Twilight Sparkle. She had a vague feeling of dread coming from deep inside, but she didn't know why. Sighing and picking up her unfinished letter about the playground in Trottingham, she began to write again. She felt very badly for how her guards had treated Twilight Sparkle. She would need to visit and apologize very soon. Such brash actions were not how she wanted her branch of the royal guard to be seen. It was a good thing her sister Celestia had not seen such a travesty.
End of Part 3
---
Doctors
What Princesses Need
Part 4: Doctors
Several days later, Celestia had finally formulated a plan. The first part was the hardest, and from there it would hopefully get easier. As soon as the noonday court was over, she nodded to one of her guards. He stepped out briefly, and came back with a very specific pony named Deep Psyche. Sitting atop her throne like the regal Goddess she was, the solar alicorn gave a deep nod of respect. Psychology was a relatively new science, but it's results couldn't be denied for anypony that needed help overcoming trauma or mental injury. As much as she didn't want to admit it, her little sister needed help. She'd thought perhaps she would be okay on her own, but her slow adjustment period combined with the display she saw last night... it was a lot to take in.
Clearing her throat just a little, she tapped her gilded hoof twice on the stone dais. The scribes, squires, and other staff knew to leave and did so respectfully. Doors were closed and locked, curtains drawn and windows closed. This was a private audience. The only ponies left in the room were Deep Psyche, Captain Grey of the royal guard, and Celestia herself. "Deep Psyche," Celestia smiled in a motherly way, as she always did to a subject she'd never seen before.
The unicorn stallion bowed deeply as was expected of him, and Captain Grey stood at a safe distance. "Your majesty, I came as soon as I received your summons. I'm honored." He was a young and slender M.D., probably fresh out of medical school—but that was what Celestia wanted. A fresh mind with no distractions, freshly steeped in the fires of high education. His slicked brown mane and caramel-colored coat was pleasant to look at, and the brain with a question mark on his flank was reassuring as well. "I'm Dr. Psyche." He said, bowing a second time.
"I've called you on a very serious matter, doctor." said Princess Celestia. "One that must remain secret and information about which must not ever leave this palace."
"You can trust me, your Majesty! Doctor-patient confidentiality is one of the first things they teach us!" A notepad and sharpened pencil levitated out of his saddlebags in front of himself. He licked the end of the pencil to help the graphite, and then looked up at her. "Are you having night terrors? Unexplained fears or phobias? Maybe mood swings you can't explain?" he looked at his Princess with a doctor's eyes, and Captain Grey fought down a loud snort of disapproval.
"You are not here for my health, I'm afraid." Celestia said gently. "It's my sister. Let me tell you what's happened."
=-----=-----=-----=-----=
A few days Later…
=-----=-----=-----=-----=
"Thou art certain that we should be doing this, Tia?" Luna said in a small, shy voice. "Talk to a strange pony about our inner thoughts and secrets? It all seems so strange."
"I have myself examined by several doctors every decade or so, Luna, it's only healthy." Celestia smiled, feeling very guilty on the inside about all of this. It was true, she did have royal physicians, but it was only now and then that she even gave them a thought. Usually it was their job to look after the hundreds of ponies running the palace. A psychologist, however, was not something that the goddess usually subjected herself to. She'd given Luna a simple, easy-to-read book about the fledgling science and its healing qualities. All it had taken was a short conversation about Luna's shyness and integrating into society, and she was willing to pay the doctor a visit. Luna was still hesitant, though. Who was this strange stallion that was here to just… talk with her? It sounded so simple, but the concept that everything she said would be deconstructed and analyzed for her mental health seemed a little intimidating. Alicorn or no, it seemed like a very private matter.
"Sister, will thou be there with me?" Luna was such a nervous thing. She'd only been back for a few months, and often liked to use Celestia as a shield from others.
The solar alicorn shook her head. "No no, Luna, everything that goes on in there will be between you and Dr. Psyche. I promise you'll be fine." She stopped in front of the proper door, leaning and kissing her sister atop the head. "Go on now, I'll even wait out here for you." She smiled, conjuring a book from nowhere and sitting on a nearby loveseat.
Luna smiled uncertainly, then turned to face the door. Doctors, even back in the old times, gave her the willies. Stallions and mares that knew a little too much about the body for their own good—and now there were Doctors that knew a lot about the inner workings of the mind, as well? She shivered a little. It wasn't that she was afraid to go to the doctor, but… well… that is… yes, yes she was. She was afraid. Did Tia think there was something wrong with her? She looked over her shoulder at her sister, still standing in front of the door. Celestia smiled encouragingly, making a go-on motion with one hoof. Luna heaved a deep sigh, magicking the door open and stepping inside.
Inside was quiet possibly one of the most pleasant-on-purpose rooms Princess Luna had ever seen. Bookshelves made up one wall, paintings on another, large windows overlooking Canterlot on the far wall enshrining a huge and crackling fireplace… and in the middle of it all was a pleasant-looking young stallion with glasses on his nose. He was sitting in a high-backed chair, scribbling furiously in a spiral-bound notebook. When the door opened he looked up and his face brightened. Rising, he bowed to her. "Princess! I'm Doctor Deep Psyche." He introduced himself.
"We art Princess Luna." She said a little lamely, lifting a hoof in greeting. He took it gingerly and, much to her surprise, he kissed it. Wasn't he a charmer? She smirked just a little as he gestured to a red leather sofa. The alicorn clambered up onto it, laying on her belly and looking at him curiously. A growing sense of unease gathered in her chest while he got back into his chair. "Our sister says that it is healthy to be examined by doctors to make sure we are healthy in body and in mind once every decade or so."
"She'd be right!" he said in a friendly way, smiling. "Preventative medicines and examinations catch all sorts of nasty things before they can spiral out of control. It's like a preemptive strike against germs and sickness!" Luna had to smile at his youthful enthusiasm. Though she was several millennia his senior, one had to admire a pony that took such a difficult job and still had fun with it. It was refreshing. Dr. Psyche sat on his haunches, notebook and pencil at the ready as he pushed his little glasses up the ridge of his nose.
"Well, we art not ill, nor crazy-- so perhaps this visit shalt be short?" Luna said, trying not to insult him by sounding to hopeful. He smiled gently, understanding her intent. "What… what do we do now?" Luna wanted to know.
"Well, normally I would sit here and ask you about your problems, your daily life and so on. Can we start with that?" Dr. Psyche wanted her permission. She liked that. He was a very kind-hearted doctor, wanting her approval for where the visit was to go. Luna nodded. "Alright, tell me about yourself." He said, pencil poised.
=-----=-----=-----=-----=
Several Hours Later…
=-----=-----=-----=-----=
"And then when we realized that a mortal pony could not withstand the awesome power of ourselves in the fury form, we took a semi-mortal body and helped our sister Celestia found Equestria." Luna said with a fond smile.
"So that's how Equestria was made." Dr. Psyche smiled, adjusting his religious Dogma with startling speed. "Ahem, now I suppose we come to the hard part." He flipped a few pages in his notebook to come to a clean sheet of paper. "I would like to hear about Nightmare Moon, and the era where she walked in Equestria."
"Nightmare Moon." Luna said vaguely, splayed out on her back and staring at the ceiling. "Nightmare Moon is not a separate entity like some ponies may think, merely a nickname we used to inspire terror in our enemies."
"Is that so?" said Dr. Psyche with interest, his pencil dancing. Luna told him about her growing jealousy against her sister a thousand years ago, and gave him an extended account of how she'd turned to darkness. Then she grew quiet. The point in the story in which she'd been sealed in the moon for a thousand years. "Princess?" he said softly. "What happened to you on the moon?"
"Nothing." Luna said vaguely, her eyes growing glassy. "Nothing at all. For a thousand years, nothing at all." The very real brick wall hit Dr. Psyche. Of course. She'd been alone for all that time, it had torn her mind asunder. Nightmare Moon had manifested as more than just a nickname and a scary glamour spell, it was an alternate personality. A soft whimpering sound issued from Luna, and her hooves came up to cover her face. "Ask us no more today, please."
"Just one more question, Princess Luna." Dr. Psyche could see his patient was getting fatigue and becoming very upset. "Tell me about Twilight Sparkle, I'm curious to know about her."
The fire died in the hearth like someone had thrown a bucket of ice water over it. The lights went out, and a very cold rush of air billowed through the room. Dr. Psyche blinked in shock when he was plunged into darkness. "Twilight Sparkle is none of thy business." It wasn't Luna's voice he heard, nor her eyes that he saw glowing in the dark to look at him. They were green and draconic, slitted pupils and shining with dark intent. "She is mine, I have staked a Royal Claim on her." The large form that was Luna rolled onto her hooves, stepping forward aggressively. Sterile white eyes glowed and magic surrounded the stallion. He gave a yelp as he was tugged from his seat and up to her eye level. "Got it?" Nightmare Moon swam into view, and Deep Psyche froze up in fear.
"N-nightmare Moon!" he said, stuttering in terror.
"Yes-sssss?" she said sweetly, setting him down and leaning into his face. Her smile was feral and filled with long, curved fangs. "What is it, doctor?"
"W-why Twilight Sparkle?" it took firm virility indeed to continue with his questions, so Nightmare Moon honored him with an answer.
"She is beautiful, smart, and honored us with her friendship." The black goddess dropped him on his flank and he grunted when he hit the ground. "Tiz only fitting she be the object of our affections." She jittered just a little, like any other normal mare with an infatuation. "We shall seduce Twilight Sparkle, and be happy with her friendship—and her adorable little backside." She gave a long, salacious licking of her lips. The long forked tongue made the stallion shudder involuntarily. "Mhmhmhm, Twilight Sparkle." She turned her great head, regarding the solar alicorn outside the room.
"Why do you say 'we'?" Dr. Psyche braved, long-forgetting his notebook and just trying to get as much information as he could in case this was the only time he saw Nightmare Moon.
"We. Luna and I." Nightmare Moon growled impatiently, rolling her eyes and considering the nearby windows. Could she fly out? No, Tia would notice. "G-g-g-gh." She snarled a little ferally, turning her horrific gaze to the doctor again. "We grow impatient. We've been here for hours and both of us are tired. Bring Twilight Sparkle to us." she commanded off-handedly.
"I-I'm just a doctor." The stallion said, melting back into his chair when she leaned aggressively into his face. "I don't know where she is." She leaned closer, scowling angrily. "I don't! I swear I don't!" he yelped.
"Very well, we shalt send the royal guard to fetch her." Nightmare Moon said with impatience. "Our meeting is over, doctor." She turned for the door. "Good morrow." She left Deep Psyche laying in his high-backed chair, splayed out like a used piece of twitching chewing gum.
The door opened and Princess Celestia looked up from her book. She gave a gasp when Nightmare Moon emerged into the hallway, mists of black magic swirling around her as the glamor spell dissipated like so much dark smoke. She winked slowly, and before long the image vanished entirely. Luna stood there, glassy-eyed, staring at nothing while he brain rebooted itself and gave her control again. Celestia waited patiently, her brow knitted in distress. Then, Luna blinked a few times and started walking forward again. "How did it go, Luna?" Celestia wanted to know.
"He's a very good listener, Tia!" Luna said with affection, coming to embrace her sister and give nuzzles. Celestia sighed wearily, glad that at least part of her sister was happy at this point. "Perhaps we will visit Dr. Psyche more often than once per decade!" she tittered a little, heading down the hall.
Celestia looked in and found the glazed-over stallion just trying to sit there and breathe. "Are you okay, my little pony?" the alicorn lit the fireplace with a flick of magic, working all of the lanterns back to their regular glow. "What did you learn?"
The stallion swallowed a bit. "Nightmare Moon wants Twilight Sparkle, your Majesty." He said vaguely, looking very much like he needed a stiff drink or something. "That much is clear. What is a Royal Claim?" he asked her, using air quotes.
Celestia flinched just a little, her mouth opening. She quickly closed it, a touch of color coming to her face. "In… in the old days, a Royal Claim meant that my sister or I wanted a specific pony for our own." She said with an air of embarrassment. "I've not made one in centuries. It prevents marriage and often is the precursor to being a royal… erm… companion." She said it very gently.
"Then that means Twilight Sparkle is-!"
"Is the target of Nightmare Moon's lust, and is Luna's only friend." Celestia said softly, looking worried. Should she warn Twilight Sparkle directly? Hey, my sister has multiple personalities and one wants you in the worst carnal ways? That would probably traumatize the poor thing. She would have to be very, very careful about all this. Luna could truly hide from her when the moon was full enough, when her magicks were at their strongest. She imagined that Nightmare Moon would take full advantage of that if she got her hooves on Twilight Sparkle. "Captain Grey." She called to one side. The large stallion stepped dutifully out from behind a column. "Send Captain Shining Armor to Ponyville at once. He is to protect Twilight Sparkle there." She wisely chose the most powerful unicorn she had command of, Twilight's brother to boot.
=-----=-----=-----=-----=
There was a loud knocking on Twilight's door and she groaned. She knew the knock by now, and sighed deeply. Spike looked down from the ladder where he was shelving the last books of the day. "What?" she said in an annoyed way as she wrenched open the door. "Here to pony-nap me again?" she lit her horn in case she were about to be tackled.
A rather small and slender Lunar Stallion stood on her doorstep. "Private Melancholy," he saluted her very seriously. "Delivering a message from her Majesty Princess Luna." He smiled grandly, but Twilight only fixed him with a neutral glare and didn't respond. "Er," he wilted at her a little. "Sorry about the other day, we thought you were supposed to stay at the palace with Princess Luna." He turned his ears back and stepped back just once.
"What's the message?" Twilight asked, glad he was at least sorry for what had happened.
"Princess Luna says that you're invited to go camping with her at the high mountain cave, where the dragon that terrorized Ponyville once was." He unrolled a scroll and gave it to her. It was two sheets, one a map and the other a written letter.
Twilight scanned it quickly, frowning at the jagged and very aggressive lettering. She'd read enough books and written items to read emotion from the way letters were written. The pony that had written this had pressed hard, used way too much ink, and had been passionately scrawling in the heat of the moment. "Huhmmm…" the purple mare said suspiciously. The Lunar Stallion smiled politely, but only in such a way that he tried to make himself look a little less 'there'. Twilight was no doubt furious with the Lunar Stallions right then, and he didn't want to be the one she made an example of if she got mad again. "Dearest Twilight, We art going camping in the high mountain cave, we would like you to join us for the smore-making and campfire activities. The fun shall be doubled with thy presence since not many ponies would be able to relax around us. We await you on high in the cave, tomorrow morn. Signed, Princess Luna." There was some furious scratching out above the signature, which Twilight squinted at. Was she about to say something else? She narrowed her eyes. Something starting with 'Ni'…? Ah well. Perhaps she would say in person? The purple mare found herself smiling. Camping with the Princess did sound fun! She could certainly use some fresh air and friendly company after all of this craziness had happened. Plus, Luna could probably really use a good friend.
End of Part 4
---
Retainers
What Princess Need
Part 5: Retainers
Twenty-four Lunar Stallions stood in a tight circle, looking over a topographical map of the mountain area. "There's a gorge here, a bottomless abyss here, a dragon used to live here, and the paths split off here," Aegis Shield was pointing to the danger zones and other points of interest. Princess Luna had insisted on a nice out of the way place to take her little holiday, so it was up to them to make sure she was completely safe while she was there. "Now, this side of the mountain borders the Everfree Forest, known home to lions, tigers, and plenty of bears. Not to mention hydras, manticores and blanks." He looked up at his fellow stallions, who looked positively terrified.
"Lions?" said one stallion.
"And tigers?" said another.
"And bears." Nodded Captain Shield seriously. "Now line up, you lot, it's up to us to patrol the road and make sure that there's not anypony coming that not ought to be." He gestured and they obediently lined up shoulder to shoulder, spanning the road. A couple of them fearfully locked arms, peering into the dark foliage and thick canopy. One of them gulped, steadying himself. A few of them looked ready to bolt. The mountain was high and scary, but it was up to them to protect Princess Luna, so they had to be there.
"Lions and, tigers and… bears!" said a few of them as they wandered down the path towards who knew what. "Lions and tigers and bears!" they chanted together, but it only seemed to increase their fear of the place. "Lions'n'tigers'n'bears!" They walked faster and faster, as though the creatures were on their heels right then. Sweat was going down the sides of their faces. "Lions'n'tigers'n'bears! LIONS'N'TIGERS'N'BEARS! LIONS'N'TIGERS'N'BEARS! LIONS'N'TIGERS'N'BEARS!" Suddenly they ran into a big shadow on the road and they cried out as a group, hugging each other in a big shaking herd of terrified stallions.
Twilight Sparkle emerged from the mist, holding a lantern and bearing camping saddlebags. "Oh no, it's you guys again." She said flatly, sighing and turning her ears back at them.
"Twilight Sparkle!" one of them shouted, pointing at her. All of their grey faces lit up and they crowded around her for nuzzles like children.
"Wha-hey! Hey stop that!" Twilight was mooshed into the middle of the big group, so happy to see her! She blushed and squirmed about. "Keep your hooves off me!" she was lifted bodily and TOSSED into the air by the happy group that was completely ignoring her protests.
"H'oh!" they shouted as a group, tossing her. They were ELATED to see her, so very happy! "H'ohh!" The purple unicorn cursed and flailed about as she went up and down. "H'OHHH!" Then they finally let her go, smiling with their big sharp teeth and golden eyes. What a greeting!
"You ponies are crazy!" Twilight shouted, staggering away as quickly as she could. They followed her with their strange golden eyes. She continued up the path to get away from them, walking in zigzags and trying to get her sense of balance back. "Crazy!" she shouted again as she gained some distance at a gallop. Wh… what? Crazy? They wilted at her like kicked puppies. But— but they liked Twilight Sparkle! She made the Princess happy, did she not like them at all? They looked at each other with big soft eyes, forlorn. One of them whimpered aloud.
"Ch-chin up, boys." said Captain Stalwart Hide. "We've still got a job to do, and that's to secure the perimeter." He snuffled a little, trying to assure his comrades. They nodded slowly, trying to cheer up after Twilight Sparkle had disowned them so openly. How mean!
=-----=-----=-----=-----=
Nightmare Moon lay in wait, deep in the cavernous dark of the former dragon's lair. She had a meager little fire, some blankets, a small litter to stretch out on, and a few other odds and ends. The black goddess currently had her muzzle pressed into a thin book full of camping activities. If she was to seduce Twilight Sparkle correctly, she would need a proper chain of events to lead up to said seduction. It wasn't as though she could just pounce on the beautiful creature and have her way. Well, she could, but Celestia would never let her hear the end of it. After that whole 'nighttime eternal' thing, she'd been very uptight.
"Hrm," Nightmare Moon mumbled, turning through the snack sections. "Graham cracker… then chocolate…" she was very serious-face about the entire thing, for Twilight Sparkle was a prize to be had. Nothing would deter her. "And marshmallow…?" she flicked her gaze up at the stick-mounted treat leaning over the fire, and flinched. It was jet black and burning. "Blast you, mushy confection!" she zapped it with her horn angrily, reducing it to dust. She eyeballed the graham cracker and chocolate a little, eyes narrowing in amusement. Twilight Sparkle could be her marshmallow any night. She chuckled at the thought, snapping the treat up greedily and trying again. "Graham cracker, then marshmallow, perhaps a…" she trailed off, for she heard hooves coming up the path and towards the cave entrance. Hissing angrily, she snuffed the fire with a flick of magic and pressed herself into shadow.
"Stupid Lunar Stallions and their stupid… stupid… faces!" Twilight spat, grumping back and forth. "Princess! Princess are you here?! Your stallions assaulted me again!" she shouted angrily into the cave. "I'm going to get a restraining order, signed by you! I won't be tossed around like a beach ball! They just keep grabbing me up!"
Nightmare Moon panicked briefly. She put on Luna's voice. "Oh erhm… come in, Twilight Sparkle!" she said aloud, coughing a bit. "It is very cozy in here!"
"It's dark!" Twilight called, lighting her horn and coming in. Instantly Nightmare Moon was exposed. Horsefeathers. She hadn't thought of that. Of course Twilight had a light spell. The dark goddess stared at the mare, and the mare stared back. There was a pregnant silence, and the cave dripped water from the ceiling a few times. The purple mare's mouth slowly gaped open. Nightmare Moon. It didn't compute. She wasn't possible. She just wasn't possible. "P-princess?" she ventured slowly.
Still using Luna's voice, Nightmare Moon mewled at her a little forwardly, "Come and join us by the fire, Twilight?" she flicked the fire pit with alicorn magic and it burst into flames, startling Twilight back a bit. "Oops." She murmured. Twilight turned to bolt, screaming like a madmare and igniting her horn to teleport. "No no, none of that!" The dark goddess stood with authority, lighting her own horn with black magic. The purple mare vanished with a crack of parted air, desperate to be anywhere but in the cave with her. The alicorn's magic grasped her with a raven's black hand, a midnight shadow of pure darkness. Twilight Sparkle was ripped out of the space between spaces and plopped onto the stone floor in front of Nightmare Moon's litter.
Twilight gasped, holding her head and falling over with vertigo. She'd meant to go forward and away, but had been wrenched backward with all the force of a GODDESS. "Urlghhh…" was all the poor thing could say, her eyes swirling about while little stars and birds danced in her vision. Moaning a little, she fell on her side with a bump.
Nightmare Moon winced. That could've gone better. "Hrmph. Ah well." She snorted. "We still have the upper hoof." She gathered the limp Twilight Sparkle to herself with magic, then rather casually just laid on her. The purple mare was splayed out on her back, a distressed expression on her face. She was only partially conscious, the recoil of magic jump-starting her brain into a back-up-restart-retry system. It would take her a few minutes to gain her senses. Nightmare Moon smirked a bit, eyeing the beautiful mare up close for a long time. The fire crackled, playing across her beautiful features. "Such a beautiful thing…" Nightmare whispered, leaning down to inspect her closely. The streaked mane, the round curves of her face, so beautiful. Laying out over Twilight, she fought the very real urge to simply have her way. She ached to have Twilight, right then. Her black wings opened slowly while she entertained dark thoughts. "Hrmphhh…" she thought, then turned the limp mare over and laid on her once more. Shrugging a bit, she instead decided to pet her. Just a little.
Twilight moaned a little, tilting her head when she felt a soft muzzle in her mane and along her neck. It was large and very firm, seeking the softer spots of her neck. She jittered a little, then let out a breathy sigh when a sweet spot was found at the base of her mane and neck. She felt little sharp teeth nibbling on her. Twilight squirmed a little, fading in and out of consciousness. "Mhh-h-h…" she moaned like she was being massaged, shifting slightly and feeling the great warm weight on her back. Was… was that a stallion on her?! Her eyes suddenly snapped open and she gave an icy-hot shriek of feminine distress. "Don't rape me!" she cried out in a panic, thrashing about.
"Twilight, We would not violate thee!" Nightmare Moon snorted, laying on her with all her body weight. "Much." She snickered, tossing her head a bit at her horn joke. Twilight looked over her shoulder at the dark goddess, her irises shrinking into pinpricks.
"Nightmare Moon!" Twilight said accusingly. "Where did you come from?! Get off of me!" the purple mare squirmed, but the sheer weight of the body atop her was too much to let her get away.
"Neigh." said Nightmare Moon. "We like you right where you are, 'neath us." she snickered a little, nuzzling Twilight's mane rather openly.
Twilight shuddered, aghast. "I'm dreaming! I must be dreaming! Nightmare Moon was destroyed by the Elements of Harmony!" she was trying to make it all make sense. "This must be a guilt dream! Something! H'oh Celestia!" she whimpered under Nightmare Moon, praying to her mentor, gritting her teeth and trying to get free.
"I am not destroyed any more than Luna was. We are one and the same." Nightmare Moon was rather flirtaciously chewing on one of Twilight's plush ears by then, trying to get the point across for her intentions.
"No! Get off me!" The purple mare shrieked. "You're evil! Don't touch me!"
Nightmare Moon paused in her attentions, sighing in a frustrated way. Why, a thousand years ago a mare or stallion would've given a leg to be the subject of her affections. But Twilight Sparkle? Neigh. "But, we like thou. Both of us. Whether both halves admit it or not." She smiled, leaning and grabbing a half-finished smore with her magic. She took a bite, chewing animatedly. "Come Twilight." She whispered sensually in the mare's ear. "Come be our marshmallow mare." She kissed her behind the ear, offering the smore to Twilight. She didn't take it, but the goddess left it in front of her in case she changed her mind.
"What do you want?" Twilight said uncomfortably, craning her neck to look back at her. She was trying to form a plan, trying very hard. But it was hard to think with the goddess of the night's darker half breathing down her neck and… chewing on her. "What do you want?" she asked again, ears turned to a defensive sideways position.
"We want thou." Nightmare Moon leaned and whispered. "Thou art adorable." She rested her chin atop Twilight's head, smiling with affection. "Come, and be ours." She said, trailing a hoof down the side of the unicorn's flank.
Twilight shrieked as she was flipped over onto her back. Nightmare Moon smiled grandly, all of her fangs out and on display. "B-be yours?!" she said in a meek way, red going across her cheek. "I don't even know you! You tried to bring about nighttime eternal!" Already Twilight had taken into account the multiple persona's sharing the one body. Such a smart, bright little star she was. Just like any star in Nightmare Moon's sky. She adored the purple mare all the more.
"My name is Nightmare Moon." The black pony giggled, reintroducing herself playfully. "And thou art the most luscious thing we've laid eyes on in a thousand years." She said, rubbing her nose on Twilight's plush and soft belly. The purple mare jittered, blushing furiously.
"S-stop that!" Twilight begged. "I know your face! I don't know YOU!" she emphasized, tail tucking in an adorable expression of modesty. Red-faced and sweating, the purple mare whimpered pathetically.
Nightmare Moon grinned, leaning down and nuzzling her a bit more. "Thy belly is so sensitive, even Luna knows this…" she purred sensually, dragging her fangs oh-so-gently across the softness. They left little red lines, but didn't pierce her skin. Such a pure, luscious and beautiful creature. Nightmare Moon could think of no greater prize to grace her bed. Er, litter. Camping had a litter for her. She nibbled on Twilight's soft belly for a bit, very much enjoying herself until the warm scent of arousal touched her muzzle. The body was a machine, after all. It would respond to stimuli whether it wanted to or not.
Twilight's shiver went up and down her spine, and she whimpered again. "P-please, no…" Twilight turned her head to one side, eyes softening and a single tear going down the side of her face. "St-stop touching me… p-please…" she whispered, gasping when Nightmare Moon drifted a bit lower to her pelvis. "Luna-!"
The recoil if hearing the name hit Nightmare Moon so hard she gagged on her own spit. Her eyes widened and her back arched like she'd been struck by lightning. Suddenly sparkles of magic began to leave her body. Flecks of blackness left her fur and the armor that made up her outfit began to rust over and quietly drop off of her like glittering snow. "No! Wait! No no no noo----" Nightmare's protests died in her throat as her glamour spell fell apart like cobwebs in the breeze. The armor reshaped itself into a dainty crown and regalia. The eyes shifted from slitted and draconic to a soothing aqua with wide pupils. Luna lay there, glassy-eyed and expressionless.
Twilight looked up at her, fearful but puzzled. What had just happened? "L-Luna?" she said in a soft whisper. "Are you in there?" she poked the Princess just a little bit, but received no response. Deciding this was the time to escape, she started to wiggle. Luna was very heavy, and being pressed up against her like that made it very hard to get away. "Luna, I'm stuck!" she said. No response. Luna's mind was still restarting.
"Twiliiiiiiight!" A faded voice on the breeze caught her perked ears. "Twilight where are youuuu!?" the voice was male, straining against the trees and the cave itself.
"I'm here!" Twilight shouted in distress. Instantly the shouting stopped, for the voice's owner was listening. "I'm in here!" she shouted again. There was a crack of parted air and a spray of blue and gold sparks. Before her was a stallion in purple and gold armor, holding two Lunar Stallions in a head-lock. "Shining Armor!" Twilight flopped down, panting in relief.
Both Lunar Stallion's oof'd when he struck their heads together and threw them aside. Rushing forward, he rather rudely shoved the comatose princess off of her and gathered his sister into a hug. "You're okay, you're okay. I'm here to protect you." He soothed when his little sibling suddenly decided to burst into sobs. "It's alright, it's alright I'm here… big brother's here…"
"It's Nightmare Moon!" Twilight cried, her voice breaking raggedly. "She's back! And she was… she was TOUCHING me-hee-heeeee!" she blubbered into her big brother's chest, clinging to him.
Shining Armor frowned worriedly, looking over when he saw movement. Princess Luna was slowly gathering herself, rubbing her eyes and achingly stretching her wings. Wow, what smelled like lust and chocolate around here? She blink-blinked a little, peering blearily about. What had happened? Where was she? She saw a white stallion glaring at her furiously, two Lunar Stallions splayed out across the ground, and a very upset Twilight Sparkle. She was shaking like a leaf, crying loudly into her brother's breast. Luna rose to all fours right away, mouth agape as she came close to investi—CRACK! A gilded hoof went across her face so-hard-so-suddenly she almost peed a little. "You ought'a be ashamed of yourself!" Shining Armor hissed through lidded eyes.
The alicorn had never, ever been simply struck in the face like that. The pain was alien, and sent waves of ice through her cheeks. "What?" Luna said, holding her face. "How DARE thou strikest a roy-!" CRACK! His hoof went across her face again and she yelped.
"How dare YOU take advantage of my sister!" Shining Armor shouted. "Princess or NOT!" in one arm he held his bawling sister, and defended her with the other from a goddess. Luna's brow rose in complete confusion and horror. She looked down at Twilight Sparkle, who was shaking so hard it was visible. "She's not your plaything!" the armored captain of the royal guard shouted. He leaned down, putting his muzzle under Twilight's undercarriage and putting her on his back. She clung to him like a baby koala, sniffling as tears dripped down her face. She wouldn't even look at Luna, keeping her head turned away.
"W… what?!" Luna said. "We did no such thing! We would not molest Twilight Sparkle! She is our best friend!" she started to step forward, but Shining Armor was walking backward out of the cave and away from her. His face was set in a deep, shivering scowl of clenching teeth. "Come back!" Luna said, reaching with a hoof. He backed up faster, going out of the tunnel with his back arched to support his sister.
Shining Armor turned to flee on hoof, but ran into trouble right away. Lunar Stallions. Twenty-two of them, armored up and scowling and snarling like dogs. Their golden eyes glittered in the moonlight, their jowls rising to reveal rows and rows of piranha-like teeth. "That mare is Princess Luna's." Captain Stalwart Hide stepped forward. "Put her down, shiny boy." He gestured to the golden and purple armor he wore. It was no secret that the Lunar Stallions and the Solar Guard did not get along.
"My sister doesn't belong to anypony." Shining Armor lit his horn, and encased Stalwart Hide in a sphere of purple magic.
The stallion gave a shout , beating his hooves on the sides of the bubble. The other Lunar Stallions looked on in horror when he started to roll away as though he were in a hamster ball. "The Captain!" one of the stallions shouted, pointing. The entire herd of Lunar Stallions turned, chasing after the entrapped pony like a herd of puppies chasing a giant pink ball. Shining Armor shook his head, thankful they were so easy to get off track.
"Hold onto me, Twiley." Shining Armor said, igniting his horn once more. "We're going straight home, to Princess Celestia!" A magic circle appeared on the ground around his hooves. If there was one thing Shining was very good it, it was enlarging spells. Whether that be a shielding spell, or a teleportation spell. He could simply maximize simple things to their greatest and most incredible potential. Right now, that meant teleporting from the high mountain all the way to the royal palace-- CRACK went the vacuum of air, and they were gone.
End of Part 5
---
Help
What Princesses Need
Part 6: Help
Twas a rare thing indeed to see the solar Princess Celestia running. She was a dainty thing, and she never really rushed anywhere. Teleported, sure, but the fact that she felt the need to run down a hall and burst into a room spoke volumes to her guards. "Twilight Sparkle!" she cried, slamming open the double doors and then snapping them shut behind her. The scene before her was a sad one. Twilight Sparkle shook like a leaf on a grand four-poster bed, and Shining Armor stood very near, stroking her back. "I came as soon as the messenger reached me." She told the Captain, sweeping across the room and up onto the bed. Twilight wordlessly whimpered, turning and clinging to her, hiding under her great wingspan. Celestia could feel the poor mare shaking. "Tell me what happened." She bade the guard Captain.
Shining Armor saluted, outlining very briefly what he'd seen. After stopping in Ponyville to look for Twilight and learning from Spike that she'd gone camping in the mountain's former dragon lair. He went up the mountain and ran into the Lunar Stallions. After getting past them (rather easily), he'd found Princess Luna about to molest his sister in a cave at the summit. After rescuing Twilight and besting the Lunar Stallions again he'd teleported back with her in tow, finding an empty royal apartment and sending a squire to fetch the Princess.
"I was afraid of this. I thought perhaps Luna still had some control…" Celestia sighed, leaning under her wing to nicker and press her muzzle comfortingly into Twilight's mane. The mare shivered, pressing up against the Princess like a frightened foal to her mother. "Twilight, it's alright. You're safe now." She coo'd softly. "I won't let anything bad happen to you," she looked up at Shining. "And neither will your brother."
Slowly, Twilight's face emerged from behind her hooves and she gave them the most soft-eyed and pathetic look of overt fear either of them had ever seen. "I-I know," she said in a small voice. "I-I'm safe here with you two." She gave a small, heart-wrenching smile. Shining Armor came to the side of the bed, leaning and nuzzling her mane comfortingly. She smiled a little wider.
"Twilight, my sister Luna is very sick." Celestia said in the most gentle, motherly manner she could. "I won't make excuses for her darker half, but I must tell you that that is what you saw: her darker half." She was stroking her student's mane and back with her long muzzle to help her cool down. Twilight shivered a little under her wing. The Princess' body, she'd known since she was a filly, was always much warmer than a normal pony's. Probably since she was the goddess of the sun or something, she retained heat much better than everypony else. But, it was comforting.
"She was Nightmare Moon, then… then she wasn't." Twilight Sparkle said in a troubled way. At Celestia's gentle prompting, she told them everything that had happened. "—And then Shining Armor showed up to rescue me. I-I should've been able to get away on my own…" she trailed off, sagging and very disappointed in yourself.
"Twilight," said Celestia with a small and patient smile. "Do you truly think you could hide from a goddess?" the purple mare looked up at her, soft-eyed. "It's very hard, I assure you." She nuzzled her again to soothe her. "I should have gone myself, I sent Shining to serve as your bodyguard, not to rescue you from my sister." She sighed softly. "I'm so sorry for what happened, my most faithful student." She whispered quietly. Twilight Sparkle smiled in a small way, pressing up against Celestia and hiding under her wing like a filly. She felt safe there, where it was dark and very warm. The solar alicorn smiled quietly. Her poor faithful student… she could be so strong, but so frail at the same time, sometimes.
"I'm sure you two need to rest a bit, I'll return to my duties." Shining Armor volunteered when he saw the goddess and mare sharing a tender moment.
"Thank you, Captain." Celestia smiled as he saluted.
"W-Wait!" Twilight called softly, poking her head out. She searched with her eyes to find the right thing to say. "Thank you, big brother." She said, mewling a little. "I'd probably still be back there if not for you." Shining Armor smiled encouragingly, then turned and left them alone. "What should we do now, Princess?" Twilight stuck her head out of the warm, safe spot under Celestia's wing.
"I'm going to give my sister a good talking to." Celestia frowned. "She won't come near you anymore, Twilight, I promise. And if she does," there was a mild, sterile-white flicker in the solar goddess' eyes. A terrible, protective glitter that only lasted a split second. "Well… she won't. Let's leave it at that." She smiled oh-so-gently, leaning and kissing the top of Twilight's head. She knew she was a grown mare, but even simple gestures like that could do a world of good. Sure enough, Twilight Sparkle smiled again, a bit more genuinely.
=-----=-----=-----=-----=-----=-----=-----=-----=-----=-----=-----=
The Next Day, After Luna Had Returned to the Palace…
=-----=-----=-----=-----=-----=-----=-----=-----=-----=-----=-----=
"You put that down right now or as Celestia as my witness I will give you such a thrashing!" The ninety year-old mare, Dusty Tome, was beating a Lunar Stallion over the head with a rolled up newspaper. He and his comrades had commandeered an entire bookshelf and were bearing it away to some unknown corner of the Royal Library. WHY they'd decided to just pick up the entire shelf and move away with it, well, that was classified and none of the librarian's business. She hadn't bought that for a second. "Put! That! Down!" she shrieked shrilly.
All fifteen Lunar Stallions turned as one, "SHHHHH!" they said, taking the old mare very much off guard. She stopped, slapping a hoof over her mouth. She was being loud in her own library, how unprofessional was she?! She stood there, stunned and mortified at herself. Meanwhile, the Lunar Stallions got away with the entire bookshelf and she never saw where they went. She stood there, helpless, mouth agape. How was she ever going to explain this to anypony? Yeah, sorry that entire section is gone. Where did it go? I have no idea, a bunch of Lunar Stallions came in and took the whole thing.
The Lunar Stallions, moving as a group holding the heavy bookshelf, took the thing down a hall to a series of study rooms. Looking around, they checked that nopony was around. Knocking three times, they had the door opened and they shuttled the thing inside. Nightmare Moon sat at a very large, book-covered table. They stood the bookshelf up, books still entact in their rows and threw out their chests for praise. "Well done, my stallions." Nightmare Moon said, poring over a thick tome and working her abacus. She peered at the prize over her half-moon glasses, pulling them off and standing. Reaching out to a random stallion, she rubbed his forehead and muzzle with one huge hoof. He murred a little, ooooh head rubs… the rest of them jittered jealously, but they'd done their sacred duty. "Let us see now…" she walked to the shelves and ran her hoof across the books. Plucking one, she flipped it open. "Dating the Modern Mare: Everything You Need to Know About Courting But Were Afraid to Ask." She read off the long title. "Oddly specific…" she frowned, flipping through it. Apparently, the 'modern mare' meant 'a mare with a job, perhaps a child, and an independent lifestyle'. Why, that was everything she liked about Twilight Sparkle! Well, she didn't have a foal… and really the attraction was rather physical at the moment. But clearly her early era approach had been off-target. "In my time a Princess need merely show interest, and we would receive any lover we desired." She told her Lunar Stallions, who chuckled and nodded encouragingly. She turned, book levitating in front of her, going back to the large table. She scribbled a few notes. "Bring me that copy of Cosmarepolitan." She gestured vaguely, and a stallion brought it forth in his mouth. "Hrm, Twenty-five subtle hints to get her thinking about the bedroom. Perfect!" Nightmare Moon grinned with all her fangs, flipping to the article and scanning it. She mumbled the words while she focused, very serious face. "Melancholy!" she snapped, looking over at a specific Lunar Stallion. "Did thou find the book of romantic poetry we asked for?" she demanded. The stallion came forth, nodding and giving her the bright pink book. Nightmare Moon flipped it open and read a haiku aloud. "Teats are very nice. Creamy mounds beneath her dress. Smile, it's cold today." She cocked an eyebrow when the Lunar Stallions broke into uncontrollable laughter. The dark goddess threw the book across the room with a red-faced, embarrassed snarl. "We said romantic poetry, not bawdy poetry! If we are to seduce Twilight Sparkle, we must do it properly!" Melancholy nodded quickly, returning to the bookshelf they'd commandeered to find something more romantic. Nightmare Moon sat down, stroking her chin. Courting had become much more complicated than it used to be. Dowries did not exist anymore. Arranged marriages were rare and far between. Sex was all but taboo to even talk about aloud. Some ponies even insisted on waiting until marriage before losing their virginity. Admirable, but not what Nightmare Moon had in mind. In her time, ponies made love because it felt good, because the population was unstable and needed more foals, or simply on the whim of instinct. Now it was so… so complicated! She adored the beautiful Twilight Sparkle, but this was just a great big mess. How had society become so stuck up its own flank about something so simple? The dark goddess frowned deeply, resolved to learning the new customs of courting and seduction. Her forward mannerisms of interest had scared the purple mare away. This would need more tact.
"Do we need more, your Majesty?" Captain Stalwart Hide wanted to know.
"Yes." Nightmare Moon nodded firmly. "Go. Commandeer the Sociology section." She pointed towards the door, and the twenty-four stallions stampeded out of the room, eager to do her bidding. She smiled, shaking her head and flipping a few pages in her books.
"Sister." A voice floated over her head, and Nightmare Moon looked up. "We must talk." The look on her face was more than a little annoyed. It was outright angry. Princess Celestia swept into the room, shutting the door firmly behind her. "You traumatized my most faithful student, Twilight Sparkle." She said accusingly.
"We merely showed a royal interest in her." Nightmare Moon said snootily. Celestia's frown deepened. "We shall revise our approach and try again." She gestured to the dozens of books, magazines, and pamphlets laid out in front of her.
"No, you won't." Celestia said, opening her wings rather aggressively. "I forbid you."
"Thou? Forbid ME?" Nightmare Moon stood from her chair so hard it toppled over backward. Celestia tensed for a moment, but no magical assault followed so she relaxed a hair. "First thou seals me away in the moon for a millennia, and now thou shalt tell me what mare I may or may not persue?!" she demanded, leaning forward with an angry hoof lifted.
"She is my protégé, and not for you to stake a Royal Claim on." Celestia said rather angrily. She really was getting bent out of shape, her queen's mask cracking into pieces to expose true anger. Nightmare Moon balked at her. "I'll only warn you once, sister. It's not appropriate, and clearly not wanted."
"Not appropriate?" Nightmare snorted. "Do you not remember Starswirl, Tia?" she leaned and prodded Celestia's chest with a hoof. A very real splash of pink touched the solar alicorn's cheeks. "HE was your protégé and you certainly didn't seem to mind him making you shriek like a springtime mare!"
"That was centuries ago!" Celestia said quickly, flushed and embarrassed. "Times have changed, and it is not accepted anymore. I FORBID you to touch Twilight Sparkle, ever again!" she leaned forward, scowling angrily. Her wings bannered out to their full span of aggressive posturing. Flecks of solar magic and raw, fiery embers snowflake'd from them. Nightmare was reminded very much of an angry peacock.
Nightmare Moon leaned into her face, smiling sweetly with all her fangs. "Nnnnnn-o'h." she said smartly, batting her eyelashes.
Celestia frowned even more deeply, unused to feeling such anger. She shuddered slightly. "The moon will seem too kind, sister." She whispered dangerously.
"Threaten us not with thy lies, sister." Nightmare Moon scowled at her. "Thou art not powerful enough to do such a thing anymore. Sitting on a cushy throne for a thousand years of peace has made thee soft and weaker, unable to simply overpower me as you once could with the Elements of Harmony." She went and sat down hard at the table again, surrounded by her books. "Tell you what, Celestia." She put her hooves together in a business-like way. "We shalt make thee a deal."
"What?" Celestia said with a frown, already disliking that her sister was steering the argument. She couldn't exactly burst into holy fire and strike her sister down. She was only half evil, and Luna would not understand.
"I shalt continue my efforts to seduce Twilight Sparkle," she paused and held up her hoof before Celestia could protest. "But! I shalt not physically or magically touch her. At all. Nor my Lunar Stallions." She said. "It is clear such speed to a physical relationship is frowned upon in this era." She gestured to the wide array of literature.
Celestia's eyes narrowed. It wasn't fair to simply strike down Nightmare Moon. Luna was still in there, and she didn't understand what was happening. The solar Princess' thoughts snapped back to Dr. Psyche. Perhaps she could fight this battle another way… "And in return, you will do something for me." There was a bargain to be struck here, and she would have to be very, very careful about all this. Perhaps something could be salvaged.
"What?" said Nightmare Moon acidly, narrowing her eyes back at her sister.
"Luna will go to see Dr. Psyche on a regular basis, and you will cooperate." Celestia said.
There was a long silence and the alicorns stared at each other, weighing their options. Nightmare Moon stroked her chin in thought, slowly rising from the table and going to her sister. There was ground to be gained here. Luna could lay on a couch and play the woe-is-me damaged princess, meanwhile Nightmare could devise more cunning plans for the seduction of Twilight Sparkle. After all, if the purple mare came to embrace her, the no-touching deal would be off. A wry and confident smile crossed the dark goddess' muzzle. "Very well. Deal." She lifted a hoof. Sun and Moon shook hooves. Celestia was very, very unhappy with all of this, but it was the best she could do at the moment without leveling Canterlot in a flash of fire and alicorn fury. She hated-- hated so much to use Twilight Sparkle like such a chess piece.
Then the Lunar Stallions crashed into the room with an entire bookshelf full of sociology books, spilling them across the floor. "Get her off me! Halp!" Melancholy cried, straddled by the angry old librarian while she beat his face over and over with a rolled up newspaper. "Aaah!"
End of Part 6
---
Pictures
What Princesses Need
Part 7: Pictures
"Alright Princess, today we're going to try something new." Doctor Deep Psyche said pleasantly. Luna, on her back on the big red couch, nodded warily. Celestia had insisted that she come back to see him right away, saying that it was urgent. The stallion came over, kneeling on all four knees. "I'm going to show you some pictures, and I want you to tell me what springs to mind when you see them, okay?" his tone was playful and his smile genuine. Luna liked him for this. He was not intimidated by her, he was a pleasant stallion. She nodded, and he brought up the first picture.
Luna frowned. "Spilled ink." She said.
The doctor chuckled a bit, "Yes yes, that's what it is, but what does it look like to you?" he watched the princess squint at the picture for a few long moments.
"It looks like thy painter was sloppy and overpaid." She said, pointing at it. Dr. Psyche smiled patiently. "Did we get it wrong?" she said in a silky mewl. She really was a tender thing compared to her alter ego.
"Oh no no no, Princess, it's fine." The stallion smiled encouragingly. "Lemme show you how it works." He picked up another one, which had another blob of ink on it. Flicking his eyes down, he turned it sideways. "See? This one looks like a tree." He showed it to her. Luna took it gingerly and squinted. It did look like a tree to her. "Okay, now you try." He said. "I'll be able to learn more about your health up here," he touched his temple. "Based on your answers. There's no right or wrong, simply say the very first thing that springs to mind, alright?" He waited for the sparkly Princess to nod, and flipped up a new card for her.
"A… house." Luna said carefully.
Twilight Sparkle's treehouse.
Luna flicked her eyes around nervously. There was that voice again. She'd heard it before, but not for the past few days. The doctor selected a new card, showing it to her. "How about this one?" he asked.
Luna tilted her head to one side. "A Lunar Stallion." She said, gesturing vaguely to the hallway where two of her guards waited. Over in the doctor's chair a pencil was dancing according to his will, making notes.
One of the Lunar Stallions that bore Twilight to us.
Princess Luna gulped a little, trying to ignore the voice that the doctor didn't seem to notice. She gulped, scratching at her shoulder again. "And this one?" he said, pushing his glasses up his muzzle again when they sagged.
"Er… two pregnant mares, back to back." Luna said, making a bowl shape over her belly. The pencil danced behind her while the doctor nodded along with her. They went through over three dozen of the funny ink blot pictures, each of Luna's answers seemingly healthy ones, according to the Doctor's pleasant nods. Each time, though, she heard the disembodied voice speak its own answer. Almost all of said answers had to do with Twilight Sparkle, her sister Celestia, or the Lunar Stallions. Luna scratched her scalp furiously. The Doctor glanced at her from behind his half-moon glasses, sensing her growing agitation. "Will there be much more of these?"
"Just a few more." Dr. Psyche said, smiling pleasantly. He felt really, very guilty about what he was about to do, but if it was going to help the Princess—he had to do it. He led her through perhaps a dozen more cards, noting Luna's responses as they went. Then, he turned over the final card, which bore a portrait of Twilight Sparkle's face.
"H'oh?" Luna sat up with interest, and suddenly her pupils dilated. Dr. Psyche stepped cautiously back. "Twilight Sparkle!" her voice deepened slightly even as she spoke the name quickly. Her pupils slashed out into draconic slits. Her eyes shifted color, and her legs grew longer and more spindly. She rose onto all of her hooves as her fur flushed into an oily black and her royal trappings hardened into terrifying armor. "Pray tell why thou has a portrait of our dear Twilight Sparkle?" Nightmare Moon oh-so-gently grabbed the stallion by his bowtie and brought him up to her eye level. He squirmed, gagging animatedly. She snatched the picture with magic before putting him down again, not so gently.
"I knew it would bring you out, Nightmare Moon." He adjusted his bowtie so it wouldn't choke him. "I've heard you've been very busy lately, and we need to talk about that."
"We hath already struck a deal with our sister." Nightmare turned her muzzle up snootily, disregarding him. "And we have been doing research for the proper seduction techniques of this era."
"Well, that's something else to talk about." Dr. Psyche went and gingerly sat in his high-backed chair. "You think the way you treated Twilight Sparkle was right?" he asked, pencil poised by magic over his notepad.
"Of course!" Nightmare said haughtily, turning her muzzle up at him once more. What was he, a moron? "She made her intentions clear when she nuzzled our teats in bed, and we art returning her affections." She grinned with all of her mildly salivating fangs. "And quite the beautiful creature she is, with the good taste to choose us instead of Celestia as her interest!"
"She what now?" the stallion looked up sharply. There was clearly more to this that he wasn't seeing. "Back up a moment. You were in bed together? When?"
"Luna had Twilight Sparkle in bed." Nightmare Moon nodded. "We did not think she had the firmness to do such a thing, but we saw it for ourselves. Wine, candies, trashy literature, everything one needs for a proper playtime in the bedroom." She named things off in a list. "When we awoke and Luna slept, we found Twilight Sparkle pressed 'tween our back legs like a lover." She smiled fondly at the feeling. "And even as she looked on, she nuzzled us." the dark goddess jittered happily, looking down at the picture she'd taken from him. The Doctor's pencil danced while she spoke, taking down everything she said as quickly as he could.
"And since Luna was already with her, you thought, you wanted Twilight Sparkle also." Dr. Psyche pieced it together. Celestia had filled him in on the very serious events that had happened in the past few days. He only hoped that the purple mare was okay and wouldn't need serious counseling too.
"We share the same body." Nightmare Moon shrugged. "Surely we can share the same lover." She smiled with her fangs, making him shudder a bit.
"Uhm," the stallion had to flounder for a few moments to find the proper words to make a sentence. "You…" he paused a moment, trying to word it carefully. "You said in the past that you and Luna share memories. You know everything she knows?" he asked.
Nightmare Moon shrugged a little, gazing down at the picture and not at him. "Not everything, no. Sometimes it is fragmented, or missing. We did not expect to wake up with a beautiful mare nuzzling our privates." she smiled, folding the picture and tucking it safely under her wing.
"And you know for a fact that Twilight and Luna are lovers?" Deep Psyche said bravely, pulling down his glasses a little to look her in the eye.
Nightmare Moon gaped at him, aghast at his audacity. "Well of course they are! How else does a mare end up in such a… such a position!" he'd genuinely caught her off guard, it was easy to see. Suddenly more pieces were falling into place.
"Describe it to me." The stallion prompted. "Go on. I'm a doctor, I won't blush." He gestured. "You saw the whole set up when you awoke, surely you remember the… act." He said delicately.
"I… erm…" the black goddess gave pause, running her hoof under her chin in deep and serious thought. She delved into her mind, very careful not to wake the sleeping Luna. Her brow furrowed as she went back and forth through the ethereal layers of her memories and emotions. No. No. No that wasn't it either. Surely Luna would have something like recent lovemaking carefully stored in her most joyous memories? Nightmare Moon frowned. That part of the night was fragmented, seemingly at random, like many of the other nights before it. The dark alicorn knew perhaps 80% of Luna's mind/memories, maybe 90%. But that special night with Twilight Sparkle was blotted out for Nightmare Moon? Fate was too cruel!
"You can't, can you?" it was just a little bit accusing when the Doctor said it. Nightmare Moon scowled at him. "I think you missed something that night, and because of it you thought you could just have Twilight too." He adjusted his glasses.
The goddess' scowl deepened and an angry flush crowded her cheeks. "Thou art lying! Twilight Sparkle is already our lover! She need merely accept both halves of us and we may all three be happy!" she held the words up like a shield, but Deep Psyche would not bend to her.
"You say they're already lovers. Then why do you sound so unsure suddenly?" the doctor said softly, looking into her eyes with more stones than the black alicorn would've ever given a mortal stallion credit for. She didn't have an answer for him, merely stared in shock and just a drip of horror. Twilight Sparkle had not been playing bedroom games in the cave, or hard to get. She'd missed a vital part of what had happened that night with the gift basket. She clenched her fangs in wild, angry frustration. A sudden heat built behind her eyes, and she did NOT like it.
"WE DO NOT CARE!" Nightmare Moon trumpeted suddenly, concussing the room with the Royal Canterlot Voice. "IF TWILIGHT SPARKLE DOES NOT ADORE US, WE SHALT FIND A WAY TO MAKE IT SO! FOR BOTH OUR CONTENTMENTS!" The Doctor was launched off of his hooves by the pure tectonic force of her voice. The mare had a tantrum, kicking the sofa so hard it slammed into the wall and shattered into a thousand pieces.
"Luna!" The door burst open and it was Celestia, bearing a full-length mirror. She'd heard the Royal Canterlot Voice and had rushed in as quickly as she could. The solar pony held the mirror in front of herself like a shield. Nightmare Moon saw Princess Luna in the reflection, and her eyes rolled into her head. Speaking the name, for some reason, in just the right tone… made Luna's ears perk and wrenched her mind back into her control. Nightmare Moon's glamor spell flickered, flickered, fell apart like so many grains of ethereal sand that rained around her hooves. Princess Luna stood there, a blank expression on her face, while her mind rearranged itself into her meeker persona. "Luna?" Celestia set the mirror aside, coming to cup her sister's cheek.
After a long few moments, Luna blink-blinked back to reality. "Tia?" she said in a soft voice. She looked around, then gasped at the wreckage. Doctor Deep Psyche was recovering from being tossed across the room, grumbling at his broken glasses. The furniture was all tumped over and the laying couch in a thousand pieces strewn about the floor. "Wh-what…" Luna pressed closer to Celestia, frightened. "What's happened?" Celestia swallowed a little, casting her eyes to the doctor and then quietly closing the door for privacy. "Sister?" Princess Luna said a little more urgently. "What's happened?"
Celestia heaved a long and unhappy sigh. It was time to tell her. It took over an hour and Luna interrupted many times in disbelief, but the truth could not be denied. Especially when the Doctor pulled the picture from under Luna's wing and showed her the affectionate bite marks on one of the corners. Only fangs could do that.
=-----=-----=-----=-----=
"Agent KitKat, this is Snickerbar. Kitkat do you read, over?" A Lunar Stallion was hiding in a series of bushes, painted down with camouflage. In front of him was the Ponyville public library. He narrowed his eyes, lifting his binoculars with a serious scowl on his face. He could see in through one of the bigger windows, where Twilight Sparkle was having tea with several friends.
"Sorry, this is Agent Snickerdoodle." Crackled the speaking stone in the stallion's ear. It was a smooth little pebble that one could lodge in one's ear and use to communicate with other ponies over the distance of up to a mile. Genius really. "Try the other channel, Snickerbar, over."
"Roger, over." He said, tapping his head a few times when he'd lowered his binoculars. The channel changed over when he jarred the stone a few times. "Agent KitKat, this is Snickerbar. Do you read, over?" he tried again.
"KitKat here." Said a stallion's voice in his ear.
"Confirm visual from the east window, please, over." He said, lifting his binoculars again. Inside the scene was of six mares and what appeared to be a baby dragon. Their expressions were somber, and it was clear by the body language that there was a good deal of comforting going on. Twilight Sparkle was very, very upset about something.
On the other side of the library, a Lunar Stallion with a leafy hat instead of a finned helm POPPED out of the bushes, peeking and mumbling to his speaking stone. "Visual confirmed. MarsBar and 3-Musketeer, confirm visual, over?"
"Why're we named after candies when we're on the speaking stones?" said a third voice.
"Stupid, it's because somepony else could be listening in and figure out who we are." said a fourth voice.
"Codenames are traditional in the military." Said a deeper, fifth voice.
"Why candies, though?" said the third voice.
"Because they're delicious?" said the fourth voice, annoyed at the third.
"Hmm… good point." The argument ended precisely there, and it was back to business. "Ahem! Visual confirmed, Snickerbar. Please advise, over." He said seriously, peering into the treehouse with his own binoculars.
"Continue silent surveillance, KitKat." said the first stallion, lowering his binoculars. "Claws, Softeyes, Funnyhat, Diamondbutt, Lesbian and Happydeathmachine are all in there too. She's very safe, over." He paused for a time, then added. "The Princess told us to watch out for Twilight Sparkle, so as long as she's at home and surrounded by friends we should be fine, over."
"Funny. My Princess told me the same thing." An angry voice behind him made the Lunar Stallion flinch, and he whipped around just in time to get grabbed up by magic. He yelped in fear, his speaking stone falling out of his ear. "I thought I was perfectly clear the first time!" Shining Armor said through clenched teeth. "Stay away from my sister and her friends, or it won't take an alicorn to send you and yours to the moon." He shook a threatening hoof, holding the terrified Lunar Stallion by the front of his armor.
One of the other nearby hidden Lunar Guards gasped, whispering frantically to his fellows. "C-contact! C-c-contact! The eagle has landed! The eagle has landed! Open the drawer and break for the big bad wolf's house!"
There was a long silence on the other end of the radio-like devices, followed by a group-sized, "Whaaaat? What does that even mean?!"
"Shining Armor is here!" he belted. "And he's about to kick all our flanks! Run for the hills!" he shouted, then slapped his hooves over his big fat mouth. Soon after though, the bushes parted by magic and the golden-armored stallion stood over him, scowling. "Eep!" he whimpered before he was violently grabbed. Shining Armor turned, shoving him into the same bubble of magic that he'd thrown the first bat-winged pony into. Then the fun started. Over a dozen Lunar Stallions bolted from their hiding places to flee. A birdhouse started wiggling off of its tree. A nearby mailbox sprouted eyes, uprooted itself and began to hobble clumsily away. Bushes decided it was time to find greener front yards.
Shining Armor frowned angrily, snatching all of them up with his levitation magic. Pushing them all into the same confined space, he adjusted the bubble to make it bigger so they didn't crush each other. "Huhm… there was one more…" he thought he saw a set of trees whose branches were shaking. Narrowing his eyes, he went to the first and bucked it.
"Tweet-tweet-itter-tweet!" A group of birds said angrily down to him, trying to steady their nests. He looked up, squinting through the branches. Nopony there. He went to a second tree, bucking that one. "Chitter-chitter-itter-itter!" A trio of squirrels came down, throwing nuts at him and shaking their tiny fists in anger. No Lunar Stallion there. Shining went to a third tree and bucked it as well.
"Mooooooo!" sang an enthusiastic voice up in the tree.
Shining Armor (and a few Lunar Stallions as well) face-hoofed.He got rid of all of them at the edge of town, letting his bubble of magic burst and watching them run away in a frightened herd. "And stay out!" he snapped angrily, stamping a hoof.
End of Part 7
---
Interrogators
What Princesses Need
Part 8: Interrogators
Luna sat on her balcony, head hunched forward in a mournful posture. So it was true then. Her doctor and sister had basically explained that she was a madpony. She had two personalities that ruled over one body. One had molested the innocent Twilight Sparkle in the royal bedchambers. She asked her Lunar Stallions about it, and received confirmations about many of the events that had taken place. The dark alicorn had begged her sister to lock her in a solar-steel cage until she could be made well again, but Celestia had refused. Therapy, her sister bade, and healthy interaction would help her, not sitting in a cage. Luna knew she would have to confront Twilight Sparkle at some point, but she had no idea how she was going to do such a thing. She hung her head. "Mother, what must I do…?" she asked the sky, wishing the great Faust would hear her. But no, no answer. She hung her head again, ashamed.
Deep in Luna's heart of hearts, she harbored an infatuation for Twilight Sparkle. Ever since their night of fun during Nightmare Night, a little streak of warmth had grown in her chest. The purple mare was beautiful, intelligent, and upright—everything Luna had ever wanted in a companion. But no, she was a subject of the kingdom and not harem material. Celestia had told her that the days of harems and such were over, anyway. She was a smart pony, Luna knew she could hold back such inappropriate urges and still stay friends with Twilight Sparkle. Clearly, Nightmare Moon (and the Lunar Stallions, to a certain degree) had had other plans.
Luna ran over and over doctor Psyche's explanations of the situation. She had an alternate personality that adored Twilight and wanted to bed her with all due lust. Perhaps Nightmare Moon was no longer her evil half, but her carnal half? The half that wanted good food, good sex, and good company? All her selfish desires that princesses had precious little time to endulge anymore? It seemed to fit. Brushing her mane in a troubled way, the dark alicorn watched the moon rise and pause gingerly at its apex. Midnight.
Turning and going back into her room, she studied herself in a full-length mirror. She didn't know what to do with herself. Her next appointment with Dr. Psyche was tomorrow night. Could she make progress on her own? He'd identified her triggers. Perhaps… maybe… Licking her lips a little in concentration, Luna thought of Twilight Sparkle. The perfect curve of her cheek, the music of her laughter and the strong confidence of her study-earned knowledge. Purple was a royal color, after all, it made her very appealing to look at.
A low and sexual purr of approval touched her ears.
Luna seized the moment, staring at her reflection. She caught the flicker of magic in her eyes. "We see thou." She said. "Speak to us, so that we may understand." The nighttime Princess leaned until her muzzle touched the silvery pane of the mirror. "We want to understand." She whispered a little desperately. "Please speak, Twilight Sparkle is our only friend, and she is hurting." Luna said bravely.
"A slight error on our part." Luna saw, in the reflection, her own mouth moving. "We assumed thy spineless ways melted away in bedroom affairs. Forgive our oversight." The smirk of cruelty and fun-poking rose on her lips into a mean grin. Luna's ears wilted back.
"We would never molest Twilight Sparkle." Luna said firmly. "Thou did, not us." she stamped a hoof angrily. "Now we have no friends at all. We scared the one we had away." She pointed at the mirror accusingly.
"Thou dost know we're both the same mare, right?" Nightmare Moon in the reflection smirked. "We art merely the stronger half that goes after our heart's desire." She made a slightly lewd gesture with her hoof, which made Luna blush.
"Twilight Sparkle is off limits, we may not touch her. Thou promised!" Luna accused, trying to shield Twilight from… herself. Her ears turned back in mild revulsion at the conversation that was going on. She was talking to herself in the mirror, and answering herself back. She sighed.
"We did promise." Nightmare Moon admitted. "But we are not giving her up. Merely switching…" she paused to find the right word, making a circular motion with her hoof. "Tactics," she decided. "To seduce her."
"Tia will stop you." Luna threatened herself. "After what we have done, she will have none of it ever again. Twilight Sparkle will shun us and flee to safety while our sister--"
"While Tia what? Sends us to the moon again? Locks us in a cage?" Nightmare Moon snorted. "As long as I honor our little deal, Tia cannot touch us." the black mare in the mirror sneered at her weaker half. "Why don't thou lay back and enjoy the ride?" she said soothingly.
"Spoken like a true rapist, that sentence." Luna spat angrily. Nightmare Moon gave a whinny of rage, punching the mirror with a hoof. It shattered fantastically, raining pieces all over the floor. The Princess stared at her dark self in one of the shards, glaring at her.
"Twilight Sparkle is ours," Nightmare Moon hissed. "We need merely adhere to this era's traditions to make it so. And when that happens, don't worry-- we shalt share her with you in the way you so secretly wish in your heart of hearts…"
Luna crushed the shard of mirror Nightmare Moon resided in, red in the cheeks. "We art better than that." She whispered a little desperately, banishing the other side of herself back into darkness. Nightmare Moon slept, and Luna lay on her bed worrying. She'd never felt to vulnerable. Tomorrow was her appointment, she reminded herself.
=-----=-----=-----=-----=
There was a singular Lunar Stallion hidden in Ponyville. He hadn't moved from his spot when Shining Armor had disposed of his fellows. He was smart. He was stealthy. He stuck to shadows like he was supposed to. He—ooh, Twilight Sparkle was coming outside! Straightening a little in his hiding bush, Melancholy leaned forward with an interested frown. Where was she off to, so late at night? The moon was on the rise, and it certainly wasn't a good time for a mare to be out wandering alone. His Princess had said to keep an eye on the purple mare and to keep her safe. Squaring his shoulders a little, Melancholy slunk quietly from his hiding spot to give chase.
Twilight Sparkle moved quickly and quietly down the sidewalk and towards the edge of town. She cast her gaze nervously around, mumbling nonsense to herself. Her friends had been very understanding when they'd heard what had happened. After all, what were friends for if not to help you in times of great distress?
They'd been spending extra-extra time with her lately, making her feel safe and able to breathe. She'd hosted a few sleepovers at the library, and even been taken out to eat a few times lately. Her little herd of friends lavished her with comfort, trying to coax her out of her frightened shell. But, Twilight knew she would have to confront Luna (Nightmare Moon?) eventually. The only question was when, and how. Celestia had promised Luna would not come near Twilight again, yet she still sent her Lunar Stallions to watch her like the strange ponies that they were. Shuddering a little, Twilight checked over her shoulder. Melancholy froze in shadow, not one to be given away so easily. When the purple mare saw nopony, she continued a bit more quickly on and ducked between two buildings. Sweet Apple Acres was that way, Melancholy knew. She was probably heading over there to spend time with Funnyhat.
Melancholy stutter-stopped when he poked his head around the corner into the alley. Twilight Sparkle was gone! "Huh…?" he whispered, peering around. His glowing golden eyes scanned the area. There were no doors, no big crates to hide behind… just a long shot of a straight alley. He hadn't heard the pop of teleportation either. Where had she gone? The Lunar Stallion furrowed his brow, leaning and then stepping cautiously out of shadow. He sniff-sniffed a little, his heightened senses telling him the mare was nearby. Clip-clop, clip-clop… his hooves on the cobblestone were loud in the dense evening chill. He squinted, unsure of himself. His eyes flicked downward, and he saw the most unlikely thing. "Ooh! Piece'a'candy!" he said, a great smile flashing across his face. Laying innocently on the ground in front of him was a little yellow candy. Looking around quickly to be sure nopony was watching he picked it up and blew on it a few times, then stuffed it in his mouth. "Mm!" he said, chewing. He pumped his wings a few times, happy at the unexpected treat. Then, perhaps two feet ahead of him, he spotted another sweet lying on the cobblestone. "Ooh! Piece'a'candy!" Melancholy stepped forward, leaning and nibbling it off the ground. Ahead of him was another. And another. And another. There was a trail of candies ahead of him! The armored stallion's heart soared. How often did one just FIND candy lying around? How lucky was he?! "Ooh! Piece'a'candy! Ooh! Piece'a'candy! Ooh!" he walked slowly down the alleyway, chewing his way through candy after candy, happy as a foal. Then, he came to the mother load.
The stallion stopped to gasp in awe. There in front of him was a whole pile of little candies! He galloped eagerly forward and rope-around-his-hooves-WOOSH-into-the-air! He yelped, wings flapping wildly as he made to cry out for help. It was a snaring rope trap! "Ah got 'im!" A thick southern accent pervaded over the alleyway.
"I got the bag!" somepony else rushed forward and many hooves reached out to wrestle the poor writhing stallion to the ground. He squirmed feverishly, but there were just too many of them. He had not only lost Twilight Sparkle, but he'd been captured himself! Oh no!
A Short Time Later…
Melancholy was tied to a chair, well, as best as a pony can be tied to a chair to sit upright. The bag was tugged off of his head and he looked feverishly around. He was inside a barn somewhere. "What's going on?!" he demanded, heaving against his bonds. Six shadows stood around him, all different mares and one stallion. He gulped.
"We gotcha now!" A pink mare bounced into his view in the barely-lit barn, and she flipped on a lamp. She pointed it at him, to the point of almost shoving the bulb up his nose. "We want some questions! Now!" she said seriously.
"Ah think ya'll mean answers, Pinkie." The southern accented shadow said, rolling her eyes. Melancholy squinted into shadow, trying to see into the blackness. But no, the light in his face rendered his night vision completely useless. He squirmed a little. "We got some questions fer you, mister Lunar Stallion. If yall cooperate, you can go free."
"And if I don't?" Melancholy said stubbornly, his soldier's pride rising up in his chest.
"We'll hafta torture the information outta you!" A pegasus mare declared loudly, hovering in the air and making threatening gestures at him. Melancholy wilted a little, gulping. That didn't sound good.
"We're not really going to torture the poor thing are we, Rainbow Dash?" A timid voice said in the background. "I mean, maybe if we just asked him super-nicely…?" she trailed off, sounding unsure of herself. Pinkie? Rainbow? The names sounded familiar to Melancholy, but he just couldn't place them. He always was terrible with names. He knew Princess Luna, and his fellow Lunar Stallions… Twilight Sparkle of course. Shining Armor was high on his name-knowing list. Then there were Twilight's friends, Diamondbutt, Funnyhat, and so on. He didn't know any Pinkies or Rainbows. "Maybe you could answer just a couple of questions for us?" said the sweet mare's voice in the darkness. "If… if it's not too much trouble, that is…" she trailed off again.
"What is Nightmare Moon's plan for Twilight Sparkle?" the stallion intruded in the witty banter, wanting to know the cold hard facts. Melancholy clammed up immediately. Nopony was supposed to know about that. "Why does she want her so bad?!" a huge hoof came out of blackness to grab him by the front of his breastplate. "Talk!" demanded the stallion.
"I'm loyal to the Princess of the Moon! I'll never talk about her plans to others!" Melancholy puffed up his chest to declare. Clearly he had no inkling between Nightmare Moon and Luna, only that both were the Princess so he was loyal to both. "Do your worst!" said the soldier bravely. "I'll never tell!"
The stallion's eyes narrowed, and he looked over at the one shadow that was wearing the Stetson. "Hmm… I wonder if they're really THAT… hey, can I borrow your hat?" he gestured to the Stetson, which was slowly hoofed over. Melancholy shifted in his bonds, unable to squirm away. There was a long silence while the shadowy stallion fiddled with the hat in front of him. Then, the same large hoof reached out and honked the end of Melancholy's nose. The prisoner watched with interest and something from his face was pressed into the hat and hidden away. "Got. Your. NOSE." said his captor in a dark voice, gesturing to the hat.
Melancholy's eyes turned into pinpricks of mortal terror. He crossed them. He couldn't see his nose! HE COULDN'T SEE HIS NOSE! The poor Lunar Stallion thrashed about, icy-white horror wracking his body. "AHHHHHHHHHHH!" he squealed like a mare, tumping his chair over in horror. Everypony in the room winced as he crashed to the ground in a confused heap. "Okay! OKAY! I'LL TALK!" he shrieked. "I'LL TALK!"
End of Part 8
---
Foals
What Princesses Need
Part 9: Foals
Name: Princess Luna
Age: (vast?), physically classified as young adult
Race: Pony
Tribe: none (Alicorn)
Sex: F
Home Address: Canterlot Royal Palace
Relatives: Princess Celestia (sister), Prince Blueblood (distant nephew)
Reason for Assessment
Subject (hereafter referred to as "Luna") was caught sexually abusing another pony by her sister under the guise of a complex, five-sense glamour spell and showed no remorse for this. Luna appears to have two very different dissociated personalities, one called Luna and one called Nightmare Moon. Her sister Princess Celestia submitted her for the assessment of her mental health. Both personalities have simple triggers, and may flip-flop at a moment's notice. She is highly unstable and needs further aid.
Sources of Information:
Princess Celestia
Twilight Sparkle
Palace Staff
Lunar Stallion Corps
History:
Subject's entire life history extends many thousands of years. Because of this unique case, many history books and elder scrolls would need to be consulted for a detailed history to be told. Detailed history shall begin at the moment of arrival after returning from forced exile.
Social History
Luna is quiet, withdrawn, and does little to broadcast herself unless necessary. Because she presides over the nighttime court she is seen as a public figure, but when not in office she is reclusive and very docile. She is often surrounded with the foal-like group of soldiers called "Lunar Stallions", whose influence on her seems to be mostly positive. Further assessment needed as to their actual capabilities as guards would be moot-- she is a goddess and cannot be harmed by mortal weapons or magic.
Health History
Aside from current situation, there is no known health history to Luna's name. Health records do not span back beyond the Nightmare Moon era, therefore no material is accessible. Physical recommended, with Princess Celestia's permission given.
Sexual History
Luna displays symptoms of sexual frustration and deep repression, especially when in her Nightmare Moon persona. Because of her social standing and habits, she is not seen as a prospect by any stallions or mares and this frustrates her. When Twilight Sparkle was tied up and given to her (see the "Basket Night" report, attached), apparently, she resisted all urges to take advantage of the mare. Nightmare Moon, however, assumed them to be lovers when she found them in bed together and later DID take advantage.
Mental Health History
Aside from current situation, there is no known health history to Luna's name. Psychology is a fledgling science and she has not been present for the past 1,000 years. Therefore, she has no records to speak of in this branch of her healthcare. Pre-assessments determine Luna is kind-hearted, artistic, creative, and lonely. She is very smart, but also very docile and worried at all times. I suspect she still feels guilty about trying to bring about Nighttime Eternal and does not think she has been forgiven by the populace at large yet. For this, she can come across as very doe-like and shy.
Substance Exposure History
None
Abuse History
None (banished to the moon for 1000 years?)
Family History
Princess Celesta: (see "Princess Celestia" in any and all Equestrian history books)
Prince Blueblood: A high society stallion that runs no less than seven education charities for the less fortunate. He is the captain of a horn-fencing team, owns country club and is skilled in large-amount money investment. No known day-to-day occupation.
Situation Analysis:
Luna displays very cut and dry symptoms of Disassociative Identity Disorder. She has two very starkly different personas, both with their own names, traits, habits, and body language. Princess Celestia has urged that she be watched over at all times while in her Nightmare Moon persona, but this proves difficult because Luna is in fact a goddess that no mortal pony may impede when she sets her mind to something. Luna, the more docile of the two personalities, appears to want nothing more than to run her country and gain a small group of friends to ease back into society as a whole. When she is the dominant personality she is soft-spoken and polite to all around her. Nightmare Moon's goals appear to be goal-oriented, often sexual in nature, and even immoral. With stark triggers like the mention of Twilight Sparkle's name, or a picture of her face, she is very easy to conjure and agitate. Preliminary analysis points to Nightmare Moon representing Luna's guilty desires, whether that be for power, sexual satisfaction, or merely dominance over her situation.
Diagnosis: Standard, High-Thinking-Order DID
Recommendation: Family-centered Therapy, Group Therapy, Confidence-Building Exercises
Assessor's Notes:
* "We" = Luna and I
* Twilight Sparkle's picture clear trigger
* Luna's name spoken aloud a is a clear trigger
* Lunar Stallions are no longer allowed in the office during therapy. Nor in the closet. Nor in the hearth. Nor under the couch. Nor under my desk. Nor hovering outside my windows.
=-----=-----=-----=-----=
Princess Luna sat quietly with Aegis Shield, one of her two Captains. All of the other Lunar Stallions were outside having their daily physical training in the courtyards of the palace. He looked up at her with questions in his eyes, wondering why he wasn't allowed to go outside and play too. "Aegis." she said tenderly, looking over at him with a soft expression. "There is somepony here to see you."
"Who?" he asked eagerly.
"Send them in!" Luna called to the door. Captain Slate of the Solar Guard opened the door quietly, stepping in and then stepping aside. A young couple, a mare and a stallion, came into the room. They saw the Princess and bowed, which she nodded to formally. When they rose they looked at Aegis Shield with curious eyes, and he blinked back. "Hillclimbers, this is Aegis Shield." The Princess bade them. Aegis puffed up his chest, trying to look impressive and very soldier… ly. "Aegis Shield, this is Rocky Hillclimber and his wife, Grassy Hillclimber."
"...Hello." said the stallion a little cautiously. Luna flicked her gaze at Captain Slate, dismissing him with a nod. The gold-armored pony nodded, saluted, and was away after closing the door behind him. "Who are they?" he asked Princess Luna curiously, perking his ears at her.
"They've come from the adoption agency." Luna said very gently. The stallion's ears perked, and then turned back into a mournful expression. "Ohhh, hey now." The dark alicorn sidled forward and put her arms around his thick neck, smiling. "We both knew this day would come. It comes for all Lunar Stallions someday." She smiled warmly, like a mother should to her foal.
"B-but, I wanna stay with you!" Aegis Shield whined, tears gathering in his big golden eyes. The Rocky Hillclimber put an arm around his wife, smiling patiently. Letting go would be very hard for the stallion, no doubt. "I'mma Lunar Stallion."
"We promised thee to be a Lunar Stallion until a proper family had been found." Luna said, hugging him to her breast. The stallion whimpered a little, squeezing her tight. "Now look." She steered him about so he would look at the young couple. "We hath found the perfect match. Thou likes climbing on things, and up in trees, do you not?" the alicorn giggled a little when he looked up at her with rosey cheeks. "And here we have a family that does such a thing for a living."
"R-really?" Aegis Shield said, very unsure of all this.
"My wife and I climb mountains and travel gorges all the time. We're cartographers." The stallion smiled warmly, nodding that it was true. "We make maps of places were there aren't any roads, so ponies won't get lost out there." His wife smiled too, nodding along with him. Leaning, Rocky produced an unfinished map for Aegis to see. The mighty, armored stallion studied it a little. It looked like the Greyclaw pass, on the eastern Equestrian border. Griffon lands lay beyond it.
"We want you to go with them, Aegis." Luna whispered in his ear. He looked up at her with big soft eyes. "We want you to have a family, and to be happy with them like every pony should be."
"But… I don't have any family." Aegis Shield said, cocking his head. "I have you, and my brothers outside. That's enough for me!" He gestured to the window. Outside, the Lunar Stallions were fighting over a hoofball, piled atop each other in a massive mess of armor and angry snarling.
"Neigh, it is not." Luna said, soft in the eyes as she reached for him. "Thy Princess commands thee." She whispered, her voice cracking a little. "Will thou disobey?" he wilted at her words, his lip quivering. Then he shook his head no as tears started going down his cheeks. Luna lifted the clasps of his helm, un-clicking them one after another. When the helm was free, she slowly and ceremonially lifted it from his head. Aegis Shield's purple mane spilled out over his neck, and about his shoulders. My it was long! The spell wrapped around the stallion's body began to rapidly fizzle out, and his fangs flattened out into normal pony teeth.
He looked up at her. Then up at her some more. Then even further than that. He was quietly shrinking. The Hillclimbers looked on in shock and awe as the massive, muscled stallion shrank to less than a fourth of his size. His grey coat blushed to a chocolate grey. His golden, draconic eyes soothed down into a balmy, ocean-like blue. His bat-like wings melted over his body, shrinking and shrinking until they were too small to help him fly. They sprouted tiny feathers. His pronounced muzzle and proud forehead regressed down to the round face of a foal, and soon that's all he was. A pre-teen foal standing in a massive shell of armor. He stepped out of it, looking timidly around. Things seemed so much bigger when he was like this. "Princess…" he said in a tiny voice, clinging to her hoof.
"Go now, Aegis." she commanded him with a chuckling smile. She leaned down and kissed his forehead in a motherly way. "Thou art no longer an orphan. Go and meet your family." She whispered, nodding at them with her horn. The little brown, blonde-maned colt scampered as bidden, coming to look up at his new mother and father with big eyes.
The Hillclimbers smiled as he explored under them and between their tree-like legs. They were so big! He felt safe when he was standing under them, and gave the mare a cautious sort of nuzzle. She giggled in delight, leaning down and nuzzling him back. The stallions smiled at his wife and new son, looking at the Princess with thanks in his eyes. They could have no foals of their own, and this had been a dream come true. Luna nodded, and the little colt was led away with his new family.
The Princess stood there holding the empty Lunar Stallion's helm. Luna's heart ached to see him go, but that was the entire point of the Lunar Stallion Orphanage. To let them play knights for the Princess herself until they got families of their own. They felt like her children, since she could never have any of her own. Perhaps if he still wanted to be a guard when he grew up he might join the Solar Guard to protect the palace—but for now he could grow up and be a normal little colt. She sighed, smiling as she went to her chamber bookcase. Shifting a specific book she opened the secret passageway into the room beyond. Leaning, she placed the helm on a shelf next to dozens of others like it. Igniting her horn, she inscribed the colt's name under the helm so she would remember whose it was. Smiling quietly and wiping her eyes of the tears, she emerged back into her bedroom and closed the passage behind her. Huffing loudly and looking at the ceiling to stop herself from crying, she jumped a little when she saw her sister was in the room.
"Luna, it's time to go see Dr. Psyche." Celestia smiled pleasantly.
"Oh? Of course, sister." Luna said docilely. She looked over her shoulder at the Lunar Stallions playing outside, laughing and wrestling like the giant children that they were. They would be okay for a few hours on their own. "Lead the way." She smiled faintly.
End of Part 9
---
Check-Ups
What Princesses Need
Part 10: Check-Ups
"Ah, Princess Luna. Princess Celestia." Dr. Psyche rose from his high-backed chair, bowing to them as they entered his little office. The palace staff had been taking excellent care of him, and he'd been laboring hard to diagnose and aid their princess in secret. The two alicorns nodded to his bow, and he rose, "I'm glad you came today, Luna, we have a lot of ground to cover today."
"I'll be out in the hall again if you need anything, sister." Celestia leaned and pecked her sister's cheek. "Be brave, and do as the doctor says."
Luna looked up at her big sister with a docile smile, nodding. "Alright. See you soon." She said meekly. The doctor gestured and the dark alicorn slowly clambered up onto the laying sofa. She folded her wings carefully and laid on her back. Celestia smiled, nodded once, and went out into the hall to sit and read on a small sofa while she waited. With the doors closed, she couldn't hear what was going on in the room, so it was quite private.
"So how are you feeling today, Luna?" Dr. Psyche asked, smiling in a friendly way.
Luna looked at him with a mildly wary expression. He was a friendly thing and she knew he was there to help, but she couldn't help but be a little off-taken by his forwardness sometimes. She smiled a little, pushing her mane behind her ear. "We are well, thank you, doctor." She said in a whispy, meek voice.
"I thought maybe today we'd try something new. You remember the ink blots we looked at last time?" he asked, looking over his shoulder as he went to get something from his desk. Luna nodded mutely. "Well, your answers really helped me out a lot, and I think we can start making you well now."
"You can?" Luna said eagerly, her ears perking. "You've found a medicine for us?"
"What?" the doctor turned, fishing around in his drawers. "Oh no no, Luna, I would never give you drugs for your condition. This isn't something that regular medicine can help you with." He smiled kindly, and Luna felt like a foal for a few moments. "No no, we're going to work on both of your personas and see if we can't mold them into one again."
"You mean to fuse me with Nightmare Moon?!" Luna gasped, sitting up as he walked past her to get a little end table and drag it over to her. "Thou art a madpony, not we!" she pointed at him with an accusing hoof. Dr. Psyche turned slowly, giving her a stern look that made the meek princess wilt back onto her back. "I'm sorry…" she mewled a little, looking away. "Please explain?" she tried to make amends.
"Everypony has a dark side, Luna." He said gently. "Yours just happens to be a bit more famous… and carries its own name." the doctor smiled as he set a little device on the table. It was a metallic frame with a series of six silver balls hanging from strings. Turning it her way, he lifted one of them and let it swing down. As Luna watched, the silver ball connected with the others and sent the one at the end of the row swinging out. Back and forth it went, only the two on the ends making any motion. He stopped it, so he could turn to talk with her. "I'm going to work with both Princess Luna and Nightmare Moon, and try to coax you back together into one pony." He smiled at her confidently. "When there is no distinction between the two of you, you'll be well again." He told her. Luna nodded her understanding, her eyes flicking at the strange device curiously.
"How long do you think it will take, doctor?" she asked innocently.
"There's really no telling." He admitted to her quietly. "Some patients take weeks, others take years. Others still never get better." He winced at her soft eyes as he told her the last bit. "But I'm sure you'll do just fine!" her expression brightened and she gave a slow nod. "Are you ready to begin, then?" he asked.
"Yes. Pray tell, what is that strange device?" she gestured as he scooted the table just a little closer. Luna shifted a little as the doctor moved around behind her to sit in his high-backed chair with his notebook and pencil. "Will it help make us well?"
"That is your hypnosis focus." said the unicorn. "I want you to stare at it while we talk today. Nothing else." He gave a flick of magic with his horn, and the silvery balls began to clack-clack-clack back and forth. Even the sound was rather interesting to Luna's ears. She laid all the way down, obeying, and watched them go back and forth. Her deep blue irises flicked back and forth, back and forth. "Now Luna, I want you to take some deep breaths with me. This is a relaxing exersize. Innnnn…. Good, now out again, hahhhhh. Innnn…. Good, out once more, yes…" he nodded while the Princess did as she was bidden. "I want you to imagine that you're drifting down into a restful, quiet sleep."
"A quiet sleep…?" Luna mumbled, watching the clack-clack-clacking spheres.
"Yes." He lowered his voice into a soothing whisper. "I'm going to help you relax, and then we'll see if we can get to the root of things." It was very close to a lover's tone, border-lining inappropriate. But, it made Luna's limbs feel heavy. "Shhh, relax now…" he said, using his magic to dim the lights slightly. "Just keep your eyes on the moving spheres. Slowly sinking… you're slowly sinking now… deeper and deeper into a relaxed state…" the doctor sat in his chair and very, very patiently repeated his last two sentences for almost a full half an hour.
Luna stared quietly at the focus in front of her, her eyes glazing over into a barely-aware state. Her limbs refused to obey her, even when she tried to move them. She was paralyzed in the deep, comforting warmth of the doctor's voice and moving spheres. His voice was relaxing, whispery and it seemed to envelope her in its quiet embrace of security and reassurance. Her ears shifted gently down like she were sleeping, and her eyelids fell most of the way closed. She curled onto her side, hooves pulling up under her undercarriage while she barely clung to consciousness. "Mh-h-h-h…" she mewled softly, at the very deepest state of relaxation after almost an hour of gentle coaxing by her doctor.
"Luna-ah-ah…" Dr. Psyche's voice seemed to echo quietly in the deepest reaches of her fuzzy mind. "Can you hear me, Luna?" he asked softly, leaning to whisper in her ear and not disturb her deep relaxation. A firm voice would jolt her back to reality.
"Mhhh-h-h." Luna said, looking barely awake. She didn't even turn her head at him, only stared at the swinging silver spheres, the focus of any consciousness she had left at the moment.
A gentle hoof touched her shoulder and the doctor whispered. "Luna, why did you hurt Twilight Sparkle?" he whispered softly, straight to the point. Luna fretted like a foal having a nightmare, and her fur slowly blushed black. Seeing what was happening, the doctor prepared for the worst. But no… no, Nightmare Moon remained under the hypnotic state. "Luna," he whispered again, refusing to acknowledge the dark half as another mare. "Luna, why did you touch Twilight Sparkle like that?" he whispered. "Didn't you know it was wrong of you?"
"I wanted to give her myself…" Nightmare Luna whispered, using the pronoun 'I' very suddenly. Deep Psyche's ears perked, and across the room on his desk the pencil danced on paper.
"Why?" he whispered.
"Twilight Sparkle… she… does not want for bits… or powers…" Nightmare Moon said dreamily, curling up into the fetal position with a quiet moan.
Dr. Psyche slowly edged around her so he could see her face again. "Did you think having sex with her was a gift?" he whispered intently.
"She wants not for wealth… powers… so much knowledge…" Nightmare's face scrunched up a little. She was speaking slowly, dreamily, as though every breath could only produce three words. But the doctor was patient, and waited for the full answer. "So beautiful… befriended us… I've been gone so long, I've nothing…" she shifted with a fretting whimper, and the doctor listened more intently. "Nothing to give but myself…" she sighed sadly, curling to hide her head meekly under her wing. The blush on her face was a very genuine one. Her fur brightened back to a dark blue.
"It's alright Luna," Dr. Psyche said, leaning over her with interest. "Tell me more?"
Luna mumbled under her wing until the end of her muzzle poked out. "Please, please love me, Twilight Sparkle?" she whispered in a lonely way, wilting into a little ball of feathers. "Thou art my only friend. I would give myself to you, just keep me company?"
"Luna…" the doctor whispered, his expression saddening.
"I'm lonely." Luna curled up into a shivering ball. "I'm lonely." She whimpered like a foal. "Please love us, Twilight Sparkle. My only friend." She began to cry softly.
The doctor opened his mouth to say something, his hoof reaching out as though to stroke her back comfortingly. But, it hovered above her without making contact. This was too delicate of a moment. He had to press deeper. He had to learn all he could, even if it meant harming Luna in the process. Some wounds had to be ripped open, to let the infection drain out. He heaved a great breath, leaning over into her ear. "Nightmare." He whispered to her.
The swirl of dark magic took Luna over instantly, and her body flushed back to a dark grey. Her triggers were so instantaneous, so powerful it almost made his head spin. "Mh-h-h-h…" the deeper, more sultry voice made him shudder. She peered out at the hypnotic focus, staring at it blearily even as her body changed shape.
"Nightmare," Deep Psyche whispered. "You hurt Twilight Sparkle." He said softly, in a concerned voice. "Aren't you sorry…?" he let the sentence hang quietly.
"Yes…" she whispered in a far-off voice. "Of course. I… just wanted… Twilight, I wanted you to… I wanted to…to…" she seemed to be going a little off kilter, speaking to Twilight and Deep Psyche back and forth. A great well of tender vulnerability was filling the black alicorn like a damn threatening to break.
"Yes?" the stallion whispered, knowing he was at the point of a major breakthrough.
"To be loved! Is that so much to a-hah-hahhhhsk?!" Nightmare Moon suddenly burst into wracking sobs, curling into the fetal position and hiding herself under her wings. She squeezed her eyes closed, broken beyond all of her pride and ego. Her doctor could now see the lonely, pitiful soul that had spent a thousand years alone on the moon. She was not some creature of nightmare, fighting for the chance to have sex with the nearest mare. No. She was a lonely thing that just wanted to be accepted—to be loved. And, like any diluted creature that thought she had nothing, she'd devoted herself to her interest sexually. She thought her body was all she had to offer, and had even forced herself upon another. Poor, confused thing…
Deep Psyche felt his throat constricting a little, and he rubbed at his temples a little to steady himself. He was a young doctor, fresh out of the academy. He had to keep his grip on the situation. He'd finally hammered through all the defenses, and found the very core issues. The pencil danced animatedly on his desk, some feet away. "It's alright… shhhh-sh-sh…." He soothed.
"Forgive me, Twilight!" Nightmare sobbed, feathers falling from her wings as she hid from the world. "Oh Faust, forgive me-hee-hee!" she ached all over while she wept, a long-held weeping that she'd dared never release. Unable to bear anymore, Deep Psyche lit his horn. His magic snatched the device off the table, stopping the clack-clacking balls. Hypnotic focus gone, the dark alicorn flinched. The background static of the noise itself had held her under its sway. "Uh-hwuh?" she said blearily, her brain shifting back and forth as it lingered in the grey space between her two personalities.
"Luna." said Dr. Psyche firmly, tilting the scale. Sure enough, her fur and body shifted over towards the meek and sane version of the Princess of the Night.
Luna sat up in wild confusion, panting. She rubbed at her eyes, feeling the warm wetness of tears on her muzzle. "Wh… what…?" she whispered, looking around. "What's happened to us? Were we weeping?" she rubbed at her face a bit, confused.
"We made some excellent progress today, Luna." Dr. Psyche said, smiling grandly. There was an ache in his eyes, and a weariness in his chest, though. He looked positively drained, and just a little bit pale. Princess Luna stared at him curiously. "We're well on our way to making you well again."
"What? We've only just arrived here." Luna jabbed a hoof at the clock on the wall, then gaped at it. Almost two hours had gone by since she'd come to see Dr. Psyche. "B… but…" she looked at him for guidance.
"It's been a long session." The stallion said, pushing his brown mane back. "Why don't you head out for now, and we'll meet again soon, okay?" he smiled grandly. Luna got up, sore from her wracked weeping that she didn't remember, and slowly left the room. When she opened the doors, however, she found the hallway positively packed with ponies.
"Sorry, Luna, they insisted on staying here to wait for you." Princess Celestia smiled gently from her couch. Apparently it was nap-time for the Lunar Stallions, for they were piled this way and that and pressed into corners, breathing deeply. Piled together like puppies to keep each other warm on the cool marble, they'd left their Yugimon: The Gathering trading cards scattered everywhere across the floor (what? They'd gotten bored sitting still!). Luna smiled with a soft and loving expression at her children. Slowly closing the door behind her, she moved to quietly wake them with gentle nuzzles and move them back to their staying quarters.
"Thank you for watching them, sister." Luna said as bravely as she could. Celestia nodded slowly, smiling in a quiet way. Her sister was clearly exhausted, they could talk later. "Come, my stallions. It is nap time for all of us, we think." Luna slowly led a sleepy-eyed herd of twenty-two armored ponies down the hall. Servants moved out of the way as they blearily focused on Luna's sparkly tail while she led them to their bedrooms. As she nosed the last one into bed and pulled the covers up for him, she found a large couch for herself and laid down, sighing long and loud. It was a troubled sigh, one of a mare that was unsure of herself. She scrubbed at her cheeks again, the phantom leavings of tears in her facial fur. She was tired, so tired…
End of Part 10
---
Arts and Humanities
What Princesses Need
Part 11: Arts and Humanities (Pon-nan-aties?)
It was art class time for the Lunar Stallions, and Princess Luna herself was sitting at the head of the table. The massive playroom that had been set aside for the orphans in disguise had been transformed into a haven for the arts and humanities. Each Lunar Stallion leaned over a big pad of paper, busily drawing or coloring this or that while conversing with his neighbor. Princess Luna peered out over the crowd of them, smiling contentedly.
Dr. Psyche approached from the double doors, his caramel fur brushed and his mane slicked back nicely once more. He looked much less flustered than the last time Luna had seen him. Much to her surprise, he bore a drawing pad and art supplies himself. "Oh, well then!" he looked surprised at the scene in front of him. The Lunar Stallions turned as one, staring at him with critical golden eyes. He jerked to a halt while they sized him up, smiling nervously. Then, slowly, they went back to their activities. "I had no idea you took such good care of your royal guards, Princess." Said the doctor. "Even giving them time to pursue the arts, that's just amazing!" he smiled as he came to stand next to the nighttime Princess.
"Expressing oneself is healthy and helps one grow." said Luna, smiling at him gently. She nodded towards the twenty-two armored ponies that were hunched over their artworks again. Occasionally one would glance at his neighbor's work, and his neighbor would lean closer, as though he might get copied off of.
"I agree whole-heartedly." Dr. Psyche said, magicking his pad and box of crayons out onto the table in front of her. "Actually, I have something new for you to try as well, Princess. Would you indulge me?" he asked. Luna pushed her mane out of her eyes as he flipped the pad open. At the bottom of the page was the word 'house'. She looked at him curiously. "I'd like you to draw a few things for me." He asked politely.
"We art not a foal, doctor. Explain." Luna said, an annoyed look crossing her face.
The doctor blinked at her, then looked over at the crowd of grown stallions that were busily coloring. So stallions could have art time, but not her? He cocked his head, confused, but then shook it quickly. "It has a point to it, I promise. I'll be able to analyze your drawings and tell more about you, just like we did with the ink blots. Remember those?" he asked, lowering his voice."They helped a lot."
Luna looked over the pad of paper with renewed interest. Well! If it would help he become well again, she could certainly try for it. There were no crayons or anything of the sort a thousand years ago, but they seemed easy enough to use. "Alright." She said, leaning across the table to pick up a blue crayon in her mouth. Sure, she could levitate it with her magic—but like so many artists before her she preferred to feel her instrument in her mouth while she was creating. It was more personal that way.
The Lunar Stallions looked over at the Princess with interest. Ohhh? She was drawing something too? They jittered excitedly. Usually the Princess just watched and encouraged them in their own artwork. It would be fun to see what Luna was making! The dark alicorn leaned over her paper with a serious expression. House. The first page wanted her to draw a house, huhm? Alright then. Luna worked diligently, trying to make straight lines and windows as she pleased. And a peep-hole, she'd seen doors with peepholes before, on houses. And this… and some of that too, she liked that. She smiled gently over her work, and looked over at Dr. Psyche for approval. He nodded encouragingly, having found a chair so he could scribble in his notebook. He squawked loudly when a Lunar Stallion leaned over, scribbling with a red crayon in his notepad. He swatted the pony away angrily but Luna giggled, covering her mouth with her paw. The stallion grinned impishly, and Deep Psyche sidled away from him with a mild scowl. Luna turned the page of her big drawing pad. 'Tree', it said. She turned another page. 'Somepony' of the opposite gender'. She turned another page. 'Yourself.' Luna ended up making four colorful drawings, and turned the page to the fifth one to find it was the final one. She cocked her head, for the final drawing had already been made for her. It was a Hearth's Warming Eve scene, complete with foals, a mother and father pony, and presents under a tree. 'Draw yourself in this scene', the note at the bottom bade her. Luna sweated a little in indecision, picking up a dark blue crayon in her mouth and tapping the paper a few times. Leaning, she did as it told her to do and quietly shut it. "Done." She smiled quietly, pushing the pad towards Dr. Psyche.
The caramel stallion smiled and thanked her, putting it in his saddlebag along with the crayons he'd brought with him. "Well I'll let you be, Princess. See you later!" he smiled. On the inside, he was already calculating a vast array of things as he left the large room. Princess Luna was very creative and meticulous, he'd be able to 'read' a lot in her drawings to help aide her in the near future. He was glad he'd remembered his art therapy techniques so quickly after their last session together.
---incesss! Incesss! PRINCESS! PRINCEEEEESSS!
Luna stood so hard from her table she startled the gaggle of stallions, holding her ears fiercely. It was like a thousand ringing bells in her mind, auuugh! A Lunar Stallion was panicking, the woven spells in his helm were going off like crazy, crying out for her help! She peered across the room, her ears perked and her heart revved up. She looked at the far end of the table, her irises constricting into pinpricks. Two empty chairs. One was Aegis Shield's, but he'd been adopted. She made a lightning-fast head-count. Twenty-two. One Lunar Stallion was missing! How had she not noticed?!
=-----=-----=-----=-----=
"Another moon pie." Called the stallion in shadow.
"Okie dokie lokie!" said one of the mares. Melancholy, still tied to the chair with strong rope, caught a flash of pink as a pony bounced away and rooted in her saddlebag. "Here y'go, shiny!" She hoofed over the tasty treat.
Melancholy's eyes grew big and soft. A moon pie, no treat was more sacred to a Lunar Stallion. His tummy growled and he gave a whimpering sound as it was waved slowly under his nose. "Doesn't this look good? Mmmm!" Shining Armor leaned slowly into the light. He'd reattached Melancholy's nose so that he could smell the chocolate and soft marshmallow of the tasty treat, but had been torturing him in a far worse way. Leaning with a slightly cruel smile, Shining Armor ate the moon pie in front of him. The Lunar Stallion whimpered pathetically. "Mmmm-yeahh, ish goo'!" he said, crunching noisily.
The poor tied up pony's tummy growled again. They weren't sharing with him at all! He turned his head to one side, ears down and whimpering a little. He'd cried out for Luna earlier, but of course nopony could hear you scream in a barn in the middle of nowhere. The other mares had gone home, but Shining Armor the pink one, and Twilight Sparkle had stayed behind to 'take care' of him. And by take care one meant torture him!
"Don't you wish you had some moon pie too?" Twilight asked, pulling another one from Pinkie's bag. She'd long caught on to the fact that the Lunar Stallions were not exactly what they seemed. Shining Armor hadn't voiced it aloud, but it really did seem like they had the intelligence level of foals. "We could share with you, if you tell us about Nightmare Moon's plans." She'd shifted over to a more pleasant and half-motherly tone. The Lunar Stallion looked at her with soft eyes, leaning and nibbling at air with his massive fangs, trying to get just a tiny taste of the pie she was holding out to him. She waved it under his nose again.
"Urrrlllgh! Urrrlllll!" He was sticking out his long, forked tongue, just tryyyyying to get a tiny little taste of the chocolate coating. Twilight Sparkle was startled, not for the first time, at how monstrous the strange breed of pony was. "Lah-lah-lah-lahhh!" his tongue waved comically back and forth trying to get the moon pie, and Twilight jittered back with heat in her face. Melancholy slumped against his bonds, whimpering softly.
"The P-princess loves you, Twilight Sparkle." He confessed finally, broken. "She just wants to be with you, is all. You guys are friends, right?" he asked in a small voice.
"Not anymore." Twilight said in a low voice, just a little bit savagely. The stallion tied to the chair looked hurt at her words. "Friends don't do such terrible things to each other."
"That's right." Shining Armor confirmed, scowling. "What is she planning to do next?" he leaned and poked the lip of the stallion's helm, threatening to pull it off his head. Melancholy leaned back a little. Shining Armor knew what was under the magic of the helm, it was easy enough to see. He didn't wanna shrink down to his foal form, they might stuff him in a locker or something! He was only safe as long as he was big and strong. Melancholy leaned back and back while the white unicorn threatened with his horn.
"I-I-I dunno!" Melancholy stuttered. "She's been reading lots of books so she can learn to be friends with Twilight better! That's all!"
"Why were you watching me so close?" Twilight leaned in to press. Now that they'd broken his will, they could get real information about him.
"The P-Princess isn't allowed to touch you! Princess Celestia said so! So we were watching to keep you safe until our Princess was ready to come see you again! Honest! EEP!" the chair tilted all the way back until he fell and hit his head on the dirt floor behind him. The bolt of pain hurt the poor foul in disguise, and he began to cry. Literally cry. Twilight stared at him while he squirmed in his bonds. He was like a child. How did he get to be a royal guard? She sighed haggardly, tired and very much on edge.
Just then, the barn doors were BUCKED open and the room filled with armored stallions! Twilight gave a shriek as dark armor and golden eyes filled the room. Shining Armor shouldered up next to his sister, a pink shield encasing them in a sphere of protection. They looked around in panic while hay was tossed, stallions whinnied and rushed about to cause general mayhem! The stalls were flung open, tools were shaken from their tacks on the walls, and thunderous hooves deafened any who heard. Then it all came to a stop, for the silhouette of a black alicorn was in the double-doorway.
Twilight and Shining gaped at her as she emerged into the beams of silvery moonlight that were peeking in through the hay loft. Nightmare Moon! She turned her great head slowly, left and right, taking the scene in. "Find Melancholy." She commanded. The gaggle of stallions pointed, and she zeroed in on the poor pony tied to the chair on the ground. She swept across the room and he looked up at her, lip quivering. Leaning, she touched the ropes with her horn to free him. He burst into sobs, pressing up against her breast for nuzzles. It was a strange thing for the Sparkle siblings to watch as Nightmare Moon closed her eyes and gave said nuzzles. The former captive clung to her long legs, so relieved his mother had come to save him. "Shhh-sh-sh-shhhh… it's alright." She crooned over him, stroking his body with magic and hoof to soothe. "We're taking thou home now." She looked up, over the group of her pretend soldiers. "Take Melancholy and wait outside." She bade them. They obeyed, bearing their little brother out with him. They pressed in around him like a comforting herd, the group mentality giving the poor traumatized thing great comfort. He was back among his brothers, he would be okay now.
The doors swung closed by Nightmare Moon's magic, and all the lamps lit themselves until the place was well-lit again. Pinkie Pie stood to one side, visibly stunned that twenty-two stallions had just charged in and then left just as quickly. She leapt up into the loft, peering down at them with interest. Then, she rode the crane rope (meant for getting heavy things into the loft) down and stepped outside. Being a pony of very little brain, she thought maybe she could make friends now. Opening her saddlebags, she approached the frightened herd of stallions and peered about. There was their guest. She knelt where he was resting on his belly. "Here you go! Shiny and Twilight weren't sharing but I don't mind!" she fed him the moon pie and patted his head. Melancholy crunched on it eagerly, thankful.
Meanwhile, back in the barn, Nightmare Moon loomed over Twilight Sparkle and Shining armor. The bubble shield shattered like so much tinsel when she but touched it with a hoof. As though a mortal pony could shield himself from a GOD, hah! "I've a good mind to wring your pompus neck, Captain Shining Armor." The black alicorn whispered with narrowed eyes. Her anger was palpable, for the barn itself was shaking.
"Stay back!" Twilight shrieked at her, igniting her horn threateningly. "You can't touch me! Princess Celestia said so!" Nightmare Moon's brow rose for a moment, and she considered her surroundings. The purple mare gave a squawk when she was lifted bodily with magic and stuffed into an empty apple barrel. The top thunked into place, then turned to seal itself.
"Twily!" Shining Armor tried to run to her aide, but Nightmare Moon stood sideways to block his path. He glared at her angrily.
Sealing the barrel with magic and cocooning it with an enchantment to keep her from breaking out, Nightmare Moon agreed. "True. Thou art innocent in this travesty, Twilight Sparkle." Now was not the time to deal with her love interest. Now was the time to deal with Shining Armor. Without warning or gesture she turned and BACKHOOF'D him so hard he was launched into the air and pinwheel'd ass-over-tea-kettle into a series of hay bails with a cry. "Shame upon thee!" Spat Nightmare Moon. "As a Captain of the Royal Guard thou knowest the secrets of my Lunar Stallions! How DARE thou?!" she demanded.
"How dare YOU molest my sister!" Shining got up, nursing the bruise on his face and staggering back into view. "You're the monster here, just leave us alone!"
"We are a monster, and a madpony." Leered Nightmare Moon, her fangs dripping with neon green goo. The drips that touched the ground hisssssed in the earth like acid. Shining Armor stepped back, intimidated. "But while we are receiving medical attention for this, thou!" she paused, thrusting an accusing hoof at his chest. "THOU art foal-napping and interrogating a ten year-old as though he were a prisoner of war!" he backed up a little, scowling at her. "And I see not a drip of remorse on your face." She narrowed her eyes at him. "We shalt see what Celestia thinks of your… techniques." She turned from him. She paused, not turning to look at him. She lowered her voice to a whisper only he could hear. "And thou calls us a monster." She snorted, turning and leaving the barn.
Shining Armor felt his back knees knock together. He wasn't so sure he was entirely justified anymore. He was under orders to defend Twilight from Luna… Nightmare Moon? In general. That meant doing everything he could, right? But… did it also mean holding a foal–in-disguise against his will to find out more about the enemy's plans? Where did he draw the line? It troubled him deeply that he wasn't sure. Suddenly remembering his sister when the black alicorn was gone, they worked together to work the seals off the barrel and free Twilight.
The purple mare gasped aloud, popping out of the barrel like a jack-in-the-box to breathe in the sweet fresh air. She leaned over the lip of the barrel, panting. She slowly looked up at Shining Armor, "Is… is what I heard true?" she asked, looking up at him with big eyes. "It was muffled, but I heard it, right?" she asked him with a softening gaze. "That stallion was… a foal?" Shining Armor looked to one side, turning his ears back. Twilight Sparkle swatted her brother's face, right on his bruise.
=-----=-----=----=-----=
Dr. Psyche sat at his desk. The entire thing was cleaned off save for Princess Luna's five drawings, a symbology book, and his notes. Making sure the door was closed and his coffee was hot, he began to translate.
Luna's house drawing was interesting. It had many windows with curtains. She liked privacy. The front door not only had a peep hole but stepping stones leading up to it. She not only liked but wanted guests, and was encouraging visitors. The house itself was light blue, a happy and relaxing color. There was a barn area attached with a little cart in it. She liked to be mobile and able to go places. Interesting.
He switched over to her tree drawing. It had funny, sky-pointing branches. None of them were very thick. She wasn't sure about how permanent things were in her life. Not a lot of roots were showing, this showed clear realization that she was worried about investing in anything. Putting down proverbial roots scared her.
The Doctor shifted to her drawing of herself. Luna seemed good enough at drawing herself, but… Celestia was in the picture too. She didn't like being alone. "Heirarchic scaling…" the doctor mumbled, flipping a few pages of his symbology book. In ancient tablets and other artworks, if a pony was drawn bigger than the others in meant he was more powerful or more important. In the drawin, Celestia was roughly twice Luna's size. She really respected and understood her sister's power. The Luna in the picture was standing under Celestia's outstretched wing—a hiding sort of symbol, in which she took solace in her powerful sister for comfort. Interesting.
Turning over the picture of the stallion, Deep Psyche cocked his head. It was a great barrel-chested thing. He had red fur and a top-hat on, with black eye-shadow under his eyes. There was a cape running down his back, black as night and his hooves were simply massive. He flipped back and forth through his books. It occurred to the doctor that Luna was more than likely bisexual. Not that it was of any detriment, but there was plenty here to suggest it. Big, dark-eyed, mysterious. Big hooves too. Even back in Luna's era there was a joke about 'if he's got big hooves'… and so on. The obscured cutie mark really played into the 'tall, dark stranger' archetype, which was perfectly healthy. Mares the world over were excited by such a concept. The top hat was an interesting accessory as well. Perhaps she found stallions of station attractive? Though the only time he'd ever seen anypony in a top hat, he was either a performing magician or dressed in tails at a high society party.
Deep Psyche shifted to the Hearth's Warming picture. Luna was supposed to put herself somewhere in the picture. He frowned. Where was she? She hadn't drawn herself anywh—wait, there she was. The psychologist leaned and squinted. In the window of the pre-drawn scene was a pony's face. It was dark blue like Luna. "Lettering…?" he mumbled. It was rare for a patient to put any sort of wording into their drawings. He squinted closer, for the words were quite small.
'Please don't be frightened of me.'
He leaned back in his chair, pressing his hooves together thoughtfully. The hoof-writing was spindly and jagged, not loopy like Luna's. That was Nightmare Moon's penmanship, he surmised. She was so sensitive she did not even want to place herself amongst the happy family in the picture. Instead she'd placed herself outside, in the window, as not to disturb the ponies gathered around the holiday tree. Deep Psyche stroked his chin a few times in deep thought. There were some serious abandonment issues going on here. Having been on the moon for so long, Luna had literally been removed from society and she couldn't even DRAW herself being reintegrated. That said much about her.
The stallion took off his glasses, sipping his coffee for the seventh time. Smacking his lips together, he made more notes in regards to the color, size, and techniques Luna had used to draw her pictures. He was learning so much about her. He smiled as he scribbled, running a hoof through his mane. He'd just gotten a much clearer picture (no pun intended), and he was just about ready to really start helping her. He closed his notebook with a flourish, turning and ringing the servant's bell on the wall.
A few minutes later, a maid came to his office. "Yessir?" she asked.
"Please inform Princess Celestia: All of my preliminary testing is over. I'm ready to start helping Princess Luna." He smiled grandly, rising from his high-backed chair. She beamed at him, and galloped away to deliver the happy news.
End of Part 11
---
Confidence
What Princesses Need
Part 12: Confidence
Luna sat a little dumb-founded on her throne, staring down at the hopeful couple before her. They had wandered into the night court at the stroke of midnight, by appointment, and asked for a wedding blessing. It was such an old tradition even Luna knew of it. In the olden days it was meant to be a blessing of fertility for the mare, and strength for the stallion. But they were so rare anymore that it really was a pleasant surprise for her. "You… don't want to ask my sister to bless you?" she said carefully, rising from her throne.
"W-well, we thought it might be easier to see you, your highness, in the middle of the night." The Stallion admitted. "My fiance and I wanted to start out right, and… and what better way than to get a blessing from one of our Princesses?" he inflated his chest a bit when the mare next to him nuzzled his chest.
Luna blushed just a little bit. Young love always got to her. It didn't matter the era. Clearing her throat just a little, she descended regally from on high at her throne. Igniting her horn, she waited for them to bow. When they did, he touched both ponies with her horn, "We bless thee in the name of the moon, for fertility, for strength, and a happy union." She said softly. "For strong foals, for a prosperous house, and a happy future." The alicorn magic flowed into them. Really, it was just a simple luck spell, but the words meant more to them than anything. While Luna watched, they kissed passionately, wrapping up in each other. The Princess smiled daintily, and soon the couple left.
The Princess of the night wasn't half-way up her dais to her throne when another appointment arrived. It was so strange-- Usually she was lucky to see half a dozen ponies in a night, but this night she'd seen well over a hundred! Unusually busy, with no discernible reason. Luna was sure there was one, but… to be honest she kind of liked it. It made her feel wanted. She wasn't solving matters of extreme, world-changing importance, but there was plenty to do! She'd had a property line dispute, several wedding blessings, simple funding requests, a bold stallion wishing for a shooting star for he and his marefriend's anniversary, several ponies wanting to join the royal guard… it just went on and on! Luna had never been so happy. Not in a long time. She relaxed into the role of gentle ruler rather well, when her ponies actually took the time to come and ask her about things. Being ignored was no good, but now finally things were being brought before her for judgement.
Outside in the hallway, beyond a few turns, Dr. Psyche was hard at work. He had a gaggle of ponies gathered, all of them recruited by mail, by posters, by messenger—all of them with disputes that had been awaiting a hearing in the Noon Day Court. He'd sent letters to all of them promising a much speedier settlement of their issues if they would but come to the midnight court. After all, didn't Equestria have TWO Princesses? Half the ponies there were chatting amongst themselves, kicking themselves over and over for not thinking of this sooner. Of course Princess Luna had the power to settle disputes and such, she was a Princess! Just as much judge and super-power as Princess Celestia! Pffft, how silly were they? Good thing this Deep Psyche fellow was there with the proper paperwork to let them through the system that much quicker, what a nice guy! Some of them had been waiting weeks, others MONTHS, to get their important cases or other items heard in the royal courts. The Midnight Court was a new thing, not seen in a thousand years, but it did exist and function. They just had to stay up late enough to use it.
The caramel stallion Deep Psyche adjusted his bowtie with a smile, pushing his glasses up his nose. That would get the ball rolling. It would take a few weeks for word to spread properly. Amazing what raw, physical advertising could do. Stepping out of the line that he'd helped make and nodding to the solar guards that had the night shift, he clip-clopped down a private hallway and flopped onto a couch to rest. "Whew…" he said audibly, closing his eyes and rubbing them a bit. Interacting with Luna had flip-flopped his sleeping cycle, but he wasn't about to complain. Not only had be been hoof-picked by a Princess, but he was helping the other. It was a huge responsibility. He pulled out his notebook to scribble for a bit. Building Luna's confidence in the Midnight Court by spoon-feeding her ponies eager to see her would definitely help. It was a little under-hoofed, giving her Celestia's run-off or overflow of ponies… but they were supposed to work together to run the country, so it really did work out for everypony. Trying to shrug off the mild stint of guilt, he flicked a fly away with his tail. Mumbling over his latest notes, he gazed down at the next planned event and moaned a little. This would be the hard part. "The audible letter." He moaned, pressing his temples and trying to steel himself. The Midnight Court would be over in a few hours, maybe he could nap until then… he laid his head down wearily.
Princess Celestia leaned over him just as he was drifting off. "Doctor?" she said softly. Deep Psyche JERKED upright so hard he launched himself off of the couch and to the floor. "Oh, sorry about that." The white alicorn smiled apologetically. "I received your message. You've decided on what my sister needs for treatment?" she leaned a bit, more than a little interested.
"Yes." Dr. Psyche nodded, coughing a little and trying to regain his composure. "Yes, your Majesty. My tests have told me a lot, and we're ready to move forward."
"What can I do?" Celestia asked. "Anything?" she really wanted to be a part of it all. The white alicorn was like any older sister that truly cared. She wanted to have a hoof in making her sister better again.
"You're not going to like the next bit." Dr. Psyche said, scuffing his hoof on the marble tile a bit. "But it's gotta be done, to make sure she gets all the way better."
"What is it?" Celestia said.
"I need you to call off Shining Armor." Said the caramel-colored stallion. Celestia's brow rose and she opened her mouth to object, but the young doctor quickly added. "Luna needs to have at least a little interaction with Twilight Sparkle. She seems to at least slightly understand that what she did was wrong. I'm going to have her write a letter of apology, and then read it to Twilight." He told her.
Celestia stared at him, just a little bit stunned. She wanted to forbid it. Forbid him from bringing Twilight Sparkle close to her unstable sister. But… the doctor had been helping Luna so far very brilliantly. She saw the slight upturn in mood, and the Midnight Court had been a little busy tonight when she'd walked past… "I…" Celestia fought a mental battle. "I…" POP! The solar alicorn flinched when a scroll suddenly blinked into existence in a flash of green dragon's fire.
"What's that?" Deep Psyche asked reflexively, looking up at her curiously. Celestia flipped the letter open, breaking the seal and unfurling it without a thought. She enjoyed Twilight's reliable correspondence and all the profound lessons she… found herself… learning…? Celestia's thoughts slowed and focused on the letter as her eyes raced back and forth across the page. "Princess?" he asked when he saw her face turn from amused to very, very perturbed. He'd never seen such a face on a regal creature like her. "Are you alright?" he put out a hoof to pull her out of whatever thoughts were upsetting her.
Celestia curled the letter into a scroll with a flick of magic, vanishing it to the private collection in her study. "That, Dr. Psyche," She said it with royal authority, most of the pleasantness gone from her voice. "Was reason enough to bring Shining Armor back to Canterlot, and away from Twilight Sparkle." She looked down at him, wings opening just a little bit aggressively. "Please, excuse me." She waited for him to bow as protocol bade him to, and she turned with a snap in her step.
Deep Psyche stood there alone in the hall, scratching the back of his head. Something bad must've been in that letter… But! If it meant Twilight Sparkle would be easier to communicate with, he supposed it was a good thing.
=-=-=-=-=-=-=-=-=-=-=
The Very Next Day…
=-=-=-=-=-=-=-=-=-=-=
Celestia paced one way, slowly, then the other, at the top of her dais. The room was as quiet as a tomb. "Captain Shining Armor, step forth." She looked down from her throne and platform at the pony before her. He was in full regalia, and took off his helm when she spoke his name. He set it next to himself and bowed deeply. No guards dared stand within twenty feet of him. Though the Princess had not flown into an audible rage—the ponies that saw her daily saw the signs. The stiffness of her wings, the snap in her hoof steps, and the mild twitch under one of her eyes. While the average pony may have yelled and screamed, only the keen eye could see true anger in Celestia's face. Her face was a neutral frown when she spoke again, seating herself regally on her throne. "Please, explain yourself." With a flick of alicorn magic, she conjured Twilight's letter and put it under his muzzle to read:
Dear Princess Celestia,
Something terrible has happened. I thought I was being stalked by a Lunar Stallion, so my friends and I set a trap to capture him while Shining Armor's help. What Shining Armor failed to tell us was that the Lunar Stallions are actually foals in disguise! I won't pretend to know what that's all about, I'm sure Princess Luna has her reasons for that situation—but we had him tied to a chair. Shining Armor and I interrogated him with mean words, food deprivation and 'got your nose' games.
I don't know how to feel right now, Princess. I really did think he was stalking me to take me back to your sister again. I can still feel myself shaking. Please make sure the foal (I think Nightmare Moon called him "Melancholy") is okay? I know you sent Shining Armor to protect me, under orders-- but he was taking things too far. I hate to throw my own brother under the proverbial bus, but if he acts like that I really shouldn't have his protection.
I'll understand if you want to punish me first, but please send somepony that will protect me and not actively try to harm anypony else in my honor. So long as Nightmare Moon stays far away, I'll be perfectly happy.
Your Faithful Student,
Twilight Sparkle
Shining Armor felt so damned by the last sentence or two that he sank to his knees, ears wilted. He bowed his head, unable to even look up at Celestia. "I… I…"
"I know you thought you were following my orders and protecting your sister, Shining Armor." Celestia said, a slight tension in her tone that made the other ponies in the room shudder a little. "But I cannot condone you holding another pony against his will, knowing the… circumstances." She said it delicately, remembering how many ears were in the room. The true nature of the Lunar Stallions was secret, and she didn't trust every single politician, squire, and handmaiden to hold their tongues. "And the fact that you did this despite the circumstances disturbs me even more. That stallion did not have the capacity to harm Twilight Spar--!"
"You sent me to protect her!" Shining Armor blurted, tears in his eyes. "I was just following orders!" he held up the sentence like a shield. One mare in a far corner, a maid that was responsible for bussing drinks, fainted. Nopony just interrupted Celestia like that! "I did what I had to, so nothing bad would happen to Twilight! If even one of the Lunar Stallions knew what was being planned--!"
Princess Celestia's horn IGNITED rather aggressively. A zipper flashed into existence over the stallion's mouth, zipping closed. "Captain." She said a little less gently. "Do not interrupt." Surely his military training had taught him better than that. One didn't rise to the coveted rank of Captain of the Royal Guard by interrupting one's superiors. Celestia seated herself regally once more, drawing a deep breath. "Perhaps it was wrong of me to send you to protect your own sister. While you are undoubtedly the most skilled unicorn in Canterlot, in protection magic and shielding spells… being too close to your charge clouded your judgement." Shining Armor fretfully played with the zipper on his mouth. There was no little thing to grab and unzip himself with! Celestia sighed just a little, her mind racing. "Captain." She spoke his title to draw his eyes up to her. They were afraid. "You are a shield, not a sword. I sent you to Twilight Sparkle, my most precious student, to protect her and nothing else. If something beyond your ability had occurred, you should have contacted me. Actively striking out against a foe was not in your orders." She turned to one side, profile, and her horn lit briefly. The zipper came off, vanishing. Shining Armor gasped a few times, rubbing his lips. "Recite rule seventeen of the Solar Guard Oath Contract." She bade him with royal authority.
Shining Armor licked his lips a little, recalling the proper rule, "Rule seventeen of the S.G.O.C: 'I shall never stray from my orders for any reason beyond harm to myself or any ponies in my immediate vicinity. My orders are my bond.'" He wilted even as he said the words.
"You've broken your contract, Shining Armor." Celestia said with a neutral expression. "Not only have you been called away from your post because of your actions, but you actively harmed another pony in the process. He was not yours to capture or interrogate." She said, recalling the scroll from the floor in front of him back to herself. "Even Twilight Sparkle seems disturbed by your actions." He looked at the floor again, deflating visibly. Celestia could see him shaking just a little bit. There was a long and terrible silence. Ponies looked back and forth between Princess Celestia and Shining Armor. Had… had he really interrogated somepony? Why? They didn't understand. Finally the white alicorn spoke her most damning sentence. "Take off your stripes." She whispered.
Shining Armor flinched like he'd been punched in the gut. "B-but… Y-Yes, your majesty." He bowed his head and slowly obeyed, peeling the rank insignias from his shoulders. The purple covering bits of his armor fizzled out of existence, and his armor suddenly seemed dull and featureless. Celestia took the two little markers, setting them next to herself by magic. "What is my punishment?" he said boldly, without looking up at his Princess.
"I don't know the answer to that, Shining Armor." Celestia said, the gentleness returning to her tone. Her eyes betrayed a certain weariness. "I'm going to deliver you to my sister, Luna, and she will decide what to do with you. After all, it is she whom you've wronged, when you think about it."
Shining Armor looked up, aghast. "What?! No! NO!" guards closed in on him and he was dragged, kicking and shouting, out of the throne room.
=-=-=-=-=-=-=-=-=-=
The Next Evening…
=-=-=-=-=-=-=-=-=-=
Twilight Sparkle looked up, startled, when there was a firm knock on her door. She closed the book she'd been studying, warily leaning up to peer through the newly made peep hole. A Lunar Stallion's breastplate blocked her view of the outside world. She moaned, pressing her forehead to the door. Then, gathering up her willpower, she pulled the door slightly ajar. "What do you want?" she asked the would-be stallion.
He seemed to wilt at her words, but threw his chest out to announce. "Her Majesty Princess Luna wants to see you!" he'd clearly been fed this line, and was parroting it for her.
"No!" Twilight shrieked. "Tell her to go away! I don't want to see her, or any of you!" she slammed the door animatedly. There was a silence, and the Lunar Stallion stood there staring at the door. He looked over his shoulder, mouthing 'now what?' at the others. They made wild gestures, and he nodded firmly. Turning back around, he knocked firmly again. Twilight, against her better judgment, opened the door a few inches again. "What?!" she demanded. "Stop harassing me!" she was getting more and more upset. To placate her, the pony stepped meekly back off of her doorstep.
"Princess Luna has been real sad lately." He told Twilight. "She wrote you a letter, and doctor Psycho wants her to read it to you out loud."
"Doctor Psycho?" Twilight said, brow going up.
"Doctor Psyche, thank you." A stallion further out in the darkness said. "Forgive the intrusion, Twilight Sparkle." He emerged into the light that Twilight's windows were giving off. Twilight studied him critically. He was clean, groomed, and had a cutie mark of a brain with a question mark on it. "I'm Princess Luna's therapist. Could you spare just a minute, to help our Princess get better?" Well jeez, when he put it like that--- she slammed the door again. Buck them all! Why couldn't they just let her be?! "Miss Sparkle!" The caramel stallion stepped up onto the porch, past the pony that had knocked on the door. "I know you're hurting! I do! You yourself may need therapy for what's happend! But right now I'm more worried about Princess Luna!" he said it with such complete honesty Twilight was dumbfounded. She stared at her door, almost able to see the stallion on the other side as he knocked animatedly. Her brow lowered angrily. "She has to confront what she's done before she gets well again, and to do that I need you!" He knocked more firmly. "Please! Please just open the door and stand there, you don't have to do anything else!" he promised.
Twilight considered, but turned her nose up. She didn't have to do ANYTHING for the mare that tried to… tried to… she shuddered, her throat constricting. She shuddered again, squeezing her eyes shut and breathing a little shakily. She hadn't told Spike, or the others, for that matter, all the little details. She had a tiny, tiny little pair of marks on her lower pelvis. Nightmare Moon had all but MARKED her, in a very private area. With those curved… terrifying fangs! She whimpered a little, then stomped away from the door.
Suddenly there was more knocking, but lower on the door. "I have a Crunch-licious!" promised a small voice outside. Twilight stopped. Who was that? "Please come outside?" it said hopefully. The purple mare came to the window, looking outside. On the ground was a Lunar Stallion's helm, and on her doorstep next to the doctor was a peach-colored little colt with a candy bar. He was waving it at the door, as though the deliciousness would seep through the wood and tempt Twilight Sparkle outside. She stared. They really were foals.
In the gathering of Lunar Stallions, another suddenly pulled his helm off. Before her very eyes, he shrank down onto a powder blue little unicorn with bright red eyes. "I've got a bag of marbles!" he shouted bravely, running forward and putting it on the doorstep. When no Twilight emerged, he jingled the bag a bit. "There's even a cats-eye in there! Please come outside!" his tiny, shrieking voice crackled like a stallion in puberty.
"I've got this super rare Yugimon the Gathering card! Mint condition!" Another foal emerged bare-headed from the herd of stallions and placed his offering in front of the door. Twilight stared, her mouth slowly going agape. "Please come outside?" he begged for his Princess. One by one, until the herd of armored stallions was moving as a unit, they piled offerings up onto Twilight Sparkle's doorstep to get her to open the door and come outside again. Trading cards, crayons, candies, marbles—anything of value they had on them. They wanted so badly for Twilight Sparkle to like them, so Princess Luna could be happy again. A massive pile of magic helmets lay to one side.
The doctor stood stone still, positively flabbergasted at the scene. "You're all colts! Little colts!" he shrieked, pointing at them in disbelief. The herd of little ponies romped around him, penning him in and pulling him away from the doorstep. They didn't want him touching their pile of cool stuff, after all, that was for Twilight Sparkle.
The doorknob turned, and the doctor whipped around quickly, stepping back. Twilight stood, silhouetted by the light coming from inside the library behind her, in the doorway. "I… just have to stand here?" she said quietly, looking down at the children's toys piled in front of her. The herd of little ponies looked on, beaming. Dr. Psyche nodded quickly, and turned. He made a gesture at the deepest shadows nearby.
Twilight's heart and throat constricted fearfully. Luna emerged from the blackness, head submissively low. She barely dared to look at the purple mare, she was such a pathetic-looking creature. It crossed Twilight's mind that yes, she did look like a therapy patient with a face like that. She looked ashamed and very vulnerable. The dark alicorn was sheepish, looking about herself as the herd of colts gathered around her and seated themselves. One of them, a little unicorn colt called Pen Maker, leaned into his tiny saddlebag and got the letter. Princess Luna had written it herself, but he'd been given the special job of carrying it all the way to Ponyville with them. He leaned up and Luna took it gingerly.
Dr. Psyche watched Twilight Sparkle the entire time. The poor mare looked ready to bolt. It wasn't everyday that somepony was directly confronted with their molester. She was being very brave. Very, very brave. Was she trying to prove something to herself? That she could stand up to her aggressor and still be left standing when things were over? He stifled himself, trying not to analyze the harassed mare too much. He was here for Princess Luna. Perhaps another day Twilight Sparkle could receive help from him. For now, it was time for Luna to heal. One case at a time, he coached himself. Trying to maintain a level of professionalism, he heaved a steadying breath and stepped off of the doorstep and to one side. He didn't want to obscure anypony's view.
Princess Luna looked meekly at Twilight Sparkle. Those eyes. They accused her. They feared her. Just like so many eyes before them, but on a more personal level. She felt her back legs shaking, and the confidence boost she'd gotten from the Midnight Court began to fizzle out. Swallowing quickly, she noisily unfolded the letter that she'd written. Clearing her throat. "T-To Twilight Sparkle." She recited, holding the page up to hide her face. "We art sorry for what happened in the cave some days ago. We are not well, and are seeking professional help at this time. Perhaps after time has passed and we art well again, we might become friends." Luna perked her ears, looking up to see if Twilight was still there. She was. "We know thou may not ever forgive us for what happened, but we wish thou to know we've seen how sick and wrong it was—we wish to make amends in any way we can, if thou names it in the future." She paused again when a lunar colt nuzzled one of her shaking legs. "Thou deserves a better Princess. We shalt be better. Luna." She finished out with her name. It was a short little note, but she meant every word.
There was a long silence as Luna clumsily folded the letter and gave it back to Pen Maker, who put it back in his little pack. Twilight stared, unsure of what to do next. "That was all, Twilight." Dr. Psyche stepped in before anything fell apart. "Thank you for helping us." he smiled brightly. Twilight felt her left hoof moving, and she slowly closed the door. There was an INSTANT scramble by the foals to recover not only their helms, but their valuables. Finders keepers losers weepers! Luna stood there, a little stunned at herself. Her doctor appeared at her side, smiling grandly. "That was very good, Luna!" he praised her. "That was very brave of you. I'm very proud." Luna smiled faintly, but looked at the door that hid Twilight Sparkle. She had so, so much more to say. Please forgive us, we shalt give thee anything! Anything at all! We art a monster, being tamed, please do not cast us out! But no… no the little letter she'd had was all she could bring herself to say. "Wait until we get back to Canterlot, your sister will be glad to hear about your progress!" Deep Psyche said, grinning. "How do you feel? Any better?" he asked.
"A little." Luna said in earnest. "Saying it to Twilight's face made it count for more, we think." She said it slowly, as though unsure of herself. Her therapist smiled and nodded. She was beginning to understand. And a patient who understood could begin to heal.
Inside, Twilight Sparkle was writing a letter to Princess Celestia. Spike had already gone to bed, so she had to do it herself. That and, well, it was a personal subject. "Dear Princess Celestia." She was quietly reciting, even though she was the one writing it. "Princess Luna came and apologized to my face today. That was very brave of her, I think…"
End of Part 12
---
Mercy
What Princesses Need
Part 13: Mercy
"My… my… my…" the sultry, seductive tone of Nightmare Moon caressed Shining Armor's down-turned ears. "Our sister sends me gifts often, but thou may take the cake." She grinned, jowls lifting to expose all of her hellish fangs. "And look, bare-shouldered!" she gripped one part of his uniform, pulling at it a little. His rank-insignias were no longer there, and the purple bits of his guard armor were gone.
Shining Armor stood there. Dishonored though he may have been, and sent into shadow for further punishment, he would take it like a stallion. He stared straight ahead, his face a careful mask of annoyance and mild anger. He huffed just once, carefully controlling himself while the black alicorn moved about him. His shining Princess, Celestia, had thrown him into the lion's den. He'd been following orders! Those Lunar morons, foals or not, were stalking his sister! They'd already pony-napped her twice, he would not allow it a third time no matter what. Mhh, if Celestia didn't like his methods, he could only pray she would send someone just as capable as he. Though he did sting with guilt of tying up a foal in disguise… he looked at the floor. He'd felt justified at the time. The heat of the moment. The thrill of the capture… and the ease of the torture. Sure, games of 'got your nose' and eating treats in front of the Lunar Stallion wasn't exactly nasty torturing techniques, but the capture and holding had landed him in hot water. Such hot water that Celestia had hoofed him over to her sister, the foal's mother figure. The white unicorn stood stoic, waiting to see what the Princess of the Night would do to him. He heaved a big breath and then spoke softly, "Princess Celestia says that you're going to punish me for what I've done." He said with a tone of finality. "What is--!" he was halted when she stepped close, putting a huge hoof over his mouth.
"Shh-sh-sh-shhhh… dost thou hear that?" Nightmare Moon crooned, casting her eyes to the ceiling. "Dost thou?" she whispered in his ear, gesturing upward. They were in the furthest reaches of the palace, near the Royal Apartments. No servants went there unless summoned. It was as quiet as a tomb.
"I don't hear anything." Shining said before he could stop himself, ears perked.
"Exactly." She lowered her voice into an amused, black giggle. Her hoof rose, stroking the tenderest part of his adam's apple… down the tenderest part of his neck… his chest. The sound of tearing fabric sent up a lot of red flags in the stallion, and he made to retreat. A warm rush of dark magic melded his hooves to the floor. He stood there, bare-chested, his uniform parted to show off his snow-white chest. Nightmare Moon moved about to stand in front of him. Her platinum-gilded hoof traced up his chest, stopping firmly at the base of his neck. "Nothing at all." She confirmed, nodding slowly. "We could choke the life right out of thou," she whispered, her nose almost touching his. "For harming our foal. And none would hear thou scream." She pressed her massive hoof into the softest muscles of the front of his neck.
Icy fear rushed up Shining Armor's spine. He leaned back, his hooves still magically stuck to the floor. Clenching his teeth and breath caught in his throat, he looked at her in terror. Would she really do it?! "I was just following orders!" he said, trying to put on a brave face. Her long, spindly foreleg wrapped about his shoulders, then gently rested around his neck with its own weight. "I was protecting Twilight from YOU!" he barked, turning and savagely sinking his teeth into her leg. She grunted a little, but did not release him.
"It seems we art at am impass about Twilight Sparkle." Nightmare squeezed his neck rather violently. Shining's eyes bulged comically out of his head for a moment, but then she loosened her assault to let him breathe. "We assumed her our lover when we awoke with her nestled to our teats in the dead of night." She told her. The stallion stared at her with a dumbfounded expression of disbelief. She nodded in a sagely way, her anger fading for a moment. "Tiz true. Luna invited her to a sleepover, and we ended up in a rather… intimate position, in our slumber. When we awoke, Twilight was nestled into us like she were a suckling foal." Shining watched in revulsion as Nightmare Moon's eyes turned big and soft at the memory. "She was so adorable, we doth not lie. And so tempting too, pressing up to us like that--" the goddess of the night paused to give a lovesick sigh, which made the stallion gag miserably. "We thought to seduce her since Luna already had, but neigh, t'was my misunderstanding of Twilight's intent toward us." she rolled her eyes in an impatient way. "She is quiet foal-like when she sleeps, did'st thou know that?" she stopped her fawning to consult the brother of her love interest.
Shining Armor groaned, almost wishing she would go back to choking him. He didn't like hearing anypony talking about his sister that way. "You're sick, Princess." He spat, turning his face away from her. "Sick, if you think Twilight will ever love you." The arrow stuck a liiiittle too close to home, for she gave an angry neigh and slapped him. Crack, across the face.
Remembering herself at last, Nightmare Moon switched back to threatening mode. "Perhaps sick, perhaps a monster, stallion. But that is what I have a therapist for. And when he-!"
"You're seeing a therapist?" Shining Armor blurted, staring at her in shock. Had she not told him before? She could've sworn she had, during their other encounters... her mind was addled. Perhaps she hadn't told him yet. Who knew.
Nightmare Moon conjured and then CLANKED a pad of metal over his mouth so he would shut the buck up. The stallion crossed his eyes helplessly, wondering where the plate had come from, and how the rivets in it weren't digging into his dental work. He tried to magic it off, but it did no good. "Yes, yes we are." Nightmare said, more than a little annoyed at him. "When he gives us a clean bill of health, we shalt go back to seducing thy sister." She smiled nastily. "And when she lies shrieking in extacy in our bed, I shalt remember your 'never' statement and laugh." Her draconic eyes flickered a sterile white for a moment.
Shining Armor then proceeded to wig right the buck out. His horn glowed powerfully. He tugged at his hooves, still stuck. His mouth grunted and whinnied against the metal plate. His eyes glowed with ragged, raw hatred. She stood back, watching him writhe in frustration and anguish. Not Twilight! NOT TWILIGHT! The monster! He would die before he let her—his hooves came free, the metal plate vanished, and his uniform sewed itself up again. Frazzled, he staggered forward onto his face with a short cry. "Wh… what?" he looked up at her, his anger replaced by confusion. She'd let him go?
Nightmare Moon leaned down into his face, until they were eye to eye. "That terrible, icy feeling of frustration and agony thou just felt?" she said slowly. "When we taunted thou about thy sister, fair Twilight? That is what you were doing to my little foal." Shining Armor gave a slight gasp, his irises expanding. "An eye for an eye was common in our era long past." She turned from him, showing him her back. "Away with thee, and do not go near my children again." She commanded, glancing over her shoulder with glowing white eyes. "Or we shalt actually choke thee, next time." Shining Armor seized the opportunity and galloped. "Shining Armor." Nightmare called as he reached the doorway. He stopped and turned. There was a short silence. "We would not molest Twilight Sparkle." She said, genuinely, after some hesitation. "We really did think Luna brought her to our bed. We merely wanted to partake as well." He stared at her, confusion and hatred on his face. He didn't run, but rather cantered, from the room.
As soon as he was gone from the room, Nightmare Moon smiled on one side of her mouth. Shining Armor gave a loud grunt when suddenly a Lunar Stallion appeared and bucked him in the flank! The stallion gave a shout of surprise, almost knocked over. "Hey!" he shouted angrily. "What was that for?!" The Lunar Stallion grinned wickedly, pointing to Shining Armor's armored butt. There was a taped on piece of paper that said 'kick me' on him. He blanched. Turning to pull it off, he found it was stuck. Igniting his horn, he--- it was really stuck. He squinted at it on a magical level. Nightmare Moon must've stuck it to him and then enchanted it to stick no matter what. But when? Ka-buck! Another Lunar Stallion had appeared and kicked him in the tooshie. "Ack!" he said, rubbing his sore butt. "Stop that!"
"You picked on our little brother, Melancholy." scowled a third Lunar Stallion, who had melted out of shadow and lowered his horn agressively. "The Princess says we can kick you all we want while you've got that sign on."
"No you can't!" Shining Armor shouted angrily. He turned back to the door to confront the dark goddess, but it was locked. "OOF!" he'd turned his back on them, and got another kick for his trouble. Pressed to the door, he rubbed himself sorely. He turned around quickly, not to expose his butt to any of them. He looked over at nearby columns, in the shadows. Eyes. Eyes everywhere. Golden, glowing eyes. They'd been waiting for him. The stallion suddenly bolted, an entire herd of grey armored ponies chasing him and kicking him in the butt as they went!
=-=-=-=-=-=-=-=-=-=-=-=-=-=-=-=-=-=-=-=-=-=-=
Meanwhile, back in Nightmare Moon's Office
=-=-=-=-=-=-=-=-=-=-=-=-=-=-=-=-=-=-=-=-=-=-=
Deep Psyche slowly turned, feeling like a Con Mane villain, in the swiveling desk chair. He'd been hiding there during the entire meeting, carefully invisible thanks to a spell he'd picked up as a teen. "That was very merciful of you, Luna." He said, leaning forward and steepling his hooves together under his chin.
Nightmare Moon jerked about. "A spy!" she shrieked, even though she knew perfectly well who he was. "Dost thou also root through my sock drawer, doctor?!" she demanded shrilly. He really had caught her off guard.
"I wasn't aware you liked lingerie, Princess." Doctor Psyche smiled easily, letting her demanding tone run off of him like so much rainwater. "I'll make note of it." He teased. Nightmare Moon scowled at him angrily, opening her wings and sweeping across the room to shoo him out of her desk chair. "Seriously, though." He smiled at her as she took her seat back. "You could've ripped him in half, but you didn't. Why?" he wanted to know. "Are you not Luna's deepest, unrepentant urges?" he challenged the dark half of his Princess with her very definition.
"He did not deserve it." Nightmare Moon shrugged. He quirked an eyebrow with interest. "Our sister stripped him of his rank. The scandal alone could ruin his life. We need not kill him to make it worse. The political nightmare with Princess Cadance alone would never stop haunting us." she turned her muzzle up like Shining Armor's life meant nothing to her. "This situation has grown tangled because of our madness and misinformation between so many ponies. If it were up to us, I would call a meeting of those involved to make sure everypony was on the same page."
Deep Psyche stared at her, wide-eyed and mouth agape. "Wh… what did you say?" he whispered, his eyes a-glitter with excitement.
It was Luna who spoke next, the image of Nightmare Moon faltering for a moment before she became the meeker side of the night time Princess. She still had a mild edge in her tone when she repeated, "We said that we would call a meeting--!"
"Oh no. No no no." Dr. Psyche shook his head, smiling grandly. "You said 'I'. I would call a meeting." Luna's cheeks pinkened happily and she scuffed a hoof on the floor a bit in embarrassment. He pushed his hoof through his mane, laughing a little. Progress was being made. This was a milestone. Two personas, but a singular pronoun. Luna stared at him, cocking her head. Her memories were overlapping. She could remember a little of what Nightmare Moon was conversing about, and she was starting to say 'I' instead of 'we'. Phenomenal!
=-----=-----=-----=-----=
Twilight Sparkle studied herself in her bathroom mirror. Rather un-ceremonially, she turned sideways and lifted her tail and right back leg. Like any mare in the privacy of her own bathroom, she inspected her privates with a critical eye. Her perky little teats were nothing special in her mind. Her sex was virginal and bashfully cared for, the dark purple pubic hair hiding most of it. The purple mare studied her most intimate areas meekly. Those marks—she stared at the two red little marks on her lower pelvis. She sighed in a troubled way, rubbing at them self-consciously. You couldn't see them unless Twilight was on her back with her legs splayed open, which never happened, but it didn't keep her from feeling like they were on full display all the time—like some raunchy tattoo that everypony could see.
Thy belly is so sensitive! Even Luna knows this!
She thrust her leg down again, angry and confused. Twilight didn't like Luna anymore, much less Nightmare Moon. She was still having nightmares of the Goddess violating her, as what almost happened in the cave. Shuddering, she stomped her hoof with a grump. Then… she slowly lifted the back one again and stared at herself. She'd debated going to nurse Red Heart to see about the little scars. But she was too embarrassed, she couldn't. Sighing in distress, she went back over Luna's confessional letter. She saw the face of her therapist in her mind's eye, the handsome caramel-colored stallion with the brain and question mark on his flank.
"She's seeing a therapist." Twilight mumbled at her reflection in the mirror, staring at the two little scars on her lower pelvis. "Maybe she'll be able to get better." She whispered. While there was no chance of romance like Luna(Nightmare?) wanted, perhaps there were amends to be made when she was well. Twilight could only hope.
=-=-=-=-=-=-=-=-=-=-=-=-=-=
Meanwhile, in Canterlot…
=-=-=-=-=-=-=-=-=-=-=-=-=-=
Shining Armor's wallet and keys were missing so he had to knock on the door of his own home. His wife Princess Cadence came to answer. She startled in the doorway, staring at her husband. "What happened to you?!" she thrust her hoof over her mouth, trying not to laugh. Shining had bright play-doe in his mane, dings in his armor, happy faces drawn on his cutie mark, hoof prints on his face and chest, bruises on his butt, and a kick me sign attached to him. There was even chewing gum in his tail. He looked positively miserable, his mane frazzled and his eyes dead. Cadence couldn't help it. She burst into voracious laughter. "Oh-hoh-honey! Did you get attacked by some giant kindergarteners?!" she howled, leaning against the door frame.
"Yes." said Shining Armor in a dark voice, "Yes I was." She stared at him.
End of Part 13
---
Group Therapy
What Princesses Need
Part 14: Group Therapy
Name: Princess Luna
Age: (vast?), physically classified as young adult
Race: Pony
Tribe: none (Alicorn)
Sex: F
Home Address: Canterlot Royal Palace
Relatives: Princess Celestia (sister), Prince Blueblood (distant nephew)
Diagnosis: Standard, High-Thinking-Order DID
Progress: Positive
Sources of Information:
Princess Celestia
Twilight Sparkle
Palace Staff
Lunar Stallion Foals
Ponyville Residents
History: (See Previous Report, File PL-001)
Theraputic Processes Used Thus Far:
-Art Therapy: House/Tree/Self/Other-Gender Test
Luna displays very thorough desire to be around many ponies and to have many friends. Her self-doubt drives her to be hesitant and docile. It is easy to see her high respect for her sister, her desire for companionship (both intimate and not), and her wish for reintegration.
-Art Therapy: Hearth's Warming Living Room Scene
Luna displays very real fears of rejection and hatred not only from her subjects but the standard right of happiness from those around her. She fears that putting herself into a public setting will only upset others and that she will disturb the natural balance of happiness in Equestrian life.
-Hypnotic Therapy: Standard Repetition
Speaking with the part of her called "Nightmare Moon", I learned that one of the main issues surrounding Luna right now is misinformation. Her darker half awoke with Twilight Sparkle in her bed, and thought that they were lovers. Inviting her out to camp, she wished to consummate that relationship as Nightmare Moon, but Twilight Sparkle was not her lover to begin with—this has spawned a complex web of bad events that needs to be rectified as soon as pony-ly possible. I will make it my top priority.
-Confidence Building Therapy: Midnight Court
I have, in secret, been sending ponies to the Midnight Court. Ponies that have been waiting weeks to be heard in a royal setting. This has been excellent for Luna's self-confidence and self-worth. Having many ponies approach her with their problems has helped to build up her self-worth. I will continue this as long as possible, until ponies start doing it on their own. (Note: invest in more of that fancy letterhead. Some of Canterlot's "high society" won't open anything that's not on fancy paper in their mailboxes)
Confidence Building Therapy: Audible Letter
I instructed Luna to write an apology letter to Twilight Sparkle to be read aloud to the mare. While it took some coaxing for Twilight to participate, this went over as smoothly as could be expected. Some of Luna's anxieties were lifted, and her mood was a bit better than before afterward. I understand that it was Nightmare Moon and not Luna that committed the act, but as her therapist it is not my job to treat her as two separate ponies. If I am ever to unite the personalities, I must treat both of them as one Princess. Period.
Updated Situational Analysis:
I have seen Twilight Sparkle, Luna's molestation victim. She is understandably distrustful and upset when Luna is near, and it took a good deal of coaxing to get her to merely open her front door for the audible letter therapy.
I have discovered that Luna's Lunar Stallions are in fact foals in disguise. This must be addressed as soon as possible. I do not think it is healthy for any party in any fashion. Luna wishes for companionship, and while her cause is noble the execution is not. This must be one of my top priorities.
Nightmare Moon did not think anything was wrong at during the cave incident (see attached) because she assumed Twilight Sparkle was already Luna's lover and—to be frank—wanted a bit for herself. While this is a perfectly rational action for a singular pony, one suffering from DID is or can become exceptionally damaging in such things.
Twilight Sparkle's sibling, Shining Armor, must be brought forth as well. He has agitated both Nightmare Moon and Princess Celestia for various reasons connected to the Lunar Stallions. Most issues seem to stem from the stallions themselves, and he has become a rather tragic scapegoat for large portions of this situation. It must be handled swiftly if this stallion is to get his life back.
Recommendation: IMMEDIATE Group Therapy Session for all ponies involved:
Princess Luna
Twilight Sparkle
Princess Celestia
Shining Armor
Dr. Deep Psyche
NOTES and CONCLUSIONS:
-I'm rather startled at the vast amount of misinformation and cloak-and-dagger going on in this situation. I had to do a lot of research and interview a lot of ponies in the palace, in Ponyville, and in the surrounding areas to reach my conclusions.
-The Lunar Stallions are seen as stallions by many and are known as foals by few, and this leads to too much confusion.
-Shining Armor has apparently lost his rank as Captain of the Solar Guard for capturing a Lunar Stallion and "interrogating" him, which agitated Nightmare Moon to no end.
-Princess Celestia GAVE Shining Armor to Nightmare Moon for punishment. This baffles me.
-Twilight Sparkle may need my professional help in the near future if she is suffering from deep trauma over her molestation. I must take steps to see she is comfortable in the coming group therapy session.
-Most of Luna's forward progress problems seem to come from the Lunar Stallions themselves. (See "basket incident", "cave incident", "library incident", and "throne room incident") At this time it is my professional opinion that the Lunar Stallions should be removed from Luna's care so that she may focus on her recovery. They are unwittingly tempting her with things she should not have (i.e. Twilight Sparkle), and blindly follow her like the children they really are. This is not healthy. Luna will not be pleased.
=-----=-----=-----=-----=-----=-----=
Princess Celestia stood in front of the big double doors of the meeting room, a guard at either side of her. "I'll be fine in here. Please wait outside." She bade them. Both armored stallions nodded, saluted, and took up posts nearby. The white alicorn steadied herself a bit, and raised a polite hoof to knock. "Doctor Psyche?" she called.
The door came open partway, and the caramel stallion stuck his head out. "Ah, Princess." He said in a pleasant voice, smiling. "Thank you for coming, thank you." He slipped out of the room, keeping his voice down. The Princess smiled demurely as he bowed before her as was expected. When he rose, he was straight to business. "Group therapy is exactly what Luna needs right now, and your presence here will make things run very smoothly." He was all-positive in his phrasing, as a good therapist should be.
"Anything to help Luna." Celestia nodded, eager to aide her poor sister. "What will we be doing, Doctor?" she asked, cocking her head. "Psychology is still a new science to me, I've not been able to study it personally yet. It's only been around a few decades." She chuckled a little melodically, as immortal creatures were wont to do when something was less than a century old but still very important.
"We're going to cover a lot of ground today, Princess, I promise you that much." Deep Psyche scratched the back of his head a little. "All I ask is that you stay until the session is over. If you can do that much, I'm sure we'll get along fine."
Celestia tilted her head a little, unsure of what to make of such a request. Well of COURSE she wouldn't leave Luna's therapy session early. She'd been forced to sit outside all the other ones, and only just now was she being allowed inside. Doctor-Patient confidentiality stayed even the sun goddess' hoof, and she was very eager to get inside and see how all this was going to work. "Yes, of course." She nodded at last.
"I have your word then." Dr. Psyche smiled a little cryptically, turning and opening the door for Celestia. The white alicorn stepped through the threshold, and gaped at the scene around her.
The conference room hosted none other than Twilight Sparkle, Shining Armor and Luna herself. They sat at a long conference table, a fair distance from each other. Twilight Sparkle was glancing nervously about, eyes flicking at Luna now and then like she expected to be pounced upon. Luna was very Fluttershy in appearance, hiding half her face behind her mane and looking about in an unsure way. Shining Armor sat with a scowl on his face, and Celestia noted that portions of his mane and his tail had been trimmed very short. What had happened to him? He wasn't in his military garb either, merely naked and casual. The sun goddess also noted their placement around the table. Twilight was on the far end. Luna was on the near end left-side. Shining armor was on the far end right-side.
Deep Psyche smiled and shut the door gently. "Please, be seated." He asked politely. Celestia nodded, moving to sit across from her sister. She pulled out the chair, but stopped. Leaning in the chair was a full-length mirror carefully angled to face Luna. "Other seat, please, Princess." Said the therapist with a patient smile, gesturing. Celestia cantered about the long table, sitting across from Shining Armor and next to Luna and Twilight. Ahhh, she understood now. Twilight was between her brother and herself, leaving Luna furthest away. Clever stallion, working to make the victim in all this feel safest.
Celestia turned, smiling gently at Twilight. Twilight smiled back, seeming to relax now that her royal mentor was present. Nothing bad would happen to her so long as Celestia was there. She locked eyes briefly with Shining Armor. Whatever emotion he had, he suddenly masked it. He was very good at his guard face, a blank slate. "Good to see you, Twilight." She offered softly.
"You too, Princess." Twilight smiled back, shifting in her chair.
"Now then." Deep Psyche heaved a deep breath, making sure the door was shut firmly. He took his place, as therapist for the group, at the head of the table across from Twilight Sparkle. "I'd like to call this meeting to order." He said a little playfully, seating himself. There were a couple of good-natured smiles. "I am doctor Deep Psyche, as you all know. I am Luna's therapist. We're all here for her benefit—is what I would normally be saying." He suddenly segwayed, catching the entire room off guard. They all blinked at him. "But quite frankly, all you ponies are crazy." He chuckled a little, taking off his glasses and cleaning them on a little cloth. There was scattered, nervous chuckling. "Sorry, sorry." He amended a bit, putting them back on his nose. "Seriously though. I've been observing this situation for some time now, from many angles, and frankly this has spiraled completely out of control—and you're ALL to blame." He swept a hoof around the table.
"What?!" Twilight stood from her chair angrily. Shining Armor did the same, giving an angry shout. Even Celestia looked startled. "I got kidnapped! Twice! How am I to blame for any of this?!"
"Twilight is the victim here! You need to back off!" Shining Armor shouted, his face reddening as the big brother gene activated in a very vocal way.
"Isn't that a bit much, doctor?" Celestia tried to play the diplomat.
"I'm sorry…" said Luna a little submissively, turning her head down. The dark alicorn was very, very uncomfortable with Twilight and Shining Armor both being so close to her. It made her feel guilty.
"See?" said Deep, gesturing for Twilight to sit down. "Everything about all of this has become so twisted, so very complex that everypony is losing their minds for completely different reasons." They stared at him. "Twilight was kidnapped, twice, and molested. As a result, she thought it was okay to capture a grown stallion and interrogate him for information about her new enemy." He pushed a hoof through his brown mane. Twilight looked to one side rather guiltily, color in her cheeks. "Shining Armor was assigned to protect her and, high on his big brother mode, knowingly tied up a foal and taunted him—albeit rather tamely—to the point of injury and perhaps trauma." Shining Armor opened his mouth to argue, but he pressed on. "Celestia, to punish Shining Armor, hoofed him off to the very mare he was protecting his sister from and stripped him of his rank." He nodded accusingly at the Princess. The solar alicorn's mouth went a little agape at his audacity. "And don't think I didn't notice that you punished Shining Armor, and NOT your precious protégé, Princess. Twilight was equally responsible for both luring and capturing that Lunar Stallion, and foal or not that's still unbelievably illegal." Celestia's ears turned back, her pupil's growing small in a guilty expression.
"They'd kidnapped me twice! What else was I supposed to do, hug him?!" Twilight demanded vocally. "I didn't know he was a foal!" she said, her eyes lidding in distress as tears came to her eyes. "Shining didn't tell me, I didn't mean--!"
"I didn't know! I didn't mean!" The doctor whipped off his glasses and threw them on the long table. "That's EXACTLY what all this is about!" he slammed a hoof on the table, startling every pony present. "Buckle up, my little ponies! It's time for some Faust-damn FACTS!" he rose from his chair so hard it tumped over behind him. "I did all the leg-work for you, so let's start from the top shall we?!" They stared at him like he was a madpony. Twilight was aghast. Had that stallion just said a swear word in front of the Princesses?! "I've been studying this whole situation, and frankly it's giving me a headache!"
Deep Psyche cantered slowly around the table to stand beside Luna. She looked at him a little fearfully as he leaned down, whispering something in her ear with his hoof raised to hide his lips. She looked at the mirror leaning innocently in the chair across from her. As the stallion spoke, whatever he was saying made the Princess of the Night smile grandly and lower her brow into a rather sultry expression. "Oh-hoh, yes she does!" she flicked her eyes at Twilight Sparkle, who flinched and leaned back in her chair. Celestia's wings opened protectively-- but Luna remained in her seat as she turned jet black. Her darker half had been summoned. Luna's pupils extended out over her eyes like a dragon's, and everypony present felt the five-sense glamour spell take effect. Before long, Nightmare Moon sat in Luna's place. In the mirror across from her sat Luna, for the mirror was not fooled by her magic.
Shining Armor scowled savagely. Twilight hunched just a little, as though she were about to bolt. Celestia's mouth was a neutral line of tolerance. She only prayed this was going somewhere. "Now then! Let's rip open some wounds and let the infection out!" said the therapist dramatically, turning and returning to his place at the head of the table. "Nightmare Moon! Why did you pounce on Twilight Sparkle?!" he demanded loudly with a flourish of his hoof.
"I thought her lovers with Luna." Nightmare said matter-of-factly. "We wanted to share in Twilight's beauty and warmth as well!" she smiled with all her fangs at the purple mare. Twilight looked terrified.
"There's that 'I' again, I like that 'I' you've got going now." said the therapist with a smile, checking Twilight Sparkle's expression. The unicorn mare looked fearful. "Did you intend to molest her?" he asked, gesturing at her again.
"Pfft, of course not." Nightmare scoffed. "We merely wanted our fair share of Twilight Sparkle, if Luna had indulged already. T'was not the case though." She sighed, looking at the table rather guiltily. Twilight stared at her. Slowly, the black alicorn looked over at Twilight. "We thought thee already ours and playing hard to get, Twilight Sparkle." She said softly. The element of magic stared at her, unsure of what to say. Was it really true? Had it all been a colossal misunderstanding?
"Next item!" the therapist pressed on, rapid fire. He was striking while the iron was hot, and not letting up. "Shining do you admit to any guilt for capturing a Lunar Stallion you knew was a foal, and tormenting him?" Shining frowned in a troubled way, but gave a slow nod. "And you didn't tell Twilight this becauuuse….?" He let the sentence hang.
"It was my mission to protect her. The nature of the Lunar Stallions is secret." He said with a shrug. "But that hardly matters." He said, sighing. "I'm not a Captain anymore, so I won't get missions that important ever again."
"Because of Princess Celestia! Next item!" Deep Psyche was spreading the blame like hot butter. The solar alicorn stared at him. What was he doing? "Princess, you sent your prize stallion to protect your protégé but didn't allow him to tell her about the Lunar Stallions being foals becauuuuuse…?" he let the sentence hang.
"The Lunar Stallions are supposed to be secret, I suppose." Celestia said slowly. "I was sure Shining Armor could ward them off if need be, and he did. But, to capture one and interrogate him was not acceptable." She turned her head to look disappointedly at the former Captain of the Guard.
"And you sent Twilight's brother to protect her from not only a goddess but a small army of stallion-children." said Deep Psyche, shaking his head. "Did you really think he would stop at anything to protect her, even in the face of shadier means to an end?" There was dead silence in the room. Nopony accused Princess Celestia of doing wrong. They all turned and looked at her, studying her face. She looked more than a little shocked, and then she slowly leaned back in her chair. "You sent exactly the wrong pony, Princess." said Deep Psyche, pointing at her. "I'm not even in the army and I know that."
"Shining Armor is my best soldier." Celestia argued with a mild frown. "There was no better than he, especially with his shielding spells and other defenses. He repelled twenty-four lunar stallions by himself."
"He repelled twenty-four FOALS by himself." Deep Psyche shot back, dismissing her like she was a cranky teenager. "If a police detective's daughter is murdered, they don't send THAT police pony to investigate the murder. He's too close to the situation." He explained. Celestia nodded slowly. "Shining Armor was exactly the wrong choice, Princess, and sending him was a recipe for disaster." Celestia looked across the table at Shining Armor, working her mouth a little. She… she wasn't sure what to make of all this. The ranting therapist was… right? She'd made the snap decision to send Shining Armor. Who better than he who could shield an entire city with one spell? Right? But no… he WOULD stop at nothing for his own flesh and blood. "Next item!" The therapist just was not stopping at all. He kept chugging along. "The Lunar Stallions." He turned to the mirror to look at Luna, quieting at last. "Luna, what is the purpose of the Lunar Stallions?" he asked.
"W-well, they are orphans. I am allowing them to play knights until they get proper families." Luna's reflection said using Nightmare Moon's mouth. Everypony gaped, leaning to crane their necks and look at the image in the mirror. Somehow, the doctor had managed to have both Nightmare Moon and Princess Luna in the same room… at the same time. The mirror was not fooled by her glamour spells, and even gave Luna a face while Nightmare Moon sat across from her at the table.
Deep Psyche smiled in a rather accusing way from under his eyebrows, taking his place at the head of the table and stopping his pacing. "Liar." He whispered. There was silence. Everypony cocked an eyebrow, even Nightmare Moon.
"Tiz true!" Nightmare Moon defended. "They are our children until we find families for them. The helmets and armor are playthings!"
"Liar, liar, flank on fire!" snapped the therapist. Celestia sat back in her chair. She wished she hadn't promised to stay for the entire session. Twilight stared a little open-mouthed. Madpony or not, this stallion was insane, insulting the princesses and going everywhere with everything he said. "Try again!" offered Deep Psyche, smiling pleasantly.
"We are not lying!" Luna in the mirror said. "The Lunar Stallions have beds—!"
"You mean barracks."
"And good food brought to them!"
"You mean rations."
"They have school and even art time with us!"
"They train and devote themselves to you."
"WHAT DOST THOU MEAN TO INSULT US?!" Nightmare Moon stood from her chair violently, horn igniting and grabbing the therapist bodily. "Thou spouts accusatory lies while we bear our soul to thee! Explain thyself, insulting our children!" She lifted him into the air, mouth going agape with her fangs out.
"Luna!" Celestia said, rising from her chair. "Put him down!"
"Neigh!" Nightmare Moon snapped at her sister. "Answer us first!" she gripped the poor stallion, who was gagging a bit while he hung in midair.
"It took me some time to figure it out!" gagged Deep Psyche. "They're not your children! They're your army!" Nightmare Moon gasped and dropped him in a pile of hooves and pain. He coughed, using the table to right himself.
"How. Dare. Thee." Nightmare Moon lifted her hoof to smack-a-stallion as she'd done with Shining Armor.
Deep Psyche looked up at her. "It took me a while to figure it out, but I did, your Majesty. I read all your tests, looked at the symbols you put down for me with your own hooves." He looked up at her with a sympathetic smile even as she raised a hoof to strike him down. "You were lonely, so you surrounded yourself with guards. What kind of guards? The sort of ponies that would trust you no matter what, no matter what you'd done in the past. Foals." He punctuated. Nightmare Moon, and everypony else, stared at Deep Psyche.
"Wh… what?" Luna said from the mirror, mewling in disbelief. "But… but tiz not true…" she sounded unsure of herself.
"Foals would be the only ones not to know you from legend. The only ones not to judge you for Nighttime Eternal because they have no idea what that even means." Said the stallion with a sad smile. "Foals, your highness. They're like a crutch for you. You even made them look like grown stallions to make yourself feel better about keeping them around." Nightmare Moon's hoof fell, not stopping to strike Deep Psyche. There it was. A secret about herself she didn't even know. Brought out by the pony that had grown to know her mind so well. After a long silence, Deep Psyche looked across the table at the gathered ponies. All of them looked mentally exhausted. So much new information, they'd been keeping so much from each other it physically hurt to wrench it all out into the open. But it had to be done. The therapist smiled a little, sad in the eyes. "I think," he said, glancing over at the clock. "That's enough for one day." He said softly. He surveyed them all. They were looking at each other with such sad expressions. "We've cleared the air at this meeting, I think. You're all caught up in each other's mistakes, and it's time for some forgiveness. I think everypony in this room owes everypony else an apology." He righted his chair, turning so he could sit in it again.
They stared back and forth at each other. They'd become so miserable, so very miserable in all of this complicated mess. Now all of their sins were brought to bear, and what did they have now? Just each other, and the chance to mend a little. The doctor cleared his throat a little, smiling good naturedly. Well… this was therapy. It was supposed to be good for them, so…
"I'm sorry."
"I'm sorry."
"I'm sorry."
"We art sorry."
"We art sorry."
The clever therapist smiled, amused at the scene he'd helped create. So much dirty laundry… such a big bandage to be ripped off… ah well. At least it was over now. They would heal a bit more. "That was a very big thing all of you just did, right there. It takes a big pony to apologize and mean it." He said, barely above a whisper. Whatever madness that had clutched him for the prior conversation was now gone, and he'd returned to his gentle and quieter demeanor. His smile was genuine. "Very good. All of you." He put his saddlebag on, taking the mirror gently out of the chair. "Meeting adjourned." He said a little playfully, turning and going out the door.
Twilight flopped back in her chair, drained. Celestia seemed pensive, looking across the table at Shining Armor. Shining Armor had a puzzled expression on his face, not sure what to feel. Nightmare Moon cocked her head, watching the others. Gingerly, Celestia lit her horn. A pair of rectangular, metal pieces warped into existence in front of Shining Armor. He peered down at them. Rank stripes. He looked up at his Princess happily, and she nodded once. He pulled them to himself, Captain once again.
Twilight rose from her seat and was the first to leave. Nightmare Moon watched her go, and for just a moment they locked eyes. There was no hatred there, nor fear. What was it? Empathy? The neutral expression was hard to read. The black goddess opened her mouth to speak, but… but she could find no words. So much had been brought to light, so many knots unraveled in one fell swoop. It was overwhelming. She marveled at her therapist, face-hoofing and giggling just a little. By the time she looked up again Twilight Sparkle was gone and Shining Armor was rising to leave as well.
End of Part 14
---
Quiet Time
What Princesses Need
Part 15: Quiet Time
Twilight Sparkle sat in the royal library, resting and reading quietly. It had been a day since the group therapy session. She'd decided to stay in Canterlot for a time, if only out of morbid interest for what was happening. She'd quickly written home to Spike and the others, letting them know she was okay. Seated at a study table in the middle of a sea of study tables, she glanced about. Not many ponies around at this hour. She'd seen the librarian on her way in, and had visited the pony psychology section.
In front of her sat Basic Psychology: The Ego, The Super Ego, and The Id. It was a beginner's book, but Psychology was a fledgling science so Twilight had never really read into it. Apparently, a pony's mind was divided into three portions: The Ego, the Super Ego, and the Id. Twilight was delighted to find that the entire idea was explained in a very simplified way: an analogy.
A pony's mind could be compared to three stallions standing on a street corner that see a beautiful mare walk by, winking at them. The Id would say "I want!", and go after the mare to seduce her with all virile instincts in the forefront. The stallion called Super Ego would say "no you can't have" and stops Id. Super Ego would represent one's conscious and knowing right from wrong. The "parent" of one's mind. Ego, being the wisest of the three stallions, says "I have an idea!" and mediates between the two.
Twilight leaned back, thinking hard. Nightmare Moon was obviously Luna's Id. I want I want I want, with little regard for how it might hurt others. Luna, the Luna she knew from Nightmare Night, was probably either the Super Ego or the Ego. Perhaps a mix of the two. The purple mare pondered over Luna's fragmented mind, turning a few pages.
"Twilight Sparkle." A voice floated over her head, lowered to a whisper for the library's sake.
Twilight startled, looking up with a little yipping sound. Luna stood before her, wings lazily open to display their full span. "Please." Luna backed up a step so Twilight wouldn't bolt. "Retreat not. We mean thee no harm."
"Y… yes?" Twilight asked politely.
"We… we uhm…" Luna seemed to struggle for a few moments. "We are sorry." She said, blurting, hanging her head. "Sorry for everything."
"You've already apologized several times." Twilight said slowly, not sure the point of this new approach. She flicked her eyes around. The therapist was nowhere in sight.
"True, yes, but…" Luna trailed off a bit, cocking her head and looking at Twilight sideways. "Only when coaxed. Tiz not fair to thee. We come without our therapist's aide to say sorry." She confessed warily, studying Twilight's reaction. "We should be able to do it thus, without a doctor poking our royal hiney."
Twilight chuckled a little before she could stop herself. Hehe, Luna had said hiney. "Well, thank you." She said softly, smiling just a little. "It's big of you, Luna. Just like Deep Psyche said."
"We would make peace with thee, Twilight Sparkle, but we know not how." Luna said a little eagerly, taking a step forward but no more. "Though the Nightmare is a different part of me, it is still me, so I am to blame." She kept looking anywhere but Twilight. This was very hard for the night time Princess, and she wasn't sure what she was supposed to be saying, only that she should be saying it. Now and then her gaze would flick to the purple mare's face to study her reaction, but not much more than that. "We merely wanted a sleepover, and then… all of this." She gestured vaguely.
Twilight's eyes flicked down at her book. Nightmare Moon was Luna's Id, that was easy enough to see. "Princess." The purple mare ventured. "Can I ask you something?" she gingerly flipped the book closed, title face-down so Luna wouldn't see it.
"Of course, anything Twilight!" Luna would cooperate with anything she had to say.
"That night when the Lunar Stallions kidnapped me the first time and I stayed in your bed," Twilight tried to word it carefully. "Were you thinking about… me? I mean, you and me?" There really wasn't a gentle way to put it.
Luna cast her gaze silently to one side. She'd teased Twilight with molestation before blowing a raspberry on her belly, true—but in her heart of hearts ohhhh. The very sight of Twilight Sparkle tied up and made to be her love slave had stirred her loins and the fires of her heart. The dark alicorn sighed guiltily, and nodded, "Twas lust, Twilight Sparkle. I shan't lie, thou embodies many of the things we find attractive." She sat on her haunches, pink in her cheeks. "Knowledge, beauty, magic… many things. And after we befriended thee on Nightmare Night it twas difficult to push thee from our thoughts."
Twilight felt a touch of flattery rise in her chest, but tried to press it back. She also noticed another 'I' in Luna's speaking. Deep Psyche, the therapist, always praised Luna for using 'I' when she spoke. "You said I." she said quietly. "Good job." She gave a small, coy smile when Luna blushed deeper. There was a thick tension between the two mares, but after the rough group therapy they could at least hold a civil conversation, it seemed.
"Can… can thou ever forgive us, Twilight Sparkle?" Luna suddenly braved, looking into her eyes.
They stared at each other for a long time. Twilight looked at Luna, unsure of what to say. It was so much more complex than yes or no. Her mind was split into at least two pieces. Both liked her. One had nearly raped her, the other wouldn't hurt a fly. The purple unicorn was understandably torn. She sighed a little. "It's… it's more complicated than that, Luna." She whispered. Turning out of her chair and coming around the table, she looked about for a few moments. Nopony around. She lifted one of her back legs, showing Luna the two little fang marks Nightmare Moon had left on her.
Luna gasped, lifting a hoof to her mouth and startling back a few steps. "We hath mauled thee!" she said, aghast. She turned quickly. "We shalt call the proper medical team, wait here Twilight!" she made to rush away, but a sudden lavender aura snared Luna's tail and stopped her.
"No, don't." Twilight said in a small voice. "It's too embarrassing."
"Neigh! Thou has been marked by a predator's touch and should be purified!" Luna said, mewling a bit. She winced at referring to herself as a predator. Poor choice of words.
Twilight noticed her silent chastising. "It's alright," the purple mare soothed a little. "I just… I'll have it looked at on my own time." She said, smiling a little. The unicorn looked up at the Princess of the night, smiling a little painfully. She'd shown Luna her privates. Already her coat was flushing dark. "Sorry Luna…" the look on her face was that of guilt.
Luna's face turned fearful. Twilight had done that on purpose! To bring out Nightmare Moo-rrrgle?! Her pupils elongated and her legs turned long and spindly. Her neck extended and the glamour spell that showed Nightmare Moon in Luna's skin took over. "Mhh, thou teases us, Twilight Sparkle." She purred, cracking her neck one way, then the other. "Our sister says we may not touch you, but thou art flashing us." she smirked a little darkly. "Tiz mean on your part."
Twilight turned quickly to put the study table between herself and the black goddess. Nightmare stretched a bit, as though getting used to being in Luna's body. There was something uncomfortable about it this time. The transformation had been less fluid. Huh. Grunting a little, she leaned over the table to study the purple mare. "Nightmare Moon." Twilight said, as though that made it official. "I have to ask." She stopped as though that were the end of the sentence.
"Yes, my little pony?" said Nightmare with a slight smile. "Thou sleekest us out, we are overjoyed! Ask us anything!" She was enthused, leaning aggressively across the table at her.
Twilight leaned back, steadying herself before she spoke again. "Can you keep your hooves off me until Luna is all the way better?" she said bravely. "For both our sakes?" Twilight knew she was playing a dangerous game, but… Luna would never hurt her. Nightmare might. If she could just delay the black alicorn's efforts long enough…
Nightmare blinked at her, taken aback. "But…" she said, trying to come up with some argument. "If Luna is treated, we shalt cease to be, no? We shalt be one." Nightmare Moon was referring to herself. She cocked her head a little, frowning in a worried way. Twilight watched her fight the mental battle for a long time, until she finally sighed and hung her head. "Twilight, Luna loves thee. Even if it is infatuation." She mumbled at the floor, lowering her broad wings until they touched the floor. For a moment the purple mare thought she looked like she was molting. "But, we hath realized something through our therapy and watching thy horrified reactions to our face."
"What's that?" Twilight wanted to know.
"If we really loved thee, we would not force our company on thee." Said the dark goddess softly. "And we mean not just in the bedroom!" She added quickly, color touching her face and Twilight's. "It is… complicated." She offered. Twilight saw a sliver of midnight blue poking its way into Nightmare Moon's face. "We shalt leave thee be hence in romantic affairs, Twilight Sparkle." She backed off a bit. "It shall be Luna's job to seduce thee, we think." She added with a smirk. "Even if Nightmare Moon vanishes into Princess Luna's mind, do not think I shalt not be there, whispering that she should pursue thee."
Twilight smiled in a painful way. Even when she was trying to be apologetic, Nightmare came across as rather overbearing and lusty. Well, it was what she was made of. The purple mare nodded once, rising and taking her book with her. "I'm going." She said softly. "Can I ask you one more thing?" she turned her head, as she stood between the stacks.
"Anything, my little pony."
"Does Luna really love me, or does she just lust for me?" Twilight wanted to know.
Nightmare gave pause, looking at the floor for a moment. "We art… lonely, Twilight." She said finally, the force gone from her voice. This was her quietest honesty. "A thousand years on the moon, and we make one true and valuable friend on the night named after us, Nightmare Night." She looked at Twilight with a pleading expression. "Dismiss us not for our crimes, please."
"You didn't answer my question." Twilight said softly, smiling in a quiet way.
"We do not know." Nightmare Moon hung her head. "I lust for thee in the worst ways, no denying such things." She chuckled in a bitter way. "But we cannot have thee, we see this now. What thou shalt do about Luna, much less when she is healed into one mind again, will be in thy hooves."
"You mean I get to decide if I want to court Luna or not?" Twilight said reproachfully, frowning.
"Neigh, Twilight." Nightmare Moon shook her head slowly. "Thou shalt decide if we even remain friends when this is all over." She sounded even more bitter than before. "Not that it shall matter. I shalt not be around to see it, myself." The black mare mumbled, touching her breastplate a moment.
With a conflicted frown on her face, Twilight started away and vanished between the shelves of the library. Her hoofsteps faded before long.
Nightmare Moon did not follow her, only sighed and hung her head. Though she was want and desire incarnate, and certainly would NOT deny Twilight Sparkle if anything 'happened'… it was just so complicated. For a flickering moment, Nightmare Moon's green eyes shifted to blue. "H'oh Twilight…" Nightmare Moon mumbled in a heartsick way. "What shalt become of us when we are one mind again?" she felt uplifted that Twilight could stomach a conversation with her now, but… but… she sighed, hanging her head and letting Luna take over once more. Perhaps she would dream of Twilight while she slept in Luna's mind.
End of Part 15
---
Intermission: Deep Psyche Origins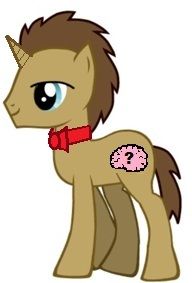 What Princesses Need
Intermission: Deep Psyche Origins
A caramel furred stallion with a brown mane flung himself onto his bed, sighing in an achy way. He hadn't slept in far too long, and was eager to rest himself. Moaning and feeling a familiar ache in his knees and haunches, he wuzzled into the pillow like it was his lover. Murring softly, he heaved a great and restful breath.
The poor doctor's mind was full of all things surrounding Luna. He'd just taken a needle to the proverbial boil of the situation in and around the palace—but it hadn't been easy. All of that mess with Princess Celestia, Twilight Sparkle, Shining Armor, and especially the Lunar stallions… it was just… just a mess. Being a young doctor who was fresh from the academy it was his job to maintain a demeanor of control and pleasantness at all times, but it was exhausting. It did not elude him that if he helped heal Princess Luna he would be set for life as a therapist, selfish though it sounded. There was not a pony alive that could write on their resume 'helped a princess with psychological issues and succeeded.' He knew he could not fail his Princess.
Deep Psyche turned over, staring at the wall. He'd been given a lovely little apartment in the palace. Just a simple thing with a bedroom, drawers, writing desk and bathroom attached. But, as a psychologist, a blank wall had special meaning to him. Blank, listless, and blessedly uncomplicated. He stared at it, his eyes slowly growing heavy.
Luna was making such good progress. After the group therapy session, he'd since had a follow-up interview with the dark alicorn. She seemed in much better spirits. But the doctor knew it wasn't to last long. He had one more needle to thrust into Luna's infections, to drain out the nastiness within. He'd mentioned it in her therapy, but the Princess didn't seem to realize what he'd been implying. He hid his face under a hoof to blot out even the starlight coming in through his little window. "Lunar Stallions…" he moaned softly, as though it were a swear word. He had a scenario in mind, but Luna would NOT be happy. Unfortunately for him, though, he was not there to be Luna's close friend. He was her therapist, and it was his job to make her well again, even if it meant her hating him when it was all over. Yes. Yes he would have to do it, and soon.
The stallion slid to sleep with a quiet and guilty sigh.
=-----=-----=-----=-----=
"H-he-huhhhh! Hey! H-hey!" A tiny brown colt stuttered to the point of choking himself, rearing up and trying to snatch his ball back from the trio of bullies keeping it from him. "G-! GUH! Give that b-back!" he didn't stutter too often, but when he was upset it really did go out of control.
"What's the matter, Deep Psycho?" guffawed the teen above him, shoving him away with a thrust of magic. The much smaller Deep Psyche hit the ground with a yelp, scraping his knee. "Can't'cha just magic it back?" the larger unicorn sneered, holding the red sphere high and forward.
Deep Psyche whimpered a little, standing and thrusting his horn as high as he could. Screwing up his face with all his might. His horn crackle-fizzled, but did little else. He was still too small, he couldn't use magic yet. "Please give it back?" he tried, his eyes big and soft.
Unfortunately, cute didn't work on bullies in his own age group. "Aw c'mon, what's the fun in tha--!" suddenly the ball lifted from the bully's hoof and smacked into his face. "Owch!" he reared and whinnied a little. Deep Psyche looked up with a gasp. Had he done that? "Hey what gives—owch!" the ball smacked him again, then bounced on his head until he started staggering about. "Knock it off! Ow! Hey!" the young unicorn rushed back and forth, trying to dodge the possessed toy. "Guh!" he finally took off in a panicked gallop.
When Deep Psyche found himself alone, he watched the ball levitate slowly down and stop at his hooves. He smiled gingerly, then looked up at the entrance of the alleyway. There stood his mother, on her way home from work to pick him up from magic kindergarten. She'd been the one making the ball float and defend him. Smiling and bounding along on his clumsy hooves, he thrust himself up into her chest for nuzzles. She chuckled a little, leaning down and smiling over him. "We showed him what for, huhm?" her voice was mildly deep for a mare, but it was a comforting thing for him. "What did I tell you about going down dark alleys?"
"S-sorry mom." Deep Psyche said, smiling apologetically. Quickly trying to change the subject as he went to retrieve his ball, he made a round to come back. "How was work?" he said with a smile.
"It was fine, sweetheart." She turned sideways as they made ready to walk home. Her saddlebag was filled to the brim with odds and ends for carpentry work. The powder blue mare had a screw on her flank, which glistened when the sun was on it. Deep Psyche smiled, wishing he had his cutie mark. He was what you might call a late-bloomer. No cutie mark, and not much magic yet. But he'd get there! Celestia as his witness, he'd get there someday! "Want a ride, kiddo?" said his mother playfully, nodding towards her saddlebag. Normally it was filled with scrap wood for the repair jobs she did, but at the end of the day it was always empty.
"Yeah!" Deep Psyche galloped forward, trying not to mix up his hooves and fall flat on his face. He was still growing into his big hooves, according to his mother. His Dad had big hooves too, he'd inherited them from him. Finally, he reared up and flipped the big bag open. Using her muzzle, his mother scooped him up and into it. He popped out like a baby kangaroo, squealing in excitement. The silver-maned mare smiled, nuzzling her son briefly and making sure he had his ball and his school bag with him. Closing one clip on the saddlebag to make sure that her foal was secure, she started down the street. She cantered to make him bounce a bit and he laughed, peering about.
Trottingham was a place of wooden buildings and plenty of steep hills, so it really was a lesser burden for the tiny foal to ride in his mother's saddlebag. She was a strong pony, always carrying tools and wood around to help everypony with their repair and building knees. She was his hero. He hoped that someday he could work with wood too, and continue his mother's work. His father, Deep Thoughts, was an author of several long and icky boring books. He didn't wanna write for a living, that was boring! Not that he didn't love his Daddy very much, his mother was just more interesting in her work. More warm and alive in her day to day life. His father was gentler, quieter, and a more shy pony. They made the perfect couple, and a great Mom and Dad to boot.
Well, they did.
Deep Psyche's mother didn't see the runaway cart racing down one of the steep hills of Trottingham. She was too busy studying the neighborhood roofs, wondering whom to approach for the next leaky roof project—who might need a splint here or a new shingle there. Her foal and her bag of tools weighed her down, but she was a strong mare so it hardly mattered to her. She did, however, look up when she heard it mowing down other things. Market kiosks exploded in a wide display of flying fruit as it crashed into them and kept going. Ponies screamed, throwing themselves out of the way so they didn't get run over. The cart was full of hay and farm implements, a huge and heavy load.
Deep Psyche's mother stared in horror, like a deer in headlights, as the cart bore down on her in the middle- of the street. She couldn't move, why didn't she move? Her foal whimpered in her right-side saddlebag. Her heavy iron tools clanked in her left-side saddle bag. She did what any mother would do, turning sideways at the last possible second to shield her young.
The impact rocked the foal's world as his mother cried out at the impact. Both of them were launched into the air, pinwheeling wildly as the spray of screws, nails, and tools cascaded through the air like rain. He heard the crunch of bones, and the snap of wood on the cart. One of the wheels broke, sending the whole thing turning upside down. It landed atop the powder blue mare and her son. It struck her over the head, sending a splatter of blood across the ground as the two of them were pressed hard against the cobblestone. The foal's front left leg broke and he cried out in a piercing shriek of agony. "Momma'aaahhh!" The world was spinning wildly out of control in a furious tornado of loose hay bales, farm tools, carpentry stuff and spatters of blood. When blessedly and finally the horrific scene came to a halt, the cart stopped at the bottom of the hill with the mother and foal pressed under it. "Momma…" the foal lay there limply, tears streaming from his eyes.
She lay next to him, bleeding heavily from the head. A lump was rising fast on her scalp and her temple was pouring blood. Her saddlebags were tattered, but by Celestia she'd saved his life, shielding him like that. The foal began to cry loudly, holding his broken arm as ponies rushed onto the scene from all sides.
"Get it off them!" Somepony shouted. "Hurry! Lift it from there! Use the frame, the whole thing'll budge!" Many strong earth pony hooves began to heave at the cart itself while magic grasped at all the debris. It pulled away the splinters of wood, bringing light into the dark where the foal and his mother lay. A stray dog stuck his nose under the cart, then its whole head, sniffing loudly. "One! Two! Heeeeeave!" There was a group-sized grunt of effort as many hooves started lifting the cart.
Deep Psyche's mother awoke from her stunned limpness when the dog nosed her a little. She stared at it, her eyes pointed in oddly angled directions. She looked strange! Blood pattering the cobblestone beneath her, she weakly lifted her head and looked around blearily. "Momma!" The tiny foal wept, thrusting himself into her breast and thanking whatever higher power that she was alive. "Mommaaaa-ha-ha-hahhhh!" he started weeping as loudly as a foal could, squeezing her with all his might.
"ARF!" said his mother, eyes jutting in odd directions. The dog recoiled in alarm, and the powder blue mare snarled at it. The brown foal looked up at his mother in shock. What? "ARF ARF ARF!" she said. The cart was finally rolled off of them, and the gathering of worried ponies stared. The injured mare, bleeding from the head, bore her teeth at them and struggled to her hooves. Crouching protectively over her crying puppy, she barked wildly. "ARF! ARF! ARF ARF ARF!"
=-----=-----=-----=-----=
Deep Psyche awoke to a moist pillow, as though he'd been weeping in his sleep. He wished he didn't have to remember his dreams. Wasn't there a medication out there yet that could suppress them? Sighing and trying to ignore the tremble in his heart, he turned over and swallowed quietly. On the end table was a picture of a brown stallion, brown foal, and powder blue mare. "Momma?" he asked the picture softly, still half-asleep. It didn't answer him. The white hospital gown the mare in the picture was wearing spoke volumes, though. He visited her in Ponyville General when he could, which wasn't often, but… but… The therapist laid his head down again with a quiet sigh. He'd learned the hard way that he couldn't help her, not even once he'd graduated from the academy and made his name as a practicing psychologist. His mother Screw Loose couldn't be saved, but… maybe Princess Luna could. Maybe that would ease his conscious. If he hadn't been riding in his mother's saddlebag, she could've dropped the other saddlebag and gotten out of the way. Neigh, instead she'd turned herself into a pony shield at the last second.
Princess Luna could be saved. He had to save her. He rubbed his moist eyes, turning his back on the picture with a soft and shaky sigh. He hated dreaming.
End of Intermission
---
Stallions
What Princesses Need
Part 17: Stallions
"What's the big surprise, Dr. Psyche?" said a Lunar Stallion eagerly, his eyes a-glitter with childish glee.
Deep Psyche was leading the entire herd of twenty-three Lunar Stallions, walking backward and smiling warily. Luna walked in the rear to make sure there were no stragglers (she'd become very careful since Melancholy had been captured and recovered). She eyed her therapist with a wary eye, unsure of what to make of it all. A mere week and a half after their group therapy session, he'd suddenly popped in on Lunar Stallion nap time to rouse them all. Luna had been very cross, but when he'd come bearing juice boxes and the promise of a grand surprise—even she had been rather curious.
"Will we like the surprise?" piped another stallion as they rounded a corner. Servants made way for them, and guards stepped back. Luna went over the floor plan of the palace, trying to project where they were going. At their current course, they would end up in front of the—ah yes, there it was. The Royal Ballroom.
The brown stallion smiled, a twinkle in his eye. "The surprise is the best surprise you can possibly hope for." He said, leaning and putting his hooves on the doors. The Lunar Stallions pressed together, their mouths open in anticipation. Candies?! Yugimon: the Gathering cards?! A visit from the Power Stallions?! They jittered energetically, breaking out into a rabble of slathering young excitement. Their hooves stomped eagerly.
Luna chuckled a little bit. This was something new. Deep Psyche had had such negative views of the Lunar Stallions so far, even calling them a… what had he said? 'A crutch for her own self-worth?' Pffft. She was the matron of what basically amounted to a royal orphanage! They needed her, and she was more than happy to give them a home and stimulating activity so that they grew up to be--!
Deep Psyche flung the doors open, and the dark alicorn gasped in horror.
Ponies-- hundreds of them—were there standing in pairs, looking eagerly at the doors that had just been pushed open. "Lunar Stallions!" the therapist shouted, turning with a flourish and a broad smile. His eyes flicked at Luna, but only for a moment. "I've brought for you," he gestured widely, across the room of smiling couples. "Mommies and Daddies!" Princess Luna's heart sank like a stone and her blood turned to ice. She went rigid, like a statue. The Lunar Stallions gasped as one, their pupils turning large and sparkly. Mommies and Daddies?! For them?! Wow-wwww! They dashed forward in a wild stampede of shouting and squealing, so bizarre to see because they looked like grown stallions in armor. But, everypony in the ballroom had been informed about their odd appearance. Merely taking off their helmets would reveal the true foal beneath the disguise.
"Wh… wha… how…?" Luna gaped at the truly awesome scene before them. The ballroom had been decorated with streamers, tables lined with food, toys and games strewn everywhere… it was a adoption event! "So many… how…?" The Princess couldn't bring herself to string a sentence together.
"I went digging into the backlog of Canterlot's adoption agency files." Deep Psyche stood next to her, watching the Lunar Stallions frolic out amongst the eager couples that wanted foals so badly. They disappeared into the throng of love and excited talking, going to play games or eat food or other activities. Luna looked over at her therapist, mouth agape and pupils tiny. "Turns out there's a lot of families in and around Canterlot looking to adopt. The only difficulty is being able to get through the system and afford such things. It's not easy, and orphaned foals are snapped up pretty fast."
"H… how many…?" Luna said, peering out at the vast crowd. She spotted one Lunar stallion being fussed over by a dumpy mare with a spice cake on her flank. While he fed himself she wiped his face with affection, giggling and easing his helm off. He shrank into a little foal but hardly noticed, too busy being adorable and stuffing his face while the adults fussed over him. He liked being fussed over and paid attention to.
"One hundred and fifty couples, your Majesty." Deep Psyche said slowly. "From Canterlot, Apploosia, Manehatten, and even Las Pegasus."
"How could you have possibly orchestrated all this?!" Luna demanded in disbelief, looking around at all the activities and grandeur. "The money this must've cost! The traveling and resources--!"
"--Are nothing when you want a foal badly enough." Deep Psyche said just a little bit scoldingly. "Look around, Princess." He gestured while they stayed in the doorway. "Barren mares. Infertile stallions. Families that just want to get bigger. Older couples that can't have anymore foals. Same sex couples that can't have little ones without aide like this." He smiled gently, but his smile fell when he saw the look of horror on Luna's face. "What's the matter, Princess?" he asked, though his tone said he already knew. "Don't you want them all to get adopted?" His lids rose just a little, and for a split second she thought she saw some sort of sick satisfaction in his face.
Off to one side, a Lunar Stallion who's helm had been removed was hoof-painting with a pair of mares. They were housepainters themselves. He laughed innocently. He liked all the colors and how they mixed together to make more colors! They hoof-painted with him, chatting animatedly and telling him what a handsome little thing he was. He smiled coltishly, ears turning back. He thought they smelled nice, he told them. They laughed.
"I… I…" Luna stared around, completely overwhelmed. She'd grown used to letting one Lunar Stallion go here and there, but ALL of them?! It turned her blood cold with terror. Her chest rose and fell, and for a moment he thought she was hyperventilating. "How did all this happen?" she said again, unable to move from where she stood.
Over by a window, another un-helmed Lunar Stallion was being told all about the birds in the trees in the Royal Gardens. He looked up at the stallion talking to him with awe. Was it true? Birds flew way far away to the south when it got cold? Wow! He peered through the binoculars he'd been given, out the window and to the trees outside. Birds were singing and flapping around animatedly. Neato! He loved birds, and all sorts of flying things.
"They deserve families, I think." Deep Psyche said with a kind smile, nodding and pushing a ball back to a little colt when it struck his hoof. Luna looked over at him worriedly. "And you deserve some proper guards." The glass lenses of his spectacles flashed rather ominously as he flicked his gaze over at her. His brow lowered into a serious expression. Luna gaped at him. So that's what this was all about. He was getting rid of the Lunar Stallions! Right out from under her!
"You POMPUS, UNBELIEVABLE--!" The Princess was working up to her wrathful Royal Canterlot voice, when she saw a Lunar Stallion standing before her bashfully. It was Panzer Hoof, the biggest and oldest Lunar Stallion. She looked at him, startled by his forlorn expression. "Uh?" was all Luna managed to get out.
"Princess…" he mewled a little, ears down. There was a stallion to his left (ironically smaller than him), and a mare to his right. They were all smiles, but he looked very upset. "I really want a mommy and daddy," Panzer said in a small, innocent voice. Truth be told he was eye to eye with Luna in height, but he felt much smaller. "But I don't wanna leave you behind either." he said, tears going down his cheeks. Luna's heart welled up in agony and her throat constricted. "I-is it okay for me to get a mommy and daddy?" he said softly, so she could barely hear him. His massive, muscled frame hiccuped in guilty distress. "I-I won't if you don't w-want me to…" he said, looking at the floor.
Dear Faust and all the heavens, he wanted her permission. Luna's throat pulled at her harder, and her teeth clenched as her brow knitted in distress. The dark alicorn fought down a ragged sob. She turned her head to one side, her sparkly mane flowing. "G-go with them." She said in a strained voice. "Yes, go." Dr. Psyche stayed silent the entire time, watching Luna closely.
Panzer Hoof's face exploded with joy and he gave a great cry, tackling the stallion next to him in a hug. The pony grunted when he hit the floor, pressed down by giant armored stallion. The mare moved quickly to get the helmet off, and he shrank down into a little colt. The new family embraced, and Panzer wuzzled into the mare's breast while she cooed over him. Luna felt ill, very ill. She couldn't breathe.
And so it went that way for several hours. There were only twenty-three Lunar Stallions, and a hundred and fifty eager pony couples wanting foals. Needless to say, by the end of it all there were no Lunar Stallions left, just a pile of empty armor and magic helmets.
=-----=-----=-----=-----=
Dr. Psyche had let Luna flee when it had all become too much for her. There were more than enough adoption agency staff standing by to help the adopting part of it all go smoothly. His master stroke had taken not only letters written by Celestia's hoof, but extraordinary cooperation on behalf of Canterlot's foal adoption agency, the local mailing agency, and so many. He couldn't fathom the number of ponies he'd included to make this happen. Ten days. All it had taken was ten days to rip Luna's children out from under her. He felt a little sick, but he was steady in his resolve. It had to be done. Luna had to be made well. The Lunar Stallions were a crutch, and she had no broken legs to stand on.
He walked quietly down the hallway, past to his palace apartment. He didn't dare go to find Luna, and even knew to steer clear of Celestia at this point. In her heart of hearts the solar mare knew it had to be done for Luna to heal. Surrounding herself with children to love her instead of a great mix of ponies was not only unhealthy, but would damage the foals as well. She couldn't allow her sister to poison the little ones for her own peace of mind. She'd written those royal letters with a heavy hoof, knowing Luna would be devastated. All of those eager ponies wanting foals had come rushing at her royal summons.
The brown stallion finally made it to his office, barely able to hold himself together. He'd grown to love the strange gaggle of colts in disguise over time as well, and he could only imagine what their absence would do to his patient. But, it was another bandage that needed to be ripped off. Another laceration that needed to be drained of its infection. Though she loved them dearly, they were keeping her in her own sick little fantasy. Closing the door behind him, Dr. Psyche went to his desk and flopped down with a depressed sigh. He took off his glasses, tossing them onto the desk. Pinching the bridge of his muzzle and rubbing his tired eyes, he heaved a sigh and leaned back in his chair. Crackle.
The doctor turned in his seat, feeling around behind himself. He pulled out a large piece of paper. When had this been put here? He unfolded it twice and winced. It was a picture, a crayon drawing made by Melancholy, according to the little signature at the bottom. 'We Love Docter Cycko' it said in bright red crayon. The picture showed a bunch of stick ponies, all purple, a big dark blue one and a medium-sized brown one. Himself and Luna, no doubt. Deep Psyche felt an ache behind his eyes, a warm and muddy ache. Tears? No. No, he was a professional. He couldn't. He wouldn't. He turned the picture over, face down on his desk. When had Melancholy snuck into his office…? He felt a slick, hot tear slide down his cheek and off his chin, dotting the back of the little masterpiece. "D—D—duhhh---Dammit…" he stuttered a little, as he sometimes did when he was upset. He tried to soothe himself, rubbing at his eyes.
=-----=-----=-----=-----=
Luna wept wildly into her pillows, having locked herself in her room. Gone. They were all gone. Every last one of them. Her children! Her precious Lunar Stallions! Another sob wracked her and she buried her face in the layers and layers of thick blankets and sheets.
A cool, soothing hoof reached across her back between her shoulderblades. Luna whipped about, tears and snot going down her face. "Oh Luna, there there…" Celestia whispered, having slipped into her room unnoticed. Princess Luna looked up at her solar counterpart, sniffling loudly. Wordless, she flung herself into Celestia's embrace and welcomed her enveloping wings. Anything to hide from the world. She hiccuped, her whole body convulsing with hot, sobbing agony.
"M-my foals!" Luna wept. "M-my little poniee-hee-heeee's!" She flung her arms around her sister's middle, and Celestia stroked her kindly. Hiding in the shadow of her sister's wingspan, she whimpered for hours while the older mare petted her and crooned over her. Well into the night she cried, feeling abandoned. All of her little ponies had gone away from her, leaving her all alone.
"Shhhh-sh-sh-shhh…" Celestia ran a smooth-as-feather's brush through Luna's mane, gently tending to her. After her sister had cried herself out, she'd taken to lying on her side and sniffling. Exhausted, she had no more sobs to give and had quieted. She shook like a leaf. "They all have families now, Luna." The white alicorn whispered comfortingly. "Surely you wouldn't deny them that happiness?" she whispered. Luna stubbornly refused to answer, pressing her lips hard together. "I'm…" Celestia wondered if it was the right thing to say, but then said it anyway. "I'm proud of you, Luna." She said in an intimate whisper. "Letting go is very hard, I know… I know…" her voice was a quiet wisp, a soothing balm against the hot agony of the abandoned matron.
Luna looked up at her with bloodshot eyes, working her mouth and swollen tongue a little. Celestia conjured a cup and jug of water for her. The Princess drank greedily, gasping as she almost drown herself in the long drink she'd taken. She let the cup fall into the blankets, spilling its last few drops into the bedspread. She let Celestia pet her some more, running the brush through her mane and preening her wings for a bit. Few words were spoken.
When she was too exhausted to do anything else, Luna fell asleep in Celestia's quiet embrace, head against sister's cutie mark like a pillow. She fretted quietly, her face damp from the many, many tears. They were gone, all gone. Her little Lunar Stallions. Luna hid her face under one of her wings, trying to blot out the cruel world.
End of Part 17
---
True Stallions
What Princesses Need
Part 18: True Stallions
Nightmare Moon's eyes snapped open. He was dead. He was so beyond dead. He was gelded. And then his legs would be broken. And then she would break his pompus little neck! Rising with a feral snarl from her bed, ignoring the moisture on her cheeks, the black alicorn stomped across the room. Bearing her fangs at the bedroom door and without even lighting her horn, she strode forward. As the angry goddess approached, the doors peeled horrifically off of their hinges with a moan of parting wood. The surrounding stone walls turned to tiny ground pebbles, like an unholy rain of Cocoa Puffs. Hissing into shapeless mounds around her hooves, it didn't impede her at all as she emerged into the hallway like she was walking on sand.
She turned her head left, and then right. A pair of solar guards stood in the hallway, no doubt meant to guard her and report when she awoke. She narrowed her eyes in fiery anger as they cowered. They hadn't known she could still turn into Nightmare Moon. Dripping neon green goo on the floor from her long teeth, she lowered her head as though she were about to charge them. "P-Princess Luna!" one of the two said, a rare mare of the daytime guard. "Are you okay?!" it was quite possibly the most imbecilic question she'd ever heard in her eons of life. The alicorn approached, leaving blobs of melted marble tar in her hoofsteps. She loomed over the pair of shaking military ponies, slathering acid from her mouth and death in her eyes.
"Sleep." She passed a hoof down the mare's muzzle with a slow stroking motion. The pony pitched over as though struck dead. The stallion next to her gaped in horror, but looked up just in time to get the same treatment. Nightmare Moon walked briskly past them, down the hall. Every guard she passed (for they were arranged in pairs down the hall that went to her quarters) dropped like he'd been hit with sleeping gas, and the clanks of armor echoed down the hall. She didn't have far to travel. All the royal apartments were in the same wing. She turned a corner briskly, terrifying a chambermaid mare and making her faint as well.
She was clenching her teeth so hard her cheeks were vibrating. She left a trail of melted tile as she walked, the pure hatred in her eyes searing red lines wherever she looked upon the wall. Turning down the royal guest hall—ah, there it was. A little sign had been posted next to the door, 'Doctor Deep Psyche'. Her terrible, world-ending shadow cast itself upon his door. Wherever her shadow fell, the wooden door simply melted. How one melted wood is… well, it just happened. Her rage was warping the fabrics of reality, and when a goddess like her was this wrathful yes, she could MELT wood. Nightmare Moon walked without stopping into the apartment.
She turned her head left and right. The place was small, relatively bare and humble, but she knew better. Her tormenter dwelled here and she would welcome the splatters of red she would conjure out of his body to paint the bucking walls. Deep Psyche was in the bathroom, and the shower was running. The Princess of the dark flicked her gaze to the window, it was midmorning. He was getting ready for another day of wrecking her life and probing her mind. But neigh, no more. She shoved the cracked bathroom door open with her muzzle, stepping inside. Stepping into the cloud of steam, she came to the shower curtain and THRUST it aside--!
Deep Psyche was sitting on his haunches, head tilted back at the shower spray. When he felt her shadow upon him and turned to see her, he screamed like a mare. Nightmare Moon grabbed him by the neck with both hooves, flaring her wings open to cast him into apocalyptic darkness. Her touch was like ice. "I'm going to BREAK you!" Nightmare Moon hissed, dribbles of acidy spit going down the sides of her mouth. How would one of her precious Lunar Stallions punctuate such a threat…? "Like a KitKat bar." She added darkly, narrowing her eyes into slits.
Deep Psyche, trails of his mane going down either side of his face, stared up at her in terror. "Wh…what?" he squeaked. She responded by slamming him into the shower stall's wall so hard that tiles rained around him. He froze in such agony that he couldn't cry out. She let him fall into the debris, slicing the showerhead off with a flick of magic. The increase in pressure pressed the bleeding stallion down into the floor of the tub.
"You've caused me nothing but misery, doctor. Tiz time I reciprocated!" the dark goddess grabbed him up again, bodily, slamming him into one wall then the other, then the first, then to the other again. The stallion cried out in agony as he bounced off the walls of his shower stall like a pinball in a machine. "YOU'VE STOLEN MY CHILDREN FROM ME! DIDST THOU THINK I WOULD NOT AVENGE THEM?!" She held him hard against the wall, roaring into his face in the Royal Canterlot Voice.
"Avenge them?!" He was shaking, coughing a little from all of her rough handling. He looked up, into her face, bits of tile falling out of his fur. "They got families, Luna. What's to avenge?!" she dropped him on his butt and he yelped when he fell into the shards of tile. "Aren't you glad they've been adopted?!"
"I am all alone thanks to thee!" Nightmare Moon tore the shower-curtain and bar down so he had nothing to hide behind. "All alone!" she roared.
"When?" Deep Psyche said, trying to prop himself up and failing. He lay on his side, looking up at her pathetically. He turned onto his back, hooves drawn up to protect himself if he could. As though he could.
"When what?!" she snapped angrily, looming over him and trying to decide which was the best angle to break his tiny spine. Neigh, he had no spine, perhaps she could spit upon him and let him melt into goo! Then he would go down the drain with the rest of the filth!
"When have you been alone, since the Lunar Stallions were adopted?" Deep Psyche could feel himself being pressed down by a powerful force. Nightmare Moon was going to crush him into the floor. He groaned loudly, unable to breathe very well. The more she leaned, rather, loomed, over him, the heavier it got. He could see the hot water parting, pressed away by the pure force of angry will she was projecting. "Tell me!" he shouted desperately. "Your sister was there! Right?!" he gagged, turning blue in the face and clutching at his chest and neck.
Nightmare Moon cocked her head, the force vanishing. The poor stallion gasped aloud as precious air rushed back to his lungs. He turned onto his belly, coughing animatedly. "Tia was there when I fled to my room…" the black alicorn said vaguely. "And I awoke with guards posted at my door." It was a bit of a revelation that no, she'd not been alone for a single moment since her foals had been snapped out from under her. "But THOU art not escaping so easily, doctor!" she renewed her fiery rage, glaring down at him.
"Luna stop this!" he shouted. "What do you want me to do?!" he was shrouded in her dark aura, hefted into the air so she could glare at him eye to eye. All four of his hooves flailed weakly as she looked around, trying to decide exactly how to deal with him.
"I want thou to DIE!" she roared savagely. "Ever since you arrived, I've made no progress at all! You've brought nothing but misery upon me! My stallions, gone! My beloved Twilight, alienated from me! My reputation in tatters! Everypony thinks me mad!" suddenly, she found the perfect idea. "PERHAPS IT IS TIME I EMBRACED THE MADNESS! STARTING WITH THOU!" she seized him by his withers and by the base of his tail, lifting the squirming stallion into the air. He cried out in pain, his total body weight supported by his neck and the long hair on his butt.
"There's!" he gagged, looking over at her with clenched teeth. "There's that I!" Nightmare Moon knelt forward and brought his back down upon her knee. His horn lit, just in the nick of time, projecting a flat base along his back. This kept it back from breaking, but only just barely. His concentration had been shattered on the first hit. The second would do it and kill him.
"WHAT?!" Nightmare roared, having not heard him a moment ago. "SPEAK THINE FINAL WORDS AGAIN! I DID NOT HEAR THEM AS I TRIED TO BREAK THY SPINE UPON MY KNEE!" She lowered him just a bit, madness and darkness swirling in her great draconic eyes. Slathering acid out upon the floor, she would wait but a few scant seconds.
"You haven't said 'we' since you got here." Deep Psyche gagged, hanging in the air in her grasp. "You've said I, my, mine." She stared at him, eyes narrowing in distrust. "Don't you see?! You're already healing! It's not about 'we' anymore, it's about you, Princess Luna!"
Princess Luna dropped her therapist, having caught sight of her face in the bathroom mirror when he spoke. He fell in a dripping wet, bleeding, messy heap. "Wh… what…?" she said, looking horrified at the scene around her. "B-but I…" her anger began to evaporate. Nightmare Moon had vanished with her intense anger.
"Awwwwhhh…" Deep Psyche said painfully, turning over so he could see her. He pressed his mane out of his face, smiling as best he could despite the hurting. "You're already thinking of yourself as one pony again!" he sidled sideways, flopping over the lip of the tub and shutting the water off. He lay there limply for a time, finally working up the energy to speak as he slid to the floor. "You don't need foals disguised as soldiers to validate you, Princess. You need regular soldiers, all stallions if that's what you want." He said to her face. Luna looked down as her therapist slumped against the tub, panting. "There's ponies out there, believe it or not, that don't hate you for what you did a thousand years ago."
"They fear me, though! They turn from me and quake from my voice!" Luna accused angrily, her eyes already tearing up. "I have tried normal ponies as guards, they cannot stand me!"
"That was when you first got back, months and months ago." Deep Psyche said, nursing his shoulder. Luna leaned, igniting her horn embarrassedly. The laceration sealed itself without a mark. "They've gotten used to you again, don't you think?"
"But I-!"
"Repetition steals the power of fear, Luna." Deep Psyche slowly stood, clutching at his chest for a moment. "You've been home again for a long time now. They've grown used to you." Luna ignited her horn once more, trying to soothe his woes.
"Oh Faust I… I'm so sorry!" Luna pulled him to her breast, suddenly bursting into new tears. "I've attacked the pony trying to aide me! I am a monster! I meant to murder you!"
Deep Psyche pulled from her, limping out of the bathroom. "Come." He said, going to the alcove that used to be his door. "It's alright, everypony!" he called out into the hallway. "You can come out now!" he told them. Luna dashed to the entrance of the apartment, horrified. Oh Gods, they were going to think her a complete madpony and lock her up.
"How'd it go?" Out of the shadow of a column stepped, much to Luna's shock, a Lunar Stallion.
"Well, she beat me, destroyed my bathroom, and tried to break my spine on her knee." Deep Psyche said. Another Lunar Stallion, a unicorn that had stuck himself to the ceiling with magic, dropped before him. How had he gotten up there?!
"Wh… what…?" Luna stared with an open jaw. "Lunar Stallions?!" she rushed up to the first speaker. "Child! You have returned to me!" she crushed the pony in a hug, wuzzling him over and over.
The grey stallion flushed, harrumphing and squirming about. A pair of pegasi, armored as Lunar Stallions, melted out of shadow to point at their leader and guffaw. "E-r-rrr! You're majesty that's hardly appropriate!"
Luna thrust him away, blinking in confusion. "Child! Which… which art thou?" she leaned down, screwing up her face as she studied his. She didn't recognize him. The stallion stared up at her, leaning back and lifting a hoof in case she decided to hug him again.
"Er…" he said. He coughed a little. "My name is Lion Heart, Princess." He straightened and saluted. "Hey!" he gave a shout when Luna unceremoniously leaned and wrenched his helmet off. The spell of the helm fizzled out, and beneath it was a stallion with a teal mane and an orange coat. He didn't shrink, though. He really was a stallion. On his flank was a crescent moon with flecks for stars.
"Thou art no child of mine!" Luna gasped, dropping the helm in horror. "Away with thee!" she shooed, stepping back to make the motion with her hoof that he go away. Instantly, all four Lunar Stallions hid themselves. Lion Heart thrust his helm back onto his head, and went behind a column. The two pegasi flew into the rafters, folding their wings and vanishing into shadow. The unicorn turned invisible, and they never heard him go.
Deep Psyche smiled, looking around. "They're like ninjas, I swear to Faust." He chuckled, holding the side of his face where he had another little cut. "They're yours, of course. New Lunar Stallions."
"NEW Lunar Stallions?" Luna gaped, looking every which way. "But… but when did they-!"
"Hoof picked by your sister. The best ponies that volunteered to serve under her Majesty of the moon." Deep Psyche chuckled, gingerly feeling out one of his bruises.
Luna slowly, confusedly, sank to her belly. "How dost thou think of everything?" she mumbled, staring at him in very real awe. "I could have killed thou this morning, instead you bear my beating and give me new soldiers. Why?" her eyes were soft and she stared up at the brown stallion. He fought the very real urge to hug the vulnerable Princess, but did not.
"Well!" Deep Psyche smiled, but found that hurt so he stopped. "What sort of therapist would I be if I didn't think of everything to help you get better?" he smirked a little, winking. Luna blushed.
"But I beat you!" Luna said raggedly, looking up at him. "What if I had murdered thee?!" she demanded.
"Well! That's where the Lunar Stallions would've come in." Deep Psyche made a waving motion, and Lion Heart reappeared from shadow. "I'll need that back now." He said gingerly, smiling in a painful way. Luna gaped in open terror when the Lunar Stallion produced a dart pistol from his side.
"Thou meant to assassinate me if I had killed you?!" Luna was freaking out even more now.
"Oh no." Deep Psyche smiled. "It's a tranquilizer. We would've run crying to Princess Celestia."
"Thou canst tranquilize a goddess, doctor." Luna said, annoyed very suddenly.
"You can, and it's been done before." He dismantled the weapon in front of her, shoving the pieces back into the Lunar Stallion's saddlebags. "How do you think Princess Celestia got her tonsils out?" Luna had no idea what that meant, and stared at him. Apparently, Tia had been drugged into unconsciousness at one point… wow.
"This is… this is too much!" Luna said, weary in her heart and head now. She sank to all four knees, then onto her belly.
"I knew you would come for me, Princess, I'm not stupid." Deep Psyche said kindly. "I knew you would be after me with all the fury you could muster. But, I didn't think you would kill me. If you were about to, I would've screamed like a mare a second time to send them running." He gestured at Lion Heart, who smiled warily at Luna.
"And they would have toppled a goddess to save thou?" Luna said a little reproachfully.
"Well, at least slowed you down a bit. I don't like getting my spine broken like a KitKat bar." He winked at her playfully. Luna blushed, truly humbled. She hung her head a little. "Luna." He said, kneeling down before her. He was still sopping wet and bleeding in places. "I knew it would happen. I expected it and I prepared. You're my patient, and I know you well." He soothed, reaching and pushing her mane out of her eyes.
She looked at him with weariness in her eyes. "Thou must think me terrible."
"I think thee ill." He mimicked her old dialect, trying to raise her spirits with humor. She looked up at him with soft eyes. "But there's no shame in that, Princess…" he leaned down, nodding when he saw the other three Lunar Stallions emerging from their hiding places again. The two pegasi glided down and the unicorn uncloaked, standing in a loose ring around the therapist and patient. "Your mind is sick, and going to a doctor is perfectly normal and acceptable—just like if any other part of you was sick." He gestured to her hoof and shoulder as examples. "There's no shame in it, and I want you to stop being ashamed TODAY, alright?" Luna looked up at him slowly, doubtful. "You know, you were right. I've done some bad things to you. But only because I knew it would help you get better." He gestured to the four soldiers around them, staring anxiously at their Princess.
"But they are not-!" Luna tried.
"Yes, they are." Deep Psyche insisted. "They ARE yours, and if you'll stop beating yourself up and saying nopony loves you—they'll love you." The sentence was profound, and Luna recoiled just a little. He grabbed her shoulder, though, before she could flee. "Stop. Running." He whispered, holding her eyes firmly with his own.
Slowly, Luna looked up and around her. Four Lunar Stallions, all of them actual stallions, not foals. They wanted to serve under her? Her therapist had said they were all volunteers, not just hoof-selected, but hoof-selected volunteers. That meant there were more than just the four of them, wanting to serve her. There was a long, drawn out silence. "H… hullo." She said in a meek way, hunching a little. She wasn't sure what to expect from them. The four Lunar Stallions smiled, lining up shoulder to shoulder and saluting.
Deep Psyche smiled at the four of them. "I love that first person singular she's got going on, don't you?" he chuckled, pushing his sopping wet mane out of his eyes again. The four armored ponies agreed. Luna smiled wearily, slowly rising to her hooves. "Now if you'll excuse me, I was showering." He turned and limped back into his apartment. "Cancel our appointment for tomorrow, Princess." He called over his shoulder. He pressed his door closed, but it was so bent inward it didn't matter. "I've got to rest a little." he vanished into his bathroom, quietly shutting the door.
Luna looked over, uncomfortable, at the quartet of armored stallions. "Er." She said, looking at her hooves and scuffing the ground a bit. "I am… hungry." She said in a small voice. "May we to breakfast?" she asked their permission, rather than commanding them.
"Of course, Princess!" One of the two pegasi nodded. With two walking ahead of the Princess and two behind, they escorted her to the dining hall. Luna looked at them, even turning her head about so see behind her. For the first time in a very, very long time, she dared to hope. This just might work out. Her therapist must've had firm virility indeed if he would face down an angry goddess AND reinstate a lost military force, all before breakfast. Luna wondered what made the wise stallion tick.
End of Part 18
---
Games
What Princesses Need
Part 19: Games
Deep Psyche had not seen Princess Luna in several days, but it was time for their appointment once more. He had it all planned out: today would be a nice relaxing chat. Let her vent a bit more at him, relieve some of the emotional pressure—simple things like that. No tests or mind games or grand revelations. He'd been doing almost as much damage as good lately, like ripping burnt flesh from a burn victim. It was painful and terrible, but for the healing to happen the dead bits had to be cut out. The brown stallion winced at the graphic pictures his mind came up with, and shook his head quickly.
Trotting down the hall with a snap in his step and his mane slicked back, he adjusted his glasses as he went. Peering down the hallway and then going into his office, he waited for the Princess to come. Tick. Tock. Tick. Tock. Tick. He looked over at the long clock on the wall, cocking his head. He adjusted the picture of his family on the corner of the desk… played with a stress ball… reorganized his desk… flopped back in his chair finally. She was late. Very late. Luna had never missed an appointment, angry or not. "Where is she?" he said aloud, scowling a little.
Rising from his high-backed chair, the therapist went to Luna's room. She was not there. He went to the hall of the Midnight Court. She was not there either. He went to the royal dining halls, and after being patted down by a guard for poisons, he found she wasn't there either. Sighing aloud in frustration, he decided to check the library. Maybe Nightmare Moon was doing more research on how to seduce Twilight Sparkle? Frowning in disapproval, he headed that way.
When he arrived in the quiet, hallowed halls of knowledge, he squinted around. Turning his head one way, then another, he spotted an elderly librarian stamping books behind the front desk. "Pardon me." He whispered, coming close. She looked up at him. "Have you seen Princess Luna? I can't find her." The librarian pointed without a word. He turned, looking towards the conference rooms. They were sectioned off from the rest of the library like study rooms, but much larger. Cantering slowly along as not to disturb anypony, he listened at one door, then another, then another. He heard murmuring behind one, and gently opened it. The scene beyond astounded him.
Luna, and her four new Lunar Stallions, were hunched scowling over a tabletop. On it was a large grid, some plastic figurines, and strewn about was more snack food than the therapist had seen in ages. "Alright Princess. Your Amazonian war-zebra approaches the castle gates. The portcullis is down and locked. What do you--?" the stallion on the far end of the table paused, looking up at the newcomer. Everypony turned as one.
"Er, Princess, it's time for your appointment." Deep Psyche said, wondering what he'd just wandered into. The four stallions scowled rather openly, giving each other looks and then glaring at him some more.
"Doctor, I am enjoying a new, more adult game with the stallions you've brought me." Luna said, sitting up a bit straighter. Her cheeks colored a bit as she pushed some of her funny-shaped dice out of sight. "I must have lost track of time."
"Isn't that a little irresponsible, these role-playing games?" the therapist had spotted the stack of thick books, marked with pictures of dragons and other nasty beasties. "We agreed to meet every few days or so…" he trailed off as one of the four stallions pulled up a chair, making space for the doctor. "Oh, no, that's okay, I'm just here to fetch the Princess." He shook his head no. "We've got a lot of ground to cover still and--!" the four of them combined angry stares, and the Princess smiled behind her hoof. Deep Psyche blinked a little. Clearly, some bonding had taken place in the past few days that he had not foreseen. He was so sure she would reject the new Lunar Stallions for a long time, but already they were stepping up to shield her from him. He weighed his options carefully. She didn't look like she wanted to budge… and he had only hoped for pleasant conversation during today's session. "W-well, I guess it couldn't hurt to sit and observe." He slowly slid into the chair and scratched the back of his head. Deep looked to his left and right, the armored stallions next to him returning their gaze to the little grid in front of them.
"Where were we…?" mumbled the stallion at the end of the table. "Ah, right. You approach the castle, and the portcullis is closed and locked. What do you do?" he looked over at Luna, who scratched her chin a little.
"Hrm." She nudged her little plastic zebra figurine forward a bit. "I look for traps." She took a funny-sided die and rolled. "Huzzah! A high number!" she pointed. There was grinning and nodding around the table.
"Not bad! You find a needle trap hidden between the raising chains. Good thing you spotted it, it might be poisoned!" said the stallion on the end of the table. Deep Psyche flicked his eyes at the table. Five ponies, four figurines. He must've been some sort of story-teller or narrator.
"Can I play?" Deep Psyche suddenly heard himself asking. They all turned to look at him. He wilted a little. If he could enter this roleplay, perhaps he could examine Luna that way.
"No." said one of the stallions flatly. "Full game. Four players only." There was nodding about the table. Ponies and Castles was serious business, yo. One simply did not jump into a game in the middle of the story. The brown stallion wilted a bit. He was glad that Luna was bonding with her new stallions, even if it was over a board game, but he really did have an appointment to keep. Scratching at his mane a bit, he pulled out his notebook and decided it might be best to just sit and observe.
He initially noted that Luna had had foals as guards, and they no doubt played board games with her… but now she had grown stallions that did the same thing? Well, everypony had a hobby, some of this stuff looked pretty serious. Leaning when nopony was looking, the therapist cracked open a book labeled 'Bestiary'. It was filled with pictures of terrible monsters, complete with descriptions, numbers and how they related to the funny dice in the game. It was so complicated! He closed it and put it carefully back, returning his attention to the Princess when she spoke.
While her therapist watched, Princess Luna and her pretend band of heroes led the charge into a haunted castle to do battle with pony skeletons and ghosts all while searching for a sacred artifact. A pretty stock story, to be perfectly honest, but Luna seemed to be greatly enjoying herself. Deep Psyche found himself nibbling on the junk food around him as the hours spun on. Before long the group had slain the necrophidius (a giant bone snake monster) and recovered the artifact—going home in triumph. The brown stallion took lots of notes, watching Luna's expressions and body language. She really seemed to be bonding with these adult stallions, and they seemed to like her and naturally follow her as well. Sure, it was just a board game, but the premise was the same. They followed her, and they supported each other on the board. If real life was anywhere near such positive results, this was a big step forward for the Princess!
Flipping his notebook closed while the group was cleaning up, Luna sighed and finally turned to her therapist. "I did not expect thou to be so patient with my indulgences." She admitted, cocking her head. "However," she looked over at the clock. "Four hours is a respectable time to sit and wait." Luna admitted, and he smiled wryly. "I am still sore with thee, make no mistake." She lifted a hoof before he spoke. "But thou has earned my time, clearly." One of the Lunar Stallions snickered a bit, but no more than that.
"Er well, I was wondering if you would look at something for me? After that, I'll leave you be, I promise." Deep Psyche smiled honestly, so Luna gave a single nod. Turning, he flipped open his saddle bag to get out his binder. Finding the page he wanted it, he unclipped the three rings and put it out on the table in front of her.
The Lunar Stallions crowded around her, wanting to see too. Deep Psyche smiled inwardly. Three days, just three days and they were treating her like a friend. A good shove was all it had taken. "Oooh, it looks like a-!" The therapist shushed the unicorn about to speak.
"What do you think is going on in this picture, Princess? Tell me the story." Deep Psyche smiled his most charming smile. Psychologists called it the 'explosion picture'. It was a trio of badly drawn ponies with no facial expressions. There were two big ones and one little one in the middle, a foal. All around them were what appeared to be giant mushrooms… mushroom clouds… explosions? It was hard to tell. It was drawn badly on purpose, the therapist knew. It was up to Luna to interpret the details that weren't there.
"Er." Luna said, pulling it close to herself and poring over it a bit. She worked her mouth a bit, and Deep Psyche leaned back a bit to give her some space. "Tiz a family." She pointed. "A mother, father, and foal." She told him what she saw. "They are walking through… explosions, together?" it came out like a question, for she was very confused with the imagery. "What is it supposed to be, doctor? It does not look finished." She pushed it back to him, frowning a little.
Deep Psyche smiled grandly, snatching up the picture and stuffing it back in his binder, back in the saddlebag. "That, Princess, was the explosion test." He told her, grinning. "It's supposed to tell me if you're a depressed pony or not."
"Am I?" said Luna in a small voice, ears turning down and eyes softening. The Lunar Stallions cocked their heads, unsure of what to make of a test that lasted all of six seconds. They decided to scowl at the therapist some more.
"Not at all." He smiled, closing his saddlebag. "Good news, huhm?" the stallion congratulated her.
"How dost thou know?" Luna stared at him. "How does it work?"
"Nice therapists don't reveal their secrets, Princess. Otherwise, how would we ever survive?" he shook his head with a playful wink. Truth be told, the explosion picture was very simple. A depressed pony would describe it as a family's last walk together, some depressing comments about illness or apocalypse or hopelessness. Normal ponies would display confusion, prod towards unity and the family unit sort of descriptions. In fact, if one looked closely enough, one might see that the ponies weren't actually touching—just standing close to each other. The grouping could mean anything. But no, Princess Luna had used the word 'family'. The word 'together'. Excellent, powerful words that sent up excellent red flags that Luna was well on her way to thinking more positively.
"Thou art as enigmatic as thou art mad, doctor." Luna quipped, sniffing a little.
"Who else but a madpony, to rob a goddess?" He reminded her a little painfully. Referring to the Lunar Stallion foals, of course.
"We shalt be sore with thee for a long time." She promised gravely. "But… thou were correct," Luna admitted. "They deserved families, not just ourselves. I was being selfish." She said it so openly that he smiled.
"I know." Deep Psyche said gently. "But, seeing you here with these grown-up ponies?" he gestured to the small gathering of Lunar Stallions. "Even doing something simple like a tabletop game… it's a healthy sign, Princess." He clipped his saddlebag shut and pretended to fiddle with the clasp so Luna could live out her blush in less embarrassment. "Being social with adult ponies is definitely a good sign. I'm proud of you."
"Am I closer to mine sanity?" the Princess blurted eagerly.
Deep Psyche fought down the wince that welled up inside him. "W-well… closer than we were before." He admitted. He looked at the four armored stallions in the room with them. "Take good care of the Princess." He scolded playfully. They nodded in all seriousness, and one of them actually saluted him as he made for the door.
"That's it?" Luna found herself saying, staring after him. "No tricks? No oddball yelling? No yanking me about?"
"Not today, no." said the doctor smartly, turning and grinning at Luna. "Enjoy today. You've been declared medically NOT depressed, and you seem to have four new friends to socialize with. That's a big step forward!" he smiled encouragingly. Luna blushed just a little, nodding a few times. The four Lunar Stallions thrust their chests out, egos inflated. They'd been briefed on Luna's… condition, but it was nice to get some recognition.
Luna stood there, a shy smile on her face. She watched the doctor go, then looked at her four soldiers gleefully. They smiled back at her. "Come, we make for the dining hall!" she snapped to attention, and started forward. She had so much to tell Tia! Even her four guards could see the bounce in her joyful steps.
=-----=-----=-----=-----=
"Doctor Psyche?" a feminine voice floated over the therapist's head, and he turned. Twilight Sparkle stood in an alcove by a statue of Princess Celestia. "Oh it is you." She smiled when she confirmed.
"Oh, Twilight Sparkle. Hello there!" he smiled, stopping in his canter. "How have you been?"
"Better." She said a little shyly, nodding a bit. "I went to nurse Red Heart in Ponyville to see about my… marks, and they're gone now." She smiled embarrassedly.
"Oh? That's good." Being a red-blooded stallion he couldn't help but flick his eyes down for just a moment. Remembering himself, he brought his smile back. "I'm glad that could be taken care of so easily, it wouldn't have been good if it scarred."
"Yeah." Twilight nodded. "How's Princess Luna doing? Any better?"
"She's improving, yes." Dr. Psyche said. "The Lunar Stallions that you knew have all been adopted. She has real guards now." He smiled just a little playfully. "I don't think you'll need to worry about being kidnapped anymore." Twilight smiled, her brow knitting for a moment. "Sorry." He quickly amended. "I know that must've been very scary for you. I shouldn't make light of it."
"It's alright. It's been a few weeks now, I think I'm over the kidnapping part by now." Twilight smiled a little.
"Oh? That's good. You're a strong pony, Twilight, going through all that and still visiting here." Deep Psyche gestured to the massive, sweeping halls of the palace. "I imagine you're here to see the Princesses, right?" he cocked his head. "You're Princess Celestia's protégé, yes?"
"Well, yes, but I'm not here to see either of them, really." Twilight admitted. She scuffed at the ground a little, looking at the floor. Deep Psyche slowly realized what she meant. "I was wondering if maybe, y'know, you'd come to lunch with me. I've been reading a lot about Psychology lately and was thinking maybe we could compare notes."
The brown stallion froze up for a long moment. She was the victim of his only patient's assault. She was not a patient, so not technically off-limits. His good sense told him no, no it was a very bad idea. Was she flirting with him? Her tone didn't say so, but her body language sort of did. Did she think highly of him because of the group therapy session? Or perhaps because she saw him as strong enough to stand up to Luna after what had happened to her? Possibly. But, he couldn't blow her off either. Twilight Sparkle was, cruel though it sounded, instrumental in Luna's recovery. (She wasn't bad -ooking either.) "Er, w-wuhh… well…" he struggled for a moment, and Twilight could see him fighting a mental battle.
"I don't mean like a date or something!" she quickly added, though she probably should not have. "I just meant as… as scholars! I'm interested to learn what you do for a living, and how you're helping the Princess, is all. I'm not interested in you!" she suddenly looked horrified. "N-no! That's not what I meant, you seem very nice! I just, I just…" her eyes were darting around in mild panic. She was back-peddling hard, and to be honest it was kind of cute. The brown stallion smiled despite himself.
"Sure. Let's do lunch." Doctor Psyche interrupted before the poor mare had a panic attack. "There's a nice little sandwich place on Sore Saddle street. I go there often." He cleared his throat and straightened his bowtie. "Obviously I can't talk about Luna a lot, you know, doctor-patient confidentiality, but I don't mind discussing my work in general if you like."
"Sure! That sounds good." Twilight said wearily, glad she was off the hook in her earlier ramblings. The two of them ventured out of the palace and out into Canterlot. After a few minutes of walking and animated chatting, they arrived at the eatery called the Pig and Whistle. Sitting at one of the outside tables, they placed their orders and finally they could talk some more. "So, why did you take up psychology, doctor?" Twilight said with interest.
"My mother was in an accident when I was small." He told her the truth without hesitation. "I wanted to cure her mental illness."
"Oh wow." Twilight said. "Did you? Is she okay now?" She smiled broadly.
"No." said Deep a little uncomfortably. "She lives at Ponyville General." He was grateful when their sodas arrived so he could take a long drink. "Besides, when you get a license like mine, it's not advisable to work with your friends or family members. You're too close to your own work."
"Like Shining was with me?" Twilight said a little painfully.
"Er, yes." Deep said, looking to one side. "Just like that." He scratched his mane a little, not sure exactly where this conversation going. "You said you wanted to talk about my job, yes?" he pressed forward a bit, trying to get things back on track before it became too personal.
"Yeah!" Twilight fished her messy notebook out of her saddlebag, flipping some of the pages open. "I figured that since Luna is the creative sort, you've been giving her art therapy, is that right? She paints the night sky like a canvas every night!"
Deep Psyche winced. She'd hit it right on the head. "I'm not at liberty so say, Twilight." He said as gently as he could. "What happens between a patient and a therapist is secret, by law." He lifted a warning hoof, but not in a threatening way. "If you're here to pick at me about Princess Luna, I don't think we should be having lunch together."
Twilight, however, wasn't looking at him, but rather pawing through her notes. "Hmm, so you got into Psychology to help your mother—but couldn't because you're not allowed to examine family or close friends…" she said thoughtfully, turning another page. "That must've been super frustrating!" she said sympathetically, looking at him and putting her notebook down.
"Yeah." Deep Psyche nodded carefully, not sure what to make of her now.
"So maybe you figured if you helped heal Luna, it could make up for your Mom?" Twilight asked with all the tact of a baton to the head. How BLUNT was she? Deep Psyche slowly stood. Was she… was she cross-examining him?! He scowled angrily and made to leave. "No wait, please!" Twilight apologized. "I'm sorry, I didn't mean any harm."
"We all have issues, Twilight Sparkle. It's what makes my job possible." He said, frowning at her. "I'm sure you have a few mommy issues as well, being Princess Celestia's protégé." He said just a little bit savagely.
Twilight Sparkle's brow went up at his comment. Touche. "I… I…" she leaned back, lifting a hoof. There was a silence between them. Doctor stared at Scholar. One offended, the other startled.
"Sorry." The doctor quickly cast his eyes to one side, ears turning back. "That was mean. Can we start over, talk about something else maybe?" he asked, pushing her notebook back across the table at her. He sulked on the inside, surprised at how easily the brilliant mare had read him. With so little information, too. She had the makings of a good psychiatrist as well.
"Yes… yes." Twilight slowly nodded, and he sat down again. They frowned at each other for a time. "Uh… uhm…" the purple mare turned back to her notebook. "How long did you go to school for your license?" she launched into a series of mundane questions, and they chatted together until their food arrived so they could eat in silence. Deep Psyche found her intelligent, worried, and charming. Like most mares of higher than average intelligence, Twilight Sparkle had a few self-esteem issues, but seemed otherwise healthy. He then kicked himself for examining her in his mind like she was a patient.
"Twilight, can I ask you something important?" He set down his sandwich after a time, taking a deep drink from his glass. Twilight looked up at him, nodding while she chewed. "What's the question burning in your mind right now?"
"Huh?" the purple mare asked, a little caught off guard.
"You took me out to lunch, we've talked about my career and you've obviously done a lot of research just for this conversation." Deep Psyche smiled kindly when her cheeks colored. He leaned forward a little, steepling his hooves under his chin. "What're you really here to learn?"
"What? Nothing! It's just a friendly chat!" said Twilight defensively, leaning back in her chair and away from him.
"I know how ponies think, Twilight." Deep Psyche pushed his little glasses up his nose. "Don't make me cross-examine it out of you." He threatened her with his own skill set. "I can keep calling for more sandwiches until you talk, or until I get sick." He smirked.
Twilight stared at him, more than a little caught off guard. Finally she sighed and set her sandwich down. "I wanted to know," she paused, trying to word it. "If you can cure Luna." She finally got the words out. "You've been seeing her for weeks now, do you think you can make her… normal?"
"Normal? What's that?" Deep Psyche chuckled.
"You know what I mean!" Twilight said angrily.
"If by normal you mean can I end her DID?" he used a term he knew she knew. "No, of course not." He looked down at his plate. Twilight looked crestfallen, and he lowered his voice into a more soothing tone. "Identity Disorders don't get cured Twilight, at least not as far as I've ever heard of. It's not a disease or a curse that can be fought or undone." He sighed a little. "Luna will likely be like this for the rest of her life. All I can do is fix her most obvious issues and hope for the best."
"You mean she's going to be morphing into Nightmare Moon, back and forth, forever?" Twilight said, looking genuinely sad. "That's… terrible." She looked down at her food.
Deep Psyche nodded slowly. "It's up to Luna, not me, how much progress she makes. I can have therapy sessions with her until the end of my days, she's immortal after all, and just maintain her at a normal social standard. Easily." He gestured with a hoof. "The calmer things are around her, the happier she is."
"Please tell me what you're doing?" Twilight said. "I want to help."
"If I have more group therapy, I'll certainly call you." The therapist rose, seeing that this subject was not going away. "But like I told you, privacy laws are privacy laws, Twilight."
"Wait." Twilight rose from her seat, a little red in the face.
"What?" said the brown stallion.
"I just want you to know I… uhm…" Twilight looked up at his face finally. "I think it's really brave, what you're doing. She could crush you like a bug with a flick of magic, and you're there every day making her face her issues."
"It's my job." The stallion nodded, chuckling nervously when Twilight went around the table to come closer to him. "Celestia hoof-picked me to help, so I'm helping."
"I'm glad she did. You seem very smart… if a little bit crazy." The purple mare chuckled. Then, without warning she leaned and pecked his cheek. His cheeks turned red. "For helping Luna." Twilight said quickly. "Keep doing it." She stared at the sidewalk, then turned to put bits on the table to pay for the food.
"Er." Was all the therapist could say.
"See you later, Deep Psyche!" she gathered up her things and was away. "Let me know if you need any help with anything!" She walked out of the little courtyard and down the sidewalk.
"Right!" he called, lifting a hoof. He scrubbed his cheek a little when she was out of sight. Mare germs. Yuck. He adjusted his bow tie a little. He'd have to watch out for that one. She was too smart for her own good.
End of Part 19
---
Photographs
What Princesses Need
Part 20: Photographs
It had been almost six months since Princess Luna's new Lunar Stallions had joined her. They were with her at meals, watched over her in the Midnight Court, and became close friends very quickly—under Deep Psyche's watchful eye. They were not children, after all. He monitored Luna's behavior very closely. Or rather, as closely as he could while being stealthy about it. He listened to castle staff talk about the latest happenings with the night time princess, sometimes interviewed one of the four Lunar Stallions, and even did some checking with Celestia. Things were going rather well, all in all. Nightmare Moon had not been seen in almost a full moon-turn, and that was a serious accomplishment! He thought about praising Luna for it, but bringing it up would only make her self-conscious about it so he didn't. Despite her tears and occasional cruel remarks at him about colt-napping, Luna had adjusted to being around adult guards rather swimmingly. Her therapist was thrilled, and often said so.
"Enter." Celestia said, calling across the throne room to the double doors. A brown stallion with a slicked-back mane and a bowtie entered. Coming as close as would be allowed to royalty during the court, he bowed. "Ah, Dr. Psyche. I've been expecting you." said the Solar Alicorn. Lifting a large, dainty hoof she tapped the gilded golden horseshoe several times. The ringing tone in the room perked the ears of everypony present. All eyes turned up to her majesty. "Leave us, please." She asked with a motherly smile. A few solar guards herded the states ponies and messengers out of the throne room. When at last they were alone, only a the Princess, the therapist, and Captain Grey (of the solar guard) remained. "You too, Captain." Said Celestia gently.
"Whuh?!" escaped the stallion's mouth as he whipped around to look up at his Princess. Celestia was NEVER without at least one guard, even during her private meetings. He was trusted in all confidences, being of such high rank in her Majesty's forces. "I mean erhm…" he blushed a little, for there had never been a conversation so private even he was not privy to it. "Yes, your Highness." He cantered towards the massive double-doors, tail tucked a little. Poor guy.
"Princess?" Deep Psyche looked up at Celestia, questions in his eyes.
"Forgive me, doctor, I thought it best that we speak in absolute private." Celestia rose from her throne and descended from on high until she was at the base of the dais. Her otherworldly mane rolled back and forth with a breeze that wasn't there, and he bowed again when she came close. "Please, tell me how Luna has been doing. It's been several months now, have you been making progress?" she asked.
"As much as can be expected, your majesty." said Deep Psyche, a little caught off guard. "Soothing an identity disorder isn't something that really has an end to it, as I've told you. She'll be like this for the rest of her life." He watched his Princess wilt visibly. "Not that she'll be unfit to live her life!" he quickly added. "Just, she'll need therapy and perhaps medication now and then. Psychology is an infantile science right now, there's much to learn still that we can try."
"I see…" said Celestia a little distantly, her eyes sad and old.
"Luna is much, much better than when we started." Deep Psyche put in. "She's contained Nightmare Moon for over a month without incident, and she's really taken a shine to her new guards." The brown stallion smiled up at his Princess.
"And what have you concluded about Luna?" Celestia said, "If she can't be completely cured… do you plan on staying here forever, my little pony?" the therapist was caught off guard by her question. He hadn't really thought about it, to be honest. Luna was a Princess, and thusly a VERY important patient (as well as his FIRST patient, fresh out of the academy).
"W-well… I…" Deep Psyche didn't know how to answer.
"You've been doing so, so much for my sister and I," Celestia said with a soft smile. "Since you mentioned there really is no end in sight, nor will there ever be, I've been wondering about your plans." The white alicorn sat on her haunches. "You're still young and bright-eyed, I could not ask you to devote your entire life to just one patient. It would cut down your chances at anything else."
"You're kicking me out?!" Deep Psyche blurted angrily, jumping forward in the conversation. "After all I've done?! Luna needs me!" His face suddenly colored and he looked to one side, embarrassed at himself, "Sorry..."
"Oh no no!" Celestia gave a tinkling laugh, smiling in a motherly way. "No, I'm just worried that perhaps you might need a break now and again." She folded her massive, elegant wings into a more casual posture.
"Oh, oh I see." Deep Psyche smiled in relief, blushing. "Sorry. For a moment there I thought you were pulling a therapist from his patient, that would seriously damage any progress we'd made together. Much less if you found another therapist Luna didn't trust." Celestia cocked her head, and didn't speak for a few moments. "You're not are you?" he said, looking up at her suddenly. "Tell me you're not." He said a little more loudly. "Princess!" he said, standing up and shoving his glasses up his muzzle.
"Well, Doctor, actually…" Celestia smiled, a little embarrassed. "I was wondering, since you've somewhat stabilized my sister for the moment, if you would have a look at another pony for me?"
"Stabilized is a relative term…" grumped the stallion, looking at the floor. "I'm not sure if I'm comfortable with this, Princess. If Luna learns that I'm leaving…" he let the sentence hang, wondering what possible wisdom there could be in this.
"You've set quite a few good things into motion, Deep." Celestia smiled patiently. "Perhaps you might… back off, for a bit?" she finally came out and said it. Deep Psyche stared at her, open-mouthed. Had… had she just said…? "I can't argue that you've done a lot of good, but perhaps we could let Luna rest for a bit?"
"Rest?"
"Well, think about it." The Princess said. "You've made her face a lot of issues, taken away her 'children', risked your life and limb at the knife's edge of her temper multiple times… don't you think you've done enough for now?"
"But DID isn't something--!"
"Isn't something that can be cured, I know, my little pony. You've said it many times." Celestia said. "But perhaps you might give my sister… time? Time to adjust to all the new things in her life before you pile on more in her treatments?" She looked down at him with a worried expression. "I'm just worried that your… unique, therapy may become too much for her at some point, and something bad may happen."
"You ARE sending me away!" said Deep Psyche with a gasp.
"Please, doctor." Celestia said a little less gently. Deep Psyche closed his mouth, a little intimidated. "Think of it as a vacation."
"A vacation? To where?" he said worriedly. "And what other pony were you talking about?"
"She's very old, just like me…" Celestia said, hunching a little and frowning in a tired way. "Very, very old. She just doesn't look it."
"Who do you mean?"
"She's the reason I sent Captain Grey out, I meant to discuss her with you today." Celestia heaved a tired sigh. "Just like Luna, she needs more help than even I may give. And… well, you've done so much for my sister, I was wondering if you would do the same for my daughter."
Daughter.
The weight of the word struck Deep Psyche so hard that he sat hard on his haunches. "D-dhhh-duhh---!" his stuttering started up again, and his eyes turned into little pinpricks. The Princess of the sun? Daughter?! When?! Who?! What?! He felt dizzy. Celestia's massive wing came to support one side of him, and he leaned a little. "Daughter…" he mumbled into her chest, for she'd stepped close to him.
"It's very secret, doctor. I've not told anypony about her in hundreds of years." Celestia had lowered her voice to a whisper. "Not even she knows… it would be too painful for her, I think." The sun princess' secret shame was brought to bare as she leaned to whisper in his ear. "You've done miracles with an alicorn, doctor, can you spare me one more miracle?" she whispered in earnest.
The sensuous whisper from the Princess made Deep Psyche shiver, and he looked up at her with big soft eyes. "It's not-- it's not Twilight Sparkle, is it?" he said in a hushed whisper. Sweet Faust that would open a whole new can of worms. "Surely the universe is not so cruel? That would mean Luna was being inces--"
"No." said Celestia flatly, interrupting. "Twilight Sparkle is powerful, but not my child." She looked to one side, as though disappointed in the stallion. Ruffling her feathers a little, she looked down at him from her great height. "Could you at least have a look at her, doctor?" she asked softly.
"In what way?" Deep Psyche whispered. "I told you, Psychology is a brand new science. There are no garuntees. And with me away from Luna, she might deteriorate while I'm away."
"You would visit the palace frequently." Celestia offered. "My daughter lives in the next town over. Ponyville."
"My mother lives in the hospital there." Deep Psyche acknowledged that he knew the town. He looked very, very troubled. Luna needed him, still badly needed him. But, there was another pony, Celestia's daughter no less, that needed him too? He felt overwhelmed for a few long moments. Why him? There were dozens of other psychologists out there, just as smart if not smarter than he, that could handle this. Was Luna's semi-successful not enough to prove himself to his solar Princess? He looked up at her, defiance in his eyes, as though he were making to say no.
"Please." Celestia said, her voice barely loud enough to hear. His brow rose a bit. It wasn't a command? A royal order? Just please? Reach up with one hoof, slowly and carefully, Celestia removed her royal crown. Deep Psyche jittered back a bit. He felt dirty looking at her when she had it off, as though she were more naked than anypony else was. The stallion watched her fiddle with it, and peel out some sort of paper from the inside. Hidden behind the gold, jewel-encrusted filigree was something rolled up. Gently, she used magic to unravel it. "Here, look." She bade him. "Be very careful, this picture is as old as... well, cameras." She smiled a little wryly. Deep Psyche flicked his eyes down, gently taking the ancient photograph from her. Their magic auras touched and mingled for a moment, and he shuddered. Pushing his glasses up his nose, he examined the mares in the picture.
It was a black and white picture so old time had tinted it into a classical sepia-brown tone. On one side was Princess Celestia, looking admittedly more youthful than the Princess before him—somehow less serious and serene. The Celestia in the photo looked gay, gallant and full of energy. Bouncy, even. He didn't recognize the pony pressed up against her affectionately, smiling gaily at the camera as fillies were prone to do. But no, it was a grown mare with an equally youthful face. Though he couldn't tell any colors, the shades of grey told him that mother and daughter shared the same mane… but wait.
"Your mane used to be one color." Deep Psyche said, looking up at the four-colored rainbow that was Celestia's mane right then.
Celestia smiled, her cheeks coloring. "Yes, it used to be… well…"
=-----=-----=-----=-----=
Deep Psyche got off the train in Ponyville, heaving a deep sigh to take in the fresh air—and got a mouth full of train exhaust for his trouble. He coughed and hacked, getting off the platform as fast as he could. Rubbing his sensitive muzzle, he straightened his bowtie and looked about. Well, he was here now. Now all he had to do was find the mare in question, avoid Twilight Sparkle, maybe visit his mother in the hospital, and he'd be back to Canterlot in no time at all. Luna would survive without him for a bit, but he did still have appointments with her at least twice a week to keep.
"Now then…" he took the ancient photograph out of its protective sleeve in his saddlebag. "Let's see if I can find you around here," He pushed his glasses up his nose with a winning smile. "Pinkie Pie."
TO BE CONTINUED...