---
Chapters
---
Prologue
Sometimes I thought that having the talent to spread love to other ponies was a curse on me. At first, it was the most wondrous and magical thing to find my special talent- my cutie mark- was the most beautiful and selfless act of helping ponies around me to remember and cherish the love they shared. Or to find new love when they didn't even realize it was there. It made me feel happy to share their happiness, it was a joy to know I was a part of that pure emotion and it made my heart fill with even more love to give. I think I walked around with a smile permanently glued on my face for the next week or so spreading my new spell to unsuspecting nobleponies everywhere I went. But I was just a little filly then. Not aware that one day I too would wish for some of that happiness. I too would want to experience the happiness and joy I was able to share with others so easily. Someday I'd want to fall in love too.
I was a princess. Princess Mi Amore Cadenza. A name really; a title. The real princess was my aunt, Celestia who lived in Canterlot and ruled all of Equestria in a beautiful snow white castle. Again, Princess Celestia was not my real aunt. She was not my mother or father's sister. She was related to us in a roundabout way that preceded both my parents by hundreds of years. She had been alive for over a thousand years after all. A fate I may or may not be sharing as I was the same as her in one way- an alicorn. A rare type of pony only born within the royal family with both a unicorn horn and pegasus wings and magic that could be developed into something spectacular. Along with an unpredictable lifespan that may have me outliving my family and friends and something I preferred not to think about.
Even within the royal family alicorns were rare now. I think I may have one other cousin in Germaney who shared the Sacred Bloodline as my father sometimes proudly called it. But I was the eldest for most of my life, which would abruptly change about 10 years later when the aunt I never even knew I had was released from her prison in the moon and came back to rule along with her sister Princess Celestia. But that is another story.
When I was born in the marediteranean city of Roam in the region of Istalia, there was great celebration, as there always was when an alicorn was born to continue the great but dwindling race. I was also next in line for the crown of all of Equestria if ever Princess Celestia could no longer do her duty, but I didn't think that would ever happen. I was protected as a commodity and hailed as the little princess of our small kingdom along with my parents who were duke and duchess respectively. And when I say protected, I mean I was shielded from any type of danger and therefore any freedom other ponies my age experienced. I had private tutors for my lessons, a nanny who structured every moment of my day so there was no time for me to play with other fillies or colts, and any time spent outdoors was with a royal guard or my parents during some sort of royal procession or dull garden party.
The only time I saw other ponies my age, or at least closer to my age then the royal court, was at these regal events, and even then they were just my cousins from other regions who I never had a chance to grow close to. They were all unicorn fillies and colts and they seemed to think I was stuck up or something just because I was one of the Sacred Alicorns.
Also, the so-called 'Sacred Alicorns' seemed to take longer to develop their magic then other unicorns so my cousins all could do complex spells while I was still struggling with levitating things. It didn't help my popularity with them and things just got worse when a new alicorn prince was born and I even lost that which had made me special.
So, you see I was a lonely little filly when I was young. My parents both loved me, they tried to always be there for me even with their busy schedules, and they protected me not just as a Sacred Alicorn, but as their daughter, so I cannot say I never knew love, but I never really had a friend to play and share stories with. Another filly to tell secrets and have slumber parties with, or colt to gallop and wrestle with. Maybe that is why when my talent appeared it was to spread love to others. I had too much inside me that I hadn't ever had the chance to give away.
The summer I turned thirteen my family and I visited Canterlot and my aunt Celestia. We had traveled to Canterlot a few times before and I loved seeing my aunt who was gentle and kind, but also had a sense of humor and would help me play tricks on my silly cousin Blueblood who mostly got what he deserved. She was also the only other alicorn I could talk to, and she made me feel more comfortable about the great burden I was carrying as a princess and member of the sacred race. But what made this visit special was that I was finally going to get the freedom and chance to make friends that I craved.
Princess Celestia was going to mentor me personally in the development of my alicorn magic and I was going to stay without my parents, nanny or royal advisors in the Canterlot castle. I would be alone and independent for the first time in my life and I was so happy I was bouncing around the chambers like a foal. Because Princess Celestia still had her royal duties my lessons were only going to be in the morning and I would have the afternoon free to explore Canterlot and finally find somepony to play with. Or so I had thought. No, my aunt had other plans for me.
After my first lesson (which, I might add, I think I did quite well in), she told me that one of her royal adviser's fillies needed foal sitting in the afternoon while her parents worked at the castle, and she thought I would be the perfect foal sitter with all the free time I had in the afternoon. My happy plans for fun and friendship shattered in my heart, but I gave a sheepish smile and accepted the job, because I couldn't very well refuse the wishes of the princess. Maybe if I had told her how lonely I felt and how I just wanted the chance to find a friend during my time in Canterlot she would have let me off the hook, but fate works in mysterious ways and accepting the job of taking care of that little filly would lead to not only my first real friendship, but something much more, and I knew I would never forget that summer I spent in the castle town of Canterlot where I learned true magic and where I found true love.
---
Chapter 1: Twilight
It was a particularly warm June day when I first laid eyes on the small, lavender filly that would forever change my life. I stood with my aunt on a grassy hill just outside the castle in front of a small, but still affluent looking house of polished ivory stone, a midnight blue thatched roof, with a well-kept garden of colourful flowers and vegetables.
I may have been sweating from the heat, or the nervousness of taking on the important job of watching out for one of my aunt Celestia's trusted advisor's children who had her nose buried in a complex looking book and hadn't bothered to look at me yet as she stood by her proud and important looking parents; Mrs Twilight Velvet and Mr. Night Light. They both took turns helping the princess and the rest of the royals run the night court from early evening to dawn, while one stayed home with their filly for the night. It was a fitting employment with their nocturnally inspired names and cutie marks. Even the little filly, who shared her mother's first name of Twilight, had the coat and mane colours of the evening sky.
"Cadance, I'd like you to meet my most trusted advisors, Night Light and Twilight Velvet along with their filly, Twilight Sparkle." Aunt Celestia said warmly as she introduced me to the family. Even though I was a princess myself I felt a little intimidated to be standing in front of these important unicorns and being charged with the care of their little filly, although they both bowed and smiled at me.
Little Twilight still didn't seem to realize she was in the presence of other ponies and continued to read her book until her mother poked her gently and she startled, revealing large, inquisitive, violet eyes that seemed to peer into my own, deciding whether or not to grant her trust to me.
"It's a pleasure to meet you both." I replied, offering a hoof, but forgetting their bow had sufficed. They still took my hoof so as not to leave me hanging and I smiled, gratifyingly. I looked over to the filly again and offered my happiest grin to her searching wide eyes. She just blinked.
"My name is Princess Cadance," I began, letting the shortened name be enough for now. "I'm honored to be able to foal sit for your daughter." I could feel the little filly watching me as if she could see through my embellishment of the truth, knowing I would rather be doing anything but standing on that hill and taking this responsibility on. My wide grin turned into a sheepish smile and I turned to the child. "Hello Twilight. It's nice to meet you." I said, and the filly's blank look immediately turned into a toothy grin, emitting a small squeaking sound that I would have found adorable if I didn't have the strange suspicion she was mocking me in some way.
"Hello. Let's play!" she cried, and then, picking up her book, she galloped off. Shocked, I stared after her, and then looked to her parents and my aunt who didn't seem fazed in the least and nodded me on.
"I'll be home tonight by eight. Dinner's in the fridge. Have fun." Mrs. Twilight Velvet said quickly, waving a hoof, while Night Light and my aunt gestured for me to chase after the quickly disappearing filly. I took one more look at them all, wondering if this was some kind of joke from my fun loving aunt, but finding nothing in their encouraging smiles, I took off down the hill toward the castle where the lavender blur had headed to.
This summer of independence was starting off just perfect, I thought to myself as I felt the heat beat down on my flanks from the particularly hot sun (thank you, auntie) in my struggle to catch up with the energetic young filly.
I found her sitting in a patch of grass at the bottom of the hill just in front of Canterlot castle, again reading that big heavy book. She seemed oblivious to the world when I trotted up to her, but she mumbled a greeting to me without moving her eyes from behind the tome.
"You found me. Good job." Her disinterested voice did not sound right coming from the lips of such a small little filly, and I raised an eyebrow.
"Uh, yeah." I started. "So I guess you're it now?" I thought I should scold her for running away, but didn't want to start our already precarious relationship out on a bad note, so I played along. At least, I thought I did.
"Nope." She muttered, never looking away from her book.
"No? Do you want to play something else?" I asked, confused, and wishing she would at least look at me.
"Nope."
"Do you want to go to the park?" I offered, glancing in the direction of the Canterlot Hide Park and feeling sweat on my brow that had nothing to do with the heat.
"No." her eyes moved away from the book only to roll back over in irritation.
I didn't get it. She had seemed totally nonchalant at first, then she turned into a regular excitable filly and ran away from me, and now she was back to being indifferent and only interested in her book, which looked like something I was forced to read while wishing I could have the companionship I was offering her. It was starting to irritate me, but I had more patience then that, and sighed before sitting down beside the strange little bookworm.
"Ok, so what do you want to do?"
Twilight said nothing and pointed at her book. I groaned giving her a deadpan look I was sure she didn't even see and slumped down, gazing out over the immaculately kept grass and rolling hills, perfect for picnics and galloping tag games, the sun high in the sky and too gorgeous to spend all of a ponies' time reading a boring old book. This filly had everything I never had, the freedom to run and play along with another pony (even if I was older, I was trying) and she was wasting it just studying. Didn't she do enough of that at school? Did she go to school? I suddenly realised I knew nothing about my strange little charge, but her name and her family's connection to my aunt Celestia. So I tried a different approach. Breaking the ice.
"So, you like to read, huh?" I asked, pasting my fake little smile back on my face.
"Yup." Came her curt reply.
"What do you like to read about?" She pointed to the title of her book; Star Swirl the Bearded's Astronomical, Astrological Spells and Incantations. I smirked, I'd actually studied it. One crack in the ice.
"So you're interested in magic. Me too. That's what I'm studying with Princess Celestia this summer." I explained, watching as suddenly Twilight's right ear twitched at the mention of my aunt and she finally dragged her eyes away from the book to look at me. The ice had split.
"You study with the princess?" she asked, with real interest in her once placid voice.
"Sure, I'm a princess too, so she's teaching me the magic that princesses need to know." If she liked princesses, I was going to remind her I was one too.
"You're a princess?!" Or she just didn't know.
"Uh yeah, didn't you hear Princess Celestia's introduction just now?" I asked, confused now.
"Princess Celestia was here?" the filly cried, incredulously. She really had been buried in that book.
"You silly filly, she was just here!" I giggled. "You really need to learn to put down your book sometimes."
Twilight didn't seem to appreciate that remark and blushed, grumpily looking down at the book on the ground in front of her. "I don't need a foal sitter. I just want to read." She mumbled with a pout.
"Yeah, but look at what you miss. You missed meeting two princesses today." I told her, smiling to cheer her up from her adorable little pout.
"You're still here." She muttered, impassively and I took back the adorable thought. Somepony needed to teach this filly some manners. "Sorry, but I know you don't want to be here and neither do I. So let's just pretend we played all day and Mommy will be happy."
I felt a little guilty then, wishing this child couldn't read me like one of her books. It wasn't that I didn't want to be there… I just wanted to be somewhere else. There was a difference, right?
"Did your parents hire me as a foal sitter for you to try to get you to play more?" I guessed, gently.
"Uh huh." She nodded, gloomily.
"But you don't want to play and just read."
"Uh huh."
"Why?"
Twilight's slack ears that had been hanging down perked up again as she explained her dream to me for the first and what wouldn't be the last time.
"I wanna learn all the magic I can and become powerful like mommy and daddy and big brother and Princess Celestia and go to her to school and learn lots more magic and be the most magic of magic unicorns ever!" she shouted in one breath so that she ended up panting, her large eyes shining with the happiness that came from the thought of her most cherished wish.
I grinned. "Gotcha."
She looked to me, those big shining orbs filled with more wonder and emotion then I had ever seen now that she finally was being herself.
"Tell you what." I began, picking up her book with my magic which lit up those intense eyes of hers even more. "I'll help you study magic for a while every day, if you'll take some time to play with me too."
"Really?!" she cried a smile gracing her cute little face.
"Really." I replied, genuinely happy to have found some sort of compromise with this once difficult filly.
"Oh thank you, thank you, thank you, thank you!" she whinnied jumping around me in a circle with so much excitement in her cries that it melted my heart. I hadn't just broken the ice, I'd melted it too.
"But you have to teach me something too." I said, and she stopped mid-bounce to stare at me.
"What?"
"What I want you to do, Miss Twilight, is to show me what it's like to be free."
~~~~~~~~~~
Thanks for the great response last night guys. I worked on this chapter as all your positive reviews came in so here it is. Yes this story is just Twilight and Cadance now, but Shining Armor is coming. Remember, she says both of them changed her life. Thanks for reading~!
---
Chapter 2: Playing
"How about Patty Cakes?" I asked the aloof lavender filly for what was probably the third time in as many minutes.
"No, Patty Cakes is for foals. I'm not a foal." She retorted, offended.
"Sorry, but that and Miss Mary are the only hoof clapping games I know." I said, guiltily. Some foal sitter I was. I didn't know how to teach a filly how to play any more than she did.
Our first try at playing together was going about as well as two ponies who had spent their lives in recluse could expect. Except for me that reclusiveness had been involuntary, and I was going to change that sad fate for this lonely little filly no matter what.
"Oh well~." Twilight sang wryly, and went to pick up her book that I had finally gotten her to put down on the grass as we started our first lesson in play. I yanked it away with my telekinesis and she scowled.
"Well, if we don't know one, we'll just have to make one up." I announced, not having any idea of what I was getting myself into.
"Make one up?" she asked, doubtfully.
"Sure. How hard can it be?"
Ten minutes later….
"This is boooorrriinnng~" my filly charge whined as I wracked my brain for something other than pat or patty or putt putt to say in our combined-effort-made-up-hoof-clapping song.
"Just write sunshine or something and let's do something else." She groaned, and shrugging, I wrote it down on my parchment paper. It was a start.
"Why don't we try something easier?" I sighed getting up from the grass, dusting myself off, and tucking the parchment in a saddle bag I carried. Twilight just stared at me, waiting for me to tell her what to do, it seemed. I didn't want her to just be enduring this time of playtime, though, she should be enjoying it. So I decided to turn the tables on her.
I stood stock still in front of her and didn't say a word as she peered up at me with her investigative wide eyes. She came closer and I smirked. "Uh, what are you doing?"
I raised my hoof and tapped her on the shoulder. "You're it." I said and then ran off, figuring she'd follow me. I got all of a hundred hooves before I turned around to see her still standing where I'd left her. I trudged back.
"Why aren't you chasing me?" I tried not to demand, keeping my voice level. I was more mature than her, I had more patience, I wasn't going to let her get to me.
"We already played tag." She muttered.
"No, you just ran away from me. Now it's my turn."
The filly looked from me over to her book and back, anxiously and I suffered to ask her.
"What is wrong now?"
"I don't wanna leave my book there all alone." She mumbled.
"Got it." I said and picked up the book in my magic and envisioned her little thatched roof house, then proudly watched the tome disappear in a flash of my indigo light magic. "Better?"
"Whoa, where did it go?!" Twilight gasped in amazement, her eyes growing as large as saucers.
"I sent it back to your house." I replied, smugly. I could always keep her attention with magic at least.
"You teleported it??" she cried, rearing up on her hind legs, and startling me.
"Uh… yes…?" I murmured.
"Can you please, please teach me how to teleport something? I always wanted to do that!" The little filly begged at my hooves and I frowned.
"Sorry, kiddo, I can't teach you something that advanced. You need to reach at least a magic level three to learn it." I explained, wishing she hadn't asked me that. I truly wanted to be able to teach her magic, but it took me almost a year to learn that spell, and I still couldn't teleport living things. I watched, guiltily as she got back to her hooves, her little ears hanging down in disappointment, and then suddenly, I knew. I knew what to do to make this impassive child enjoy playing with me. I just had to mix in magic with the games we played.
"Oh, I see…" the evening coloured unicorn sighed, sitting down in the grass.
"But I can still teach you other magic. Why don't you show me what you can do so far?" I offered. She perked up at that and pulled a small notebook out from her saddle bag and dropped it on the ground.
"Well… I can do this…" she leaned down in front of the notebook and gritted her teeth as she struggled to concentrate on the levitation spell I guessed she was performing. Slowly, but surely the notebook began to rise up to her and she grinned, proudly, almost letting it drop, but I caught on to it.
"Awesome." I said, and then took off with the notebook still caught in my magic. This time I heard her hoof beats right behind me.
"Hey! That's mine, give it back!" she squealed as she gained on me. I guessed I wasn't the fastest galloper.
"You have to catch me first!" I called, as I galloped along the hills, feeling the wind in my mane and the sun on my shoulders causing me to break out into a smile at the rush. It didn't last long, because suddenly I was tackled to the ground by a small purple ball. I wasn't that much bigger than her but it still surprised me to be taken down so easy.
"Give it back!" Twilight snorted as she stood over me. I had lost my concentration in the tumble and didn't even know where the notebook was anymore.
"I guess I'm it now." I gave her a sheepish smile and then rolled over, shrugging her off of me.
"Whoa, you have wings." She suddenly spoke up as I flexed said appendages in a stretch to check for any injury. I blinked and then giggled.
"You know, for a unicorn with such big inquisitive eyes you're kind of oblivious." I said, finding the notebook near me and passing it over to her.
"Don't call me things I don't know the meaning of." She grumbled.
"Sorry, it just means you take awhile to notice things. I thought you knew that already about me." I spread my wings for her.
"I thought you were a unicorn like me." She started, than raised an eyebrow. "But you're a pegasus?"
"No, I'm an alicorn."
"An alicorn? Like Princess Celestia?!" she cried. This was starting to get a little stale.
"Pretty much." I grinned, slyly. "I'm only about a century old though."
The look on Twilight's face was priceless and I burst out laughing. "I'm kidding, silly filly, I'm only thirteen."
The silly filly took a minute to process that and then continued.
"But you're still an alicorn?"
"Yes."
"But I thought Princess Celestia was the only one."
"Yeah, most ponies do. We're kinda rare, but sometimes unicorns within the royal family have an alicorn foal. That's what I am." I explained, absently, with no real pride in my tone. I still wasn't comfortable being a member of the sacred race, and no filly's admiration was going to change that.
"Can you fly?" Twilight switched the subject back, to which I was grateful.
"Yeah. My aunt taught me." I gave a little flutter of my wings.
"I've never really seen a pegasus before. Except the royal guard…" the filly looked down, shyly. I knew where she was going.
"You wanna go for a ride?" I spread my wings out for her and she jumped on my back so quickly that I fell over.
"I'm sorry, are you OK?" she cried, worriedly, the first time I'd seen her show some sort of empathy for another pony. It made me believe I might just be getting through to her.
"I'm fine. Now hold on tight." Making sure she had a good grip on my mane I took off into the sky and was rewarded with a truly happy squeal from my passenger.
"We're flying, we're really flying!" Twilight cried into the wind and I laughed. Maybe being an alicorn wasn't so bad anymore. At least I seemed to have found a way to entertain my difficult charge. For now.
But as we flew over the green hills and nearer to the towers of the castle, and I felt her clutch my tied back mane tighter in her tiny hooves, I realized my initial aversion to being a foal sitter to this strange and inscrutable child was starting to lift. I really did want to pull her out of her shell. I felt bad for her to be such a recluse, and it ticked me off she was doing it to herself while I had suffered through it at the behest of my parents. I had found a common goal with working with her and I wasn't going to give up, no matter how much she fought me. One day I'd show this little filly exactly what she was missing. And that which I had missed all along.
~~~~~~~~~~~~
That night, just before Twilight's mother came home I sat with the lavender unicorn as she slept somewhat fitfully. It would be an early night for her, for the rest of my time as her sitter I would never get her to bed that early. But after chasing me around, exerting her magic, and flying through the air with me she had been sleepy even before dinner time. She had thanked me for the ride, but I still couldn't say whether or not she felt any affection toward me. She really was a strange little filly, troubled by something other than her own unwillingness to open up, I could see it as she tossed and turned in her sleep. How she seemed to long for something, something she no longer had. Being able to sense her emotions this way was a part of my special talent. Before I could give love I had to know that it was missing.
"Cadance's mane tastes like cotton candy…" I was pulled back from my thoughts by the young filly's sudden mumbling in her sleep as she sucked on her hoof, and smiled to hear my name mentioned in a somewhat positive light, (she hadn't been the first to make the comparison.)
"…I miss you, BBBFF…" she sighed, and then turned over away from me. I frowned, unsure of what she meant by her strange words, but sensed her loneliness from them. Sighing myself, I brushed my hoof through her mane to calm her.
"It's alright. I'm still here." I whispered.
~~~~~~~~~~
The next day as I greeted Twilight's family and her again she acted just as indifferent and aloof as our first encounter, and I felt my heart break at losing the trust I had worked so hard to show her. Until her parents left and she came up to me shyly, with her notepad in her mouth, and gave it to me. Then she sat on her haunches without a word waiting for me to read it.
"Sunshine, Sunshine
Ladybugs awake
Clap your hooves and do a little shake." I read aloud, and she smiled up at me.
"I wrote out the rest of the song." She said, just as calm and cool as she always was, but I knew for sure this time, that I had reached her.
~~~~~~~~~~~
Shining Armor is coming soon. This was more of a continuation to the last chapter. I couldn't get in all I wanted to say before. I wanted to show how difficult Twilight originally was to work with, which makes a break through all the more rewarding. I work with children for a living, hence the similar theme in both my stories. Thanks!
---
Chapter 3: Shining Armor
"Sunshine, Sunshine," We jumped up and down, stamping our hooves.
"Ladybugs awake." We crouched down and covered our eyes.
"Clap your hooves…." Clap, clap… "and do a little shake!" I turned around and shook my tail bumping into Twilight and causing her to topple over. She burst out laughing, and so did I.
"Why'd you shake your butt?" she asked in-between giggles. We had worked out all of the actions to our hoof-clap song except the last one which I improvised on.
"Duh! Cuz its fun!" I laughed.
"You're so weird!" my studious little filly charge accused me and I rolled my eyes.
It had been four days since I started foal sitting for my aunt Celestia's royal advisors' filly, Twilight Sparkle, a somewhat strange but endearing child who was more interested in reading books than playing around with other ponies. She wanted to become adept in magic so I spent some of our time together showing her simple magic spells along with encouraging her to come out of her shell and have fun once in awhile.
I taught her how to concentrate her magic to make it possible to move around her little notebook which she could only pick up before. I showed her how to manipulate smaller and more intricate things like the stem of a daffodil without breaking the flower off, and even how to make a small spark with her horn. She caught on quickly and I was impressed, but what she still had trouble with was being a regular little kid. She said she didn't need other fillies or colts to play with, she just wanted to read her books. I understood that, and sometimes as we sat along the hills by her house I let her read while I watched out for her. I wasn't going to totally deny her what she loved. But I still wondered if she had ever had a friend.
That day I decided to take Twilight around the town with me for something different to do instead of playing out in the field. We still hadn't moved up to playing in a playground yet so I wasn't sure what she was like around other ponies, but she never wanted to go, and I figured I shouldn't push her too hard. Still, she seemed interested in this trip into town, and eagerly followed me as we walked through the cobblestone streets of Canterlot.
I loved it there. Most ponies didn't know who I was unless I was with some sort of entourage of royal guards and my aunt Celestia, so I could wonder around without worrying about being mobbed or worst of all having a bunch of ponies bowing to me. That just made me feel really uncomfortable, and I definitely didn't want to get Twilight caught up in something like that.
We headed toward a whimsically decorated sweet shop with a roof made to look like a cup of pudding, apparently based on the historical earth pony clan chancellor who helped unite Equestria. I had been there before on my rare time on my own since coming to Canterlot and I loved it. They had the most delicious pudding as their specialty, and could draw pictures in the foam of cappuccinos, along with walls and walls of candy that quickly captivated little Twilight's attention.
The sweet shop was owned by a pleasant middle-aged unicorn couple incidentally called the Puddings, who were always friendly and offered samples of their sweets readily. It was a warm and inviting place filled with the delicious smells of baking bread and sweet hot chocolate, but today the Puddings seemed to be having some sort of disagreement. They were arguing about whether or not to sell the recipe for their specialty pudding to a mass production company to make more bits. Mr. Pudding was for and Mrs. Pudding was vehemently against this idea, saying it was their shop's special pudding and they couldn't just release it to everypony because it would ruin the distinctiveness of their signature dish. Mr. Pudding was worried about competing with other larger sweet shops and cafes, and was trying to create security for the couple in their older age.
Hearing their raised voices as I entered the store with Twilight seemed to destroy the atmosphere of the place and I felt bad. Really bad. I had a hard time with angry or sorrowful emotions. It had always plagued me since I was a little foal. It wasn't until I realized my talent for spreading positive emotions like joy and love also meant I was sensitive to the ponies' emotions around me and being around negative ones made me feel sick. It made me feel slightly nauseous, dizzy and faint, and that was not pleasant inside a pastry shop with the sickly sweet smells of baked goods and candies all around me. I glanced over to Twilight who was drooling over a cupcake and grimaced as I swayed on my hooves. This wasn't good. I had promised her I would buy her something from the shop, but if I didn't get out of there soon she was going to have a sleeping foal sitter.
Suffering these effects in excess was how I would decide to use my gift to help bring love back into a pony's heart. I didn't just do it for a simple bickering, or to two ponies with no compatibility, or no desire to work out their differences. Otherwise I would probably be drained all the time. There had to be some sort of meaning to casting my spell and seeing this lovely couple fighting over that which made their store special to me and each other was a perfect candidate.
"Hey, Twilight, come over here for a minute." I called to her, swallowing a wave of nausea, but trying not to let her know I was ill.
"Whoa, what's wrong? You don't look so good." She caught on right away of course, never mind she was the most oblivious filly ever. I just put a hoof to my lips and waved her over.
"I want to show you something." I turned toward the shopkeepers who still hadn't let up with their disagreement, and the filly followed my gaze.
I closed my eyes and opened myself up to the negative emotions, letting them freely flow into me, causing pain and sickness for a bit, but I had to do this to be able to create positive emotions to replace them. The next part of the spell I didn't like to let anypony know about, but I would briefly be shown one special memory from the ponies I was working with and I would coax that memory to grow to help them remember the love they shared and repair the damage in their hearts.
For the Puddings I was shown a young Mrs. Pudding sitting at a table in a candle-lit kitchen, a clear plate in front of her and a warm and content smile on her face. Then Mr. Pudding entered carrying two bowls of the familiar caramel coloured special pudding in his magic and set them down in front of the mare.
"For you, my love. A special dessert created just for a very special mare." Mr. Pudding grinned with love in his eyes, and took a place across the table from his sweetheart. Returning the loving smile the young Mrs. Pudding lifted a spoonful of the dish to her lips and tasted it, immediately eliciting a delighted sound of approval.
"Mmmm, it's delicious!" She exclaimed, causing the stallion to blush. "What did you do to make it crispy and golden on top?"
"That is burnt caramel. I sort of created it unexpectedly. An accident with a torch light spell." Mr. Pudding replied, sheepishly.
"It's the best pudding I've ever had." Mrs. Pudding said, nuzzling him.
"That's because I filled it with my love for you, my dear Crème Brûlée."
That was where the memory ended, and satisfied, I gently coaxed the recollection and the emotions it represented over to the feuding couple in a discreet show of a small heart that split into two and circled both unicorns before joining together in front of them and completing the spell.
Immediately I was free from the ill feelings the negative emotions had brought on me, and I watched proudly as my magic did its work.
Both ponies stopped arguing and blinked, staring into each other's eyes. Mrs. Pudding was the first to speak.
"Oh my, I forgot…"
"That pudding, I created it for you…" Mr. Pudding continued, lost in his wife's eyes.
"Yes….it was a representation of our love. And the name…"
"I named it for you, my love." Mr. Pudding finished and the two nuzzled, tenderly. "I don't know how I ever could have thought of selling it."
I smiled, glad to see them no longer fighting and pleased with my results. Sometimes I hated that spell, like I said, but this time I was grateful to have it. One day when I got older I would be able to better tolerate the unpleasant physical effects and hone my skill into something truly blessed. For now, I just enjoyed seeing two ponies find love.
I glanced over to Twilight and giggled to see her staring at the now happy couple with her eyes and mouth wide open. She noticed me laughing and turned to me.
"What did you- what…huh?" she stammered, but I just smirked, unwilling to explain it in front of the Puddings.
"Hello Mr. and Mrs. Pudding, how are you today?" I greeted the unicorn bakers, keeping my involvement in their renewed happiness to myself. It was better that way.
"Why hello, Cadance, it's nice to see you again. Will you be having some crème brûlé today?" Mr. Pudding asked, smiling at me, but glancing to his wife as he mentioned their special dish. Mr. Pudding had a cream coloured coat, and white mane and tail, looking like the vanilla flavour of his namesake, while Mrs. Pudding was a caramel-cream dapple colour, with a light brown mane with darker 'burnt' highlights.
"No, thank you, I think I'll just be buying something for the little unicorn I'm foalsitting for today." Looking over to Twilight again I saw a wrapped up bar of chocolate on the floor near her hoofs which I assumed she had dropped when she was surprised by my little trick. "Is that what you wanted, Twilight?" I asked.
"Wha- Ba- Huh?" was all she could say, and I suppressed another giggle before picking up the chocolate in my magic and giving it to Mr. Pudding to check out.
After paying and saying goodbye, I hustled the paralyzed filly out of the store where we sat at the sweet shop café tables and I explained to her what had happened.
"It's my special talent, Twilight. I can help two ponies find love, or in this case, repair the love already in their hearts."
"That's so cool! I've never met a unicorn who could do that, I didn't think a unicorn could do that! You're amazing!" the lavender filly squealed and I blushed, enjoying the usually aloof child's praise.
"Can you show me how you did that, huh, huh, huh?" she asked, eagerly, hopping up and down at the table.
"No, honey, I don't really know how I do it. It's just something I can do." I explained, vaguely.
I really didn't know how I did it. One day I had just become so overwhelmed by the negative emotions of feuding members of the royal court that instead of running away like I usually did to counteract the physical effects, I felt my horn react and suddenly I was thrown off my hoofs by the agony of having all their anger and conflicting emotions flow into me. Seeing me incapacitated the nobleponies stopped fighting and came to see if I was OK, and I was able to relax again. As I struggled to catch my breath I saw their most pleasant memory together and I guided it to them, not knowing what else to do with it. I was amazed to see their eyes suddenly light up and they all apologized and hugged. I knew instinctively that it had been my magic that had done that.
After that, I was ecstatic to see the appearance of the teal coloured heart shaped gem within gold lace on my flank, but nopony knew what had happened to me or to the royal court ponies until my mother wrote to Princess Celestia who suggested that my special talent was helping ponies find love, something she had seen a similar version of in ancient times, and I was very proud. But I didn't know how I did it, or why I did it, or why I had to be so sensitive to ponies' emotions. It was the mystery of powerful magic, my aunt said, and something I would need to learn to control so it didn't continue to overwhelm me.
"Aww…" Twilight whined and I rolled my eyes, passing her the chocolate bar which lit up her face again, and she bit into it happily. "You're still the coolest unicorn ever to be able to do that though. Maybe you could do it to my parents when they fight." She spoke again, between mouthfuls and I frowned, not thinking her gentle parents to be the type to argue much.
"I'm sorry, do your parents fight a lot?" I asked, sympathetically, but not picking up on any strong emotions from her.
"Sometimes. Well...only when they're worried about me or my big brother. He does lots of scary things, so they worry about him a lot." she murmured, her eyes shifting down as she spoke about her older brother. She had said she missed him the other night, I wondered where he was.
"What does he do that is so scary?"
"He's in training to be a member of the royal guard and protect Princess Celestia." She paused, and then grinned. "You're a princess! He could protect you too!" she cried, happily, but I grimaced. I didn't need any more ponies protecting me. "Which reminds me, if you're a princess, how come no pony seems to know who you are?"
"Because I don't want them too." I replied, simply.
"What? Why not? It must be awesome to be a princess!" she protested, standing up on her haunches and stomping her front hoofs on the table.
"Not all the time, Twilight…" I said somewhat sadly, but I brightened up as I thought of something. "But I can show you what it's like."
"You can?!" Twilight exclaimed.
"Follow me." I stood up, telekinetically removed my hair tie so my mane hung down around my shoulders, spread my wings out, lifted my head high and started to trot through the town in a regal march I'd been taught how to do back in my own region that would make my aunt Celestia proud. I glanced behind me and saw little Twilight following my every move and I suppressed a giggle.
"It's the princess!"
"Princess Celestia? Where?"
"No, the young Princess Mi Amore Cadenza from Istalia."
"The only other alicorn? Oh my goodness."
Soon I heard the whispering and outright chattering of the ponies around me, and I kept up my graceful little march feeling somewhat proud of my lineage as I was able to take advantage of it to show off for Twilight, and to walk around the town without guards or my aunt with me. Ponies bowed around me and I smirked enjoying this little play.
"Who is the little filly?" I heard somepony say and I almost lost my dignified look as I wondered what they were going to assume about me having a little unknown unicorn behind me.
"I've never seen her. Does Istalia have another princess?"
"Shh, don't let them know you're uninformed. Just bow." Nobleponies made me crack up.
I continued marching, holding my head higher and not looking at all where I was going, which might be why my aunt Celestia always kept her guard ponies with her when she did this little procession, not for the vanity I usually tried not to indulge in.
And then suddenly I banged into a brick wall. At least, I thought it was a brick wall. I stumbled backwards almost toppling on to Twilight but I was able to catch myself, and I looked up into a pair of the deepest cerulean eyes I had ever seen. They were kind eyes, bright and full of concern. They belonged to a large, snow white unicorn colt who looked down at me, his mane an electric blue, long and wild, more rugged and handsome then any pampered royal I had seen.
Embarrassed by my mistake I felt my face grow hot in a blush and backed up mumbling an apology, until I realized the colt was staring at me too, and so was his large procession of younger unicorns behind him who were also laughing and pointing. I wanted to crawl in a hole and die.
"I'm sorry, are you alright?" Hearing the colt's deep voice made me revise my initial impression that he was my age, and I felt even more flustered. I had rarely if ever been around colts near my age, and banging into this gentle and handsome one by doing my stupid march was not helping my limited confidence.
"Big brother!" Twilight suddenly cried and bounded over to the unicorn colt, pushing me away and gluing herself to his front leg.
"Hey, Twiley!" The colt exclaimed, happily, nuzzling her mane with his hoof and grinning.
"Hey, Shining Armor has a marefriend!" One of the rambunctious kids behind him called out, laughing with his buddies.
"She's not my marefriend, she's my sister, guys." He told the group, giving them a chastising look.
"Not her," The lead colt started. "Her!" he pointed to me and I crouched down, wishing I had been able to master the teleport spell so I could get out of there.
Suddenly the elder colt was in front of me offering me a hoof.
"Sorry, they're a bunch of numbskulls." He said, glancing over at the colts who grinned and made faces. "You're not hurt are you?"
"No, I-I'm OK. T-thank you." I stammered, taking a hold of his hoof and stood up, feeling lightheaded suddenly, my face seeming to burn in a blush. To my horror, he seemed to be blushing too.
"He's blushing, guys!" The kids snickered, and because I had somehow gotten lost in them, I saw his eye twitch and he whipped around and stomped over to the colts.
"Stand at attention, soldiers!" he shouted and the group hurriedly scrambled into a line and saluted, some still grinning and chortling. "At ease." They relaxed, but the elder continued to eye them. "That still means no talking." He commanded, singling out the laughing ones who hastened back at attention. Then he trotted back over to us, glancing behind every now and then.
I was speechless. Those colts had been the brattiest of brats and he said one word and they all followed him. He was like one of the royal guard, but still just a kid like me. Twilight had said her brother was in training for the royal guard, but I didn't understand why he was commanding a group of rambunctious colts. He was good at it though.
"Sorry, they won't bother us now." The colt I now knew was Twilight's older brother smiled. Of course, he just had to be the older brother of the filly I was sitting for.
"Shining, this is Cadance. She's my new foalsitter." Twilight explained, excitedly, smiling up at the colt. The look of admiration in her eyes showed me more than my emotion sensitivity could that she adored her older brother, and from what I remembered her saying she hadn't seen him for awhile.
"H-hello." I said shakily.
"And she's not just any pony, she's a-" Twilight started to say but I panicked and stuffed the rest of the chocolate bar in her mouth before she could say who I was. I don't know why I did that. For some reason at that moment I did not want this kind colt to know I was a princess or an alicorn for that matter. I didn't want him to think of me as special at all.
Twilight tried to protest, but I gave her a pleading look and she focused on chewing the chocolate. Oblivious filly may not be so oblivious.
"Heh, heh, my little sister always likes her sweets." Twilight's brother grinned. "It's nice to meet you, Cadance. My name is Shining Armor. Thanks for looking after Twiley." It touched me to see that he seemed to care just as much about little Twilight as she did him, and although I still felt shy and stupid I managed to smile back.
"When are you coming home?" Twilight had finished the chocolate I stuffed in her mouth, but seemed to get the hint I didn't want her talking about me, or just didn't care anymore as she asked this all important question.
"I'll come home Friday night for the weekend. Then we can go stargazing if you're still awake." Shining Armor winked at us, figuring I must know how much of a night owl his sister was. I think my coat must have turned red by now.
"I'll be awake, I'll be awake!" the filly shouted, bouncing around him.
"Great, I'll see you soon, Twiley." He smiled at her as she continued her little dance.
"You have to go now?" she whined.
"Sorry, sis, I gotta keep those guys in line if I want to learn to become a real captain someday." He said, sympathetically, giving her a nuzzle.
"Aww."
"It's nice to meet you, Cadance. Make sure my sis doesn't drown in those books she's always reading." He smiled and then with a wave of his hoof he walked back to the somewhat still orderly group of colts.
I let out a breath of air I didn't even know I had been holding in and looked over to Twilight who was looking down at the ground sadly.
"Don't worry, Twilight. He said he'll be home soon." I reassured her with a bit of a flutter in my heart at thinking that the strong and handsome unicorn would be in the same house as me in only two days. I hoped their parents came home before then.
"He's gonna be away all summer though. We've never been apart this long." She sniffled, and still feeling shaky I tried to pat her mane to comfort her. To my surprise though she came over to me and hugged onto my other front leg. I sat down on my haunches and put my hooves around her feeling tender to have her feel comfortable enough to hug me now after all we seemed to have been through.
"I'm glad I still have you though." She cuddled closer to me, and I smiled, feeling tears in my eyes as I held on to the once placid small filly, and watched as her beautiful older brother lead his group of little soldiers off into the distance.
---
Chapter 4: Stars and Moon
"You seem preoccupied this morning, my dear. Is anything the matter?" Aunt Celestia inquired of me as I lost my hold on another spell book from loss of concentration. It was such a filly type thing to do I was surprised she wasn't scolding me. But I couldn't concentrate.
It was Friday, the day the colt I had no idea how I felt about, but was aware I had made a complete fool of myself in front of, was going to come home to where I was stuck foal sitting for Twilight. I thought about faking illness but was pretty sure my all over powerful aunt would see through it. So I just fretted in silence hoping I didn't do something stupid again, or better yet didn't have to see him at all because Twilight's parents would come home before he did and relieve me of my duties.
"N-no…I'm just tired." I murmured, successfully picking the book back up. I should have really known better than to try to hide anything from my aunt Celestia. I think she was psychic because she dropped the subject, but somehow later brought it right back up and nailed exactly what was bothering me.
"Is that little filly giving you a run for your money?" she chuckled, demurely.
"Heh, heh, I guess so." I replied, but quickly added. "I'm having fun though. She's a nice filly."
"I'm glad to hear it." She smiled. "I have to say, I feel a little bad for asking you to take on that obligation. I imagine you wanted to enjoy your summer in Canterlot, but my advisors really needed a sitter for this week and I thought you would be perfect. Along with giving you a chance to assume some responsibility now that you're getting older."
"Oh it's no trouble really. I like foalsitting for Twilight." I replied, distractedly as I tried to get the stupid book to do what I wanted it to.
"In any case, next week the Light family shouldn't be as busy so you won't need to come every day. Maybe just three times a week instead, how does that sound?"
Surprised, I dropped the book again. "Really? Only three times? I'd like that." Maybe I could finally get out on my own now.
"Good, how does Monday, Wednesday and Friday sound?" she asked.
"That would be great." I said, feeling some of my anxiety leave at the thought of being able to have some time to myself like I had hoped for.
"I know you've had it difficult being protected as an alicorn and princess and not had many chances to meet other fillies and colts," Aunt Celestia paused, thoughtfully. "I had a somewhat…similar upbringing." She seemed troubled, but continued. "I had hoped you would be able to take this time to find friendships of your own. I am a mare who believes everypony should have a friend, and I am sorry you had to wait this long to find one. You're a lovely filly, Cadance, and I wish nothing but the best for you. Being an alicorn in modern Equestria is not such a difficult thing; growing up is. A friend can help you through it more than this old princess can." She smiled, warmly, her wise eyes that had been somewhat sad getting their usual sparkle back and I nuzzled up to her.
I loved my aunt Celestia. We were the same. More so than my parents or any other pony. She taught me magic, how to fly, and how to add a little fun into the endless monotony of royal life. I felt like she could understand me more than any other pony, and her millennia of experience never left me for want of anything I needed to know.
"Thank you, auntie. I'll do my best."
"Ah, speaking of which, did you know that Twilight has an older brother? He's been working at a leadership training camp for colts interested in attending the royal guard training academy which he is an excellent student of. He's coming home for the weekend tonight and he's about your age, you should introduce yourself to him."
I immediately wilted into a blush and she smiled with that familiar glint in her eyes. I think my aunt might just be messing with me.
~~~~~~~~~~~~~~~~~~~
And so the afternoon with Twilight passed quickly until I was once again trying to get her to go to bed. With their elder son coming home the Lights were staying out later that night, but I was free to go home when he arrived. I wore a short, white flowing cape to keep the cool night chill off my back and also to conceal my wings from any curious ponies not wanting to put on a display ever again. But mostly to hide them from the colt who I hoped hadn't already noticed them in my grand introduction the other day.
It was nearing eight o'clock which was Twilight's usual bed time, but she would have none of it. She was too excited to see her big brother again, and since I knew he planned to take her stargazing when he came home I figured there was really no point to put her to bed. So she hopped around the room like she always did, excitedly telling me everything that was awesome about her BBBFF as she called him.
"What's a BBBFF?" I asked, wondering if I was so out of the loop that the more familiar term of BFF had changed on me.
"Big brother best friend forever, duh!" she shouted bluntly. Of course, how could I not have known that?
"He taught me my first spell and how to fly a kite, and he gives me piggy back rides, and he knows all about the stars in the sky and he sometimes gets to meet Princess Celestia, and he wears shining armor cuz he's Shining Armor and he even knows how to use a sword!" she exclaimed in one breath while still jumping around the room. I didn't know how she did it. "And you totally have a crush on him." She added, and I focused all my willpower into not blushing in front of her. I think I failed though because she just giggled more.
"I do not. I was just embarrassed because I banged into him." I tried to cover for myself.
"Yes you doooooo" she sang, happily.
"Do not." I retorted.
"Do too!"
"Do not!"
"Do too!"
I realized I was arguing with a seven year old and stopped, making her laugh more because she thought she had won. I sighed, exasperatedly. First my aunt teases me into submission and now a little filly.
I didn't like him, I was just… afraid of him. He was the first colt I'd met outside of my family, and our meeting hadn't exactly been graceful on my part. He also just happened to be a very handsome colt.
"Look, Twilight, would you just do me a favour and not tell him I'm a princess right now?" I pleaded with the hopping little unicorn. She stopped mid hop and eyed me.
"What? Why not? He's a royal guard in training and going to protect princesses. That means you." She declared pointing a hoof at me.
"No, he's not, because I don't live in Canterlot so he doesn't have to protect me or even know I'm royalty." I said emphatically.
"Whatever. If you don't want to be a princess I'll take over for you." She looked up at me with a wide grin and squeak of pleasure.
"Fine. I officially knight you Princess Twilight." I leaned over her and touched her shoulder with my horn as I'd seen my aunt do with knights in the royal court. "Now would you please promise to keep my royal lineage to yourself?" I repeated, but I'd lost her because now she was prancing around the room in a royal march.
"Yay! I'm a pretty, pretty princess!" she giggled.
"Looks like you'll need a guard then, princess." I jumped as suddenly Shining Armor trotted into the room and caught the bouncing filly in his hooves.
"Shining!" She cried and cuddled up to him.
"Hey Twily- I mean Princess Twily." He grinned.
"Cadance just made me a-" the little unicorn started to say but bit her lip and paused as she looked over to me. "-we're pretending we're princesses." She reiterated, giving me a smile and to that I was grateful.
"Hello again Cadance. Is my silly little sister refusing to go to bed for you like she always does?" the alabaster colt turned to me smirking, wryly.
"Hello, welcome back." I managed without stuttering. "She said she wanted to wait for you to come home and I couldn't deny the wishes of a… uh… a princess." I smiled, sheepishly. Could I go home now?
The filly giggled.
"Well I was just going to take her out stargazing. You're welcome to join us." He offered.
"Oh no, I couldn't impose-" I tried to say but Twilight interrupted.
"Cadance you have to come! Please, please, please!" she suddenly jumped out from her brother's hooves and pleaded with me. I didn't know what she was doing as she seemed to be keeping my secret for me, but for some reason torturing me by trying to get me to come. Didn't she want to be alone with her brother?
"Twily, I think Cadance needs to get going." Shining Armor told her. Even he didn't want me around, I thought with a bit of a pain in my chest.
"No. I'm the princess, and I say she has to come." The unicorn filly said, defiantly.
"I guess you can't argue with that." The colt shrugged and I tried to protest but lost my words in my throat. "Besides, it's late, I can't let a young mare like you walk home on your own. It wouldn't be very gentlecoltly of me." He flashed a brilliant smile at me that I would probably say now was flirtatious, but back then I was just very confused.
"But..I…uh…" I gave up, and before I knew it all three of us were heading to the very top of the tallest hill behind the Light's house with a magnificent view of the night sky unimpeded by the towers of the castle or other buildings.
I always thought the night sky was beautiful and could spend hours looking at it from atop the highest tower in the humble castle of my home. In the taller Canterlot towers I was treated to a panoramic view of the starry sky, but the first time I asked my aunt to join me in star gazing she said she could not and I felt a deep sadness from her so I could never bring it up again.
Sometimes when I looked up at the moon and saw the strange dark marks that seemed to resemble a unicorn, known in legends as The Mare in the Moon, I wondered if it were true, and if the unicorn was lonely up there. On particularly clear nights I felt a deep loneliness and regret wash over me, seeming to waft off of the very surface of the shining bright orb. It reacted to my sensitivity and I usually had to stop looking, but I couldn't help but wonder what it was the moon was trying to tell me.
That night it seemed to be watching out for the three of us, and I felt like it was giving me strength to conquer my shyness and embarrassment from being around this friendly and confident colt. The hill we stood on didn't offer as beautiful a view, but I was happy to be with somepony else, and Shining Armor had brought a telescope which he was adjusting into position.
"If you look up there you can see the Summer Triangle." He raised a hoof toward the east where the Milky Way spread a scattering of stars across the sky. In the lower end were three bright stars that seemed to form a triangle as he had said.
"I see it!" Twilight called out.
"I do too." I replied.
"Good. Now try and find the brightest star of the three. That is Vega and is part of the constellation Lyra." He continued, and I gazed up at the star that stretched toward the west, but I couldn't really identify the full constellation which I guessed would be a lyre.
"Beside it is Veneb, a part of Cygnus the swan. Veneb is the swan's tail."
"I wanna see the swan!" Twilight cried and sidled up to the telescope and her elder brother adjusted it for her, putting his forehoof on her shoulder as he helped her find the group of stars. I couldn't really see it either, but I didn't want to intrude on them.
It really touched me the way he looked out for her and genuinely cared for her. The older brothers of my cousins always seemed to fight with their sisters or vice versa. Sometimes the elder was jealous of the younger getting more attention and having certain allowances, but I didn't see any of that with them. She was so much younger than he was so it seemed strange to see them get along so well, but I could see that little Twilight idolized Shining Armor and probably wanted to be just like him if she could. He was a kind and gentle colt to take time for her now that he was home and I felt my heart flutter in my chest with how moved the whole scene made me feel. Although not negative emotions, I still felt a little overwhelmed and took a seat in the grass as he continued to show the filly the summer stars.
"I'm sorry, would you like to look through the telescope too, Cadance?" Shining Armor offered, after a few minutes coming over to where I sat in the soft grass. I looked over to the device to see Twilight giving me an encouraging nod and I rolled my eyes.
"Sure." I said, standing up and following him. The insufferable filly moved out of the way, and I had to lean down to reach the eye piece since it was adjusted to her height.
"Here, let me adjust it for you." The unicorn colt said and he came to my side and used his forehooves to pivot the telescope further up on its axis, brushing by my neck as he did so. He paused and turned to me, and I met his gaze feeling my heart thump in my chest as I saw his white coat turn pink around his muzzle. We quickly turned away and I stammered out a word of thanks for him, before I looked into the eye piece, anxious to focus on something else. But not even the magnificence of the starry night sky could calm my pounding heart or the heat of the blush on my own face.
What was happening? Why was I feeling this way? It wasn't magic, it wasn't the emotions around me; they were my own. And I had absolutely no idea what to do with them.
"The last star is called Altair…." He paused and I stifled a giggle as I heard his deep voice break into a higher pitch at the end of his phrase. I wasn't the only one losing it.
He cleared his throat to start again "Uh… its part of the constellation of Aquilla. An eagle." He smiled, sheepishly, seemingly embarrassed by his lapse in his voice.
I looked down at Twilight expecting her to kick me out of the way again to see the eagle, but she was curled up in a ball at my hooves, fast asleep.
"Ah, it sleeps." I giggled and Shining Armor moved back over to see her.
"What do you do with her in the day? She never falls asleep this early." He stated, his confidence back as he picked up the little filly in his magic and lay her on his back. I was jealous he could do it so effortlessly.
"Oh, we just do a little magic together and I chase her around the yard until she falls over… or more like until I do." I replied feeling somewhat sheepish myself. "I think she's trying to set us up together." I added, watching the elder colt startle and wilt into a blush.
"Uh…yeah… sorry about that." He mumbled. "She's seen too many Disneigh movies and thinks every filly and colt should have a happily ever after." He rolled his eyes, but I smiled feeling more confident now that he was acting befuddled.
"That's actually really adorable." I laughed and he did too.
"Well, I guess we should get back. Where are you staying? I'll walk you home."
I immediately panicked, not knowing what to say for a minute while still concealing my royalty for the time being. But then I remembered it was common for Aunt Celestia's school's students to take a room in the castle, especially if they were visiting from far away, so I told the truth.
"I'm studying at Princess Celestia's School for Gifted Unicorns this summer and have a room at the castle."
"Nice. I know my sister would love to go there." Shining Armor said as he began to take down the telescope and pack it in his saddle bag.
"She'd be perfect." I agreed, glancing over at the still sleeping filly draped over the colt's back. I felt a little bit less shy talking to him without Twilight awake to mess with us or embarrass me more, but she was darling when she was asleep. A little lavender ball of fur that looked like a blossoming flower against the whiteness of Shining Armor's coat.
He finished packing up, and then started to walk beside me toward the castle. "So, you're from Istalia? Isn't that right beside the sea?"
"Yes, it's right on the Mardeiteraen Sea." I replied, not sure how he knew where I was from, but guessed Twilight must have told him.
"I've always wanted to see the sea. I went to the lake at the base of the Canterlot mountain in the summers when I was a foal a lot and always enjoyed it. But I heard the sea is really different and beautiful. I'd like to see it." The unicorn colt said, wistfully, and I felt touched by being privy to his simple dream.
"You can see the sea from my…from my house." I told him, stumbling on almost saying castle. I needed to tell him the truth soon or I was going to just give myself away. "Oh, and there's Equinice, which is a city in Istalia that has buildings that rest on water. Their streets are made from water called canals and you need a boat to get around." I eagerly told him, loving the place myself although I had only visited once or twice.
"Really? Now that I'd like to see."
"It's not too far from where I live, you could come and…I-I mean…" I stopped, suddenly realizing I was inviting this colt I barely knew to my home when I had only minutes before been too shy to speak to him. I looked down, feeling awkward and embarrassed. He also seemed a little uncomfortable and we walked along in silence for the next while.
"You know, when I first bumped into you, I could have sworn you had wings." Shining Armor suddenly spoke up again as we neared the palace, and startled, I turned to him.
"Wings? I'm a unicorn, silly." I laughed, nervously.
"Yeah, I see that now, but I thought at first you had both wings and a horn."
"Only the princess is like that. I'm just Cadance." I said, and felt like it was true. I was just Cadance, walking along with her first friend in a foreign city while learning magic like other normal unicorns did. It felt so perfect, finally having that freedom to be myself and not the princess all the ponies expected me to be. I was Cadance the unicorn, student of Princess Celestia's school instead of her niece, working her first summer job, meeting her first real friend, and not one of the only alicorns who had wings that had to hold up the weight of the world.
"Well, 'Just Cadance', since you're new in town would you like to come with me on a tour of Canterlot tomorrow? I'm sure Twily would love to accompany us." The alabaster unicorn offered and my heart skipped a beat at being invited to go out again with the alluring colt. Of course, Twilight was going to be there again but I'd try not to let her embarrass me too much.
"I'd like that." I beamed, hoping my blush didn't show too well in the moonlight.
"Great. Can you meet me at the Royal Sister's fountain on Mane street around 10am?
I knew the area and agreed as we approached the castle gates, flanked by guards I was worried would give me away."I can go on from here. Thank you for walking me home." I smiled, giving a little bow of my neck.
"Goodnight, fair Cadance." And the colt gave a low bow to me, than looked back up with a silly grin and we both burst out laughing.
"You really are a knight." I giggled.
"In shining armor."
~~~~~~~~~~~~~~
A/N Thanks for reading! This is a short establishing chapter, the next one is almost done and will come up in a few days. It will have the first bit of drama. For now enjoy Twilight being a brat and watching these two crazy foals fall for each other. Oh and Trollestia... not that I really believe in that. I love her. But she does like to mess with ponies if she knows something they don't- Cadance is no exception.
---
Chapter 5: Chivalry
Aunt Celestia decided to grace my tour of Canterlot with a beautiful summer morning, with thick puffy clouds scattered across a deep blue sky. It was warm, but not hot, with a gentle breeze that ruffled my long mane across my face. The weather was probably the Pegasi's work and it wasn't like I could really get my aunt to make it sunny for me, but I liked to think it was for my benefit.
I was so excited to finally be able to hang out with other ponies for the first time, especially my new friend, Shining Armor. He really was my friend now, and I couldn't be happier. Twilight had been a nice, albeit mischievous little filly to play with, but the gallant colt was the first friend I had made who was in my age group. I may completely lose it around him, but at least he was somepony to talk to, and somepony who wanted to spend time with me. I was also really excited that he wanted to show me around the town, even if I had mostly explored it all on my own by now.
I still was scared to show Shining Armor my true origins and tried to hide my wings under a pretty little summer cape, hoping I didn't run into any nobleponies who would recognize me that day. I fretted over my appearance, not sure if I should wear my mane tied up like I usually did, or leave it down. Would it be too hot to leave it down? Should I wear eye shadow? My mother didn't really approve of me wearing makeup much, but I was sure she would understand. I wasn't a princess that day after all, just a teen filly going out with friends.
I knew I had to tell Shining Armor the truth soon. I wasn't going to keep my identity secret forever, I just wanted to feel like a normal unicorn a little longer. To walk around the town with my friends, and to not care what other ponies thought of me. That was my wish, and I would make it last for as long as I could.
~~~~
I galloped into the busy square of Mane street where the beautifully marble-sculpted fountain of two alicorn sisters stood proud and tall in the middle of a cross street. I had taken too long getting ready and I was running late, so I saw the tall unicorn colt and little Twilight already waiting for me by the fountain. Not ten minutes into my first time out with a friend and I had already embarrassed myself.
"I'm so sorry I'm late." I called, cantering the last steps and arriving breathlessly beside them.
"You really are no good at galloping." Was the first thing impish Twilight said, and I raised my eyebrow at her.
"Hello to you too, Twilight." I muttered, catching my breath.
"Twily, don't be mean." Shining Armor scolded, and I was happy to have somepony stand up for me for once.
"What? It's just a fact." The filly asked, genuinely confused.
"Quit torturing your foalsitter or you won't get a piggyback ride later." Shining Armor continued, playfully.
"Aww." Twilight groaned then looked up at me. "Sorry Cadance…" she mumbled and I smirked.
"Hi Cadance. Don't worry about being late, we weren't waiting long." The colt added, smiling at me so that his kind eyes sparkled.
"Yes we were." Mumbled Twilight, and he swatted her softly. I think I needed him to be there for my foalsitting. It would save me a lot of headaches.
"So um, where to?" I offered, hoping to stop their slight bickering. The last thing I wanted to do was to cause a riff between them.
"Oh, well, that really depends on what you've seen already." Shining Armor replied. "I'm no tour guide so I don't exactly know where the best places are to go. I just thought it might be fun to have somepony to go sightseeing with." He continued, apologetically. But I didn't mind, I just wanted to have a friend to be with too.
"I know where we can go!" Twilight exclaimed.
"Not the library again, Twily." The colt groaned, and I giggled, imagining the studious little unicorn dragged him there often.
"No, the art museum!" she cried. Her elder brother looked to me for confirmation and I smiled, encouragingly.
"Art museum it is."
~~~
We spent the morning looking at the city sights, saving the more extravagant palace for the afternoon. The art museum was actually not all that interesting to me just because the region where I came from was well known for beautiful art by the most talented ponies in history. The Canterlot Art Museum didn't really compare to the sculptures and buildings I could see just from walking through the streets of Roam. But Twilight loved it, which meant she ran around looking at things and I got a chance to talk to Shining Armor on my own.
He told me how he was working as a counselor at a camp for young colts interested in becoming a part of the royal guard academy, which I had already learned he was a student of. It was his first summer job and he was proud to have it. He asked me why I was stuck studying in the summer and I just shrugged it off as a summer exchange program. My summer job was watching his sister. I told him I was home-schooled so I didn't get to meet many ponies and I was really happy to be able to hang out with him. It was mostly the truth and I found it easier to talk with him now. At least I didn't stammer or blush so much anymore.
When we entered the palace gardens I became cautious and kept behind Shining Armor, praying no pony would recognize me. I wasn't really that well known, especially with my wings hidden, and I still looked like just a regular pony, not having grown anywhere near as tall as my Aunt Celestia. I wondered when or if that day would actually come. Still, it was the inside guards I really had to worry about. They saw me wondering around the palace in the day, and were duty bound to protect me so they obviously knew exactly who I was. Fortunately, the serene and beautiful gardens were not a place of high security, and I didn't see any of the familiar golden armoured pegasi or unicorns around.
We passed through the flower garden that was in full bloom, but Twilight kept trying to pick the flowers, which was going to get us in trouble, and that was the last thing I needed. So we entered the sculpture garden instead. I had been there a few times before, but as a filly the cold, stone monuments with their unseeing eyes used to scare me, so I hadn't really had the chance to see the whole thing yet.
Obviously Twilight didn't suffer from this problem as she was hopping around the garden trying to talk to the pony statues that represented different types of virtues that one could possess. She asked The Statue of Courage if it had fought a Manticore and demanded to know what exactly Prudence was and was not satisfied with the answer. I liked the statue of the pegasus representing Freedom since that was what I so dearly wished for and was experiencing now. The Statue of Love was also beautiful; depicting a mare and stallion unicorn touching horns with eyes closed in concentration. I wondered if it had something to do with the unicorn my aunt had said she had heard about in ancient times, who had a similar gift as me.
Most of the statues in the garden were of ponies and their virtues they represented, but one tall sculpture was of a creature I had never seen before. It kind of looked like a dragon, but its head was more equine shaped with two different horns, a serpentine body with an eagle's claw and the paw of a lion. Even its wings, legs and tail were mismatched. It was standing in a strange pose also, as if it were singing a passionate musical number and had just finished to a round of applause. I didn't understand it and had no idea what it was.
Shining Armor was explaining one of the virtuous statues to Twilight across from me as I looked up at the strange stone creature alone, and then, it started to hit me. I began to feel some sort of strong emotions coming from the statue. It wasn't like the emotional sensitivity I had to angry or sad ponies, but more like what I felt looking at the moon. But it wasn't loneliness or sadness coming from this tangled up figure; it was a sickening mixture of confusion, chaos and most of all evil. It was pure unadulterated evil.
The maliciousness that resonated from that creature left me faint, and worse off than any other reaction I had experienced. But it wasn't so much how ill it made me, but the fear it left in my heart. I was so frightened, so very frightened. I had to get away from that statue no matter what, but I wasn't sure my now wobbly legs could carry me. My heart pounded in my chest as I struggled to find enough strength to gallop as far away as possible. In my fight or flight state I even considered breaking out my wings so I could fly away, not caring if it revealed my identity. But I managed to make it over to where Shining Armor and Twilight stood, still admiring the sculptures, not having any idea of the malevolent force I could feel all around me.
The two ponies looked up as I approached breathlessly, wanting to tell them to get away from whatever evil force I was sensing, but I barely made it to Shining Armor before my knees went weak and I started to fall to the ground.
"Cadance, are you alright?" I was suddenly aware of the elder colt anxiously calling out to me, and I realized I wasn't on the ground, but held up by his strong back. I had managed to stay conscious, but he had held me up as I fell. I might have been embarrassed if I had had the strength at the minute.
"Y-yeah..." I stammered, swallowing, but feeling a bit better just from being a little farther away from that dark creature. "I think I might have just gotten too much sun." I didn't like to let many ponies know about my sensitivity, especially this time, since it made me seem crazy to be frightened of a statue.
"You should sit down. You look pale. Let's get you something to drink." He said, concernedly. Even dismissive Twilight was looking up at me with worry. This was great.
"I'm OK, really." I insisted, getting back to my hooves, but stumbling. There was nothing I could do to get better but leave the area since this wasn't a case where I could just heal the problem with my magic, so I relented. "OK. I guess some rest wouldn't hurt."
I shakily left the gardens with Shining Armor staying by my side. It was sweet of him, but with every step I took away from the sculpture I grew stronger, and more aware of the embarrassment I had caused. I couldn't go on like this. How was I supposed to interact with other ponies if I kept getting overwhelmed and almost passing out? It wasn't fair, I didn't want to be a weak pony; I wasn't. I was a princess for crying out loud. Still, being held up by him was a little bit romantic.
We stopped at a small café where I was forced to sit down while Shining Armor got me a drink and left me with Twilight. His concern touched me, but I was feeling fine now that I was away from that horrible thing. Of course the filly had to bring the whole thing up again to humiliate me even more.
"Did you cast your spell on somepony? Is that why you got sick?" she asked, eagerly.
"No. I just got too much sun." I assured her, wanting her to drop it.
She frowned, apparently expecting another big show from me as I had done with the Puddings. "But it's not even hot out."
"Well, maybe I just needed something to drink." I retorted.
"But you fell over onto my brother. He had to catch you. You're like a damsel in distress, Princess Cadance." She teased.
"Twilight, please~" I groaned, and she giggled.
"Don't worry, I won't say anything."
Just then Shining Armor came back holding three large, iced drinks in his magic. I blushed at his kindness.
"Are you feeling any better?" he asked with concern, setting the drink down beside me and taking a seat to my right, across from Twilight and not beside her. She didn't seem amused. If she turned into a jealous sister I was screwed.
"I'm fine, really. I just needed to get out of the sun for a minute." I smiled. "Thank you for helping me, and for your concern." I added, gratefully, taking a sip of the drink which turned out to be lemon iced tea. My favourite.
"Good, I'm glad." The colt said with genuine relief in his tone. "You looked really ill for awhile there, I didn't know what to do." He sounded as if he had been scared for me and my heart fluttered a bit, but I still felt ashamed.
"I'm sorry for scaring you." I murmured, looking down.
"It's not your fault. I'm just glad you're OK." Shining Armor insisted, and I looked back up at him.
"She's fine, drop it already!" Twilight shouted, lifting her hooves up in exasperation. For once I was thankful for the bluntness of the filly, and I grinned a little as I concentrated on sipping the sweet tea. Shining Armor glared at his sister, who also grinned, innocently. Then he didn't seem to know what else to say, so he handed Twilight her drink and started on his own.
We sipped our tea in silence for awhile, until a group of teenage colts trotted past us noisily laughing and teasing each other. I buried myself in my drink as I saw them approach, not used to the society of brash colts like these ones, and feeling shier then ever after all that had happened that day.To my horror one white pegasus colt suddenly stopped, and sauntered over to our table, motioning for his buddies to follow.
"Hey, check it out, Shiny's got a marefriend." Ugh, not this again, I thought, putting a hoof to my head.
"No way, not Mr. Knight in Shining Armor!" another larger unicorn colt snickered, and they batted Shining Armor on the back, making him grimace.
A second gruff looking pegasus showed up beside the unicorn and held Shining Armor around the neck, benignly, but he didn't seem happy about it. "What'd you do, man, give her the ole 'I'm a knight and I'll protect you' line? A little early for that don't you think?" the pegasus laughed. I now noticed that these colts were bigger and probably Shining Armor's upperclassman, which would explain why he was just taking their abuse.
"Lay off, guys, she's just a friend." He muttered, pushing the pegasus off him.
"Oh really, did you meet your friend at that gifted unicorns school? Those fillies will put out for anypony. And teach you some magic at the same time, if you know what I mean." The unicorn winked lecherously at his pegasus friend and they all laughed. I felt sick, but not from any sensitivity. Just from hearing these colts disgrace my pride as a mare.
"Stop it. My little sister is here." Shining Armor growled, becoming progressively angrier.
"Oooh, Shiny's got his lil sis here. We better watch what we say, guys!" the pegasus chortled, mockingly, rewarded with more laughter from the others.
"Just leave." The kind colt I had come to know muttered under his breath. I could feel his anger, and I wished the obnoxious group would leave too. They were upsetting me, but most of all they were really bothering him too and I didn't like to see him like that.
Instead of complying, the unicorn smirked, mischievously then came over to me and gave me a once over with his eyes, like I was an object. I scooted away, angrily. "Seriously, Shining, where you been hiding her? She's some hot flank!"
"Don't you talk that way about her!" Shining Armor shouted, jumping up from the table, and before I could contemplate the offensiveness of the past remark, he lunged at the larger unicorn and whipped his hoof across his face.
The upperclassman was flung to the ground by the assault, and my gentle friend I had thought wouldn't hurt a fly, braced himself to go after him again.
"Oh, you're going to regret that, freshman." The unicorn snarled, wiping the side of his mouth that was now bleeding, as he got up to face Shining Armor. But before he could attack he was held back by two of the other colts who seemed to have some sense in them.
"Don't, man, his parents work for the princess. You could get expelled." They warned as another held back Shining Armor too.
"Whatever. He started it." The elder growled, shrugging off the colts.
"You and your friends were inappropriate around a young filly and insulted a mare. You have no sense of chivalry and you don't deserve the title of knight, Lacoltmalle Tail." Shining Armor shot back, struggling against the hooves that held him back. His anger reached me then, along with the upperclassman and I shrugged down in my seat. It was deeper than just this argument. It seemed that maybe he had been bullied by these older colts before and was only now finding the strength to confront them. It should have made me proud to be protected by him, but I just felt frightened and let down by his sudden violence, not to mention again being hit with waves of negative emotions after I had just recovered.
I glanced over to Twilight who had a dumbstruck expression, her mouth hanging open, and moaned. This was too much.
"You're the one who attacked a senior cadet. It's you who doesn't deserve the title." The unicorn I now knew was named Lacoltmalle Tail protested, angrily.
"Let's just go, he's not worth it." The brash pegasus told his friend, pulling him away. The unicorn gave one last dangerous look, and then left with the group.
"Not even an apology. A real noble…" Shining Armor muttered, as he pushed off the colt holding him and trudged back over to us. Twilight still had the same expression, and I didn't even want to look at him as he awkwardly approached us.
"Twily, Cadance I-" He tried to say, but I interrupted him.
"I should go." I declared, getting to my hooves, trying not to meet eyes with him. His already shameful expression wilted, and I grimaced from feeling his pain from my sudden betrayal. But I didn't care. He had been wrong to use violence especially in front of myself and his little sister. I was embarrassed and weakened from my stupid sensitivity which he just made worse with his foalish fight, and I just wanted to go home.
"Wait, Cadance-"
"Thank you for the tour." I continued, coldly, not really liking how I sounded, and then I trotted away without even saying goodbye.
A/N Oh the drama! Rarity would be proud. And they're not even together yet. Yes I have flawed Shining Armor. He is not the perfect knight, but a teenage colt who is bullied as a freshman and decides to kick some flank. If you think Cadence is being mean just re-read all the bad things that happened to her that day (including how Twilight treated her) and you'll see why she's so upset. She's a young filly, not used to how colts can act with their hormones running wild.
Also Lacoltmalle Tail is the ponified name of an actual Knight of the Round Table. I couldn't think of a name for him so I looked up knight names and came across a Sir Lacotemale Taile. It was too perfect to resist. Our lecherous young unicorn one day matures to be a fine knight. I didn't use a real Knight of the Round Table's name in vain….
Next chapter- more drama! Shining Armor loves Princesses, Smarty Pants, and parental problems.
Thanks for reading :)
---
Chapter 6: Resolutions
"So there's actually a creature inside that statue and you let ponies just wonder around in the gardens alone without any protection?!" I exclaimed that Monday as I had my lessons with my Aunt Celestia, and she explained why I had become overwhelmed by that strange sculpture. It turns out there was an evil being imprisoned inside it, which she had found no reason to tell me, or any other pony about.
"Cadance, don't yell at me." She scolded, but I still was angry. That statue had attacked me in the worst possible way, ruining my day out and bringing me to that café where those stupid colts screwed everything up. If it hadn't made me sick, if I hadn't been so weak and pathetic none of that would have happened and I wouldn't be so miserable now.
"That thing tried to get into my head. All I could feel was evil everywhere and it was scary…so scary!" I lost my voice in a sob as I suddenly burst into tears. My aunt gathered me up in a hug and let me cry into her chest like my mother would do.
I missed her. She had always been my best and only friend. I wished she were there to explain what all was happening to me lately. But in this case Princess Celestia probably knew more.
"Cadance, I know it must have been frightening. I'm so sorry that had to happen to you. But that sculpture has been there for hundreds of years and no pony has had such a reaction. Even I don't feel anything…anymore." She soothed me gently, and I looked up at her.
"You could feel it too?" I asked.
"Once… a long time ago." She replied, distantly, as she always did when she spoke about her past. She'd lived so long I sometimes wondered if she had forgotten things. Or was it she just didn't want to recount them?
"You have the gift of feeling emotions and healing them. You can spread love and joy to other ponies. But no gift of great magic like that comes without a price. I know you suffer when others suffer, as we all do in empathy to each other, but not the way you do." She paused, floating over a tissue for me and I wiped at my tear filled eyes, sniffling.
"We need to find a way to help you focus your magic so that the emotions of ponies don't continue to overwhelm you. I don't want to see you get hurt from them." She continued, resolutely and I nodded, cuddling closer to her, just needing somepony to hold me for a little while.
"But don't go to that statue again. It's not dangerous to anypony as far as I know, but with your ability I don't want you to take that chance."
"I won't. I don't ever want to go near that thing again." I murmured, shivering against her warm embrace. She covered me with a wing and I felt a bit better.
"Now, that can't be all that's bothering you. You didn't leave your room yesterday. I never got the chance to hear how your time out with Shining Armor and Twilight went besides the incident with the statue. Did something else happen?" she asked me with interest and I sighed before reluctantly telling her what had happened with the rude colts and Shining Armor. I tried not to name names, for as much as I was angry at all of them I didn't want anypony to get expelled. Then I realized I had told her that Shining Armor had started the fight, endangering him, and I covered my eyes with my hooves to hide from my own stupidity.
"Oh Cadance, did you really leave that poor colt all alone like that?" my regal aunt asked, disapproval evident in her shocked tone.
"Yes. But he shouldn't have hit that colt and started that big fight. It was stupid." I mumbled, angrily.
"Maybe so, but he was protecting you. What that other colt said to you goes against all the rules of being a knight, maybe more so than what Shining Armor did. Why, if you had given me his name I might have had to talk to the school about him."
My heart skipped a beat in fear. "No! Please don't!" I cried, desperately.
"Alright, but only because you're my favourite niece." She winked at me, but I just scowled, making her frown. "Don't you think it was cruel of you to just leave Shining Armor like that? What he did was wrong, but he stood up for you, you should be grateful to him, not angry." She paused and then grinned. "It's actually quite romantic if you think about it."
"It is not!" I retorted, but my face betrayed me by growing warm in a blush. I couldn't win. "He's just another colt and all colts are stupid." I grumbled, aware that I sounded like a foal, but not caring in the least.
My aunt sighed. "Just promise me you'll talk to him. Don't leave your first real friend like this." Her tone grew serious again and I rolled my eyes, crossing my hooves across my chest.
"Ugh, fine."
~~~~
That day being Monday I had foalsitting duty which I did not want to do. I didn't want to deal with Twilight and her annoying precociousness, or run the risk of somehow seeing Shining Armor, even though I was pretty sure he was at his camp job.
I was angry and depressed and didn't want to deal with anypony, especially with how things had gone over with my aunt. I wasn't even sure what I was angry at anymore. Was I really angry at my only friend when he stood up for me? Or was I just pouting because everything seemed to have gone wrong that day? I had just wanted to be a normal unicorn, but I couldn't because I was constantly assaulted by powerful emotions that incapacitated me. And if being a normal unicorn meant I was going to be treated this way by colts I was glad I was a princess and a shut in.
Twilight was not bothered by what happened at all. In fact she seemed to be more cheerful than usual, which just made me more depressed. I let her do whatever she wanted, which was obviously to just sit there and read a book all day, but even she got bored of that after awhile. So we went to her house where she decided to play with her toys in her room while I sulked by her bed.
"And then the mean colts came up and started bothering the two princesses, and that made the knight mad." I watched the filly as she set up some Pretty Pony dolls and stuffed animals in a makeshift scene obviously based on what had occurred the other day. Really, Twilight?
It was nice to see that she had her and I as the Pretty Pony dolls, while the others were all random stuffed animals. The 'knight' was a strange looking gray coloured stuffed pony with mismatched button eyes, a yarn mane and polka dot pants. It kind of looked homemade and not what I would expect her to have among her other extravagant toys and books, which must have been product of her parents working for the princess.
She picked up the stuffed pony in her hooves and made it trot over to a stuffed bear. "The knight came over to the colt and said, 'don't you talk to her that way!'" she mimicked Shining Armor's deeper voice and I could feel a bit of a smile come on.
"Then, pow!" she shouted, maneuvering her doll's hoof to connect with the poor bear's face and knocking it over. "The knight hit the mean colt- I mean bear- in the face- bam! Pow!" she was starting to sound like a colt playing with his action figures and I didn't think her parents would be too happy with her sudden fondness for violence. But it wasn't my fault she had watched her older brother hit another pony.
"Then the knight said to the princess, 'do not worry, for I have tamed the evil doer.' And the princess said 'oh thank you my knight in shining armor.' because she was happy and absolutely not mad, and then they kissed." The filly looked up at me with a smirk and then stuffed the pink Pretty Pony doll and the button eyed stuffed pony together and made smooching noises. Despite myself I started giggling then. She was the oddest little child.
"Then the other princess who was the knight's awesome little sister, and much prettier than that princess said, 'come, we must slay the dragons!' and the princess and the knight stopped kissing and they all went off to slay dragons together. The end." She put down the dolls and then looked down at the floor with a pout on her face.
"So um…" she started, mumbling so I had trouble hearing her. "Will you come slay dragons with me and Shining Armor still?" the little unicorn looked up at me with her big violet eyes filled with tears and I felt my heart melt as I pulled her into a hug.
"Of course, Twilight." I reassured her, holding her close to me and cherishing the feel of her small hooves clutching my shoulders. "I still love you even if I'm angry or sad."
"But why are you mad at Shining Armor? He likes you, and you said you liked him. He was just trying to protect you like a real knight would." I sighed. Of course a child like her would see the situation exactly as it was.
"I know… I was just…upset." I looked down at the three dolls still standing together as we had done the other day. "I'll talk to your brother when I can. Don't worry." I smiled at her, happy to have the little filly to make me see things in a different light.
"Yay!" She grinned then hopped off me, picked up the stuffed pony and brushed its mane with her hoof. "I'm sorry for making you a colt, Smarty Pants. Forgive me?" I raised my eyebrow. I had not known that toy was a filly.
"Twilight, honey, I'm home!" I suddenly heard the bell-like voice of Mrs. Light call up the stairs, and my charge dropped her toys and ran out of the room shouting, "Mommy!" I sighed and wearily followed her down the stairs. I just wanted to get back to the palace, have a warm bath and think about nothing for awhile.
"Hello Cadance, how was Twilight today? Did she get a chance to enjoy this lovely weather we've been having?" the filly's mother asked me, obviously hinting at whether or not I had got her to play with something other than reading all day. This was not one of those days.
"She did." I replied, because she had been outside.
"Good. I'm glad you girls had fun." She smiled at Twilight who emitted her innocent, toothy grin in return. "Oh, Cadance, Shining Armor is outside and wants to talk to you. I don't know what he's doing home from his job at this hour, but I'm so glad you two are friends and have been hanging out together." Mrs. Light beamed and then added, "Don't worry, I haven't said anything to him about you being a princess. I know you're trying to just be a normal filly this summer." She winked at me and I grinned, weakly.
Yes, I had told her not to let her son know about my royalty. She thought it was cute as long as he didn't do anything to offend a princess. My smile fading I tried not to face-hoof in front of the royal advisor. I thought I still had a few days before I would have to talk to Shining Armor. Ugh.
I trudged outside to the porch where I saw him waiting, looking shy and embarrassed. I tried to be cool and aloof as I trotted up to him, but I felt my heart flutter from seeing him again, and I felt bad for hurting him.
"Nice job getting your mom to come get me." I muttered as I approached the white unicorn colt.
He smiled, sheepishly. "I figured you'd come out here if she asked you."
I rolled my eyes and then we both lapsed into silence. I looked down at the ground, kicking my hoof at some stones. I didn't know what to say and obviously neither did he. I wanted to ask him if he should be at his job but I felt that might be dismissive and mean and I didn't want to mean. Not again.
The sun was setting, casting shadows across the ground as the crickets started to sing. It was strangely fitting for our awkward silence and I sighed wondering when it would end.
"I'm really sorry for what happened on Saturday. I didn't mean to upset you." Shining Armor started, nervously, and I looked up at him, but didn't reply.
"Those guys are sophomores at the royal guard training academy I go to and they like to torture freshmen. I'm technically a sophomore too now so I didn't really appreciate their teasing, but when they insulted you it made me really angry. Not because they were teasing me, or because it went against the rules of a knight, but because they hurt you and I… I really like you and don't want you to be hurt." He looked down, bashfully. I could see him blushing in the dim light.
"But I shouldn't have hit that colt in front of you and my sister, and I'm sorry."
This time I was the one to have nothing to say. I was speechless. Did he just say he liked me? As in, like like me? My heart pounded in my chest, echoing in my ears, my face starting to burn in a blush. I was supposed to be mad at him but instead I was becoming the flustered little filly I was when I first met him.
This wasn't what I had expected to happen at all, but I felt strangely warmed by it. I could feel his emotions a little, but they may have been overshadowed by my own. He was nervous, ashamed, but also, there was something like the affectionate emotions I could help ponies find within each other. My pounding heart suddenly leapt at the thought I could have inadvertently cast my spell and this was all my fault, something I had vowed never to do to a pony. But it passed as I realized there was no magical presence except for my own sensitivity. So this was real. This was real… love?
My thoughts were interrupted by a sudden sigh from the unicorn colt. "I- I really should go back to the camp. I'm sorry again." His ears bent low, he turned to leave and I realized I had left him waiting too long, and quickly tried to find the courage to speak to him.
"Wait." I managed, shakily, terrified of losing him suddenly. I didn't want to hurt him again, or ever again. He turned back, and his expression broke my heart.
"I…I like you too, Shining Armor."
The colt's ears perked up. "You do?" he asked, eagerly and I smiled as he blushed and cleared his throat, trying to start again. "I mean, you do?"
I giggled. "Yes, silly. It's just that-" I paused and my heart clenched to see his happiness wilt at my hesitation. But it also endeared him to me more as I continued.
"I have trouble with strong emotions…it's uh…its part of my special talent. So what happened that day really upset me and I didn't know what to do." I said, feeling the full force of the guilt for what I had done to him now and looking down in shame, feeling tears in my eyes. "I'm sorry I ran away."
"Well uh… could we maybe try again?"
I looked up, confused. "What?"
"I mean, can you come out… with me again and maybe things will be better?" he asked, nervously and I got it.
"Are you asking me out?"
"Uh… yes?" he grinned at me, uncertainly.
I tried to keep the tone playful even though I was really just as nervous as he. "Is a little purple filly joining us?"
His grin widened. "Not if you don't want her to."
"Then… yes, I'll go out with you." I smiled, tenderly.
"Awesome! I-I mean cool. Uh, can you meet me here on Saturday? Or do you want me to come to the palace? Uh… what time is good for you?" he rushed to get the words out, anxious and joyful and I was indescribably touched by how much he seemed to care for me.
"Shining, calm down. It's just me." I tried to be calm for him. Somehow my own shyness wasn't bothering me. I just felt content and sympathetic to his nervousness. "How about I come meet you here the same time as last week?" I offered.
Shining Armor seemed to compose himself then, and smiled. "Yeah. That's fine. I'll see you then."
I returned his kind smile and then felt a little lost at what to do or think. Did I just calmly agree to go out on my first ever date? This kind colt I had liked almost from the minute I laid eyes on him had just asked me out, but I still felt a certain placidness, as if I hadn't quite taken it in yet.
"Can I walk you home?" the gentle-colt asked as I tried to figure out my emotions.
Still confused, but feeling light and happy I thought I needed some time alone to walk in the cool night air. "I think I'll be OK on my own tonight." I told him. "You need to go back to your job don't you?"
"Oh, yeah! Oh man, they're going to wonder where I've been. Uh, see you Saturday!" he distractedly waved to me, a blush still apparent on his face, before quickly galloping off into the night.
I watched, somewhat dumbfounded, as the first colt I had ever allowed my shy heart to care for disappeared into the streets of Canterlot. This was real. I had a coltfriend. The most handsome, kind and special coltfriend I could have imagined, and he liked me for me. Not because I was a princess, or even a Sacred Alicorn, but just for the pony I was. My dearest wish had been granted in a way I had never thought would happen.
I skipped on my hoofs all the way back to the palace, grinning from ear to ear. and my heart fluttering in my chest. Finally, instead of magically spreading it to other ponies; I had found love.
---
Chapter 7: Love
"So, did you talk to my brother, didya? Didya? Huh? Huh? Huh?" demanded Twilight the next day that I came to foalsit for her. I just grinned my dopey grin I had been wearing for the past few days. I was so happy. So very happy. I think it was infectious, because the little filly seemed excited too as I floated around in a love-struck stupor.
We were in her room on a rainy day that did nothing to spoil my joyful mood. We were playing with her Pretty Pony dolls and at the same time having her practice her levitation and general telekinetic magic.
"Yup. Everything's good now." I said, thickly, holding my doll up and brushing her hair, which was strangely interesting in my intoxicated state.
"What did you say to him?"
"Uh…I apologized." I grinned again, but the little unicorn gave me a dead paned look, dropping her doll which I picked up for her.
"Didya kiss?" she asked, bluntly and I blushed. It wasn't like I would have told her if I did anyway.
"Nope."
"What? Why not?!" she cried, vehemently.
"Just because, Twilight." I told her with conviction, but I couldn't help but giggle at the end, and she frowned, eyeing me suspiciously as I gave her a sheepish smile.
"You're no fun." She mumbled.
"Sorry, we can't all be like in the movies~." I sang, floating over her Smarty Pants doll- the knight from the other day- and placing it beside her pony doll with a little show of a transparent heart beside them. Then I burst out laughing, making her raise an eyebrow, but I didn't care. I had a coltfriend and he was gentle and kind. We were going on our first date in a few days and I couldn't be happier.
Twilight yanked the Smarty Pants doll back and glared at me.
"Oooh, good grip on your magic." I applauded and she cheered up.
"So now that everything's OK, and you are really, really happy for some reason, where should we go for our next adventure?" the filly asked as I tried to calm down, lost in my giggling.
"What?" I asked somewhat more composedly.
"You, me and Shining Armor, we need to go somewhere really awesome this time. And no getting sick this time either." She commanded, pointing her hoof at me, but since I was still blissful I didn't take offense to her blunt jab at me and my folly.
"Uh actually we sorta already decided to go out somewhere this weekend." I said, hesitantly, not sure if I should reveal this information to the protective filly.
"Oooh, where?!" she asked, eagerly, and then I knew I shouldn't have told her.
"Uh…um…we're actually going out together…on a…date." I gingerly said, blushing and pawing at the floor with my hoof.
"A date?" the little unicorn asked, doubtfully.
"Yes, a date." I murmured. Even her brashness was not going to get to me that day.
"You can't go on a date with him! He's my brother!" she shouted.
"Hey, I thought you wanted us to be all lovey-dovey and kiss." I protested.
"But you can't go out together without me! I need to come too!" she whined.
"Come on, Twilight, you can't come with us on our date. It would be weird." I said, patiently.
Twilight huffed and crossed her hoofs across her chest. "Then you can't go on a date." She said, defiantly.
"That's not your decision, missy." I replied, wryly, tossing a pillow at her.
The filly flashed me an indignant look and then clammed up, and I didn't really get anything out of her for the rest of the afternoon. I poked and prodded her with her toys but she stubbornly ignored me. She was one jealous little sister.
"Come on, Twilight, we'll all go out together another time." I offered.
Nothing.
But even her jealous little tantrum couldn't bother me, and by the time the day was over, in my boredom, I had taken all her toys and made them float around her head in a little dance. She certainly had a hard time ignoring that.
~~~~~~~~
When Friday came Twilight wasn't just mad at me, she was out and out ignoring me. I couldn't get her to do anything I said, and despite it being a nice day, again she refused to go outside, so we were stuck inside her little bedroom again.
I tried casting showy spells, and flying around her room to get her attention but she called me a stupid princess and I flopped onto her bed, glaring at her. So, fed up with being stuck inside and her bad attitude, I picked up the evasive little filly in my magic and dragged her kicking and screaming all the way to the park where I plopped her in a swing.
"Alright you," I started in my best stern-sounding voice, keeping her in the seat for the time being, and glad there weren't many ponies around in the playground. "Your brother is growing up and he needs time to be with other ponies. I'm that pony right now, so you're going to have to accept that and… Wait. Your. Turn."
The little unicorn glowered at me, but I just smirked. "Now, go play!" I cried, and making sure she was holding on to the rope, I pushed the swing as far up as I could.
"Whoa!" She squealed, and I laughed. "Get me off this thing!"
"Just pretend you're flying." I encouraged.
"You dumb princess!" she cried, angrily, but she wasn't trying to get off as I pushed her back and forth.
"Come on, Twilight. Stop being a jealous shut-in and have some fun!" I said, ignoring her insult.
"I'll get you for this." She growled, and I giggled.
"What are you gonna do? Attack me with your books?" I smirked.
"I'll um… I'll…" I gripped the swing and stopped her as she pondered what to do with me. Then, getting to my hind legs I pushed the swing high up over my head, following the momentum to the other side of the playground. It was an underdog- the best swing push move ever.
The filly squealed again, but this time she started laughing too. "Higher!" she shouted and I complied, pushing the swing normally for awhile, and then suddenly switching to an underdog when she least expected it, causing her to burst into giggles.
Seeing her happy again, and actually playing on a swing set made my heart fill with even more joy then it already had, and I came up with an idea to really make this experience stay with her- something that probably only I could do for her.
"OK Twilight, I'm going to ask you to do something and it might seem scary at first, but I promise you it will be OK. You just have to trust me." I said, gripping the swing to stop it as I talked to her.
"What is it?" she asked, doubtfully.
"Do you trust me?" I pressed.
"You're a dumb, brother-stealing-weirdo who doesn't like being a princess…."she started, impudently, her eyes narrowed. "…but I trust you." She looked back up to me and grinned, and I smiled back at her.
"Alright, what I'm going to do is push you as high as I can, and when I say so, I want you to jump off." I declared.
The little unicorn's eyes widened. "WHAT?" she shouted in dismay.
"Do you trust me?" I asked again, seriously.
"Uh… um… but…I'll get hurt." She mumbled, nervously.
"No you won't. I promise I won't let anything happen to you."
She looked into my eyes, wide and fearful, but nodded, granting me her fragile trust that I would protect her from harm. I knew what I was going to do would be something she would never forget, and it would make her smile.
"OK, wait for me to tell you to jump." I called as I galloped under her to push the swing into an underdog. Then as it swung back behind me, I spread my wings and launched myself into the air, fluttering in front of the swing set at the approximate height she would be swinging forward to.
"Now, jump!" I called as she swung forward, her eyes meeting mine as she saw me hovering in the air, and she smiled as she realized that she was in no danger, and what I was going to do. I grinned back, encouragingly, and then she jumped from the seat, hurdling through the sky, and squealing as she flailed her hooves around instinctively to find something to hold on to.
Then I caught her. She tumbled into my hooves, as I flew up under her and giggled, joyfully as I cradled her to my chest and flew back to the ground.
"And that, Twilight Sparkle, is what it's like to really fly." I told her, as we landed in the playground with her still giggling in my hooves.
"That was awesome!" she exclaimed with pure delight in her once evasive tone.
"I told you." I smiled.
"It really was like I was flying- and then-and then you caught me and we were flying!" the ecstatic filly stammered out as I set her down, and she began hopping around in her Twilighty way.
"Maybe next time I can take you up to a cloud." I joked, but her eyes widened, and she stopped hopping.
"Can you do that?"
"Uh…no…not really…" I replied, sheepishly.
"Aw, no fair." The little unicorn pouted briefly, but recovered, and glanced back up at me. "Wait, you used your wings to fly, but aren't you trying to hide them so nopony knows you're a princess?" she asked, with uncharacteristic concern.
I suddenly became aware of some of the mothers and foals watching us in awe, and I shrank down, blushing.
"It's OK, don't worry about it." I assured her. Because really, I hadn't done anything that any pegasus couldn't have done. Let them think I was a unicorn or pegasus, or even a princess- I didn't care. For now I was just fooling around with my contentious little friend, and I'd let anypony know my identity as long as it brought a smile to her face.
I'd do anything for her. For as much as she could be a brat, impassive and even mean sometimes, I loved her. Just like I thought I loved her brother. And I didn't want to lose her to this silly jealous spat. So I hoped with all my heart that she could forgive both myself and Shining Armor and just be happy for us.
Twilight mulled over what I said, looking at me skeptically but then she seemed to disregard it, and shouted, "Do it again, do it again!"
I put my hoof to my chin and pretended to think her request over. "Hmm… maybe… if…. you quit being a jealous little sister." I said, smiling, mischievously.
"Ok, Ok, I won't be jealous." She grumbled, obediently.
I fluttered my wings in front of her, enticingly. "Do you promise?"
"Yes, I promise! Let's go!" she cried, galloping back over to the swings and I giggled as I chased after her.
It looked like that once again I had reached her.
~~~~~~~~~~~
And so, I managed to get Twilight to accept the fact that I was going out with Shining Armour, and then the day came. The day that I had waited for in joyful anticipation all week. It was our first date. My first date. And I felt like there was a flock of butterflies in my stomach.
I had barely slept the night before because I was so nervous and excited, and I awoke with my aunt Celestia as she raised the sun. Seeing me awake and pacing the corridors she took me to her quarters and had me sit at her vanity mirror, where she ran her beautiful crystal brush through my mane.
"My little niece going on her first date…" she cooed, wistfully, brushing out my tangled curls, and making me feel better as I sat on her intricately carved chair, staring at my reflection in the mirror.
"Is it supposed to be this scary?" I gulped.
"You're just having first date jitters. Its normal." She smiled.
"Yeah, but how do I act? What should I wear? Will he kiss me?" I asked, anxiously.
"Just be yourself, Cadance. That's why this colt likes you, not for any other pony you could be." She gave me a knowing look, and I blushed, realizing what she was referring to.
"You know I've been pretending to be a regular unicorn?" I asked, guiltily.
"I may have heard something of the sort."
"I-I wasn't trying to lie to anypony, I just wanted to… I just…" I tried to explain, but felt silly telling my regal aunt who had been a princess alone for hundreds of years that I was ashamed of my duty. Who was I to complain?
"I won't say I condone what you're doing, but I'm not going to order you to stop. This is your decision, and you're mature enough to make the right one." She spoke, seriously, causing my heart to drop back down from my throat, as I realized I wasn't in trouble, and she wasn't going to make me tell Shining Armor who I was. "But I hope this doesn't lead to either you or Shining Armor getting hurt, as all withholding of the truth eventually does." She added, sighing as she twisted two pieces of my mane with her magic and tied it behind my head in a braid, leaving the rest of my hair to flow down my shoulders.
I liked it. It was a princess-like hairstyle, but still playful and sweet. She floated over a pretty barrette of an indigo heart that matched my cutie-mark and clipped it in the braid, then showed me the reflection of the mane style in a small mirror that she held up to the back of my head with her magic.
"There, how do you like it?" she asked, uncertainly.
"I love it! Thank you!" I cried, happily.
She smiled, although I still felt her concern for me. I knew what I was doing was worrying her, but I would tell him the truth soon. Maybe even that day. She had given me the freedom to make that decision for myself, and I would. Eventually.
"This probably should have been something your mother would help you with. I hope you're not disappointed to have your old aunt doing it instead." She said, somewhat insecurely, and I felt touched by her concern for me. I saw her more as a regular pony now, then as my always gentle but somewhat difficult to approach royal aunt Celestia, princess of the sun, and ruler of the land.
"Did you let her know about your date?" she continued.
"Oh, yes, I wrote to her and she's really excited for me." I told her, cheerfully, but quickly added, "I do miss her, but I'm glad to have you to share my special day too. Thank you, Aunt Celestia." I nuzzled up to her neck, smiling blissfully again, my confidence steadily being restored.
She returned the embrace and then added, "I would suggest you wore some of your regal jewellery, but since you're so adamant on keeping your secret, your cream coloured skirt would be lovely and will hide your wings, you silly filly." She winked at me, playfully, and I giggled.
"Oooh, that would look good with the embroidery to match this pretty barrette. Thanks!" Anxious to start trying on outfits, I scrambled out of the chair and started to head back to my room.
"Have a good time." Aunt Celestia waved.
"Thanks again, auntie!" I called as I galloped off to my room to get dressed. Even if I was early- about five hours early- I was ready for this.
~~~~~~~~~~~~~
I wasn't late this time, but Shining Armor was already there waiting for me when I arrived at the fountain of the alicorn sisters. My nervousness was back with a vengeance as I saw the handsome unicorn colt standing by the fountain, waving to me as he saw my approach. I swallowed hard and gathered my courage before trotting over to him with a smile on my face.
"Hello!" I said, enthusiastically.
"Hi, Cadance." The always much more confidant colt smiled at me. He had brushed out his usually matted, electric blue mane, but otherwise he looked the same as always, making me blush the same as always.
"Um, what's up?" I asked, lamely.
"Oh nothing, I just got kicked out of my house today by a very excited little filly who didn't want me to be late." He grinned, and my mouth hung open to hear that Twilight was being encouraging again. That crazy, manipulative little filly.
"I don't know if I believe that." I teased. His jokes always gave me more courage, so I held on to them like a life preserver.
"She is a strange little unicorn." He rolled his eyes, good naturedly, and I smiled, which brought out his own blush.
"You look really nice today." He added, his confidence seeming to waver as he offered his compliment, and I felt my checks burn in my blush. "Your mane looks really pretty down…"
I looked down, bashfully. "T-thank you." I stammered out, and mentally thanked my aunt for helping me with it.
"So, um… what should we do?" I asked to try to give us both something to focus on that didn't freak us out.
The colt perked up. "Oh, uh, I thought we could maybe see a movie if you want." He offered.
"Yeah, that would be great." I said, cheerfully, because really, I didn't get to go to movie theaters often. Just boring, too long operas, or stage shows with my parents and the rest of the nobility in Roam.
"I heard that Bridle Wars is funny, do you want to see that?" he suggested, somewhat reluctantly. He was such a gentle-colt- suggesting a filly-flick- and I agreed eagerly.
"I think there's a matinee playing in a half hour. Let's go get tickets before its sold out." He said, and we headed off to the Canterlot theater, trotting together, two young unicorns on their first date.
~~~~~~~~~
"Are mares really like that?" A thoroughly spooked Shining Armor asked, anxiously, as we sat at the Pudding Café together after the movie. I giggled.
The movie was about two young mares who had been best friends since childhood, and had always planned their weddings together. When they are both engaged at the same time, they schedule their wedding ceremony at an expensive and beautiful venue with a renowned wedding planner, but due to a clerical error their weddings fall on the same day and cannot be moved so they start to try to sabotage each other's special day. I thought it was hilarious what they did to each other, and the movie had a happy and touching ending where they remembered their treasured friendship due to an intervention by one of their fiancés. But poor Shining Armor seemed freaked out by the viciousness of the two mares, who had quite the cat fight during their wedding.
"It's just a movie, silly. But we mares do want to keep our weddings perfect." I told him.
"Would you dye your friend's coat orange? Or mane blue?" he asked, wryly, describing one of the ways the mares had sabotaged each other's looks.
"Hey, her mane looked like yours, is that so bad?" I quipped. "My mane is blue! Its bluuueeee!" I exclaimed, quoting my favourite scene from the movie and making him laugh.
"You're good at that."
I grinned. "That was my favourite part."
"Of course it was." He chuckled. "So, what is this dessert you want me to try?"
I had told him we should visit the Pudding Café after lunch so he could try their crème brûlée, and we found ourselves at the little sweet shop in the late afternoon. I was surprised he hadn't tried the specialty dish before, although he had come to the store to buy candy for his sister.
"It's a special type of pudding. You'll like it, trust me." And as if we had summoned her Mrs. Pudding appeared with a tray of two of the creamy desserts.
"Why, if it isn't Cadance? How are you, my dear?" The confectioner greeted, pleasantly. "And with a colt? Who is this fine young stallion you have caught?" I sank down in my chair, embarrassed by Mrs. Pudding's good natured nosiness.
Fortunately, Shining Armor rescued me. "My name is Shining Armor, ma'am. Cadance said your specialty pudding is delicious and brought me here to try it." He said, politely.
Mrs. Pudding beamed. "Yes, I hope you enjoy it."
Shining Armor graciously took a spoonful of the dessert and smiled when it reached his mouth. "Hey, this is really good!" he exclaimed.
"What'd I tell you?" I grinned, lifting my own spoonful to my mouth.
"My husband creates only the best for young love. Enjoy your dessert, Shining Armor; Cadance." The baker smiled, before taking the tray and trotting back into the store.
I turned to the colt and smiled, sheepishly, still embarrassed by the exchange. He smirked.
"I think you secretly work for them and are promoting their pudding to me." he joked.
"Hey, it's good isn't it? I just come here a lot." I laughed. "Speaking of work…" I began, steering the conversation elsewhere so I could recover. "What's it like trying to lead all those crazy colts?"
Shining Armor rolled his eyes. "A pain in the flank. They don't listen unless I resort to shouting at them like I did the day we met, and they have no concept of honour or chivalry, they just want to swing around a sword."
"But then again, that's the same with some of the colts at the academy, isn't it?" I said, wryly, glad to find a way to poke fun at the situation that had almost driven us apart.
"Oh don't get me started." He replied, with more conviction then I expected, making me giggle again. "But I imagine it's just as challenging for you with my crazy little sister." He added.
This time it was my turn to roll my eyes. "She can be difficult. Especially lately, since she's mad at me. Jealous, I think." I quipped.
The unicorn colt sighed. "I don't know what she's going to do when I leave home in a few years. She's really quite possessive."
"Tell me about it." I laughed, and so did he.
"As long as she gets over it by our wedding day, it should be fine." He joked, but all I heard was 'our wedding day' and I choked on my pudding. "Our…" cough, cough. "…wedding?" I managed to choke out.
"Whoa, don't freak out, it was just a joke. Are you OK?" he asked, concernedly, floating over a glass of water which I gulped down, trying not to hack and sputter.
After a minute, where I found I could swallow again, I composed myself and grinned sheepishly at him. "I-I'm sorry. I was just taken by surprise."
"You mares and your weddings." Shining Armor mumbled, playfully, and then he glanced up at the sky, where the sun hung low, entering into evening and sunset. "Are you up for some mountain climbing? There's something I want to show you." He asked.
My heart stuttered a bit to think I would be alone on a mountain top with him, but to cover up my nervousness and previous blunder I said coyly, "I may faint in the heat, and choke on pudding, but I can handle climbing a mountain."
I could also fly up it; but he didn't have to know that.
~~~~
We walked through the castle town of Canterlot toward the drawbridge that lead out to the surrounding mountainside and cliff tops. I felt a little nervous leaving the city, which I hadn't done before, but the sight I saw when we crossed through the bridge to the other side, took all my fears away, along with my breath.
From the top of the cliff where the city exit lead to a grassy knoll, with a stone pathway, was a magnificent view of endless hills and valleys that seemed to stretch all the way across Equestria. The castle was fully visible to the west, jutting out of the mountain like a beautiful gold capped bluff. I knew from being inside it that the palace was perched out along the mountainside, but I had no idea just how precarious it stood until I saw it from this view. It was also beautiful. The surrounding mountains of Canterlot with the endless waterfalls and green hills and trees, was the most beautiful sight I had ever seen.
Shining Armor lead me around the river and to the base of the mountain where there was a path that stretched out along the cliffs and through the waterfall. It seemed to zigzag to the very top, while tunnelling inside of the rock and behind the path of the stream of water that fell from the top of the mountain. It didn't look as strenuous a climb as I had originally thought, and I was eager to begin.
As I had thought, the path went right through the waterfall, making it seem as if we were inside it, and cast the view of the castle and sky in a hazy mist that slightly wetted our coats. I playfully hid behind my coltfriend as the mist spayed at us, but he gallantly tried to shield me anyway, leaving him with a wet mane that had reverted back to its usual messiness, and I giggled.
By the time we reached the top the sun was starting to set, and I was winded. For as much as I hated to admit it, I was weak with how I had always been cooped up in the castle in my home. I had never climbed a mountain, and my hooves ached as I struggled to catch my breath. Shining Armor reached out a hoof to me and I graciously took it as I made my way over the last rocky hurdle.
"Are you alright?" he asked me, concernedly.
"I'm fine." I assured him, stepping back on to the ground where some grass now scattered among the rocks.
Blinking in the brightness of the low and bright sunlight, I followed the colt to the very edge of the cliff where I was amazed to see that we were almost parallel with the tallest tips of the castle towers. I had never imagined we had climbed that high, and if I had thought I could see all of Equestria from the base of the mountain, it was nothing compared to the view from the top of the bluff.
The land stretched out below me like a tapestry of art, the green hills blending in perfectly with indigo lakes and rivers, pale gold fields and fading grays and purples of more mountains in the distance.
"Let's take a rest, it's almost time." Shining Armor said, courteously, but his voice had a hint of mysteriousness to it that intrigued me. There was a pool of water nearby where I thirstily took a drink and then settled in a patch of grass beside him.
"Aren't we a little high up to see the sunset?" I asked, curiously, noticing the sun, although bright, was far out to the west, barely visible in the distance. The sky was already turning magenta and orange, the dark blue of the night entering from the top.
"Maybe, but that's not why we're here." He replied. "But you should still look out that way."
I gave him a confused glance, but obediently looked out at the steadily declining glow.
And then I saw it. A slender winged figure flying into the sunset that was hard to make out against the glare, but I knew right away it was my aunt Celestia. I knew that she was the one to set the sun and raise the moon, but I had never actually seen her do it, besides at the summer sun festival, where she basically just put on a show of raising the sun in front of a monument.
"Is that the princess?" I asked, just to not seem too observant and knowing to him.
He smiled. "Yup. She flies out there every night since I started coming here. It's usually after the sunset, so I don't think she does it to set the sun, but just to raise the moon, because she disappears after that."
I knew my aunt had a solemn connection with the moon. She was mistress of the sun, but she also had responsibility over the moon, and whenever I mentioned it to her she changed the subject. But I could sense her deep sadness and regret too, and I always wondered what the moon meant to her, and if she could feel what I felt from it.
"Wow, its beautiful…" I said, fervidly, my heart full with the emotions I could remember from looking at that lonely creature far out in the sky.
The last of the sunlight disappeared behind the mountains then, and the winged figure of my aunt flew up into the clouds, followed slowly by the shining, pale whiteness of the moon. When she had coaxed it to its zenith, her form became a shadow against the orb, complimenting the head of the unicorn shadow that seemed to watch her.
"I come up here when things get stressful at home and school, and around this time I always see her fly out there. I don't think many ponies come up here, because I'm usually alone, and I doubt she knows that anypony can see her. I'm pretty sure the princess doesn't have to fly up like that to raise the sun or moon either, but she always does." Shining Armor said, somewhat solemnly, echoing my own thoughts. I knew she didn't have to do that to raise the sun or moon, and there was more to the ritual then either of us understood.
"I really admire Princess Celestia, you know? She does so much good in our world, and she is kind and fair to all her subjects. She raises the sun and moon and has kept peace for a thousand years. How many kingdoms can say that?" the young knight in training mused, and I smiled, touched by his confession.
"Have you ever met her?" I asked.
"Yes. She presides over the enrollment ceremonies at the royal guard training academy. She came to meet each new student." He replied, bashfully. "I met her as a foal too, with my parents being part of the royal court. I guess you see her all the time being a student of hers and living at the palace."
"Well… uh… she's really busy, so I only see her in class, but you're right, she is a good and kind pony." I said, wanting to agree with his praise of my aunt, but not willing to give away my relationship with her.
"That's why I want to be a royal guard. I want to protect her, and any other pony who needs protecting. So that we can always have a country of peace."
His pure hearted earnestness made my heart swell with pride and tenderness, and I found myself leaning against his soft white coat.
Blushing, the colt looked down at me with concern. "Are you tired?" he asked.
"A little…" I murmured, but mostly I was just extremely moved and overwhelmed with my own emotions.
"Do you want to get going?"
"No. Let's just stay like this for awhile." I whispered, nuzzling closer to him, and gazing out at the now bright and full moon. He seemed a little tense, but as I lay my head on him he relaxed against me and sighed.
"I think your dream is really noble, and I know you'll be the greatest royal guard ever." I said, seriously, and my heart heavy with emotion, I sat up and kissed him gently on the cheek.
He sat straight up, seeming surprised, his muzzle pink in a blush. I smiled, lovingly at the kind and gallant colt, and lay back down against his neck, and we watched the stars twinkle together.
~~~~~~~~
It was late when we got back.
Because it was dark, and I seemed to have hurt my hoof a bit, my colt in shining armor teleported us back to his most familiar location- outside his house. I couldn't believe he could teleport ponies, albeit two of us, and such a long distance. He said it was one of the first things they learn at the training academy as an emergency procedure. It wasn't easy, but he had had a lot of practice teleporting bigger ponies then me for much longer distances and it wasn't a problem.
We stood outside Shining Armor's house, facing the side where Twilight's room was. The windows were open in the warm summer night breeze, and although it was well past 9 pm, her light was on and I could hear raised voices coming from inside the lower floor. It sounded like their parents were having some sort of heated argument. The air was thick with tension and I could feel the negative emotions even without being in the same room as the two advisers.
Shining Armor frowned, and I bent my ears back, not wanting to face an argument with my emotions already mixed up.
"He got into a fight last weekend. I had to be told by some of those snooty Canterlot gossips. This wouldn't have happened if he had gone to Princess Celestia's school like I wanted." Mr. Nightlight's angry voice drifted out through the window to us.
"We've been over this already, and besides, he was protecting a filly. You can't judge him on something those gossips say anyway." Mrs. Twilight Velvet defended, her voice high and irritable.
"Ugh, not this again." Shining Armor muttered, and I glanced at him, questioningly.
"What's wrong? Is that your parents arguing?" I asked.
Instead of answering me he used his telekinesis to throw a rock at Twilight's window, and despite the late hour the filly came up to it and groggily looked down at us.
"Twily, what's going on?" Shining Armor called, grimly.
"Ugh, mom and dad are fighting again. You made them mad." She muttered, grumpily. Then she blinked when she noticed me. "Hey Cadance! You can stop them!"
I blushed, and backed up a bit as both of them turned to me. "I-I don't think I can do anything." I stammered.
"Yes you can! I saw you make those two unicorn bakers stop fighting and go all lovey dovey. You said you could do it for my parents too!" she protested.
"What is she talking about, Cadance?" the elder brother asked me, suspiciously. His light and happy mood had completely shattered and I felt bad, and didn't want to intrude.
When I didn't answer, Twilight did for me. "She can make ponies fall in love again. If they're fighting like mommy and daddy are, she can make them stop. It's her special talent."
Thank you, Twilight.
"Really? You can do that?" Shining Armor asked me, his tone softer.
"Um…" I was scared to cast my spell. I didn't want to use it on his parents. They were my employers, my aunt's royal advisers. I couldn't just toy with them like that. Besides, I couldn't hear exactly what was going on, and I had nothing to make my usual judgement on. Until, that is, my dear friend told me.
"I don't see why he has to join the royal guard while he has the grades and talent to make a fine scholar like us. I don't want my son part of those boorish young colts." Mr. Nightlight muttered, indignantly.
"It's my fault. It's all my fault." The colt bent his head, shamefully, and my heart ached for him. I could see what was happening now. He didn't deserve it.
"My parents don't want me to be in the royal guard. My father wants me to be a scholar like he is, and my mother is scared I'll be hurt. They've started arguing all the time since I joined, and it's mostly Twilight who has to hear them." He paused, his noble heart caring for the wellbeing of his little sister above his own, and he looked up at me. My heart broke to see and feel the pain in his eyes. "I don't want to give up my dream… but I don't know what to do." He sighed, sadly.
All at once I knew what to do. I had never felt so much resolve to use my spell as I did at that minute. But I knew it wouldn't fix it everything. I had to let him know that it was up to him to fix this wound between him and his parents; all I could do was give it a bandaid.
"Shining Armor, I will use my spell to stop this argument, but you need to talk to your parents. I can't fix this for you, but I can help you face it." I started, solemnly, charging up my horn in preparation to cast my magic. "Tell them what you told me. Tell them that you want to protect ponies, that you protected me. Then they'll understand your beautiful dream. You can do it, I believe in you." I smiled, tenderly, and then braced myself for the onslaught of the two parents' uncompromising concern for their foals emotion to stream into me.
I staggered a bit under the intense weight of it, and my coltfriend watched me anxiously, his eyes wide. I was too close to these ponies to really contemplate the memories I saw from their parents. That was why I didn't want to cast the spell initially. But as I saw them, and the spell moved to completion, I knew that my special talent could really help ponies; ponies I cared about, and it was truly a gift.
We couldn't see what was going on inside the thatch roof house, but I could hear the once angry voices calm down from the open window.
"Yay! You did it!" Twilight cheered, which didn't seem like the best thing to do now that the house was quiet, but I figured Mr. and Mrs. Light would be enjoying their memory and not too aware of a squealing filly.
"That was… amazing." Shining Armor stammered. He seemed a little shocked by it all, so I nuzzled up to him to show my encouragement. I could hear his heart pounding against his chest, and I felt mine closely follow it.
"Thank you, Cadance." He said, emotionally, and I smiled up at him. From his higher stature, the colt moved his neck to look down at me, a blush apparent along his cheeks, our eyes met and then….
"Kiss! Kiss!" Twilight shouted from her perch at the window.
We both turned to her. "Go to sleep, Twilight!"
"Aw, nuts."
~~~~~~~~~~~~
end
A/N
The scenes with Celestia and Cadance are very important for the second half of this story, especially this one. Please don't think I'm just trying to add words to the document. You'll see what they mean. And no, I'm not telling you the memories Cadance saw from Twilight and Shiny's parents. ;)
Wanna see the movie they saw on their date, including the 'blue mane' scene? It's 'Bride Wars' I chose it for its comedy (I love that scene) the parallels with the Canterlot Royal Wedding and how easy it was to ponify. It can also freak any guy out. Haha.
This is the longest chapter! Yay! I have a drawing for this chapter too, but I thought I'd get the new chapter up first so you don't have to wait for me to scan and colour the stupid thing.
I do not have the next chapter properly planned yet so it might take awhile, but I plan for it to be the end of part 1, then I will probably write Finding Harmony again before going onto part 2.
Enjoy, and as always thanks for reading!
---
Chapter 8: Friends
When I first came to the castle town of Canterlot that summer I had dreamed of making a friend. Instead of having the freedom to search for other fillies and colts to play with, I was given the job of looking after an introverted, book-loving filly whose older brother became my first coltfriend. I was truly happy with the wonderful two ponies I had met, but as a princess protected all her life in a castle without the chance to make friends of her own, I still felt like I was missing something. I was still lonely; especially on the days I didn't foalsit for Twilight, and during the week when Shining Armor worked.
Most teen fillies at least had somepony else to talk to while their coltfriends weren't around. Coming to Canterlot helped me solve that problem too when Shining Armor invited some of his friends from the academy, who in turn, invited one of their marefriends from Celestia's School and her two other friends to meet me. The three fillies would become my first real group of friends, and would stay dear to me the rest of my life.
Over pizza and milkshakes I met Shining Armor's friends; Ivory, Palomides and Blueberry, along with the fillies; Lyrica, who was Ivory's marefriend, Medley and Sweetheart. Ivory was a fittingly named large, white pegasus with stern eyes, but a soft voice. He had a long pale blue mane and his cutie mark was a laurel wreath. Palomides was a gray unicorn, with a spiky white mane. He was slender and tall, with a shooting star as his cutie mark. Blueberry was a pegasus who was not blue save for his mane. He had a grayish white coat with two fencing swords as his cutiemark. He seemed to be a bit reserved and ashamed of his name. All three of them, along with Shining Armor, had the traditional colours of the pegasi and unicorn royal guards and I was starting to wonder if that was how they were accepted into the training academy.
Lyrica was a tall aquamarine unicorn with a white mane. She was loud and silly, the complete opposite of her soft spoken coltfriend. She had a music note and star as a cutie mark. Medley was a light blue unicorn with a royal blue mane like the royal guards. She was known to be a gossip and somewhat selfish, but she was fun and playful and good when it counted. She had the unusual cutie mark of both a music note, treble clef and a star to create a 'medley' of talents, I guessed. And my personal favourite of the three was the gentle and kind, small stature white unicorn, Sweetheart, who was every bit as sweet as her name. She had a curly pink mane and tail, soft blue eyes and her cutie mark was three hearts. She was a bit shy when I first met her, but could really open up after she got to know you.
"So, Shining Armor finally found a marefriend." Ivory said teasingly, making Lyrica, who clutched onto his side giggle. I think she was permanently glued to him. They joined the rest of us who were sitting together at a large table, sipping at milkshakes and looking over a menu of pizza and toppings.
"Yes, Ivory, this is Cadance. She's visiting from Roam this summer." Shining Armor introduced me, patiently, not bothered by their teasing since these colts were his actual friends.
"Hello." I said, shyly. This was the largest group of teen ponies I had ever been in the presence of. Although I knew I could trust them based on Shining's connection with them, I still felt shy and unsure of how to act, especially around the boisterous and cheerful Lyrica.
"Oooh Roam! I always wanted to go there! I bet it's so fun!" the flighty filly exclaimed.
"Roam is like the epitome of art and culture. You must suffer eye exhaustion from the amount of beauty there is." Medley added, dreamily.
"Are you just visiting? But we just met you." Sweetheart spoke up, her ears drooping. It was sweet of her to say.
"Well, I'm here for the rest of the summer. I'm on a summer exchange program at Princess Celestia's School." I explained.
"Ohh! That's where we go to school too, you know!" Lyrica informed me, unnecessarily.
"Lyri, I think she already knows that. Glad to meet a marefriend of Shining. I'm Ivory." The large, white pegasus demurely introduced himself.
"Nice to meet you." I replied.
"I'm Palomides. Shining Armor is my buddy from magic kindergarten." The gray unicorn grinned, rustling Shining Armor's mane, making him laugh and try to reach to Palomides' much more substantial height to get him back. He settled on grabbing the unicorn's short cropped tail in his teeth, and using his strength to pull his friend on to the ground.
"Hi. I'm Blue…berry. Please don't call me that. Just Blue." The low voice of the other whitish-gray pegasus mumbled. He didn't seem very cheerful.
"Oh I'm so sad. I'm named Blueberry and that's not cool at all, even though my high ranking brother is named Sunny Days too." Palomides laughed, good-naturedly, clutching his friend around the neck. But the pegasus stubbornly pushed him off.
"It's now Sun's Grace. He got it changed by the princess." He mumbled, angrily.
"So get a high rank, change your name and quit complaining. I knew plenty of colts with worse off names then you. Think of the earth ponies and what they have to deal with." The unicorn shrugged, not seeming to cheer up his gloomy friend.
"I don't mind calling you Blue." I tried to satisfy him.
"Thank you." He said, without any real change in emotion, and I felt bad.
"Don't mind him, Cadance. He's always grumpy." Shining Armor reassured, smiling. He knew my trouble with pony's emotions now and tried to help me deal with it. Blue just huffed.
Just then a unicorn waitress came to take our order. We jointly decided on two large, green pepper, mushroom and tomato pizzas with mozzarella cheese, which the waitress cheerfully wrote down on a notepad, and then left for the kitchen.
"So, um, Cadance, how did you meet Shining Armor?" Sweetheart meekly asked.
"Yeah, I did not see him getting a cute marefriend like you anytime soon!" Medley laughed, somewhat angering me, but Shining Armor just rolled his eyes.
"I have been foalsitting for his little sister, and I met him when he came home from the camp for the weekend." I said, leaving out all the awkward instances before that.
"No way, you foal sit for this guy's crazy sister? She used to idolize me, but lately whenever I come by she gets all jealous and won't let me near him. Then she'll grab on to his tail as we're trying to leave for school and won't let go unless he drags her with us. Somepony's got a real sister complex." Palomides chuckled, receiving a look from Shining Armor.
"She's just a lonely little filly who needs a friend now that she realizes her big brother can't always be there for her." I said, resolutely, trying to defend my little unicorn charge. "I guess I'm trying to be that friend to her."
"Aw, how sweet." Cooed Sweetheart. "I like playing with little fillies and foals too. They're so cute." She continued, happily, giving a squeak of pleasure much like Twilight would.
"Kids freak me out." Medley muttered.
"Oh whatever, you love your little sister, Meds." Lyrica scolded the other unicorn, who blushed.
"Minuette's different. She's my little tube of toothpaste." The blue filly gushed, giddily, and I could see she really cared for her little sister just like Shining Armor did, and my initial aversion to her weakened.
"Uh, why did you just call your sister toothpaste?" Blue asked, dispassionately.
"Because! She has this little white and blue striped mane like toothpaste. It's adorable!" Medley exclaimed putting her hooves to her cheeks.
"With those colours she could be a part of the royal guard." Shining Armor added.
"Oh, about that, I see all of you seem to already be the exact colour of the other royal guards. Why is that? Can you only train if you have the right colour pelt and mane?" I asked, curiously, always wondering why Aunt Celestia's guards all had uniform colour schemes and was surprised to see the students of the academy be the same.
"No way. That wouldn't be fair. Only Shining and I would get in then." Ivory seemed shocked, but I couldn't have been the only pony to ask could I?
"They have us dye our coats and manes once we've graduated and been accepted as royal guards by the princess. But a lot of colts do it before or during school just to fit in." Palomides explained. "Blue here was actually… blue once, weren't you?" he chided the grumpy colt who glared at him.
"And you were a gold palomino, Palomides." Blue shot back at him and we all laughed, causing him to blush.
"I have always been a perfect snowy white, hence the name, of course." Ivory declared. "Anyway, welcome to the group, Cadance. If all of us can find some time off from work, or just stop lazing around all day this summer, we're gonna go to the lake just outside of Canterlot. You should join us." Palomides smiled, invitingly.
"Oh yes, please come! Another couple would make things so much more fun!" Lyrica said, excitedly.
"I'd be honoured if you could come, fair Cadance." Shining Armor used his silly knight proposal on me again, and I giggled.
"I'll have to ask my… the princess for permission. But I'm sure it will be alright." I said, stumbling over calling Princess Celestia my aunt. I didn't think I could keep my secret from seven ponies now, and was starting to see how a lie could grow out of control, as I had always been taught. I wished I could just quietly tell Shining Armor the truth alone and be done with it. But I had gone too far now, and wasn't sure exactly how I was going to end it.
"Pizza!" My thoughts were interrupted by Lyrica's excited cry, as our dish arrived to our table, piping hot and smelling delicious.
I joined my new group of friends in eating the rainbow coloured platter of vegetables and pale, gooey cheese that stretched like an elastic band as we tried to bite it off the pizza, and put my worries away. I could think about it another day. For now, I was doing what any teen filly would do; content with friends and worrying about not pulling the cheese off the crust of our pizza, to be left with nothing but an empty piece of dough and dripping tomato sauce.
~~~~~~~~~
"But when I met Palomides he was a funny golden unicorn. That other one is an imposter, and I won't let him get Shining Armor." Twilight said, decisively, the next day as I asked her why she was so wary around Shining Armor's good friend. It seemed like even she should be able to get along with her brother's friend whom he had known from his foalhood.
We were playing at the park again, and I was pushing her gently on the swing as we talked. As I took in her explanation though, I could barely contain my laughter at the simple mistake she had made.
"You mean you thought the gray unicorn who comes to pick up your brother for school sometimes is somepony else?" I asked, trying desperately not to burst into giggles and offend her.
"He's an evil spy." She said, impishly, narrowing her eyes.
"You are the craziest filly, you know that." I lost my battle with myself and fell into hopeless giggles.
"What's so funny?" the lavender filly demanded, raising an eyebrow.
"The gray unicorn…" I tried to say between my laughter. "He's not a spy…he is Palomides!" I explained, holding my hooves over my mouth to calm my giggles.
"What?"
I took a deep breath to calm myself, and patiently continued. "The colts at Shining Armor's school dye their coats so that they all look alike in the royal guard. Palomides just dyed his coat grey, silly."
"Wha…huh?" Twilight asked, her eyes widening.
"He's the same colt. So you can stop being so hostile to him."
The little unicorn just stared at me, her huge lavender eyes barely blinking, and I could almost hear the gears clicking in her head as she processed this new and intriguing information.
"Yay! 'Cause that unicorn is way more handsome then Palomides was!" she cried, and I again collapsed in helpless laughter, and confused, the filly joined me. Then I reached up and cuddled her to my chest.
"Oh, Twilight, what would I do without you to always make me laugh?" I giggled, lovingly, clutching her close to me. I expected her to start squirming to get me to push her on the swing again, but she returned the embrace and stayed still.
"I'm glad you're my foalsitter too. Because you make me happy, and you helped fix my parents so they don't fight anymore." She said, seriously, hugging onto me.
"Aw, Twilight, I didn't do anything. Your brother was the one who talked to them." I blushed, touched by her gratefulness, although I knew I hadn't really done anything for her parents. I was glad to hear I had made her happy though.
"Yeah, but you gave him the courage he said. I'm glad you're dating him too. I'm not jealous now." she continued, and my eyes grew teary.
"OK, stop being so serious. You're going to make me cry." I stammered, pulling away and starting to push the swing again.
"Don't cry, you're supposed to be happy!" she exclaimed, distraughtly, her uncharacteristic concern just making my eyes water more.
"They're happy tears." I said, and gave a silly grin which made her laugh again as I continued to push her back and forth.
After she tired of the swing set I carried her over to a picnic blanket we had set up on the hill that day, and set her down.
"Sunshine, Sunshine, ladybugs awake! Clap your hooves, and do a little shake!" We did our little hoof clap song and dance, and then fell onto the blanket laughing.
"Thanks for showing me what it's like to have fun, and play too!" Twilight giggled as she turned to me.
"Now that's what I always wanted to hear!" I shouted, in between my own giggles that left my eyes even more watery.
"Why are you crying again?" she asked me.
"Because I'm happy!" I cheered into the skies.
"Uh… I don't get it…" the filly mumbled, and I wiped at the tears in my eyes. They may have been as a result from laughing so hard, but I knew in my heart that the tears were from the joy of finally having Twilight Sparkle acknowledge all I had done for her, and how I had realized how much I loved her too. Because although I was years older than her, she had been my first real friend, and was the catalyst that brought me to the joyful state I now was in.
~~~~~~~~~~
"Your parents are going to kill me for allowing you to do this." Aunt Celestia said, hesitantly, as I got ready to go to the lake with Shining Armor and his friends. I had asked her permission to attend after my lessons on Monday and she had reluctantly granted it to me. Now it was Saturday, the day of the trip, and I was excitedly scrambling around my room trying to get ready for when we left that morning.
"No way. You're the princess. They can't argue with you." I grinned, dismissively, picking out a skirt to wear and wondering what snacks to bring.
My aunt raised an eyebrow at me, and floated over my saddlebag. "You're a princess too, young filly, or have you forgotten that in your little charade?" she asked, disapprovingly.
I scowled. "No… but I'm trying to."
"You've got to keep your little secret from seven ponies now, including my students. They can be very perceptive." She warned, and I was starting to get sick of her telling me that I couldn't continue to hide my identity. I had done pretty well up to now. No pony had seemed suspicious yet. I wished she would just drop it.
"Whatever, I'll just say I can't swim, and hide my wings like I always do." I muttered, irritably. She didn't seem too happy with my bad attitude, but I didn't care. I was thirteen years old, almost a full grown mare, with real friends for once, and I was getting out of my forced prison once and for all. She wasn't going to stop me.
"Just remember you need to be back at the palace by ten pm sharp. And don't think I won't wait up for you. I can stay up late too." Aunt Celestia said sternly, but with a hint of her usual playfulness, so I softened. It was a running joke with us that she went to bed when she raised the moon-- which was like, eight at night--- I stayed at Twilight's longer than that.
"Don't worry, I promise I'll be back in time."
"Good. Have a wonderful time, Cadance. I'm truly happy you found some friends." The ivory princess smiled warmly at me, and I took back my angry thoughts and returned the smile. I couldn't be angry at her. As much as she was acting stern and the responsible aunt she should be, it was because of my Aunt Celestia that I had earned the freedom to find my new friends. My parents would never had allowed me to date Shining Armor, let alone leave Canterlot walls. My aunt not only allowed me to explore my independence and run and play with other ponies, she encouraged it. I knew I would always be grateful to her along with the little filly she had introduced me to.
~~~~~~~
I met Shining Armor, Palomides, Sweetheart and Medley at the drawbridge exit from Canterlot. Ivory and Lyrica were running late, which was not an uncommon thing for them, apparently. We excitedly showed off what we had brought with us, commenting on the snacks and toys we each had, while I got chastised for saying I couldn't swim. I did feel sad that I couldn't go swimming with the others, but it wasn't like I had to completely stay out of the water. I had a short skirt on that normally wouldn't completely cover my wings, but I wore a lavender vest underneath which I wouldn't mind getting wet, and completely concealed that which would give my secret away. It also helped corroborate my explanation for having to wear anything at all while swimming.
When the two missing ponies arrived they brought the ingredients for s'mores, which made it perfectly fine with me that they had come late. Also, Ivory said he had brought something special from Cloudsdale which only pegasi got to experience. Lyrica had giggled her knowing little giggle, and I was intrigued. Although I was technically part pegasus myself, I had obviously not grown up among them, and wondered what Ivory could have in his large cooler strapped to his back.
We left Canterlot for about a forty minute walk north toward the distant mountains and fields in the direction of Fillydelphia, arriving at Lake Harmony just in time for lunch. It was a small, but pretty, crystal clear lake surrounded by a sandy beach on a hill. Although it was a summer weekend we seemed to be the only ones there and we set up a picnic blanket and started on eating the scrumptious sandwiches and snacks we each had brought. Ivory refused to show us what he had brought until after sunset when we had a campfire, so everypony but me waded into the cool lake water and began splashing around. I stood at the edge of the lake watching them and feeling sorry for myself, until my oh so sweet and kind coltfriend came up and splashed me, soaking my mane and skirt, then scampered off deeper in the water where he thought I couldn't chase him. Technically, I couldn't, but it didn't mean I couldn't get him back.
"I'll get you for that!" I shouted, and galloped into the water so that it was up to my knees, then cast a spell to create a moderately sized wave that I guided just over to where the colt was trying to hide underwater. When he came back up for air and grinned impishly at me (I was starting to see a resemblance to his little sister now) I smirked back at him, then released my hold on the wave and watched it consume him, tumbling the helpless unicorn off his hooves and back under water in a small riptide. The others laughed, and I lost it when Shining Armor came back up, disoriented, his mane covering his eyes, and seaweed hanging off his horn.
"Don't mess with Cadance." Palomides said, wryly, glancing toward me with a mock expression of fear. I was lying in the water, not caring about getting wet anymore, and laughing so hard I could barely breathe.
"All I did was splash you. You're not fair." Shining Armor sulked, pawing at the seaweed with his hoof, but I barely heard him through my giggles.
Lyrica thought this was funny too and tried to splash Ivory, but the pegasus just flew up and out of the way, chortling at her. Unfortunately for him, he may have had the wings she lacked, but she had magic like I did, and the unicorn cast a similar spell that toppled him back into the water, splashing Sweetheart, who began to cry. Worried, I tried to come to her aid, but she was too far out for a pony who couldn't swim to reach.
"Don't cry, Sweetheart. It's all fun." Palomides came over to the fragile unicorn and tried to comfort her, putting a hoof around her neck. Sweetheart's crumpled, tear filled expression suddenly reverted to a devilish grin and she plunged her hooves in the water and splashed the gray unicorn colt who seemed shocked.
"You're all a bunch of foals." Medley muttered, looking prim and proper where she sat in a shallow patch of water closer to where I was, her top half still dry. Blue sat neutrally beside her and rolled his eyes.
Hearing that, I got back to my hooves, and looked over to the others who all seemed to share the same idea as me. Then, readying my wave spell, we dove over to the two oblivious ponies and attacked, creating a miniature tidal wave that flung them both deeper in the lake and we all burst out laughing.
After a while the other fillies and I left the colts to their more aggressive play in the water, and retired to the beach where we lay in the sand on towels and sun bathed to dry off. I especially needed that since I couldn't take off my wet skirt or vest, so putting on a pair of sunglasses, I stretched out on my stomach next to Lyrica and Sweetheart and enjoyed the warmth of the high noon sun on my wet mane and back.
"How come you wore a vest and skirt today if you knew you were going to get wet?" Lyrica glanced over at me, curiously, and I froze. So far Shining Armor had been too much of a gentlecolt to ask such a direct and impolite question, but for another mare it was not such an imposition, and I hoped my flimsy explanation I had prepared would hold up.
"I'm prone to bad chest infections that get me stuck in the hospital, so I'm required to wear this stupid vest if I get wet to keep from getting a chill, and always cover up otherwise." I muttered, figuring I already must look weak to Shining Armor with my fainting spells, I my's well add a chronic condition too. It was also another good reason for me to have always been a shut in.
Lyrica frowned. "Jeez, that sucks. I guess you can't take it off to dry off either, huh?" she asked, but was suddenly interrupted.
"Oh, please don't get sick! I'm sorry if I splashed you. I-I didn't know!" Sweetheart cried, distressfully, her wide blue eyes full of concern, making me feel bad for my lie.
"I'm alright. Don't worry, Sweetie." I smiled, reassuringly, with a pang of guilt ripping into my side. This deception was indeed snowballing as my aunt had warned.
"Yeah, it was Shiny who splashed her. What a jerk." Lyrica added.
"Whatever, you all ganged up on me and Blue and got my mane all wet and full of seaweed." Suddenly Medley cut in, angrily as she struggled to comb out her tangled hair, and I giggled. "Don't act like an innocent invalid, Cadance, you cast the first spell that started that!" she glared at me with fire in her aqua marine eyes, and I burst out laughing with the other two joining in, to her chagrin.
Eventually the colts returned, and Palomides settled down to dry off in the sun, while Ivory wondered off with Lyrica. Sweetheart was reading a book, Medley was getting her beauty sleep, and burning her blue coat a worrying mix of red and purple colour, while Blue munched on more snacks.
"It looks like everypony is doing their own thing now..." Shining Armor said with a hint of hope in his voice as he trotted over to me. I guessed he wanted me to go off somewhere with him too. I was lying on my back now, mostly dry, and sat up, pulling my sunglasses down to regard him coolly, then promptly put them back on and lay down again.
The colt grimaced. "Ok, Ok, I'm sorry for splashing you." He mumbled, hanging his head like a foal being scolded, and I grinned, but did not relent. "I'm not one for sunbathing, with my white coat and all… so…. want to walk along the beach to dry off?" he suggested, tentatively.
I decided to play hard to get. "I'm already dry."
"Oh come on, you threw a miniature tidal wave at me, we're more than even!" he protested.
"Fiiiiine." I groaned, and got to my hooves and playfully nuzzled him, because he seemed to be believing my little act too much. "But you have to catch me first!" I galloped off down the beach, but just as with Twilight, the larger colt caught up to me right away. I scrambled to get ahead of him again but suddenly my hoof hit one of the rocks buried in the sand and I went down, rolling onto my back painlessly, and I laughed at my own clumsiness. Shining Armor skidded to a stop, spraying me with bits of sand, and I curled up in a ball as I continued to giggle.
"Cadance! Are you alright?" He cried, and I looked up to see him standing over me, his expression full of concern. I had given him cause to ask me that question every time we met. I really needed to quit making him worry about me.
I straightened out, showing the unicorn colt that I was fine, and then reached up to him with my hoof, beckoning him closer to me with a warm smile spread across my face. My heart pounding against my ribs, I met eyes with him as he bent his neck down to me. He seemed a little unsure of himself, flushed, and breathing rapidly, and although I felt the same nervousness and anticipation, I tried to be brave as he leaned in closer to me. His caring cerulean eyes were full of fervor, and seemed to wordlessly ask my permission, which I granted with my own, and then his lips caressed mine.
It was soft and gentle like a summer breeze, like everything Shining Armor was to me, and I felt our mutual feelings of affection unite. My heart swelled in my chest like it had done for the past few weeks since I fell for the endearing colt, but now it felt like it would burst. I was overwhelmed with emotions as I always was, and felt like I was floating as we parted and I looked into his deep sky-blue eyes, smiling tenderly. His own soft smile was somewhat silly and unexpected, but his eyes told me of his sincerity and how much he cared for me. I had nuzzled him and given him a peck on the cheek before, but there was nothing like that first kiss.
I reached up and pulled him to me again, initiating our next embrace, and holding him close to me like a cherished toy. I loved him. I wasn't exactly sure what that was, besides the passionate emotions I spread to other ponies, but I knew in my heart that I did. It wasn't something I could express with words yet, so I just held him and relished in his gentle touch as the wind blew through our manes and lapped the waves against my hooves like a lover's kiss.
~~~~~~~~~~~~
"So, what did you two lovebirds do while you were away together?" Medley asked both Shining Armor, myself and Ivory and Lyrica as we settled in front of a bright and warm campfire just as the sun went down that night. The sunset over the lake was beautiful, and turned the once clear blue waters into a magenta and orange ripple of fire not unlike our own.
After a light dinner we were roasting marshmallows to make s'mores and poor Sweetheart kept dropping hers into the flames. Ivory said nothing to the gossip unicorn's meddling, Lyrica just giggled, Shining Armor gave his silly clammed up grin, and I gave it all away by looking away from her and blushing profusely. "Nothing too naughty I hope." The sly filly chided me and I gave her a dead pan look.
"Back off, Medley, you're not getting anything out of us for your gossip column, so eat your s'more and leave us alone." Ivory grumbled, and none too gently stuffed the graham cracker treat into her mouth. Medley coughed and sputtered, then gave the alabaster pegasus a glare of daggers as we all laughed.
"And I think it's about time I brought out my special pegasus magic." Ivory began, reaching over and grabbing the cooler he had brought with the mystery substance inside.
"Oooh I wanna see the pegasus magic! Hurry up!" Lyrica squealed. I didn't blame her, I was excited to see what exactly it was too, although I was surprised to see Lyrica so interested. Didn't she already know what Ivory had brought?
"Lyri, you already know what it is." Ivory laughed, answering my unexpressed question.
We all looked on in excitement as he deftly reached into the ice filled container and brought out a large, glass bottle with a very strange, but also familiar looking liquid inside.
"Is that…?" I started to say, squinting to make sure my eyes didn't deceive me.
"Liquid rainbow?" Palomides finished, his eyes wide.
"Right you are! Straight from the weather factory river, this is pure, liquid rainbow, something every pegasus has the chance to try in foal hood." Ivory explained, grinning as he held up the prized bottle of prismatic liquid. It seemed to shine in the glow of the fire and we all came closer for a better look.
I knew that rainbows were made in a weather manufacturing factory in the city in the sky called Cloudsdale. It was a mysterious place of wonders for all non pegasi, and even as a member of royalty I had no idea about how exactly the intricacies of the weather were developed, and certainly had no idea that a rainbow could be stored in a jar and then… drank?
"Uh, Ivory, are you sure you want them to try that?" Blue asked, hesitantly. Being the other pegasus in the group it seemed he knew about the strange substance also, but his warning didn't reach us, as we just thought he was being his usual grumpy and discouraging self.
"Sure." The large, white pegasus replied, cheerfully. "You all want to try some don't you?" he asked the rest of us, to an array of nods.
"Me first!" Lyrica called, levitating the bottle away from her coltfriend, excitedly.
"Don't take too much. Everpony needs to try it." Ivory had a sly grin on his face as he passed over a tiny plastic cup, and I noticed Blue do a facehoof. But I didn't catch those none too subtle signs because I was just as oblivious as Twilight apparently.
The pegasus helped Lyrica pour some of the rainbow water in the cup and then watched eagerly as the crazy filly downed it in one shot.
Was this really any better than sneaking apple cider? I began to wonder, worriedly, when suddenly Lyrica's mint green coat turned red and she screamed, spitting the multi-coloured drink out and into the fire.
"SPICY!" She cried, and ran over to the lake and dove in, sucking in mouthfuls of the fresh water.
Ivory fell over in the sand and started laughing, holding his stomach, while Palomides grabbed the bottle and poured his own cup.
"It can't be that spicy." He muttered and sipped it down. Before he could react I got distracted by how the fire had suddenly taken on a rainbow colour, much like the pungent drink. It was really pretty and I couldn't stop staring at it, especially when the gray unicorn spit his own mouthful into it and made the colours more vibrant.
"Wow, I didn't know it did that." Ivory stopped guffawing for a minute to stare into the mesmerizing flames with me. Then he was attacked from behind by Lyrica who pushed him over into the sand.
"I think Cadance is in a trance." I vaguely heard Shining Armor murmur beside me to the three left over ponies.
"It's preeettttyyyy…" I trilled, watching the multitude of colours dance in the evening breeze.
"Oh for Celestia's sake, you're all disgusting. You don't spit drinks into fires to make pretty colours. Give me that rainbow drink." Medley floated the container over to her and poured a small bit into a cup. "This is how you enjoy a rare pegasi delicacy." She continued, demurely, than took a dainty sip even as Sweetheart tried to stop her.
It was inevitable when the proud and pompous unicorn spit the rainbow substance out, but she also spilled most of the rest of it in the fire and created a bright, multi coloured flare that spread far up into the air, enrapturing all of us.
"Oooh…ahhh" We exclaimed in unison. It was like fireworks dancing across the sky, something we had wanted to bring but had been forbidden.
"Are you going to try the rainbow?" Shining Armor eventually asked me when I could drag my eyes away from the sight.
I giggled. "I think I'll just enjoy it for the fireworks."
When the fighting couple and disgruntled unicorn returned to us we still had a bit of the substance left in the bottle, and Blue picked it up and poured it in the fire as I settled down beside Shining Armor to watch the spectacle.
"Now this is what a rainbow is really for." He said with a rare smile, and then we watched as the beams of light spread far across the sky like a nighttime rainbow that seemed to make my lonely friend in the moon smile.
That day had been amazing. It was something I had only dreamed of during my lonely years as a protected princess in Istalia. I loved my new friends, their kindness, their silliness and even their faults and quirks. They accepted me for who I was, (even if I was another quirky unicorn with a strange condition that required her to cover up while swimming) and embraced me into their group.
I loved how Palomides complimented Shining Armor and how he was rough and silly like the little colts they had been when they met. I loved Ivory and Lyrica's wacky relationship, how they seemed so different, but could be so similar. Blue seemed prickly, but he was somepony I hoped to be able to help open up, just as I had with Twilight. Medley could be difficult, but she added a flair to our group, and Sweetheart I always hoped to be close to, because she was loving and kind and a dear friend.
But nothing had been as beautiful as my first kiss with Shining Armor. The memory of it still left butterflies in my stomach, and made my heart dance. I looked over to him sitting beside me, his white coat lit up with the glow of the colourful fire and nuzzled against him, shutting my eyes against the glare as I lay on my hooves, calm and sleepy. The moon was high in the sky, not terribly burdensome to me with its melancholy emotions that night, and a peaceful breeze rippled through our group, lulling the rest of us into a gentle sleep amongst the embers of the rainbow fire, and the soft sound of the lapping waves against the shore.
~~~~~~~~~~~~~~~~~~~~
"MI AMORE CADENZA!" I heard the royal bellow before I even made it, panting into the palace in the much too late hours of the night.
We had fallen asleep on the beach, lulled by the waves, the summer night breeze and quite possibly high on rainbow water and pretty coloured fire. Whatever the reason, Medley, who had already had a nap that day, woke us all up while the moon was possibly not yet into the early hours of the morning, but with the time it took for us to pack up and scamper back to our homes it must have been at least one in the morning. I didn't even want to know as I left Shining Armor at his house and galloped for the castle, wishing I could use my wings, but they were held down under my vest.
I met the stern eyes of the guards who seemed to judge me silently, and then they all jumped a mile, (while the pegasi flew up into the sky), when they heard Princess Celestia's shout.
It was the Royal Canterlot Voice. Something I never thought I would hear from her, and I shuddered, my ears bent back against my head as I slowly crept in to accept my fate.
She was standing at the top of the stairs in the Royal Corridor. My great Aunt Celestia, the sole ruler of Equestria, and the tallest, most magnificent pony I had ever seen stood with her wings spread intimidatingly, looking down at me as I slinked into the room, my heart pounding at the fury that seemed to resonant from my usually gentle and forgiving aunt.
"Auntie, I---" I tried to say, but she interrupted me.
"You disobeyed me, Cadance." She said, her voice normal now, but eerily calm and stern, and inciting just as much fear into me as the Voice had.
"I-I didn't mean to." I stammered, staying low to the ground as she approached me, trying to hide from her wrath.
"Where have you been?"
"I fell asleep. We all did. I tried to come back on time. I'm sorry." I stood up again, only to bow my head in shame. It did nothing.
"It is past one in the morning. I had no idea where you were, no way to contact you. You could have been in trouble or hurt." Her voice had concern in it, somewhat softer, but was still frightening. I took a gamble and tried to get on her good side again.
"I didn't, though. It was fun." I gave a sheepish grin. This was not my smartest move.
"You're acting like a foal!" she shouted, and I fell back down into a bow. "You are a princess. My heiress. No matter how much you hate that, it is who you are, and that is why your parents have always protected you. You are the most important living pony, and if something happened to you our world could suffer for it. I tried to give you some freedom, but tonight I'm seeing you couldn't be trusted with that. You took my generosity and disobeyed me." she paused, and I looked up at her, almost forgetting that part of the fear and heaviness I was feeling was not from being scared of her, but from feeling her anger around me with my sensitivity. I was surprised the strength of her rage hadn't knocked me out, but maybe I was just too focused on her words and the guilt at what I had done to be claimed by them.
"If your parents knew…" she began again, but I shot back up, ignoring my dizziness and staggered onto my hooves.
"No! Please, don't tell them!" I cried, tears coming to my eyes, and true fear that I would lose all I had found in this magical place and be forced to go home ripping into my heart like a knife.
"Cadance, I should have you followed by guards for the remainder of your time here. You shouldn't even be allowed out of the palace. Of course I'm going to tell your parents!" Aunt Celestia roared back, stamping a hoof that shook the floor under my own.
Now I wasn't just scared and guilty, I was angry. None of this was fair. I hadn't deliberately been late. She wouldn't even let me explain, and there was no way I was going to let her send me home. I would run away first. Live alone in Canterlot and forget this stupid pampered life.
With my own anger my resolve I managed to overcome the heaviness that had kept me on the floor in some sort of grovel, even though we were almost equal as she had said herself, and stood up to face her.
"You don't get it." I growled, shocking her, since I was usually so submissive. But I would fight for this. I wasn't going to let her or anypony else take away the love I had found that summer.
"I don't want to be your heiress. Or the princess of Istalia. Or even a stupid Sacred Alicorn. My parents are both normal unicorns, nopony else in the royal family is like me, it's because of you that I became an alicorn. It's all your fault. I've never been happy until I came here and got to be normal for once, and make friends. I hate my heritage and…" I gathered myself for the next words, hate and anguish rising from inside me like some sort of malicious sickness.
"I hate you!"
A/N
Any comment about 'to the moon' will make me ban you from my stories forever. I hate that 'joke'. Now everypony go get high on rainbow water… or make fireworks. Whatever.
Palomides is another real knight name. Lyrica and Medley have Lyra and Minuette as their sisters and they may show up in the next chapter if there's room.
I predict two more chapters now until the end of part 1. The last chapter has been planned out and may surprise you. For those waiting for her to reveal her true self, that will happen next chapter for sure.
Thanks for reading, sorry for the wait, but its nice a long right? :)
---
Chapter 9: The Twilight Days
Being angry at another pony was not very becoming of me. Not only did it inspire more anger from the other party, it made my emotion sensitivity go haywire, and it was all I could do to drag myself to my room after confronting my Aunt Celestia.
She had seemed shocked after my harsh words, but I could feel more from her. I had hurt her. There was real grief and sorrow resonating from her, and one other unexpected emotion; regret. It was like the type of remorse I felt from the moon but much stronger. She didn't show it at all in her calm, regal demeanor, and I don't even know if she knew how much I could sense it. But it was there, and it made me feel guilty, along with everything else, and I bent my head down.
"Just go to your room, Cadance." The princess I was bound to succeed muttered, turning away from me, and walking back to her quarters, her head held high, with no indication of the emotions I felt from her.
Suffering from my own incapacitating feelings, I tried to walk as dignified as I could, but I stumbled and a royal guard helped me. He was one of the white pegasi with the uniform blue mane, and somewhat reminded me of Shining Armor as he let me lean on his shoulder and helped me back to my room. It just made me feel worse to think of him and the fear of not being able to see him again, along with the embarrassment of needing a guard to help me walk.
"You gave the princess quite a scare tonight, my Lady. I haven't ever seen her that upset before." The pegasus guard said, gently, not realizing that he was just making me more upset as well, but I held my tongue, just wanting to get to my bed. "But Her Majesty was looking for you for a long time, and must have been tired this late at night. We offered to help search, but she said she didn't want to have the guard out looking yet because it would embarrass you. You shouldn't be so angry at her, if I may say so." My lingering anger was swallowed up by guilt as I heard his words, but I couldn't deal with my mixed up feelings, and thanked him for his help as we reached my room, where I collapsed on my bed, falling into a fitful sleep, with dreams of being a normal unicorn, or even a pegasus; free to fly in the sky.
~~~~~~~~~~~
I hid in my room for the rest of that weekend. I took advantage of having maids around and got them to get me breakfast and lunch, although with the guilt of my cruel words, and fear of what my aunt and parents were going to do with me tearing a hole in my stomach I didn't feel much like eating.
I didn't see Aunt Celestia until later that day. I wondered if she were avoiding me too. It wouldn't surprise me after what I had said to her. I was such a terrible pony. I hated myself. If my aunt weren't angry enough at me to send me home before, she must be now. I was going to lose everything because I fell asleep at the beach and couldn't control my unstable emotions so I had said things I regretted. I truly did regret them. I didn't hate her, I could never hate her. I was just so frustrated with all the burdens that had befallen me just because I was related to her, and somehow become an alicorn. I just needed somepony to blame.
As I sulked in my room, I was contacted by my parents who scolded me for staying out all night. Just as I had feared, my father demanded I come home, bringing back all my anger at my aunt for telling them, and I told him he could take it up with her, but there was no way I was coming home yet. I figured if I had the princess of Equestria mad at me, I my's well have my parents too.
My mother seemed a little more understanding, but she said I couldn't talk to my father that way, and I had to apologize to Aunt Celestia for disobeying her and making her worry. I said I would, but my resentment and hurt had been rekindled, and I didn't want to face her. Unfortunately, with more than one thousand years on me she was mature enough to confront me first.
"We need to talk." Princess Celestia said, sternly as she entered the small but luxurious guestroom where I had been staying that summer.
I glared at her. "Mom and dad want me to come home, so you don't have to worry about me anymore." I muttered, bitterly.
The princess sighed and sat next to me on my bed. "Cadance, listen to me." she started, but I stubbornly looked away. "I'm sorry I was so hard on you. You didn't deserve that, not with your sensitivity. I know you had difficulty last night, and I'm sorry I left you like that." she seemed to be genuinely apologetic and I looked over at her, my expression softening and feeling some of the bitterness dissolve.
"I know you didn't mean to be so late, and that you just want your freedom to be with your friends. But you're still very young, and my responsibility this summer. Any filly's mother would be upset with her, and in fact, I've heard from my advisors that Shining Armor has been grounded for being out all night too." She smiled a little, but I could still sense her hurt from what I had said the night before. I wished I couldn't.
Trying to dismiss the guilty thoughts, I gulped, thinking about Shining Armor being in trouble too. "He is?"
"Yes. So you see, its true you have been protected more than other ponies during your life, which has led to many restrictions because of your duty to the Crown, but in this case I am treating you like any other filly who needs to learn that mistakes like this have consequences on yourself and the ponies that care about you."
I looked down. "So, um… does that mean I'm grounded too?"
My aunt smirked. "For a week."
I groaned, burying my head in my hooves.
"That means after class you don't leave the palace, and you can't see your friends until Sunday." She added with authority, but her voice was still soft and gentle. Hearing her familiar kind tone again I remembered that I still needed to apologize to her too.
"I'm sorry for what I said, auntie. I didn't mean it…" I bent my ears low, looking down. "I don't hate you."
The fellow alicorn smiled, but for some reason I could still feel her pain. "I know. We all say things we don't mean when we're upset." She said, wrapping her wing around me, and I looked into her eyes sadly, not knowing why she was still suffering, but having no way to ask her.
"Oh, and don't worry about your parents. I'll tell them I believe you made an honest mistake that you won't do again, and you shouldn't have to come home yet. There's still a lot I have to teach you." She paused, her eyes twinkling, before adding, "And a lot for you to learn with your new friends."
She seemed so normal, my always kind and gentle aunt, and yet my sensitive emotions told me she was lost inside. Inexplicably sad and remorseful. I didn't know what to do, or what to say, so I just lay down amongst her wing's embrace so I was close to her.
"I won't disappoint you again. Don't be sad, auntie." I found myself saying, nuzzling her neck.
"Oh, I had forgotten I can't keep anything from you." She chuckled, demurely. "Do not worry, child, I am fine." She assured me, but she was right. She couldn't keep anything from me, and I could still feel her pain from somewhere deep inside her. But there was nothing I could say to comfort or have her tell me what was bothering her, so I relented.
"And Cadance, you won't get bored during your punishment because I've arranged for you to foalsit for Twilight for extra days this week. Just be sure to come home right after." She grinned, slyly, if only to hide her sorrowful emotions.
Great. I sure wouldn't be lonely that week.
~~~~~~~~~~~~~
Foalsitting for Twilight had become less of a chore and more of an enjoyment now, so I was happy to have the chance to at least see her while I was grounded at the palace that week. It also helped that she actually seemed to like me now and I didn't have to worry about her being jealous. I wondered if she would pass on a note to Shining Armor for me too.
When I came into the little unicorn's large and pristinely organized room that Monday afternoon, she was leaning over her toy chest picking up her Smarty Pants doll in her magic and placing it on the floor beside her when she noticed me, and ran over to give me a hug. I caught her and cuddled her, beaming at her sweet show of affection and love.
We sure had come far from the introverted filly and reluctant foalsitter we had been only a month ago. Had it really only been that long? I felt as if a life time had passed by that summer, and maybe it had, because I had found the happiness and companionship I had always wished for in that short time in Canterlot. I felt like the luckiest pony ever, even if I was grounded. And I was lucky to be Twilight Sparkle's foalsitter.
"Mommy said you're coming every day this week." Twilight said, happily when she ended the embrace.
"Yup, you're stuck with me." I sighed, but smiled at the joyful filly.
"Yay!" she exclaimed. "Shiny was home this weekend too because he got in trouble, but don't worry, mommy and daddy didn't fight again. He helped me practice my magic and I finally got this trick I've been working on right. Wanna see? Wanna see?" she excitedly hopped up and down in her anticipation.
"Sure." I smiled, as I watched her float over her crazy looking Smarty Pants doll to her side. I felt a little proud to see her so expertly using her telekinesis now, when I had first met her she had barely been able to pick up a notebook. She sure had developed her powers fast. I hoped I had helped with that in some way.
"Cadance, watch!" the little unicorn whined when she saw me lost in my thoughts, so I quickly turned to her again.
"I'm watching."
Twilight stared down at the little doll intently, her horn lighting up with her rose coloured light as the strength of her glare seemed to set it ablaze. But instead, in a sudden flash of pink light the shabby stuffed animal vanished, the force of the powerful magic throwing the small filly back into me. I caught her, but she shook herself off, quickly scrambled back to her hooves, and concentrated on a spot by her bed, sticking her tongue out in heed as her horn glowed again. There was another flash of light, and then the little doll reappeared in front of her, and she sat on her haunches, somewhat drained, but smiled at me proudly.
I was shocked. I didn't think a filly her age could do a complex spell like that, and I clapped my hooves for her. "That was amazing, Twilight!" I cheered, receiving a blushing grin from the lavender unicorn. "You actually teleported something! Great job!"
She was a little weakened by the powerful magic, and couldn't properly celebrate with her joyous hopping, but I could feel her pride along with my own, and I couldn't be more proud of her.
"You'll definitely be able to get into Princess Celestia's school now." I added.
"You think so?" The filly found her voice to excitedly ask.
"I know so."
~~~~~~
"I am so lucky to have you as my foalsitter." Twilight exclaimed later that day, as I pushed her on her favourite swing on a clear, sky blue afternoon.
"I'm the one who's lucky, Twilight." I told her seriously, but she frowned as she mulled that over.
"Hmph, you're a princess," She scoffed. "I'm just a regular old unicorn."
I rolled my eyes at that and smiled. "You are anything but a regular old unicorn." I assured her, picking her up off the swing set and setting her gently on the ground.
"I am?" she asked.
"A regular old unicorn couldn't teleport something with only a level 2 in magic," I started. "You're curious and dedicated to learning like I have never seen in a unicorn your age. You have a thirst for knowledge, aannndd… you have me as a teacher!" I giggled and so did she.
"And you'll always be my teacher right?" the filly asked in that innocent and trusting way all children seemed to have when they spoke about the future.
"Sure, Twilight. I'll try to teach you all I know until you eventually surpass me in magic." I told her jokingly, but a part of me believed she probably could if it weren't for me being an alicorn.
"And maybe when I'm big and really good at magic like you, you can teach me your special spell too!"
"Oh Twilight, I told you, that's my special talent." I groaned, playfully.
"So? I don't have a cutie mark yet, so maybe it can be my special talent too!" she argued with her crazy filly logic. "We could both have the same talent and cutie marks. Wouldn't that be cool?"
I blinked, knowing she couldn't possibly understand the type of suffering that came with my talent, and I would never wish its constant pain on her. I wouldn't wish it on anypony.
"I'm sure you'll find your own special talent soon and it will be just as special as mine." I smiled, encouragingly, instead of voicing my somewhat somber thoughts. It was better for ponies to think my spell was a blessing instead of the curse it could be to me, especially an innocent little unicorn like Twilight.
"You can help me, right?" she asked, doubtfully, looking down at the ground.
"I'll help you any way I can." I replied.
"Can you come see me every day again like you are this week? It's boring at home when you're not here, and I wanna practice magic with you." her sudden change in subject caught me off guard, but feeling touched, I reached over and lifted her chin up with my hoof so she was looking in my eyes.
"You want me to come every day again?" I asked.
The filly nodded, eagerly.
"Well, I guess I could…" I started, thoughtfully. "….But not until after next week. I kinda want to hang out with my friends after I'm done being grounded, OK?" I said a little guiltily.
"So um… the week after next week you'll come every day?" Twilight seemed confused by the wording, and I smiled.
"I promise."
But it was a promise I didn't get to keep.
~~~~~~~~~
The week I was grounded passed by too slowly. I was especially restless at night, since in all seriousness, I was a night owl like Twilight. I liked to sit outside and watch the stars, or wander in the gardens and chase fireflies, or even go for a moonlit flight since I barely got to do that in the day anymore. But I was stuck inside the palace with nothing to do but read by candlelight. I had spent hours in the royal library that week, which had given me an idea, but I was sick of reading and began to wander around the castle looking for something else to do.
I passed by the enigmatic palace guards standing perfectly still outside the doors to the various rooms. I wondered if Shining Armor would ever do that. Just stand there all day. Did he take classes on how to stand still like that? If he did I bet it would be an easy, but really boring class to take.
Because I was bored out of my mind, I sidled up to one of the guards and stood stock still beside him, stretching to my full height, but still only reaching his shoulder. One day I'll be taller then you, I thought to myself, glancing every so often to see if he had noticed me yet. He didn't even blink.
Determined, I flew up to be level with his face and stared hard at the stallion before suddenly sticking my tongue out, squishing my face in with my hooves, and then bopping him on the nose and giggling. With that last act I had succeeded in getting the gray unicorn guard to wriggle his snout, but then he resumed his stoic expression. I landed in front of him and glared again, then rolled my eyes at the lack of response.
"As your princess I order you to… do something." I said dryly. He immediately spoke up, to my chagrin.
"I apologize, your Highness. Will this suffice?" the large, once statuesque unicorn stood up on his hind legs, and somehow looked even more like a statue in his efforts, and I fell over laughing. I was so bored it seemed the smallest amusements were enough to make me laugh.
He seemed confused by my laughter, and resumed his position, huffily, which just made me laugh more, but he was done entertaining me. Glumly realizing I wouldn't get much more out of the unicorn guard, I continued walking through the corridors deeper into the castle. The halls were dark and eerie at this time of night. They were only lit by dim torchlight, and the clouds covered the moon so that its light didn't shine through the stained glass windows. I shivered when I came across the depiction of the two alicorns flying around the strange dragon-like beast I now knew was the statue that had attacked my mind in the sculpture garden. All the stained glass murals seemed to showcase two alicorns together. One white, with a pink mane, who I knew was my Aunt Celestia, and one midnight blue. I knew she must have had family once, she and I couldn't have always been the only two, but she never spoke about them. Could that blue alicorn have been her mother? Her daughter? Her…sister?
Suddenly, I heard something. It was a small whimper coming from behind one of the doors. I perked up my ears and listened closer. It was quiet and muffled, but it sounded like somepony was crying. I nudged open the door where I heard the sounds coming from, and entered a darkened room, where only the dim light of the cloud covered moon shone through a small window in the back of the chambers. The faint light lit up the silhouettes of large, sheet covered objects placed haphazardly around the room. Some were shaped like boxes, others seemed like pieces of furniture and other personal items long ago stored away. And curled up by the window, her body pale and somehow fragile looking in the moonlight was my Aunt Celestia.
She was the one who had been crying. I was shocked. I had never seen her cry. She was without any of her royal regalia and looked so different, almost like the regular ponies I so longed to be a part of. She was so small huddled in that corner, and I could feel every bit of her pain, making me want to join her in her tears.
I slowly moved closer, not wanting to startle her as I heard her soft but anguish filled sobs, but being the clumsy pony I was, I hit one of the sheet covered objects, knocking a box on the floor, and the lonely figure of my aunt looked up at me.
I was standing in the shadows with my mane loose around my shoulders, my wings spread and the indigo glow from my horn while trying to pick up the box I had dropped the only light besides the dimness of the moon's rays.
"No…" the shaky voice of the sorrowful alicorn stammered out as she turned her head to me. "...It can't be…Lu---"
"---Auntie?" I stepped into the moonlight, cutting her off, and her eyes dulled somewhat at my approach, her sadness cutting into my breast like a knife, and I lowered my head.
"Oh Cadance, it's you…" Princess Celestia murmured, her voice still shaky and thick with tears. She regarded me for only a second, and then lay her head back on her hooves, as if she couldn't even hold it up anymore.
I swallowed hard, trying to resist the dizzying emotions threatening to strike me down, as I pushed myself to come closer to her. She only raised her head a little when I reached her side, and wordlessly sat down beside her.
"I don't understand why, but I know you're hurting." I said, softly, closing my eyes and opening my heart to take her sadness into my own, my horn glowing as I unconsciously cast a variant of my special spell. "Just know I'm here for you." I breathed, feeling the weight of her grief become too much for me, and I was forced to lie down too, where I found just enough strength to nuzzle at her neck, before darkness overtook me, and my awareness faded into nothing.
It was the first time for me to cast the heart healing spell. One where I took the emotions I felt from other ponies into myself, healing their pain. There was no memory to replace their feelings with, I just took it all away, filling my own heart with their sadness. My Aunt Celestia's millennium of sorrow was too much for me, as I still was learning to overcome the strong emotions associated with the strange magic inside of me. But that one spell would set in motion a series of events which would explain that magic, and show me what it really meant to feel the pain of another pony and to have the ability to heal as well as spread love.
~~~~~~~~~~~~~~~~~~~~
I woke up in my own bed where Aunt Celestia had carried me later, and saw the solemn princess sitting at my side, looking exhausted and still so sad. I had never really found out what was wrong with her. Just that I had made her even more upset by passing out at her side after I somehow tried to take away her sadness.
"I'm glad to see you're awake again, my little pony." The princess said, softly, brushing a hoof through my mane.
"I-I---" I stammered, but she quieted me with a sigh.
"I am grateful for your comfort. You did help me." she said, smiling liltingly, and I smiled in return. "But don't take on more than you can handle, Cadance. You don't have to heal my pain, just having you there was enough." Her voice was still tinged with such sadness, and it seemed to be from when she spoke about me now. I didn't understand. How could I have made everything even worse? I had just wanted to help.
"I didn't mean to, it just sort of… happened." I murmured, glumly.
"I know. Your magic is growing every day. Maybe you'll even be more powerful than me one day."
I sat up straight and gawked at her. "I don't think so!" I cried, only to have her shush me with her hoof to her lips.
"Just get some rest, honey. We still have your lessons in the morning." Princess Celestia said, standing up from my bed, and walking wearily to the door, as I mumbled a goodnight to her. I was still sleepy, despite my little unexpected nap, and I curled up under the blankets as I watched her open the door to leave. But she paused, and turned back to me.
"Oh, and Cadance," she called, her tired expression softening into a smile. "Thank you."
~~~~~~~~~~~~~~~~
I had always been clumsy. It didn't help that I would get random dizzy spells making it impossible to walk a straight line anyway, but sports and galloping fast were not really my thing. My clumsiness had led to my discovery the night before by my aunt, and the next day as Twilight and I sat atop a hill with her little blue scooter, I hoped the once reserved filly knew how to operate it, because I had never touched one.
"Are you sure you don't need a helmet?" I asked her, cautiously. She had randomly decided to play with her scooter that day, which didn't seem like it had seen a lot of use in awhile, and I was pretty sure by the scruffy hoofwriting at the bottom it was a hand-me-down from Shining Armor.
"Nooo I'm a pro." She protested.
"OK, OK, just be careful."
The lavender unicorn nodded before getting up on the toy and holding her front hooves out to grip the handles. Unfortunately she was too small to reach her hind hoof to the ground and had no way of pushing off. I sighed as I watched her struggle to reach her leg onto the stony path.
"Am I going to have to push you?" I asked, reluctantly. This whole thing was starting to look a little dangerous.
Twilight looked over at me, and squeaked out an adorable and manipulative grin, so I was forced to do her bidding by giving her a light push. No sooner had I touched the scooter did it go hurtling down the suddenly much too steep hill, with its filly passenger squealing all the way. I watched helplessly as she careened down the path without any way of controlling the bike, and then hid my eyes under my hooves as she crashed at the bottom of the hill, toppling off the scooter and landing on her belly in the thankfully soft grass.
"Twilight!" I cried, anxiously, flying down to the bottom of the hill to where the filly was shaking herself off and getting to her hooves. "Are you OK?" I asked, nudging her to help her get up. She seemed stunned, unsure of exactly what happened, but otherwise unharmed, relieving me.
"I think I calculated the incline trajectory wrong." She muttered, pawing at the ground.
"The wha?" I asked, cocking my head to one side, which made me notice that her left hind leg had a cut on it. It was small, but bleeding, and I did the one thing you shouldn't do with a little pony who hasn't noticed her own injury; I freaked out.
"Omigosh, Twilight you're hurt!" I cried, which startled the filly and she looked down at her leg, than burst into tears. "Ooh, don't worry, I've got a bandaid somewhere, I think." I told her, panicking a little, as I rummaged through my saddlebag for the little first aid kit I carried with me. I was not one to be calm in an emergency, mostly because I could feel all the victim's pain and fear. I didn't feel the scrape on her leg, just a lot of fear at being injured and hurt pride.
"It's OK. Don't cry." I soothed the distraught little unicorn as I picked out the bandaid and gently guided it in my magic onto her leg.
She sniffled, and looked down at the bandage, which to foals, seemed to have the power greater then magic to heal all wounds. I smiled at her, and lifted my hoof to wipe the tears from her eyes. "Feel better?"
"Uh huh." She nodded with a tiny smile, than looked down at her hooves, guiltily. "I lied. I've never been on a scooter. I just wanted to show you and Shining Armor I could do it. I'm sorry." Twilight sniffled again, rubbing at her nose.
"It's alright. Maybe next time you could try it with a helmet and…." I looked down at her bandaged leg. "…some kneepads too." I offered, hugging the little unicorn around the neck.
"Ok." she relented, glumly, but she smiled as she returned the embrace.
Twilight hadn't been badly hurt, but seeing her sitting in the grass, bawling her eyes out had broken my heart. Not literally of course, that was just an expression to describe my sensitivity to the pain of other ponies. At least I thought it was. I knew my sensitivity was stronger around ponies I cared about, but there was nothing as strong as the empathy I felt toward that little lavender filly who just couldn't reach her hooves to the ground.
~~~~~~~~~~~~~~
The next time I saw Twilight was that Saturday, a day I didn't usually foalsit, but this was a special occasion which I had arranged just for her. I picked up the filly at her house early that morning. I had already cleared everything with her parents, but for her it was a surprise.
Twilight was confused to see me on a Saturday, but she grew excited when I said I had a surprise for her. I also got a short time with Shining Armor, whose anxious little sister had dragged him out of bed to see me. I grabbed him in a hug when he blearily came to the door, only just realizing how much I missed him. It had really only been one day since I would usually see him with his work schedule, but I had been scared I would be sent home and never see him again, and my heart leapt at seeing my dear coltfriend once more.
"Cadance?" he asked, still not seeming awake, so I kissed his cheek and he perked up as I smiled, flirtingly at him.
"Whoa…" he mumbled, and Twilight giggled.
"I missed you, Shiny." I cooed, lovingly.
"I missed you too." He smiled, regaining his composure. "I guess you got in trouble too, huh?"
"Are you kidding? I had to answer to the princess." I muttered, cryptically. "She banished me from Equestria, and then threw me in a dungeon in the place that she banished me to!"
The two siblings blinked as they gawked at me. "Really?" Shining Armor asked, as if he actually believed me.
"You dope, do I look banished to you? I was just kidding!" I laughed. "I was grounded for the week."
The colt seemed stunned, and Twilight started laughing somewhat maniacally, as he shook his head to clear it. "Oh….uh…that…sucks. Mom and dad weren't very happy with me either. I'm grounded too and not technically supposed to see you right now…"
I jumped away from him and grabbed onto Twilight. "Well, I'm not here to see you anyway. I've got a date with your sister." I teased.
"Eww, no!" the little unicorn squealed, always taking everything so literally.
"Quiet you, or no surprise." I hissed at her and she clamped her mouth shut.
"I can see you tomorrow. Everypony is meeting tomorrow at Hoofbucks, around lunch." Shining Armor spoke up again.
"Gee, thanks for telling me." I muttered, sarcastically.
"But I didn't know how to get in touch with you. I usually just asked Twilight to give you a message, but I didn't see you yesterday." He protested, guiltily.
"Can we go now?" Twilight whined, pulling at my tail with her weak but effective magic.
"Since you don't seem to understand when I'm pulling your leg, I'll just say I'll see you and the others tomorrow, OK." I told the unicorn colt wryly. "You should probably go back to bed." I added sauntering up to him and giving him another kiss, than I galloped off with the little filly trailing close behind, leaving him blushing and holding a hoof up to the check where I'd kissed him.
~~~~~~~~~
"We're going to the castle?" Twilight asked, incredulously as we approached the Canterlot Palace gates.
"We're going in the castle." I replied, nodding to the guards who bowed to me.
The filly gawked at her surroundings as we walked through the red carpeted corridors and deeper into the palace. It took us awhile to get anywhere because she kept stopping at each stained glass window to get a closer look and ask me questions I did not have the answers to, so I picked her up in my magic and sat her on my back.
"Just stay there until we get to where we're going, will you?" I told her.
"Where are we going?" Twilight excitedly asked, looking back and forth, and almost tumbling off my side.
"Just wait and see. We're going to the South tower, so hold tight until we get there, OK?"
"Oooh South tower, South tower!" she cheered, bouncing up and down on my back and making me consider dropping her back on the ground. But I somehow managed to carry her across the palace, and into the deceptively large ivory tower located in the Southern most side of the inner courtyard.
"Now you need to close your eyes." I said, trotting up the stairs to enter the massive gold gilded doors. I looked over to see the manipulative little unicorn covering her eyes with her hooves, but peeking out between them, and sighed, floating a scarf up and tying it securely around her head. "You are not peeking." I scolded, and she grumbled, crossing her hooves across her chest, defiantly.
As we entered the anticipated room, it took me awhile for my eyes to adjust to the darkness of which I had planned for, the curtains were all closed and the only light coming in was from the open door. I stumbled a bit before letting the filly down, but kept a tight hold on the scarf with my telekinesis, because I was not ready for her to see anything yet.
"Where are we? Can I take this thing off?" Twilight asked, tugging on the blindfold around her eyes, but I held it down.
"Not yet, wait a second." I chided, and cantered over to the large, bay windows and dramatically threw back the curtains with a flourish of my horn's magic, filling the extravagant room with warm and inviting rays of my Aunt Celestia's sun.
I blinked at the sudden brightness to my eyes, and then turned to the filly, who stood blind, but smiling in the sunlight, stretching her little body out to the warmth and glow.
"Ok, now you can look." I smiled, excitedly, and slowly removed the scarf from her eyes.
I watched, eagerly as little Twilight blinked in the light, and then her mouth fell open as she took in the sights around her. With her ears flopped down, her lavender eyes wide as the sun and just as sparkling, she gazed up at the elaborate and massive room of nothing but shelves and shelves of books.
I had brought her to the Canterlot Castle Library, which was probably the most beautiful and extravagant place in the sun palace, and somewhere I knew my filly charge would love. The gold gilded shelves stretched completely around the perimeter of the room and almost all the way to the ceiling, branching out toward the back in a tall column of rounded bookshelves atop a magnificent fireplace decorated with Princess Celestia's sunmark and crescent moon above it. Each level had gold plated spiral staircases leading around them, and in a crevice on either side were exquisitely carved marble statues of two alicorns that seemed to look across the library at each other. The floors were also a pristinely polished marble that shone in the bright sunlight, and cast our reflection across the ground like the clearest of lakes, echoing the sound of our hoofsteps off of the walls as we walked into the wide expanse.
"Whoa! This is amazing!" Twilight shouted, galloping from one side of the room to another. "It's a library! It's the biggest library ever!" she narrated to herself, bounding up one of the spiral staircases and trotting from one shelf to another, unable to choose which one to focus on.
"This is the Canterlot Castle Library. It is the biggest library in Equestria." I told her proudly.
"Ooohh." The filly mused, looking up at the dizzying ceiling above her. "Can I…" she paused, suddenly becoming shy, and I flew up beside her so she wasn't shouting across the room to me.
"What is it?" I asked, encouragingly.
"Can I look at one of the books?" Twilight asked looking up at me with hope filled eyes.
I giggled, realizing she may be a crazy, excitable little filly, but she still had the sense and manners to be cautious about the rules inside a palace library. There was hope for her yet.
"Of course you can. This is Princess Celestia's and the royal court's private library, but today…. It's yours." I smiled, warmly, loving the incredulous look in her wide eyes.
"It's mine?"
"Well, you can look around and read all you want today, but there's one more thing I want to show you, Twilight," I said, gesturing to one of the side bay windows where another form stood waiting patiently. I brought the little unicorn down to the mezzanine where the Sun Princess herself stood leafing through a book resting on a pedestal.
"We're here, auntie." I called, cheerfully.
"Oh, good, I was wondering how long you were going to leave me alone in the dark." Princess Celestia chuckled as we approached her. Twilight dropped down on to her haunches and just gawked at my royal aunt.
I blushed, sheepishly. "Sorry, we were kinda late because Twilight here wanted to see everything in the palace on the way over here." I glared at the little filly, but she didn't even seem to be blinking, as she stared up at my aunt's tall, regal form.
"That's quite alright." She smiled, and then turned to the lavender unicorn. "Hello again, Twilight Sparkle. Do you remember me?" she asked, bending her head down to be at eye level with the small filly. But Twilight just stared, her mouth open, unable to say a thing. "I've met you a few times, little one. But you have always been a little… preoccupied." The princess said, thoughtfully, chuckling a little to herself, and I finally caught sight of the filly blinking.
"Twilight, say hello. Princess Celestia is talking to you." I hissed at her, gently shoving her side, which made her jump, startling myself and the sun princess.
"Hello Princess!" she cried in that sudden and baffling way she always did. "Thank you sooo much for letting me use your library!"
"You're very welcome, Twilight. But it was Cadance's idea to bring you here." They both glanced at me, and I looked away, bashfully.
"Well, I just thought…" I mumbled, and then was tackled to the floor by a very grateful little filly.
"Thank you Cady!" she cried, joyfully, hugging me around the neck, as I struggled under her weight. That was a new one. She had never called me Cady before. It seemed I had a nickname now.
"You're welcome, Twilight." I laughed, hugging her back.
"This is the bestest gift ever. I'm gonna read all about magic and stars and, and, and…. fairytales!" she hopped around both myself and my aunt who giggled. "Thank you too, Princess Celestia." She stopped her hopping to bow at the monarch's hooves, and then galloped off to the closest shelf of rainbow coloured books to begin her day of reading.
"I think you made that filly's day." My aunt commented, as we watched Twilight excitedly pick up books from the shelves in her magic and set them in a pile.
"Yeah, but have you got anything for me to do? I think we're going to be here for awhile." I sighed.
"Why don't you read her those Daring Do novels? She would like those, don't you think?"
"Hey, that's a good idea." I exclaimed, not really a fan of the series myself, but I had read some of the stories, and the adventure and intrigue was sure to entertain the imaginative filly. "Where would I find them? Is there a fiction section?"
Princess Celestia suddenly startled at that question. "Uh…. You may not find them all here." She mumbled, looking away, her usually regal manner flawed by a blush on her face.
"Why not?" I asked.
"Because I may have them in my own personal collection…"
"Oh."
~~~~~~~~~~~~~
The next day I trotted into the trendy coffee bar of Hoofbucks eager to meet my friends again after our joint grounding. After ordering a giant coffee milkshake thingy that had so much whipped cream it got all over my muzzle making my hello kiss with Shining Armor quite sweet, I met the group of seven ponies sitting at two tables put together in the back of the store.
"Hiii Cadance!" Sweetheart waved, cheerfully as I joined them.
"Hello everypony." I smiled, feeling happy to be with other fillies and colts my age again. There was only so much Twilight I could take, and I had used up a lot of that patience that long, neverending week.
"So Shiny here says you got in trouble with the princess after we stayed out all night last week. He said you were banished and…oh yeah, put in a dungeon where you were banished to." Palomides said as Shining Armor grinned, and I gave him an indignant look.
"Do I look banished to you?" I muttered to the large gray unicorn, and Shining Armor just started to laugh until I kicked him.
"Well, I didn't get in trouble." Medley boasted as she sucked on a dark coffee drink without any of the meddlesome whipped cream.
"You didn't?" Sweetheart asked, daintily sipping a green tea type milkshake.
"Yes she did." Lyrica grumbled. "She has to foalsit for her sister for free for the rest of the summer, same as me." She put down her creamy coffee drink and smirked. The other unicorn filly glared at her.
"Hey, that's what I had to do this week too." I added, surprised to hear my friends had similar punishments.
"Oh, hey, we should get together and get our fillies to have a playdate. It would be fun." Lyrica suggested.
"Ooh that would be fun!" Medley cheered, always acting extra cheerful when it came to her little sister.
"What do you say, Cadance?" Lyrica asked me, and I grimaced. I could not really see Twilight playing with their little sisters, but it would sure take a load off me for once.
"Well, Twilight is a little antisocial…" I started.
"Oooh we can take them to the park, and they can play Pretty Ponies together----my sister has all the best fashions for hers---and they can practice their little magic tricks, and play in the sandbox. It will be so much fun!" Medley cooed, joyfully, cutting me off as she clapped her hooves in anticipation.
I sighed. It would be a good chance to try to get Twilight interested in playing with other ponies, and I had always wanted to meet Lyrica and Medley's little sisters. "Sure, let's try it next Monday." I acquiesced.
"Yay!" Medley cheered.
"Aw, I wish I had a little sister or brother too." Sweetheart spoke up, now clutching a large piece of paper in her hooves.
"Twilight's not my sister, Sweetheart. You can foalsit for anypony too, you know." I told the seemingly excluded unicorn.
"Oh yeah. I could foalsit for my neighbour! She has a colt. Oh… I bet a colt is hard to foalsit for though…." She murmured to herself, and I giggled.
"So what's with the poster paper?" Blue, who hadn't said anything, and I hadn't even been sure had been present, asked the distraught unicorn.
"Yeah, I saw you holding that when you came in. What is it?" Shining Armor added.
Sweetheart blushed at the sudden attention of all of us on her. "Oh, this? Its just uh… my mom gave it to me… to show you guys." she murmured, still holding the poster down so none of us could actually see what it said.
"Could you actually like… show us?" Medley asked, irritably.
The shy, pink maned unicorn cautiously held up the large poster paper in front of her, covering her face, but finally letting us see what was written on it.
The Canterlot Young Ponies Celestial Association (YPCA) would like to invite all fillies and colts age 13-16 to the Summer Sun Youth Dance on Saturday, July 20 at the Canterlot YPCA. Come out and dance the night away with your friends and special somepony!
"No way, a dance! Let's go, Ivory!" Lyrica cried, excitedly, floating the poster away from Sweetheart who grabbed for it to no avail, and then sulked as it was passed around the group.
"My mom works for the YPCA…. and she said I should invite everypony." She mumbled, dejectedly. She seemed attached to the piece of paper, and I felt bad for her.
"It sounds great, Sweetheart." I said, floating the poster back to her, which brought a smile back to her face and mine. I glanced over to Shining Armor who's expression didn't say whether he was interested or not, and blushed. I would love to go to the dance but I was old fashioned, and kinda hoped he would ask me first.
"Lame." Blue muttered, waving a hoof.
"You're just sulking because you don't have a special somepony to go with." Medley chided him, wryly.
"Well, neither do you." He grumbled, angering the unicorn, and she pounced on him. I thought they would make a perfect couple together.
"Ivory and I are going." Lyrica boasted, while her coltfriend just rolled his eyes.
"I-I want to go too…" Sweetheart spoke up.
"I'll go. I got some sweet dance moves to show off." Palomides laughed, than glanced over to Shining Armor and me. "And somepony needs to chaperone these two."
Shining Armor shoved him, playfully and I felt my face seem to explode in a blush.
"You wanna go, Cadance?" Shining Armor asked me, and I wilted, feeling my ears flop down in my disappointment. That had not been what I had hoped for from him. But maybe I had just seen too many movies.
"Um…" I mumbled, indecisively, confusing the colt.
"I'll go if this grump is nowhere near me." Medley interrupted, pointing at Blue, who crossed his hooves and muttered "Ditto".
"Don't you want to go, Cadance? Everypony else is." Sweetheart asked in her innocent and hopeful way that always twisted at my heart. I wondered if she had some sort of similar power as me, then I took that thought back, unable to think of her hurting the way I did.
I sighed, and looked over at Shining Armor, who looked oblivious like his sister could, but I also felt his sudden fear and sadness that I was rejecting him. I wasn't rejecting him. "Sure, let's go." I grabbed the alabaster colt closer to me and he grinned, his tail wagging like a puppy as I hugged him.
The dance was that Saturday, so we all made plans as we spent the rest of the day together, eventually convincing Medley and Blue to come too. When we went by a little market booth selling sparkly, inexpensive jewellery, Shining Armor bought me a pretty necklace he said he hoped I could wear to the dance, and I forgot all my disappointment and jumped up and kissed him right there in the square where everypony could see. But I didn't care.
Even if his invitation hadn't been the most romantic, I knew I was going to my first dance with the best coltfriend I could hope for, with a group of great friends, and that it would be the best night ever.
~~~~~~~~~~~~~~~~~~~~~
end
A/N~ this is sort of a filler chapter with a few ends I wanted to tie up before the big reveal I originally said would happen in this chapter. I tried to make it a little dramatic based on the next few chapters, and funny especially with the scenes straight from the flashback in A Canterlot Wedding, so I hope you enjoyed it. And yes, in my head canon Princess Celestia is a closet Daring Do fan. Her and Rainbow Dash should get together and have a movie marathon or something ;)
---
Chapter 10: Trust
"I don't wanna go!" the filly's little voice seemed to echo across the town, as I tried to drag Twilight Sparkle to the park to meet Lyrica and Medley's sisters that hot, July day.
"Come on, Twilight, it'll be fun." I pressed, trying to pick her up in my hooves, but she squirmed out of my grip like a cat. I could just pick her up in my magic but I felt invasive doing that, and tried to give her a chance to relent.
"Playing with other fillies and colts is boring!" she shouted at the top of her lungs, glaring at me as she stood braced on the cobblestone street.
"Come on, you don't mean that. You like playing with me, don't you?"
"You're not a filly!" she shouted back.
"Yes I am. Just a bit older filly," I told her.
"You are not, you're a princess alicorn!"
Say it so all the ponies can hear you, why don't you, Twilight.
"Shining Armor's and my friends are going to be there. Don't you want to meet them?" I reasoned again as a group of prissy mares stared at me, no doubt wondering about the 'princess alicorn' line. Exasperated with the filly and the townsponies' impertinent gawking, I stretched out my wings from where they hid under a skirt and saddle, and fluttered them at the nosy nobles. "Look, I'm a unicorn with wings. They're even purple tipped, isn't that amazing? Oh yeah, I'm a princess too, but nopony ever listens to me, especially not this defiant little filly!" I glowered at both the onlookers and Twilight, but she just started laughing, and the mares hurried away, which satisfied me at least. I turned back to the giggling little unicorn and glared at her. "Let's go."
Amazingly, she got up and followed me, but kept laughing all the way, until I demanded what was so funny.
"You're funny when you're angry." She giggled, and I grimaced.
"You want to see me angry?" I demanded, teasingly, stomping at the ground with my hoof. Twilight laughed and jumped up, before scrambling down the street with me close behind her. I managed to chase her all the way to the park without falling over, where I was happy to see my two friends waiting for me.
"Hey Cadance, you made it." Lyrica waved, because I was a little late due to Twilight's initial unwillingness to cooperate.
"Hi Cadance." Medley smiled.
"Hey girls," I responded, nudging Twilight along, because she had stopped as soon as we reached the park.
"Can't I just stay with you?" she whined, glancing uncertainly over to the sandbox where I saw two little unicorn fillies about her age playing with their dolls. One was minty green with a cyan and white mane, while the other was light blue with a white and blue mane that did look like toothpaste, as I had heard her elder sister, Medley describe. I guessed the green filly was Lyrica's sister. They looked happy and normal just playing together with their toys. Why couldn't Twilight do that?
"No, go play with the other fillies." I said pushing her into the sandbox.
"But I don't wanna!" The lavender unicorn shouted, right back to the angry, defiant little imp she had been earlier. She planted her rump in the sand and refused to move from her spot, her eyes narrowed, and her hooves crossed across her chest, with an insolent pout, and completely ignored the other two ponies who looked at her curiously, as if she was a new toy for them to play with. She certainly was sitting as still as another one of their dolls.
"Twilight~" I groaned.
"Is your little filly giving you trouble?" Lyrica asked, coming over to us.
"You have no idea." I muttered.
"Aw, she's so cute!" My naïve friend squealed as she first took in the sight of the little purple unicorn with large violet eyes, (although, at the moment they were narrowed). She was deceptive that way.
"Yes, she's cute, but she doesn't like playing with other ponies, because there is something wrong in her great big bookworm head." I glared at Twilight, and she stuck her tongue out at me.
"Haha, you two act as if you were real sisters." Medley commented.
"We do not!" somehow both Twilight and I said together, which also made us both blush and the two teens burst out laughing.
"She sure doesn't look too happy sitting there." Lyrica said when she had recovered from laughing at us. Medley was still going and I felt like kicking her.
"Go ahead, try to get her to play with your sister. I give up." I said, and flopped down on the ground next to Medley who stopped laughing long enough to look at me.
"You look like a tired out old mare." She giggled.
Why did I come here again?
"Hi there, I'm Lyrica. You must be Twilight. It's nice to meet you." Lyrica ignored us and approached Twilight, who looked up at her suspiciously. "I'm Cadance and your big brother's friend. My friend Medley and I brought our little sisters to play here today, and we thought you could play with them too, doesn't that sound fun?" she smiled, warmly, which I knew would never work on Twilight, but I had fun watching her torture somepony else for awhile.
"No." Twilight grumped.
"Aw, why not? Pleeeaasee?" The elder unicorn gave a toothy grin, receiving a dead pane look from my little charge.
"Who're you talking to, sis?" suddenly the two were interrupted when the minty green filly trotted over to them curiously. Now that I saw her closer she seemed smaller then Twilight, maybe six or even five years old. Her voice still had that little lisp some foals had in magic kindergarten. Could she really be that young? She certainly was adorable with her big golden eyes exactly like Lyrica's, short, coltish mane cut, and huge bushy tail that might have been bigger than her.
"Hi Lyra, this is Twilight. My friend, Cadance is her foal sitter so she brought her to play with you and Minuette."
"Yay!" the little filly cheered, clapping her hooves, but then suddenly she frowned and examined them intensely for some reason. "Hi Twiright." She drawled, her lisp making it hard to pronounce the other filly's name.
Twilight stubbornly ignored both sisters, and I felt bad when the smaller filly pouted a bit when she didn't get a response.
"Do you like my dolly?" the little one pressed again, holding up a Pretty Pony doll. It was lavender coloured like Twilight's pelt, and caught the unyielding unicorn's attention. I quickly dug into my saddle bag where I had brought one of her Pretty Ponies, and floated it over to her, smiling encouragingly. Twilight caught it and looked down at the doll in her hooves, then back up at the little green unicorn shyly, holding it out to her.
"Hehe, come on, let's play." Lyra smiled and walked back over to where her friend waited.
Twilight looked over at me, uncertainly, and I grinned, nodding her on, and then she slowly trudged over to the group.
"Well that wasn't so hard." Lyrica mused, trotting back over to me, and I just glared at her. Twilight wouldn't have budged if she didn't have her doll which I had brought her. It hadn't been anything that she said or did.
"Are you girls just going to ignore my sister then?" Medley asked, disapprovingly.
"I'm sorry, Medley, I haven't even had a chance to say hi to Lyrica's sister yet." I said, guiltily, pulling myself up from the ground, and making my way over to the sandbox where the three fillies were playing. Lyrica followed cheerfully behind me.
Twilight still didn't look sure of herself, and just watched the other two with an intense expression of concentration on her face, but she glanced up and smiled weakly at me when I came by. I smiled brightly in return.
"Minuette, I'd like you to meet my new friend, Cadance, and I see you've already met the filly she is sitting for." Medley happily introduced me to her little sister who looked up from her doll.
"Hi," she said, shyly, waving her hoof. The light blue filly was bigger than little Lyra, and seemed to be the same age as Twilight. She really did have a mane that looked like toothpaste, a deep, royal blue colour with a perfect stripe of white running down the middle on both her mane and tail. Somewhat ironically she was holding a toothbrush and pretending to brush the teeth of her doll. I wondered what her cutie mark would be.
"Hello Minuette, are you brushing your doll's teeth?" I asked, unnecessarily.
The filly grinned, widely, showing a mouth full of white, shiny teeth. "Yup! Mommy's a dentist and says all little ponies need to remember to brush their teeth everyday." So that's where the teeth obsession came from.
"You're my little toothpaste pony." Medley cooed, cuddling up to the little unicorn.
"No, stop! I'm not toothpaste!" she whined, and pushed her sister away, which made me laugh. It seemed the two dental similarities didn't go together hoof and hoof.
"It's nice to meet you." I smiled at the blue filly who grinned in return.
"You have a pretty mane. It's like cotton candy." She said.
"I like your mane too. It looks like blueberries and cream." I told her, glad to find something other than toothpaste to compare her to. She seemed satisfied and blushed.
"Look what I can do!" I looked over to see Lyra suddenly stand up on her hind legs and start walking around the perimeter of the sandbox, holding her front hooves out, and balancing precariously on the edge of the wooden platform.
Minuette started to laugh, and Twilight looked confused as the minty green filly struggled to stay up, but ended up toppling over into the soft, white sand and joined her friend in laughing.
"Lyra you're so silly." Lyrica giggled, helping her little sister up. "She wants to be able to walk around like a bear or something. She's always practicing to stay upright."
"Not a bear. A human! Like in the myths!" the filly insisted, surprising me. I didn't think such a young pony would know about the fabled bipedal beings called humans, who were not thought to be friendly, and my nanny would tell me scary tales about.
"Her teacher said she's really imaginative and creative with her magic skill, that's why she was recommended for Celestia's school next year." Lyrica beamed, proudly. Again I was surprised. It wasn't normal for a young unicorn to get recommended to the specialty magic school right from kindergarten. They usually had to take an entrance exam when they were already in elementary school. Lyra must be a very special unicorn to have been given that chance.
"I'm going too!" Minuette added. "I passed the entrance exam." She grinned, widely. I wondered if there was some sort of family preference with my aunt's school.
"Cady, I want Smarty Pants!" Twilight whined, suddenly pulling on my tail.
"I didn't bring her, Twilight. I just brought your Pretty Pony doll." I told her gently, wishing I had brought the silly thing so she would cheer up.
"Can't you get her?" she pouted, sticking her lower lip out, her wide eyes glistening.
"Twilight, I'm not going all the way home right n----" I started to say, but stopped as I realized what she wanted me to do.
"Is she sitting on your bed?" I sighed as the little filly grinned excitedly, nodding her head.
Envisioning the funny little doll and Twilight's bed where she sat, I charged up a teleportation spell and in a pop of indigo magic, the pant wearing pony doll appeared in front of us much to the lavender filly's delight.
"Thank you!" Twilight beamed, hugging the doll to her chest and I smiled at her.
It turned out that using my teleport spell was a bit of a mistake, as my two friends stared at me wide eyed, making me blush as I asked them what was wrong.
"How'd you learn that spell? We don't learn that until senior year!" Lyrica exclaimed, incredulously.
"And you teleported it from all the way inside a house back in town?" Medley added.
"Uh…" I knew I probably had more advanced studies under my tutor and aunt's teaching, but I thought that students at Princess Celestia's school would be more or less equal to me. Especially since it had taken me so long to develop any magic next to other regular unicorns. "Princess Celestia is a good summer tutor?" I replied, lamely. It had actually been my old crotchety wizard tutor who had taught me that spell, mostly by drilling it into me day and night relentlessly. Until I got back at him by teleporting his hat somewhere and 'forgetting' where I put it.
"Wow! I thought it would suck to go to school in summer, but to learn that spell, I'd go." Lyrica said, wistfully.
"Me too." Medley agreed.
"Why does your doll have pants?" Minuette spoke up, curiously examining Smarty Pants, and rescuing me from having to explain further.
"Hehe, it has pants like a daddy!"Lyra giggled and Twilight didn't look amused. In fact, she looked downright miserable.
As weird as it was, that doll was her cherished toy, and my heart ached for her as I could feel her hurt and sadness from the other fillies' unassuming teasing. I didn't think they even realized they had hurt her, they were just being curious children who sometimes spoke too bluntly, somewhat like Twilight did herself.
"She has pants 'cos it's her first day of school, and she dressed up nice to meet Princess Celestia." She explained, glumly.
Lyra seemed intrigued, but Minuette still was confused. "Why is she meeting Princess Celestia?" she asked.
"'Cos daddy gave me her when I graduated from magic kindergarten so she could help me when I go to the princess's magic school," she paused and then held up the notepad that usually was stuck in the doll's pocket. "See? She has a pencil and paper for homework time." The filly glanced over to me with glistening eyes, and I tried to smile for her but she just sighed and looked down. "But I didn't do good enough to get in and I let mommy and daddy down." Twilight sniffled and then burst into tears.
I had been feeling her get more disheartened by the minute, but her pain at admitting her failure almost brought me to tears too. To think such a small and truly talented little unicorn as her was so burdened by a failure as to let it consume her into abandoning her childhood to do nothing but study, tore at my heartstrings.
I finally understood her dedication, her perseverance, the reason she wanted to learn and better herself. Why she never wanted to or allowed herself to let loose and play like other fillies and colts. And why she pulled away from others and acted unapproachable. She was ashamed of her short comings and trying to build a wall around herself. She didn't play with other foals because she didn't want to be faced with the type of situation that was happening now.
Even the Smarty Pants doll seemed to mean more now, and I could never tease her about it again. It was what she clung to, putting it in the role of her dearest wish and knowing that it both represented her one failure, but also kept her going to achieve her dreams. That's what Smarty Pants was. A symbol of her hopes unfulfilled, and any mocking of it was a mockery of her own fragile confidence. Not to mention being in the presence of two fillies who had already achieved that dream couldn't have helped, and was probably why she asked me to get it.
"Oh, Twilight, come here," I beckoned, holding my hooves out to the sobbing unicorn. She ran into them and buried herself in my front legs as I held onto her close to my chest.
"Oh dear…" Medley murmured.
The two fillies looked confused, and Lyra had a bit of an empathetic pout, threatening to start crying too.
"Don't cry, Twiright!" She stammered.
"I didn't mean to say bad things about your dolly. I was just asking." Minuette added, sadly.
"Sorry girls, I should probably take her home." I said, moving the sobbing little unicorn to my back where she clutched around my neck tightly, somehow still holding Smarty Pants under her belly.
"Don't worry, you girls didn't make her cry. She's just sleepy." I told the fillies, trying to spare their feelings.
"No I'm not~!" Twilight wailed.
"I know, I know." I soothed her as best I could.
"Bye, Cadance. Sorry things didn't work out." Lyrica waved, than looked over to the filly clinging to my back like another doll. "I hope you feel better, Twilight." She added, patting the distraught unicorn's mane.
"Take care." Medley added.
"I'll see you all at the dance!" I called as I started to walk my crying charge back home, trying to act like the responsible foal sitter I was supposed to be, but really I felt just as bad as her, and staggered under the weight of her sadness.
I brought Twilight back into town, and then found a bench to rest, her strong feelings of remorse and inadequacy too much for me and I couldn't go on. She had quieted down to a hiccup and sniffle, but still looked completely miserable and I took her into my hooves again.
"I'm sorry, Twilight. I shouldn't have made you play with those other fillies. I didn't know how sensitive you were. I-I didn't know." I stammered, holding her warm body close to me and swallowing back my own tears, refusing to cry when it was she who was hurting. I couldn't be so selfish, I had to be strong for her.
"It's okay…" she mumbled against my chest.
"Why didn't you ever tell me? I would have understood." I pressed.
"'Cos you're a princess, and you're smart and magical. You even have Princess Celestia as your teacher and your family. You're not a dumb old unicorn like me."
"Twilight, I wasn't always good at magic. I had to learn just like you," I explained. "And you're not dumb." I added, vehemently.
"You probably didn't take as long as me," she scoffed, her tears turning to bitterness quickly.
I pulled away and sat her beside me, looking seriously into her wide, tear filled eyes. "I did take a long time. I was older than you before I could even manage to pick something up with levitation magic. I got my cutiemark at age eight, but barely knew what to do with my talent. I didn't go to school like you either, and I certainly wasn't taught by Princess Celestia."
The filly blinked. "You weren't?"
"No honey, I had a tutor for school and I was late with all my magic. Needless to say I never got very good grades."
"Even I can levitate stuff now," Twilight said, thoughtfully. "But that's 'cos you helped me." she added, and I smiled.
"I told you you weren't just a regular old unicorn. You're going to be somepony special one day, you just have to keep working as hard as you are and believe in yourself." I picked her up again and she giggled, her tears gone, and I felt the heaviness in my heart lighten as she began to calm down.
I held her close and reached over to the small garden beside the bench where we sat, and plucked a yellow flower out, tucking it in her mane behind her ear with my magic. "Sometimes the most beautiful flowers are the latest to bloom." I smiled, warmly, as she happily poked at the flower in her mane, feeling a different type of heaviness in my heart. A happy, joyous feeling of which I could somehow control and give away. A feeling I had felt many times for this endearing filly, and also toward her older brother; the overwhelming emotion of love. And for the first time, it was returned to me.
"I love you, Cady. Please stay with me always." As I felt her small hooves clutch around my neck, and heard the words I had unconsciously so desperately wanted to hear, warm tears fell from my eyes, and I held on to her as close as I could.
"I love you too, Twilight, and I'll always be there for you."
~~~~~~~~~~~~
The next day I met Sweetheart at the Canterlot Centre Mall after my lessons. I didn't have to foalsit that day, and she had asked me to come look at dresses with her, and also shyly hinted at some good news she wanted to share with me. With yesterday's disastrous outcome I was glad to get another chance to spend time with a friend, and was eager to go shopping too.
I had been to the Canterlot Centre Mall before and knew that it was a massive shopping complex with all the best retail chains as well as high end boutiques. It was a glamorous and thriving place of activity compared to any of the small stores that lined the streets in my home in Roam, and I was excited to have some of my own bits to spend on the perfect dress for the dance.
I may have been a princess but my parents were kind of thrifty, only buying me things I needed and never really allowing me to earn my own money until that summer. So although I probably had a few appropriate dresses in my closet, I wanted to be able to pick out my own, and being able to shop around with another filly was something I hadn't experienced and longed for. I just hoped that being in a big place like a mall wouldn't set off my stupid sensitivity with how many ponies would be around.
"Cadance, guess what, guess what?" Sweetheart's high and enthusiastic voice reminded me of Twilight, and I giggled as I saw her blush a bit when some ponies turned to look at her.
We had met at a table in the busy food court filled with lunching equines of all kinds, who exhibited no strong feelings, and generally were happy in their day of shopping, much to my relief.
"What, what?" I teased.
She stopped and then looked down, pawing at the tiled floor in her embarrassment. "Um…Palomides asked me to the dance…" she mumbled, her voice growing so quiet I couldn't hear her. Well, almost.
"What was that?" I asked, putting a hoof to my ear. "There's cheese in Prance? Well that's to be expected isn't it?" I grinned, teasingly.
"Palomides asked me to the dance!" the white unicorn blurted out, getting more looks, but her happy smile and blush didn't falter.
"Congratulations, Sweetheart. You guys will be so cute together." I told her, happily, after the obligatory teenage girl jumping up and down and squealing had ended. I had always wanted to do that.
"It's thanks to you! Palomides said that once Shining Armor got a sweet and kind marefriend like you he was able to find the confidence to ask me out!" She exclaimed and pulled me into a hug so that I was now the one blushing.
I knew she was exaggerating. It had always been obvious that Palomides liked her you didn't have to be like me to see that. But if his best friend's first marefriend had inspired him somewhat, I was glad to have been that mare that helped in some way.
"We should double date," I suggested.
"Oh we should!" Sweetheart agreed, clapping her hooves.
"Come on, let's go shopping and show our colts how good we look!" I cheered just as eagerly, and the two of us trotted off into the crowd of happy, shopping ponies, completely unaware that each of us would gain a different understanding of each other by the end of that day.
~~~~~~~~~~
You know that one friend who always takes forever to pick out and try on clothes? She leaves you waiting in the dressing room for hours on end when you've already picked out your dress, and expects you to support her many decisions? Well, I'd heard about them in movies anyway, and it seemed I was one of those friends. I couldn't decide on anything, and I ran into a lot of troubles with the dresses I did like, so I would end up dragging poor Sweetheart from store to store. Fortunately she was a patient filly, and seemed happy to wait for me to figure out what I was doing. Or she was just too kind to complain.
I had tried on a pink ruffled dress with a golden neckpiece that seemed to blend in with my coat colour but that I adored and couldn't let go of, and was currently trying on a baby blue dress with a longer skirt that Sweetheart liked best, but I had trouble keeping my wings inside of. I glanced longingly at the pegasus speciality dresses with the side holes for the wings, wishing I could buy them and give up this whole charade. I had never had too much trouble hiding my wings before. I could always just wear a vest and then any skirt overtop, but the regular pony dresses were too thin to conceal my wings without either creating a bulge on my side or hurting them by squishing the feathers and tiny bones painfully against the side of my body like some sort of vice. It convinced me more than ever that this would be the last time for me to do such a silly thing, and I was going to tell the truth to everypony after that night.
I hid in the dressing room of what must have been the tenth boutique we had visited, and tried to squeeze my wings which were a bit larger than a regular pegasi's into the thin, sheer material, terrified that I was going to tear it, while Sweetheart waited for me outside. Realizing it wasn't going to fit without causing me more discomfort than my sensitivity could, I exasperatedly threw the dress off, and flapped my wings out to get rid of the stiffness and pain from being squished against me.
"Miss, how is the dress? Do you need a different size?" the friendly, but somewhat pushy salespony called through the curtained door.
"Uh… I don't think it's the right one for me." I mumbled, dejectedly, wondering if none of the dresses were going to fit me and I'd have to ask my aunt for help. But she would probably tell me to stop being silly and wear a proper pegasus dress. I was pretty sure she'd had enough of me hiding my identity, and wasn't going to support it anymore.
The only other option was to get a larger size, which would be able to hide my wings, but it would also probably fall off my body because I was thin and continuing to grow taller and thinner every day, so that only the smallest sizes ever fit me. If I ever developed the slender and tall body of an alicorn like my aunt, I hoped there would be special tailored dresses available to me because I was not going through this again.
"Cadance, can you show me the blue dress? I wanna see how it looks," I heard Sweetheart's meek voice through the dressing room curtain and grimaced. I did not want to put it back on. I hated it for not fitting, and hurting my stupid too big alicorn wings. And so I made my first big mistake in the month or so since I decided to hide my royalty, and ultimately my wings from everypony. I trotted out of the dressing room, frustrated and not thinking, and forgot to put my vest back on.
"Whoa, Cadance, you…." Sweetheart gasped as she took in the sight of me without my usual skirt and vest ensemble covering my body. In my thoughtlessness and haste my wings were still partially spread, they weren't even tucked at my side so that I possibly could explain them away. I could feel myself grow bright red in a blush, disbelief that I had been so stupid to forget to hide my wings after all the torment I had been through trying to find a way to hide them in the first place, creeping into my consciousness, and leaving me dizzy with sudden anxiety. But it was the salespony I really had to worry about, who gawked at me like I was a full grown dragon standing in her store, no doubt the size of the purple tipped, feathered appendages were freaking her out, not to mention I was a unicorn too.
There were no other ponies like me but the princess of Equestria, and the rare born alicorn in the regions to the West, (where I came from) and we were all royalty, so I knew that salespony was going to do something to embarrass me as soon as she figured me out. So, quickly gathering my skirt and vest and throwing them on my body to cover the wings back up in my magic, I grabbed the still stunned Sweetheart and dragged her out of the store, covering her mouth with my hoof so she wouldn't say anything.
I managed to get her to follow me out of the mall and into the back lot where carriages lined up waiting for passengers. Fortunately, it was still the middle of the day, and there were no ponies waiting for rides yet so we were mostly alone. Not that it really mattered anymore.
I gingerly removed my hoof from over Sweetheart's mouth and she just blinked at me as I lowered myself back down on my four legs. Then, sighing, heavily, I removed the vest and skirt and spread my wings out for her to see, hanging my head.
"T-they are real," the little unicorn stammered out. "You're a unicorn, but you have wings too."
"Yeah, I'm a…an alicorn." I mumbled, not even looking up at my friend. I was too ashamed. I hadn't wanted her or anypony to find out this way. Not through a mistake of my own doing. I hadn't wanted to shock them, especially poor Sweetheart.
"An alicorn? Like Princess Celestia?" her words seemed to mimic little Twilight's from so long ago. How easy it was to explain back then.
"Princess Celestia is my aunt. I'm actually a princess too, back in Istalia where I live. And I'll take the throne if Princess Celestia ever can't rule anymore." I said, surprisingly not feeling any strong emotions from Sweetheart, but I had my own shame and fear to deal with still.
"You're really a princess? Like a real princess?" Sweetheart asked, still sounding amazed and somewhat like a little filly meeting their first royalty. Would that be who I was to her now? Just a real princess? And not a real friend?
"Yes. I'm sorry I kept it from you."
"Your wings are sooo pretty! They have purple tips! I've never seen anything like that!" the pink maned unicorn galloped to my side and marvelled at my wings, her blue eyes sparkling, as I became the one who was so shocked I could only blink. Did she not hear me? Or was she too overwhelmed by my deception to properly respond?
"And your cutiemark. It's a heart like mine! I always wondered what yours looked like. Wow, it's a jewel too. Is that because you're a princess?" my flighty friend (and I thought Lyrica had been the flighty one) switched to admiring my cutiemark, which I hadn't really kept secret from anypony, they knew my special talent at least, but my mark had been hidden under the skirts I wore.
"No, it's because of my---" I started to explain, but stopped. "Wait, Sweetheart, aren't you mad at me?" I asked her, cringing at what her answer would be, and mentally preparing my fragile emotions to be struck down.
"No, why would I be mad at you?" she asked, genuinely confused, which just made me more confused too.
"I lied to you. I didn't tell you or any of the others who I really was. Including Shining Armor!" I cried, tears suddenly coming to my eyes as I thought of how I had deceived all the ponies I cared about, and what they must think of me. If it was going to be this hard, I could never tell them the truth.
"You didn't lie to us. You just didn't tell us you were royalty. I understand… it must be hard to go anywhere without ponies all bowing to you or something. Like Princess Celestia, she doesn't seem to like it either, she always tells us to rise when we bow to her at school and-----" she stopped abruptly as she noticed my tears, and galloped over and hugged me. "Oh Cadance, don't cry! I promise I'm not angry at you!" she insisted, brushing her hooves through my mane, but I just began to sob harder. I didn't deserve her understanding. I felt like I needed somepony besides my aunt to tell me that what I had done was deceptive and wrong. I deserved their punishment, and I had been so terrified of having it dealt to me, that to have her kindness and understanding just made me feel worse.
"I've really messed up, Sweetheart. I never told Shining Armor, and when I met all of you, all I could do was continue to lie. I know it's gone on too long now, and somepony is going to find out like you did, but I don't know how to stop it. It's like I'm on some sort of runaway train without any breaks." I whimpered as the smaller unicorn held me like my mother would.
"It's alright. Your lie isn't really hurting anypony. Once they find out they're just going to see an even more special you."
"That's the thing though. I don't want other ponies to think I'm special because I'm a princess or an alicorn. I kept my identity a secret because I didn't want Shining Armor or anypony to like me just because of my royalty. I just wanted to be a normal unicorn," I sighed. "All fillies think it would be wonderful to be a princess, but really it's boring and lonely. You can't know what it's been like to have been kept inside a palace all my life, without going to school or ever meeting other ponies except other royals who hated me because I was an alicorn and different. I've never had a friend until I came here, and meeting you a-and the others has made me the happiest I've ever been." I explained, shakily, tears still gathering in my eyes as I admitted my past and how much finding true friendship and love had meant to me. Sweetheart sat calmly and continued to hold me as she listened, letting me pour my heart out to her, and to that I was forever grateful.
"I think I sort of know what you mean," the teen filly spoke up. "I was always shy, as you can probably still see, but it was way worse when I was in regular school. I never really had many friends either, but then I found out my special talent was taking care of sick ponies when my mother was very sick, and after I was accepted into Princess Celestia's school to study to be a doctor I got the chance to come out of my shell and meet other likeminded unicorns. We had more in common, I guess. I know it's not the same thing as what you've been through but…" she trailed off, a little self-consciously.
Her words surprised me. Sweetheart had told me she wanted to be a doctor, but I didn't know she had gained her talent from taking care of her mother. That must have been difficult to deal with, and it endeared her to me more.
"No, that is a lot like what I experienced. Sometimes I think you're the only pony who really understands me, Sweetheart." I sighed, nuzzling my dear friend under the neck.
"No, that's not true. I know Shining Armor really cares about you. I've never seen him so happy before. He was actually kind of shy and reserved before you came around. Palomides was the one who introduced him to all of us. But now he's so cheerful and strong. When he looks at you there's nothing but love in his eyes." She smiled, wistfully and I blushed, feeling my initial fear and sadness begin to melt away as I was calmed by her comforting words, and felt humbled by what she had told me about my coltfriend. I wished I could see him then. I would tell him everything right at that moment, and Sweetheart would be there to support me.
"Aw, I can't believe he was shy," I giggled.
"You probably shouldn't tell him I told you that," Sweetheart mumbled, sheepishly. "But don't worry too much, Cadance. We all like you for who you are, and nopony's going to be mad at you just because you didn't tell us about your royalty. They might be confused, and wonder why you didn't tell them at first, but just explain to them what you told me, and they'll understand. I can help you if you want." She smiled, and I felt so very grateful to her. I knew with Shining Armor I would have to tell him alone, but to have her offer to help me, to stand by me as I admitted to the biggest mistake of my life, meant she truly was the best friend I could ever hope for.
"Thank you, Sweetheart, you really helped give me confidence for what I need to do. I'm glad it was you who found out my secret." I told her, seriously.
"I'm glad I could help," She replied with a tender smile.
"Will you promise me something, though?" I added, a little shyly, scared of what she would think of my request.
"Sure,"
"Please, never, ever treat me like a princess. I'm still Cadance, and your friend, and always will be." I pleaded, and was startled when Sweetheart pulled me back into a hug.
"Oh, Cadance, I'll always be your friend, even when you're princess of Equestria and even more taller than me," she giggled, but she had tears in her eyes. "And even when I'm a little old granny pony and you're still the most beautiful of princesses, I'll still be your very best friend."
I lost my breath at her words. The world seemed to grow white, and I could barely still feel reality under my hooves. She had touched on my greatest fear of being a part of the Sacred Race. Something most ponies didn't really know about, but they could see it with the thousand year reign of my Aunt Celestia. The way she never changed, never was succeeded. The long life, the eternal youth, and possible immortality. That which scared me to my very core.
"Oh, Sweetie, please don't," I moaned, as my surroundings came back into focus and I could draw a breath again. "I'm not like that, I'm not."
My friend sniffled, and then chuckled, weakly. "I'm sorry, it's just something I thought of when you said you were like Princess Celestia. But I'm just being silly. We'll be little old grannies together, right? And reminisce about today, and how funny it was when we freaked out that salespony." She smiled up at me, and I could do nothing but hold her closer. She hadn't meant it, but her words had hurt me to the bottom of my heart. So much so that I was breathless with the despair it brought me. I didn't blame her, especially after all she had done for me, but to be reminded of my uncertain future at such a time as this was just plain cruel of the fates that gave me this strange and powerful body.
"We'll be friends until ponies are fairytales in books written by rabbits." I quoted a book an old wizard had written, who believed that magic would go on until the world turned upside down. Well, so would our friendship, no matter how old we grew. Or who grew older first.
Sweetheart giggled at my little saying and I smiled, desperately trying to dismiss the forlorn images from my head. "Do you think that salespony has called the royal guard on us yet? I think she was scared of you." The little unicorn asked, trying her best to switch the subject for both of us.
I grimaced. I had forgotten about causing a scene. It did cause a momentary distraction from my crippling despair though. "Uh, I hope not."
"Here, put your vest and skirt back on and maybe nopony will notice." She offered, floating up the fallen clothes to me, and standing in front of me as sort of a shield.
I quickly slipped into the garments through my magic, and then was back to the fake unicorn I had always tried to be. It somehow felt even more wrong now that one of my friends knew the truth. My wings felt tighter against my side, and I noticed how hot it was with my chest always covered in the summer heat. This was going to end soon. Just a little longer. I had already taken the first step.
"Do you want to still shop?" the kind unicorn could not hide her reluctance from her tone, and I agreed with her by shaking my head.
"Let's just get home before I do something stupid again." I muttered, sliding my saddlebags on to my back, cautiously looking around for any sort of commotion. But it seemed nopony cared that a rare alicorn princess had shown up in their mall without any sort of royal procession. Or maybe that one earthpony salespony did and was telling all her friends---- wherever she was.
Despite all the turmoil, and my big mistake, our shopping trip had been somewhat of a success. Sweetheart had managed to pick out a cobalt blue, floor length chiffon dress that matched her eyes, and made her young filly form seem more like a full grown mare. I was happy for her, even if I had found nothing. I was probably going to have to ask my aunt for help now.
"So, if you're a princess do you get to wear a crown?" Sweetheart, like any curious filly asked as we trotted home in the bright setting sun of the day. I was feeling better now, but still welcomed more of a diversion.
"Sometimes…" I replied, graciously allowing her any question she wanted to know about being royalty. I usually hated answering all the same silly questions, but she could bug me all she wanted. She deserved to be made a lady for all she had done for me.
"Oh, and those little golden slippers. Do you wear those?" she beamed.
I laughed. "I have a pair here in Canterlot, actually. I can show you one day."
"Wow, really? They must be so pretty~" she sounded like a young filly, curious and awed just like a certain little lavender unicorn, and I couldn't help but chuckle. "What about your parents? Are they like… king and queen in your country?"
"No, silly, they're just nobility. We all trace our lineage back to the royal family and Princess Celestia. Because I was born an alicorn like her though, it makes me first to succeed her. But Princess Celestia is still the one true ruler of Equestria," I giggled again. "You don't really know your history do you?"
"Haha, no, I was never really good at that. Sorry." Sweetheart blushed.
"It's okay. It's less complicated once you…live it." I murmured, my tone emitting some of the discomfort I felt toward being a part of that history.
"OK, can I ask one more question? I know it must be boring you, but…" the excitable unicorn continued, tentatively.
"Sure, Sweetheart, ask me anything, I don't mind," I assured her.
"Can you…um…" she paused, shyly. "Can you…fly?"
"Why don't you tell me," I quipped, coming to a stop where I had pulled ahead of her somewhat, and turned back to grin, as for the third time that day I removed my vest, then spread my wings and jumped into the sky, letting my stiff and battered wings catch the wind and be free, along with my sorrowful thoughts.
Sweetheart had found out my secret that day. I had foolishly given away my true identity to one of my best friends, but she had accepted it. Showing my true self to her had led to us both growing closer as friends, and to me finally finding the confidence for when the time came for me to tell the one I loved all I had kept from him. I knew it would be difficult, that I would experience the same shame and fear again, but that day I had been given sort of a dress rehearsal that showed me just how important it was for me to tell the truth as soon as I could, and that I had somepony on my side when I did it.
I had discovered that the short stature, kind unicorn and I shared a lot in common too. From our shyer and calm personalities, to our similar cutiemarks and empathetic nature, along with our kindred sheltered upbringings, we were even dating two best friends now. There would be more as we grew older, some not so positive, but there was also something the two of us shared now that was not such a good thing; when it came to anticipating another pony's reaction to matters of trust, and probably in a general sense as well; we were both very naïve.
~~~~~~~~~~~~~~~~~~~~~~~~~~~~~~
The day of the dance came too soon. I was excited, but also really nervous because this would be my first dance, and also I planned to tell Shining Armor the truth about who I was that night. I wasn't sure what part of that night I would do it. I was kind of hoping to have a nice time before having to deal with the difficult emotions my deception might cause him and myself. Despite how well Sweetheart had taken it, she still brought up some of my most private fears, and I was truly scared that he would as well. How was I supposed to stay with a colt if he believed I would grow into an immortal princess who would also quite possibly be taller than him? No wonder my aunt was single.
Aunt Celestia had managed to help me find something to wear among the royal tailor's orders for the court that didn't cause me pain, but still hid my wings for now. I told her about Sweetheart finding out my secret, and that I planned to tell Shining Armor at the dance, and she was glad I was finally going to tell the truth, but she warned me that not all ponies were as accepting as Sweetheart was and I should be prepared for repercussions of some sort. She had always warned me that a lie could hurt a pony. I hadn't wanted to hurt him, or anypony, but I had been selfish and thoughtless with my lie and all I could do was tell the truth now and hope he could forgive me.
I bashfully peeked my head out of my room to show my eagerly awaiting aunt how I looked, after refusing entry to her for the last few hours as I got ready. I gingerly stepped into the light of the setting sun that shone in from the stained glass windows, reflecting the colours, and dancing across my body like a gentle kiss, complimenting the pastel fabric draped around my back. I wore a soft, floor length lavender dress with a gold neck piece decorated with a pink hibiscus ornament, and of course, the little pink pearl necklace that Shining Armor had bought me. The material was light and silky against my coat, and the darker colour made it easier to hide my wings under as it seemed to blend in with the purple in my mane too. I left my mane loose with the natural curls hanging down around my shoulders, my bangs pulled back with a real, bright fuchsia coloured hibiscus to match the pink in my hair. I also wore tiny yellow slippers that were not part of my royal regalia, but might as well be. Still, they were easier to walk in for a klutzy poor excuse for a princess like me.
"You look beautiful, Cadance. I'm sure you'll have a wonderful time tonight." Aunt Celestia smiled at me as I blushed and pawed at the floor.
"Thanks, auntie…" I mumbled, feeling self-conscious and shy.
"What's wrong? Aren't you happy to be going to your first dance?" she asked with concern.
"Yeah… it's just that… I'm scared," I sighed.
"Why are you scared?"
I took a deep breath before saying, "Because I've never been to a dance before, and I trip over my own hooves, and I can't really dance either, and I get sick whenever ponies are upset around me, so like, if somepony asks another to dance and they refuse, then they're sad and I'm done for!" I wailed, falling to my knees and covering my head with my forehooves.
Princess Celestia chuckled, and laid a gentle hoof on my shoulder. "You silly filly, that's what you have your spell for, so you can help those lonely ponies."
I looked up at her. "Oh, yeah, I didn't think of that."
"And even if you think you can't dance, it's my understanding that these days young fillies and colts just bounce and sway when they dance. Another time I could teach you a proper royal waltz, but I don't think you'll be needing it tonight."
"Bounce and sway?" I asked, blinking innocently.
"You don't know it?"
I shook my head.
"Am I really going to have to show you?" my regal aunt was now the embarrassed one, as I just looked at her, feigning ignorance, and wondering how far I could take this. "Like this," she sighed and started nodding her head and stepping forward to a non-existent beat. Giggling, I got to my hooves and started copying her, but I lost it when one of the stock-still guard ponies standing by the door couldn't help himself but look over at us, and I fell over laughing.
Aunt Celestia stopped, and gave a cold stare to the guard pony, quite possibly wiping his memory of the scene clean, and then glared at me. But not before her sparkling white coat turned as pink as mine around her muzzle, and I just continued laughing.
"All right, you naughty, manipulative filly. If you're quite done humiliating me in front of my court, isn't it about time you got going?" she asked, sternly, but always with that same twinkle in her eye.
"I only learn from the best, auntie." I grinned up at her, getting back to my hooves and running over my dress with a bit of magic to make sure I didn't get it dirty from falling on the floor.
"Indeed," She smirked. "Go have fun then, and don't be late this time."
"Don't worry, I won't make that mistake again." I assured her.
"And just be yourself, Cadance. If your coltfriend really cares for you it won't matter to him if you're a princess or a pauper, and he'll forgive you." She added.
I raised an eyebrow. "Did you get that cheesy line from a fairytale or something?"
"Just go." Aunt Celestia was uncharacteristically flustered by my teasing and I loved it.
I laughed as I began to trot toward the doors. "Bye-bye, Aunt Celestia. I'll come back as a princess who everypony knows, and then maybe you can even meet my friends!" I called, happily.
"Have a good time!" her voice faded into the long corridors as I walked toward the exit with my head held high, doing my best to believe in myself for once. I could do this. I was going to meet my friends, dance with Shining Armor--- the colt I loved--- and have a good time. I wasn't going to let other ponies' emotions get to me, and I certainly wasn't going to get sick. The night may end with me admitting to keeping something from him and every pony, but it was the right thing to do, and I knew he cared enough about me to look past my deception and like me for who I really was.
But I could never have predicted what would happen at the end of that night, I don't think anypony could have. But it would lead to finding out who I really was, and eventually proving that just as I had always wished, I truly was loved.
~~~~~~~~~~~~~~~~~~~~~~~~~~~~~
"Lyrica says all the colts are wearing their uniforms from the royal guard training academy tonight," Medley said as I met her and Sweetheart in the line at the doors to the community centre where the dance was to be held.
It was a large, modern, but plain looking building with exercise rooms, a pool and big gymnasium that was set up for that night's festivities. Crowds of teen fillies and colts waited in line and in groups around the double doors where staff was set up to sell tickets to get in when the sun set, which was when the dance was scheduled to begin. Considering I had left with my aunt watching out for me, I knew that she hadn't set the sun yet, and I was early along with the rest of them.
We had each seemed to arrive earlier then our other friends, and both Sweetheart and I were without our dates. I wasn't sure what Medley was doing for a date but she looked really pretty. She was dressed elegantly in a layered pink and royal blue silk cape that complimented her similar mane colour, with a sky blue neck piece that had two gems of violet at her chest. Her short, curly mane hung at her side with a gold hair tie, and she was most definitely wearing makeup on her thickened, black eyelashes, her eyelids painted violet like mine.
Sweetheart looked just as beautiful as I had seen her when she first tried on her dress in the store. It was long and flowing, and made her blue eyes sparkle. She had also put her pink curly mane up on top of her head with a silver hairclip, with wisps of curls trailing down to frame her round, young filly face.
"Really? Why?" I asked, curiously, after complimenting and being complimented by my two friends.
"Because they're colts and they don't know anything about fashion. So Ivory told them all just to wear their uniforms from school. That's why they're all together, and Lyrica came to help with Ivory.
"So where are they?" I continued.
"There, there!" Sweetheart cried out, pointing over to the carriage lot where the four colts in matching military uniform and Lyrica trotted over to join us.
Ivory, Blue, Palomides and Shining Armor were all in the same navy blue, almost black, button-up jacket with long sleeves and high collar, but they all looked different in some way. Ivory's buff, muscular body didn't seem to fit in his, and the sleeves didn't properly cover his forelegs, but he still had buttoned up each gold button along his bulging chest, with his wings sprouting out from the sides of what looked like a homemade alteration, and stood proudly with Lyrica. Blue's uniform fit him fine and he had the proper pegasus wing holes at his side for his wings, while Palomides seemed to be rebellious with his coat open, revealing an improperly buttoned, white dress shirt, and a shiny Celestial crest around his neck. But it was a dance, and he could probably dress however he wanted, while Sweetheart looked like she was going to faint as she stared, wide eyed, and blushing profusely at him. But it was Shining Armor who I couldn't take my eyes off of. He looked so handsome in his uniform, like a real member of the royal guard, or even a prince. His large, muscular frame really stood out in his form fitting buttoned-up jacket, and he had attempted to comb out his matted, messy mane. He was the most majestic and alluring stallion I had ever seen, and looking at him I forgot all about my fears and self-consciousness, and felt myself falling in love with him all over again.
"Shining… you look amazing…" I stammered, letting my hooves seem to float me over to him, my heart lifting me without the use of my wings.
"Nah, you're the one who looks amazing," He said, bashfully, looking down at the ground, his familiar blush returning to his muzzle. "You look beautiful, Cadance. Just like a princess." He looked back up and into my eyes, and I stretched up to his height to kiss him quickly, painfully aware of the irony of his words, but not caring.
"Sorry I was late. Lyrica had to do some last minute alterations on Ivory's uniform. Unfortunately she's not the best seamstress so uh… yeah…" the unicorn colt gave his endearing sheepish grin, and I smiled, waving to the others.
"You're not late. They haven't even opened the doors yet," I looked over to the lineup, only to see it moving steadily toward the doors as the shadows of the sunset streamed over the land. "Well, they are now…" I muttered.
"Let's go join the others then." Shining Armor said, starting to trot over to the quickly moving line where Medley still waited alone.
"Sure, leave me alone to keep your spot." She muttered, bitterly, as we all joined her behind some burly looking colts.
"Hey, don't cut in line," the white pegasus in front of her complained, turning to us along with the unicorn beside him, and I grimaced.
"You!" the unicorn and Shining Armor shouted in astonished and angry unison.
"Great, I hate these guys." I heard Blue mumble from behind me.
"Well, if it isn't Mr. Knight In Shining Armor, and the rest of the freshmen," the big, gray unicorn who turned out to be the jerky upperclassman who had tortured us back at the café, and who Shining Armor had beat up, almost causing me to lose respect for the colt I now loved, jeered at us. I groaned.
"Look at you, you got with that cute filly. Congratulations." He added, as he noticed me from my little protest. I could vaguely recall his name being Lacolt or something, and just glared at him.
"I'm not going to waste my time with you two dateless wonders tonight," Shining Armor muttered, bristling and stomping a hoof. "But if you insult her again, being dateless is going to be the last thing you have to worry about." He threatened, and I felt proud of him for his strong words, as I always should have.
"Ooooh~ Burn~!" the pegasus lackey laughed.
"Shut up." Lacolt grumbled to his friend. "I don't need a date for this lame dance. I could get any of these mares to dance with me, including yours."
"I wouldn't dance with you if you were the last colt on earth!" I spoke up, angrily.
"Buuurr-" the pegasus tried to say again, but the unicorn covered his mouth.
"Don't say it."
"Cadance, stay out of this." Shining Armor whispered to me.
"No, they're ticking me off." I hissed back at him. I vowed that once I had let everypony know my identity these guys were going to pay.
"Uh guys, the line is moving," Sweetheart nervously informed us.
"Yes it is, so why don't you two move on and find your filly to dance with, and leave us poor ponies with actual dates alone." Palomides joined in the fun with a lazy smile on his face, but he stood in front of Sweetheart with a fiercely protective expression in his dark eyes, somewhat like Shining Armor was trying to do for me, but I foolishly thought confronting these dumb colts was a better idea, and kept brushing him off.
"Seriously? You got a date too?" Lacoltmalle Tail demanded, incredulously, but then we all felt the rippling of a push from behind us by one of the impatient teens telling us to move with the line, which we grudgingly did, and ended up closer to the bothersome duo.
"Yup, unbelievable, I know. So go on and find your own dates and leave us little colts and fillies to ours." Palomides said dismissively, waving them off with a hoof. I thought his position in the guard was going to be negotiation; because he certainly was good at it.
"Whatever. Just don't complain if your dates decide they want to be with a real stallion tonight." The lecherous unicorn sidled up to Sweetheart and I and winked, which I responded to by pushing him away with a disgusted expression.
Just then the line moved up so that the two annoying senior colts reached the ticket counter, and were admitted to the dance, so we didn't have to deal with them anymore. At least I hoped we wouldn't be seeing them in there.
"That arrogant little…" Shining Armor growled under his breath.
"Let's just forget them and have a good time, ok?" I nuzzled up to him, trying to calm him down for both our benefits.
"Sorry Cadance, I didn't mean to upset you," he said, guiltily, returning my nuzzle. "l promise we'll have a good time, and I won't let them get to me." He smiled and so did I.
~~~~~~~~~~~~~
Inside the dance was an electric playground of lights and sounds and spectacular colours, some made of pony-created electricity, and some made from magic that danced with the beat and created flying butterflies made of pastel lights, pretty flowers with petals to pluck and play with, and even musical instruments that could be used to pretend to play along to the music. It was held inside a large gymnasium with streamers and balloons lining the ceilings, some scattered tables and chairs to relax in and take refreshments from the concession stand outside, and at the front of the gym was the DJ booth where a dark blue unicorn stallion with a spiky purple Mohawk mane and goatee, spun loud beats next to extravagant speakers, and used his magic to control the enchanted interactive forms that floated around the dance area like fireflies in the night.
It was beautiful and intoxicating and the beat of the music pulsed with the beat of my heart as I pulled Shining Armor onto the dance floor. The others joined us, and together we did a perfect imitation of my aunt's embarrassing demonstration of 'bouncing and swaying' to a giddy bubblegum pop song about fireworks which the DJ made appear to explode all around us in vibrant and sparkling colours. At the end of the song he lifted up a little white, unicorn filly with an electric blue spiky mane and large sunglasses who cheered and started playing with the equipment and making funny sounds. It was adorable, and the crowd cheered for her as she rocked out. It was dreamlike and as much fun as I had ever had. All I could feel was everypony's excitement and euphoria as they danced around me, only making my own joy that much stronger.
The music selection was eclectic, but mostly stayed to an upbeat tempo, and so my friends and I stuck together dancing in groups or with each other. There was no exclusive pairings yet, and I even found myself being swung around by crazy Palomides, or jumping up and down with Sweetheart or Medley. For the most part she didn't seem to complain about not having a date because of this, and our other dateless friend, Blue, couldn't seem to care less. But eventually the rocking filly stopped, and the lights dimmed, as the playful light toys turned into softly glowing fireflies, and the music switched to a slow song.
I watched sympathetically as Medley backed off and stood in a corner, while oblivious Blue took the opportunity to go to the snack stand. I thought that at least as a friend he would ask her to dance.
"May I have this dance?" I was pulled from my sympathy by Shining Armor reaching his hoof out to me in invitation, and blushing, I accepted, and then selfishly forgot all about Medley as I walked onto the dance floor with him. We moved close to each other, and I reached my hoof up to his shoulder in a hug, than closed my eyes, contently as we began to sway back and forth to the music. I could feel his warm breath against my back as he leaned into me, and I rested my head against his shoulder, the material of his uniform somewhat scratchy against my skin.
"I missed you this past week," he said as we moved together, the fireflies surrounding us and lighting up his white coat.
"I missed you too." I breathed.
"I'm really going to miss you when you have to go back to Istalia," he added, looking into my eyes, sadly, and I felt a pain in my heart from the thought too.
"I'll miss you too. I wish I could stay here forever." I sighed, and looked down at my hooves in their tiny slippers, trying to make sure I didn't trip, or maybe it just hurt to look at him anymore because I knew I couldn't grant his wish. I could never leave Roam. It was my home, and the kingdom I would rule one day. And he had no idea. "La dolce vita." I murmured, to break the somber mood.
"What?" he asked.
"It's a saying in Istalia. It means 'life is sweet', but I like to think of it meaning to live life in the moment. That's why it's so sweet; it only lasts for a short time and you have to enjoy it while you can." I explained.
"Huh, that's really nice." He smiled.
"Let's just enjoy the time we have together, alright? And not think about the future." I nuzzled closer to him and tried to sway with the rhythm of the music, but I had lost the feel of it, and just lay against him for a while, listening to the soft piano, and watching the other ponies dance together, content to just be near him.
"Shining, there's something I have to tell you," I started, unsure if this would be the right time, but with the softer music and us so close, I thought maybe it could be. But as soon as I had said the words, the quiet music dissolved into a loud and booming beat, and the fireflies were chased away by a dragon made of fiery red and orange lights. Any more of our soft words were lost in the music, and frenzy of dancers who had left during the slow dance galloping back on to the floor.
We parted to let some rowdy ponies through, and I could only dimly hear him call to me through the pounding bass. It seemed I had lost the moment, but with the way the music seemed to blend seamlessly from quiet to loud here, it probably was for the best since we couldn't get a word in for more than a few minutes anyway.
As I pushed through the crowd back to him, I noticed Medley trotting onto the floor, following behind a very familiar grey unicorn. My heart dropped when I realized it was the lewd and bullying colt, Lacolt, with a satisfied smirk on his face as he lead my friend through the mass of moving bodies. What was she doing? Was she really that desperate to go with him? I galloped after her and caught onto her dress with my magic, causing her to turn around.
"What are you doing?" I tried to ask, but she held up a hoof and gestured to say she couldn't hear me, as the colt turned around to see what the holdup was. I glared daggers at him, and then charged up my magic and yanked the startled unicorn off her hooves, dragging her off the dance floor and out toward the concession stand where I could talk to her.
"What's the big deal, Cadance?!" she demanded as I let her go outside of the lineup for the snack bar.
"Why are you with that jerk?" I shot back.
"Because he asked me to dance, which is more than I can say about the other colts in this room." She muttered with bitterness in her tone.
"But he's a bully and arrogant. You can do so much better, Medley." I told her.
"What do you know? You've had Shining Armor from the beginning, but this is all I get. So I'm going to take it."
"But you're so much better than him. There are so many other colts you could dance with." I tried to convince her.
"Oh really? Name one."
"There's Blue. If you asked him, I'm sure he'd dance with you." I suggested, hopefully.
"Hmph, he doesn't care about dancing with anypony." She scoffed.
"How do you know if you haven't asked him?"
"Because, do you see him out there at all?" she asked, pointing her hoof out to the dance floor.
"Hey girls," I jumped a mile when the very colt we were discussing showed up behind me. "I got snacks, want some?" he offered out his bag of popcorn to us, holding a drink container in his teeth as he used his hoof to pass the bag over. I had no idea how pegasi could hold things in their hooves like that, and frankly didn't want to as I tried to recover from the shook he had given me.
"Hey Blue, you don't have a date, why don't you ask Medley to dance?" I offered, and the light blue unicorn filly blushed as the pegasus stuffed his mouth with popcorn before we even had a chance to accept his offer.
"Huh? Oh…yweah…" he mumbled through a mouthful of food. "After I finish my snack."
"Ugh, don't bother," Medley muttered, disgustedly. "Forget it Cadance, I'm just gonna take what I can get." She said, seemingly confidently, but I could sense her feelings of inadequacy and loneliness as she scampered off to find her perfect stallion. I sighed, hanging my head as Blue watched obliviously as usual.
"Guess she already had a dance partner." He shrugged, and I gave him a dead pan look.
"Hey, there you are. Did you leave me just to get a drink?" Shining Armor trotted over to me, feigning hurt feelings and giving me a hug.
"Sorry," I muttered, distractedly as I scanned the crowds for Sweetheart and Lyrica. "I was trying to talk some sense into Medley. She's dancing with Lacolt."
"Seriously?" the white unicorn asked. "I would have thought she'd have higher standards. She's a pretty mare." He added, and I pretended to be jealous by raising my eyebrow at him.
"Is she now?
"Y-you're pretty too. I didn't mean anything." he protested as I giggled.
I resumed my serious expression of concern for my lonely friend. "I'm going to try something. Can you help me find the others?" I asked, and the two of us plunged into the crowd, narrowly missing being swallowed by the light dragon still flying around like a ghost dancing to the music.
I grabbed Lyrica and Ivory, while Shining Armor went after Sweetheart and Palomides, who had wondered to the middle of the dance floor and was break dancing in the middle of a crowd, randomly flinging Sweetheart around, who seemed a little drunk and dizzy when she was retrieved.
When I had gathered them all together just outside of the dance floor area, I sent Lyrica to recover Medley from her forced exile, and had Ivory keep Blue in one place by asking him a riddle which seemed to always confuse the poor colt, but being stubborn he would keep at it.
"This better be good, Cadance, because I'm perfectly happy dancing with that strapping stallion over there," Medley huffed as Sweetheart started to giggle at her words.
"He's no strapping stallion." she slurred. "He's a colt. Lacolt." The usually demure unicorn burst out laughing, hanging all over Palomides, who laughed along with her. "I mean what kind of name is that anyway? He'll never grow up that way. Lacolt….Lacolt… hehehehe." I think someone spiked her juice.
"You got that right, Sweetheart," Palomides added, grinning. "Lacolt. Heh"
"Do you really think we haven't thought of that one?" Shining Armor muttered. "It's a French word… From Prance. You know? Where the knights come from? He's actually proud of the stupid name."
"Really? That's all you guys called me here to say?" Medley stomped a hoof, glaring at the two seemingly drunken ponies, along with Shining Armor and I. "Forget it, I'm going back."
"No, that's not why!" I insisted, rearing up, and feeling my powerful emotions grow to surround the feelings of despair and bitterness I could sense from her in a warm embrace of encouragement and healing, the strength igniting a spark in my horn as I prepared my spell. "You deserve better, Medley!" I cried, and she turned to me, her eyes wide, but calming as she began to feel the comfort I was projecting to her.
I concentrated my remaining energy on Blue's contemplating form, than closed my eyes and focused on the times I had seen both Blue and Medley in similar situations, with the same nonchalant expressions and reactions. The way they were both polar opposites, with him being aloof towards everything, and her being passionate but critical, creating situations where they agreed, and sometimes confided with each other. His obliviousness, and her loneliness and the way they fought all the time, all contributed to both the positive and negative feelings I needed to create and spread love to them.
I staggered back on my hind legs as some of Medley's feelings of self-loathing and inadequateness flowed into my painfully sensitive heart, along with Blue's shame over his name, unworthiness next to his elder brother, and general loneliness from his lack of social skills, but I concentrated harder, vaguely aware of both Shining Armor, Sweetheart and Palomides watching me in awe, as I gritted my teeth against the pain. But I would take it all in to help my friends be happy. They were who I should always have used it for. My gift was meant to be spread.
In this case I cannot say how I did it. The act of taking in a pony's emotions was something I did for each type of spell I could cast, including the newest and most difficult one I found myself performing for my aunt in her time of sorrow. But if I wanted to create love, to create happiness from scratch like this, the next ingredient and the method of combining them was a mystery to even me. But somehow it all came together with the magic inside me, and reached its intended two ponies in a display that floated toward them like a shower of heart-shaped cherry blossom petals in springtime. At least, that's how I liked to describe it.
I fell back onto my four legs and to my knees as the strength of the spell drained me somewhat. Shining Armor came to my side, and together we watched the fruits of my labour blossom.
Blue slowly looked up from his brooding, and over to where Medley stood somewhat dazed, blinking in the bright lights, and then she locked eyes with the awkward young colt. The two ponies walked over to each other as if pulled by magnets, their steps slow, but deliberate, and Blue's wings fluttered a little when they met. Then they were released from the power of my magic that could only encourage and coax a love to grow, not force it between anypony. They grew shy and shameful again, but the pegasus tried to continue with the clumsy exchange.
"Medley… um… you want… to um… dance? With me?" he asked, swirling his hoof around on the shining floor, his eyes cast downward.
"Uh…" the more apprehensive filly looked back to the crowd where somewhere her previous dance partner probably had given up waiting for her, and then back over to the shy colt who was her friend, and who actually wanted to dance with her, and not just any pretty mare. Blushing, she managed to smile at him.
"Sure." She smiled, and as if it were part of my spell, (which it was not) the music slowed down again, the coloured lights turned into shimmering crystals, and bubbles floated through the air, as the two newly affectionate ponies trotted off into the middle of the dance floor where they embraced, and somewhat awkwardly began to sway together.
I smiled at the touching results of my reluctant magic, and sighed, weakly, as Shining Armor nuzzled me shakily back to my hooves.
"Whoa," I heard the high pitched and more composed voice of Sweetheart say in front of me. "What did you do?"
"You totally made grumpy Blue and stuck-up Medley get together." Palomides added, with his mouth comically open wide in shock.
"Cadance is a love goddess." Shining Armor grinned putting his hoof around me, and blushing, I pushed him off.
"I am not." I mumbled, self-consciously.
"A what?" Sweetheart asked.
"She's the goddess of love." My silly coltfriend smiled.
"Oh, oh, like Cupid!" Sweetheart exclaimed.
"I am not like Cupid." I grumbled, not appreciating the comparison to a god who forced ponies to love by shooting them with an arrow, while I had to work hard to touch a pony's heart, and I certainly didn't force them to fall in love.
"Did you guys see what happened? Medley and Blue totally hooked up!" Lyrica called, galloping over to us excitedly.
"Yeah, Cadance did it. She cast some sort of love spell." Palomides told them.
"You can do that?" Lyrica asked me, and I grimaced, unused to the attention regarding my magic. I had never had friends to show it to before.
"I didn't make them fall in love," I started to explain, wearily, to the curious ponies. "I just sort of gave them a push toward each other. It's my special talent, and more like encouraging love. Not making them love each other."
"Cadance has a beautiful heart and wants others to share in that beauty." Shining Armor grinned, gesturing along to his flowery words, and nuzzling me. I tried to return the embrace, but suddenly my weakened knees gave out from under me, and I collapsed to the floor.
Performing my spell on teen ponies for the first time had been difficult for me. Adolescents like Medley and Blue had confusing and chaotic emotions that seemed to be too strong for my magic to process, and had physically weakened me more than usual. I wasn't faint, or sick, just shaky and without strength in my legs, causing me to fall and find it hard to get up.
A chorus of worried cries surrounded me from my friends, but I smiled weakly at them to show them I was okay as I struggled back to my hooves, with Shining Armor seeming to be used to my weakness and holding me up. I wasn't sure if that was a good thing, or just made me look really pathetic.
"Cadance, maybe you should go sit down for awhile." The colt encouraged with concern, and I sighed, defeated.
"I'll be okay. I just need some air. It's hard work being a love goddess." I tried to make light of the situation with a smirk and the others seemed placated, but Shining still looked worried.
"I'll take you outside," he started, but Sweetheart somewhat roughly cut in.
"No, no, I'll take care of Cadance. I'm the one with medical training after all. You and Palomides just go get us something nice to drink." The little unicorn said, pushing away the colts, and with surprising strength from her smaller frame, leaned against me, encouraging my hoof around her neck.
"Thanks, Sweetheart." I smiled, accepting her help because I figured she must want to ask me something about my secret, or maybe she just did need some girl time. I was really too weak to care.
I smiled, helplessly at Shining, our eyes meeting, and he looked confused as the white filly led me away, through the outside doors and into the moonlight.
~~~~~~~~~~
I breathed in the crisp night air, expanding my lungs, and feeling better as I sat on a bench with Sweetheart in an alcove just outside the community centre doors. The moon looked down at me from the heavens, and I turned away from its invasive emotions, although it was only a crescent moon now, and didn't have as much power over me as it usually did.
"Thanks for bringing me out here, Sweetheart. I'm starting to feel better now." I said, with more strength in my voice.
"No problem. I'm glad you're feeling better." she smiled, but it was somewhat forced, and I started to notice her worried and disheartened emotions now that I was recovering.
"I actually wanted to ask you something, so um… I dragged you out here. I hope that's okay…" she mumbled, displaying more of the negative emotions, and making me close my eyes against the sickening effects. I really didn't need this now.
"It's okay. What's up?" I managed, trying to act nonchalant so she would too.
"Uh…it's just that…that spell you cast…" she paused, stumbling over her words, and I breathed in more of the cool air to try to feel better. "…you didn't cast it on Palomides and me did you?" as she faced me I saw her eyes were filled with tears, and it made me feel the worst I had felt that entire night, cutting into my breast like a thousand daggers.
"No Sweetie! I-I didn't!" I stammered out, reaching my hoof out to shakily touch her shoulder.
"'Cos, I really like him, and I kinda thought he liked me too… but if…" she trailed off, sniffling.
"I promise I didn't cast my spell on you. It's all been you two. I can feel it, you're crazy about each other." I tried to smile, but found tears in my eyes too.
"Aw, what's the matter, pretty fillies? Did some colt leave you all alone out here?" A deep familiar voice echoed from out of the shadows. Rubbing tears from my eyes, I turned to see the large white pegasus, and his crude and egotistical unicorn friend, Lacolt step toward us.
"Ugh, not you," The unicorn grumbled as he noticed me. "You may be one cute filly, but you've been a real pain. What did you do to my date anyway? She totally ditched me after you ran her off."
I grimaced, suddenly realizing Sweetheart's dark emotions were gone, only to be replaced with these guys' ridiculous lust and frustration. Could this get any worse? "I didn't do anything, she just found a better date than you." I muttered, angrily.
"That's not true dude, she cast some crazy spell on some dorky pegasus and your date, and then they ran off together." the pegasus lackey spoke up, causing me to face hoof. I thought he just laughed, or teased Lacolt. He was supposed to be the harmless lackey. How'd he know I cast that spell?
"Okay, that's creepy. Making two ponies fall in love. And you say I'm arrogant." Lacolt said with real disgust in his vacant and usually laid back tone.
"Arrgh, I'm not making anypony fall in love!" I shouted back at him, frustrated and jumping to my hooves again.
"Cadance, don't encourage them." Sweetheart nervously whispered into my ear as I gritted my teeth in anger. I had really had enough of this colt and his jeering.
"I remember you," Lacolt's sneering tone turned smoother and sly as he sauntered over to where Sweetheart clung to me, making her jump as he drew closer. "You're the pretty little filly who somehow got with that foal Palomides. Why don't you let me show you a real stallion?" he murmured, and the frightened pink maned filly buried her muzzle in my mane, making my anger at this stupid colt even stronger.
"Leave her alone, can't you see you're scaring her?" I growled.
"Oh yeah, I forgot, you're the dominant one. A much better soldier than that coward, Shining Armor." the gray unicorn colt snickered, and his idiot pegasus friend laughed too. I felt my blood boil at that remark, and pushed Sweetheart away to stand braced in front of her, as I felt the fur bristle along my spine, and my wings ache to spread out in anger and intimidation.
"You take that back!" I shouted.
"Jeez, calm down. I'm not interested in you anyway. Shining Armor can deal with you. You're scary." He said, defensively.
"I'll show you how scary I can be!" I stomped my hoof, and pawed at the ground, feeling my enraged emotions spread out toward him, which made him back away a little. But I had forgotten about the other one, who had crept behind me to Sweetheart, and suddenly I realized there were more of them stepping out of the shadows like ghosts in the night. It was a gang of five of the rowdy colts from back when I first met them all at the café. I may have had the confidence to deal with Lacolt on my own, but seeing five of the larger, fifteen and sixteen year old military trained stallions come together in the darkness of the alcove outside of the dance, far from any other pony's help, made my heart start to pound, and a cold sweat develop on the back of my neck.
"Cadance!" I whipped around to see a terrified Sweetheart fighting off the hooves of the white pegasus as he grabbed at her with his stronger ones.
"Stop it!" I shouted, galloping over and rearing up to push him off her. "Leave us alone, we told you we're not interested!"
"She didn't." The stupid pegasus said, laughing, as the others moved in to surround us. I bent my ears back as Sweetheart stood on her hind legs and clung to me, sobbing in fear, which I could feel in my own heart too. We were hopelessly outnumbered, I had no idea what these colts were capable of, and there was nothing we could do to escape. Except one thing. Which didn't come to me until it was almost too late.
"Come on, little one, you look a little young for me, but that flank of yours says differently." Lacolt said, lewdly from somewhere behind us. I grimaced, remembering how Shining Armor could teleport already, and realized the intimidating unicorn had done just that.
Suddenly Sweetheart shrieked and jumped up against me, and my eyes grew wide, and I shuddered in rage as I saw that lecherous gray colt move his hooves off of my shy and dear friend's backside with a smirk, as she jumped away from him.
I saw red as my rage at him encompassed my mind, my sensitive emotions absorbing all the fear and hurt from Sweetheart, and mixing with the pure fury I felt from seeing this horrible colt touch my friend as if she were some sort of object.
The burning anger in my heart spread through my body like wildfire, and covered my vision in blinding light, as I somehow created a bubble shield around Sweetheart, who cowered inside it. I lost all control of myself and felt my wings rip through the light material of my dress, and I flung myself into the air high above the group who looked up at me in shock. I hovered above them, my large wings pumping against the wind and whipping it through their manes, my own mane flowing wildly above me as I began to speak.
"I am Princess Mi Amore Cadenza of Istalia, heiress to Princess Celestia, and one of the only living alicorns. I've had enough of the way you treat mares and I won't stand for it. You are not worthy of being a royal guard to my family, and you colts will be punished. You will regret you ever crossed me or my friends!" I shouted into the night sky, unconsciously assuming the Royal Manifesto, but nothing close to the Royal Canterlot Voice. Still, I was scaring the colts out of their horseshoes.
"You will apologize to my friend and myself, but you will not go near her as she is protected by my shield. And then you will leave this establishment, and pray Princess Celestia decides that expulsion from the academy is enough punishment for your heinous deeds." I concluded, and floated down, calming slightly, to watch the gang of colts bow, trembling before me, as they shouted their apologies and begged forgiveness. It was a scene I normally would have been embarrassed by, but instead I relished in seeing the once proud and arrogant ponies submitting to me and my royalty.
"No, Lacoltmalle Tail, you show Sweetheart just as much respect as you would show a princess, and bow to her. She is the one you have most wronged, and you need to apologize to her." I fluttered intimidatingly in front of the now small looking gray unicorn as he stood outside of the shield I had made around Sweetheart, who had recovered somewhat, and was standing on her hooves again.
"Y-yes, your majesty, please forgive me. I-I didn't know… I-I didn't mean to…" he stammered out, falling to his knees beside the white unicorn filly, and apologizing profusely. Sweetheart seemed confused, glancing down at the groveling colt and back up at me, and I smiled at her, floating down to the ground, but keeping my wings spread to show I still was not through with the gray unicorn.
"Now go." I murmured my voice eerily soft as I approached him. He cowered on the ground, his wide blue eyes full of tears that did nothing for my usually infallible empathy, and only made me think of him as more pathetic. "And don't let me ever see you bothering anypony again."
With that, the bullying colt scrambled away, tripping over his hooves as he disappeared into the night, and causing me to giggle under my breath. But I was done with him, and the others had long since retreated, so I let down my shield which I couldn't even remember creating, and Sweetheart looked around nervously as I approached her.
"Are you okay?" I asked the distraught little unicorn, worriedly, as she still looked pale and frightened.
"Uh y-yes, I'm OK," She stammered, as I gave her a gentle hug. "Thank you for scaring them away and protecting me… you were really brave," she paused. "But Cadance…"
"Is what you said true?" A familiar, but somewhat rough sounding voice came from behind me, and I turned around to see Shining Armor, along with Palomides, Lyrica, Ivory, Medley and Blue, along with about a dozen other curious teens gawking at me, and I gulped, tucking my wings behind me and tried to crouch down away from the crowd. I even noticed a couple of guards who must have been alerted by the commotion I had caused and felt even more embarrassed.
Palomides galloped over to Sweetheart and she held him tight, while the others continued to stare at me, but I ignored them and focused on Shining Armor whose expression was unreadable.
"She's a princess!?" Medley shouted, incredulously, causing the crowd to turn to her, but Blue pushed her away. "A princess?! Her?!" her shouts echoed through the night, as the pegasus dragged her back into the dance, and despite the tension in the air, I rolled my eyes. I guessed I had hid my identity too well for some.
"Shining Armor," I began, shakily, taking a step toward to the white unicorn colt. "I-I didn't want you to find out this way. I-I----"
"It's true then, you really are a princess?" he interrupted me, his voice cold and dark, and I shivered as I was hit by his strong, negative, but somehow unidentifiable emotions. "All this time you were royalty, an alicorn, and you never told me." his statement was not a question, and the way it passed through his lips frightened me. I had never seen him this angry before. Not even when those colts had insulted me and he'd been enraged enough to use violence.
"I tried to," I stammered, lamely, reaching my hoof out to him, but he coldly turned away, piercing my heart with the pain of rejection he spread to me, but I would not let it strike me down. I had to at least explain myself.
"You lied to me, Cadance. I don't really know anything about you, do I?" he spoke so calmly, but his words came out hard and cold as ice. I bent my ears back against my head, and stepped back, panicking a little, but then I noticed the crowd around me, watching our altercation like it was some sort of entertainment, and I grew angry too.
"Well, go on, get out of here! I command you!" I shouted at them, and the groups of teens hurried back into the dance, while what was left of my friends hesitated, Sweetheart particularly watched me with empathy in her wide blue eyes.
"Cadance…" she started, but I was overwhelmed by the negative emotions resonating from every corner around me, and I somewhat lost myself to my own pain and fear and lashed out at the only pony who seemed to care about me at that minute.
"Just leave us alone. All of you!" I cried, bitterly, scrunching my eyes shut against tears, and the pain inside me. The four ponies who had become my first friends looked dejected, but turned away and began walking back into the doors, although Sweetheart looked back, her lip trembling, and her eyes filled with tears as Palomides led her inside. I could not bare to look at her, and hung my head.
When I managed to look over to Shining Armor, he just shook his head, disappointedly, and moved to leave with the others, but I reared up and galloped over to him, grabbing onto his messy long mane in my teeth desperately.
"No, don't leave me, Shining, please!" I begged, tearfully, tugging onto him like a foal pulled at their sibling in play.
He sighed, but seemed to pity me and turned back. "How am I supposed to trust you anymore? Everything you've told me has been a lie." He sounded more subdued now, and my heart jumped at the chance to somehow reconcile with him in this brief moment of appeasement.
"It wasn't all lies. I really am from Istalia, and I'm studying under Princess Celestia for the summer…" I trailed off, my voice breaking. "...and I really do like you." I gave him a tiny smile, but he turned away and began pacing.
"It's not just that you lied to me, you put me in an awkward position." He began, continuing to walk back and forth, but pausing and looking up at me as he spoke. "I'm training to be a royal guard. All I've ever known is to respect and protect royalty, but with you I never knew. I could have wronged you, I could have broken my own creed… I acted like an idiot around you… I beat up that colt…. argh…" he stopped and put his hoof to his head in frustration, and my heart ached for him, and all he was saying.
"But that's why I didn't tell you!" I cried, reaching up to him, and not being pushed away this time as I gently lifted his hoof back down, and he regarded me with more sympathy in his eyes. "I-I just wanted to be normal. I was so happy to have met you and that you liked me for who I was…not just because I was a princess." I looked down, my heart pounding with more than just the fear that I was losing him, as a blush spread across my face, and tears came to my eyes as the emotions around me dissolved into heartache and guilt. I steeled myself for what I was about to say, taking a deep breath in, and looking into the eyes of the dearest pony ever to touch my life.
"I…I... love you, Shining Armor." I stammered out, and felt my heart seem to pause in my chest as I waited for what he would say or do.
The alabaster colt's cerulean eyes widened, and he took a step back from me, causing me to feel the beating of my heart again as it seemed to jump into my throat, burning me inside as if I had swallowed fire. He looked this way and that, anxiously, and I felt his fear as all my hopes seemed to melt in the inferno inside my chest, my breath held in deep.
Finally, Shining Armor, my first real friend, and the colt I loved turned away from me and muttered, "I can't deal with this right now," then, spotting one of the useless guards who had meandered over to the doors of the dance, he called out to them and asked them to escort the princess home, before he turned his back on me and walked away into the shadows of the night.
~~~~~~~~~~~~~~~~~~~~~
end
AN: Sorry it took so long, but this was a 16,000 word chapter so I hope you enjoyed it. And it's heartbreaking. Poor Cadance.
The scene where Cadance becomes enraged is based off of Luna Eclipsed. She has some of her other auntie in her ;), and kudos to anyone who can tell me the real origin of the quote she says to Sweetheart about 'ponies being fairytales in books written by rabbits'.
I am going back to work in the next few weeks and also moving so there might be a short delay with the next one, but it will be very different and hopefully worth the wait. I'm excited to write it, and need it done before season three starts and Cadance turns into some sort of crystal pony or whatever.... boo. Hehe. Thanks for reading!
---
Chapter 11: Cadance's Heart Part 1
Chapter 11: Cadance's Heart Part 1

As told by Shining Armor
"You're being dumb, big brother," My exceptionally supportive little sister, Twilight grumbled to me as I sat with her in her room, absently playing with her dolls with her.
It seemed that little fillies and colts ruled my life now, as my job forced me to watch out for a bunch of rowdy colts all week long, only to come home to a little sister who used to adore me, but has now decided I'm not as cool as her foalsitter, who I apparently drove away.
She still made me play dolls with her though. Usually I liked to humour her by making them turn into monsters and eat each other, or grab Smarty Pants and make him a guard (he was a colt to me, and forever would be), which always annoyed her and made her laugh, but I just didn't have the heart for it that day.
The foalsitter who I had driven away had also been my marefriend. The most beautiful, kind, inspiring filly I had ever met; and who had betrayed me. She had been a princess. The heiress to Princess Celestia, and even one of the rare-born alicorns, which meant she had wings she had hidden from me, as well as never bothering to tell me she was a member of royalty.
I still couldn't believe it. Although she was beautiful, almost ethereal-like, with the multi-coloured mane that the higher members of royalty, along with Princess Celestia seemed to have, taller than the other fillies with longer legs, and I had even once seen her wings, she had always seemed like the farthest thing from a princess. She was playful and silly, sometimes just like a little foal, but she could be the most sweet, flirtatious mare, initiating every embrace and moment that left me with thoughts I couldn't understand or control. She could control love, maybe that's all it had been. One of her magic spells.
I turned back to my sister, trying to shake off my depressing and somewhat inappropriate thoughts. It was the last thing I should be thinking while playing with a bunch of dolls with my little sister. Especially since I was angry at the pony I was thinking about.
"Why am I being dumb?" I grumbled, rolling my eyes at the small filly.
"'Cos you abandoned Cady just 'cos she's a princess. That's dumb." She mumbled, sticking her lower lip out in a pout as if she was going to cry. But that wasn't fooling me.
"I didn't abandon her because she's a princess. Frankly, I didn't abandon her at all," I retorted. "I stopped seeing her because she never told me she was a princess, or an alicorn, or even her real name for that matter." I continued, exasperatedly.
"Haha, yes she did, her name's Cadance, silly." Twilight giggled, completely missing the point. But she was seven, what was I supposed to expect?
"You're just a kid. You don't get it." I sighed.
"Yes I do!" she cried, stomping her front leg, stubbornly. "You stopped seeing her because she didn't tell you that she was a princess, and you're still dumb." She smiled, smugly, and I facehooved.
Cadance had told me that my sister could be a real pain when she had made up her mind about something, but I hadn't really experienced it being her BBBFF. I guessed this was it.
Thanks, Cadance.
"Did you treat her this way too? Even though you knew she was a princess?" I paused, as it suddenly hit me. "You did know didn't you?"
The little unicorn shrugged. "She told me not to tell anypony."
"Of course she did," I sighed. "I guess mom and dad knew too then?" I cringed at how angry this all made me. Even my own family had lied to me.
"Sure they did, they made her my foalsitter, you know." She said, as if it was the most natural thing in the world.
"Aargh, I don't believe this!" I cried. "Did any of you ever plan on telling me the truth?"
"Uh…" Twilight grinned sheepishly, and scratched her head.
"I didn't think so." I snorted, and turned away, dropping the dolls and getting to my hooves.
"Wait, where are you going?" she whined, as I began trotting to the door of her room.
"Somewhere where nopony is going to lie to me." I muttered, harshly to my little sister who I didn't think I'd ever had a real fight with. But it wasn't like she cared about me anymore either.
"Well, it's your fault Cadance doesn't come to see me anymore, so go away!" she shouted.
"Gladly."
"Fine!"
"Fine."
"Fine!" the filly shouted at the top of her lungs, and then she stopped and sniffled, making me feel bad, and I walked back over to her.
"Does she really not come to see you anymore?" I asked, sympathetically, trying to nuzzle at her, but she stubbornly turned away, wiping her nose with her hoof.
It seemed strange that Cadance wouldn't come to see Twilight. Wasn't that her job? And it wasn't like she had to worry about seeing me. It had been a week, and I had gone back to work and only just returned this weekend without hearing a word from her. I didn't think she was the type to abandon a little filly like my sister who seemed to love her. But what did I know?
"Mommy and daddy said she's sick." She mumbled.
Sighing, I sat down beside her. "Well, I guess you'll have to wait until she gets better."
I didn't really believe the words I said to her. It seemed like Cadance, with her high emotional sensitivity, which I couldn't possibly understand, but I had witnessed do a number on her fragile body, couldn't face us anymore. I had been pretty mean to her, I guessed she hated me. But why did she have to make an innocent filly like my sister suffer too? It just made me feel more betrayed by her.
"Well, you've still got me." I grinned, but Twilight just sighed, and I felt really bad for her.
"She said she was never gonna leave me. She said she would be my teacher forever," She whimpered, with tears in her eyes. "She promised she would come play with me everyday this week. It's not fair!" she sobbed, and I pulled her closer to me with my hoof, and she snuggled into my shoulder and cried.
I wished my breaking up with my marefriend didn't have to affect her too. It shouldn't have. I'm so sorry, Twiley. I didn't mean to take your foalsitter away. I thought, guiltily, as my little sister cried over the loss of her only friend. Then I gritted my teeth, and bent my ears back against my head in sudden anger as the real reason she was suffering came clear to me again.
Cadance, how could you?
~~~~~~~~~~~
I wondered the streets of Canterlot in the late afternoon low-light of the sun, looking up at the palace where I guessed she was. What was she doing that would make her abandon my little sister like she did? It just really didn't seem like her, and I wondered if any of our friends had seen her. She'd still hang out with Sweetheart at least, I thought, maybe I'd ask her the next day.
Twilight had calmed down, and was playing with mom, or reading with mom--- whatever. And I needed to get out and think on my own for awhile. I thought about going to the top of the Canterlot mountain, like I usually did, but that place seemed to bring back memories now, and I was looking for the opposite of that.
As much as I was angry at her, I missed Cadance. She had been such a joy to be around. She could be the strongest of ponies, standing up to the bullying colts I had dragged into her life, even as I tried to protect her, defending even me along with little Sweetheart as I had seen that horrible night.
She was always fighting against her own weaknesses and overcoming them, never wanting to give in, although those weaknesses were severe, and sometimes made me think she was as fragile as glass. She grew ill from strong emotions which she could somehow sense, becoming faint and unable to function so I could only help her walk by letting her lean on my back. She tripped over her own hooves and ended up worrying me more than should be natural for a teen filly, but she had always been worth it. Her weakness had been a part of this amazing ability she had to help ponies fall in love. It seemed kind of lame at first, I guess, but she always was able to determine who was deserving of her spell, never frivolously using it, and it made her the most empathetic and caring pony I had ever known.
She had always been special to me, the first filly I ever cared for, (although, I had once had a crush on Medley. But I gave that up as I quickly became terrified of her). I might've thought she was perfect; I might've been able to return those frightening words she had said to me that fateful night. But her betrayal, her lies cut deep. I couldn't stand it when a pony lied.
Honesty had always been my strongest creed, even before I had joined the academy. I believed that being able to trust another pony was one of the most important things in a relationship, and a lie could stretch into something as drastic as life and death. I had been taught that by the stallion I most looked up to, especially when my dad seemed to turn his back on me when I decided to join the training academy instead of going to Princess Celestia's school like he wanted, my uncle, Star Ward, a high ranking soldier in the solar guard, and probably my only real role model. He, like me, had his name determine his destiny. I mean, what else could you be expected to do with a name like Star Ward, or Shining Armor? If my dad didn't want me to join the ranks he shouldn't had let his brother name me.
My uncle had told me that a soldier who had bent the truth just to save face, had lead a troop into the lair of a manticore, and they had all barely escaped with their lives. When Princess Celestia had heard of this she had dismissed him, but not before making sure that all the soldiers realized that dishonesty was not something to be taken lightly, and any soldier caught in a lie, no matter their rank, would be guaranteed an audience with her, and usually they would leave her chambers without their armor.
Uncle Star Ward had told me this when I was a little colt, even before Twilight was born. That day I had confided in him that I had told my dad that I wanted to go to Princess Celestia's school next year, but I actually wanted to be a royal guard like him. He had said he was happy I wanted to follow in his hoofsteps, but that I shouldn't lie to my dad like that. He told me that story and scared me out of my too big horseshoes, so that I ran to tell my dad the truth. It might have just been the manticore in the story, and the way my uncle could growl like one to make it interesting, but whatever the reason, his advice had stuck with me throughout my life, and was something I took very seriously.
I had never told Cadance that, and I guess it wasn't fair for me to be so hard on her when she didn't even know why, but her lie had been grave. It was her identity; who she really was. It wasn't like she had just fibbed about dying her mane that amazing colour combination or something.
But as much as she seemed to not want to face me, neither did I. Not just because of her betrayal, but because she was actually a princess, one of the sacred alicorns, a love goddess, and I had realized I could never be good enough for her. What could a regular unicorn training to be one of her many protectors one day do for her anyway? She probably would end up in an arranged marriage with some noblepony and I would just be a summer fling. I could never be the stallion she needed, or the one she really wanted, even if she seemed to think she did. She had said she loved me, but how could I ever do right by her?
I slumped down on a bench just outside of the town square, in a small deserted park, and gloomily stared down at the ground, catching the reflection of the palace in a puddle of water and sighing. Just as I was about to turn away from the reflection, and the longing it brought me, I suddenly noticed the image of the castle become obscured by the smug face of a familiar looking gray unicorn. I looked up to be face to face with Lacolt, along with Stark Feather, his stupid pegasus friend. I jumped to my hooves, immediately on the defense, and stood braced in front of the much bigger colts that always had tortured me with their teasing and freshmen bullying. But the other night they had gone too far with what they did to Sweetheart and Cadance. Actually, I was surprised to see them still looking so cocky. Hadn't Cadance reported them to the princess?
"Well, well, well, if it isn't the little colt who turned out to have a princess marefriend. How's that working out for you?" Lacolt snickered, but his eyes were cold and dark, not his usual brash teasing expression, and he made no pitiful attempts at wrestling me down. The normally laughing Stark Feather looked just as harsh, his mouth a firm line as he moved in toward me.
And then I started to feel the prickling sensation against my back as fear started to set in. This was no usual taunting, I realized, these guys were pissed off, and all their wrath was focused at me. Well, they weren't the only ones.
"What are you doing here?" I demanded, pinning my ears back as I stared them down, refusing to give into my creeping sense of dread. "Shouldn't you be in the royal courtroom begging Princess Celestia and the headmaster for forgiveness?"
"Heh, you'd think so wouldn't you?" came Lacolt's snide reply. "But I haven't heard anything from them. Seems like your little princess marefriend is all talk."
Okay, now I was starting to worry. I was sure that Cadance would have told Princess Celestia about what these plotholes had done. Why hadn't she done that yet? I knew I had hurt her, and maybe she was too upset at first, but I didn't think she would just forget. What had happened to her?
"She is not. You'll pay for what you did to those fillies!" I growled back, frustrated with them and still feeling worry over Cadance's apparent disappearance.
"Oh, really? What are you going to do? Call her back to yell at us again?" Stark Feather sneered.
"Hah, you can't even fight your own battles. You need a filly—a princess--- to do it for you." Lacolt added, laughing. Then he moved in toward me and made a show of whispering in my ear. "Just a heads up, as a member of the royal guard you're supposed to protect the princess. Not the other way around."
"Shut up!" I shouted, stomping my hoof, but they just laughed more.
I had really had it with these guys. If it hadn't been for them, I wouldn't have lost my cool and caused Cadance to be scared of me. Maybe she would have trusted me enough to tell me the truth if I hadn't gone and tried to show off by hitting that jerk, Lacolt, in front of her and my sister. Not to mention it was a stupid thing to do in front of a princess. If they hadn't tortured her and Sweetheart that night maybe she would have told me her secret on her own too. I don't know how I would have reacted, but I regretted the way I treated her now. Especially since she had seemed to disappear since then.
"Anyway, Armor, we're glad we found you today," Lacolt's laughter was gone, and his eyes reverted back to the cold, dark glare he'd had when he and Stark Feather appeared that day. This didn't look good. They were both bigger than me, older than me, and it was two to one.
"What do you want?" I demanded, trying to keep the quivering out of my voice.
The large, gray unicorn gave a sinister smile, "Payback."
"What?"
"Thanks to your psycho marefriend we're looking at expulsion from the academy just for having a little fun. Since we can't very well deal with her without severe repercussions, you seem like an acceptable replacement." He paused, digging his hoof against the cobblestones.
"If we're going to be expelled anyway, we don't have to worry about our behaviour anymore, right?" Stark Feather added, spreading his wings intimidatingly.
"I wonder what your princess marefriend will think of a rusting armour?"
Oh, buck me…. was the last I thought to myself before the two colts pounced on me in a tumble of gray fur and white feathers.
~~~~~~~~~~~~~~~
"Ow, ow, ow~!" I whined, as I felt the warm cloth make contact against one particularly painful bruise on my cheek.
"It's just a scratch. You're going to have to stallion-up if you want to be a real royal guard one day." My mom's soft voice chuckled as she wiped at my injuries, teasing me now, but I would never forget the worry and pure fear in her eyes as I had limped home that night after getting my flank kicked by Lacolt and Stark Feather.
It hadn't been serious. I was able to defend myself mostly, only really suffering a painful blow to my hip by their powerful hooves, causing the limp, a bit of a black eye and some scratches and bruises. But it was hard seeing my mom so scared. I knew she was worried about me joining the royal guard and getting hurt, and I hadn't wanted to prove her right so early on. Even if it was just a bunch of filly-harassing bullies.
Eventually some guards dragged them off me, but of course, they couldn't figure out who started it, so we all got hauled home to our parents with a warning about disturbing the peace. If Lacolt and Stark Feather weren't in trouble before, they definitely were now. But then again, so was I. When dad found out I was fighting again, even if it hadn't been my fault this time, he was gonna pull me out of the academy, and probably argue with mom again. And this time I didn't have Cadance to help me with that. I didn't think this week could get any worse, and I struggled against the mental and the stinging physical pain I felt, squeezing my eyes shut, and gritting my teeth as I was wont to do to stay strong.
"Want me to beat them up for you, BBBFF? 'Cos I could." Twilight stood up on her hind legs, peeking her head over the table at me, her wide eyes blinking and full of concern.
"No you don't." Mom responded, gently pushing her off the table, and I smiled at the little filly. She was why I couldn't show any weakness, as well as my mom. It was my job to protect them, not break down like a little foal. When dad wasn't at home I was the stallion of the house, and when I became a royal guard, (if I ever became one now), I would forever protect them along with the princesses. Cadance. I'd protect her too. Even when she became one of those beautiful and majestic creatures called the alicorn. So different from me and the other ponies, and so far out of reach.
"Shining, honey, even though this wasn't your fault this time, your father is going to be very upset." Mom sighed as she dipped the cloth back in the bowl of water, then started to peel a bandaid with her magic, but Twilight jumped up again.
"I wanna do it!" she shouted, and surprisingly grabbed the bandaid out of mom's telekinesis and cradled it in her own before she slapped it none too gently on my face. There wasn't a bruise there, but it was worth the effort.
"Twilight, don't be so grabby. Didn't your magic teacher teach you not to take something from another unicorn's grasp?" mom scolded, and the little filly just gave her toothy grin that allowed her to get away with anything.
"I know, mom." I sighed, hanging my head.
She frowned. "You said these colts were harassing the fillies again, right? I don't understand why they haven't been dealt with yet."
I grimaced. "I don't know either. Cadance said she was going to report them to Princess Celestia, but she hasn't seemed to have done it yet."
It was barely noticeable, but at the mention of Cadance's name my mom winced. "Well, I heard she isn't feeling well, so maybe she hasn't gotten around to it yet. We could sure use her help though. The princess is very busy lately and seems kind of frazzled. I want to stay and help extra hours, but I can't leave Twilight."
"Yes you can, 'cos I can take care of myself. I'm a big pony!" Twilight protested, stubbornly. Hadn't she wanted Cadance back just a few hours ago? Foals.
"Ugh, mom, why didn't you ever tell me the truth about her?" I groaned, ignoring my sister's incessant protests.
"Well, she asked me not to. I have to respect the wishes of a princess don't I?" Mom giggled and Twilight followed along.
"Yeah!"
I gave her a look, but she just grinned.
"Of course." I muttered.
"It's too bad you aren't with her anymore. Imagine. If you two had gotten married you could've been a prince." Mom brushed a comb through my tangled mane and started giggling like a schoolfilly along with Twilight, and I decided I had had enough. I moved my head away from her, and pissed off at the both of them, I teleported away to my room, locking the door behind me.
What did they know anyway? Cadance may have been a princess, but why did that mean she could lie to me? And I didn't want to be a prince. I was supposed to be a royal guard; a protector of royalty. I didn't want to be a part of it. And really, it seemed to me that neither did she.
~~~~~~~~~~~~~~~~~~~~~~~~~~~~~~~~~~~~~~~~~~~~
"Oooh, Shiny's got a shiner!" Palomides laughed the next day, rubbing carelessly against the top of my blackened eye when I sought out somepony who would understand how I felt. "Seriously, if you didn't have one already I would want to give you one for dumping Cadance. She was awesome, gorgeous, and a bucking princess. She didn't deserve that, dude." I guessed my best friend wasn't going to be that pony.
"Ugh, not you too." I moaned, rubbing my hooves across my eyes.
"Yes, me too. Seriously, she was funny, smart, kind and so good at magic. Look what she did for Blue and Medley. I haven't heard a complaint about life from either of them since." That was quite an achievement, really, I had to agree.
"Palomides, she purposefully hid the fact that she was actually a princess from all of us. Doesn't that mean anything to you?" I asked, but the unicorn just shrugged.
"So she's a princess. She's still a great filly, and our friend. Maybe she's just sick of boring royal life, and wanted to pretend to be normal for once. It can't be easy for her to be the only alicorn besides Princess Celestia. How would you like to be different from everypony?" Palomides seemed serious for once, but his words were the same as I had heard from everypony else, including Cadance herself. But that wasn't what the problem was.
"Yeah, I get that. I get why she did it. But she lied to me. She lied about everything. How am I supposed to trust her?" I was answered with another passive shrug.
"I dunno. Just give her a chance. She deserves that much."
"Are you guys talking about Cadance? Have you seen her?" we were interrupted by the anxious calls of Sweetheart as she galloped on to the scene. She'd been with Palomides when I met him, but had run off to the little fillies' room before I got to talk to her. I was disappointed. I thought maybe she would know what had happened to Cadance. But she seemed just as confused as me.
"No, I thought you would have seen her." I said.
"You jerk! You did break up with her. You're so mean!" the small yearling pushed at my chest, angrily, and I grimaced, not wanting to explain the whole thing again. "I told her everything would be okay. She was so scared. I never thought you'd do that to her!" Sweetheart was crying now, and for what must be the millionth time I felt bad for upsetting her.
"Don't tell me, you knew too, right?" I muttered. Of course she would tell another filly before me.
"I only found out just before the dance. It was an accident. But she told me she wanted to tell you the truth, but she was scared you'd be angry at her. I told her I didn't think you would be. I thought you were nicer. I thought you really liked her!" she began bashing at my chest with her tiny hooves, relentlessly, until Palomides pulled her off, and she sobbed in his hug, as I just stood there looking dumb.
"Sweetheart, give me a break, will you? I don't like being lied to. I can't trust her anymore." I tried to explain.
"But she's my friend, and I wanted her to be happy like me. I thought we could double date now that I'm with Palomides, but I can't even get in contact with her." she sniffled, sitting down on her haunches, sadly.
"I don't get it. Why hasn't nopony seen her? She hasn't come to foalsit for my sister either." I pondered aloud.
"'Cos you really hurt her, you jerk." Palomides grumbled, losing his playful tone since I seemed to have hurt his marefriend too. I was such a gallant knight.
"I'm gonna go to the palace and find her. I tried once last week, but they wouldn't let me in for some reason. It was the Princess's orders." Sweetheart's blue eyes sparkled with tears, and the glint of determination in them. She seemed fiercely loyal to Cadance, and it touched my heart. She had always seemed so shy and somewhat intimidated by Lyrica and Medley who would sometimes trot all over her because of her kind, naïve nature. Cadance was like that too, although she was less submissive, and more inclined to verbally fight for what she felt was right as I had seen at the dance.
It seemed that all my friends had been touched by my once perfect little princess marefriend, and it was only me who had trouble forgiving her. But none of them knew the real reason I couldn't bring myself to face her. The reason I kept deep down inside me. That even as I lost respect from, and even hurt my little sister and friends I couldn't reveal to anypony.
Cadance was a princess, and I was just a royal guard trainee. She was an alicorn, a goddess as some called them, and I was just a unicorn. She would grow stronger than me, more powerful than me, she would probably even become taller than me one day. I couldn't protect her. I couldn't be the stallion she needed. The one she deserved. She deserved better than me, she was better than me. I had nothing to give her but my love, and she didn't even need that. Because she held it all within the pureness of her beautiful heart.
~~~~~~~~~~~~~~~~~~~~~~~~~~~~~~~~~~
I was at work when she came to me.
My group of colts were doing a royally pathetic job at archery practice. Even the unicorns couldn't seem to hold on to the bows with their magic, while the pegasi just fooled around because that's what they did, since the only discipline eight, nine and ten year old pegasi colts had was how to fly without crashing into another pony. And even then, they still managed to do it. The pegasi were not a known race of hard workers, but the ones in the royal guard were made to adapt to the equally harsh training that unicorns and even the naturally tenacious earth ponies were meant to endure.
But this was just a camp. Not a training camp, but a fantasy camp where little colts and fillies alike could experience being royal guards and knights with councillors like me who were the real thing. Forced to indulge them in their foalish antics while making a dismal amount of bits for the work put into just making sure they didn't kill themselves.
The colts were very interested to see a slim, long legged, but tiny, white filly canter nervously onto the field where I stood with the other bored instructors. I swore if they acted the way they did when they first saw Cadance I was going to take away their swimming privileges for the day. Because that was the worst punishment I could deal out at this camp. No wing push ups or cleaning the dorms with toothbrushes in their mouths for them. Although they could sure use the discipline.
"Hey, Shiny, didn't you say you had a marefriend? Is that her?" One of the other councillors asked, glancing out as the filly that I could now see was Sweetheart anxiously approached us, breathing heavily as if she had run all the way from Canterlot Center to our camp ground at the base of the mountain. I had not expected to see her there. Instructors weren't usually allowed to have visitors. How did she even know where we were?
"No, she's---" I started to explain, but the panting unicorn filly spoke up as I did.
"Shining Armor you have to come!" she cried, her little voice high, and anxious, with tears in her eyes.
"What are you doing here, Sweetheart?" I asked, feeling a little embarrassed at her somewhat hysterical behaviour, and the little colt onlookers who snickered along with my peers.
"It's Cadance! You have to come see her. You have to go to her!" She cried, tearfully, rearing up and pushing at my chest as if she planned to shove me all the way back to my ex-marefriend.
"Whoa, calm down," I gently moved her hooves off me, and touched her trembling shoulders as she fell back onto four legs. "Now, take a deep breath, and tell me what's wrong."
"I-I don't know," the little unicorn stammered. "I went to see Cadance and…and…"
I waited patiently as she tried to gather herself. I knew Sweetheart could be a bit of a cryfilly, but I couldn't help but feel a little worried since Cadance had been missing for the last while. I hoped nothing had happened to her.
"There's something wrong. She isn't herself. I-I can't explain it, but it's bad, Shining Armor. Please, go to her." she clasped her hooves together as if she were begging me. I didn't get it.
"What do you mean she isn't herself?"
The unicorn filly moaned and clutched at her head, sobbing as she fell to her knees. "I don't know, I don't know!" she wailed, and I felt my concern for her and the pony she spoke of grow.
Sweetheart was clearly extremely distressed---- even for her---- I didn't know what I could do to console her, and I didn't want all the other ponies to keep watching as she pleaded with me to go to Cadance, as if she were begging me to spare her life from some horrible fate.
What was I supposed to do but promise to go? I didn't want to go. I wasn't ready to face the mare who had deceived me, made me look like an idiot, and who I was frightened of my own feelings for, but Sweetheart's persuasiveness went deeper than her heart wrenching sobs. Although I wanted to think that she was just being overly emotional, somewhat like the rose coloured filly of royalty she spoke of, her description of Cadance had sent chills down my back. I wanted to think that she was just depressed because I had hurt her, but something deep inside me told me that there was something more going on than a pony with a broken heart.
She had disappeared, she had abandoned my sister, Sweetheart had said she wasn't herself, and even my parents said she was ill. What if she was really sick? Or hurt? As much as I was angry at her I didn't want anything bad to happen to her. But if something had…. I owed it to her to visit her didn't I? I would be cruel to leave her if she needed somepony. Did she need somepony?
"Alright, I'll go, I'll go." I found myself saying to the distraught unicorn filly who seemed to deflate with relief as I agreed to her plea. "I'll try to get a friend to cover for me. But you need to get out of here. Both of us could get into real trouble if any of the head counsellors see you." I gestured back toward Canterlot, and Sweetheart's eyes widened in fear as she got back to her hooves.
"Just promise you won't be angry at her. She needs you, Shining Armor." she added, desperately, as she turned to return to her home, her hooves somewhat shaky as she made her way across the rocky expanse. She paused and looked back at me, as if she wanted to make sure I was going, her somewhat unkempt, wavy mane blowing in the wind. Then she turned and galloped off, becoming a shadow in the glare of the sun.
I don't know how much Sweetheart knew about Cadance at that time. I doubt she had actually seen her with her vague description of her, and if she had, she probably would have been much more upset. I knew I would have. But the little filly was possibly stronger then she seemed, and Cadance's closest friend
I went to the palace after convincing another counsellor to watch my group of colts in exchange for taking his lunch shift the next day, but when I arrived there I didn't know what to call her. How to ask for her. Was I supposed to ask for Princess Cadance? Or that Istalian name she had said? Mi Amore Cadenza…. What did that even mean?
The guards at the castle gates were wary of me. They didn't seem like they wanted to grant me access, especially when I mentioned her name. They demanded what business I had with her, then said she wasn't seeing any visitors. I told them my name, and that I had been Cadance's friend. That I was a royal guard trainee, nephew of Star Ward and my parents were Princess Celestia's royal advisors. Something I said seemed to interest them because the one stockier pegasus guard looked at the other suspiciously, mumbling something under his breath that included something about 'the little colt the princess told us about,' which I grudgingly guessed was me. I was not a little colt. I was bigger than all the colts in my class.
"Cadet Shining Armor, your presence is requested by Princess Celestia in the throne room." The stocky pegasus boomed.
"Wait, what? I wanted to see Ca- Princess Cadance… why would I—" I tried to protest, messing up her name again, but stepped back as the guards glared at me.
"Are you refusing the request of the princess, Cadet?"
"Uh, no…I just---"
"Then we will escort you to the throne room." The other guard stated, and pinning my ears back in nervousness with no idea why Princess Celestia had asked for me personally, and thinking it had to be some mistake, I followed the two intimidating stallions through the halls and into Princess Celestia's chambers.
As I entered the great domain behind another set of guards, my personal escorts now returned to their posts, I noticed that there were no other royal guards present, which wasn't proper protocol according to my studies and other more formal visits to the palace. My hoofsteps echoed in the long corridors as I approached the burgundy carpet that lead to the large, gold gilded throne that sat atop a leveled pillar with a fountain flowing into a small moat underneath where the guards usually stood.
Princess Celestia did not sit on the ornate chair, and was not flanked by her solar guards, but instead, stood as if she were waiting for me at the end of the carpet trail looking somewhat less her regal self, her expression apprehensive, along with a sort of fatigue that echoed in the less significant shine in her eyes, the grooming of her coat, and even the flow of her transcendental mane. I shivered a little as I could feel the tension in the air, and the great monarch looked down on me, frowning slightly as I leaned into a bow as the guards announced my arrival and introduced me.
"Arise, young colt," the sun princess's usually soft, melodic voice was grim, and echoed across the throne room, somberly. "Guards, you may return to your posts," she nodded to the solar stallions who had presented me, and they saluted before leaving me alone in the ominous presence of our great ruler, who I had never had any reason to fear until now. I felt like a little colt then, one who needed their mother, but I had to be strong. If I was afraid of the princess now, what was going to happen to me when I had to report to her for duty in the future?
My heart beating in my chest, and sounding in my ears, I stood as tall as I could, still only able to reach the chest of the long-legged alicorn as I steeled myself to speak.
"Forgive me, Your Majesty, but are you sure it is me you wish to speak to? I just came to visit my friend who I haven't seen in a while. What could you possibly have to say to me?"
The princess regarded me coolly, and I shivered. I really shouldn't have said such a thing.
"You are Shining Armor, son of my advisors, Nightlight and Twilight Velvet, and the former coltfriend of my niece, Cadance, am I not correct?" she asked, and then sighed as I cowered in front of her. "Forgive me, my child," the princess bowed her head, solemnly. "I am upset, but I have no quarrel with you. There is nothing for you to fear, so please, raise your head." She gestured her request by raising her own, and I slowly looked up at her. Her eyes were so serious and sad, and she almost appeared haggard, if I could actually say such a thing about a living goddess. Still, her kindness and gentleness were apparent as she tried to make me feel more at ease.
"I know that you and my niece had a falling out, but I am glad you came here, Shining Armor. I asked to see you because I believe you need to know that Cadance is very ill, and currently in the castle medical wing. I am afraid her illness is quite grave, and she could use a visit from a friend." The ivory princess's voice broke, but I only vaguely noticed as I took in what she had said.
It was true. Cadance really was sick. So sick that Princess Celestia had lost her calm, cool composure in her apparent worry. She had summoned me to tell me personally, the guards were dismissed, and she looked as if she hadn't slept… what could be wrong with her?
I was suddenly hit with feelings of catastrophic guilt over how I had been so angry at Cadance. Not for her lie to me, but because of her disappearance, and when I thought she had abandoned everypony. How could I ever have doubted her? She would never leave my sister unless something had happened to her. I had even been told she was sick but didn't allow her any sympathy. How could I have done that to her? To anypony? But especially to one I had once cared about so much.
"I-I didn't know. I'm so sorry." I managed to squeak out, desperately wanting to know what was wrong with her, but I knew it wouldn't be polite to ask. Instead, the royal alicorn offered that information to me herself, and I still get chills when I think about what she said, and how I wished she had never told me. Or that there hadn't ever been anything to tell.
"I'm afraid it is very serious, my little colt. Her heart has become very weak and cannot sustain her. She cannot eat, is despondent, and in a lot of pain. The most talented doctors available are doing everything they can for her, but she is continuing to grow weaker by the day." she sighed in her grief, and I became aware of my mouth hanging open like the confused and frightened colt I was.
I didn't understand. Her heart was weakened? The filly with the strongest and most beautiful of hearts? She was only thirteen, and one of the seemingly immortal alicorns. Only old ponies wracked by the passage of time had their hearts weakened by the years of joyous life they lived, not one so young. Not a pony who had not had the chance to grow up. Not my best friend.
"I don't understand, Princess. How could her heart be weakened? She's just a young filly." I tried to voice my agonizing thoughts, but Princess Celestia seemed to sense them as she so often could.
"I don't understand myself, young colt. Although it seems improbable, it is almost as if she is literally suffering from a broken heart."
I froze, and the blood in my veins turned to ice.
"But that's impossible!" I cried, emphatically, heedless that I had raised my voice at my princess. "A pony's heart can't actually break, that's just a saying. I-I can't be the one who has done this to her!" I shook my head in desperation, unable to believe any of this was happening, and my own heart started to hurt when I thought that my cruel words could have somehow made Cadance this ill.
"No, child, it's not your fault. It is just as it must be." She stepped closer, trying to comfort me as I felt a deep despair take hold of me. If my turning my back on her had done this to her, how could she ever forgive me? How could I forgive myself?
"What she did to you was wrong too. I tried to tell her that not telling you the truth about herself would damage your relationship, but she didn't listen. You can't be blamed for becoming upset, and you certainly are not responsible for her illness."
I can't count how many times that different ponies including Cadance herself, assured me of this. But to this day I still wonder if I had been less harsh with her, if I hadn't walked away, if I had just listened to her, maybe this would never had happened and we could have worked it out. And she would have been forever strong, never having to suffer the pain I inflicted on her.
"Shining Armor, regardless of any guilt you may feel, know that you are here now, and seeing you again may help aide in her recovery. She was too ill to receive her other friend the other day, but you are very special to her. You may be able to get through to her." the white alicorn's eyes seemed so serious as she spoke to me, and I shamefully turned away so as not to become overcome by the duty I felt to her as my princess.
There was nothing I could do for Cadance, and I didn't want to be forced to confront her. I'd just upset her coming to her now. She probably hated me for hurting her so bad and for all she had had to suffer for it. So help me, I was still scared to face her. Even when I knew she was sick and needed me. She didn't need me. She needed somepony who could cheer her up, who could make her happy and feel better, not one who would hurt her more. Not somepony like me.
"Princess," I started, shakily, hanging my head and gritting my teeth so hard they hurt. I tried to bite back all the pain and guilt I felt, I would not cry in front of the princess. "What can I do for her? We broke up… I was cruel to her, seeing me will just make her upset," I mumbled, turning away. "Sweetheart is her best friend, you should ask her to come back, she---" suddenly I was cut off as the regal mare's hoof reached out to me and somewhat forcefully lifted my head up to face her magenta, narrowed eyes.
"Young colt, I don't think you see how grave the situation is. When Cadance first fell ill I wanted to send her home to Istalia, but the doctors didn't think she would make the journey. So her parents have come here instead. That was almost a week ago now, and she is not getting any better. Do you understand what I am saying?" she let me go, and backed up, returning to her full height and looking down at me with glistening eyes as my heart seemed to plummet in my chest.
"I-I understand. I'll go to her." I stammered as all my uncertainty about confronting her melted away by the princess's final words.
"Good. Follow me."
~~~~~~~~~~~~~~~~~
I will never forget when I saw Cadance again.
How small and frail she looked lying in the big hospital bed in the castle medical wing, her hoof wrapped up and hooked to an IV by her side, and an oxygen mask around her muzzle. How her once shining, rose coloured coat had paled and seemed to blend in with the white blankets, her beautiful long mane spilling down in front of her. How she fought for every breath, or how desperately ill she looked, and the intensity of the hold on my heartstrings seeing her like that caused me.
I watched as the beautiful alicorn I had once called my marefriend struggled outside of the blankets as she slept, and I saw her magnificent wings again. The first time I had seen them I hadn't noticed that they were two toned, the same colour as her coat but also lavender at the tips. They were larger than a regular pegasi's too, but they hung so limp against her, some of the feathers even loose against the bed. She seemed like a hurt baby bird, so thin and gaunt, her ribs jutting out at her side as she laboured to breathe. I had never imagined that she would look this bad. I had never seen a pony look so sick, and it broke my heart to see such a strong and vibrant filly as her be struck down like that.
It had only been a week ago I had been dancing with her, watching as she had used her amazing magic to bring love to two lonely ponies, or hearing how much she brightened up little Twily's life. This shouldn't be happening to her. She should be out there playing with my sister like she'd promised. She should be rallying the princess to punish those stupid colts and celebrating with Sweetheart when they got expelled and whatever else was coming to them. She should be arguing with me about why she had felt she should keep her true self from me, winning me back with her alluring ways. I wished she was, and it all seemed so petty and stupid to be angry with her now.
There was an off-white coloured unicorn mare with a long magenta mane sitting by Cadance's side who wiped her forehead with a cloth held in her magic, slightly calming the struggling young pony as she fitfully slept. I guessed the unicorn was a nurse, as she gently dried off the excess water with a towel, eliciting a tiny moan from Cadance, muffled by the mask she wore. She seemed as if she were in pain, and her every move of her hooves was her unconscious way to try to gallop away from it. But she couldn't escape. She was trapped in her own ailing body. I wished I could do something to help her, but I too couldn't seem to move.
I couldn't watch this. I couldn't bare to see her like this, powerless to do anything for her. I wanted to take back every mean thing I had said to her, I wanted to go back to that night and never hurt her, I wanted to hold her again. But I couldn't move from my place across the room. My hooves felt stuck to the floor, the florescent hospital lights were too bright, and the room seemed to cave in on me as I began to breathe hard and struggled to back out of the sickroom.
Just as I managed to force myself to take a step backward, I ended up almost colliding with Princess Celestia as she stood behind me, probably waiting for me to actually enter the room, but my fear of the hospital, and Cadance's overwhelming suffering kept me from moving any further, my legs slightly trembling in my horseshoes.
"Calm yourself, young colt. I know this must be hard for you, but be brave." The gentle voice of the princess said, and I turned to her, struggling against stinging eyes threatening to fill with tears.
"You've come at a time between her pain medication. She'll calm down after we're able to give her more. Then maybe you can talk to her for awhile." She explained, liltingly.
"Can't you do anything for her now?" I choked out, but the princess shook her head.
"We're doing all we can, but she seems resistant to any medicine or magic we try for her. All we can do is give her as much pain medication as her body can tolerate, help her to breathe easier and feed her nutrients by IV. Even my power cannot cure her, or ease her pain."
Hearing the hopelessness in the voice of one I looked up to as omnipotent made my blood run cold, and her words about how serious Cadance's sickness was came back to me, and I shivered.
"I-Is she going to---" I tried to voice my greatest fear as I stood in the presence of my swiftly ailing friend, but Princess Celestia stopped me.
"Shh, child. Do not speak of such things. You must believe in her to help her. That's all we can do." She chastened, softly, and I hung my head, a tear escaping down my cheek. I couldn't fight it. This was all too much. I didn't want to see my best friend suffer, and I didn't want her to…to… I couldn't even think it. I had never lost a pony close to me, and had never understood grief until now.
"Come inside now, Shining Armor. Cadance will wake up soon for her next dosage of medicine. For now I'll introduce you to Lady Capanella, Cadance's mother." The princess nudged me to step out of the alcove and into the hospital room where the unicorn by Cadance's side looked up at me with tired and distressed lavender eyes, but she seemed curious at the sudden appearance of us.
"Hello Little Bell, how is she?" Princess Celestia spoke to the unicorn caregiver who sighed and shook her head sadly.
"Hello, Princess. I am afraid there has been no change. I am just trying to keep her comfortable until the next dosage." She replied, her voice weary and full of grief.
I hid behind the regal mare like a little foal, but poked my head out as the nurse apparently named Little Bell, spoke. I wondered where Cadance's mother was, for I didn't see anypony else in the room, save for cold, sterile machines and the presence of strong healing magic that seemed to do nothing for my hurting friend.
"I am so sorry. Please understand we are doing everything possible to help your daughter get better. I will not rest until she is." The princess said with conviction, and I perked my ears up, and stepped out from my hiding place.
Little Bell was Cadance's mother? Her mother was a unicorn? But I had thought since she was one of the rare born alicorns that her parents would be alicorns too. Was her father a regular unicorn too? Or was he a pegasus then? I had no idea how an alicorn was born. They had seemed to disappear in history, only showing up in the last fourteen years with the filly- princess from the regions to the west I had only heard about, and had never realized was the actual identity of my once cherished marefriend. It had always seemed to me that the only winged unicorn I knew of, Princess Celestia, had been born of the sun and the world she created. Cadance had never told me anything of course, but maybe she didn't even know. After all, she had just been born to a unicorn mother too, the same way I had.
"Thank you, your majesty, I am in your debt." The unicorn bowed her head, but the princess frowned.
"Please, we are family. I want nothing more than for Cadance to be well."
I had always admired the way Princess Celestia seemed to disregard formalities and excessive displays of reverence shown to her, but she seemed genuinely hurt to be treated that way by a family member. I had never seen her show as much emotion as I had that day. She always seemed to wear a mask of gentle but authoritative composure in public, but her worry and grief over Cadance was almost palpable, and probably would affect her sensitive emotions if she were awake. They certainly affected me.
"Cadance's friend has come to see her today. Would it be alright if he is able to have some time with her?" The princess asked, and I blushed a little, nervous to be meeting Cadance's mother who I had thought was only a nurse before, and who I knew would surely hate me. "This is Shining Armor, son of my royal advisors and a royal guard in training. He and Cadance have been quite close this summer."
If I could have felt even more embarrassed and ashamed I didn't think I could take it, and I tried to hide behind my princess again, but she softly pushed me ahead with her tail. Funny… I had always thought it was intangible. But the ethereal train brushed across my side as any mane or tail would, and I staggered forward again, offering a weak grin.
"Oh, of course. Hello, Shining Armor, you must be the sweet coltfriend Cadance told me about. It's a pleasure to meet you," Lady Campanella, (or was it Little Bell?) said, seeming to force her voice to grow bright, but paused before adding, sadly, "I only wish we were meeting under better circumstances."
Her soft voice was tinged with an accent I could sometimes hear from Cadance too when she was upset, or when she spoke the beautiful Istalian language to me. I could now see that her eyes were the same pretty lavender colour as Cadance's, and her long, straight mane was the one magenta colour Cadance had in her own tricoloured one. Her cutie mark was two little golden bells, which seemed to explain her nickname too.
I was scared to speak to this beautiful unicorn who was a member of royalty and my first marefriend's mother. Did she know that Cadance was distressed because of me? Did she know that however improbable, it could have been me to bring her to this state? What would she think of me then? But with Princess Celestia watching me, I gathered my courage and bowed to the duchess of Istalia as formally as I could with shaking hooves.
"I am honoured to meet you, Lady Campanella. I am so sorry that your daughter is so sick. I…I really like her and hope she gets better soon." For my small bravery, I was rewarded with a tiny smile from the distraught mother, which warmed me a little too.
"You seem like a lovely colt, and she sounded like she was so happy to be with you. I am glad she could experience friendship this summer. It was what she always wanted," She paused, hanging her head somewhat before continuing, sounding as if she were no longer speaking to me, but to her own worried heart. "I always kept her sheltered because I worried about her sensitivity and how weak she seemed, but maybe if I had let her play with other ponies and live life normally….maybe she wouldn't have become so ill. Maybe she would have been stronger, and not been so overwhelmed…she has such great things in her future, but all she wanted was to be normal...oh, I…I'm sorry…" Lady Campanella trailed off, covering her face with trembling hooves as her voice broke, and tears spilled down her cheeks. It was all I could do to keep from joining her, as Princess Celestia wrapped her hooves around the shoulders of the sorrowful unicorn, letting her cry in her large chest.
I stood alone by my desperately ill friend's bed as the two royals embraced, with nopony to offer me comfort, and I bit my lip as hard as I could, tasting blood before I lost my battle and gave into the hot tears of guilt and sorrow that fell from my eyes. I hung my head, and sat down on my haunches, hearing Cadance's wheezy breathing change from steady to a more rapid pace and she let out a heart wrenching moan, which caused me to look up at her.
"Mama…" she wheezed, struggling to reach her hoof out to where her mother stood with the princess. Her voice was weak and thick, her eyes half lidded and dull, and she was only able to turn her head to her mother beside her, but she was awake, and it brought me a little bit of relief to see her conscious again.
"Oh, Mia, you're awake. How are you feeling, honey?" Cadance's mother wiped her tears and held on to her daughter's hoof in hers, as Princess Celestia gave a warm smile.
"I…I…" she tried to speak, but began to cough and curled up into herself, wrapping her tail around her body like a little kitten as her mother wiped at her face with the cloth again.
"Shh, honey, just rest. It's almost time for your medicine."
She seemed to fall back to sleep again, but still moaned a bit, tucking herself into a tighter ball as Lady Campanella stroked her mane.
"Cadance, Shining Armor has come to see you. Do you feel up to having a visit after you get your medication?" Princess Celestia offered, and although she didn't seem to react at first, I felt all my courage vanish, and I ducked behind the bed, sweat gathering at my brow as I pinned my ears back against my head. What would she say? Would she turn me away, just as I had done her? Would she remember what had happened between us and be even more hurt? Was I being there really the right thing for her?
"Shining….Armor…?" I heard her mumble, and then slowly peeked my head over the bed at her, waiting for her to realize that it was me, her ex-coltfriend, the pony who had hurt her. But suddenly she clenched up, and cried out in pain, and I galloped over to where the princess and duchess desperately attended to her.
I felt sick as I watched the two mares hold the now thrashing pony down, and the princess shouted out in the loud and clear voice she used for public addresses for the doctor, as Cadance sobbed in agony, all four legs cycling futilely on the bed and getting tangled in the sheets. Princess Celestia was considerably stronger and managed to hold her down by laying on the bed with her, covering her with her immense wings until finally a harried and distraught looking dapple coated unicorn doctor arrived in the room and took over.
I was foolish to think she would care that I was there. She could barely speak. She was too wracked with pain to even recognize me. However much I thought I had hurt her, it was nothing compared to her physical pain from her illness. She had to fight just to breathe, and the way she curled up in herself broke my heart. She looked so small and helpless like that, like a little filly, hopeless that she would ever find relief.
"I thought I asked that there always be a medical staff available for her." Princess Celestia reprimanded the doctor, loudly and sternly, still holding Cadance down under her wings.
"I'm sorry, your highness, it won't happen again." The doctor murmured as he deftly handled a needle in his telekinesis and inserted it not directly into Cadance's body, but instead into a tube running from her IV line. Her mother continued to stroke her mane, whispering words too soft to hear, until the medicine seemed to take effect and she ceased her flailing and cries and went limp under the princess's hold.
The elder alicorn raised herself to her hooves again, visibly disturbed, and shook her mane out to return to a more presentable appearance, before turning to the doctor. "Just make sure somepony is here for her. I can't be here all the time."
"Yes, your majesty." The doctor too seemed disturbed, his voice tired and defeated as he bowed to the princess.
"Do not give up on her. She is my heiress; this is Equestria's future you are fighting for. And most importantly, she is my cherished niece." She added, adamantly.
"Yes, Princess. Forgive me." the silver unicorn physician hung his head in his bow, and although I was touched by the princess's words, I felt bad for him, because he looked as if he were about to drop.
"You are weary; I will ask another physician to continue for today. Get some rest, but please remember what I said." She relented, gently and the exhausted pony thanked her and left the room. She called to her guards to fetch another doctor and the nurses as I stood in a state of shook from all that had happened, thinking it must have been a nightmare, and Cadance would show up and nuzzle me to calm me down, like she always had.
But looking weary herself, I watched Princess Celestia walk over to where in reality Cadance lay still, her raspy breathing the only sound she made as her mother clutched at her hoof, and then the princess turned her troubled eyes to me.
"I am sorry, young Shining Armor. She might not be able to speak with you today. You may stay here if you wish… but…" she trailed off.
"No….Shining Armor….d-don't leave me…"
"Cadance!" I cried, jumping up by her side as I heard her call my name. They were the same words she had said that night that seemed so long ago now, but I had left her. I wouldn't leave her again.
She looked up at me, her eyes so glazed over and spiritless, but there was recognition there now.
"It is you… you came back…" it almost brought tears to my eyes to see her manage to smile up at me, but I wanted to be brave for her. She seemed to be trying as well, as she struggled to speak through her oxygen mask and pain.
"Of course I did. I wouldn't leave you all alone when you're sick." I told her, giving her my best grin, but she frowned and started to cough, curling herself up again.
"Cadance, honey, do you want to talk to Shining Armor alone for awhile? Your mother and I can leave for now, if you think you'll be okay. There'll be a nurse here if you need anything." Princess Celestia offered, and she nodded quickly as she recovered from her coughing fit.
Her mother seemed apprehensive, not wanting to leave her after she had just gone through something so strenuous, but the filly looked up at her longingly, and weakly touched her hoof to hers.
"I'll be okay…" she breathed, and the princess put a hoof on the distressed mother's shoulder.
"Come along, Little Bell. Let's give them some time. You've been here day and night now, you should have a rest. I'll make you some of that tea you like, and we can meet with Lord Stregone when he returns. You don't have to worry, the nurse will be here for her, and my guards will be in contact with us."
Still seeming reluctant, Lady Campanella nuzzled at Cadance's chin, and promised to be back soon, before following Princess Celestia out of the room, stopping a few times to look back at her sick daughter who waved to her from her bed.
"Thank you, your majesties." I said, bowing as the two royals passed me, and the princess smiled, wearily.
When they had left, I turned back to Cadance and she smiled again, seeming to light up her eyes a little, so I smiled too.
"Is Twilight okay? I asked my aunt to tell her I couldn't come see her this week… I hope she's not mad." She said with such innocence, and pure hearted concern for my little sister instead of herself, it brought the tears right back to my eyes. But I fought them so she wouldn't have to see.
"She's okay. She knows you weren't well… but…" I wanted to say she didn't know how very sick she was, and neither had I, but didn't want to scare her. Did she see the seriousness of her illness? Or was she fighting blind? She tragically answered that question for me herself.
"I'm glad... I miss her…and you." She responded, sadly. "I didn't think…." She paused, her eyes growing dull again as she gasped a little. "…I'd see you again."
I didn't know what she meant by that, but it scared me, and I reached out to her.
"I'm so sorry, Cadance. I didn't know you were sick, I never meant to hurt you so bad." I blurted out in one breath, and she looked heartbroken somehow, worse than she had the night I had left her. I didn't understand. "Cadance…" I started again, but then stopped as I noticed her pawing at the oxygen mask with her hoof, too weak to use magic. "What are you doing?" I asked, anxiously.
"Help me…please…" she murmured, and nervous of the repercussions, but figuring it would make it easier for her to talk, I gently held her up and removed the mask from her muzzle with telekinesis, and she gasped a little before settling back on the pillow. She was so light, and I felt her bones in her shoulders as I held her. She seemed to be wasting away, and that pained me more than I could bare.
"Are you OK? I shouldn't have taken it off… you need—" I stammered, freaking out a little as I held the mask in my magic, but she reached her hoof out to my lips to shut me up.
"It's OK." She whispered, smiling a little, and I tried to relax, setting the oxygen mask on the table, and sitting closer to her. She lay on her side and sighed with fear in her eyes, before speaking again.
"Shining…" she started, trying to make her voice stronger. "…Do you forgive me?"
This time it was my turn to sigh. What was I supposed to say to her as she was fighting for her life? As she suffered endlessly, and had to gather strength just to ask this of me. Should I really tell her it hadn't hurt me that she had lied to me? That it was all okay, and none of it mattered because she was sick, and I just wanted her to get better. Was that really what I thought? Or shouldn't she deserve my true forgiveness. Because I loved her, and not because I felt sorry for her. Or because… I swallowed hard as I looked over her emaciated form…because she could die without knowing how I really felt.
"What you did hurt me, Cadance. I felt betrayed and I didn't think I could trust you. I understand that you were trying to be a normal unicorn, but why couldn't you at least have told me who you were? I found out my sister and parents and even Sweetheart knew. Why couldn't you have trusted me too?" as I finished, she did the one thing I was dreading, especially with her so weak, she started to cry.
"I'm sorry! I do trust you, I just...I just wanted to…" she broke off into heaving coughs and slammed her hoof against the bedpost. "Dammit!" she cried, in between gasps for air, tears streaming down her face. I could almost feel her frustration and pain, and did the only thing I could think of to help her. I held her up again, and brought the mask back down around her muzzle, letting her curl up in my chest, sobbing and gulping in the purified air. I held her close to me, a broken bird trembling in my hooves, and cherished the feel of having her close to me again.
"Shh, it's okay. It's okay." I whispered, gently rocking her like a child.
"Shining, please don't leave me again. Please… it hurts." She whimpered against me.
"I won't. I still care for you, Cadance, and I'm not going to leave you alone while you're sick." I promised, and the tension in her shoulders relaxed, and she sighed with apparent relief. "Now that I know you're a princess and an alicorn, you're just more special to me. You have nothing to be ashamed of. You are my best friend, the first filly I ever cared for, and I want to be with you still, but I need to know I can trust you." I felt like a monster, still pressing this on her as she pulled away and looked up at me with betrayal in her tear filled eyes.
"I… I'm sorry. I won't lie to you again." She mumbled, hanging her head. "I loved you once, Shining Armor, but I don't know if my damaged heart can take anymore rejection. Can we…" she looked back up at me with a determined expression. "…can we maybe start over when I'm better?" She managed to get the mask off her again, and then lay down on her belly, tucking her hooves under her, and nuzzled up to me. Feeling her embrace again was warm and soft, reminding me of how affectionate and loving she always had been, and how much I missed it.
"I don't know what's wrong with me, but I know it has something to do with my ancestors and why they died out. I know there is nothing anypony can do for me, and I might not make it, but I want to be strong and not die from a broken heart. I'll fight this so we can be together again."
With her tragic words I couldn't do it anymore. I couldn't be brave for her, or for myself. I started to cry as I returned her gentle nuzzle, the tears running down my face and on to her nose so she looked up at me in surprise.
"Don't cry, Shining…please don't cry." She begged, her own voice breaking as she tried to nuzzle me again, but I couldn't stop now.
Oh goddess, I didn't want her to die. I didn't want to lose her. She was everything to me. I had just met her that summer but I felt like we had known each other for eons, from the time of the ancestors she spoke of. I wasn't one of them, I wasn't like her, but I loved her with all of my being and it wasn't fair that I had fallen in love with an immortal alicorn who wasn't…immortal. And her mortality was trying to take her from me.
"Oh Cadance, I know you're strong, and you can get better. I believe in you, and I'll stay by your side until you're well again." I promised, touching my horn to hers, a show of affection we hadn't practiced yet, but what I wanted to give her in her weakened state. If only I could transfer some of my magic and strength to her too. "I'll never forgive myself if you die. You didn't deserve the way I treated you, and if it caused you to become this heartbroken, I'm so sorry, I'm so very sorry, dear Cadance."
"I don't… blame you. I can't…." She was growing languid against me, her eyelids heavy as the drugs began to pull her under. I knew I was losing her and hurried to say what I needed to say, and what she had asked for.
"We'll start over, okay. From the very beginning, and we won't make the same mistakes this time." I paused as I saw her eyes close, her neck falling against me, but she jerked herself awake, and I nuzzled her head back up.
"My name is Shining Armor. I'm fourteen, and a royal guard in training. It's nice to meet you." I smiled warmly, and gave her my hoof as if we were really meeting for the first time.
"I am…Princess Mi Amore Cadenza… but… you can call me Cadance." She smiled through sleepy eyes, and lay down by my side before weakly giving me her hoof. "It's nice to meet you too… Shining…Armor." her words slurred, and then she fell into gentle sleep against me, her breathing seeming normal for the very first time, and I lay my head over her so I could protect her, not as the knight I wanted to be, but as her coltfriend who loved her; forever.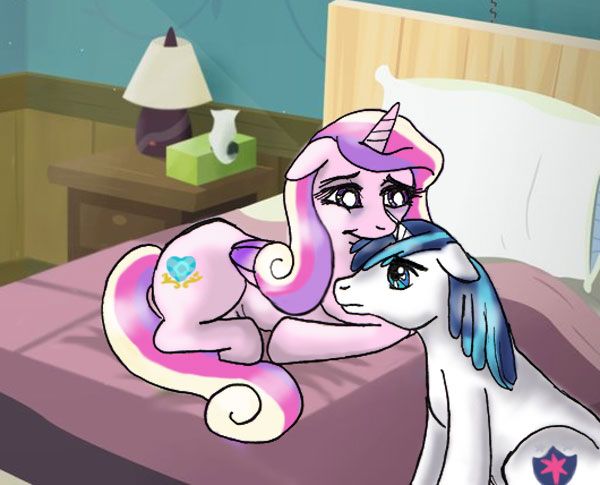 ~~~~~~~~~~~~~~~~~~~~~~~~~~~~~~~~~~~~~~~~~~~~~~~~~
a/n: Why did she get sick? Is this just a stupid way to make the story more dramatic? Did you forget you were writing a pony story and go back to 'Ethereal'? I know some of you, (especially if you know my original works) are asking these questions. The next chapter will answer why it happened. Cadance actually hinted at it, and it will tie this story together. She obviously doesn't die... but she scares poor Shining Armor back into loving her. Or not.
I hope you enjoyed this chapter, and that I made Shining's point of view come across alright. It was hard to switch to him from writing as Cadance for so long. Next chapter is the last, and will answer most of the questions until I go on to part 2. Thanks for reading and uh... do you need a tissue?
---
Chapter 12: Cadance's Heart Part 2~ Finale~
Chapter 11

Cadance's Heart Part 2

As told by Cadance
Once, a long time ago, when Equestria was still young, when Canterlot was still a snow capped and unquenchable mountain top. In a time before the three tribes founded the great land. Before the pegasi, before the unicorn, and while the earth pony roamed wild as any animal, the alicorns lived in Equestria and were the only sentient equines. They were the first unicorns, the first pegasi, but they did not live in towns or cities. Or rule in castles and palaces. They lived in the forests and the meadows, the mountains and valleys. They co-existed with the other immortal beings, the dragons, the phoenixes, the fierce gryphons and manticores. They were a peaceful, but powerful race, able to avoid predators by flying into the skies, or using formidable magic. They protected the animals of the forests along with the earth ponies that came to them as any woodland creature. The two royal sisters were not a part of them. Theirs is another story.
In those early days the ponies didn't have cutie marks to determine their destinies. Instead, they worked together with the skills they possessed to create a place to live and protect. Some were better at tasks than others, and there were masters and apprentices in all trades. There was only one type of alicorn who exhibited a special talent of their own. A talent they had from birth, and practiced regularly. That was the Mederi. The heart healers. And my ancestors.
They were the rarest type of alicorn, only identifiable at birth by the two-toned feathers on their wings. These were sometimes not quite so apparent, with only a few faded feathers buried under their natural coat, and a parent would not be aware of their foal's ability until they began to show sensitivity and develop their magic.
These rare alicorns all had the ability to sense and feel the emotions of other creatures, and to heal the hearts of hurting ponies as well as spread joy and love. They were well respected as healers, and each settlement prided themselves to be able to have one in their midst. Some stories even say because they could sense the ponies' emotions they were able to communicate with the insentient earth ponies and may have started the current pony races, but this cannot be confirmed.
However, the Mederi were not always willing to share their gift. They were a shy and weak race, suffering physical pain and sickness from the strength of the emotions they felt around them, and usually had difficulty socializing so that they became hermits, or disappeared from the herd completely. Some were bitter about the pain they experienced and refused to use their talent, resenting other ponies for asking, and the others of their kind. They could sometimes isolate themselves so completely that they lost the ability to speak and abandoned their families to live alone in the dark forests never to be seen again. It was rare for a herd to have a Mederi within them for more than twenty to twenty-five years because of this. With the alicorns being a near immortal race, their presence was particularly rare within a settlement, and some generations never knew them.
They were a tragic equine, and the few who tried to live a normal life were the most tragic of them all. For a Mederi was always able to find a pony to love for themselves, whether this was part of their talent, or their natural affinity toward other alicorns based on their rarity was not clear, but their love was strong and pure, and would make them happy for perhaps the first time in their lives, and as a result they would become more willing to use their talent for their kin. But if their destined pony did not return their love, or if something happened to them, (especially in the case of breeding with the earth pony) they would swiftly become extremely ill, their once strong hearts weakening fatally, as well as becoming despondent and unable to take food. Because they seemed to be quite young when they found their intended love, barely out of foalhood, the other party would usually not be ready for such a strong and intense commitment and a Mederi would usually become wounded mortally just from a young alicorn's confusion over their first experiences with love. Unfortunately, because of this other ponies began to shy away from them, unwilling to be caught in such an intense relationship, or be responsible for their deaths. This led to more and more of them becoming embittered and disappearing. They rarely reached the age of foal baring, and if they did their remarkable gene was only sometimes passed on to their foal, causing this great but tragic race to slowly become obsolete.
When the royal family and aristocracy were established some of the Mederi or their heredity within regular alicorns still remained, and some would show up over the years as the lower nobility. At this point it had been established that the Mederi would die young from 'broken hearts' as the royalty termed it, and they would be unfit to rule. Instead they would be given positions in the courts as healers, but they could never escape their fate and the stigma attached to them.
Princess Celestia had known one of the last living Mederi in her fillyhood, a generally happy pony with her role as a healer who sometimes even helped the little princess with her adolescent problems. She was married to a soldier and had a foal without the burden of the condition. But when her husband died in battle, she soon followed, orphaning the foal who the princess had never met, and as the years passed the Mederi and the gene of their heritage disappeared as the alicorns did, until thousands of years later when I was somehow born as both.
My aunt Celestia had barely known one of these scarce and destitute creatures. She had not been familiar with their history, and only knew what little she had seen as a filly in her family's court. When the healer pony had died she had asked her mother why, and she had explained about who the Mederi were and what their fate entailed. It had made the young princess sad and she had wanted to learn more about them. Much of their history was obscured, and even then was difficult to obtain. Until she spoke to an old unicorn mage who had known one in his foalhood and unfortunately felt responsible for her death when he had been a young colt and was not able to give his heart to her. He said that a Mederi needed to find true love to survive. They thrived on love. That their gifts came at that cost, and the only way to save them from their fate would be for a pony to pledge their love eternally to them. If that was too much for them to bare, then that pony was not truly their destined one, no matter how much the Mederi's heart may have told them otherwise. Even if it did cost them their life.
My aunt and her insatiable curiosity for the well-being of all her subjects, including the no longer living, was what eventually would save my life. Or just give me a second chance at it. She documented the only and last remaining information about the now seemingly extinct race, and when I was born she was shocked to gradually start to realize that I was one of them. When I developed my talent she became almost sure of my heritage and did speak to my parents about it. She didn't have the heart to tell them or me about the tragic fate of my ancestors, and hoped it would never fall upon me. She hoped that after so many years that I was different. That somehow with my parent's unicorn blood as well as her own I would be able to avoid that destiny. But now that I had been claimed by it, she had to tell me the truth.
The Mederi were the ancient ponies she had seen with the similar talents as mine. They were the statue in the garden representing love, the reason I was able to create the magic I was able to do, and why I always suffered because of it. And also, the ponies I was descended from were the reason I almost died.
~~~~~~~~~~~~~~~~~~~~~~~~~~~~~
I don't remember much about my illness. I do remember the pain, and the hopelessness I felt. How my chest was always so tight, and I couldn't breathe. How I couldn't eat anything without getting sick, and the sudden intense pain from deep inside my heart that would usually cause me to pass out. Or how I felt only despair and was so very heartbroken, certain I would never find somepony I cared about again. Somepony as special as he was.
But then, he was there.
I will always remember when Shining Armor came back to me. How my weakened heart jumped in my chest, and I fought against the pain and my fading consciousness to see him again, to talk to him. Even if he still hated me, I just wanted to hear his voice, to see his face, to say…goodbye. I really didn't think I was going to survive at that point. I was in so much pain, and was less and less aware of the days, finding sleep to be the only thing I could manage to do, and yet I still would wake up screaming. I couldn't breathe on my own, and couldn't eat without becoming violently ill. I felt like I had nothing left, and it hurt too much to keep fighting. I just wanted relief.
But I was so happy to see him again. To think that he may have forgiven me and come back to me gave me the strength to keep going. I hadn't failed to find love. I hadn't failed in the one thing I was capable of. What I seemed to live for. There was somepony who cared about me as much as I cared about him. I needed to fight. I needed to get better so I could be with him again. So I could play with Twilight and my new friends. So I could grow up and somehow be the princess I was destined to be. I wouldn't let this illness take me. I wouldn't go down without a fight. And it seemed that for whatever reason, because of whatever it was that made me different from my ancestors of so long ago, that I had won.
~~~~~~~~~~~~~~~~~~~
I can't say I immediately got better. I was still very weak, and continued to suffer on and off for the next few weeks. The doctors said my heart would probably never fully recover and I would have to restrict activities for the rest of my life. I figured I had never been the most outgoing pony anyway, but my mother was upset by the permanent prognosis. Still, whenever Shining Armor came to see me I felt a little stronger. His warm embrace against me helped with my pain, it was easier to breathe in his presence as if he brought pure sweet air to me, or his gentle touch cured the tightness in my chest.
He came to visit me in the hospital whenever he could get a co-worker to take his evening shifts, and spent the weekends with me playing games when I was well enough, or just sitting by my side if I wasn't. He brought me flowers with each visit so that my hospital room became a garden in bloom, and I couldn't have been more grateful to him. Eventually his spending all his time with me led to Twilight demanding to come visit me too. I didn't think she knew or understood what was wrong with me, but she knew I had been sick, and needed to stay in the hospital where her brother was coming to visit me and leaving her alone all weekend. It touched me to have the little filly care enough to come see me, and I hoped I would be well enough to receive her and play with her like old times.
I didn't need to wear the oxygen mask anymore when she came two weeks later on a beautiful sunny day that made me long to leave the hospital and feel my aunt's sun's warmth again. I lay on top of the blankets wearing my purple bath robe over my still sickly thin body, and tried to tuck the hoof with the IV under my side so at least some of my medical equipment wouldn't scare her. I gave the lavender little unicorn my warmest smile when she cautiously followed Shining Armor into my room, looking around and struggling to hold up a little bundle in her magic.
My mom followed behind her, and it didn't matter how many times I saw her now, it still looked like she had aged twenty years within the past few weeks that I had been sick. And that scared me a little. I had faced death myself and I feared it, knowing it could come for any pony I cared about just as it had tried to take me. I didn't want to think I had made my mother age prematurely. But I knew my illness had caused stress for everypony who cared about me. Perhaps most for Shining Armor who seemed to blame himself for it. I couldn't begin to convince him otherwise in my weakened condition, but knew I had to eventually. Even my great, aunt Celestia seemed less her regal self, and I was determined not to let that fear and worry reflect on to the little filly who seemed nervous just from being in the hospital room.
"Hi, Twilight!" I called, grinning and waving to her, and she looked up at me.
"Cady!" she cried, happily, and then she launched her tiny body over to my bed and into my hooves where she cuddled up to me. "I missed you! Please get well soon so we can play again." She murmured against my chest, and shocked, but so very touched by how much she cared for me, I fought the tears threatening to spill over in my eyes and held her close to me.
"I missed you too, Twilight." I smiled.
"This little filly seems to love you very much, Mia. You must have done a very good job foal sitting this summer." My mother commented as she joined us, making me blush as she used my little pet name which I had missed in my time away from her. But I knew it was something that only she and I could share. "It is nice to meet you, little one. I am Cadance's mother, Lady Campanella, but you can call me Little Bell if you like." She smiled at the filly who turned to her and grinned.
"Hi Miss Little Bell! I'm Twilight Sparkle, and Cadance is the best foal sitter ever!" she shouted with glee, hopping up and down and making my bed shake, which did nothing for my fragile condition, and Shining Armor stopped her with a hoof on her shoulder and a gentle smile to me.
"I'm glad you think so, Twilight. She is very special to me too." My mom said smiling at me and making me blush more. Moms.
"Oh my gosh, you are sooooo pretty~" Twilight had jumped off the bed and was gawking up at my mother who giggled, acting flattered, and thanking the little unicorn with a pat on her head which she relished in. Then, suddenly, her wide eyes narrowed, quizzically, and she ran around to my mom's side and peered up at her back, presumably looking at her cutiemark, before scampering back to interrogate the somewhat startled unicorn.
"Miss Little Bell…." She murmured, rubbing her hoof on her chin like she did when she couldn't figure something out. I thought I could see where this was going now, and did a face hoof.
"Yes, sweetie," mom asked, demurely.
"How come you don't have wings? How come you're a unicorn and Cadance is an alicorn?"
"Because the heavens have blessed me with the most special of fillies to care for and cherish." My mother was suddenly on the bed beside me, holding me close, and like Twilight I relished in her gentle touch, but blushed outwardly.
"Come on, mom." I groaned, making a show of pushing her away with my hooves.
"I don't get it." Twilight muttered, disappointedly.
"Twily, why don't you give Cadance your gift now, instead of insulting royalty." Shining Armor reprimanded the little filly, nudging at the bundle by her hooves which she had seemed to have forgotten about. She perked her ears up at that.
"Oh, yeah!" she chirped, and picked up the bundle and jumped back on the bed beside me. "Open it, open it!" she cried, excitedly, nudging it into my lap.
"Twilight, you didn't have to get me anything." I smiled, fiddling with the little bag in my hooves since I hadn't regained full use of my magic yet. I was actually forbidden to use it by my doctors.
"Wait, wait, I made you this too!" she rummaged into her saddle bag and pulled out a folded piece of paper, then floated it over to me. She jumped in my lap again as I started to unfold it, and my mother eagerly watched beside me.
It was a drawing done in markers and a foal's scrawl of the two of us playing our hoof clapping game in a green and flowery field with a happy sun shining down. She had written out the words to the song we made up with little illustrations of ladybugs as a border, and at the very top it said, 'Get well soon, Cadance. Love, Twilight.' I ran my hoof along the page, tenderly, my heart filling with warmth from the little filly's simple gesture. But I hadn't seen anything yet.
"Shiny said you probably couldn't play our hoof clapping game for awhile so I wanted to make sure you didn't forget it." She explained, calmly, and I held her closer to me.
"Aw, how sweet." Mom gushed.
"It's beautiful. Thank you, Twilight. But don't worry, I'll never forget our song." With the little unicorn sitting on my lap I held up her hooves and clapped them together while softly singing the familiar song, and she eagerly joined in, giggling as I covered her eyes and shook her hips to complete the rhyme. I laughed too, and cherished being able to at least play a little with her again. I guessed paddy cakes wasn't just for foals anymore.
"Here, Cady…" Twilight sounded less enthusiastic as she hopped back up and nudged the small bundle toward me again with her nose. I looked down at her concernedly, and she just stared back up at me with her huge lavender eyes showing some apprehension, a feeling I could only vaguely sense with my weakened magic. It was weak, but it was still there. I could still feel a pony's emotions; I was still a Mederi even if I had managed to change my fate.
I took the small roped sack in my hooves, and my mother helped me untie it to reveal something that brought tears to my eyes, and threatened to take my only recently regained breath away.
"Oh, Twilight, no…" I stammered, and was soon joined by Shining Armor who gawked at the contents as well, as the
little filly stared down at her hooves.
"Twily, what are you—?" the elder brother asked, incredulously.
"What is wrong? It is a… lovely little doll." My mom spoke, puzzled, as she regarded the gift a little skeptically.
Yes it was a doll. A little gray pony doll with button eyes, a yarn mane and polka dot pants. It was Smarty Pants. Twilight Sparkle's most cherished toy.
"I-I can't accept this…Twilight… its yours." I gasped a little, concerning my mother.
"I'm not giving her to you…" the little filly with perhaps the biggest heart I had ever encountered mumbled, pushing the toy into my trembling hooves. "I'm lending her to you. Smarty Pants always comforts me while I'm sick… so you can borrow her while you're sick too."
When I looked over to Shining Armor his eyes were misty as he smiled proudly at his little sister, and blinking back my own tears I gathered the filly and her heartfelt gift in my hooves and hugged them tight. "Thank you, Twilight. Your kind gift means the world to me, and I promise I'll take care of her until I'm well and can return her to you." She smiled up at me and then suddenly I was lifted off the bed as a pair of large, white hooves wrapped around myself and the little pony I held onto who giggled. Shining Armor held us both like his own stuffed toy and grinned, happily.
"Shining~" I groaned as I was squished against Twilight and his big chest.
"What? Can't I hug my two favourite fillies?" he asked, cuddling us closer and I leaned up against him, feeling his warmth surround me as I closed my eyes and breathed in the tender emotions he projected, along with the indescribable selflessness shown to me by little Twilight.
I felt so loved, by so many ponies, and wondered how my sensitive heart could ever have thought otherwise. Whatever the future would bring for myself and the first colt I ever loved, I felt like I could face it now. I had a mother and father who cared for me, a loving aunt, wonderful friends, and a dear coltfriend. Even if I lost one, no matter how painful that would be, I would still have others who loved me. I could still go on.
I would not give up like my ancestors before me had. Like they tried to tell me to do those horrible days I was sick. Their despairing whispers of hopelessness seeping into my brain like a malevolent force. Into my very heart and causing it to break, to no longer sustain me because I had failed at what they thought was my purpose in my life. But they were wrong. There was more to me than my ability to create love and to heal. I was not a weak pony who would die out like they had. I vowed to be stronger than the heart healing alicorns I was descendent from. I would never give up no matter how difficult things became for me. Because even when faced with tragedy, when you're rejected and feel as if you have nothing left, there will always be somepony who cares for you.
I knew Shining Armor was the pony I was destined to be with, and I still loved him with all of my weakened heart, but I also knew there was so much more to love now than the love between a mare and a stallion. I had been shown the pure and innocent love that could exist between friends through Sweetheart and little Twilight's generous giving of their hearts to me, and the unconditional love from my mother who stayed by my side during my illness, and would love me for all time, no matter what. And my Aunt Celestia who had done all she could to try to cure me, including abandoning her royal duties for me, and giving me the freedom and confidence to become the pony I was today. I had truly found love that summer. Not just with Shining Armor, but I had learned to embrace the love that had always been there, right in front of me.
As my final days in the hospital came to a close Sweetheart came to visit me and cried over what had happened to me, showing me how much that yet another pony cared for me. I was surprised to hear she had come to see me once while I was too sick to talk to anyone. She said she hadn't heard from me since the dance, and was so worried when she found out I was sick. She had told Shining Armor about me, and I didn't want to scare her, but that was probably what had saved my life, and I owed her everything. I did not tell her about the Mederi, or why I had become ill. Just like I didn't tell Shining Armor, and probably never would.
I knew that keeping secrets from ponies was what had screwed everything up in the first place, but there was no way I could let anypony know about my bleak heritage. Especially him. I could never let Shining know that it had been his rejection that led to my illness. That I couldn't physically survive without his love. I didn't want that burden on him. I didn't want him to blame himself as the stallion that Princess Celestia had met had done. And most of all I didn't want that to be my fate. I would fight it. If it ever happened to me again, if I lost him again, I would not go down. Not like them. But he would never know, and never have to worry as I did. At least, never again.
I would have to convince him of this for the rest of our days. I knew that he still suffered from the guilt when he looked at me sometimes. I could see it in his eyes. So full of love, but also heartache. I didn't need my sensitivity to see it. It was as plain as the nose on his face. Which I would nuzzle back up whenever he seemed down, and eventually use my stronger magic to heal his heart when he was hurting. It was all I could do, and I wished I wasn't the cause of his sorrow. It was my burden too.
~~~~~~~~~~~
When I was finally released from the hospital, my friends came to the Canterlot palace to welcome me home and meet my family. My father met with Shining Armor for the first time, and he didn't seem too impressed with my choice in coltfriends. But he wasn't impressed by most things. I think he scared the poor colt because he stuck close to me for the rest of the night like a little foal. I didn't mind, I gladly stayed by him too. I never wanted to leave him again.
My father had always been a little intimidating, even to me. With his large stature, deep gray coat and dark eyes, he could seem fiercer than a royal guard. Although with his family he was mostly quiet and stern, and difficult to approach. He had been the son of the Istalian court chancellor before he met my mother- the current Istalian princess- and he was now every bit the royal duke of our kingdom, and helped govern with efficiency and pride along with my mother. Somewhat ironically, due to the recent developments in my life, his name, Stregone was the Istalian word for healer/mage, and his cutie mark was a royal blue five-sided gem similar to mine. He had a strong magical talent that he rarely practised with his royal duties, and I didn't really know what his special talent was since he wasn't the type to share information like that, and my special talent just baffled him like it did everypony. He had been in charge of the Istalian affairs while I was sick, leaving my mother to be able to care for me full time, and returning when he could, such as now that I had been discharged, and for him to complete his last task in Canterlot, and break my heart all over again.
My father wasn't a cruel pony, but he demanded respect and obedience from me, and I was frightened by his sternness and difficult to read emotions which just frustrated me, since I could usually read other ponies like a book. He wasn't the type to offer any kind words, or any words at all really, and I couldn't really say I had ever spent any time with him, making it seem as if he didn't care for me at all. He also seemed to resent my alicorn blood. Because although he initially had been proud of who I was, he always seemed bothered whenever I took lessons from Princess Celestia, and any complaints I had about being a forced shut-in were met with angry words about me not appreciating my good fortune as part of the sacred race, or not taking my duties seriously, and he would turn his back on me, which may have left me hurting from his harsh emotions if I could actually feel them properly, which frustrated me to no end. I didn't really care if he loved me or not, since my mother's loving and gentle care more than made up for his coldness to me, but I was actually really hurt to never see him when I was conscious during my illness. Yet when I began to recover, and he returned to see me, I could feel his emotions for what may have been the first time, and his relief that I was getting better, and love for me touched my heart, even in my weakened condition. It was that strong.
But now, I refused to look at the stern, dark stallion I called my father, as he scared poor Shining Armor, and I had more to be angry with him for that I couldn't bare to think about as I tried to be cheerful for my friends as I greeted them at the castle doors. But there was nothing I could do to ignore the pain in my only recently recovered heart, or fix that which was hurting it.
The colts had brought me flowers to add to my still large collection from Shining, and the fillies brought me sweets and a get well balloon. They tried to bow to me after doing so for my aunt, but I nuzzled them back up to their hooves, saying I was still their friend, not just a princess. I was still Cadance, and always would be.
"We wouldn't want it any other way!" Lyrica exclaimed with her loud, cheerful voice, and bright smile, wrapping a hoof around my shoulder and grinning as I blushed.
"It's good to see you well again. You should come double date with Sweetheart and I when you're up to it." Palomides said with his ever-present lazy grin, and Sweetheart covered her face in a blush, making me giggle even as it turned into a bit of my lingering cough.
"We should race now that I know you have wings. They may be bigger than mine, but I bet I could beat you…" Ivory said somewhat awkwardly, pausing, and growing sheepish before looking around at the royal gala room he stood in, and then he cautiously added, "…my lady…" as he sank in a bow, which made me frown a little.
"Don't call her that! She just told you not to call her a princess!" Lyrica chastised her poor, whipped coltfriend who sank deeper under her scolding.
"When I'm strong enough…" my voice broke. "….you're on." I held out my hoof to him and he batted it with his own, offering a grin which Lyrica mirrored.
Blue stepped forward next, looking as awkward and shy as ever, without a smile to be seen on his gloomy face. "It's good to see you again. When Shining Armor said you two broke up---" he started, but Medley glanced over and kicked him in the side, making him double over, and surprising me before his obliviously hurtful words could sink in.
"Uh, what he means is we all missed you and are glad you are feeling better." Medley gave a nervous, wide grin, and Shining Armor did a facehoof as I sighed and lowered my head to them with a practised bow of content, and a murmur of thanks. I kinda figured they were a lost cause now. Medley would forever think of me as a princess now, and Blue might just kill me with his unknowingly insensitive comments and generally bleak nature. At least I had left a bit of magic on those two careless ponies who I wished one day I could truly call my friends. Maybe they would find happiness together and learn to reflect it as the others could, and as I forever tried to do with everypony who ever needed help finding hope and love.
"Hey Cadance, what ever happened with Lacolt and the others? Did you ever rat them out to the princess?" Palomides asked as we all gathered at a small snack table set up for my welcome home party. If that's what it really was. I still didn't have much of an appetite, and leaned against Shining Armor as the others helped themselves to cupcakes and punch.
"Oh yeah, I can't believe I never asked you that. They better have gotten their flanks hoofed to them." Shining Armor spoke up.
"Oh, that… I told the princess… she wasn't very happy and said she would talk to them. I don't think you'll see them in class this fall…" I muttered, not liking speaking about that since it brought back painful memories for me. I had only told my aunt about it when she asked what had happened that night. She had seemed angry about what they did to me and Sweetheart, but was more concerned over my illness at the time, especially since I only continued to get worse. I didn't think those criminal colts would get off without any sort of punishment, but they were definitely lucky that I had gotten sick right after it happened, and their heinous deed had been almost forgotten. But I knew my aunt would still do something about it, and I hoped Shining and the others wouldn't have to deal with them again.
We continued to talk for a little while about some of the good parts of the dance, the trip to the lake, and plans for the rest of the summer that they hoped Shining and I could join. Sweetheart wanted the double date to happen still, and Lyrica and Medley said we should foal sit together again. Even Shining Armor talked about us redoing our first date, or taking Twilight somewhere to 'slay dragons', and that made me almost lose it until I was saved by my aunt who said that I still needed my rest, and my friends should go.
I hugged each of them before they left, gripping onto a confused Sweetheart for dear life. But she gripped me right back just as tight. I nuzzled under her chin, squeezing my eyes shut against stinging tears, and she held onto me saying it was alright, I didn't have to cry. She had no idea, and that pained me more than I could bare, but I knew deep down in my damaged heart that this was the only way. I even hugged Medley and Blue, causing the pegasus to blush, and the proud unicorn to soften and smile, returning the hug as she said goodbye, and the group trotted together, laughing and playfully pushing at each other, into the moonlight, and away from my reach. It was the last time I saw them.
When Shining Armor started to step out the door I grabbed him by the tail and wouldn't let go, pleading with my parents and aunt to let him stay and watch the stars from the Canterlot towers with me, just for a little while. My father frowned and shook his head, causing the young colt to wince, and my heart to drop. My mother looked apprehensive, but my aunt reached her hoof out to them.
"Let him stay. Give her that much tonight." She spoke with authority, and my parents sighed, unable to refute the princess. My mom nuzzled me gently, saying not to stay up too late, and let us go.
I walked with him in silence up the seemingly never-ending staircase to the top of the palace towers, leaving me breathless from being bed ridden for so long, and my generally weakened condition, somewhat like the time we had climbed the Canterlot mountain top in a time that seemed so long ago now. He helped me up the last set of stairs as he had done back then too, and then I led the way through the twisting halls to the tallest balcony that overlooked the whole kingdom, lit up by a full moon shadowed by the dark unicorn inside, and a symphony of stars that sparkled across the skies like diamonds in the night.
"Whoa," Shining Armor gasped as he took in the spectacular sight. "I've never seen a view like this. You can see forever up here." He exclaimed.
"I know. It's beautiful isn't it?" I breathed, looking up at the huge moon that seemed to touch the tips of the houses and the distant hills. I tuned its mourning out. I had enough sadness of my own now. "I wanted to show you this when we first went stargazing…. I want to show you so many things still…" I sighed, longingly, my heart so full, but also so pained.
"Well, it's certainly better than the hills outside my house. You must have thought it was so lame." He chuckled, with real embarrassment in his tone, and I leaned against him.
"No, I loved it. I loved being with you." I told him, passionately, sighing and hanging my head with the sweet but now somber memories of our first days together.
"What is it, Cadance? You've looked like you're going to cry all night. Are you hurting still?" the gentle colt asked, concernedly.
"It's nothing… I'm just…tired…" I muttered, and he nuzzled my head back up, smiling at me.
"It's alright. I understand." His kind smile, and caring eyes helped me offer my own weak smile, and we looked into each other's eyes, before he leaned over and kissed me on the lips. It was the first time he had done so since that night at the dance that I had almost lost everything, and I relished in it. I fervently returned the kiss, closing my eyes as a tear ran down my cheek.
I'm so sorry, Shining Armor. I'm so sorry I have to do this to you. I love you. I thought, desperately to myself, immersing all the love I had to give into that one beautiful kiss. I didn't know how long it would be until I would be able to do it again. I didn't know if I would ever see him again. It had only been a few weeks since I had thought I would lose him to my mistakes, my own death, but now… now I had to leave him by choice. I had to lose everything again, just as I always knew I one day would. But the time had come too soon, with too much heartache for me to fight. I wanted to fight. I wanted to be stronger. But I wasn't strong enough for this. There was nothing I could do but sit with him and watch the stars on that last night that echoed our first, and wish that it would last forever, and our time together would never end.
~~~~~~~~~~~~~~~~~~~
The next day dawned bright and warm, but it could not warm the sadness in my heart as I stood with my beloved aunt after she had raised the sun, and looked over the city from atop her chamber's balcony.
"It's for the best. You know it is, honey." She said, softly, wrapping her wing around me as I trembled despite the warmth of the gentle summer sun kissing my face like a mother's touch.
"I know… I know…" I sighed, mournfully.
"You'll come see me again when you're well enough. You still have much to learn. This isn't forever." She assured me. "Your parents need you now. They almost lost you. They were so frightened, Cadance, just as I was. Give them the time with you they thought they had lost. Grow strong again, and then you can come back here and continue where you left off. We'll always be here for you." she smiled as warm as her majesty, and I nuzzled up to her much taller frame as close as I could.
"I love you, Aunt Celestia. Thank you for everything you've done for me." I told her, my voice breaking as tears gathered in my eyes, and I saw the same in hers.
"You conquered your fate, Cadance. You didn't let the despair that consumed your ancestors take you. You're one of the strongest ponies I know, and I love you too." She leaned down and lay her head over my back, her wings sheltering me, and I was able to reach her neck to properly nuzzle her, and she returned the gesture as tears fell from her eyes and into my heart.
~~~~~~~~~~~~~~~~
I held the little pony doll in my teeth by the ribbon I had somehow managed to tie around her neck. I would never be able to get used to not using my magic, I thought as I approached the two sibling ponies who had forever changed my life. The young filly who had taught me about friendship, and the colt who had shown me true love, and who I both now had to somehow say goodbye to.
Twilight hopped around her elder brother as they waited for me outside the palace gates, probably excited to think that we were going on some sort of adventure, and my heart ached for her, more than it already was. Shining Armor seemed a little calmer, but a wide smile came to his face when he saw me, and I tried my best to return it.
I had asked them to meet me there that morning together. Just them, and I didn't give a reason or any explanation. In the end it had been those two unicorns who had most touched my life, and I couldn't handle saying goodbye to any of the other ponies I had met. Although I would always regret not giving Sweetheart a proper goodbye. But this was how it had to be.
Shining Armor ran up and hugged me with Twilight pushing in on the embrace, and I held them as close as I could as if to forever imprint the feel of their touch on my heart.
"Cadance! It's so great to see you outside again. You look so much better!" the beautiful unicorn colt exclaimed, happily, and I blushed, just as I always did around him. He must have just been being nice. I was still pale and thin, and had deep circles under my eyes. I couldn't even use my magic. It would be a long time before I was actually better, but being outside in the warm sun with the soft grass under my hooves again made me feel a little better.
"Hello you two." I smiled as best I could between holding the doll in my mouth, as well as trying to fight my grief over what I had to do.
"Cady, let's go, let's go!" the little filly shouted, excitedly trying to push me forward, but was unable to reach my back so she toppled over. "Uh… Where are we going?" she added, blinking back up at me and Shining laughed, while I still fought just to smile.
"Here, Twilight. Thank you for lending her to me, she was a big help." I said, leaning down and dropping the Smarty Pants doll at her hooves, and she grinned.
"Yay, Smarty Pants!" she cried, and hugged the doll tight. I had kept it by my side in the hospital for almost a week now. She must have missed it, and I felt so grateful to her for giving it to me. "Ohh, look at your pretty ribbon!" she cooed to the little stuffed pony.
"I gave her that to thank her for taking care of me. It looks nice on her, don't you think?" I asked.
"Look, Twily, its Cadance's mane tie." Shining Armor said, looking down at the doll, and pointing his hoof at the little blue ribbon as he somehow recognized it right away. My mane now hanging loose around my shoulders may have given him a clue though.
"Oooh! Thanks, Cadance!" The little unicorn smiled, and I did too. She always brought a smile to my face. Even as I was hurting "It looks great on her." she paused. "But… but… what will you wear in your mane now?" she added, distraughtly.
"It's alright. I have other mane ties. You and Smarty Pants get to keep it now." I replied.
"You look prettiest with your mane down anyway." Shining Armor said in his lame and cute way that always made me happy no matter how cheesy it sounded.
"Yeah!" Twilight agreed and I managed a giggle.
"So, what's up, Cadance? Did you really have to invite my silly little sister here today too?" the colt joked, causing the little unicorn to glare at him.
"Yeah, where are we going? Are we gonna go find the crystal empire?" Twilight spoke up.
"Twily, that's just a story I made up." Shining groaned.
"I wanna see the crystally ponies!" she shouted, stomping her hooves.
I looked at both of their expectant faces, wondering why I had called them there together, Twilight thinking we would go off to her fantasy land, and Shining Armor just hoping we could be together again, and I realized with a heavy heart that the time had come.
"Shining Armor, Twilight… I asked you to come here today because I need to tell you something," I started, shakily, and Twilight continued grinning, sitting on her haunches and waiting for me to continue, but Shining seemed to sense the tension in the air and looked up at me nervously, with his ears bent back. I had hurt him too many times already.
"I…." I tried to continue, bending my own ears back, and taking a deep breath in so I could keep going without hyperventilating, or bursting into tears. "I have to go home now. I have to… I have to return to Istalia to continue with my recovery. I…I'm so sorry." Every word seemed to pierce my heart, and I hung my head as a tear fell down my cheek.
"Aww, already?" It was Twilight who was the first to speak, and I jerked my head back up to regard her. "But you just got better." She added, with a whiny tone, but I could feel her actual sorrowful emotions, along with something stronger that threatened to knock me off my hooves. And when I looked over to Shining Armor he was sitting down on the ground, his head lowered, and looking like a helpless little colt.
"Shining, I…" I tried to say to him, déjà vu from when he had found out my identity hitting me as hard as ice cold water, and I lost my breath as I feared he would reject me again. But what he did do was worse. He looked up at me with tears streaming down his face, and I gasped.
"I knew it. I knew you'd have to go. I… I didn't want you to, but I wanted to be brave for you. I tried…I'm sorry, Cadance." he said, tearfully, grabbing onto me in a hug as tight as he dared give to my fragile body. I held him with all my pitiful strength, and looked down to see the little lavender filly rubbing against both our legs, looking up at us with wide, mournful eyes. I brushed my wing over her just as my aunt had always done for me, and I tried to be brave for them.
"How did you know?" I stammered.
"I could see it last night. You aren't the only one who can read a pony's emotions, Cadance. I knew when you said goodbye to Sweetheart. You were shaking." He brushed his hoof through my mane.
"I'm so sorry! I didn't think I could do this. I'm still too weak, and I don't want to leave any of you. But I'm leaving today, Shining. The carriage is already here. I thought if I just told you and Twilight… I could… I would be able to… oh, but I can't." I sobbed into his chest.
"I know, Cady, I don't want you to leave either. But I'll always be here for you. I'll never forget you." he sniffled a little, and I looked up at him, seeing his eyes glassy and full of tears, but also so full of love it warmed my hurting heart, and I leaned against him.
"Hey that's my name for her!" Twilight cried, coming out from under my wing with angry, stubborn eyes that were also full of tears, and she glued herself to my front leg. "I don't want you to go. It's not fair." she muttered, angrily.
"I'm sorry, Twily. I wish I could stay with you too." I said to her a little shakily, using Shining's name for her as somehow speaking to a child made it easier to be strong. She deserved better than this. I had basically abandoned her when I got sick, she had had no idea where I was. Now I was better, and I still couldn't be her foalsitter again. It really wasn't fair.
"Do you really have to go now?" the little filly whined, rubbing her head against my leg.
"Twily, we're all going to miss Cadance, but this is hard for her too. Let's try to be brave for her, okay?" Shining Armor leaned down to his sister and spoke to her gently, but his deep voice broke and the little unicorn ran up to him and cuddled him.
"I'll come back. I won't be gone forever. You guys can write to me if you want." I offered, bending down to the two of them and feeling a little stronger now.
"We can?" Twilight asked, hopefully.
"Sure, Twily. I'm gonna be bored without you around to make me laugh. You can write to me whenever you want, and I'll always reply." I promised with a weak smile.
"Cadance, honey, the carriage is ready now. Have you said your goodbyes to your friends, yet?" I jumped a little when I heard my mother's voce behind me. She trotted over to us dressed in some of her regalia, her mane pulled back with a little tiara with a lavender crystal at the centre, and carrying a saddle bag on her back. My heart jumped in my chest to think the time was coming so soon, and I looked over to Shining Armor, longingly as he tried to comfort his little sister.
"I just need a little more time. Can you take Twilight for a bit? I need to talk to Shining Armor alone." I asked, solemnly, and my mother smiled and nuzzled me.
"Of course Mi Amore, you take all the time you need." She said softly, and I smiled, grateful for her small kindness in this difficult time. She truly understood how hard this was for me, and tried to make it easier any way she could. It wasn't her who was making me return now. I looked back into the distance where the carriage waited and the tall form of my father stood waiting, and sighed.
"Little Twilight, how would you like to see a real princess's carriage? An Istalian carriage is much different from the Canterlot ones. Come, and I will show you." my mother said, leaning over to the little filly, who jumped to her hooves and looked up at her.
"Oooh, a princess carriage!" She mused.
"An Istalian princess carriage." Mom corrected, grinning.
"Good morning, Lady Little Bell." Shining Armor bowed.
"Good morning, young Shining Armor. Will it be alright if I take your sister to see our carriage for a little while?" she asked him, returning the bow with a nod of her head.
"Uh… yes, that is alright." He replied, confused to be asked permission by my mother.
"A brother who looks after his little sister such as you is a true soldier at heart. I expect one day I will see you as a mighty royal guard." She smiled, warmly at him, and he stood up taller, puffing his chest out with pride at her compliment and thanking her. I felt happy for him as my cheeks grew warm in a blush against my tears. She would have been so proud of what he would become, just as I forever was.
Twilight skipped after my mother as they walked over to the carriage. I would see her when I joined her over there myself. It wasn't the last I would see of her. Now it was time to say goodbye to the colt I loved.
He came over and to me and we nuzzled neck to neck, before looking into each other's eyes, and my heart pounded against my chest as if we were meeting for the first time again. I felt all of his heartache, his pride from what my mother had said, and most of all his undying love as we rested against each other.
"I wish we could've had more time together. I really wish you didn't have to leave so soon." Shining Armor said, sadly, his eyes still glistening.
"I know. If I hadn't gotten sick, I would've….I-I mean…" I tried to say, but stopped as his ears bent back and he turned away, and I was attacked by his immense feelings of guilt so that I could only bend my head and squeeze my eyes shut against the pain. Noticing my discomfort he turned back around and reached his hoof to lift my chin up so that I was looking into his eyes again, his emotions calming down for me.
"I know you say it isn't my fault, but I still blame myself for you getting sick. It's my fault you had to suffer and we lost all our time together. I'll never do anything to hurt you like that again, Cadance." he promised me, and I knew he would never stop believing he had been the cause of my illness; and if I chose to believe in the fate of my ancestors than it probably was, but I would not leave that burden on him without at least showing him that it would never happen again.
"It wasn't your fault, Shining. I'll never think that. But if you do truly believe that, know that I'll never let it happen again, and I'll work hard to be stronger. I won't let the despair consume me, and I'll learn to face pain like every other pony does. Because I know now that our lives can be full of sadness and pain, but it can also be full of hope and light, and I'm meant to spread that to others, sometimes at the cost of my own happiness. And I'll take that burden as long as there can be joy in this world; and love. It may weaken me, but I will learn to deal with that, and the next time you see me I promise I will be a stronger pony." As I finished, a little breathlessly, he jumped up against me and hugged me around the neck, almost knocking me over.
"Oh Cadance, I know you're strong. You're the strongest and most beautiful pony, and I…" he paused, putting his hooves back on the ground, then his tearful eyes grew serious and sultry as he came closer and touched his horn to mine. "I love you." he breathed, and my weakened heart that had still caused me pain and would leave me breathless at times, seemed to swell up and repair the last of the damage, so that my next breath came easier than ever without any pain, and a warmth spread inside my whole body like the warmth of a summer day. I collapsed against him, wrapping my hooves around his neck, and he fell to his haunches so that I could hold him closer.
"Oh Shining Armor, I love you too. I'll always love you." he held me like he held Twilight; a child in his arms, and I felt the tears stream down my cheeks as I nuzzled against him, seeming to fit perfectly against him like we were two matching puzzle pieces. "I'll come back to you. I'll always be yours, no matter how long it takes." I promised with probably more resolve than he could ever understand. He was my destiny. My life now. We were bonded like the stars in the skies, and no matter what happened I would stay faithful to him. Even in death, I would follow him to the heavens because that was who I was. A Mederi. A heart healer who would forever be with the one they loved. For as long as the sun and moon rose in the sky, and love existed in all of our hearts.
~~~~~~~~~
My mother and Twilight were waiting for us when we made our way back to the packed and ready to leave pegasus drawn carriages. My father stood silently by the luggage carriage, coldly regarding Shining Armor and I, but I ignored him, focusing only on the colt I loved and my last few moments with him and his little sister.
"Wow, Cadance, your carriages are amazing! They're like….white instead of gold, and shiny with purple jewels, and even the guards have different armor!" Twilight exclaimed galloping over to us.
"I thought you'd like them." I smiled, rustling her mane with my hoof. The biggest difference about our carriages from the Canterlot ones is they were smaller, with less of a workload to do than my aunt Celestia's private carriage which was occupied at all different times to carry her to places far across Equestria's mainland. Ours were only used for ambassadorial trips, and visiting the capital as I had done that one magic summer.
"Do you have to go now, Cady?" the lavender unicorn asked, looking up at me with her wide, soulful eyes which I would never forget.
I looked around at the two carriages glinting in the early morning light. "It seems like it." I sighed, sorrowfully, but Shining Armor nuzzled against my neck and I felt a little better.
"I'm gonna miss you." she mumbled, cuddling up to my leg again so I knelt down to her to lean my head against her back and wrap my wings around her.
"I'll miss you too. You'll always be my favourite little filly." I told her as a tear came down my cheek. My heart that had felt so full only a few minutes ago ached to be saying goodbye to the little unicorn now. She had been my first friend. The child who had learned along with me what it was like to play and to have a friend. I didn't think I had completely changed her. She was still the little bookworm with a thirst for knowledge that I had first met, and she would probably forever put her studies ahead of playing with other fillies and colts, but that was okay. She was just fine the way she was. At least I had been able to show her, and myself that friendship was a wonderful thing, and it was as much a part of creating happiness as finding love, and something we could forever hold in our hearts.
I looked up again and Princess Celestia was standing to the side of the back carriage talking to my mother, and my heart started to pound as I knew time was growing short.
"One last time for good luck, Ok?" I crouched down and met eyes with the filly who excitedly figured out what I was doing, and joined me in the starting position.
"Sunshine, sunshine, ladybugs awake! Clap your hooves and do a little shake!" We said in perfect unison, and when we fell over I caught her and cuddled her, and she giggled in my hooves. I could see Shining Armor watching over us with a smile and tearful eyes, and I smiled up at him.
"Cadenza, it's time to go." I suddenly heard the deep voice of my father call to me, and I stood up as little Twilight rolled off me, and swallowed hard.
"I guess this is it." I stammered, trembling on my hooves.
"Be strong, Cadance." Shining Armor whispered as he held me up against his strong neck, like he always had done when I was weak. He had always supported me. I wished I could have done as much for him as he had done for me. One day I would. One day I would grow stronger and repay all the kindness he had shown to me, and forever show him my unconditional love.
I walked over to the front carriage and joined my mother who put a gentle hoof on my back as she climbed into the passenger seat, and I stood by the door where the two unicorns met me.
"Goodbye Shining Armor, goodbye Twilight." I said, shakily.
"Bye bye, Cady." Twilight smiled, waving her hoof.
"Goodbye Cadance. Get better, okay?" Shining Armor said, hugging me around the neck, his eyes still glistening.
"I will." I smiled for him, if only to help him be a little stronger for his little sister. "And you keep training to be the best royal guard you can be, my knight in shining armor." I added, and he grinned, the familiar grin I would always love. Then I climbed up the steps into the cart, and they became two faces just outside my window. My father joined us and I leaned over to wave to my aunt who said goodbye to us through the other window. I took a deep breath as I heard the pegasus captain call to his herd for the final flight check, and then the cart shook and rumbled as they began their ascent.
When I turned to wave one last time back to Shining Armor and Twilight, I saw him galloping alongside the carriage with the lavender filly on his back waving avidly with both hooves in the air, and I waved back and shouted to them as the tears streamed down my face. But I still smiled.
Goodbye Shining Armor. Goodbye Twilight Sparkle. Thank you for showing this lonely princess what friendship is, and that being able to spread love cannot truly be mastered until you've found it for yourself.
~end part 1
A/N: Well that's the end guys! Kind of bittersweet, but this was always the plan for the end of part 1. They'll get back together for part 2 which is not going to be completely canon. It will have a few more scenes of them in their youth before we move up to the wedding. I hope you enjoyed these more sad last few chapters, because part 2 will be quite melancholy and a bit dark.
Thank you so much for reading everyone! Your comments and encouragement really helped. Sorry if I was late sometimes, and especially sorry about this weekend promising a chapter and then not delivering. That was because I came down with a cold which I still wrote through, but maybe I couldn't think as much with it. I still have it, but feel a bit better and really wanted to finish this for you.
Anyway, writing this note is delaying the release so I'll shut up now. Thanks everypony! I'm still inspired so part 2 won't take as long as it might have, but I'm not going to be obsessively writing for the next while either. I'll let you know when it starts to come together. It might be set at Hearth's warming eve so you might see something around Christmas... maybe. Heh. Take care
PS, I drew the sunshine sunshine card, but I had one of the seven year olds in my group I teach write the script. Cool huh?