---
@sʇɐɹʇ*ERROR*oɟ&COLLISION>ɐ^BEGINS*lǝƃɐɔʎ[
Throughout the empty sea, the death of silence reigned supreme. No one splashed about, no wave crashed, and no Pokemon sang its name. And into this endlessly soul-crushing expanse stared a young man: a trainer clad solely in green. His eyes having long glazed over from the nothingness, he fell backwards, landing on the Pokemon carrying him – a large, blue and serpentine-like dragon creature: a Gyarados by any other name. His expression as placid as the ocean around him, the trainer dipped his hand into the water, allowing the waves to caress over his skin.
"Ugh," he groaned. "Mind. Numb. Why is it that the one time that we actually want to find aggressive trainers out here – the one time! – we don't find any, huh? Ten bucks says that if we didn't want a fight, we'd be swarming with psycho swimmers in speedos." Though his comments were technically directed to the Gyarados on which he rode, the massive beast didn't even acknowledge his master was speaking.
Making a sound that was half a gurgle and half a groaned, the trainer slide a hand into a pocket, pulling out a small, vaguely rectangular red device: his Pokedex. Tapping a series of buttons, he booted up a recent audio log. Clearing his throat, he brought his device close enough so it could hear him speak.
"June 23. Weather: sunny
Decided to go to Cinnabar island. Heard there's a building with info on a legendary Pokemon. Considering that I'm the best trainer in the world, I've practically gotta catch it! Wonder if it'll be awesome enough for my team!"
The trainer closed his Pokedex, the device offering him no more entertainment. "Well, that's all I think of doing." A pause. "Why are these Kanto routes so long?" he groaned, stomping a foot on his Pokemon's back. The Gyarados raised its head from the water, angling his eyes to his master and shooting him a glare.
"What?" He sighed. "No, no it's nothing... What...? Stop looking at me... And for the love of God, Mr. Fish, close your mouth! It's creepy! How many times do I gotta tell you this, huh?" With a grunt, the Gyarados, or Mr. Fish, closed his mouth.
Glancing about, the trainer's eye was drawn to an anomaly in the water: a whirlpool, the only thing moving on the calm sea. "Mr. Fish, wait up!" Mr. Fish, his head under the water, failed to acknowledge his trainer. "Hey!" The trainer kicked his foot down as hard as he could on Mr. Fish's back.
Mr. Fish pulled his head out the water, turning his attention to his master, who pointed to the whirlpool. "Lookie look!" Mr. Fish blinked, then turned his head to the focus of his trainer's attention. "Ten bucks says there something cool in there!" He frowned. "Course, it could be another tentacool – little bastards have overrun this route. Stupid spawning season." He shook his head. "Mr. Fish! To the whirlpool!"
The Gyarados twisted his serpentine body, snaking through the water and towards the whirlpool. Now well within range of the anomaly, the trainer got himself a much better view of the swirling mass of white waters. Squinting, he swore he could make out something other than water moving about at the bottom of the whirlpool.
"Okay," the trainer sighed. "Whatever it is, I don't recognize it from this angle... Hmm... Let's force it out! Mr. Fish, use... Wait." Slowly, the whirlpool began to peter out of its own accord, yet its silence seemed to suck everything else into the penumbra of quiet.
"Aww, dammit. It's gone." Without warning, the vortex exploded back into vitality, the vigorous pool approaching the size of a suburban sedan. Eyes wide and body possessed by the imperceptible trepidations of excitement, he watched as a shape emerged from the water. Then he smile turned into a perturbed grimace.
The "Pokemon" was like nothing he had ever seen before. It didn't even have a proper body, at least not by human standards. It vaguely resembled a backwards "L" shape, and it was entirely box-like in nature; but its body, if indeed one could call it that, was a swirling mass of blinking and warping particles, each of which was a different shade of black or white and without any sense of pattern or logic.
A single awed breath escaped the trainer's lips as a chill ran down his spine. With a subtle smile, he pulled out his Pokedex. "What kinda Pokemon are you?" The Pokedex's screen was utterly blank. "Huh. You know, in hindsight, I totally should have seen this coming. Honestly, what did I expect from a man whose first question to me was: 'Are you a boy or a girl'? The old geezer apparently thought my hair was too long and logically spiky... And that's why I always ask for a 'five' when I get a haircut now, and why I no longer use hairgel..."
The trainer put on a nonplussed expression. "So either you're a new, undiscovered species of Pokemon... or that creepy old man gave me this broken device, which would explain why it was free." He put a hand to his chin. "Screw it! We're rolling with undiscovered species! Mr. Fish, do you know what this means?"
Mr. Fish, his mouth closed and expression utterly blank, angled his head to his trainer. "That's right! If we catch it, we'll be, like, famous! They'll remember me as one of the few people in the modern age to have discovered a new species of Pokemon!" He clasped his hands to his cheeks, his eyes filling with stars. "What if it's a legendary Pokemon‽ What if we're the first to discover it, a-and then it turns out to be a legendary Pokemon‽ We'd be so very famous that... words fails to describe! World famous! Universe famous! Years from now, people will tell their grandchildren of how they were once in the same room as me!"
Without warning, the unknown Pokemon emitted a high pitched wail not unlike a broken radio through a megaphone. The trainer clasped his hands to the ears, gritting his teeth as the sound passed through him. His eardrums began to vibrate, stinging in the trainer's ear as the white noise continued. Mr. Fish, too, shut his eyes as he struggled not to thrash about in the water.
It stopped. Opening his eyes, the trainer saw that the Pokemon was still there. Then it emitted that same static sound again, though it didn't hurt him this time, just made his stomach contents writhe.
"What kinda sound is that...?" he mumbled, listening to the Pokemon. "What a strange cry..." He smirked. "All the better reason to assume you're a legendary Pokemon!" He took a breath. "Okay, Mr. Fish, hit it with a hyperbeam!"
Mr. Fish raised his head high into the air as he opened his mouth. In the blink of an eye, an orange ball of energy came to life in Mr. Fish's mouth. The other Pokemon didn't even react. Just as quickly as the ball had appeared, it condensed into a solid beam which then barreled at the unknown Pokemon.
Colliding with the odd Pokemon, the hyper beam scattered the thing's particles to the fourth corners, the Pokemon turning into an amorphous cloud of particles. Mr. Fish's attack ended, subsequently killing the beam. Without so much as missing a beat, the cloud reformed into that blocky, backwards L shape.
"I, uh, don't think that did what I wanted it to," the trainer muttered, his heart hastening its tempo. The pokemon began to convulse and pulse like a man possessed; its particles began to swirling about like a cloud of razors, itself losing any pretext of having shape or form. "This... could be bad." He blew a puff of air out of his mouth. "Whatever! Mr. Fish is strong enough to withstand any attack!"
Rather than attack, the cloud erupted into series of shrieks: high pitch, low pitch, random white noise, nails on a chalkboard, animalistic shrieks – everything. The trainer fell to his knees, screaming and clutching at his ears.
Then, like a raging storm, the thing exploded at the trainer, reaching him in well within the blink of an eye. It swarmed around him and Mr. Fish, causing the Gyarados to howl in agony. Nearly vomited out his entire stomach, the trainer grabbed a Pokeball, shouting, "Mr. Fish, return!" A transparent beam of red shot forth from the ball, atomizing Mr. Fish and sending him into the null space of the Pokeball.
Without the platform of Mr. Fish to stand on, the trainer fell into the water. Flailing his arms, he tried to swim, only to find his body refusing to move in any direction but down. The light of the sun gave way to the dimness of water. Water utterly consumed his world: it assaulted his ears, the salt gouged his eyes, and the water ran up his nose. Choking for breath against his own will, his lungs found only the cold sting of the water.
Light fading from his vision, though because of unconscious rather than depth, he nearly didn't see the swarm of particles forming a bubble around him. And, as the water filled his lungs, he certainly didn't see his flesh peeling away into little particles.
***
"Hey, Twilight!" Spike yelled, running down the wooden staircase. "I got it!" Reaching the end of the stairs, he came across Twilight Sparkle, the lady who doubled as his mistress and has practically raised him. With book in claw, he handed it to Twilight. Spike glanced at his purple, scaly arm. "You have no idea just how hard that was find, or how heavy. This darn thing's almost as big as me." He ran a hand through his green frills. "But who's your number one assistant and all around best dragon ever, huh?"
"Thanks, Spike!" Twilight chuckled, patting a forehoof on his head. Spike, the dragon, smiled at her. "And to think that I'd thought we'd lost it." Chuckling, she shook her head. "Thank goodness that you found the 'Encyclopedia Botancia'. Where would I be without it?" Her horn light up like a holiday morning, the field of magic around it then enrapturing the book in Spike's hands. She promptly put the decidedly heavy tome into her saddlebag.
"You'd be wandering Froggy Bottom Bog without a clue, that's what," Spike replied.
Pulling up a huge ivory scroll, Twilight nickered. "Yeah... yeah, probably." She brought up a pen to the scroll. "Let's see... Find 'Encyclopedia Botancia' – check!" Twilight marked off a small box. "Looks like I'm all set." She adjusted the pair of goggles she had, which were resting upon her forehead but jsut belwo her horn.
Spike shrugged, sauntering off to the kitchen. "I still don't see why you'd want something called a 'neversleep potion'. Seems kinda... Well, I'm just gonna say it – it sounds dumb."
"Because, Spike, if Zecora's right, which I have no reason to doubt, then we could create a revolutionary new product that will replace caffeine.... And because I might need to write a report soon... and sleeping kinda doesn't help."
The dragon stopped walking, spun around and stared at Twilight. "So, to sum it up: we're out of coffee."
Twilight chuckled. "I'd be lying if I disagreed with that. But you know the conditions over in the tropic, and subsequently why the price of coffee and chocolate is rising."
Spike's stared didn't once let up. "And since when has money ever been a problem? Don't you, like, get an allowance from Celestia or something..." He put a claw to his chin. "Come to think of it, I don't know where our money comes from. Does the city pay you for being the librarian, 'cause I've never once seen somepony walking in here and checking something out. And it's not a big building either; I can walk across it in a few minutes at least. And how the hay does a librarian afford so many giant checklists and pens? It baffles me! I mean, for all I know, you rob trains while I'm asleep to get this kinda cash!"
Twilight put her face in her forehooves, laughing, "What?"
Spike cupped his hands around his mouth, yelling in a hoarse, fake tone, "Twilight Sparkle AKA the Sundance Filly AKA the Lavender-Coated Menace AKA that Innocent Librarian is wanted for train robbery!" He set his hands down, smiling at Twilight.
Struggling not to laugh, Twilight growled, "Curses! How'd ya catch me, lawpony?"
Spike nickered. "Aw, get out of here, Twi'. I know you've got stuff to do."
"Will do," she chirped. "I'll be home in no times" A pause. "How else am I gonna find time to rob those trains?" Twilight giggled.
***
"Sons of whores, daughters of... ugh," the trainer groaned. Opening his eyes, he found himself lying on cool grass beneath a tree. "I swear to God, if that Pokemon used roofies on me..."
He sat up, propping his back up against the tree now behind him, the trainer set his eyes on the swamp before him. "Kay. Unless Cinnabar Island turned into Louisiana, I have no idea where I am." Running a hand over his jaw, he tried to recall anything past blanking out, coming up empty-handed.
"Great," he growled. "Note to self: no more Pokebeer. It does... this... No, wait, that was a dream. There's no such thing as Pokebeer... Worst dream ever." Reaching into his pocket, he pulled out his Pokedex. Pressing a memorized series of buttons, he brought up the device's GPS. "Area unknown," he read aloud. The trainer blew a puff of air out of his mouth. "Starting to think that you're broken," he said in a dry tone.
Glancing around, he saw nothing save for trees, a swamp, and shrubs. "Wonder if I could get my Pokemon to fly me out..." He smirked. "Or perhaps." Putting a hand to his belt, he counted his Pokeballs. "Three ultra balls," he muttered, "one net ball, four great balls, a luxury ball, and seven standards." He licked his lips as he stood up. "Wonder if there are any cool Pokemon here... in this swamp... or these trees?"
His hand found itself grasping a particular Pokeball: a pink heal ball. Flicking his wrist, he set the ball free as he said, "Flower Dancer, I chose you." Hitting the ground, the Pokeball's interior exploded outwards as a firework of pink – which released a small green creature with two flowers on each side of its head: a female Bellossom.
Tapping a finger to his left temple, he said, "You know, Flower, some trainers think the move 'Sweet Scent' is useless." He smiled, shaking his head. "And perhaps it is... inside of battle. Outside battle, however, is a different... animal... What are you doing?" Flower Dancer had wandered, now swelling a patch of flowers. "What is it with you and flowers? I'm trying to do an apostrophe here."
The trainer frowned. "Wait, can you do an apostrophe to a Pokemon? I mean, they can hear and understand you, just not talk back." He shook his head. "Nevermind that. Flower Dancer, cut it out. Stop sniffing those flowers." Herself frowning, Flower Dancer spun around to face her trainer. "Now... use Sweet Scent!
Giggling, Flower Dancer spun around like a ballerina, her head flowers releasing a ludicrously sugary scent. The trainer grinned at himself. "We are so gonna get something cool."
***
"Really? Just one left?" Twilight groaned. "And, of course," she chuckled, "you had to be in the farthest, darkest reaches of the bog." Hopping across the swamps rocks in an effort to stay out of the muck, she continued to mumble, "And now you're talking to yourself, Twilight. Well, if anypony asks, you're practicing your soliloquies."
She grunted as she nearly slipped off a rock. With a final leap, she landed on dry ground. "Okay, so Zecora said it was on this little patch of forest, correct? Of course she did. And it had to be on an island with trees in the middle of the bog."
"And the flower can be traced by its aroma, which are imbued in its stroma," she mocked, quoting Zecora's earlier line. Taking a breath, she caught a particular scent. It was a powerful, sugary aroma that tickled her sinuses just right, stimulating an almost primal urge to follow it like rats to the Pied Piper. "Well, that'd be my best guess…" she mumbled, her legs walking towards the scent as if by their own will.
Legs practically tripping over themselves, Twilight found herself trotting through bushes and dense underbrush. Still following the scent, she came across a small clearing in the small patch of forest. Bounding into the small clearing, she came face to face with an animal she was utterly unfamiliar with.
The animal was about her height, and it looked like a flower given life: the Bellossom. Twilight stared at the thing, her own eyes utterly uncomprehending. Then she smiled at the thing, and that's when she saw the other thing in the clearing: a gigantic yet slender-framed hominid, easily over twice her height. With his pale skin and green outfit, he looked positively silly; like somepony had taken a chimpanzee, shaved it, made it taller, and then put it in a wacky outfit. Then there was the strange, red-top and white-bottom ball in his right hand, and the almost evil grin on his face.
Twilight froze, her eyes going wide at the tall creature's toothy grin and saw its maw was filled with sharp, white teeth. She tried to speak, but all the came came out was a high-pitched squeak.
"Aww, that's such a cute sound!" the hominid squeed. "Hey, Flower Dancer, do you see how adorable it is? It even comes with saddlebags and goggles! Reminds me of a Delibird." He put a hand into a pocket, wrapping his five spidery fingers around a small red rectangular device. "Aaaaaand it's blank. What a surprise," he grumbled, putting back into his pocket. "Seriously, that creepy old man just gives random shit to passing children, I swear. Eh, I'll just catch it anyways. It looks cool. Flower, focus up!"
Flower Dancer completely switched her stance, becoming ready for combat and action. Gone was her cute smile and twirls, replaced by a stern stare and a readied stance.
"What are..." Twilight tried, her tone barely above a mutter.
"Petal Dance!" the hominid shouted. Flower Dancer lunged at Twilight, twirling like a spinning top, creating a swirl of pink flower petals from seemingly nowhere. The swirl whipped into Twilight, nearly giving her whiplash as it physically forced her backwards. Coming again at her, Twilight threw herself to the left, ending up on the ground and rolling.
The trainer whistled. "Quick little devil, aren't you?"
The flowery tornado jerked left, spinning at Twilight, whose horn lit up, flashing her out of the way. She reappeared behind the Bellossom. Try though she did to reason with either other being, her words were killed in their inception as the Bellossom's change in directions, forcing Twilight to teleport out of harm's way once more.
Without warning, the tornado of petals stopped, but Flower Dancer continued to spin. Trying to take a single step forwards, Flower Dancer fell to the ground. "Goddamn confusion," the trainer grumbled, pulling out the heal ball. "Flower Dancer, return!" A beam of red shot forth from the ball, consuming Flower Dancer in one fell swoop. He smirked as he placed the ball, now having shrunken its size considerably, on his belt and swapping it for another ball. "We've a need for speed."
"No, wait!" Twilight blurted. Moving to throw the new ball, the hominid stopped dead. "Why are you doing this?"
"You-you can talk?" the trainer stammered, his hands trembling.
"Yes, I can-"
"Sweet God, yes! A talking Pokemon! IT'S LIKE A DREAM COME TRUE! And it's not of those annoying telepaths, oh no! It's a Pokemon that speaks with a mouth! Hahahaha! Oh, I am so gonna capture you, put you a ball, and parade you around-" he threw his Pokeball out "-like some clever simile!" From the Pokeball came another odd creature: its black face and paws contrasted with its white coat; a single curved black horn jutted out one side of a face, bearing resemblance to its blade-like tail.
"All right, Blacknight," the trainer barked, "use Night Slash!" Before Twilight could even open her mouth, Blacknight was upon her, slashing its horn across her leg. Hot drips of pain raced through her, but not where she had been cut; rather, the pain pierced her skull as if she had been stabbed with an icepick. Out of pure instinct, she grabbed at her head with both forehooves, ignoring the fact it sent her face-first into the ground.
As Blacknight jumped back, the trainer ordered, "Now, use False Swipe!"
Blacknight lunged at Twilight, who gritted her teeth in preparation for the worst. Rather than immediately strike her, Blacknight lunged to Twilight's side, grabbing her still-standing rear legs in his sickle-like horn. With a jerk, Twilight was wholly forced in the ground, her body instinctively trying to pull into a fetal position.
"Perfect! We got her now!" the trainer shouted, prompting Blacknight to leap to the side. Grabbing a Pokeball, the trainer then threw it at Twilight. His aim was true, the ball struck her on the head – and then nothing happened. The trainer's expression utterly died. "Oh shit.... Um..." He reached into his belt, pulling out Blacknight's ball. "Blacknight, return." A red beam short forth from the ball, utterly consuming Blacknight
Putting a hand over his face, the trainer muttered a stream of profanities. He sighed. "Well, now I feel kinda retarded." Twilight, still on the ground, only coward further. "I mean, I should have seen this; you have goggles on... and I ain't ever..." Shaking his head, he walked towards Twilight. Upon reaching her, he knelt down, a frown on his face. He reached a hand out to Twilight, over for her to flinch backwards, prompting him to jerk his hand away in kind.
"What's wrong with you?" he said in an annoyed tone.
"I think... I think I broke my ankle," Twilight whined.
He grunted. "False swipe isn't supposed to break limbs... Stupid Absol; this is all your damn fault." He spat at the ground. "What were you even doing out... here... wherever this is... without your trainer? It's dangerous."
"I-I-I-I was... picking flowers," she replied through clenched teeth.
"Flowers?" he deadpanned. Putting a hand in his pocket, he pulled out something which resembled window cleaner, only the bottle was much smaller. Twilight, upon seeing it, flinched back. "Whoa, whoa, easy there." He held his hand out, slowly, as if trying to catch a snake. Then, with a jerk, he grabbed her wounded ankle, holding it steady despite Twilight's bout of thrashing, and sprayed the bottle onto the injury.
The pain in her leg began to dissipate, as if by magic. Without warning, the trainer picked Twilight up, throwing her over his shoulder. Twilight yelped, attempting to thrash about. "Oi! Easy up, purple thing. I'm not out for problem? I'mma try to help you find your way back home, to your trainer."
"Uhh..."
He shrugged. "Besides, a little goodwill goes a long way for helping myself... Oh, and the name's Lucian."
***
The early scraps of sunlight bore down upon the verdant fields of Equestria; the sunlight, just peaking over Canterlot mountain, bathed even the darkest nook and cranny with golden sun. It was the very definition of Eden – the very epitome of a normal Equestrian day. There was just problem: it was anything but a normal day.
Upon a seemingly random hill somewhere beneath Canterlot stood a long figure. Its body was a maelstrom of swirling particles, though it was covered by a black trenchcoat; and even then, bits of particles phased through its coat. The one place which was not a fractal of particles was its head, which bore an uncanny resemblance to a human's; its eyes color scheme, though, we utterly inverted; rather than black pupils and a white eye, its retinae were white and what was usually white was now onyx black.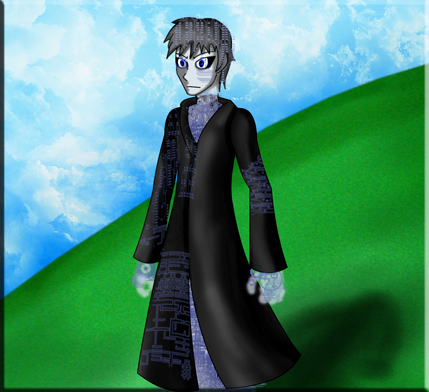 It simply stared at Canterlot; all it did was stand there and think. And as the pieces of its puzzle finally fell into place, it readied itself for action. Tomorrow would be an interesting day indeed for it.