---
Arc 2: Bedtime Story
The Seven Tribes
by Scootaloo-009, a.k.a. Mechsrule1
My Little Pony and related names, images, and scenarios are property of Hasbro Inc.
Edited by Dr. Bob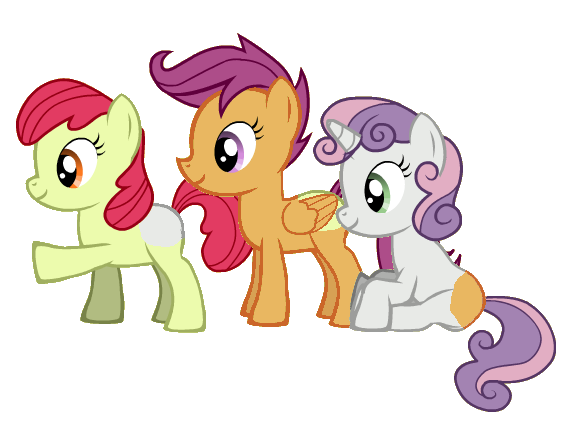 Arc 2: Intermission
Chapter 5
"Hi, Rarity," Sweetie Belle sang. Her big sister was outside at the moment, closing up shop for the day.
"Sweetie Belle?" Rarity asked looking around. "Where are you?"
"Up here!" Sweetie Belle called from her cloudy perch. Rarity looked up, and nearly fainted at the sight of her sister on a cloud. Scootaloo buzzed the cloud down, and Sweetie Belle jumped off. "Bye!" she sang to her friends as they flew off towards Sweet Apple Acres.
"Bye!" they chorused in return.
"Sweetie Belle, be careful!" Rarity said sternly, once the two had gone inside.
"I was just fine." Sweetie Belle frowned.
"You could have gotten hurt!"
"Cloud walking is a kind of magic innate to pegasus," Sweetie Belle paraphrased from what Twilight had said. "I must have picked it up when we were mixed together."
"I can understand walking on clouds," Rarity replied, "but you must be careful without an adult around. If you had fallen there would be nopony to catch you."
"Scootaloo was there! She was moving the cloud."
"Scootaloo is a foal. And a scrawny one at that. It's not that I don't trust her not to catch you, but I don't think she would be strong enough," Rarity said.
"I'm careful. Really," Sweetie Belle said. "You never made this much fuss about me when I rode in the wagon!"
"Because if something went wrong in the wagon you would only fall a couple feet, but in the sky that's hundreds of feet. You could end up seriously hurt or worse. Besides, I made sure you were all wearing helmets."
"Yeah, but Apple Bloom can bring me back up," Sweetie Belle said.
"What?" Rarity asked.
"Oh, right. Somehow Scoots and Apple Bloom can do magic now," Sweetie Belle explained. "Scoots can do air magic and Apple Bloom can use basic levitation. If I fell, she could just pull me back up with her magic."
"What?"
"Twilight said they must have gotten it when we were stuck together or something. Now that I think about it, my magic is red, but not when we were mixed together..."
"You must tell me about it," Rarity said. "Now wash up, dinner is ready."
- - - - - - - - - - - - - - - - - - - - - - - - - - - - - - - - - - - - - - - - - - - - - - - - - - - - - - - - - - - - - - - - - - - - - - - -
After dropping her friends off at their homes, Scootaloo headed for the clubhouse to eat her meager supper and sleep. She parked her cloud outside and headed up the ramp. When she entered, she immediately looked for her scooter. Rainbow Dash had said it was inside, but she didn't see it. Then she saw her blankets were missing as well. All her stuff was gone! In their place sat a note, held in place by a rock. Scootaloo walked over and read the note in the dim twilight.
Scootaloo, don't forget about our deal. I took your stuff to my house so you would remember.
                                                            -Rainbow Dash
Honestly,  she had forgotten. She had completely forgotten Rainbow Dash had threatened to turn her in unless she agreed to live with her. Not that Scootaloo didn't want to live with the pony that was her idol, it just made it that more likely she would be caught. That kind of exposure was sure to draw the attention of some pony who would recognize her.
"Guess I have to go back now," she sighed. She hopped back up onto her cloud and propelled it via wind back to her new home.
- - - - - - - - - - - - - - - - - - - - - - - - - - - - - - - - - - - - - - - - - - - - - - - - - - - - - - - - - - - - - - - - - - - - - - - -
"Hah, Applejack, hah, Big Macintosh, hah, Granny Smith," Apple Bloom greeted as she walked into the old farm house. The family was gathered around the old round oak dinner table.
"Howdy, Apple Bloom. Yah made it back just in time fer dinner," Applejack greeted.
Around the old round wooden table the family was sitting down to a big garden salad meal. Apple Bloom jumped onto her usual seat. Soon everypony had their share and began talking.
Apple Bloom glanced around to see if anypony was watching her. Ah wonder if Ah can eat with magic. When she was sure nopony was watching, she focused on her fork. At once it flew at her, and hit her in the nose, then it fell with a clatter to the table. Her family turned, and stared at her.
"Sorry. Dropped it," she said, turning orange with embarrassment.
"So, anyway, Nurse Redheart wanted a hundred apples fer the hospital, but she didn't have enough bits to cover it with her, so Ah said-" Applejack went on, continuing her story.
Apple Bloom put the fork back and tried again, but with less force. This time, it sort of jumped, but didn't do what she was trying to do. "Aw, buck it," she mumbled. She just held the fork in her hoof and simply summoned the food into her mouth without the fork. After a couple misses, she got the aim down and soon every piece of food went right into her mouth every time. It was going great until she saw Applejack looking at her out of the corner of her eye, but she didn't say anything.
After a few minutes she began feeling tired. But not in the normal ways she felt tired. Not the, hard-to-keep-your-eyes-open tired, nor the kind of tired where you just want to not do any more work. It was a new kind of tired. She noticed the aura around her hoof seemed to be getting dimmer. Scared she was squandering a finite resource, she stopped using magic and went back to eating normally. After a time, the exhaustion went away and she hazarded another go with magic. It seemed as strong as ever.
Note to self: Magic can run out, but it comes back quick, she thought, making sure to remember that. Ah guess Ah am makin' mah own magic.
"Apple Bloom, you've been awful quiet tonight," Granny Smith commented.
"Yeah. Yah sure yah feel aright, sugarcube?" Applejack asked.
"Ah feel great!" Apple Bloom beamed.
"Whah did yah have tah go tah Ms.Sparkle's this mornin'?" Big Macintosh asked.
"Oh, just this," Apple Bloom said.
At her command, Applejack's hat slid forward over the mare's eyes. Applejack pushed it back.
"Ah'd say yer gettin' better at that."
"Well, Ah'll be. An Apple that can do magic," Granny Smith said, smiling.
"Can you do anything else?" Big Macintosh asked.
"Ah can walk on clouds too," Apple Bloom replied. "I haven't figured out how to do anything but pull stuff tah me," she added, raising her glowing hoof.
"Maybe Ms. Sparkle could teach you some more," Big Macintosh suggested.
"Naw, Ah'd rather figure it out on mah own," Apple Bloom said. "You should see Scootaloo, she can control the air!"
"Can Sweetie Belle walk on clouds too?" Applejack asked.
"Eeyup," Apple Bloom replied, electing a laugh from the family, before summoning another bite of food.
"Ah'll have to get used tah that," Applejack said.
"Eeyup!"
- - - - - - - - - - - - - - - - - - - - - - - - - - - - - - - - - - - - - - - - - - - - - - - - - - - - - - - - - - - - - - - - - - - - - - - -
When Scootaloo arrived at the house in the sky, she secured her little cloud to the lawn, and trotted over to the door. She wasn't sure if she should knock or just come in. The lights were on, but she sat for a minute, wondering if she should just turn and leave. It wouldn't be easy, moving to a new town, but she had done it before. She could get a new scooter someday. Maybe.
"Hi there, pony who brings me muffins!" a cheery voice said behind her. She whipped around to see the town mailmare staring at her with yellow eyes. Well, staring at her and the roof of the house. "I have some express mail for a Ms. Dash."
"Oh. She's inside," Scootaloo said.
"Do you live here?" the mailmare asked.
"Uh- I guess," Scootaloo replied.
"Great. Could you give this to her? I need to pick up Dinky from daycare," the mailmare said.
"Sure," Scootaloo said, taking the official looking envelope.
"Bye!" the gray pegasus said before flying off.
She had no choice now. She had to go inside. Nervously she knocked on the door. A minute later it opened.
"It's not locked," Rainbow Dash said simply, her eyes displaying a look of boredom.
"Oh," Scootaloo replied stupidly. "This came for you," she added, giving the letter to Rainbow Dash before stepping inside.
"Wow, Afterburn works fast," Rainbow Dash said, looking at the return address before placing it on a table. "Are you hungry?"
"A little. Can I have my scooter?"
"It's in your room," Rainbow Dash replied.
"I have my own room!?" Scootaloo cried.
"I live in a cloud. Adding new rooms is free and easy," Rainbow Dash pointed out. "It's at the end of the hall upstairs, but you should eat first."
"Okay," Scootaloo said, following Rainbow Dash to the kitchen/dining room.
"All I got is some vegetable stir fry from a couple nights ago. I didn't have time to go shopping today."
"It's okay," Scootaloo smiled, beginning to enjoy the situation. Rainbow Dash pulled out the dish, and placed it on the table, and pulled a fork out of a drawer.
"Eat up. I already ate."
Scootaloo dug in, having eaten nothing since breakfast. "So what do I have to do so you won't tell?" Scootaloo asked between bites.
        "Who said anything about telling? I said I wouldn't let them take you back to an orphanage, not rat you out, but like I said, you have to stay here. I'm not trying to be a parent or anything. I won't tell you to take a bath, or do your homework, or go to school or wake you up in the morning. But don't expect me to make breakfast all the time, or clean up after you. You're a big filly, I think you can handle it. You can join me for dinner if you want, or make something yourself. Your choice."
"Can I have my friends over?"
"Sure, if you keep to your room. Though having non-pegasus friends over might be a challenge."
"I'll make it work."
"That's the attitude," Rainbow Dash said, smiling.
- - - - - - - - - - - - - - - - - - - - - - - - - - - - - - - - - - - - - - - - - - - - - - - - - - - - - - - - - - - - - - - - - - - - - - - -
After eating and cleaning the dishes Scootaloo headed upstairs to see her room. When she entered the correct door, she was overcome. It wasn't huge, but it was about the size of the clubhouse, with some white shelves and a fluffy bed. The walls were totally bare, save for a "Rainbow Dash Fan Club" poster Rainbow Dash had obviously brought here.
On one wall was a closet that sat mostly empty. Her Rainbow Dash wig, and a green scarf and hat were the only things inside. On one wall was a small window that looked out over the Everfree forest. Furniture that could float on clouds was expensive, so there was none to be found in the room, except for a lamp next to the bed, but it was more than enough for the filly.
In a corner sat her scooter and the blankets from the clubhouse. They may have been old and tattered, but they had kept her warm all this time. She gathered them up and arranged them on the bed on top of the existing blankets. She knew how cold it got at night that high up. Suddenly she became aware of a pressure, and rushed downstairs.
Rainbow Dash was reading through a sports magazine when the filly came down the stairs.
"Where's the-" she began.
"It's the door on the left when you go upstairs," Rainbow Dash replied, without looking.
"Thank you!" Scootaloo said, racing back upstairs.
Once she heard the door close she put down "Stunt Flying Monthly", and produced what she was really looking at. With a quick movement, she opened the envelope. Inside were several sheets of paper. Most dealing with tax breaks and stuff of that nature, but on top was a nice looking page, suitable for framing.
"This document certifies that Rainbow Dash is guardian and sole caretaker for Scootaloo", it read. Rainbow Dash was one to show off, but not today. Quietly, she walked upstairs and into her room. She placed the documents into her safe box. How they managed to enchant the block of steel to sit on a clouds was a miracle for the ages, but they did it. It was expensive too, but necessary. The new additions weren't the only important documents in there.
Before going back downstairs she turned to two pictures on the bureau. The first was a very old photograph, that was torn slightly and had clearly experienced the elements. In sepia tones it depicted a small pegasus filly flying over the heads of a pair of earth ponies, a joyful smile on her face.
"I'll make you guys proud," Rainbow Dash said to the picture. "I'll give her the kind of life you wanted me to have."
The second was in color and had a cyan colored filly with a rainbow mane standing beside a brown griffon and the pair was in front of a large imposing griffon. All three looked quite happy.
"I'll serve the clan proud," Rainbow Dash said to the second picture. "I'll raise her right."
- - - - - - - - - - - - - - - - - - - - - - - - - - - - - - - - - - - - - - - - - - - - - - - - - - - - - - - - - - - - - - - - - - - - - - - -
"Sister?" Princess Celestia asked as Princess Luna entered the throne room for the twice daily shifting of power.
"Yes?"
"I learned some distressing news," Celestia said.
"Like, 'we-should-summon-the-elements', distressing?"
"The other tribe is back."
"So they did survive. I thought as much," Luna said.
"You suspected and didn't tell me?" Celestia shouted.
"I had no proof. Just the odd rumor."
"Regardless, I plan to find where they are hiding, and eliminate them for good."
"Sister...."
"I know what is best for all of us," Celestia said finally.
"I don't think they would see it that way," Luna said quietly.
- - - - - - - - - - - - - - - - - - - - - - - - - - - - - - - - - - - - - - - - - - - - - - - - - - - - - - - - - - - - - - - - - - - - - - - -
An hour later, Scootaloo had settled into the bed. Rainbow Dash entered the room.
"I wanted to see if you liked your room."
"It's perfect!" Scootaloo replied.
"I know it's a bit empty, but I'm not exactly Ms. Moneybags, and I know you'll think of something."
Scootaloo was already planning on putting as much time in as she could for the Cakes, now that she had a place to put stuff. She fidgeted, unaccustomed to something softer than a wood floor.
"Can't get comfortable?" Rainbow Dash asked.
"I'm too comfortable. Everything is so great. Nothing ever works out for me. Why is this going to be any different?" the filly rambled. The mare quieted her with a glance.
"Maybe a story will help you sleep," Rainbow Dash said sitting down by Scootaloo's bed. "This is a true story, and you're the first to hear the whole thing, so pay attention."
Scootaloo nestled herself into the covers to listen.
"It all started with a young pegasus filly, a little younger than you are now. She was a flying prodigy. Unfortunately she was also the daughter of two earth ponies. Despite that, from an early age she was flying around, quick as could be. And her parents were happy to see their child so happy and free in the air.
"Then one day, when she was out flying, a freak storm hit her hometown. She was blown away in the wind and when it was over she couldn't find her home. Luckily some of the Cloudsdale weather team found her, and helped her locate her family." She had to stop at that point, her voice was too shaky to continue. She took a few deep breaths then went on.
"The storm was really bad. Normally storms don't get nearly that bad. It only took a couple hours to get back home, but when they found it... The roof had caved in with her parents inside. She didn't know what to do then. How could she? She was a pegasus raised on the ground who had been orphaned, just like that. She didn't know of any other family members in far off places that could take her in.
"The weather team, seeing how good she was at flying, took her back to Cloudsdale. They pulled some strings, and got her enrolled in the flight school. It was a boarding school, so she lived there all year. It was an okay place to be; a bit boring during vacations, but it was warm and they had food.
"After a year or so, she met a nice griffon and they became friends, but she didn't want her friend to know she was an orphan, so the little filly would lie about doing things with her family during vacations. Then one day during the winter vacation, the griffon discovered the truth. She expected her to laugh, or throw her aside like past friends had done, but she didn't. Her family took the pony in as one of their own, and she went back every vacation until the pair graduated.
"They even made her a real member of the family. It was quite the honor. Very few ponies had ever been made a blood-sister or brother. Seven, including her, or so I've been told. The filly, now a mare, was so happy. She had a family again.
"Eventually they drifted apart. They both changed as they grew up. The pegasus moved to a small town and began pursuing her dreams. She made lots of great friends in the town below, but never told them about her past. When her griffon friend came by, the pony found her friend had become a bully, so the pony rejected her sister, though they did make up a bit later.
"The mare was happy though. Her friends were all awesome and because of them she had done things she never thought were possible. But something was missing. Every night when she came home it was to a silent house. No classmates up talking, no griffons wrestling. She always felt lonely at home. Not even owning a pet helped.
"Then one day she saw a little filly. A little filly that reminded the mare very much of herself, and to her surprise the filly was also an orphan. So the mare took the filly in. At first the filly didn't want to be there, ashamed of being parentless. But the mare knew all about that. Finally the filly agreed to stay with the mare. And the mare was happy. The end."
"That can't be the end," Scootaloo whined, "what happened next?"
"We'll have to find out how it ends," Rainbow Dash said smiling. "Good night Scoots," Rainbow Dash said, getting up and turning to leave.
"Hey, Rainbow Dash?" Scootaloo asked. "How do you know if somepony is a bloody-sister?"
"When a griffon joins a new family, or in this case a pony, they are given the mark of that family. The normal family members receive it when they reach adulthood. The family is very important to griffons," Rainbow Dash explained, "they usually look something like this," she continued, raising her front left hoof, exposing a scar on her leg. A very old wound in the shape of a claw.
"Did that hurt?" Scootaloo asked, wincing at the thought of such an injury.
"A bit, but it was worth it," Rainbow Dash said, putting her hoof back down. "Now it's time for little fillies to go to sleep," she said, yawning herself. She turned and walked to the door before turning the lights off.
"Rainbow Dash?" Scootaloo called quietly. The mare glanced back. "Good night."
"Good night," Rainbow Dash echoed closing the door.
~ ~ ~ ~ ~ ~ ~ ~ ~ ~ ~ ~ ~ ~ ~ ~ ~ ~ ~ ~ ~ ~ ~ ~ ~ ~ ~ ~ ~ ~ ~ ~ ~ ~ ~ ~ ~ ~ ~ ~ ~ ~ ~ ~ ~ ~ ~ ~ ~ ~ ~ ~ ~ ~
Confidently, a blue pegasus walked through the cloud streets, the wind tousling her rainbow colored mane. School had been out for two days now and the lonely winter was just beginning. Things were looking up though. She'd managed to find a Wonderbolts toy somepony had lost. It would be something to play with while she waited for her friend to come back.
"Dash?" came a voice. The blue pegasus whipped her head around. It sounded familiar. She wasn't looking for the source, she was looking for a place to hide. Unfortunately, she was in the middle of the street, so there was simply no place for her to go. She gulped and turned to face her friend, a fake smile on her face.
"Hey, Gilda. What are you doing in Cloudsdale?" she asked, trying to sound nonchalant.
"I forgot my talon stone at school, so I flew back to get it," the brown griffon replied. "What are you still doing here? Didn't you say you and your parents were going to Canterlot to see the Wonderbolts?"
"Well you see, uh... dad got uh... sick. Yeah sick..." Dash lied, "so we had to cancel until he's better."
"I can tell you're lying," Gilda said simply.
"What? No. I'm telling the truth."
"Your tail always flicks like that when you lie to the teachers," Gilda said sternly. "Now why are you really here?"
"My tail does not flick when I lie!" Dash countered. "It just does that sometimes."
"Come to think of it, your tail does flick a lot," Gilda admitted. Whenever you talk about your parents.
"What?" Dash asked, noting the griffons curious expression.
"Nothing," Gilda said quickly. "Say, why don't I go and meet your folks while I'm here. I bet a cool pony like you has some cool parents."
"You wouldn't want to meet them. They're really lame," Dash lied.
"I wouldn't call taking you to Canterlot, Fillydelphia, and Las Pegasus lame," Gilda said, waving the thought away. "Why don't you want me to meet them? Do they not like griffons or something?"
"I... I wouldn't know," Dash said. She sat down and looked away.
"Why would you-"
"They're dead," Dash blurted out.
"Dead?" Gilda exclaimed. "You're a... what do they call it...."
"Orphan," Dash supplied. "I know you're going to make fun of me, so let's hear it."
"Dash," Gilda said seriously, "come with me."
"What?" Dash asked confused.
"You are coming home with me," the griffon said.
"What?" Dash repeated.
"Come on, I know my dad will let you stay with us."
"I'm fine. I live here at the school," Dash replied.
"That lame place? Oh, you are definitely staying with me for winter vacation," Gilda declared. "Now either you come with me, or I will drag you there. No friend of mine is going to be stuck living in Flight School. Come on, it's only a few miles from here."
"I... I can really stay with you?" Dash said, sniffing a bit.
"Of course. We're friends."
"All my other 'friends' made fun of me," Dash said quietly.
"A griffon wouldn't," Gilda replied. "Are you coming?"
"Sure!" Dash said. Gilda stretched her wings and took to the skies. Eagerly, the blue pegasus followed. As they soared through the sky, Dash looked back. The cloud city that had been her home for just over a year was now fading into the distance and she didn't miss it one bit. Below the scenery changed, from the rural farmland Cloudsdale was currently over, to forests and mountains.
"I should warn you, most griffon's don't know what the word orphan means," Gilda shouted over the roaring wind.
"How could they not know what it means?" Dash asked.
"Because, griffons don't have them. Why have a name for something that doesn't exist?"
"So what happens when a griffon loses her parents?" Dash asked, curious how an entire race could not have any orphans. Unless they killed them.
"We don't live in families like you. We live in clans. It's a lot bigger, imagine all your aunts, uncles, cousins, and... what do you call it... in-laws? Living pretty close."
"I don't have any family. It was just me and my parents," Dash replied, "so I really can't."
"You'll see what I mean. Anyway, if a griffon's parents died, the rest of the clan would take care of them. If the whole clan was killed, another clan would step in."
"So you do have orphans, you just don't call them that."
"We.. we don't ever view a hatchling as without family. Only the last griffon alive could be considered an orphan. It's kind of hard to explain."
"But... my parents are... dead. What does that make me?"
"In sore need of a new family," Gilda replied. "To griffons, family is less about blood and more about heart."
"I guess that makes sense. A bit sappy, but I think I get it."
"Good, because that's home right there," Gilda declared. She pointed with a talon at a mountain range coming up before them. Dotted all along the barren rocky sides were various stone and wooden structures. The sky mostly empty, casting few shadows on the mountains in the late afternoon sun, but Dash could tell there were no ponies here at all. The realization didn't particularly unnerve her, but the realization that it didn't bother her did.
Gilda went into a dive and Dash followed close behind. They angled downwards towards a large stone and wood building. It seemed pretty big compared to the others around it. It even had a wooden landing pad that the griffon and the pony she was escorting, made use of. Dash stared at the large wooden door before them, but Gilda simply walked over and opened it.
Inside were at least a dozen or more griffons. Some were busy tidying up, some were lounging around, and some were sharpening their talons. In one corner, a pair, a bit larger than Gilda were wrestling. The pony stared at everything in sight. Even though she had left her terrestrial home very young, she didn't remember it looking anything like this.
While the door and front had been wooden, the rest had quite clearly been carved out of the rock face. The walls, while being very well hewn, were rough from countless carvings made into it. From where she stood Dash could not make out any of them. And the floor. The floor was... well carpeted, it seemed, but it was irregular. Various colors, and patterns blanketed the floor and it changed constantly. It also didn't feel like normal carpet.
"I'm home!" Gilda shouted. Some of the griffons inside glanced over, a automatic reaction to the noise, but then did a double take spotting the blue pony behind her. Dash shrank back from the looks but Gilda nudged her forward. "Dad?" she called.
From another room, a very, very large griffon strode in. He towered over the others and Dash had to crane her neck way back as the griffon approached, mouth agape.
"Bow!" Gilda hissed. Dash looked over and saw her friend in a deep bow. Confused, she did as Gilda ordered, and went into a bow, though she wasn't sure if she did it right. "Dad, this is my friend Rainbow Dash, from flight school." Dash looked over and saw Gilda had straightened back up, and she did so as well.
"Yes, I remember you mentioning her. Welcome to the Qnak home, Rainbow Dash," the large griffon said, smiling.
"Uh... hi?" Dash said quietly, still a bit nervous from the sight of the large griffon.
"Dad, I need to talk to you for a second," Gilda said. She turned to Dash. "Why don't you meet some of the family."
"Okay," Dash said. She could tell this was meant to be a private conversation, so she wandered off to examine the wall carvings. They seemed to have everything from names to pictures. If she cocked her head at just the right angle, she could just barely make out the words being spoken across the room.
"Dad, I just found out today that she's an orphan. Could she stay with us?" Gilda asked quietly.
"I don't know, Gilda. She's a pony. We don't exactly have the most compatible of cultures," her father replied.
"I'll teach her what I can," Gilda said. "And she's pretty tough, I think she could handle herself pretty well."
"You know what I mean Gilda. We don't eat apples and hay here."
"Like I said, she's tough," Gilda countered. "Dad, she was living on the streets. She really needs a place to stay."
"I agree with you on that. I just don't know if our home is the better place for her. I only doubt our ability to care for her properly. I will give it a chance. But if I feel this is not working out, I will insist she return for her own good."
"Thanks, dad," Gilda said. She walked over to Dash who turned.
"So?" Dash feigned curiosity.
"Dad says it's fine if you stay here," Gilda said with a smile.
"Yay!" Dash cheered a bit loudly.
"Come on, I'll show you my room and I'll tell you some things you'll need to know to fit in."
"Lead the way."
- - - - - - - - - - - - - - - - - - - - - - - - - - - - - - - - - - - - - - - - - - - - - - - - - - - - - - - - - - - - - - - - - - - - - - - -
~ ~ ~ ~ ~ ~ ~ ~ ~ ~ ~ ~ ~ ~ ~ ~ ~ ~ ~ ~ ~ ~ ~ ~ ~ ~ ~ ~ ~ ~ ~ ~ ~ ~ ~ ~ ~ ~ ~ ~ ~ ~ ~ ~ ~ ~ ~ ~ ~ ~ ~ ~ ~ ~
        If you like this story, you should check out some of my other works:
        My tumblr, an alternate universe mixing MLP and Cyborg 009.
        Forever a Changeling, my new story starring Rainbow Dash as a changeling.
        Samurai Applejack, a drastically different kind of story. It's rated mature for violence and some suggestive lines.
        Night of the Werepony, what I consider to be my worst story, but it's my most popular. It's just one chapter long.