So, a couple quotes from Poultron's latest little site-news post that just tickled me freaking pink.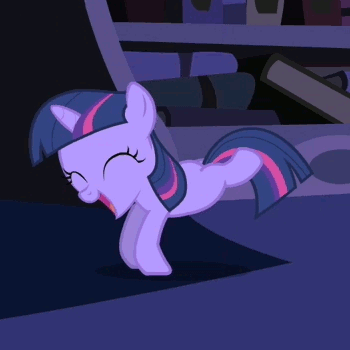 -"...we are also no longer accepting "meta" stories. This includes stories that are written about the site, or about users on the site."
-"Our reasoning behind this change is that we want to keep the quality of the stories on the site generally high. We don't feel that in-joke nor meta stories actually contribute anything to the site, and we certainly don't consider them "stories." To alleviate some inevitable questions about this stance, we are still considering ways to curb the amount of "trollfics" that get submitted to the site"
Needless to say this is a mindset I've shared since I joined the site. I realize a great many people like their troll-fics, as long as they are funny. And usually they're meant to be. But on the whole they tend to be sorry examples of true fan-fiction in my humble opinion, and so I am glad to see the admins looking for ways to crack down on them a bit more.
Hopefully this will see people turning a new leaf and trying to write more substantial and in-depth fics; utilizing the characters and universe we know and love, and creating their own, instead of breaking the fourth-wall as a premise for a story. I've never felt that troll-fics pull particularly well from the universe of MLP that I've come to enjoy, and often find myself bitching about it. Before anyone gets crazy or hating, I don't go around thumbing down every troll-fic in existence; I just don't read them. [Ass-cover achieved.]
I agree that this should help to increase the 'quality' of the fiction the site is meant to provide. This is not an internet joke-book, nor is it ponychan. People have come here to read and write meaningful (to them), wonderful, funny, and touching stories that we as fans can all relate to. It's clearly possible to write a funny story without trolling; I've read plenty of them. Not to mention the show does just fine with humor on its own, in most cases.
Anyways, glad to see things sneaking in a direction I prefer. Just thought I'd lay down my two-cents. It is my blog, after all.
Regards,
Razorbeam the Blog-signer.