YAY! This is the one I've been waiting for! I've written down my thoughts about this episode MILLIONS of times, and even talked about it in my Top Ten MLP episodes video. But boy oh boy, this is going to be big. It has to be THE best episode that showcased the friendship between Rainbow Dash and Fluttershy. Not just in season two, but in the series in general. From there on, with what little episodes were left after that, it still escalated!
Now, before I begin, an honourable mention goes to a little moment back in "Dragon Quest". No, not the entirety, but one little detail. Rainbow Dash went to watch the butterfly migration with Fluttershy. Which she stated was boring, in typical fashion of her character, of course. XD But what it brings, is that Rainbow Dash was actually willing to spend time with her best friend, even if it meant she was doing something boring! She had no reason to watch it with her! Fluttershy could have easily asked anypony else, probably Twilight to give her a chance to research it. Maybe Rarity, she might like butterflies. Even Pinkie Pie, but then again, wouldn't want to scare them, either! So probably not. Oh! Applejack! Now she would be a perfect candidate! But no, Rainbow Dash went with her. Now, this is arguable, since we don't know the details. Maybe everypony else was busy and Fluttershy asked Rainbow Dash because she didn't want to go alone, to share it with a friend. Or, yes, she could have honestly asked Rainbow Dash out of anypony else first and foremost.
Now, again, Rainbow Dash had no reason to do it. Other than to spend time with her friend. It's not something she likes to do! So, why else would she agree to it? Unless Fluttershy begged (although probably not, she's too considerate) her, Rainbow Dash really just went to spend time with her! Sure, she was bored the whole time and seems to openly resent going...but I think that's just a cover. Besides, this was being said in front of Twilight, so if they were alone, she might not have been as brash.
She even carries a photo of it on her person! Now yes, we all know she used it as a means of an argument to get Fluttershy to go along to the Dragon Migration, but come on. By now, I think it would mean a lot more than that, considering how far their friendship has come by this point. And even though she looks bored in the photo, here's the thing, Somepony must've had to take the picture! So, Rainbow Dash naturally looks bored and sulky, especially since somepony else must've been watching, too! So maybe, it wasn't as bad as she lets on, she just kind of keeps it as a cover.
But I digress. It's still cute how Rainbow Dash was willing to do something boring just to spend time with her friend.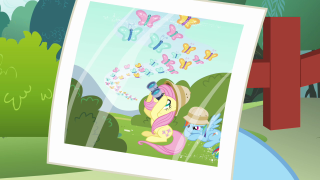 'Dawwww. Silly Dashie! XD She looks adorable in that pitch helmet, all bored and grouchy. Come ooonnn...you know you like it! XD
Oh, and as Souldin pointed out...Rainbow Dash is looking at butterflies. But not the ones migrating...and her WINGS are flared! Seriously! Look at her line of vision!
Now, for the big stuff I know some of you have been waiting for. :D Now keep in mind, with or without shipping goggles, this episode was awesome and heartwarming in the way it showcased their friendship.
Hurricane Fluttershy
When Hurricane Fluttershy begins, Rainbow Dash gives the rundown to all the Pegasi in Ponyville about their objective for the upcoming Tornado Day. Before and then after, she notices Fluttershy is absent. At first, she's annoyed by this, but has likely expected this to happen. It's Fluttershy, after all!
So the following day after orientation, Rainbow Dash supervises everypony's training, taking on the role of a coach. Just as before, she notices Fluttershy is yet again absent, and goes to confront her. She goes to her cottage, by herself, having taken it upon herself to do this. She could have just as easily sent anypony else to find Fluttershy and bring her there. But no, she actually goes herself!
Fluttershy of course brings up the very lame excuse of having the Pony Pox, to which Rainbow Dash quite obviously doesn't buy. After all, it's Fluttershy, and she happens to coincidentally get sick for training? Nope! Doesn't bode well! But it does show how much she really knows her.
After clearing her of her supposed sickness, as well as calling her bluff about a sore wing, this is when Rainbow Dash's development really shows a lot more. She actually brings her arm (foreleg, I know) around Fluttershy and gently asks her what's wrong. She is actually being gentle with her and asking her what's wrong! In the past, she might have demanded that she be there and would already be dragging her out the door. But no, instead, she slows down and actually tries to talk to her, to see what's making her scared of all this. This is an awesome moment as it showcases that Rainbow Dash really does care about Fluttershy, and wants to help her. By asking her what's wrong, she can try to help her overcome the problem! She does that with that intention in mind!
Oh yes, their physical contact in this episode skyrocketed. But we'll get to that along the way.
Fluttershy admits she just can't do it. Rainbow Dash happily reminds her that Fluttershy did a wicked nosedive in order to save some falling birds, as a way to indicate foreshadowing in how much she believes in her skills, that she can do better than she gives herself credit for when does her best.
The back and forth continues, and then Rainbow Dash eventually gets frustrated and loudly exclaims for her to suck it up. But then, unlike ever before (especially in season one), Rainbow Dash catches herself and immediately softens again. She realized who she was talking to, and managed to reel it back, to find a better way to motivate her. She tells her straight out she needs every ounce of wing power she can get, INCLUDING Fluttershy. Now, yes, she said wing power this time, but the fact she still wants Fluttershy included (knowing full well her wing power is weak) is already an indication that she wants Fluttershy herself to be there. But isn't quite admitting it out loud yet.
But then it takes another turn. Fluttershy once again refuses. If this were in season one, Rainbow Dash might've gotten frustrated and would just leave her, thinking it better that she wouldn't be there to slow them down.
Nope! Instead, she slumps over very sadly, in a way that she's taking it personally, and tells her "Thanks anyway" in a really broken tone. It's all part of showing that she wants FLUTTERSHY there, and not just her wingpower. Now, knowing her best friend won't participate, she's disappointed. And then just leaves! She is actually respecting her wishes! It's disappointing, she's clearly upset about that, but, she instead just gives up and leaves.
Seeing this, Fluttershy changes her mind. As the Element of Kindness, she feels terrible making somepony sad because of her, especially when it's her own best friend. Rainbow Dash eagerly zips back over to her, with the biggest grin on her face. It's not only so adorable, but it shows how happy she is that Fluttershy will be there! She grabs her into a hug and flies around the room with her. This really shows it's more than just having enough wingpower to break the record.
And yet again, showcasing how Rainbow Dash has no problem initiating physical contact with Fluttershy, especially that closely! Fluttershy is nervous, but it's not because of their hug. It's because of how nervous she is about performing.
So, training begins yet again. Fluttershy soon is up to prove what she can do. Unfortunately, the anemometre reads .5 wing power for her. Less than ONE. Partially because she also remembered how she was teased, and ended up slowing down. Rainbow Dash and Twilight are not sure how to tell her, but in a surprising turn from what could've happened in season one...this happens.
Rainbow Dash nervously tells Fluttershy what the anemometre reads. She's nervous because she knows Fluttershy wouldn't take it too well. Not ONCE did she ever groan in frustration or get annoyed because it was so low. This is yet another early indication that she doesn't CARE how strong her wing power is. She just wants Fluttershy to be there. But knowing how the low count would make Fluttershy feel, she's nervous in telling her but even tries to still say she did good, as a way to encourage her and show it's no big deal, she just has to keep trying and do her best.
I really liked that too, because rather than lamenting the loss of strong wing power, Rainbow Dash is actually nervous about upsetting her best friend! That, right there, is another turning point in her development.
Then comes one of the saddest moments of the episode.
Fluttershy is in tears as she can see she really IS weak and can hardly fly, along with memories of the punks teasing her. Along with a disturbing visual of all those eyes. Wow. This show can get downright scary sometimes! (The bits building up to the Cockatrice from "Stare Master" being just one of them. O.O)
Rainbow Dash yet again tries, in her own manner, to tell Fluttershy it's no big deal. She can get over it, right? But when she sees Fluttershy CRYING, she immediately retracts her behaviour and looks openly taken aback. Changing her approach yet again, she beseeches with this line:
Rainbow Dash: But I need you!
That alone, says everything. She needs Fluttershy. Her best friend, her rock. The one she wants to be there the most. And moreover, she expresses this openly, right to her, in a such a desperate tone. She is showing a side of her she would likely never show to anypony else. Except Fluttershy. This shows that she expresses a softer, tender side of herself right to Fluttershy. This is something we don't often see with anypony else.
When Fluttershy runs away, this happens. Rainbow Dash reaches out toward her with one hoof, looking distraught. Unable to think of a solution, given that she's too upset about what happened, she kicks at the ground in frustration, and then sadly walks away. Her facial expressions and her gesture of kicking the ground were golden, and really showed just how much this tortured her, to see her best friend in such a state. And, yet again, knowing Fluttershy won't be there, and it hurts her to know that. We know now, more than ever, that Rainbow Dash doesn't care about her wing power, and wants her best friend to be there, just because she's Fluttershy.
Afterward, when Fluttershy does some training to overcome her insecurities and work on her wing power, she comes back to the training grounds. A whole new mare, and ready to do this. Rainbow Dash even visibly grins at her arrival! More foreshadowing, and again, presenting her happiness that Fluttershy is ready to try.
This time, Fluttershy ranks at 2.3 wing power. It isn't much, but it is an improvement over from before. This makes her feel sad all over again, as she feels that since, compared to everypony else, she's weak and can't possibly contribute enough on Tornado Day.
However, Rainbow Dash, in yet ANOTHER moment of character development is genuinely proud of Fluttershy. You could hear it in her voice, and in the entire line itself, it just says everything.
Rainbow Dash: You didawesomely, Fluttershy!
This just show that all along, Rainbow Dash wanted Fluttershy to do her best. To give it her all! She never, ever pushed her to do harder. She never told her she had to keep getting stronger. All she ever wanted was for Fluttershy to try her best, to contribute what little she had. Once more, we see that she cares more about Fluttershy being there and doing her best than she does about her wing power.
But when Fluttershy is yet again humiliated, she runs off, upset. Rainbow Dash doesn't take this well, clearly indicated by her facial expressions and how she's fiddling with her hat. Even when Twilight tells her that with all the combined efforts of all the Pegasi, they will break the record. Rainbow Dash takes NO comfort in that whatsoever. She doesn't even react to it! Rainbow Dash, who's passion is winning, who is determined to break the record doesn't even care about it right now. Especially considering just a few minutes earlier, she was excited about the probability of that happening. But right now, she's more concerned about Fluttershy being down in the dumps. This, yet again, just shows how much of her character has developed, and how much she has been a much better friend to Fluttershy.
Rainbow Dash: *Sigh* If only there was a way to lift Fluttershy out of the dump.
We then cut to Tornado Day (which is the next day following the previous scene), where all the Pegasi have gathered. Spitfire of the Wonderbolts, who was said to come and supervise, comes on down from Cloudsdale and ready to report the results. Everypony is prepared! This is it! The big moment of truth!
However, things take a disappointing turn when Spike reveals that eight Pegasi are absent. After doing some calculations, Twilight says that not only will they be unable to break the record, but they may not even have enough wing power to reach the 800 minimum.
For probably one of the most stunning moments of her character development, Rainbow Dash actually gives up the idea of breaking the record. That's right, she knows what is really important, which is getting the water to Cloudsdale. That stunned me, and just made me love this episode even more so, and that's saying a lot. She actually made a reasonable and logical decision, recognizing what needed to be done, and that breaking the record for the time being would be impossible. Not only did this episode have character development for Fluttershy, but for Rainbow Dash too.
Unfortunately, things don't go over so well. Fluttershy shows up to be there at least for moral support, which is pretty sweet of her. But when the tornado's wing power barely clocks past 795, this is when Twilight persuades Fluttershy to go in there and contribute. She may have very little wing power, but every bit counts.
Twilight persuades her further, telling her to do it for Equestria, for Rainbow Dash, for herself. This is when Fluttershy mares up, takes the flight goggles, proudly puts them on, and then goes into the tornado. She's nervous, but she's ready for this!
Inside the tornado, the look of joy on Rainbow Dash's face when she sees Fluttershy is just all that is needed. She clearly did just want Fluttershy to be there. They even fly side by side at this point! Fluttershy nearly falters, but it isn't long before she overcomes her insecurities and manages to surpass even her own wing power, ready to show those bullies that she CAN fly.
In the end, they manage to reach the minimum of 800 wing power, and successfully transfer the water to Cloudsdale. All is well, they did it!
Fluttershy is still flying, caught in the rush, and then Rainbow Dash does the sweet thing by catching her with a cloud. Awww! She gives her a hug, expressing how happy she is, and then they share a high wing!
Spitfire then congratulates Rainbow Dash on their hard work, but in a surprisingly awesome turn, Rainbow Dash then turns the praise to Fluttershy, referring to her as her Number One flier. And that was awesome. She openly expressed with nothing but pride that she is proud of Fluttershy and believes in her. She has everypony cheering for Fluttershy, they do so, and they carry her off proudly. All the while, Fluttershy learns an important lesson about how every contribution you can make, no matter how small, can still help to make a difference.
Overall, this was by far the best episode in showcasing the friendship between Rainbow Dash and Fluttershy. And just the best interaction of two characters EVER! The strength of their bond is just more prominent than it ever was. Season two really was quite a build up in rekindling their friendship to being even better than it ever was (at least back in season one), which only stared in season one with "The Cutie Mark Chronicles", but then grew a lot more in "May The Best Pet Win".
As I said, their physical contact skyrocketed. They hug twice, Rainbow Dash brings her foreleg around Fluttershy twice, they high wing, they touch one another, it goes on. Just about every scene they share, they make physical contact a lot. Really once again proving how they're perfectly comfortable with each other and being that close. Especially since Rainbow Dash hugged her in front of everypony! And didn't even care!
Moreover, this showed how much Rainbow Dash not only cares about Fluttershy very much, but also that she really needs her in her life. How much her support, her being there, means the world to her. We see glimpses of it in "Sonic Rainboom", but here, it's showcased tenfold. She really does want Fluttershy to be there, because she always has been.
The Heartwarming entry on TV Tropes for this episode says everything, too.
I loved this episode. It did help me to become a FlutterDash shipper, but I even enjoyed it before then too, because I was so touched by their heartwarming friendship in this episode. As well as Rainbow Dash's development, and Fluttershy's too. As a shy girl who was teased her whole life, I understand completely how that feels, so that adds to it.
Putting my shipping goggles back on for a moment, it really shows how they would be an awesome pairing. :D
So, that's about it! I think I've exhausted everything I wanted to say for now. I MIGHT add more if I think of it at a later time, we'll see.
Next time, I'll talk a little bit about the moment that occurred in "A Canterlot Wedding Part 2", just to offer my perspective on the matter.
So, I hope this was to your liking, fellow FlutterDash shippers! For you non-shippers who might be reading this, I hope you enjoyed it as well.
One last thing, yes, I will also mention some things about this episode in the upcoming chapter of "Pegasi Introspection".
Thank you all for reading, everypony! Until next time!